WE RIDE BREWER CYCLES' KAWASAKI KX250F
Click on images to enlarge
Brewer Cycles, out of Henderson, North Carolina, spared no expense in building a highly modified Kawasaki KX250F.
Many young motocross racers reach a crossroads—a point at which an important decision must be made. Does little Johnny have the talent and gumption to pursue a professional racing career, or should he pump the brakes and race for fun? The choice is easy for the supremely gifted (race!) and smart (go to school!); however, some riders fall into a gray area. Success might be attainable if they get a lucky break or catch a hot-shot team manager's attention. Sadly, most struggle. Injuries, financial woes, tension in the family and outside distractions can derail a promising racer's chances.
For most, dirt bike riding starts as a hobby—an opportunity to spend time with family in the hills. Enjoyment turns into passion. From there, some try their hand at racing. The intensity of competition weeds out the play riders, especially as the classes become faster. Up until this point racing is usually funded by the National Bank of Dad. And, while it's possible for parents to pay for Junior's racing habit until he turns Pro, the most successful Amateur racers are able to pick up a laundry list of sponsors to help defray the costs. The most beneficial supporter, short of a billionaire oil tycoon, is a motorcycle manufacturer. The very best Amateurs get full-boat rides from manufacturers through their extensive dealer network. They have access to a quiver of free bikes and unlimited parts budget. Below that esteemed group are the dealer-supported riders. They receive a parts allowance, which eases the burden on Mom and Dad. Many high-volume motorcycle dealers field their own race teams and, traditionally, although less and less in modern times, it is the local dealer who nurtures talent. That's where Brewer Cycles comes into the picture.
In the ultra-competitive world of 250 racing, horsepower is the key to success. With the help of several big aftermarket companies, Brewer Cycles managed to build a KX250F within reach of the factory-supported satellite race bikes.
Located in Henderson, North Carolina, Brewer Cycles has been in operation since 1981. The shop opened up as a single-line Yamaha dealership and has grown from a small-town business to a 34,000-square-foot building carrying eight brands. To put its ranking among dealers in perspective, Brewer Cycles has been a top-50 dealer for the past three years in a row and is also in the Dealer News top 100. Simply put, if you live in northeastern North Carolina or southern Virginia, you go to Brewer Cycles for your powersports needs.
MXA WAS THE FIRST MAGAZINE TO TEST RIDE ENGINEERING'S 21.5MM OFFSET TRIPLE CLAMPS FOR THE KX250F. WE LOVED THE CLAMPS BACK THEN, AND THEY'RE STILL AT THE TOP OF OUR MOD LIST FOR THE KAWASAKI.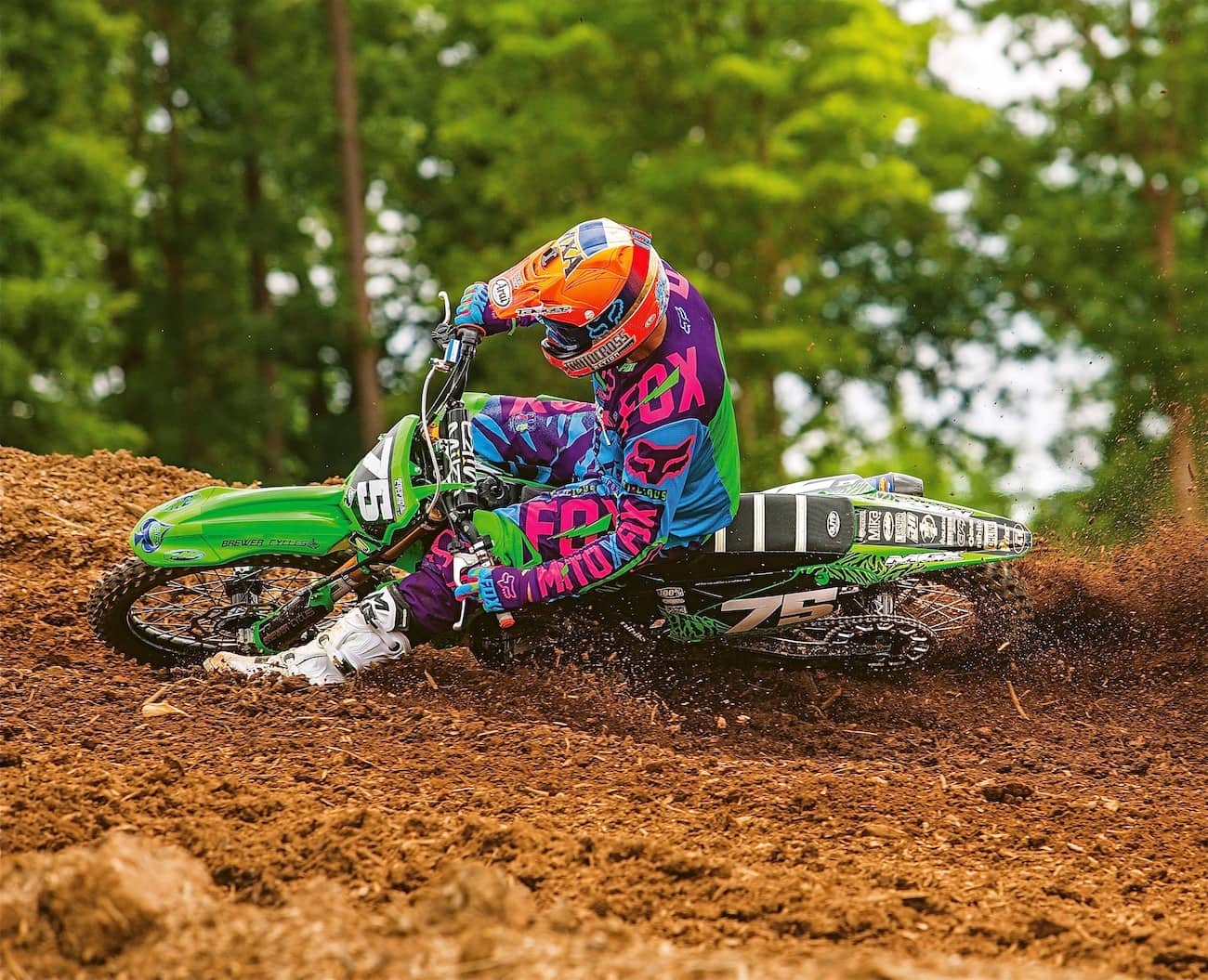 Tyler Brewer is the vice president, head of Brewer Cycles Racing and son of owner Chris Brewer. Tyler had the bright idea to start an Amateur support program three years ago, and it caught on like wildfire. In short order, Brewer Cycles Racing became one of the biggest Amateur support programs on the East Coast, helping over 100 riders and between 35 and 40 hotshots who race the Amateur Nationals. Tyler's goal is to grow the sport at the grassroots level by helping any rider who abides by the stringent Brewer Cycle guidelines. One of those kids was Kobe Heffner, a promising young racer from Cumming, Georgia. Heffner caught everyone's attention when he won a moto and finished second in the 65cc (10–11) Stock class in 2012. Since then he has risen through the 85cc, Super Mini. Loretta Lynn and AMA Arenacross ranks, although not with overwhelming success like some of his peers, who include Garrett Marchbanks, Jalek Swoll and Chase Sexton, all of whom are on the manufacturer gravy train with free bikes and parts. They have earned their spots by winning multiple titles at the prestigious Amateur Nationals. Thanks to Brewer Cycles, Kobe had the support he needed to keep up with his toughest competitors.
Tyler Brewer reached out to Motocross Action to see if we had any interest in testing Brewer Cycle's 2016 Kawasaki KX250F race bike. We knew very little about Brewer Cycles, but we agreed. Why? The MXA wrecking crew always roots for the Rocky Balboas and Rudy Ruettigers of the world—underdogs who overcome the odds. Here was a team effort going to battle the titans of both Amateur and Pro racing
We met up with the Brewer Cycles team at North Carolina Motorsports Park where they wheeled their KX250F out of their cavernous race hauler. We were smitten with Brewer Cycles's steed, which was decked to the nines with engine modifications, black powdercoating, zebra-print graphics and a plethora of aftermarket parts. It was obvious that Tyler Brewer took Amateur racing seriously. Brewer Cycles Racing spared no expense on this KX250F. Below is a breakdown of the modifications and parts that were required in the construction of Heffner's Kawasaki.
ENGINE MODS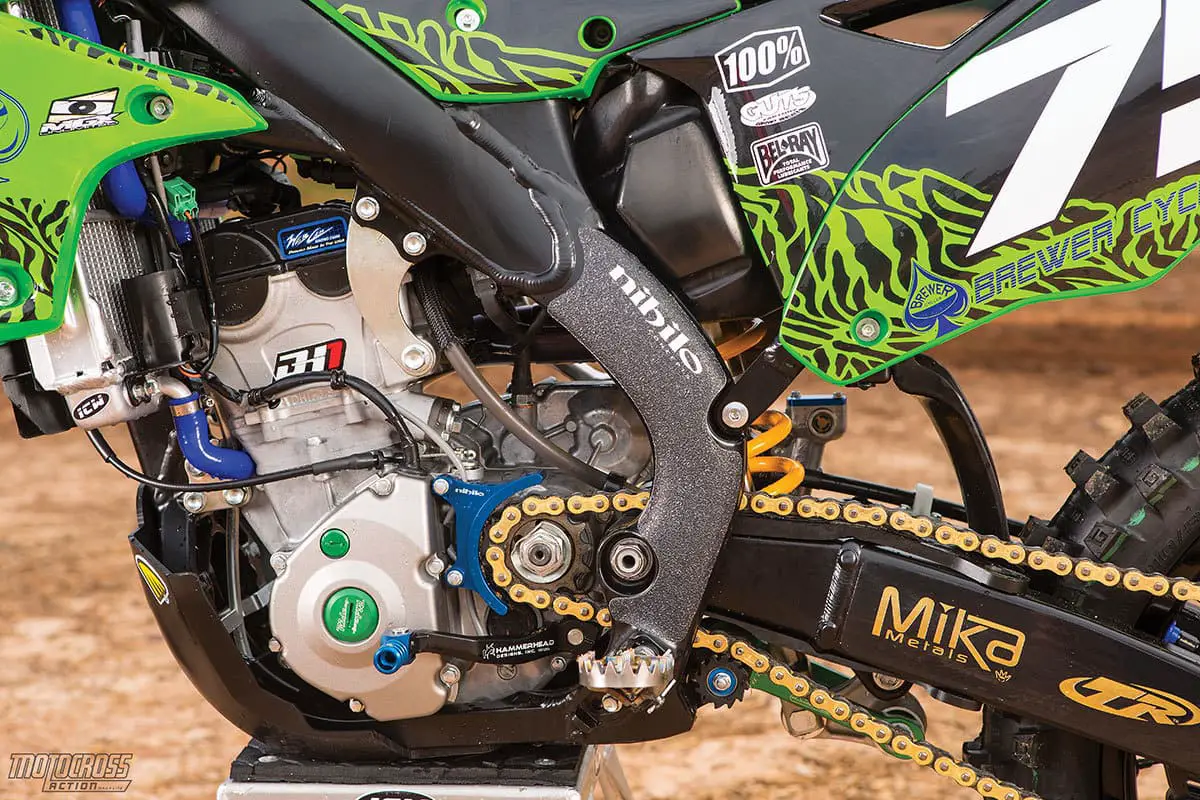 Brandon Haas from DH1 Mods went to town on the 2016 KX250F powerplant. Along with porting and polishing, he decked the head, degree'd the custom WebCam camshafts and increased the fuel pressure. While we would love to know every explicit detail of what Haas did, we understand that engine tuners like to keep their secrets close to their chests. Suffice it to say, every part in the top end was massaged, tweaked or modified in some way. Brewer Cycles drop-kicked the stock exhaust for an FMF Factory 4.1 titanium exhaust system with a carbon fiber end cap and MegaBomb header. In went a complete Hinson Billetproof clutch, and the stock ignition was swapped out for a customized Vortex ECU. Last, a Twin Air Powerflow throttle-body kit was installed to increase top-end power by reducing the surface area of the throttle-body valve. In total, the engine/clutch/exhaust changes equated to somewhere in the neighborhood of $5000. In case you didn't know — it costs a pretty penny to build a competitive engine for both Amateur and AMA Pro Nationals.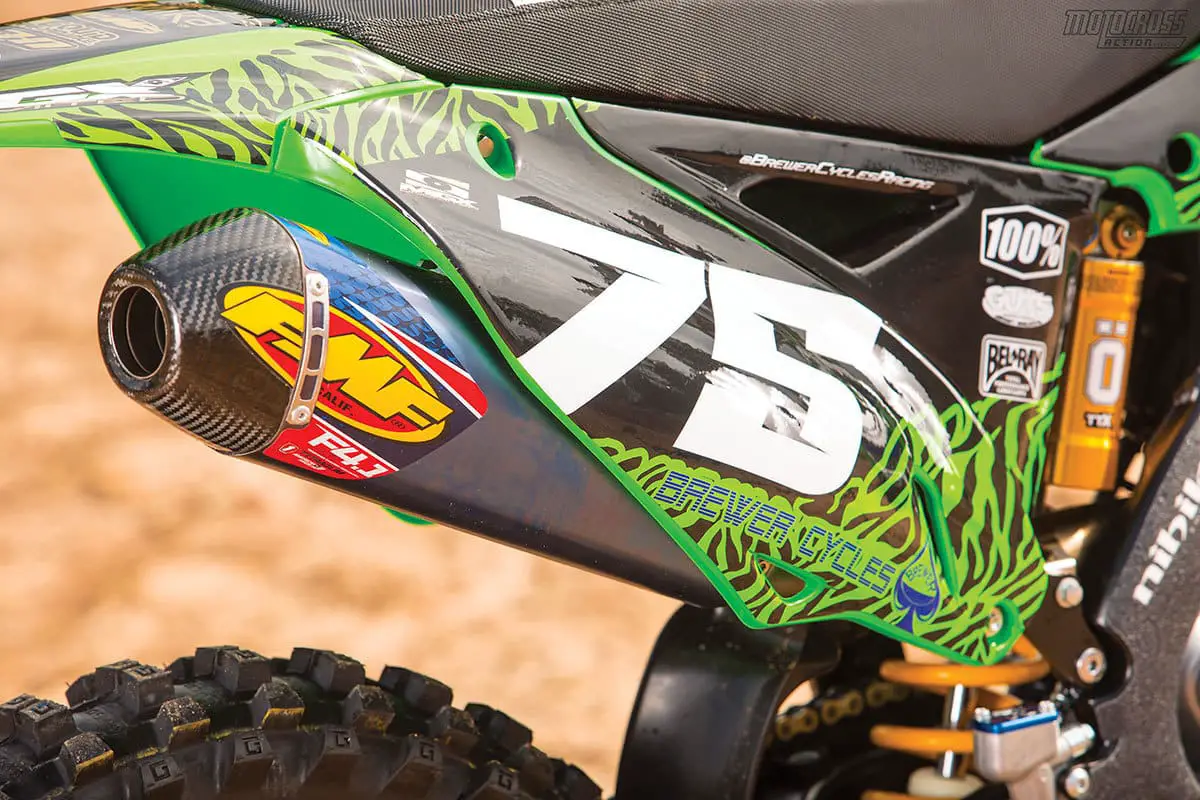 Don't let the fact that we tested Brewer's 2016 KX250F dissuade you, everything that they did for the '16, they can do for the 2017 — only better because the 2017 Kawasaki is improved in the areas of ergos, handling, weight and set-up.

What did we think of Brewer's KX250F engine? The MXA test riders were enamored with the DH1-tuned engine. The powerband was strong and, unlike most race-bred engines, was enjoyable to ride. We didn't need to feather the clutch in corners or worry about getting the engine to sing again when the rpm dropped. It was especially good in the midrange, but the transition into the top end was where the DH1 engine excelled. The powerband had plenty of over-rev and kept putting power to the rear wheel well after we should have shifted up.
SUSPENSION MODS
Stacey Berger from Ohlins Racing supplied Brewer Cycles with its proprietary RXF 48mm forks and TTX-44 rear shock. These are essentially Ohlins' A-Kit models with all of the special coatings and beefy internals. The RXF forks are held up by coil springs, and the TTX-44 shock uses a twin-tube design to allow the compression and rebound to work separately. The RXF forks retail for around $3504, while the shock is $1350.

What did we think of Brewer's  KX250F suspension? Even though the bike was set-up for a much smaller rider than the MXA wrecking crew riders, we found comfort in the Ohlins suspension. That says a lot about the valving and rigidity. The forks were stiff enough to stay up in their stroke under hard braking and soft enough to absorb rough chop. Bottoming resistance was confidence-building, as we never clanked metal to metal in the forks. As for the shock, it had a progressive feel. Thanks to the longer Ride Engineering lowering link, the initial part of the stroke was stiffer. A common solution for the Kawasaki KX250F is to change the rising rate, which creates a more stable feel at speed. An additional benefit is that the rear end tracks straighter. The Ohlins RXF 48mm forks were significantly better than the Showa SFF single-spring forks that come stock on the Kawasaki KX250F, while the TTX shock was a decent improvement.
HANDLING MODS
The 2016 Kawasaki KX250F, which this bike was based, on boasts a strong engine, but everything else about the bike is rather pedestrian. Handling traits are lacking due to a front end that understeers and a cumbersome chassis that feels sluggish in corners. While Kawasaki addressed those issues for 2017, it was too late this particular Brewer Cycles project. Fortunately, the previous iteration of the KX250F can easily be fixed with a different triple-clamp offset, a longer pull rod, shortening up the wheelbase and adjusting the rider position. Ride Engineering's 21.5mm offset triple clamps are the hot ticket for getting a 2016 KX250F to corner properly. Brewer Cycles moved up the rear axle in the swingarm by removing an extra link from the chain. It is a free modification and makes a big difference. We discussed the Ride Engineering link in the suspension section above. The link lowers the 2016 KX250F's rear end by 5mm.
What did we think of Brewer's  KX250F handling? MXA was the first magazine to test Ride Engineering's 21.5mm offset triple clamps for the KX250F. We loved the clamps back then, and they're still at the top of our mod list for the Kawasaki. It's remarkable how differently the KX250F can handle with the right aftermarket parts and a judicious use of money. Brewer Cycles was make the MXA test riders have enough confidence to rail turns without too much handlebar input. All it cost was around $800.
MISCELLANEOUS MODS
In total, Brewer Cycles used 28 companies in the construction of their KX250F. What really stood out were the black-anodized frame, swingarm and subframe, done up by Top Coat Incorporated ($250). We also liked the Dubya wheels ($1495), wild MGX Unlimited Graphics ($150), reinforced ICW radiators ($300) and Cycra Racing Flo Green Powerflow plastics kit ($169.95).
Thanks to the support of Brewer Cycles, many young riders have a shot at stardom at the both the Amateur and Pro levels. Suffice it to say that any Brewer Cycles-sponsored rider is in good hands, regardless of whether he has aspirations of going Pro or simply rides for the love of racing. For more information on Brewer Cycles, visit www.brewercycles.com or call (800) 948-3480. Tell them the MXA wrecking crew sent you.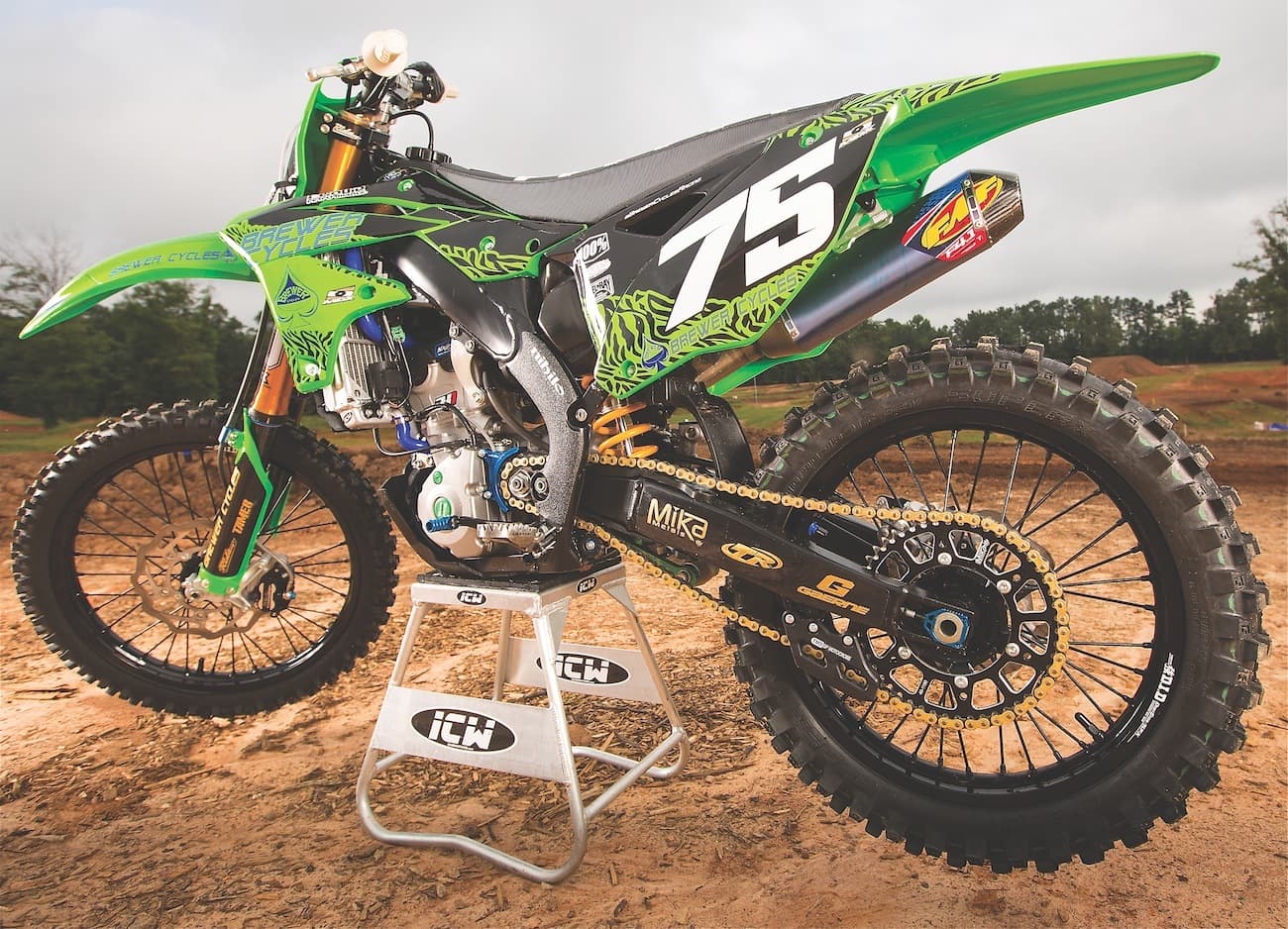 BREWER CYCLES KAWASAKI KX250F SUPPLIER CONTACTS
FMF Racing: www.fmfracing.com
Nihilo Concepts: www.nihiloconcepts.com
Cycra Racing: www.cycraracing.com
CV4 Products: www.cvproducts.com
Hinson Racing: www.hinsonracing.com
Liquid Performance: www.liquidperformance.com
Mika Metals: www.mikametals.com
ICW Radiators: www.icwradiators.com
Ohlins Racing: www.ohlinsusa.com
TM Designworks: www.tmdesignworks.com
Top Coat Incorporated: (919) 787-0302
Works Connection: www.worksconnection.com
DH1 Mods: (330) 933-2064
Vortex: www.vortexcdi.com
Web-Cam: www.webcamshafts.com
Guts Racing: www.gutsracing.com
Ride Engineering: www.ride-engineering.com
Tamer: www.tamerbilletmx.com
MGX Unlimited: www.mgxunlimited.com
Hammerhead: www.hdmoto.com
Boyesen: www.boyesen.com
Twin Air: www.twinairusa.com
DT1: www.dt1filters.com
Dubya: www.dubyausa.com
Galfer: www.galferusa.com
Motul: www.motul.com
No Toil Industries: www.notoil.com
Goldentyre: www.goldentyre.com/en/