WE RIDE BROC TICKLE'S PRO CIRCUIT KAWASAKI KX450F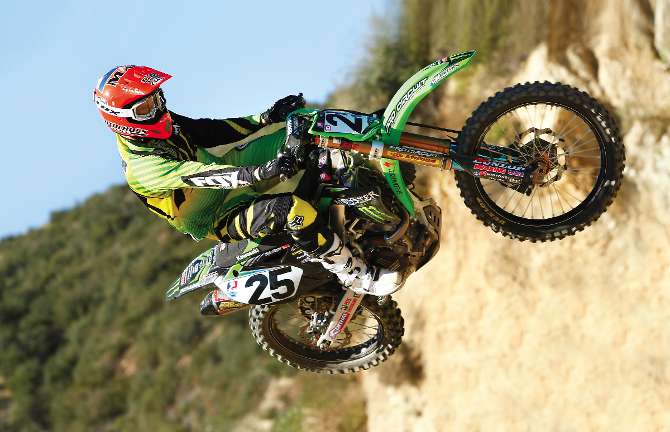 Unless you have been living in a bomb shelter awaiting nuclear destruction, you know that MXA doesn't see eye to eye with the AMA. Perhaps that's an understatement. In fact, MXA finds the AMA bureaucracy to be devoid of structure or standardization. Their rule book has more holes than Swiss cheese at a firing range. And, a good number of the AMA's rules make little or no sense at all. For the sake of this bike test, let us point to what we refer to as the "Trey Canard rule." 

Like all Pro Circuit race bikes, Broc Tickle's KX450F is a work of art. However, it doesn't merely look good on the stand. Tickle's Supercross racer absolutely tears around a track.
In 2008, rookie Trey Canard took the 250 East class by storm and won the regional Supercross title. The AMA rule book stated that any rider winning a regional title would have to race the 450 class the following year. Rookies weren't exempt from the rule?a major oversight by the AMA rule writers. Since the Canard issue was so grievous, the governing body rescinded the rule and rewrote it. The rule book now states, "A rider may defend their championship the following season, with the following clarification(s): A rider that wins a Supercross Lites Championship will be eligible to participate in the Supercross Lites class for a maximum of three years total, regardless of what year he/she won the title (i.e., if a rider wins the championship in their third year of Supercross Lites competition, they will be ineligible for the Supercross Lites class, regardless of points, and therefore not eligible to defend their Supercross Lites championship title)."
This rule made sense for Trey Canard, but not for Broc Tickle, a member of the Pro Circuit Kawasaki team and last year's 250 West Supercross champion. Having won the title, Tickle assumed that he'd be allowed to defend it. Broc got the surprise of his life when the AMA informed him that he was ineligible to race 250 Supercross in 2012 and beyond.
Having signed Tickle to a two-year contract before the 2011 season, Pro Circuit boss Mitch Payton was stuck between a rock and a hard place. In 21 years of fielding a professional team, Payton had devoted all of his effort and energy to the 125/250F class. That all changed once Broc Tickle was booted out of the class.
During the offseason, the Kawasaki factory, who underwrites Pro Circuit's rider contracts, gave Broc Tickle a bunch of options for racing the 450 class, including searching out a deal with other Kawasaki teams. Broc decided to stay where he was and says, "I know how good of a team Pro Circuit is, and it didn't seem reasonable to go somewhere else, even if it was for more money. Who wants to ride for Pro Circuit for one year when you can ride for them for two years?" So, for the first time ever, Mitch Payton would have a horse in 450 Supercross.

It says something when even our Novice-level testers felt comfortable enough to work up the courage to skim the whoops. Broc's KX450F is rock solid in all areas??powerband, suspension, handling and ease of use. It's a winner.
In recent years, the MXA wrecking crew has tested virtually every Pro Circuit Kawasaki race bike. That list includes everything from Ryan Villopoto, Tyla Rattray, and Dean Wilson's KX250Fs to Ricky Carmichael's KX125. It should go without saying that we were eager to throw a leg over the very first Pro Circuit Kawasaki KX450F race bike. Knowing that Pro Circuit develops the best race machines in the 250 class, we were interested to see how Mitch and crew would kick out the jams with a Kawasaki KX450F. We met the Pro Circuit crew at Pro Circuit's private test track two days after the Anaheim opener. Mechanic Dave Feeney was there to help us.
SHOP TALK: THE BELLY OF THE BEAST
Broc Tickle's KX450F uses aftermarket components from the same companies that support Pro Circuit's 250 racing effort. While Tickle is in a different class from Dean Wilson, Tyla Rattray, Blake Baggett and Darryn Durham, he is still part of the Pro Circuit team. There are, however, several trick parts on Tickle's bike that no one else on the team has access to. Why? For starters, the 250 class must abide by production rules that aren't applicable to the 450 class. More on that below.
Engine: Pro Circuit takes care of the engine modifications by using their own cams, valves and valve springs. The cylinder head is also done in-house, while JE Pistons builds the Pro Circuit-spec piston. Anyone can purchase Tickle's engine mods?although they will cost a pretty penny. Keep in mind that race bikes are tuned to the nth degree. Broc's engine is rebuilt after every weekend, so you better have deep pockets if you're going to maintain that same level of maintenance.

Tickle's mechanic,?Dave Feeney, installed a self-siphoning titanium radiator catch tank for precautionary measures.
The areas of most concern on a Supercross bike are the transmission and clutch, particularly on a Kawasaki KX450F. Because the mighty green machine has such an explosive powerband, the clutch has difficulty keeping up. Pro Circuit solved the riddle by using a Hinson clutch with stiffer Pro Circuit clutch springs. OEM plates and fibers are used to maintain a nice and consistent feel at the lever.
Tranny. As for the transmission, it has undergone WPC treatment to enhance the surface, reduce friction and strengthen the transmission. What exactly is WPC treatment? Ultra-fine particles are fired toward the surface of the transmission gears at very high speed. The resulting thermal discharge changes the surface structure of the material, strengthening it and creating a harder and more durable set of gears. Supercross whoops put a tremendous load on the transmission, and transmissions have typically been the weak link.
Suspension: At Anaheim 1, Broc Tickle raced with Showa SFF A-Kit suspension. However, as the Supercross season progresses, Pro Circuit wants Broc to switch to Showa's all-new Air fork. How does the Air fork work? There are two air chambers in one fork leg that act as the spring, while the other fork leg contains the damping. You simply add air to the fork to make it stiffer. This system is also 2 pounds lighter than a conventional fork, which is big news. The reason that the 250 team doesn't use the Air fork is because it isn't homologated yet and is illegal in the 250 East/West.
Tickle relies on a Showa A-Kit shock mated with Pro Circuit's own rising-rate linkage (for sale) and bell crank (not for sale). Although Broc is 5-foot-11, he still prefers to have his subframe cut 5mm to prevent the rear end from slapping him through the whoops.

 
Tickle began the season with a broad and forgiving powerband. They can put more tiger in the tank if need be.



 
Tickle has access to factory Kawasaki parts. Our favorite item was the works Nissin magnesium caliper. It's amazing!



Works parts: Unlike the factory bikes of Ryan Villopoto and Jake Weimer, Broc Tickle's Pro Circuit KX450F isn't littered with factory parts. However, the trinket train of unobtainable parts didn't completely pass him by. KHI, Kawasaki's factory in Japan, provides the team with a special ignition, a magnesium Nissin front brake caliper, high-friction front brake pads, a reconfigured clutch arm, works hubs and special spokes (a different length from production spokes), a water-pump cover and a mixture of titanium fasteners (other Ti fasteners on the bike come from CMI). Of all the works trickery on Tickle's bike, we were most enamored with the gigantic magnesium front brake caliper with the svelte brake pads.
Accessories: Pro Circuit's in-house products take up most of the real estate on Broc Tickle's KX450F. The bike sports a Pro Circuit holeshot device, Ti-5 exhaust with an RC4 header, radiator hoses, a chain guide, footpegs, axle blocks, a chain block, a shifter, engine plug kit, a titanium radiator catch tank, a clutch cover, and a 22mm-offset triple clamp that will be available to the public very soon.
Renthal provides their durable Twinwall 998 bend handlebars, medium-compound half-waffle grips (with a single donut on each grip) and sprocket combination. (Broc will more than likely use a 13/51 combination at every Supercross race this season.) The bike also features a Moto Tassinari Air4orce intake system, ARC unbreakable composite levers, Excel A60 rims, N-Style graphics and ribbed seat cover, an RK chain, UFO plastic, a Twin Air filter, DP rear brake pads, Braking 270mm front Batfly brake rotor, a LightSpeed skid plate and rear-brake caliper guard, and Dunlop tires (a works 745 90/90-21 front with a works 772 rear).
There are several things worth noting. Pro Circuit is using a seat foam that is a pound lighter than the stock foam. Additionally, the team uses titanium rear sprocket bolts. The footpegs are also in the up (standard) position on the KX450F frame, and, not uncommon, Broc uses a rear-brake snake.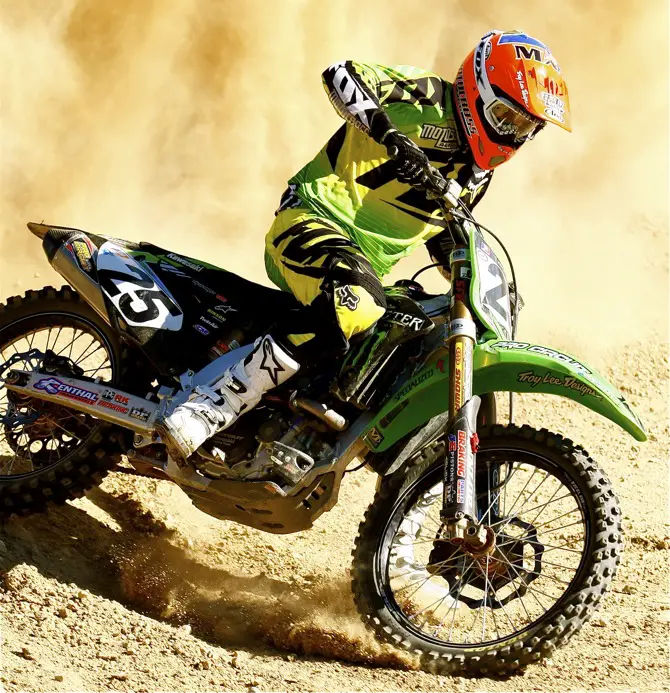 TEST RIDE: MAKING A SUPERCROSS TRACK FLAT
We tested Broc Tickle's bike immediately after the Anaheim Supercross opener. Mitch Payton warned us that the bike would be untouched, and that if Broc bent up the bike, then we would have to learn to ride with crooked handlebars. Mitch wasn't kidding. We crossed our fingers and hoped that Tickle would get through Anaheim 1 unscathed, as we wanted the bike to be in perfect condition for testing.
We thought that we were in the clear until Jake Weimer pulled onto the track right in front of Broc in the main. Broc slammed on the front brake and washed out, which caused a closing Kyle Chisholm to run into Broc. The resulting blow left Tickle's rear fender mangled, but otherwise the bike was no worse for the wear.
There are two types of people willing to ride Supercross?the experienced and the stupid. Thankfully, we have both types of riders in the MXA wrecking crew. In a weird twist of test protocol, we sent an AMA Pro test rider (with Supercross experience) to do the majority of the test riding and a fast Novice with delusions of Supercross grandeur. Fortunately for this test, and for our worker's compensation claims representative, everyone left the Pro Circuit Supercross test track in one piece.

Tickle relies on Showa A-Kit suspension, along with an aftermarket pull rod and super secret Pro?Circuit bell crank.
Let us begin by saying that Broc Tickle's Pro Circuit KX450F is like Baby Bear's porridge in that it's just right. When testing a 450 Supercross bike, we normally worry about dislocating our shoulders due to the incredible power surge off idle. That wasn't the case with Tickle's bike. "Metered power" is the best way to describe the engine. Even a stock 2012 KX450F has more hit, but that's like comparing apples to oranges. It should be noted that Broc's powerplant produced more horsepower than the stock KX450F in the lower echelon of the spread, but does so in an amazingly smooth way. Broc also chose to run a heavier flywheel weight on the hardpacked Anaheim track to further smooth out the power delivery. We can't, however, go so far as to say that the power was pleasant. Then again, what professional racer would want a sheepish powerband? After the pleasant low-to-mid transition, Tickle's bike was brutally fast. It was manageable, but that only disguised the breadth and depth of its horsepower reserve. Pro Circuit has single-handedly produced an engine that is both dynamic and dynamite.
The suspension was uncharacteristically decent for the MXA testers. Instead of the forks being as stiff as a frozen corn dog and the shock feeling like a pogo stick, the suspension was balanced and forgiving. The lucky Novice that we sent along claimed that the Showa SFF units gave him the confidence to shift a gear higher, power through the whoops and jump rhythm sections. Without embellishing, Tickle's suspension was inspiring. We would be interested in trying Tickle's bike again once he makes the switch to Showa's Air fork.

The 22mm triple clamps on Tickle's KX450F will be available to the public soon. Most of the items on his bike are for sale.

We were very impressed by the front brake. On the stand, the brake lever felt mushy and weak, but our first impression was wrong. On the track, we were able to drag the front brake or pull it in and stop on a gnat. Again, "metered" was the operative word. We also applaud Broc Tickle for his neutral bike setup. Anyone would be pleased with the setup of his handlebars and levers.
CONCLUSION: WHAT DO WE REALLY THINK?
Testing Broc Tickle's Pro Circuit Kawasaki KX450F shows what Mitch Payton and his hardworking crew can do. More important, fielding Tickle on the 450 will hopefully inspire a full-fledged 450 Pro Circuit race team in the coming years. Broc made a smart decision by staying with the Pro Circuit team?even if he is the guinea pig of the 450 experiment?because we can attest to the bike's prowess. And, instead of pulling the plug, Mitch Payton made the most out of the convoluted AMA rule book. Bravo!