WE RIDE CARSON BROWN'S BBR CUSTOM-BUILT HONDA CRF196F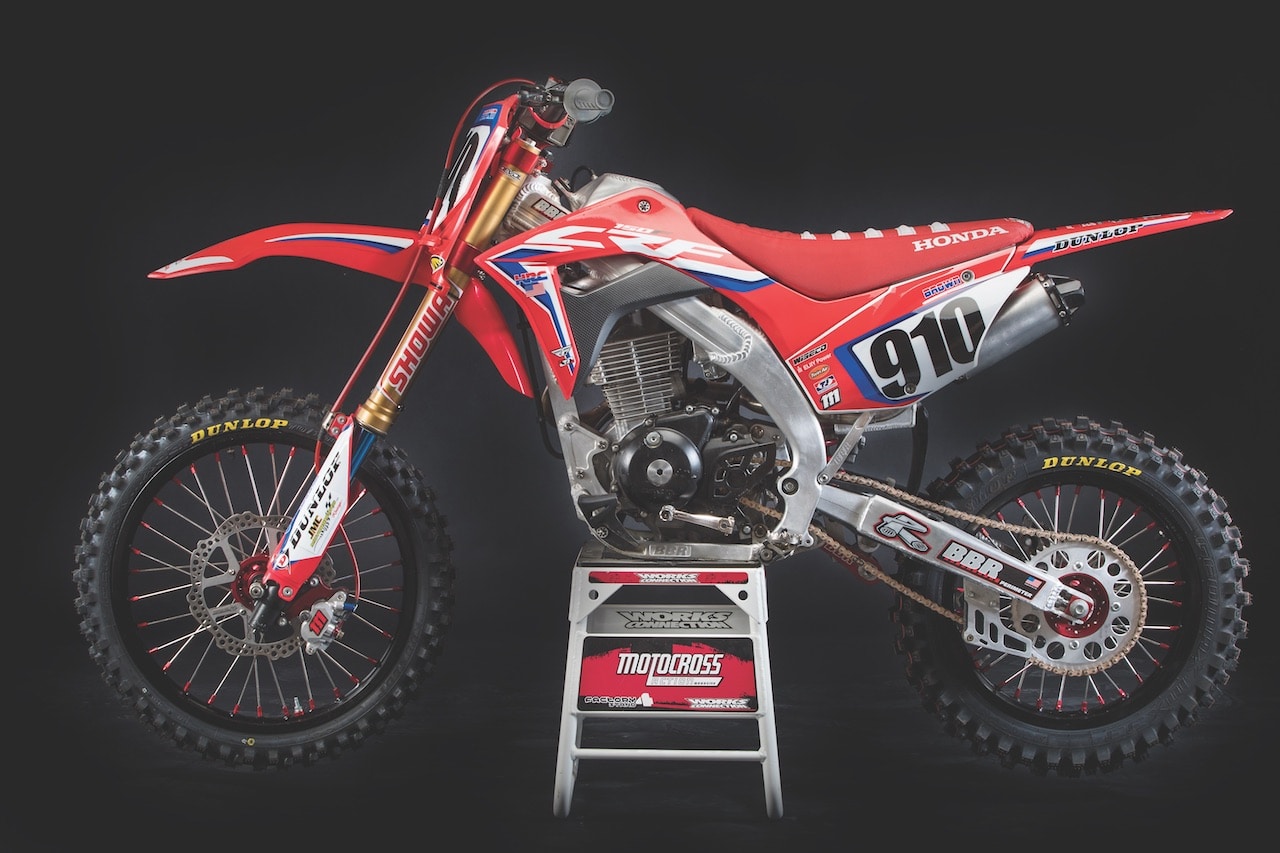 WE RIDE CARSON BROWN'S BBR CUSTOM-BUILT HONDA CRF196F
It has become a fashionable trend over the last decade to get a two-stroke bike that has been decommissioned, pull the engine out of the old-school steel frame and shoehorn it into a new-age aluminum four-stroke chassis. The idea makes sense. Putting an old two-stroke engine into a frame that has 10 to 20 more years of development behind it sounds like a good idea, right? It should handle better, turn better and be more stable, right? Unfortunately, in most scenarios, that couldn't be any further from the truth. 
MANUFACTURERS INVEST A LOT OF TIME AND MONEY INTO DEVELOPING A CHASSIS AND ENGINE THAT WORK IN HARMONY TOGETHER.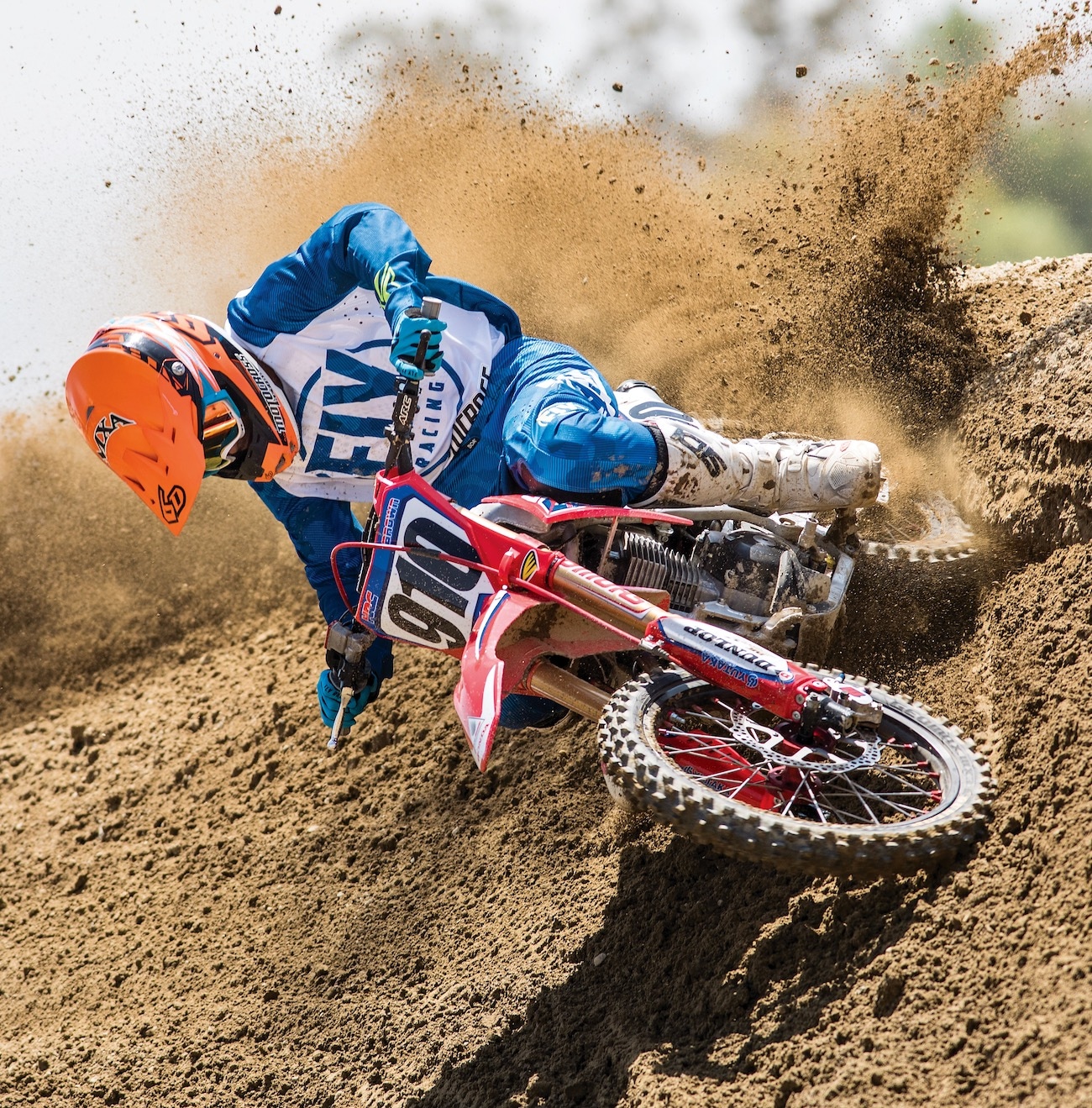 Each chassis is designed for a specific engine. Manufacturers invest a lot of time and money into developing a chassis and engine that work in harmony together. Even with all this time and effort, however, things can go awry. The out-of-sync 2009 Honda CRF450 is a perfect example. Putting an engine in a frame that it wasn't made for generally won't make the bike any better than it originally was, even with professional help. Truth be told, even the best fabricators have a difficult time building a Frankenstein bike that works any better than it did in stock trim. Your old KX500 engine may look cool in a new-age CRF450 chassis, but do you really think that stiffer aluminum chassis will make things any better? 
If you want to make a better-handling bike, you have to build an all-new chassis around the engine. The obvious problem is there are only a handful of people in this world who can build a chassis from the ground up to work in harmony with a donor engine. 
One of these people is Duane Brown from BBR Motorsports. He and his blazing-fast son, Carson Brown, build one-off pit bikes every now and again. They take an engine they want to use and build everything around it to the dimensions they want. Unfortunately, these days, they mainly only build these fully custom bikes for themselves. Why? Because not many people are willing to pay the $20,000-plus price tag. So why do they do it? Because they love it, and Carson gets to race on the best equipment money can buy at the big pit-bike races. 
We have tested many of Carson's and Duane's trick pit bikes in the past, and two things are always the same: They are always air-cooled, and they always have two valve heads. Why? Because those are the general rules for most pit bike races. That brings us to their newest project, their custom-built Honda CRF150F. 
THE OBVIOUS PROBLEM IS THERE ARE ONLY A HANDFUL OF PEOPLE IN THIS WORLD WHO CAN BUILD A CHASSIS FROM THE GROUND UP TO WORK IN HARMONY WITH A DONOR ENGINE.

 
Carson and Duane started with an air-cooled CRF150F electric-start engine (not the CRF150R race engine). In stock trim, this is an engine made for a teenager to cruise around on flat trails at a safe speed. In other words—slow. How slow? 11.5-horsepower slow. They wanted to get the most out of this engine without making it a ticking time bomb, so they bolted on BBR's 196cc big-bore kit and their high-performance camshaft and rev box. BBR ported the head and made a custom intake manifold for the bike. The stock 24mm Keihin carburetor was swapped out for a bigger 28mm Keihin carb, and the custom-made BBR dual exhaust helped the power output significantly. The engine mods were fairly simple and straightforward for this build, as you can purchase just about everything from the BBR website, save for the trick dual exhaust. In the end, they gained 5 horsepower to bring the total output up to 17 ponies. In comparison, the stock water-cooled Honda CRF150R motocross version brings around 20 horsepower to the table. So, BBR came close to bridging the gap. They told us they could have made a bike that beats out the CRF150R; however, they wanted a bike that would stand the test of time.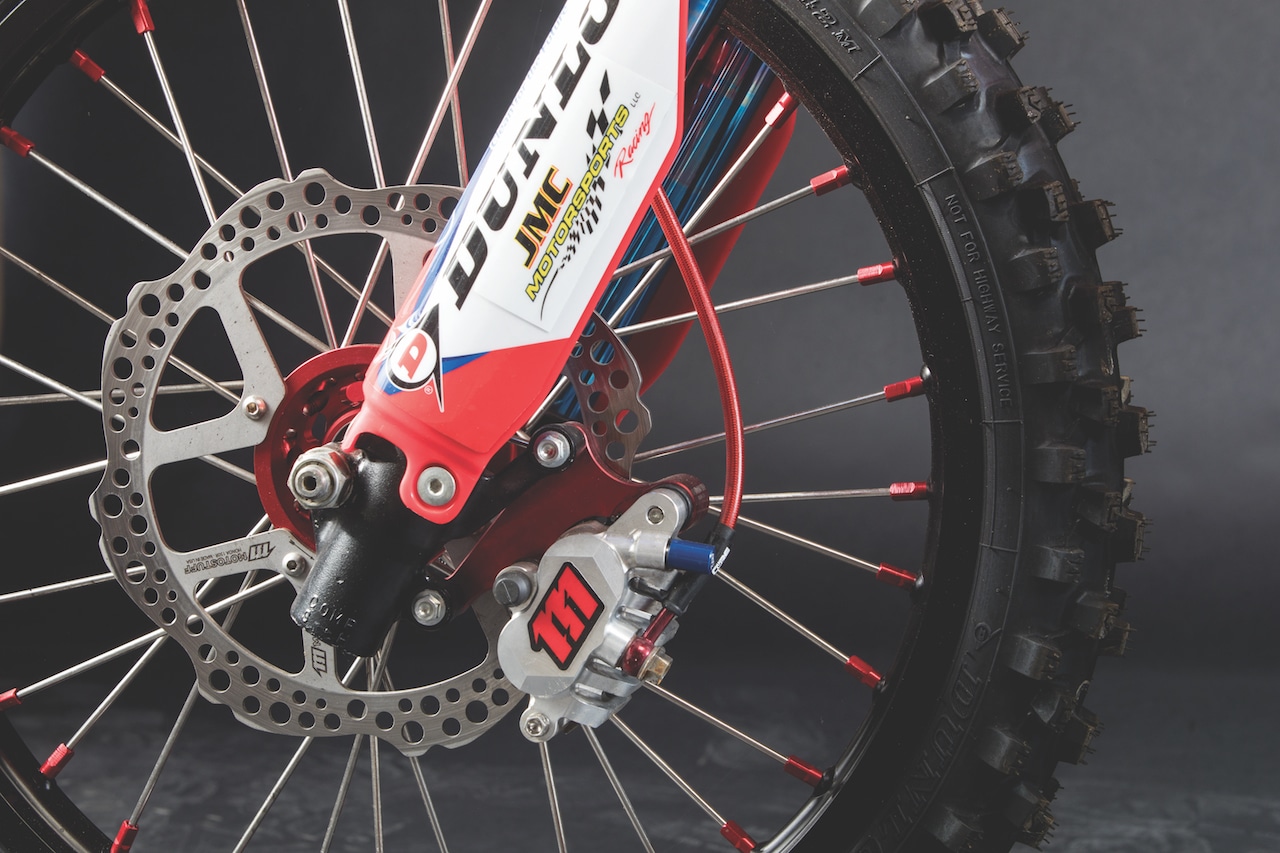 On the chassis side, Duane and Carson told us they put around 400 hours into it to get it right. The hardest part was coming up with the dimensions, as most minibike chassis haven't been updated in over a decade. So, they started with a clean slate, literally with chunks of metal. They tested different specs to find the right combinations to get the feeling Carson was looking for. In the end, they fabricated, from scratch, the frame, subframe, airbox, battery box, linkage, triple clamps, aluminum gas tank, seat, dual-exhaust system and more. As for the suspension, they used the CRF150R motocross forks and shock. They rainbow nitride coated the forks and hard anodized the shock shaft using BBR valving with BBR H.D. springs front and rear. A laundry list of other trick parts were used, such as MotoStuff works front rotor and caliper; titanium Pro Pegs; Renthal chain, bars and sprockets; ARC levers; Works Connection brake covers; and a Devol X-Shot device along with a smattering of other BBR hard parts. 
WE HAVE TO SAY IT: THIS ADVANCED CHASSIS IS BEGGING TO HAVE A HOT-ROD WATER-COOLED ENGINE SHOEHORNED INTO IT.

 
What was it like to ride? We rode this bike on pit bike tracks as well as on the Glen Helen National track to see what this BBR CRF150F (actually CRF196F) was capable of. The custom chassis had the stability, turning agility and suspension to tackle the Glen Helen National track at full tilt. The engine, on the other hand, had trouble making it up the 22-story Mt. Saint Helen climb. But, we knew that would be the case going in. On pit bike and amateur Supercross tracks, our test riders had a blast. They could go for bigger jumps with the pumped-up powerplant without having to worry about breaking the frame in half or bottoming out and bending the forks. In fact, our test riders said this machine had better handling and suspension than any minibike on the market—take note, manufacturers.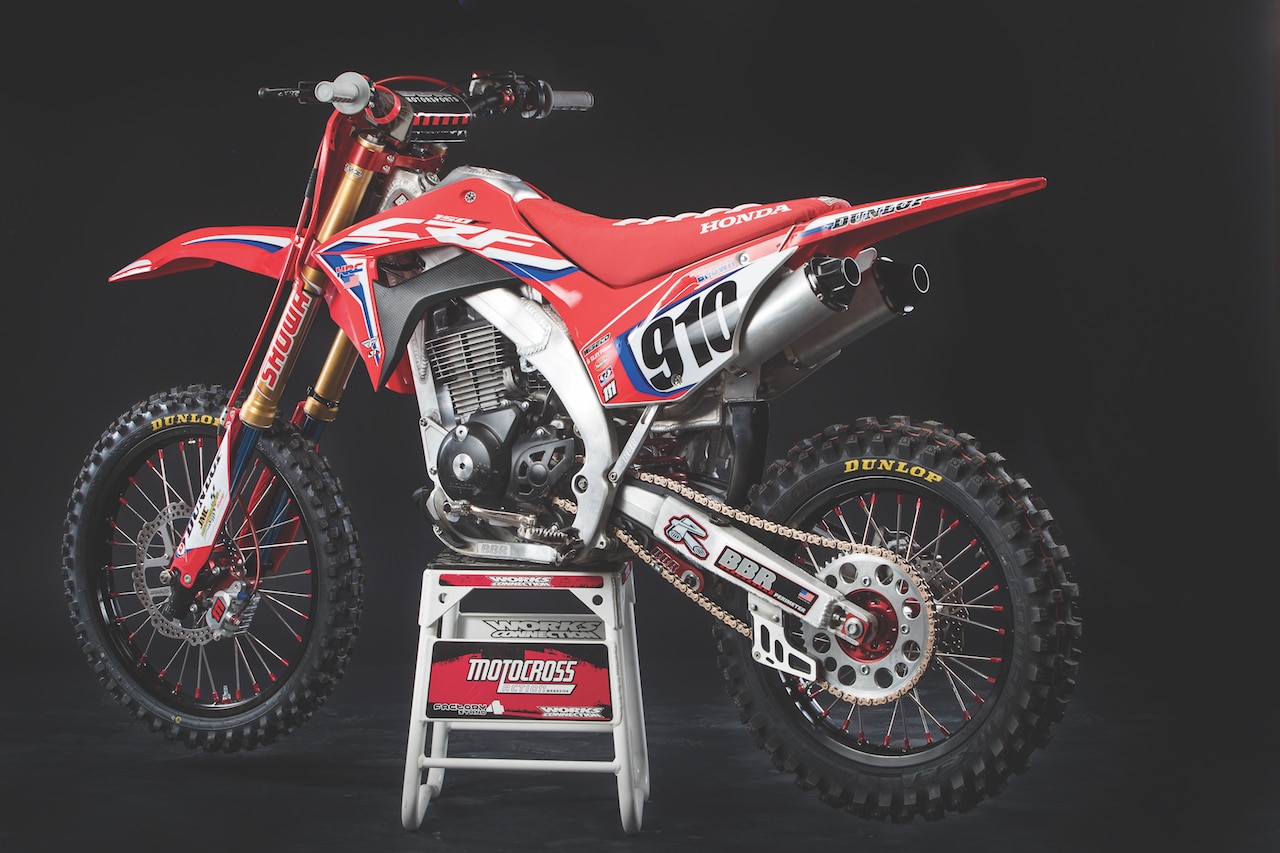 We have to say it, this advanced chassis is begging to have a hot-rod water-cooled engine shoehorned into it. Everything about this bike screams fast, save for the air-cooled trail bike engine (albeit big-bored). Although we understand BBR's logic. One-off chassis' aren't legal to race with in most, if not all, sanctioning bodies. Even if it had an AMA legal 85cc power plant the homologation rules wouldn't allow it.
Nothing is more appealing to ride for a tester than a bike built from scratch. The workmanship and effort that went into this once trail bike is on the obsessive side. No one in their right mind would build a pit bike that cost $20,0000. Although most passionate pit bike riders have a few screws loose anyway. Bottom line, we loved riding this one-off bike. It handled like a dream and had suspension built for a factory rider. Even though the technology of the engine is from the 1980s, BBR showed us the potential this air-cooled steed has to offer once modified. Thanks Carson and Duane for your passion and drive to push the sport forward.
THE $20,000 BBR HONDA CRF196F PIT BIKE VIDEO
BBR CRF196F SUPPLIER LIST
www.bbrmotorsports.com
www.throttlejockey.com
www.motostuff.com
www.renthal.com
www.arclevers.com
www.worksconnection.com
www.devolracing.com
www.prowheelracing.com
www.dunlopmotorcycletires.com