WE RIDE CHAD REED'S WORKS YAMAHA YZ450F
GETTING A CHANCE TO TEST RIDE A WORKS BIKE, IN THE MIDDLE OF THE AMA RACING SEASON, WOULD BE LIKE  FERRARI LETTING YOU TAKE MICHAEL SCHUMACHER'S FERRARI DOWN TO THE STORE FOR A QUART OF MILK ON THE EVE OF THE GRAND PRIX OF MONACO.
Getting a chance to test ride a works bike, in the middle of the AMA racing season, would be like Ferrari letting you take Michael Schumacher's Ferrari down to the store for a quart of milk on the eve of the Grand Prix of Monaco. Factory teams are protective of their machinery for two reasons: (1) They don't want a gaggle of MXA test riders crashing their pristine machine when AMA titles are still on the line (and we almost always throw them away at least once). (2) There are deep dark secrets hidden inside factory-built works bikes. Secrets that a savvy test rider could quickly discern and then blab to the whole wide world. The best way to keep secrets is to be secretive.
OUR CONFIDENCE CAME FROM THE FACT THAT REED'S SUPERCROSS MECHANIC, ALAN OLSON, WAS AN MXA TEST RIDER BEFORE HE TOOK TO SPINNING WRENCHES. BETTER YET, ALAN OLSON IS THE FATHER OF MXA TEST RIDER TIM OLSON.
The MXA test crew has the world's most enviable record for riding works bikes. Our list of bikes dates back to the ?70s and includes the bikes of Hannah, McGrath, Carmichael, Stanton, Kiedrowski, Lamson, Johnson, Bradshaw, O'Mara, Bailey, Roncada, Tedesco, Ferry, Jones, Swink, Huffman, Matiasevich, Glover, Holland, Pastrana, Brown, Langston, Wey, Dymond, Henry, Ward, Hughes, Lewis, Button, Brooks, Sheak, LaRocco, Grant, Tortelli, Everts, Anderson, Stiles, Dubach, Craig, Walker, Schmit and many more. But normally, MXA can't get its hands on a factory bike until the season is over or before the next season starts. We have learned to be patient. After all, the number of people who actually get to ride works bikes is very small indeed. And, even smaller is the list of people who have ridden virtually every works bike (that list only contains the names of MXA test riders).
THIS WAS THE BIKE THAT CHAD TOOK INTO THE LAS VEGAS ROUND OF THE 2006 SUPERCROSS SERIES. THINGS DIDN'T WORK OUT FOR CHAD IN VEGAS, BUT THEY WERE ABOUT TO WORK OUT FOR US AT GLEN HELEN.
Which leads us to the moment at hand. We wanted to ride Chad Reed's works YZ450F. And we thought that we had a pretty good chance of getting our grubby little hands on iteven though we were smack dab in the middle of the 2006 AMA racing season. Part of our confidence came from the fact that Chad Reed's Supercross mechanic, Alan Olson, was an MXA test rider before he took to spinning wrenches for a living. Better yet, Alan Olson is the father of MXA test rider Tim Olson. We thought we had the perfect inbut we were wrong. Truth be told, all the connections in the world couldn't get us seat time on Chad Reed's YZ450F (we doubt that Michael Schumacher's son could call up and get to spin a few laps in his dad's Ferrari).
The fact that Alan Olson couldn't help us (or was it that he wouldn't help us?) didn't stop us from trying. This time we decided to go through the proper channels. That meant calling Terry Beal in Yamaha's Public Relations department. He ducked our calls. We speed-dialed Terry relentlessly. This course of action had worked in the pastand Yamaha, to their credit, is the most obliging of all the factory teams. Even when the 1997 YZ400 pre-pro was still top secret, Yamaha allowed us to not only tear the bike down, but ride Doug Henry's prototype.
We knew that persistence would pay off. Terry finally called and asked us where and when we wanted Chad's bike. The only limitation was that we had to do it midweek so as not to interfere with the race team's AMA 450 National travel plans. No problem. We selected a Wednesday and had Glen Helen prep the complete National track. We rounded up all our favorite test riders and told them to meet us there for a chance to ride Chad Reed's YZ450F National bike.
Terry Beal and Alan Olson, along with Chad Reed's bike, appeared right on time. We thought it was a little strange that Alan Olson came with the bike, since Darrin Sorenson was Chad's mechanic for the Nationals, but we figured that "Pops" was there to see his kid ride. Wrong! Alan came with the bike because the bike was not Chad's AMA 450 National bike, but his 450 Supercross bike. Remember Supercross? This was the bike that Chad took into the Las Vegas round of the 2006 Supercross series tied on points with Ricky Carmichael for the Championship. Things didn't work out for Chad Reed in Vegas, but they were about to work out for us at Glen Helen.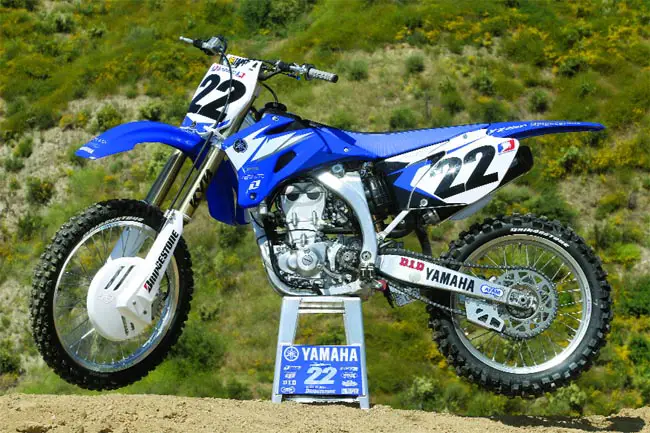 WE'LL START OUT WITH THE BIG SHOCKERIT'S A FOUR-SPEED. WE KNOW EVERYONE MADE A HUGE DEAL ABOUT THE YAMAHA FIVE-SPEED FOR ?06, BUT YOU DON'T NEED A FIVE-SPEED IN SUPERCROSS.
Even after throwing our legs over countless works bikes, there is still something unique about the experience. MXA test riders get butterflies in their stomachs driving to the track. Goosebumps pop out when the bike is unloaded from the box van. And, when riding the bike, every test rider lives in mortal fear of crashing it (which is probably why we always pitch it away). We were happy that Yamaha brought Chad's Supercross bike. It had more cachet as a test bike because of its history at Vegas (and its wins in St. Louis and Dallas). We also couldn't have been happier that we had a perfectly prepped Glen Helen track to ourselves. Why? The Supercross suspension was so stiff that the disced track provided more than enough cushion for us to get some use out of the works Kayaba forks.
We would be remiss if we didn't give you every speck of information we know about Chad's bike.
Gearbox: We'll start out with the big shockerit's a four-speed. We know everyone made a huge deal about how great it was that Yamaha went to a five-speed for ?06, but, in reality, you don't need a five-speed in Supercross. Chad uses second and third most of the time and fourth in the whoops. Fifth is completely unnecessary. His National bike has five speeds.
Covers: Yamaha uses aftermarket GYT-R parts on Chad's works bike. If you are looking to get Chad's clutch, clutch cover, clutch perch and a few other odd parts, just look in the GYT-R catalog at your friendly local Yamaha dealership.
Suspension: Chad's suspension is of the works KYB variety. The triple clamps are works parts (with a reported 22.5mm offset), as are the steering races, which are offset to change the forks' rake. Chad also runs a works shock linkage.
Wheels: The hubs are magnesium. The tires are works Bridgestones.
Exhaust: The exhaust pipe is a White Brothers Carbon Pro.
Brake: To stop, Chad runs an oversized front rotor with a works front master cylinder. On the rear, surprisingly enough, he runs a stock setup.
IF YOU BUILD THE ENGINE WITH ENOUGH TORQUE, IT RUNS LIKE AN ELECTRIC MOTOR. TURN THE THROTTLE A LITTLE, YOU GET A LITTLE, TURN IT A LOT, YOU GET A LOT. CHAD'S BIKE HAD A RHEOSTAT POWER.
What was it like to ride Chad Reed's works YZ450F? Surprisingly pleasant. The age of works bikes with obscene amounts of horsepower is over. They were killed by the fact that the new 450cc engines can produce more power than the human body can handle. The factory teams now realize that power is only good if you can use it, and that brings us back to Chad Reed's engine. It makes tons of power, but it meters it out in usable dollops. This is the beauty of torque. If you build the engine with enough torque, it can run like an electric motor. Turn the throttle a little, you get a little. Turn it a lot, and you get a lot. Chad's bike had a rheostat powerbandand was blinding fast on the top-end. We loved Chad Reed's engine. It inspired the confidence to turn the throttle on sooner, jump a little further and go faster. The man responsible for Chad's amazing motor is Yamaha's Bob Oliver.
As for the four-speed tranny, we can see why Chad runs a five-speed transmission outdoors. Even at our speed, Glen Helen's famous Talledega first turn had us wringing out Chad's bike in fourth gear and wishing for another gear. That was the only place on the big National track (which incorporated both the original National track and a new section on the REM side of the hill) where we actually felt the need to use a fifth gear. If you thought Chad's four-speed was just the stock five-speed with fifth removed, that's not the case. Every gear on Chad's bike is a works part, and the gear ratios have been slightly altered to work better for Supercross. We never used first gear, so realistically Chad could have had a three-speed, since it easily pulled second gear starts (we loved Tim Ferry's three-speed Yamaha when we tested it four years ago).

CHAD RUNS HIS OWN SIGNATURE PROTAPER BARS, BUT ROTATES THEM PRETTY FAR DOWN. THEN HE RUNS HIS CLUTCH LEVER PRETTY HIGH, HIS FRONT BRAKE LEVER IN A NEUTRAL POSITION AND HIS REAR BRAKE PEDAL ABOVE THE FOOTPEG.
When asked why they still use the old hook-style holeshot device, their answer was simple. With no moving parts, the odds of a problem are slim to none. Would you believe Chad Reed's bike uses a Maico trick? Maicos were notorious for their stiff clutch pull. Yamaha lengthened the clutch actuating arm (down by the front sprocket) to give Chad more leverage on the clutch. This made the clutch easier to pull. Thanks to better baskets, pressure plates, inner hubs and clutch plates (not to mention changing the clutch after every moto), Chad Reed's clutch doesn't start slipping like the old Maico used to. When it comes to Chad Reed's works KYB suspension, you shouldn't be surprised when we say it was stiff. We weren't. His Supercross bike has the appropriate valving and spring rates to handle Supercross tracks at top-three speed. We could live with the shock, as our typical test rider has 20 pounds on Chad, but the front was unbelievably stiff. Even taking out ten clicks of compression didn't help the forks move all that much. Even with the forks as stiff as they were, though, we must say Chad's bike turned better than our production Yamaha YZ450F. Yamaha wouldn't disclose their offset or how much the offset races changed the rake, but we're hoping that the slight head angle change on the 2007 YZ450F brings some of Chad's feel to the production bike.
What was the cockpit of Chad's YZ450F like? Chad runs his own signature ProTaper bars, but he rotates them pretty far down in the bar mounts. Then he runs his clutch lever pretty high, his front brake lever in an almost neutral position, and his rear brake pedal above the footpeg. Was this setup good for us? No. Is it good for Chad Reed? Absolutely. And, to be honest, that's all that matters. Before the day was over, we adjusted the bars and levers to our liking, but we left the rear brake pedal alone, as it didn't take long to get used to.
What do we really think of Chad Reed's YZ450F? We think Yamaha turned an already amazing bike into a lethal Supercross weapon that was fine-tuned in every way to make Chad happy. What made us happy? The fact that Chad wasn't the only guy this year to throw a leg over this bike.
For more We Ride stories go to Top Ten Stories