MXA RIDES COOPER WEBB'S KTM 300SX WORKS TWO-STROKE
MXA RIDES COOPER WEBB'S KTM 300SX WORKS TWO-STROKE
Factory two-strokes are a thing of the past in motocross. No manufacturer is going out of its way to push the limits for a factory two-stroke effort in a world dominated by four-strokes on the racetrack. The closest things you can find to factory smokers on American soil are in museums. And that is exactly where Ken Roczen dug up Jeremy McGrath's factory Honda CR250 that he raced at the 2019 Red Bull Straight Rhythm. Honda doesn't make two-strokes anymore, and when Red Bull wanted Kenny to race the two-stroke-only Straight Rhythm event, the best option Honda had was to dust off a relic. Kawasaki and Suzuki are in the same boat, as the three manufacturers decommissioned their smokers over a decade ago. Looking back, Suzuki, Honda and Kawasaki must be regretting their decision, as smokers have made a comeback that no one could have foreseen, save for KTM.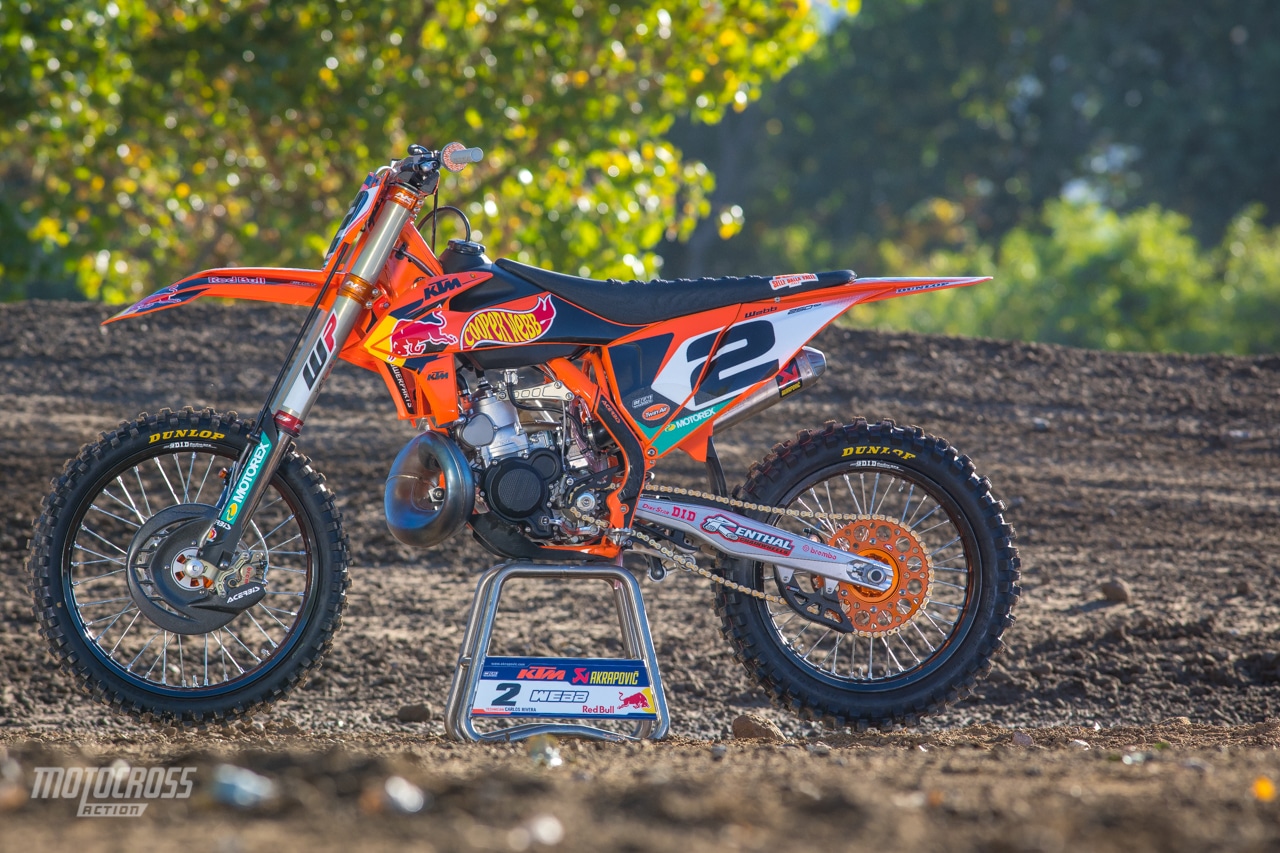 A decade ago, KTM two-strokes had nothing to brag about. They had excellent engines, but their chassis and suspension were way off from the Japanese manufacturers. When Kawasaki, Suzuki and Honda stopped making two-strokes and Yamaha pushed the pause button on research and development, it gave KTM a window of opportunity to develop its two-strokes into winners. A decade later, KTM two-strokes are the most dominant on the track. Sure, the Yamaha YZ125 and YZ250 two-strokes still offer super-smooth power, but they can't touch the sheer output of the KTM powerplants. 
Since 2019 450 Supercross Champion Cooper Webb is a Red Bull athlete, he was contractually obligated to race the Red Bull Straight Rhythm. Luckily for Cooper, he had more options to choose from than Roczen did. When we learned Webb was entered in the Straight Rhythm, we asked Jody to make a call to his buddy and past MXA test rider Roger DeCoster to get us Webb's smoker after the race. No problem. After the Straight Rhythm, Webb's ace mechanic Carlos Rivera serviced the KTM 300SX and put Webb's outdoor suspension on for us before we met at the track. We didn't use Webb's Supercross setup because no Supercross tracks were open during the offseason. Plus, it isn't fun for anybody to ride Supercross suspension on an outdoor track. 
THERE WERE MANY FACTORY PARTS ON WEBB'S 300SX—NOT BECAUSE
KTM MADE FACTORY PARTS SPECIFICALLY FOR IT, BUT BECAUSE THE FACTORY PARTS FOR HIS 450SXF BOLT RIGHT ON.
There were many factory parts on Webb's KTM 300SX—not because KTM made factory parts specifically for it, but because the factory parts from his KTM 450SXF bolted right on, as both bikes share the same chassis. This made it easier for Carlos to dial in the bike for Cooper. 
Cooper's setup is nothing out of the ordinary, except for maybe his rear brake pedal. It seemed tucked under the clutch cover. It was strange at first, although we noticed it helped test riders keep their toes in for good technique. What we learned was the Hinson clutch cover was wider, making the brake lever feel nonexistent at times. Cooper's clutch and brake levers were factory parts, which doesn't mean anything more than they have a different shape from the stockers. Both the clutch and front brake lever were skinnier than stock. Most MXA test riders felt they got a better pull, whereas others liked the stock shape better. Cooper's lever position was neutral, with both in the same position as the other. The shifter felt quite high. 
Test riders had Carlos move the shifter down a notch on the spline, but then it was too low, and they couldn't get their foot underneath the shifter. KTM told us it was a stock spline and shifter. What we did notice was that the titanium Nihilo footpegs were lower than the stock pegs, which made the shifter feel taller than normal.  
We were quite interested in the factory pipe and Akrapovic silencer. Most people think these are one-off products. Not so! The pipe is the exact same part that a customer can buy, but with a different finish from the Austrian factory. As for the silencer, you can buy the same one that Cooper's KTM 300SX used from KTM's Power Parts catalog (part number 555-0597-9000). 
NEITHER KTM NOR ITS SISTER BRAND HUSQVARNA HAVE 300cc
TWO-STROKE MOTOCROSS BIKES IN THEIR LINEUPS
We know what you are thinking: KTM doesn't make a 300cc two-stroke motocross model. In fact, neither KTM nor its sister brand Husqvarna have 300cc two-stroke motocross bikes in their lineups, save for the fuel-injected TX300 and TE300 off-road models. KTM does, however, offer a 300cc kit that bolts on to the 250SX bottom end, which is exactly what Webb ran, at least for the most part, but we will get to that. The 300SX kit (part number SXS-1730-0000) comes with everything, including the cylinder, power valve, piston, gaskets and ECU.

As for Webb's 300cc kit, he had a factory map installed in the ECU and the cylinder was cleaned up. Everything else was stock, including the bottom end. The Mikuni carburetor, which has given us so much grief in the past, was just re-jetted and ran to perfection with the 300cc powerplant. 

Normally, a KTM 250SX's sag setting is around 105mm. With Webb's WP Cone Valve forks and Traxx shock mated to the factory linkage, he ran 96mm of sag due to the forks and linkage being a different length from stock. We thought the bike was going to knife entering corners and have a stinkbug feel in the rear with such high sag, but we shouldn't have doubted a factory team that just won the 2019 Supercross crown. Our perception was that the bike felt high when sitting on it, largely because we were on tippy-toes to touch the ground, but once we got on the track, the bike felt perfectly balanced front to rear. 
A few other things worth noting are that the stock black 250SX frame was sent out to get powder-coated orange to match the race frames. The 250SX doesn't come with skid-plate mounts at the bottom of the frame like the four-stroke models do, so Carlos welded some tabs on to mount a skid plate. Last but certainly not least are the awesome throwback Hot Wheels graphics that DeCal Works made for Cooper. DeCal Works is offering the same graphics to the public, and you can even customize what the logo says inside. 
WHAT IT WAS LIKE TO RIDE COOPER'S KTM 300SX TWO-STROKE?
IN ONE WORD, AWESOME
In one word, awesome. This bike exceeded all our test riders' expectations. The basic 300cc powerplant tends to have a short window of power in the midrange that signs off early on top. Webb's 300cc smoker offered metered power throughout the entire spread. The throttle response was instantaneous. It took a few laps to get used to the connected power. Test riders also realized the bike had enough power to pull a taller gear through the corners. The hardest thing was believing that it could pull a bigger gear. The bike sounded like it was going to die. It had a super-deep low-end sound when entering a corner in a higher gear. The sound fooled us, but once we snapped the throttle on, the bike came alive without any clutch work. We are glad this was the case, because in a lower gear the bike was hard to handle. Only our test riders with a precise right hand could carve a corner with precision on Webb's 300SX in what we assumed was the proper gear. Most of our test riders were bouncing in and out of lines, as the abrupt power was instantaneous. Once the test riders quit downshifting in corners, the bike settled down and flowed with the riders. 
ONCE OUT OF THE CORNERS, THE BIKE PULLED HARD AND HAD MORE THAN ENOUGH TOP-END THAT YOU DIDN'T NEED TO SHORT-SHIFT IT.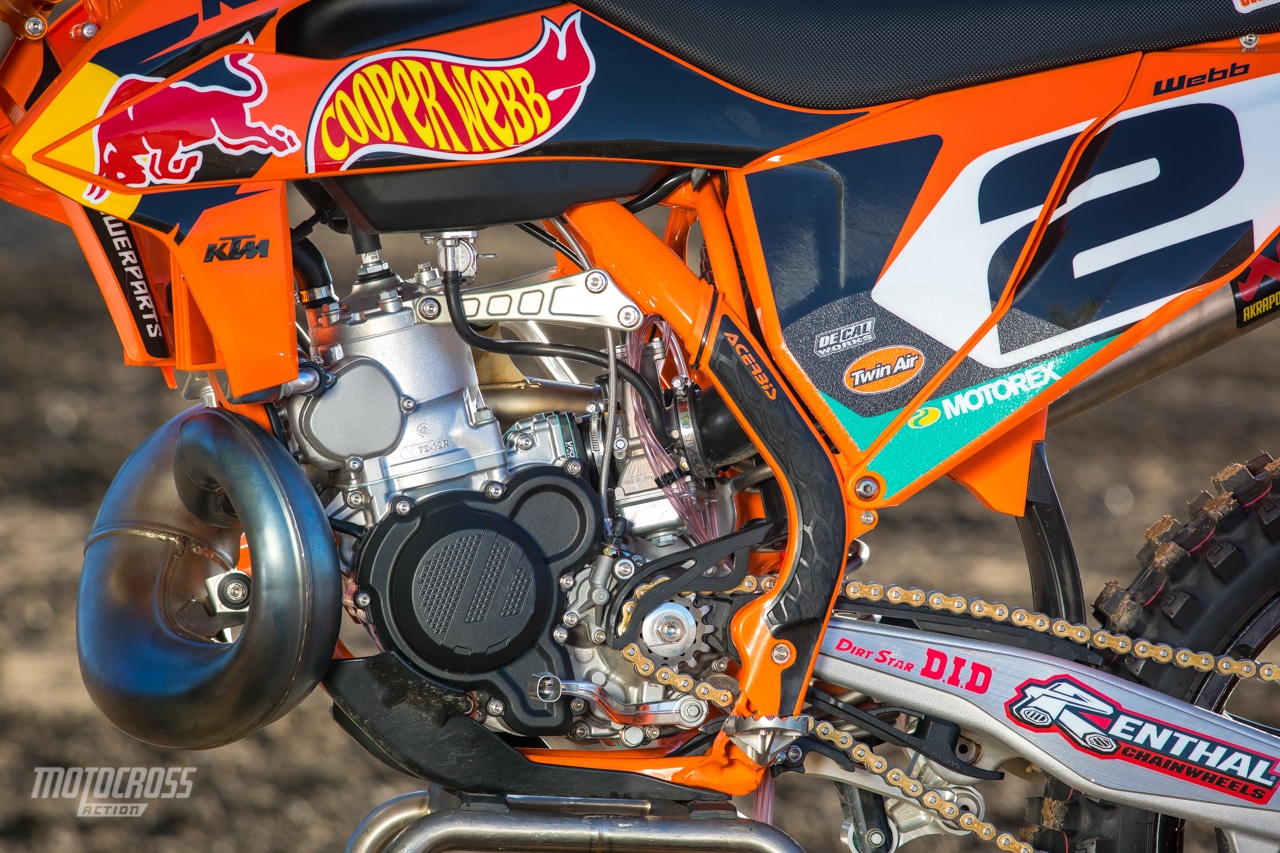 Once out of the corners, the bike pulled hard and had more than enough top end that you didn't need to short-shift it like a stock 300cc two-stroke. This was a nice touch. It meant test riders had a choice, not an obligation, to shift. 
Even though this was Webb's outdoor suspension straight off his 450SXF, we thought it was going to be stiff. Pushing up and down on the forks, they didn't move much. We were positive that we were in for a rough ride. Once the crust of the travel was broken, the forks were progressive and not super harsh; however, they definitely suited our faster testers better, as the faster they went, the better the suspension worked. With our slower testers, the bike would skip over the small chop under braking and cause a bit of head-shake. That all stopped when riders picked up the pace and braked harder. The shock partnered well with the forks, as they were perfectly balanced and didn't have a lot of fore and aft movement, making the ride very consistent and planted.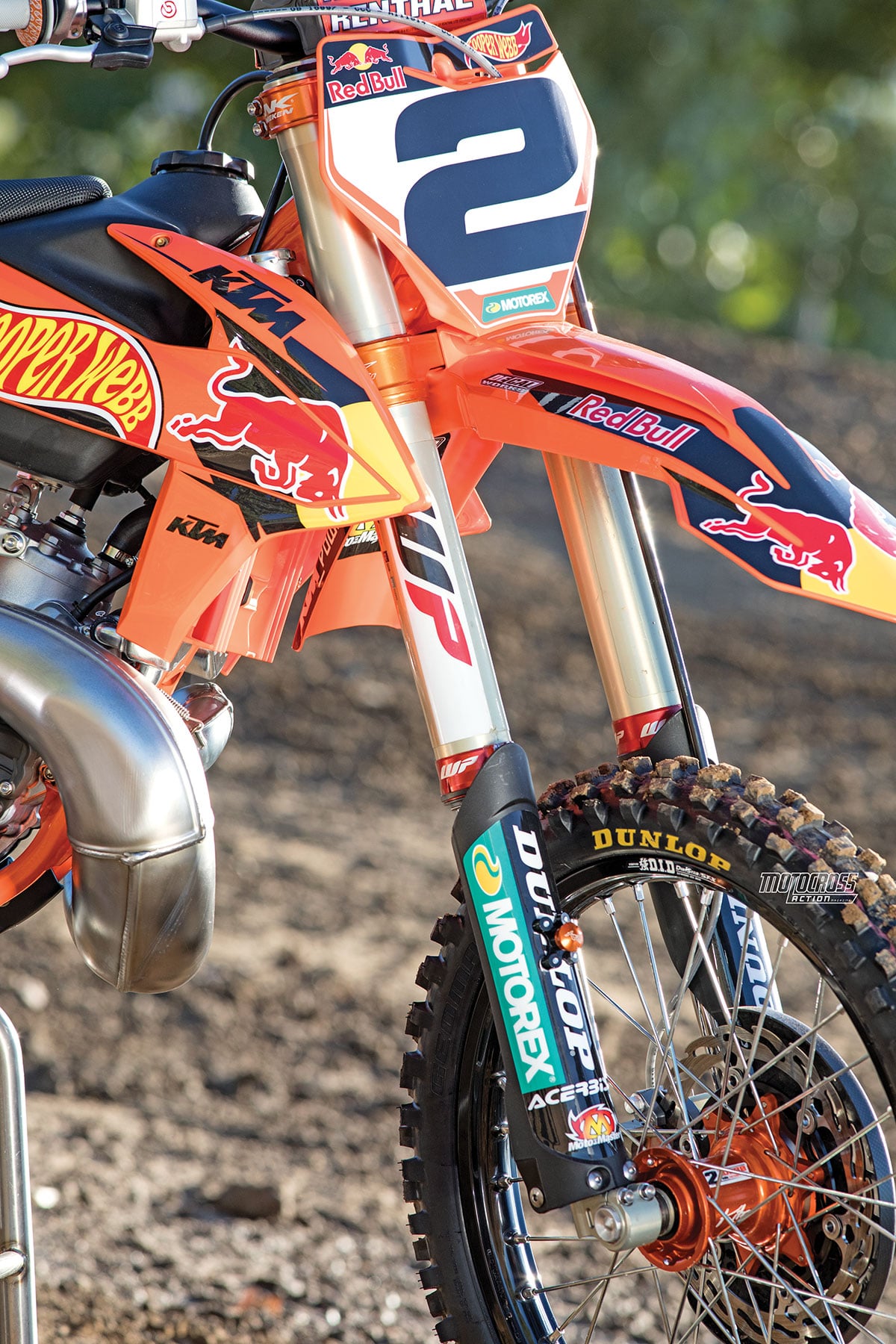 The factory front Brembo brake is less potent than the stock KTM brake. Test riders really had to pull to get the bike to stop. We learned that Cooper uses different brake pads to make the front brake feel more progressive instead of like an on/off switch. After getting used to the feel, some test riders thought this was something worth copying on their race bikes—but not every test rider was willing to give up on Brembo's awesome pucker power. 
To sum it up, Cooper's KTM 300SX was a breath of fresh air—not just because it was a superb machine, but because the majority of parts that made a difference are available over the counter. You can get close to the same engine package by slapping on the KTM 300SX big-bore kit and sending your ECU to Twisted Development to mellow out the aggressive midrange hit and lengthen out the top-end pull. Yes, Cooper Webb's bike had a lot of unobtainable parts, such as the brake, suspension and titanium bits, but he earned his access to the trick stuff.