WE RIDE CYLINDER WORKS' BIG-BORE HONDA CRF501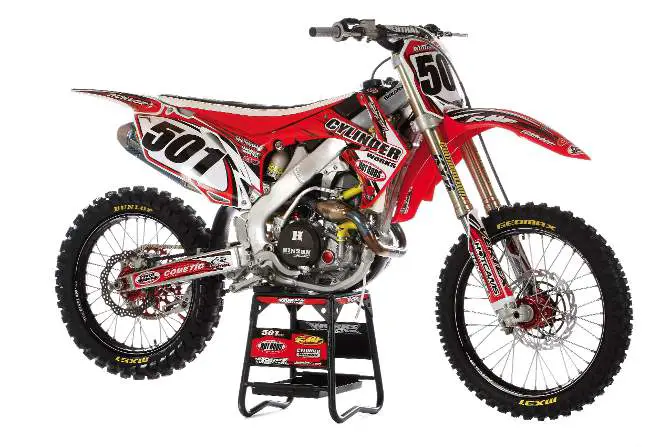 When it comes to building or rebuilding a Honda CRF450, the MXA wrecking crew has several options. First, we could go with OEM-spec engine parts for a freshly rebuilt 450cc engine. This is the most common rebuild, and it breathes new life into a tired warhorse. Second, we could take the opportunity during the rebuild phase to add a little extra oomph to our CRF450 by going to a fairly straight-forward big-bore 470cc kit with a new cylinder, rings and piston.
We could have done either of these things, but we were enticed by Cylinder Works' CRF501 kit. We love the 501 nomenclature's history, which dates back to the Maico days when the Germans believed they could build a single-cylinder two-stroke big enough to make a three-speed transmission work. Okay, they were wrong, but that didn't stop the MXA wrecking crew from grabbing for a piece of motocross history by building the biggest, bolt-on, big-bore, long-stroke CRF450 possible.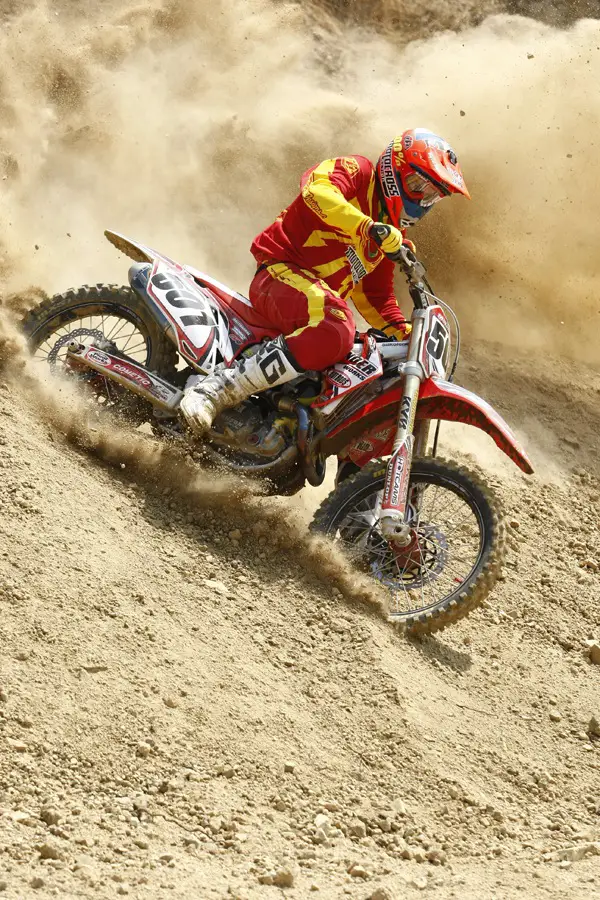 Motocross racers will understand what drove us to attempt this, but wives and girlfriends may scratch their heads. We didn't have a choice. We had to build a 501; it is in our blood. Making the decision easy for us was the fact that we had a high-hour Honda CRF450 that was in need of an engine rebuild. Plus, the crankshaft was getting up in the hours too. So, it was only logical that we combine a big-bore piston with a stroked crank, given the fact that a Hot Rods CRF450 stroker crank only costs $76 more than their standard-length crank and $45 more than a stock Honda CRF450 crank. In a flurry of math equations, we came to the logical assumption that if we big-bored the piston, we could keep a better balance of power if we stroked the crank. By keeping the engine closer to its original bore-versus-stroke formula, we believed that we could keep the curve close to stock?just beefed up.

The powerful 501 would tear through a stock 2012 CRF450 clutch like a rabid dog. The Hinson single-spring was a must.
Big engines have big needs. One thing led to another, and before we knew it, we had a pretty involved project on our hands. By the time we finished, we had a bike that not only made four more horsepower at peak, but made three to four horsepower more than stock on every inch of the dyno curve.
MXA's 501cc engine is really a combination of two different engine kits. We started with a Cylinder Works big-bore kit ($649.95) and mated it to a Hot Rods stroker kit ($599.95). The result was a 3mm-larger bore filled ably by a forged Vertex piston and Cometic top-end gasket kit. The crankshaft mod added 3mm to the stroke (and the Hot Rods kit included their stroker crankshaft, main bearing seal kit and complete engine gasket kit). The bore and stroke of the stock CRF450 was 96mm by 62.1mm (449.5cc). Our 501cc project bike had a 99mm-by-65.1mm bore and stroke (501.1cc).
Cam: Since we went big?very big?we expected to lose some top-end power. The big piston and longer stroke would be pushing a lot more air per revolution. We felt that a Hot Cams' Builder Series Stage II camshaft would give us back some of the lost top-end power?and we knew that nothing was going to hurt the bottom end. Honda's Unicam engine design helped save money in the camshaft arena, because we only had to buy one $269.95 camshaft.

Throttle body: To help feed the bigger engine, we sent the throttle body to Injectioneering for their $225 throttle-body modifications. Injectoneering improved the flow through the stock throttle body by installing a custom-made butterfly that sits inside the bore at an angle that opens faster and cuts down on turbulence. The power gain is felt in the first quarter turn of the throttle. MXA has had good luck with this mod, and many AMA National riders use it on their CRF450s.


It would be a shame to choke the modified engine with the stock exhaust. The titanium FMF Factory 4.1 let it breathe.
Mapping: Since the big engine would require more fuel, we turned to Tokyomods to tune a $699.95 Vortex 10 ECU for the 501. The beauty of the Vortex is that the ignition and fuel mapping can be changed with a small screwdriver at the track.
Exhaust: On the exhaust side, our CRF501 was equipped with a titanium FMF Factory 4.1 RCT system with a MegaBomb head pipe.

Gearing: Of course, the massive gain in horsepower meant that we had to ease the gearing to keep from corkscrewing the rear tire into the ground. We ran a Renthal 14-tooth countershaft sprocket with a 50-tooth rear sprocket. For comparison, this would be like putting a 46.5-tooth rear on with the stock 13-tooth countershaft sprocket.

Clutch: The stock CRF450 four-spring clutch had about a 15-minute window with this powerband. It barely works with the mild CRF450 engine. We opted for a Hinson SS (Single Spring) Clutch. The SS uses a Belleville washer instead of multiple coil springs. The whole package included an inner hub/SS pressure plate, billet clutch basket, fiber plates, drive plates and an outer clutch cover for $750.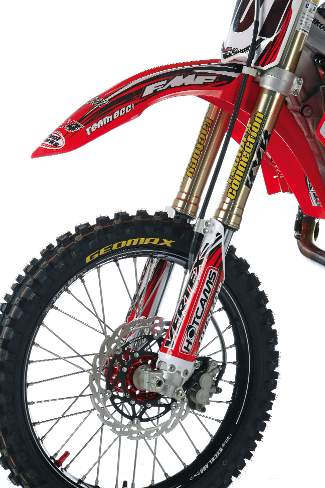 The Factory Connection forks were soft, but we stiffened them up with the clickers to make the chassis more stable.

Suspension: It wouldn't be right to put so much effort into the engine and leave the suspension alone, so it was shipped to Factory Connection. They set up the bike for a 178-pound Intermediate with 0.49 kg/mm springs in the forks and a 5.5 kg/mm spring in the rear. They installed their oil-lock collars in the forks for better bottoming resistance and did a basic revalve on the forks and shock. For 2009 to 2011 CRF450s, Factory Connection shortens the shock to balance out the stinkbug chassis of the CRF450. The 2012 comes with a longer linkage pull rod that evens out the chassis, so Factory Connection valves the shock accordingly.
Wheels: Dubya built up wheels for the project bike with Talon carbon fiber center hubs and Excel's top-of-the-line A60 rims. For more stopping power, the front wheel was equipped with a Moto-Master 270mm oversized rotor. For traction, the wheels were mounted with a Dunlop MX31 front and an MX51 rear.

Miscellaneous: Other goodies included Works Connection front- and rear-brake master cylinder caps, radiator braces, and titanium Superlight footpegs. A yellow CV4 radiator hose kit added a bright accent. The stock seat was covered with a Moto Seat Custom Cool seat cover. DeCal Works provided the semi-custom graphics kit with preprinted number-plate backgrounds.

The faster a bike goes, the more braking power it needs. Moto-Master's oversize Flame rotor handled the task.
When the time came to ride it, every MXA test rider lined up for a shot at the biggest CRF450 motocross bike built. Our first concern with such a large-displacement bike was starting it. No worries. The 501 took a little more oomph than the stocker, but with a full, smooth kick, the engine was eager to fire up.
On the track, test riders immediately realized that the 501 was all about torque. From the bottom of the powerband, the Cylinder Works/Hot Rods CRF501 pulled a lot harder than a 450. By the time it reached its peak in the midrange, the 501 was going fast enough to gun down 450s on straightaways and clear jumps from tighter lines than we ever dreamed possible on a 450.
The key to success was to short-shift and ride a gear taller than you would on a stock 450. This strategy came with benefits. Being in a taller gear coming into turns resulted in less compression braking. The rear wheel rolled more freely through braking bumps, and the bike was more stable through the transitions. Rolling on the throttle in turns, the bike's torque gave the rear wheel a very hooked-up feel. Predictably, on flat and hardpacked corners, the 501's power was much easier to control, and the rear wheel was much less likely to step out sideways. We were surprised to discover that the abundant torque helped keep the front wheel planted through the turns. In places where our stock CRF450 would hunt and peck for the proper line, the 501 would tractor forward like it was on railroad tracks. Finally, using the torque curve instead of rpm, exiting corners through big acceleration bumps dramatically helped the rear suspension.


When it's time to freshen up an engine, why not go big? The stroker crank got halfway to 501cc and the big-bore kit did the rest. If you can't tell which set is stock and which is new, then you'd better ship your engine out for labor.
WHAT DID WE REALLY THINK?
Don't get too misty, though, because it wasn't all peaches and cream with the Cylinder Works 501. Going big had some consequences. Despite the camshaft, the powerband signed off sooner and was less willing to rev than a CRF450. Plus, as the 501cc bike revved up into the midrange, it started to vibrate a lot. If you held it on to try to get max rpm out of it, it almost rattled your teeth. About half of the MXA test riders thought that the vibration was a deal-breaker. Short-shifting was the only way to avoid hand-tingling vibration, and test riders who didn't adopt a tall-gear game plan didn't want to ride the CRF501 ever again.

Making matters worse was that the Factory Connection suspension was set up too soft for most of our test riders, but this was easily fixed and is a part of every project-bike build. The shock worked very well when we used the bottom-end power of the bike, but we slowed down the rebound and increased high-speed compression to handle the bigger chop. Once we made a few adjustments, both the forks and shock did great work in high-speed choppy bumps, keeping the bike balanced without spiking in the front or kicking in the rear.

The 501cc Honda was a torque monster. Using the low-end power resulted in tons of rear wheel traction. Test riders could shift early and flow through turns with ease.
Sometimes the MXA wrecking crew goes too far. We thought that if 470cc was good, then 490 must be better?and if 490 is better, then 501 must be the cat's meow. Maybe we were a little too enamored with the nebulous connection to the fabled 1971 Maico 501 (actually 500), but in truth, we think that our CRF501 project bike had a lot in common with the old-school Maico. They were both too powerful, they both vibrated, and they both were based on a failed theory. So, we admit that we built a Frankenstein bike and created a monster, but on steep uphills it had no match.