WE RIDE DENNIS STAPLETON'S 2018 KTM 250SX TWO-STROKE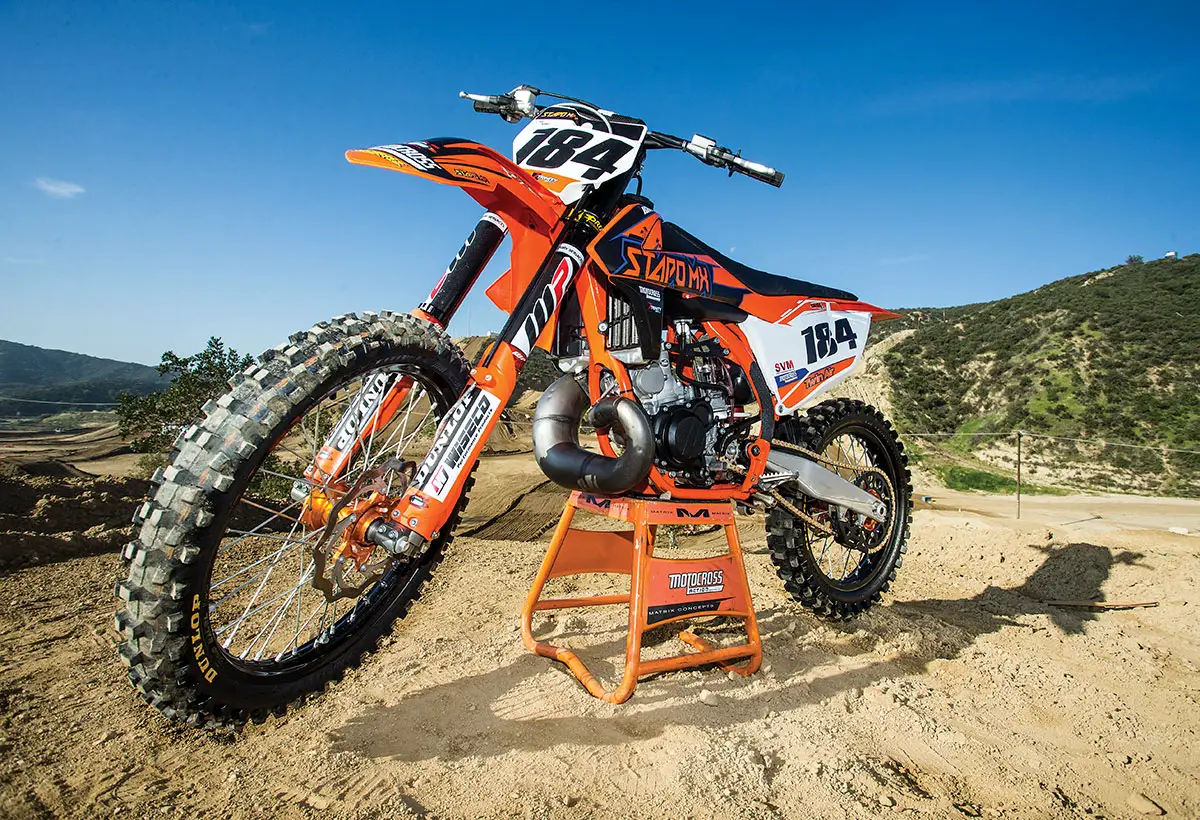 Editor's note: Heading into the 2018 MTA World Two-Stroke Championship, the MXA wrecking crew had seven test riders—divided between in-house testers, photo testers and endurance testers—who wanted to race the two-stroke event. No big deal; this is the normal number of test riders that we use on a regular race weekend, but we only had five 2018 two-strokes. Again, this is also not unusual, as we often have two or more test riders race the same bike on the same weekend in different classes; it speeds up the testing process.
For the World Two-Stroke Championship race, the math had a few kinks in it. First, we promised our Pro test riders first pick with a codicil that they would not have to share their bikes with anyone else. We put Dennis Stapleton on our 2018 KTM 250SX and Zach Bell on our 2018 Husqvarna TC250, and gave them carte blanche to do whatever they felt necessary to their bikes. For Zach Bell's Husky, Three Brothers Racing, AHM Factory Services and STI Tires agreed to do all of the heavy lifting. Meanwhile, Dennis Stapleton got help from KTM, WP Suspension and Knobby Shop.
You can read all about Zach Bell's Husky TC250 by clicking here, but what follows is a breakdown of the changes that Dennis made in his own words.
This year my bike of choice was the KTM 250SX. I have been spending a lot of time racing a 2018 KTM 450SXF, so I figured adapting to the two-stroke version would be fairly easy. As an MXA test rider, I have lots of experience jumping from one brand to the next, even sometimes between motos. That experience makes it much easier to go cold turkey onto a bike I hadn't raced this season.
"I WANTED TO BE ON THE PODIUM, BUT WOULD HAVE BEEN
HAPPY WITH A TOP FIVE, IN THE END, GIVEN HOW TOUGH THE TRACK WAS,
I WAS THRILLED TO BE IN THE TOP TEN." 
I went by Jody's to pick the KTM 250SX up a week before the race, and he said that I could do whatever I wanted to make it mine. I knew from a few test sessions, video shoots and playing around that there would be minor issues with the jetting and the gearing, but all in all, this was a bike that was capable of running up front right off the showroom floor.
During my first World Two-Stroke moto I got an excellent start and was running inside the top five. As the race wore on, I made a few mistakes and got pushed back to eighth place, where I fell into the clutches of my childhood friend Arik Swan, and he would outmatch me to the checkered flag, putting me in ninth place.
For the second Pro moto, I lined up next to the box, which put me in the center of the start. As the gate dropped, my KTM 250SX rocketed out of the gate. Halfway down the straightaway where the track crosses the start, I hit the berm a little out of position, which made me double-clutch, letting other riders get the advantage into the first turn.
Running mid-pack, I got in another tit-for-tat battle with former Yamaha factory rider and AMA Supercross winner Doug Dubach. We rarely parted ways during the whole second moto until right at the end when Doug crossed the line in 10th and me in 11th. It was good enough for seventh overall; Doug ended up eighth overall.
Here is the list of things I did to MXA's 2018 KTM 250SX for the World Two-Stroke race.
Suspension: Luckily I had been testing with WP on new air fork specs for the Cone Valve air forks. I tried to run the settings off my KTM 450SXF, but they were too firm, so I softened them up. These forks have a different cone and cone-spring combination that produces less damping than the 450 setup. It also has a lighter base valve to keep the pressure balance from spiking.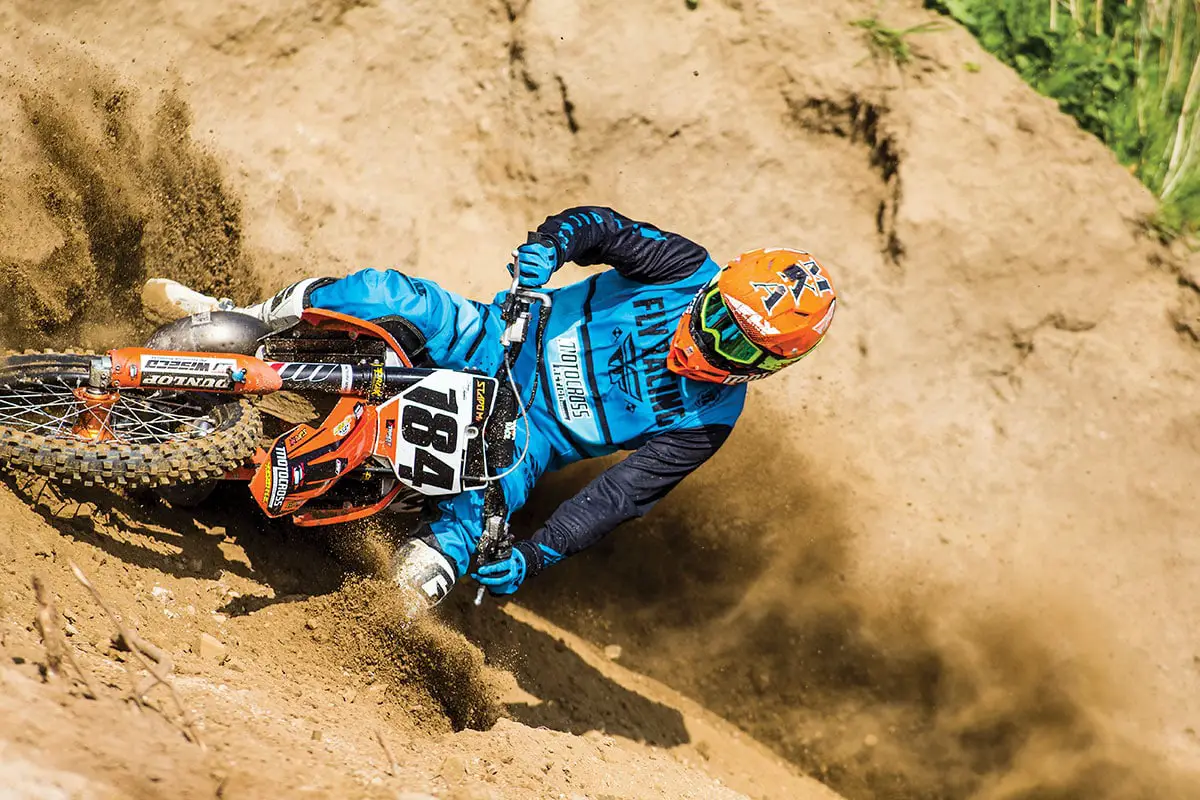 On the forks I dropped the air pressure from 11.3 bar in the compression chamber and 12.3 bar in the rebound chamber to 10.0 bar and 11.2 bar, respectively.
As for the shock, we built a Trax shock that had less initial damping to help the bike squat more and absorb the small chatter better (it is still almost identical at higher shaft speeds).
Wheels/hubs/tires: There was nothing ultra-special about the wheels we built for the 250SX. They were based on Kite hubs, Excel rims and Dunlop MX3S tires. I elected to run a 110/90-19 on the rear of the two-stroke.
Footpegs: MetalTek made me custom footpegs by milling off the top of the stock pegs and welding on a new set of teeth. The tooth profile was taller on the outside teeth to help keep my feet pointed in for less chance of slipping off the pegs. I feel that on a two-stroke you are moving around a lot more than on a four-stroke, which is why I opted for the MotoSeat Gripper seat cover.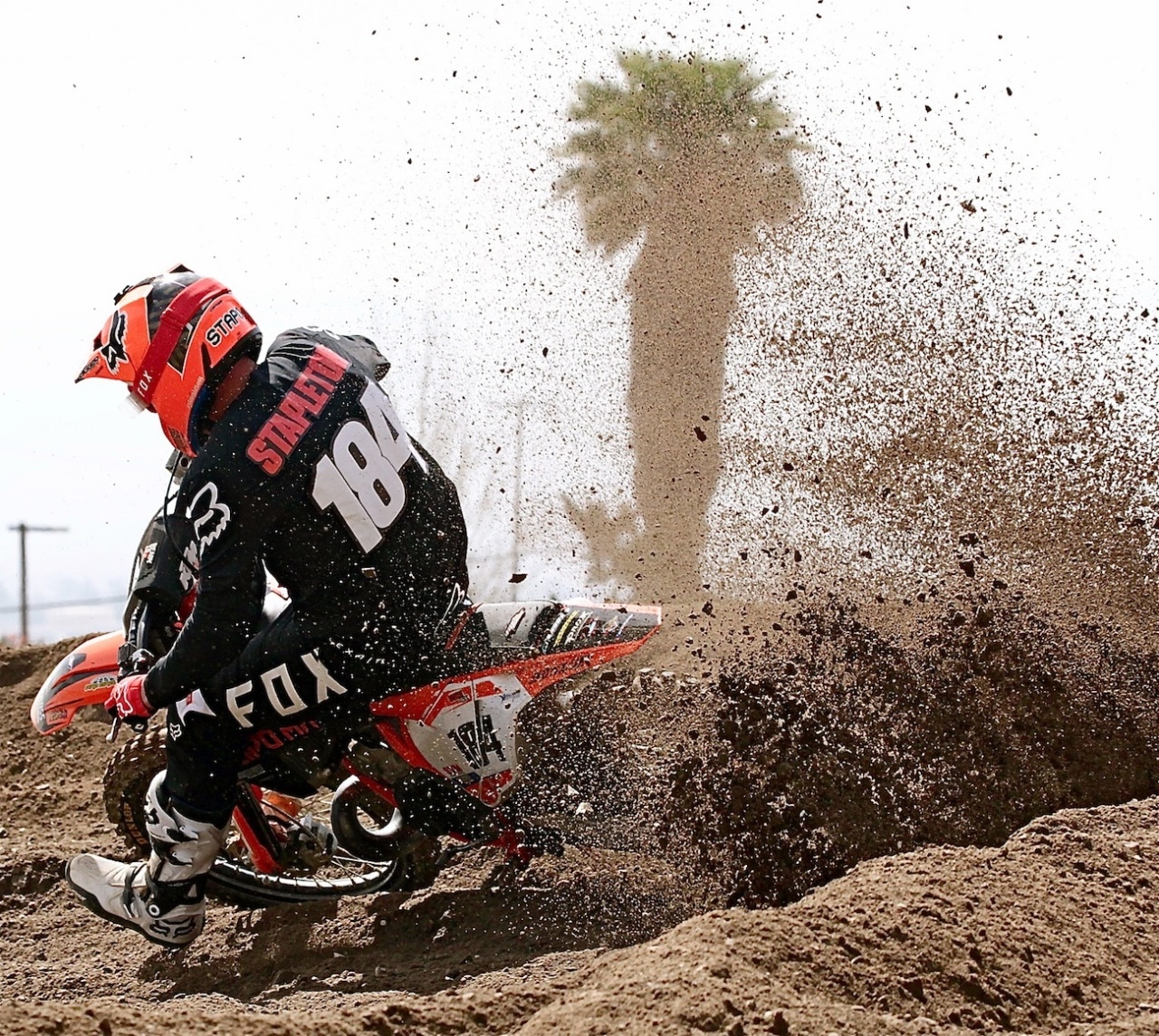 Chain & sprocket: During testing before the race I was concerned that the stock 50-tooth rear sprocket would run out of gear before I got to Glen Helen's 70-mph first turn. So, I tested the 49-tooth sprocket that most MXA test riders prefer. It was much better on the start, but on the steep hills and rough sand sections, I preferred the 50. What would you do? I chose the Pro-X 49 for the start.
Engine: My only mods to the engine were a Pro Circuit pipe with 304 Shorty silencer and VP U4.4 oxygenated fuel. Thankfully, I got help from KTM with the jetting. Here is what I ran:
Main jet: 430
Pilot jet: 32.5
Needle: 6BFY42-73
Jet nozzle: S4
Clip: 3rd clip
Jetting notes: I ran the needle clip in the middle position at the race, but during testing I noticed that as it got into the heat of the day, I could get better power in the 2nd clip slot down. On race day I played it safe in the 3rd clip. We offered these jetting specs to Zach Bell's team, but he was happy with modest main and pilot changes on his Husky, plus Zach was running pump gas.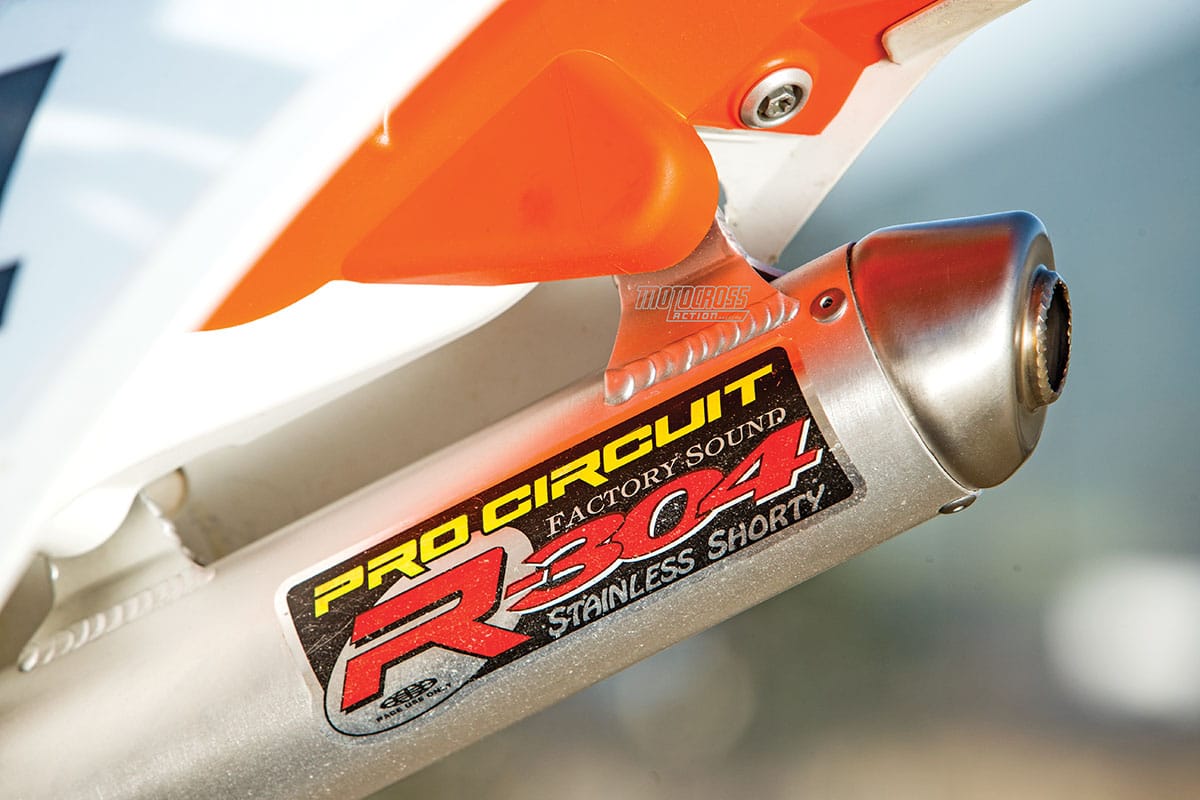 There is power to be found in KTM's adjustable power valve. I added a Kreft PowerDial 2.0 so that I could spend time making every possible adjustment while on the track. I spent two hours doing laps in the days before the World Two-Stroke Championship. I stopped every lap and turned the dial counterclockwise for more hit and clockwise for a broader powerband. I made quarter-turn adjustments and was very thorough. In the first moto I turned it counterclockwise, but for the second moto, I switched it back in the stock position as the track had hardened up.
"I ADDED A KREFT POWERDIAL 2.0 SO THAT I COULD SPEND
TIME MAKING EVERY POSSIBLE ADJUSTMENT."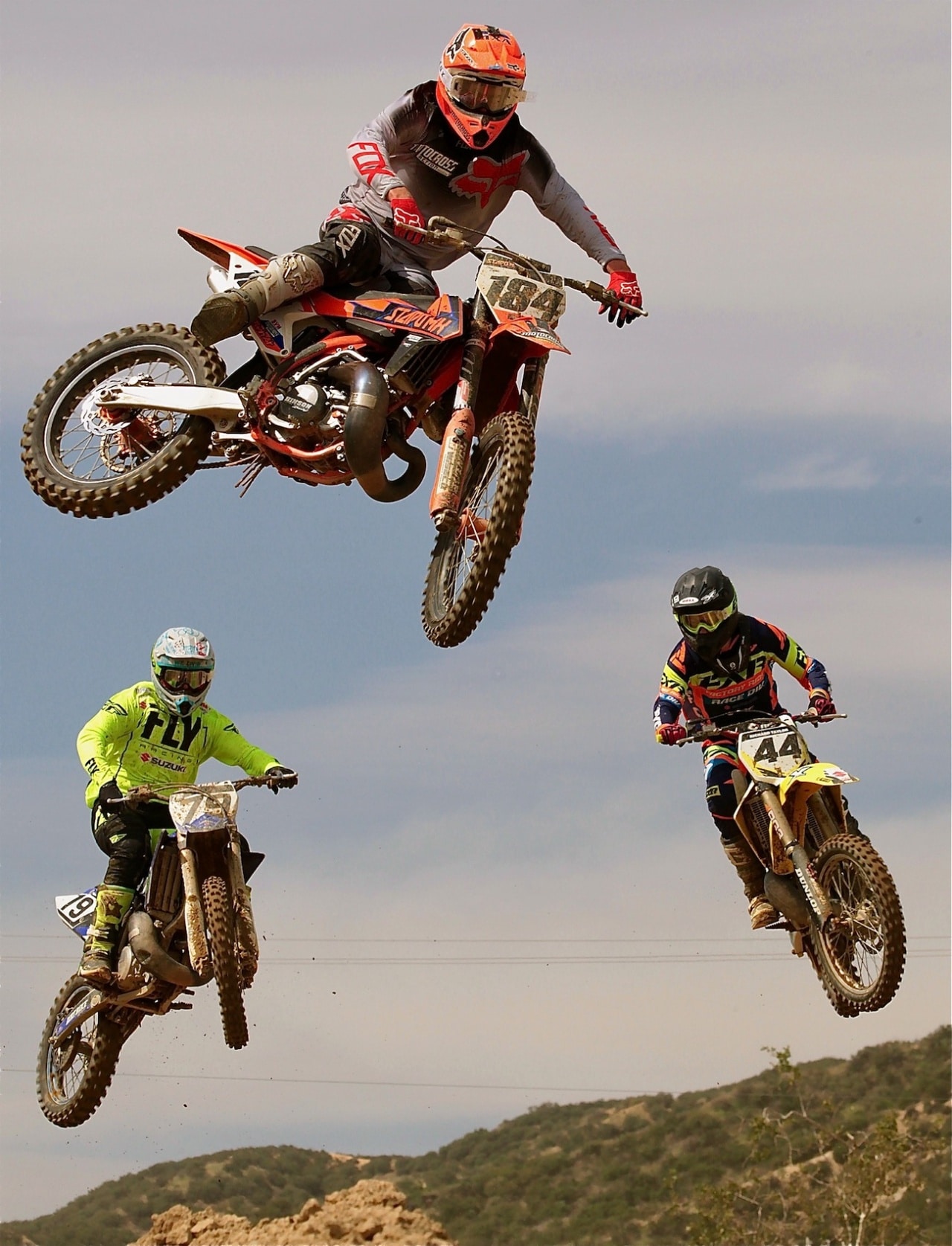 Dennis in mid-flight with Richard Taylor (44) and Nick Schmidt (79) in pursuit at the 2018 MTA World Two-Stroke Championship.
Miscellaneous: Don't let the Hinson clutch cover fool you. The cover was by Hinson, but the clutch was a stock diaphragm KTM clutch. It was bulletproof. With so much time on a KTM 450SXF, I felt fine with the stock Neken handlebars and ODI grips. I got spare Twin Air filters from the MXA workshop and changed them between motos. The one-off Stapo MX graphics were done by fellow MXA test rider Johnny Jelderda at Trinity Graphix.
I wanted to be on the podium, but would have been happy with a top five. In the end, I battled every inch on a track that sapped the energy of every rider on it. It had a fast start, followed immediately by a steep uphill, even steeper downhill and two power-robbing sand sections, with another up-and-down section separating them. I'm describing how tough the track was to ultimately say that I was thrilled to finish in the top 10.
2018 WORLD TWO-STROKE CHAMPIONSHIP RESULTS
1. Zach Bell (Hus)…1-1
2. Darryn Durham (Yam)…2-2
3. Talon Lafountaine (KTM)…4-3
4. Ryan Surratt (Hon)…3-6
5. Richard Taylor (Suz)…7-8
6. Dalton Shirey (Hus)…6-9
7. Dennis Stapleton (KTM)…9-11
8. Doug Dubach (Yam)…11-10
9. Justin Jones (Hon)…19-5
10. Beau Baron (Hon)…12-13
Other Notables: 11. Brian Medeiros (KTM); 14. Nick Schmidt (Yam); 17. Arik Swan (Hon); 18. Sean Lipanovich (Hon); 22. Mike Brown (Hus); 24. Sean Borkenhagen (Kaw) 28. Chris Fillmore (KTM).