WE RIDE CHUCK SUN'S KTM 300SX TWO-STROKE PROJECT BIKE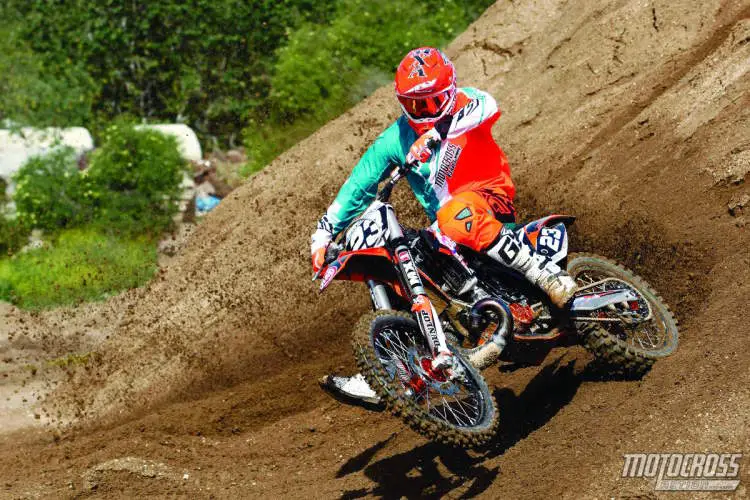 Have you ever wondered what the most desired offroad motorcycle is? What bike do the dreamers lust after? You might be surprised to learn that the bike with the most cachet, from Salzburg to San Francisco, is a KTM 300 two-stroke. A quick tour through the pits at the 2014 World Two-Stroke Championships revealed that the "works bikes" of the two-stroke crowd are KTM 300SXs. This is strange, because KTM doesn't make a 300SX motocross bike—only a 300XC offroad bike. But, it is possible to turn a KTM 250SX two-stroke into a 300SX with the addition of a $950 KTM PowerParts kit.
Thus, when you see a KTM 300SX in the pits, you are looking at a labor of love, and, in most cases, a dream fulfilled. Installing the 300cc top-end kit to the KTM 250SX is no more difficult than doing a top-end job on any two-stroke. You install the new cylinder, head, piston, rings, power-valve mechanism, gaskets and black box and you are ready to roll. And, on the plus side of the ledger, your old KTM 250SX top end remains intact and can be put back on without any drama when you sell the bike.
WITH OUR SETUP, WE GAINED 2.7 HORSEPOWER AT 6000 RPM, 5.5 HORSEPOWER AT 7000 RPM, 2.4 HORSEPOWER AT 8000 RPM AND 2.2 HORSEPOWER AT PEAK.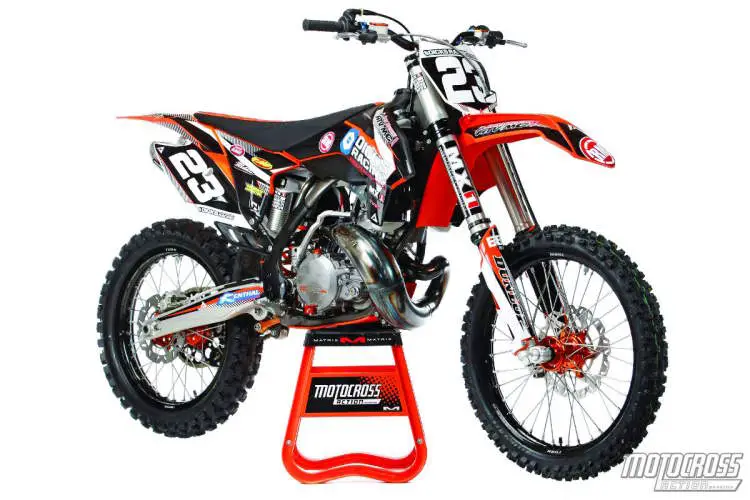 But all KTM 300SX motocross projects are not the same. On MXA's own 300SX, we elected to run a Pro Circuit 300XC pipe, Pro Circuit KTM 250SX shorty R-304 silencer and a 9-ounce Steahly flywheel weight. For jetting, we ran the stock main and needle but went to a 40 pilot jet (from a 42) and dropped the needle one clip position. For fuel, we use 91-octane pump gas with a splash of VP C-12 to ensure fuel quality. With our setup, we gained 2.7 horsepower at 6000 rpm, 5.5 horsepower at 7000 rpm, 2.4 horsepower at 8000 rpm and 2.2 horsepower at peak over our stock KTM 250SX engine.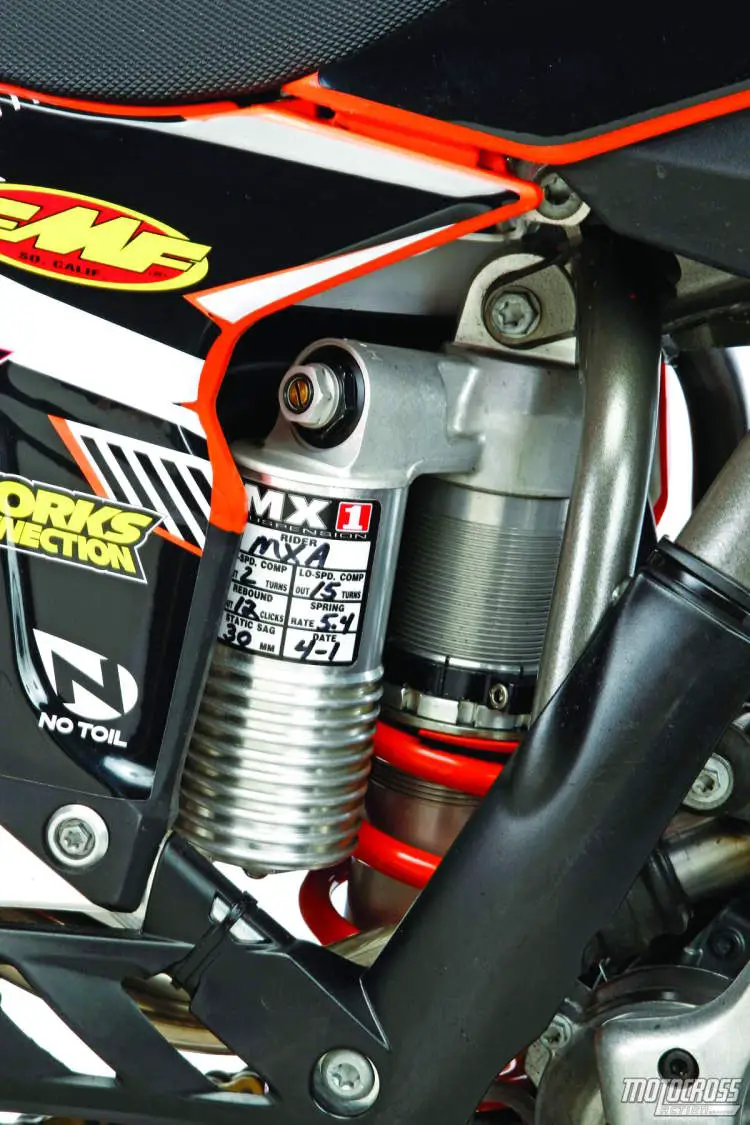 DICK HAD CUT HIS TEETH BACK IN THE DARK DAYS OF THE OLD PDS NO-LINK SYSTEM, SO HE IS VERY HAPPY TO BE WORKING TODAY WITH THE MORE SOCIALLY ACCEPTABLE RISING-RATE LINKAGE SYSTEM.
Could you ask for more? Chuck Sun could. The 1980 AMA 500 National Champion and winning member of the famous 1981 Motocross des Nations team wanted to build the ultimate KTM 300SX, and he knew just the man to do the job for him. Dick Wilk of Dick's Racing is a KTM specialist, KTM wasn't very prestigious six years ago; but, with the popularity of KTM today, it is a badge of honor. Chuck asked Dick to look at the KTM engine and suspension and see what he could do to make it into the best two-stroke race bike ever made.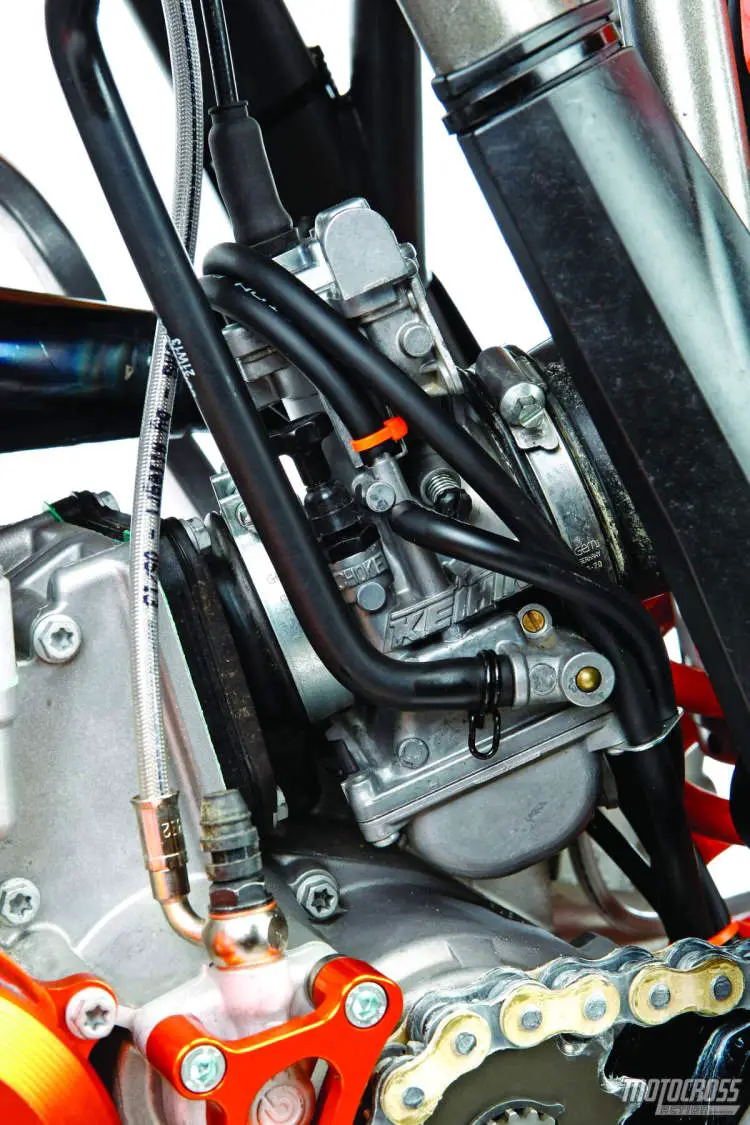 Dick tore into the 300 engine and found lots of stuff that could be improved. He discovered that the top of the piston didn't line up with the bottom of the transfer ports, so he raised the cylinder to maximize flow. However, raising the cylinder decreased the compression, so he milled the head and reshaped the combustion chamber with a special radial groove design to improve fuel misting. The bigger displacement, improved transfer flow and better combustion easily overstressed the stock 36mm Keihin carb (especially given that the KTM 125SX comes with a much larger 38mm Keihin). To solve this problem, Dick taper-bored the stock 36mm Keihin carb out to 39mm and equipped it with his Quad Flow Torque wing. We had expected him to use the innovative Intelajet supercharger mod that works so well on the 250SX, but Dick said that the 300 already had abundant power and only needed a bigger carb. Plus, taper-boring the carb was a lot cheaper than taper-boring it and installing the Intelajet system ($295 compared to $425).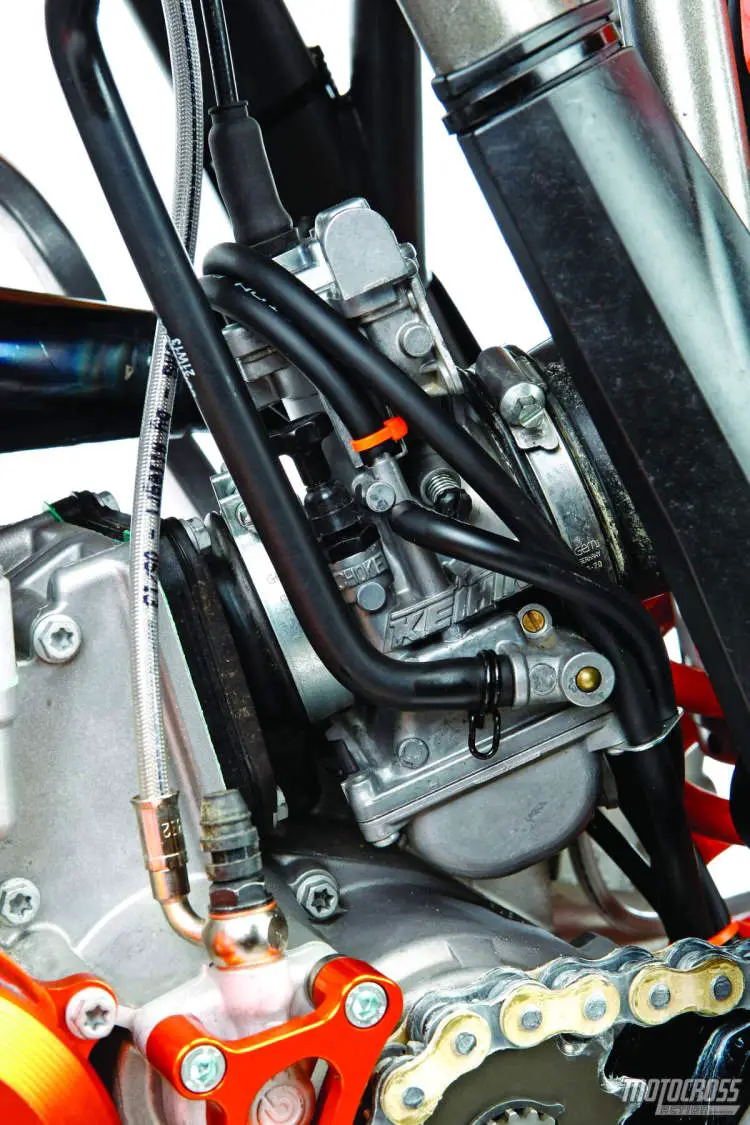 During testing, Chuck Sun decided that he wanted to add a 9-ounce Steahly flywheel weight to broaden the powerband and put the power to the ground at low-to-mid rpm. The exhaust system of choice was an FMF 300XC Fatty pipe. Dick cut his teeth back in the dark days of KTM history, fine-tuning the old PDS, single-shock, no-link system, so he is very happy to be working today with the more socially acceptable rising-rate linkage system. Dick re-valved the shock, changed the spring rate and added a longer shock linkage. Up front, he reworked the WP forks by adding all-new valving.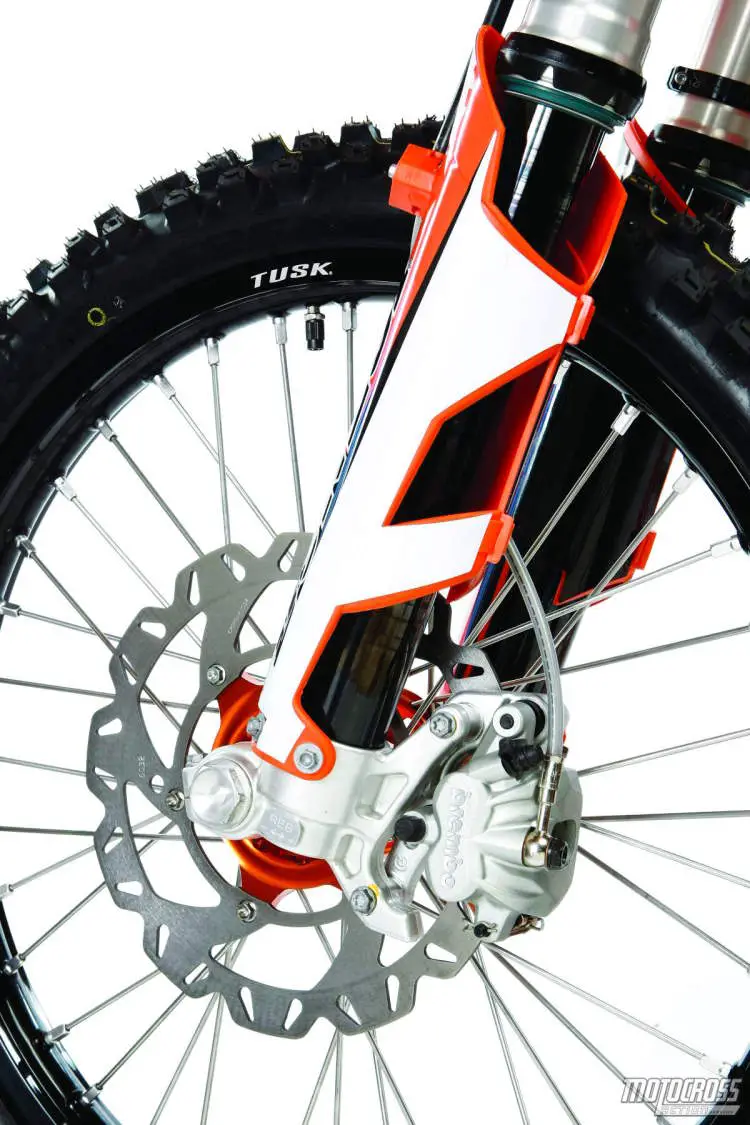 Our test protocol was to have one of our Pro test riders hammer the bike hard for a couple hours and fill out a test report. It was all positive. Not only did the Pro think the bike had strong and usable power, he felt that it filled in both ends of the curve to make a seamless style of power that was always Johnny-on-the-spot.
The next step was to race our relatively stock KTM 300SX kit bike against Dick's Racing's fully modded KTM 300SX. To make the test more authentic, we had the MXA test riders race the bike in two motos and then switch to Dick's bike for two motos. We also made Chuck Sun do the exact same musical-chairs race test—because only by racing will you fully push hard enough to test the parts under extreme stress.

The end result, after we discounted everything that Chuck Sun had to say about his own race bike, was that the Dick's engine was faster, smoother, more manageable and easier to use than our stock 300 kit. It gained two more horses over the power we had already gained with just the big-bore kit. The engine was a winner.
As for Chuck's suspension settings, MXA's Pro loved them, as did Chuck, but our Vet and Novice test riders thought they were too stiff, which Dick said he could easily fix—but on this bike he was catering to Chuck's whims.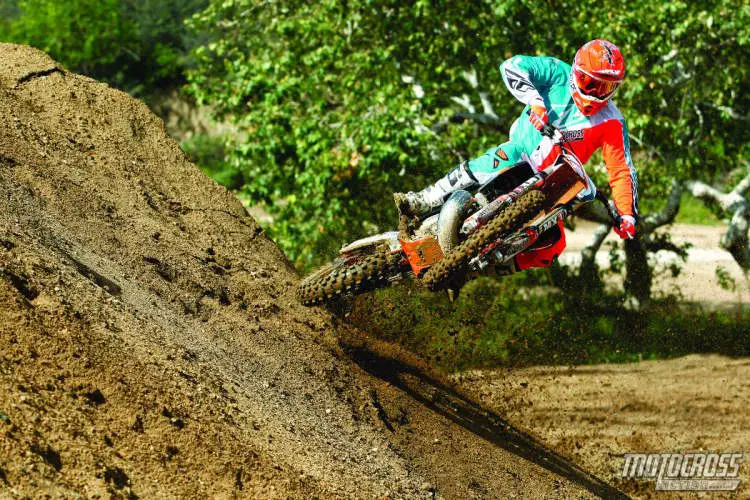 KTM can't keep 300XCs or PowerParts 300cc kits in stock. More and more people are enamored by the concept of building a bike so special that not everyone has one. However, only a handful have the wherewithal to build exactly what they want. Dick Wilk is the man with a plan—to help a man with a dream.
For more info on Dick's Racing, call (916) 705-3193 or go to www.dicksracing.com.