WE RIDE DILAN SCHWARTZ'S BAR-X SUZUKI RM-Z250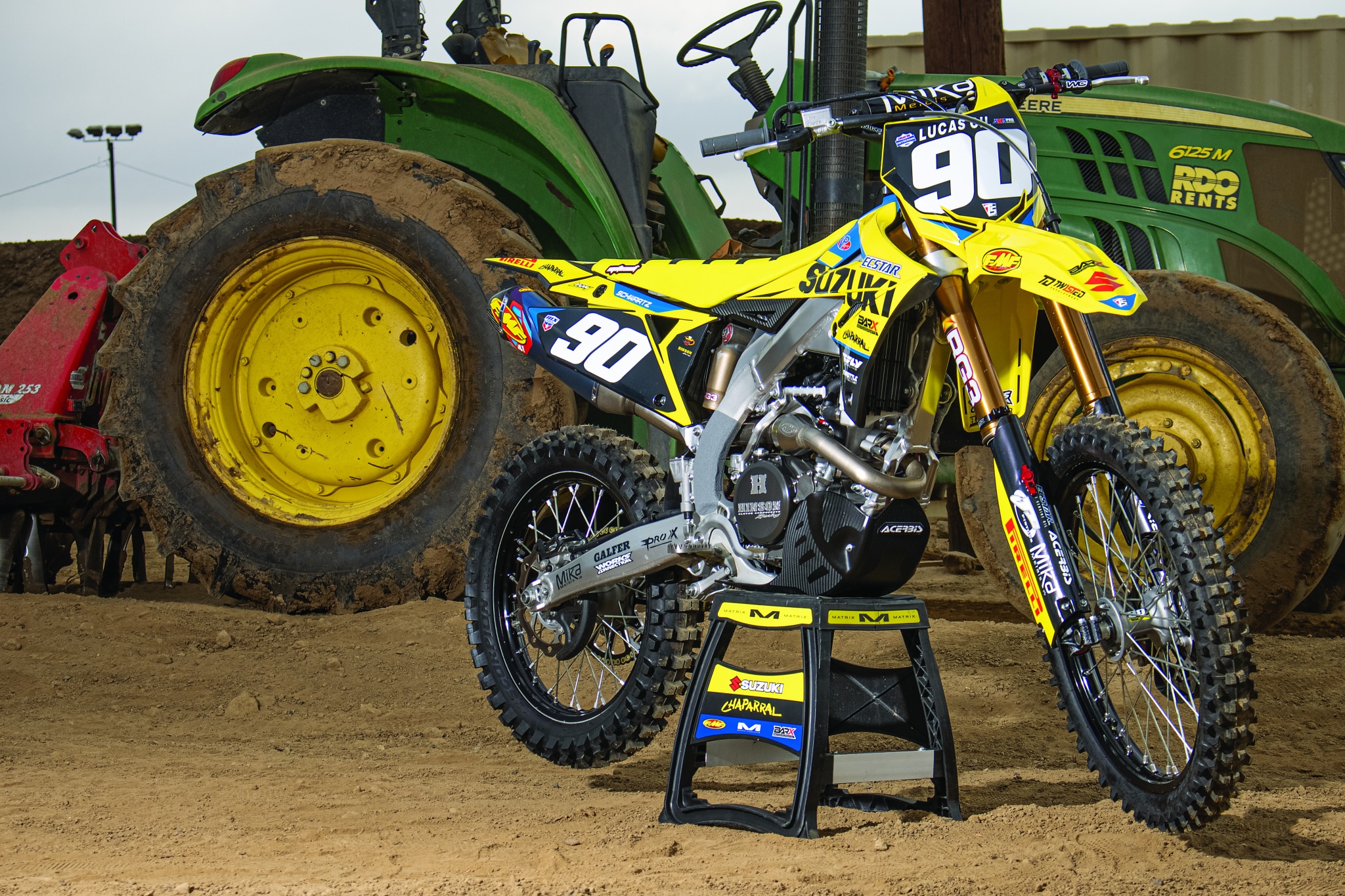 For a bike that is more stock than most, it's impressive the BarX Suzuki RM-Z250 scored six top-10 overall finishes in the AMA 250 Nationals.
Dilan Schwartz is a Southern California native who made a splash during the 2021 Pro Motocross season. Not because of any dramatic moments caught on TV or because of spectacular podium finishes, but because he was able to consistently beat factory riders on a Suzuki RM-Z250. Dilan first turned heads at the 2020 Loretta Lynn Amateur National Championships when he won motos and contested for the titles in the 250 Pro Sport and Open Pro Sport classes. After Loretta's, Dilan made his Pro debut and raced the final two rounds of the 2020 Outdoor National season. Dilan was able to go 15-10 at Thunder Valley for 12th overall in his first AMA Pro race. The 2021 Supercross season was a learning season for Schwartz, but he came to play when it was time for the outdoors. By the end of the 250 National Championship season, Dilan scored 10th overall in the 250 final standings, beating out a long list of factory riders in the stacked 250 class. He also scored top-10 overall finishes at six out of twelve races, with his best moto finish being a sixth in moto two at Washougal.
Although the Suzuki RM-Z250 is the slowest and most outdated bike in the 250 class, Dilan never made excuses, and he was proud to put the yellow bike in the top 10. He was quick to admit that he thought that he could improve his results on that bike.
"GOING PRO RACING AGAIN WAS NOT WHAT I WANTED TO DO, BUT WE HAVE YOUNG GUYS, AND I'M JUST TRYING TO MAKE THEM BETTER. IF WE CAN BUILD THEM UP, SEND THEM OFF AND HAVE THEM MAKE A LIVING ON A FACTORY TEAM, THEN WE'VE DONE OUR JOB."
"You can teach patience more than you can teach raw speed, and he definitely has the raw speed," said Jamie Ellis of Twisted Development, who built the BarX engines. Yes, Dilan's 2021 results were impressive on paper, but they were even more impressive in person because Dilan crashed so often that he was constantly coming through the pack to salvage positions. We're confident that if Dilan had toned down his speed and kept it on two wheels consistently, he would have been further up the food chain.
BarX Motorsports began as an amateur team in 2017, and its debut in the Pro ranks was with Martin Castelo in the 2019 Supercross season. Martin needed a ride, and although BarX was an Amateur team, they committed to take him to the first five rounds. Martin scored a sixth at the muddy San Diego Supercross and got a ride with JMC Husqvarna for the rest of the season and the following two years. The next time BarX was in the Pro paddock was when they took Dilan Schwartz to the final two rounds of the 2020 AMA 250 Nationals.>
THE GEAR: Jersey: FXR Racing Helium, Pants: FXR Racing Helium, Helmet: 6D ATR-2, Goggles: Viral Brand Works Series, Boots: Sidi Atojo.
"I was pretty much done with Pro racing, and I was really enjoying the amateur stuff. I liked working with the kids and trying to educate them on racing," said BarX team manager Larry Brooks. "Going Pro racing again was not what I wanted to do, but we have young guys and I'm just trying to make them better. If we can build them up, send them off and have them make a living on a factory team, then we've done our job." Larry Brooks had a long Pro racing career himself. He also spent 10 years as an MXA test rider in the 1980s, and he's been a team manager for some of the greatest riders in our sport. Larry managed Jeremy McGrath at Chaparral Yamaha, James Stewart and Chad Reed at L&M Yamaha, Andrew Short at Chaparral Honda, and Grant Langston, Ryan Hughes and Mike Alessi at Red Bull KTM. Larry has been around the block, and now he's going around it again. He's been in the amateur ranks with BarX Motorsports since the team began in 2017, and now he's fully engulfed in the Pro ranks for 2022 with young talents Dilan Schwartz, Derek Drake (former Troy Lee Designs KTM rider), Preston Kilroy (rookie) and Carson Mumford (former Geico Honda rider).
So, how much work did the BarX Suzuki team have to do to propel Dilan to the front? Less than you'd expect! When we showed up at State Fair MX to test the RM-Z250 that consistently beat factory bikes at the Nationals, we expected to see some exotic upgrades with lots of cool parts that would make the Suzuki lighter. Surprise! Besides the engine and suspension components, the rest of the bike was fairly stock, and we were blown away. Even the triple clamps, brakes, engine mounts, chain guide, front brake lever, shift lever, rear brake pedal, axles, bar mounts and wheels were all stock. Amazing, right? Dilan's RM-Z250 didn't even have any titanium bolts.
THE SUZUKI RM-Z250 ALSO FOLLOWED KAWASAKI'S LEAD BY UPDATING THE AIRBOX AND FUEL-INJECTION SYSTEM, ADDING A  SECOND INJECTOR IN THE INTAKE. 
As for the aftermarket parts, the list is pretty simple: Works Connection supplied the clutch perch and levers, hour meter and Pro Launch 2.0 start device. Acerbis supplied its plastic skid plate and carbon fiber front brake rotor guard. There was an FMF exhaust, Vortex ECU, full Hinson clutch, Mika Metals handlebars, grips, sprockets and chain, Pirelli tires, Galfer brake pads, Hammer Head footpegs, MotoSeat seat cover, Throttle Syndicate graphics and a DT1 air filter.
As for parts that were custom modified, the left-side number plate has two holes drilled next to the air filter. The back of the airbox has been cut out to increase airflow. The subframe was cut 3mm to lower the rear end by 10mm, and the triple clamps were bored out 1mm (from 48mm to 49mm) to fit the larger Showa A-kit fork stanchions.

Is the Suzuki RM-Z250 as old as everyone says it is? Not really. Jamie Ellis, Larry Brooks and BarX mechanic Taylor Muto were quick to point out that the Suzuki RM-Z250 isn't as outdated as the internet critics think. It actually received significant updates in 2019. The 2018 RM-Z250 had an exhaust port that was offset to the right side of the cylinder head to clear a frame spar that came down. The 2019 engine was a center-port and was one major reason for the frame change in 2019. Suzuki also took notes from the other brands by going with a more aggressive downdraft intake and straighter exhaust port on the new 2019 engine. The Suzuki RM-Z250 also followed Kawasaki's lead by updating the airbox and fuel-injection system, adding a second injector in the intake. Some internal pieces still cross over from the 2018 RM-Z250, but the 2019 version certainly gained some solid improvements.
Twisted Development worked its magic on the RM-Z250 engine.
"The motorcycle has sparked a lot of money wasting for us'" said Jamie Ellis about the RM-Z250. He went on to explain that it wasn't because it was so difficult to modify but because the bottom end was so strong. When we quizzed Jamie about the differences between Suzuki and the other more popular brands, he explained the techniques that work on one bike typically don't have the same effect on another. In this case, Jamie was able to get so much power out of the RM-Z250's bottom end that it beat every other Twisted-built 250F engine all the way to 8000 rpm. Even a fully modified 2021 Yamaha YZ250F, which is known for its strong bottom end, wasn't able to beat Suzuki up to eight grand. Sure, most of an AMA Pro race is spent with the bike much higher in the rpm range, but the initial throttle response and torque on the RM-Z250 were no joke.
Jamie didn't reveal his dyno numbers or his engine specs, but he did explain some of the thoughts that went into developing the current Suzuki engine, and he talked about how his bottom-end RM-Z250 power has caused him to go on a hunt for more of a YZ250F-style power. Between the Supercross series and the start of the outdoor season, Jamie began to rotate some of the bottom-end power towards the top for better starts and more over-rev for the faster outdoor tracks. He went to Web Cams in Riverside, California, and got four different intake cams and three different exhaust cams. They were all promising candidates but in different directions. Jamie explained, "The first thing we do is we check all of our clearances. Then, we start with our engines on the tight side, meaning we can't advance the intake cam anymore. We'll then pull the cam out and move the gear 2 degrees, put it on, dyno it, pull it out and continue through the process to see where the engine is working best. For Supercross, if the guys want more torque, it's cam timing away for us, which is cool. We are at a place where we can move things around and get more bottom at the sacrifice of top; however, the appetite we have now is for rolling a little bit of that power to the top end, which I think is a little bit better because the RM-Z250 never signs off; it just keeps going in every gear." When comparing the RM-Z250 to the other brands, Jamie said, "We build all of the bikes the same; we build the pistons, the compression, the cams, all the stuff on each one, and the Suzuki seems to snap and bark harder on the bottom."

So, how did Dilan Schwartz's BarX RM-Z250 run on the track? It was very impressive. The bottom-end snap lived up to the hype. We could wheelie the RM-Z250 at any point on the track, even easier than we could Jo Shimoda's Pro Circuit race bike we had tested the day before (see the full article on page 32), and we could soar over every jump on the stadium-style track with ease. After being lectured about the strong bottom end and the need to short-shift, the MXA riders spent the first test session appreciating the impressive torque of the Twisted Development-built bottom end. But before we went on the track for test session two, Larry asked us to wring it out a little more and add more top end to the test, which is kind of hard on a tight track like State Fair.
The stock triple clamps are bored out to accept 49mm Showa forks.
We also brought out our stock 2021 Suzuki RM-Z250 to compare with Dilan's race bike so we could appreciate the differences. As expected, the Twisted-built engine blew the stocker out of the water. At every step on the power curve, the modified bike was better; however, we found one characteristic of the stocker that we liked better than Dilan's bike—the forks. No, we don't blame the 49mm Showa A-Kit fork components or the RG3 Suspension's tuning; we blame this one on Dilan. The forks were very stiff, too stiff for our test riders to ride with at State Fair. Even though Dilan weighs 40 pounds less, our test riders still couldn't get his forks to compress enough to make the inside ruts with ease. In truth, MXA's Josh Mosiman tucked the front end in a rut and went down on lap two because he couldn't set up for the corner like normal.
Why were Dilan's forks so stiff? The A-kit Showa forks have larger fork legs and cartridge rods, which increase hold up, but that wasn't the excuse here. Dilan Schwartz is similar to another one of Larry Brook's former riders, James Stewart, in that they are both small in stature, they both ride over the front of the bike, and they both love their forks stiff. More variables that made the forks a sore spot on Dilan's race bike were the style of the track we tested on and the stock front brake system. Schwartz and RG3 didn't set up the suspension to be good for the tight and technical corners at State Fair; it was set up for rougher, rutted, deep and gnarly National tracks such as Hangtown, Red Bud, Southwick and Unadilla. We're confident that we would have liked the forks better if we were riding on bigger and faster tracks like Glen Helen, where we do a majority of our testing. Additionally, the stock Nissin Suzuki front brake is not known for its great stopping power. Yes, Suzuki had spec'd a bigger 270mm front brake rotor in 2019, but it was still no match for factory Nissin brakes or stock Brembos. The combination of stiff forks and an average front brake meant that we couldn't get the forks to compress enough to set up properly for corners. We should also note that Dilan complains about his forks being too stiff each time he rides State Fair, too, but he likes this setting for the Nationals.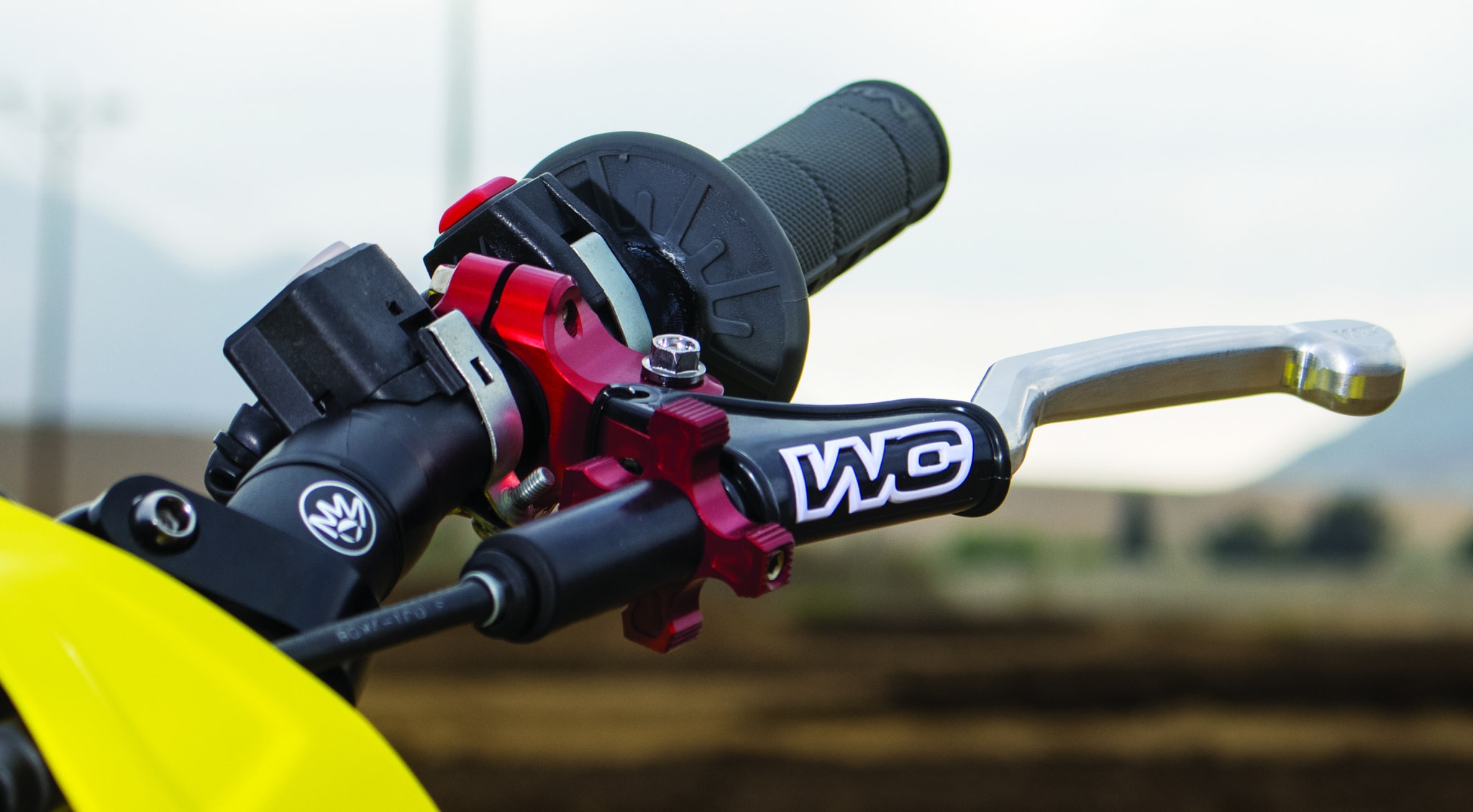 Works Connection supplied the clutch perch, hour meter and Pro Launch device.
How was our stock RM-Z250 test bike better than Dilan's race bike? We had MXA test rider and owner of Ekolu Suspension, Brian Medeiros, soften the overly stiff valving on the production Kayaba forks. This allowed them to compress more in the turns, which created a smoother apex and allowed the bike to carry more momentum through the turns.
Coming into our test day with the BarX Suzuki boys, we wondered if we'd walk away impressed with Dilan Schwartz's ability to put the lowly Suzuki RM-Z250 in the top 10 at a National or if we'd be blown away by the BarX Motorsports RM-Z250 and think that is what made Dilan a winner. In the end, the scale tipped towards the rider. Dilan's never-say-die attitude and willingness to hang it all out meant that he crashed a lot, but it also resulted in a lot of great finishes. The BarX team impressed us, too. Their faith in the RM-Z250 is strong, and Twisted Development built them an engine that is quite a rocket ship. Since our test day, Nissin has stepped up to sponsor the team and will now be supplying factory front brake systems.
You can't miss the BarX Suzukis in the 2022 AMA 250East/West Supercross series—they're yellow