WE RIDE DOUG DUBACH'S GYTR/DR.D YZ450F & TELL YOU WHAT'S INSIDE
The best guy to ask about a Yamaha is Doug Dubach. There was a time in motocross history when it was thought that Doug Dubach was only going to be remembered as a one-hit wonder. Dubach raced the AMA National circuit for 19 years, but his only AMA win came at the 1991 San Jose Supercross. But Doug wasn't destined to be a footnote in the record books. After his time at Team Yamaha came to an end, Doug moved from the factory team to Yamaha's test department and took on more responsibility in product development. In the process, Doug was largely responsible for convincing Yamaha to build the first-ever Japanese four-stroke race bike, the 1998 YZ400.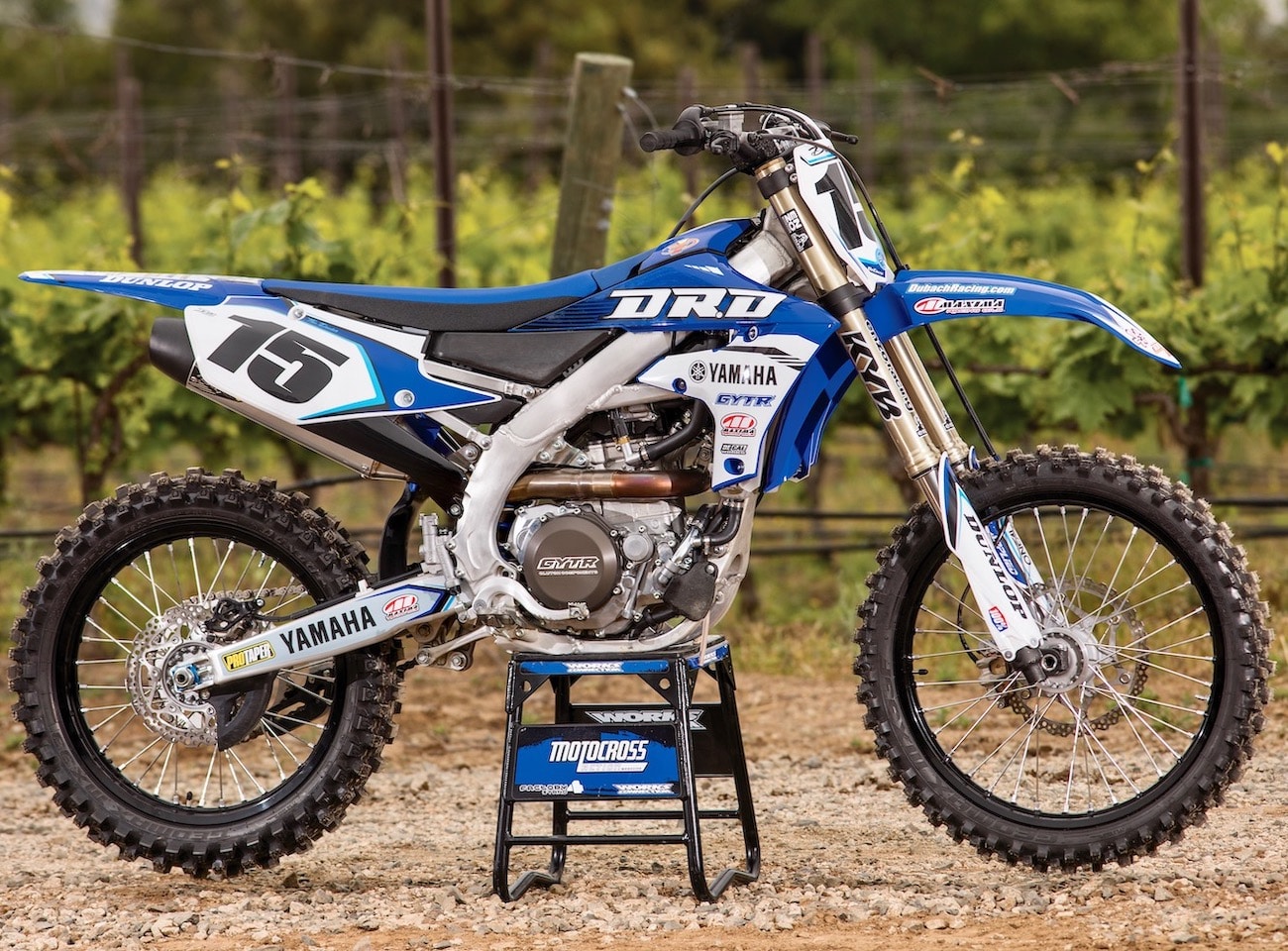 The ultra-secret but underfunded Yamaha four-stroke project was going nowhere until the American test crew came upon it almost by accident while testing at the Japanese factory in late 1996. Doug did the majority of American test riding on the project, and in 1998 he took the first YZ400 to the World Vet Championship and won in its debut. It was the production bike's first official victory (Doug Henry was racing the works version). Dubach's race wins and expertise as a test rider guided the Yamaha four-stroke through the YZ400, YZ426F and YZ450F platforms.
DOUG DUBACH DOESN'T OBSESS OVER HOW A BIKE RUNS ON THE DYNO. HE KNOWS THAT DYNO NUMBERS AND ON-TRACK PERFORMANCE
DO NOT ALWAYS GO HAND IN HAND.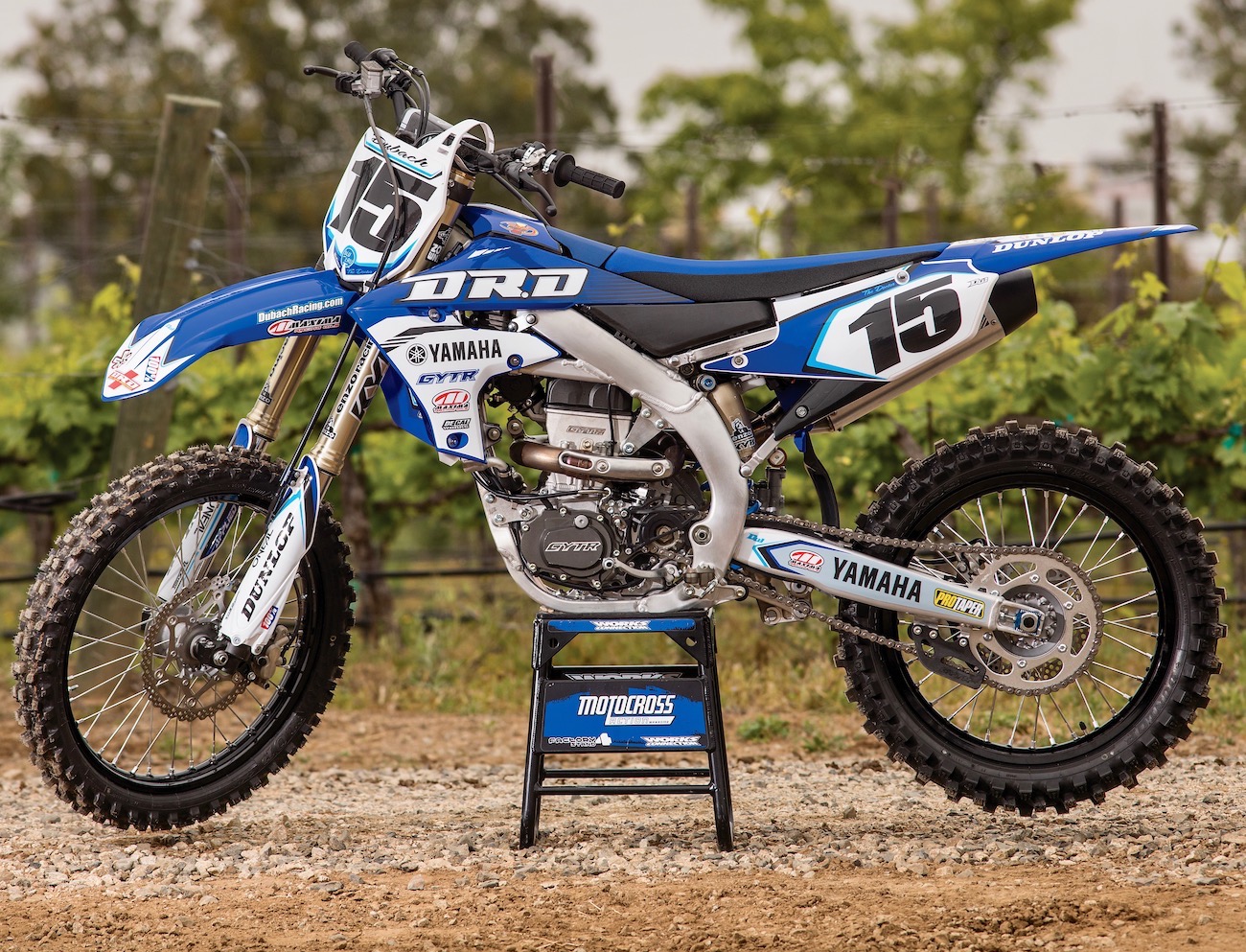 In the process, the racer who might have been a one-hit wonder left an enduring legacy in the development of four-stroke race bikes, the popularization of Vet motocross racing (winning 25 World Vet titles starting back in 1993), earning the sobriquet as the "World's Best Test Rider," starting his own performance company (DR.D) and still racing at the age of 57. Doug Dubach brought about a sea change in motocross progression.
So, when MXA wanted to iron out the wrinkles on the 2020 -2021Yamaha YZ450F, we asked Doug to build us a bike worthy of the man who made the YZ450F what it is today. He obliged.
DOUG'S CHOICE OF ENGINE PROGRAMS WAS ALMOST PREDICTABLE, WHICH IS GOOD, BECAUSE IT MEANS THAT YOU CAN GET DOUG'S ENGINE BY GOING TO
THE MOST UNLIKELY PLACE OF ALL—YOUR FRIENDLY LOCAL YAMAHA DEALER.
Doug's choice of engine programs was almost predictable, which is good, because it means that you can get Doug's engine by going to the most unlikely place of all—your friendly local Yamaha dealer. Of course, Doug got his engine from Yamaha, but not the factory race team; instead, he got it from the Yamaha GYTR product catalog. Although lesser known than the major hop-up companies, GYTR offers one-stop shopping for high-end, thoroughly tested Yamaha race components.
What follows is the complete list of mods that Doug Dubach made to his DR.D Yamaha YZ450F engine.
(1) GYTR ported cylinder-head assembly. Believe it or not, you can buy a fully assembled Yamaha head that includes GYTR's billet-machined, tool-steel, REM-coated camshafts. The valve overlap on the GYTR cam is reduced by 8.4 degrees. The intake lobe center is delayed 5 degrees, while the exhaust lobe is delayed 4 degrees, and the exhaust valve lift is increased by 2.5 percent. The head itself is ported on a five-axis CNC machine using the porting specs from Justin Barcia's factory YZ450F. The head comes with everything you need already in place, including valves, valve springs, keepers and bearings. It is a bolt-on head for $2039, which is not only cheaper than buying all the parts separately, but there is no assembly required.
(2) GYTR high-compression piston. GYTR builds a piston to go with its cylinder head. It is forged and then machined to the tightest tolerances. It comes with rings, a wrist pin and circlips. Best of all, the $274.95 GYTR piston bumps the compression from 13:1 to 14:1.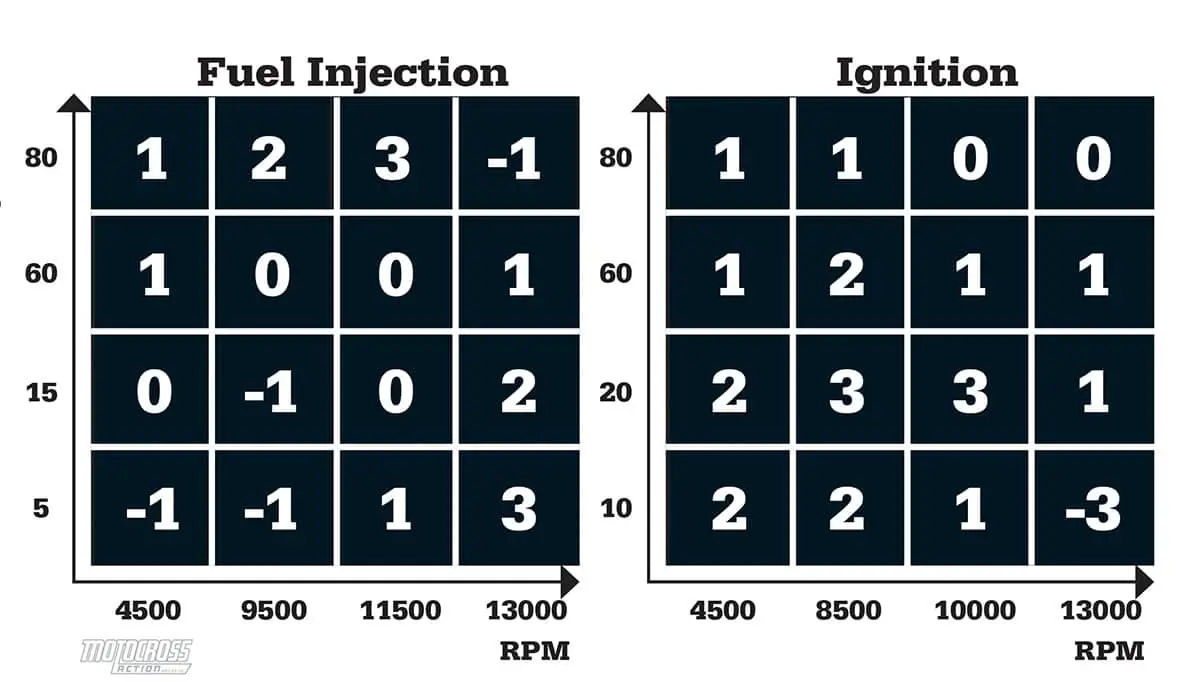 This is the map we ran in our GYTR YZ450F engine kit. It is the same map that Justin Barcia ran in the 2020 Supercross series.
(3) Mapping. You should be able to find the optional GYTR JB51 maps on the Yamaha WiFI app, but if not, we have included it in this test. It hits harder, is stronger from low to mid, and has a broader and more controllable powerband. It revs higher with more over-rev and has usable power in every situation.
(4) Exhaust system. Even though Doug owns DR.D (Dubach Racing & Development) and could have put any exhaust system from his product line on our test bike, that's not who Doug is. He knows performance and how to get the most out of a bike. So, instead of his most expensive exhaust system on the Yamaha YZ450F, he installed his $395.95 stainless steel slip-on pipe with a magnesium end cap. When we questioned his choice, he said, "This is what works; you won't need anything else."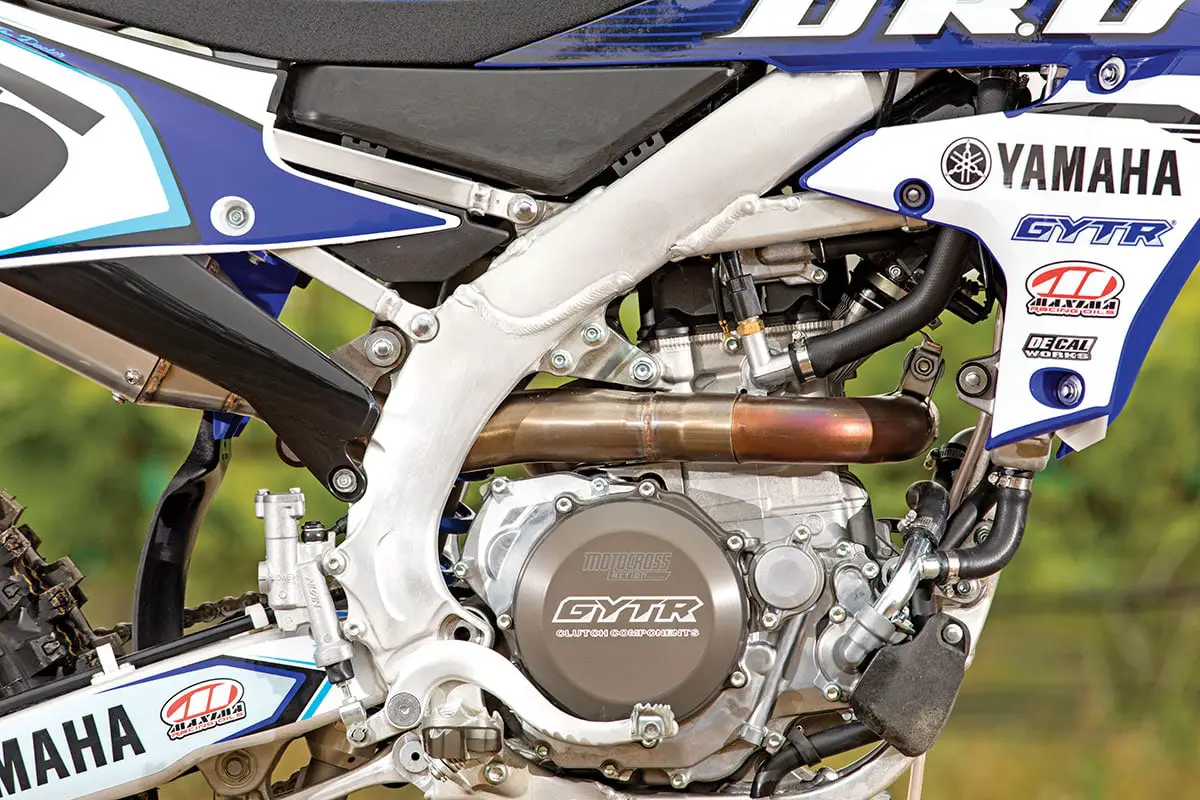 (5) GYTR billet clutch. Doug installed a GYTR clutch basket ($239.99), machined billet clutch cover ($148.99) and GYTR billet ignition cover ($244.99). We were impressed with the workmanship on these CNC-machined parts, and you will probably recognize where Yamaha sourced them.Since Doug Dubach has been a motorcycle test rider for decades, he doesn't obsess over how a bike runs on the dyno. Like all good test riders, of which there are very few, he knows that dyno numbers and on-track performance do not always go hand in hand. There have been plenty of dyno queens that are slower than bikes that made 5 horsepower less on the magic machine. That doesn't mean Doug doesn't look at dyno charts, but like all good test riders, he only glances at them to see if they confirm what he felt on the track. If they do, it is like getting a positive second opinion from a heart surgeon. If they don't, then they are wrong.
That said, at 7000 rpm, the stock Yamaha YZ450F made 45.54 horses while the GYTR engine made 48.80. At 9000 rpm, the stock YZ450F made 57.13 horsepower while the GYTR engine made 60.61. At 10,000 rpm, the stock YZ450F made 57.34 horsepower while the GYTR engine made 63.23. The peak power was 58.56 ponies at 9700 rpm for the stocker and 63.29 for the GYTR engine at 10,000. Torque was 34.37 foot-pounds on the stocker and 36.84 on the GYTR engine.

IT SHOULD BE NOTED THAT HAVING RIDDEN MANY OF DOUG'S YZ450Fs,
WE WANTED A LITTLE MORE CUSHION THAN WHAT A FORMER
AMA SUPERCROSS WINNER WANTS.
With the engine wrapped up in one clean package, Doug moved on to the suspension. Dubach has trusted Enzo for his suspension needs going back to his AMA National days. It should be noted that having ridden many of Doug's YZ450Fs, we wanted a little more cushion than what a former AMA Supercross winner wants. Enzo kept the nature of Doug's race setting but backed it down a notch so that it would be a little plusher through the mid-stroke.

The stock YZ450F fork comes with 0.50 N/mm springs and Enzo went a little stiffer at 5.1 N/mm. Additionally, for years Doug has changed the triple clamp's fork offset, but for 2020-'21 he ran the stock offset. We started with the forks at nine clicks out on compression, and most of our Vet test riders liked that feel. The Intermediates and Pros went to six clicks out, and the hammerheads went three clicks out. We had Doug come with us and ride the bike to see what he thought of the softer version of his setup. He liked it on six clicks out. The fork mods were $320 for the re-valve and stiffer fork springs.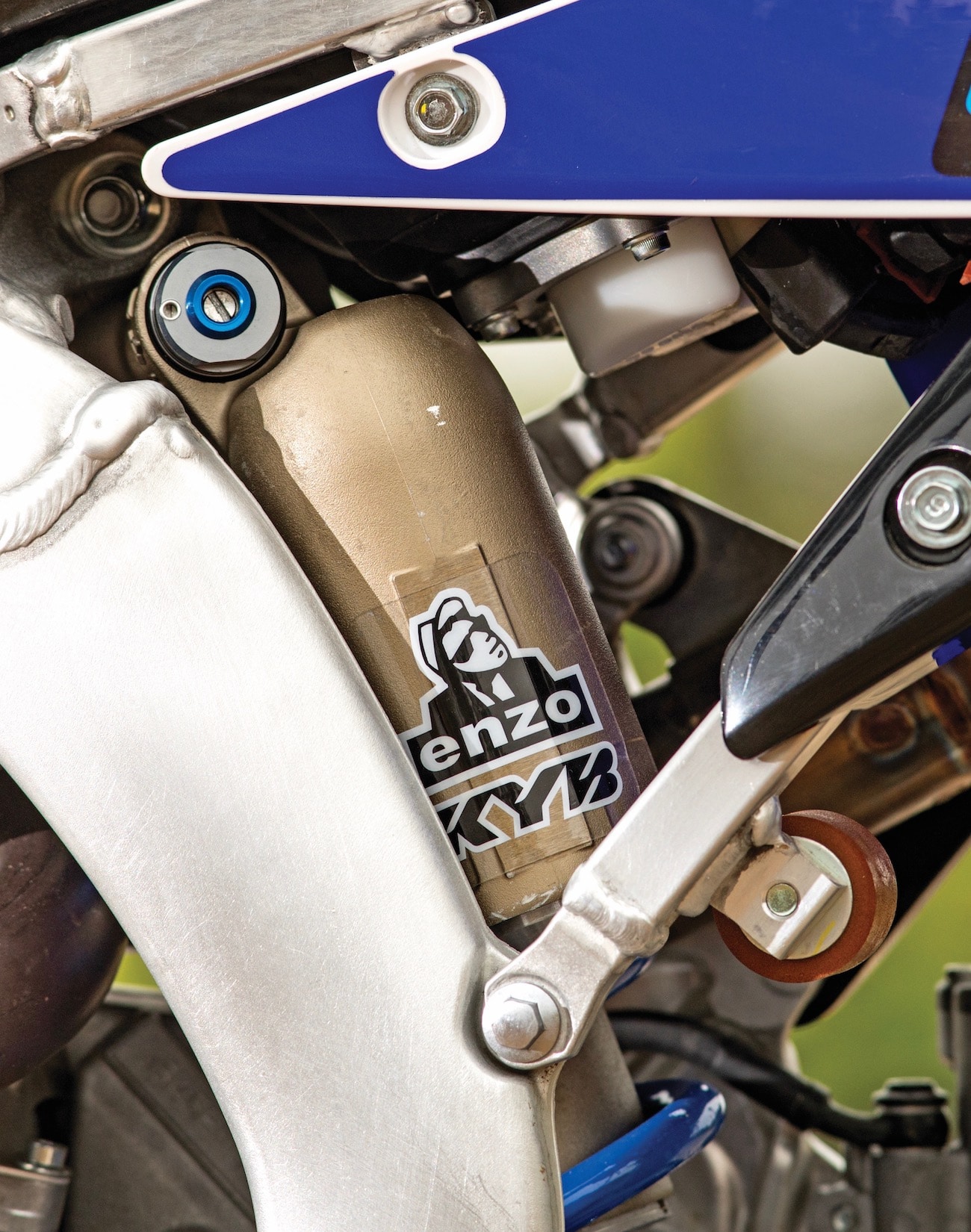 As for the shock, Doug had Enzo shorten the shaft travel with a spacer to lower the seat height a 1/2 inch. The rest of the shock got the full Enzo treatment, along with a $250 Technica compression adjuster, which increases oil flow, up-sizing the shim stack from 18mm to 22mm for better overall damping. With the shorter shock, Doug slid the forks up in the triple clamps about 10mm to bring the front and rear into balance.
He also had two different height cut-down sub-frames to lower the seat height and lessen the stinkbug feel for shorter riders. For MXA's taller test riders, we ran the stock sub-frame. Enzo used the stock shock spring and the DR.D Yamaha YZ450F delivered a very connected feel at the rear wheel. Total cost for the Enzo shock mod was $450, which included the Technica adjuster. The shocks didn't get stagey in the rapid succession bumps or hop on the square-edged ones. Overall, it was an improvement on both ends of the Yamaha's Kayabas.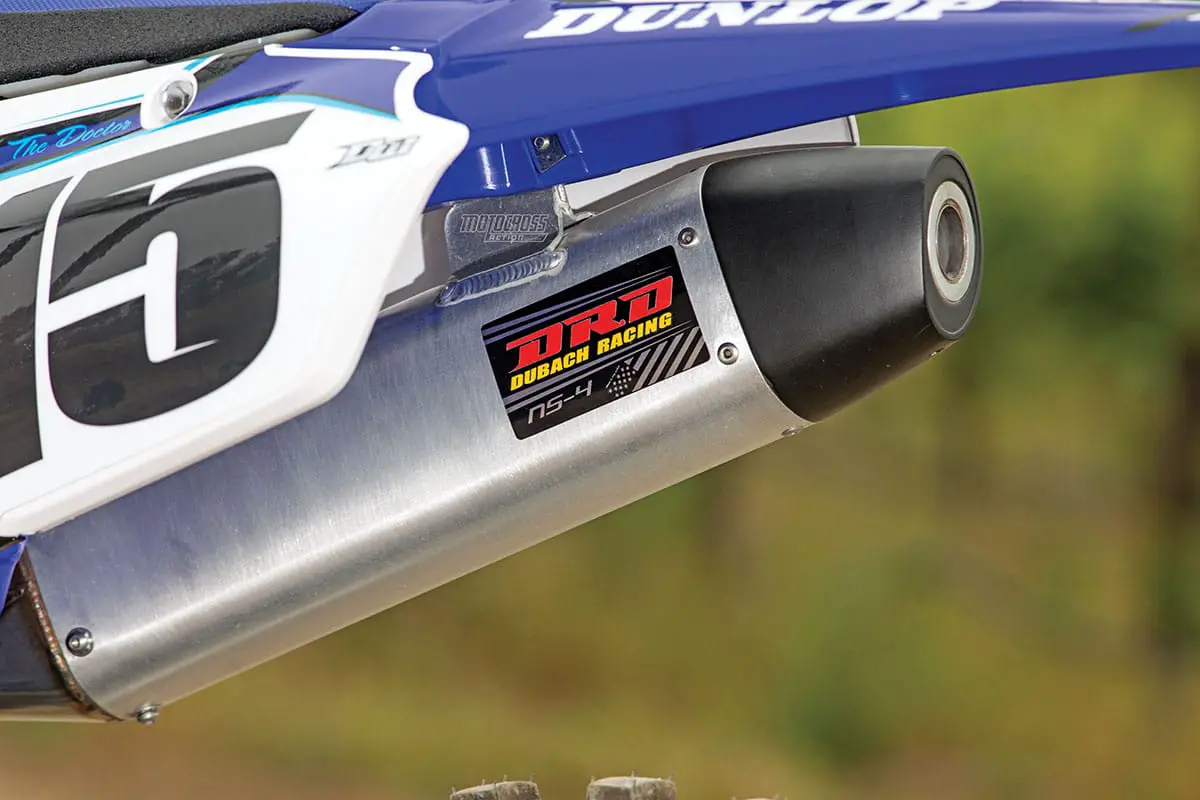 Every motocross bike becomes an expression of the man who rides it—from the "stock is best" guys to the ones who won't ride anything that isn't anodized. Most MXA test riders don't care about the little things; they ride different bikes in every moto, and over time they learn to ignore the peccadillos of a given bike. Doug, however, does have his little quirks.
Brakes. For years, Doug has pioneered the use of a 2011 Brembo master cylinder combined with the stock Nissin caliper. So, we were surprised to see that Doug was running the stock 2020-'21 Yamaha master cylinder. His 2020-2021 brake modifications were to install GYTR braided steel brake hoses front and rear (at $66.99 and $61.99 respectively) and run an ARC brake lever.
Chain guide. Doug runs the $89.99 GYTR plastic chain guide and $50.99 GYTR indexed, blue-anodized rear axle blocks.
Radiators. DR.D has made beaucoup bucks selling his radiator lowering kit, which uses bracket extensions to lower the radiators 25mm. We have seen DR.D Yamaha lowering kits on almost every brand of bike, even though they are designed to fit on a Yamaha. Guess what? Doug didn't lower the 2020 Yamaha radiators, but he did move them closer to the frame to make the bike narrower. We expected to see some CNC-machined magic parts to achieve the 12mm-narrower radiator wings, but Doug just took the radiators off and flipped the rubber bumpers on the radiator flanges over. On one side the flange bumper is 10mm thick, and on the other side it is 4mm thick. He puts the 4mm side next to the frame to move each radiator 6mm inboard.
Air filter. On the YZ450F, Doug ran a DT-1 dual-layer air filter.
Fuel. Because the compression ratio was upped to 14.0:1, it is best to run race fuel. GYTR recommends VP Racing U4.4 fuel. The added plus of U4.4 is that it is oxygenated with 7.5 percent oxygen, which is way above AMA fuel rules, but that extra oxygen and 106-octane (R+M/2) produce added power over pump gas. The downside is that you are buying that extra power at $19 a gallon.
THERE USED TO BE A

 

PACKARD CAR COMMERCIAL IN THE 1940S THAT SAID, "ASK THE MAN WHO OWNS ONE." THAT IS HOW THE MXA WRECKING CREW FEELS ABOUT DOUG DUBACH AND THE YZ450F. DOUG DUBACH KNOWS THE YZ450F BETTER THAN ANYONE ON THE PLANET.
What did we really think? There used to be a Packard car commercial in the 1940s that said, "Ask the man who owns one." The implication was that a Packard owner would know if the car was good or bad. That is how the MXA wrecking crew feels about Doug Dubach and the YZ450F, except we'd change it to, "Ask the man who built the bike." Doug Dubach knows the YZ450F better than anyone on the planet.
What were the things we loved?
(1) We loved that Doug didn't pile on a ton of fluff. He changed the cylinder head, sent the forks to his buddy and didn't add anything that the bike didn't need.
(2) Every test rider came back and raved about the lowered chassis. It was easier to lean into a corner, didn't stand up as suddenly under acceleration and, in long ruts, it tracked like a bobsled.
(3) We loved that MXA gave Doug the opportunity to plug his products, and he chose to run a $395.95 stainless steel slip-on exhaust. We didn't even know that anyone made a slip-on for under $500.
(4) We loved the do-it-all powerband of the GYTR engine mods—and are impressed that it is possible to build a really broad YZ450F powerband without leaving your friendly local Yamaha dealer's showroom.
(5) As for the Enzo suspension, we were afraid that it would be Supercross-stiff. It wasn't. That's because our test riders weighed about 30 pounds more than Doug, and the settings were super tunable. We changed a few clicks, set the sag at 105mm and had no issues. Great stuff.
(6) We liked that this was a stock motorcycle tuned to the tastes of a talented rider that worked for all skill levels of MXA testers. Doug knows what he wants, but even more significant, he knows what you want.
For more information, go to www.dubachracing.com.