WE RIDE FREDDIE NOREN'S BROWN'S RV KTM 450SXF "FAMILY AFFAIR"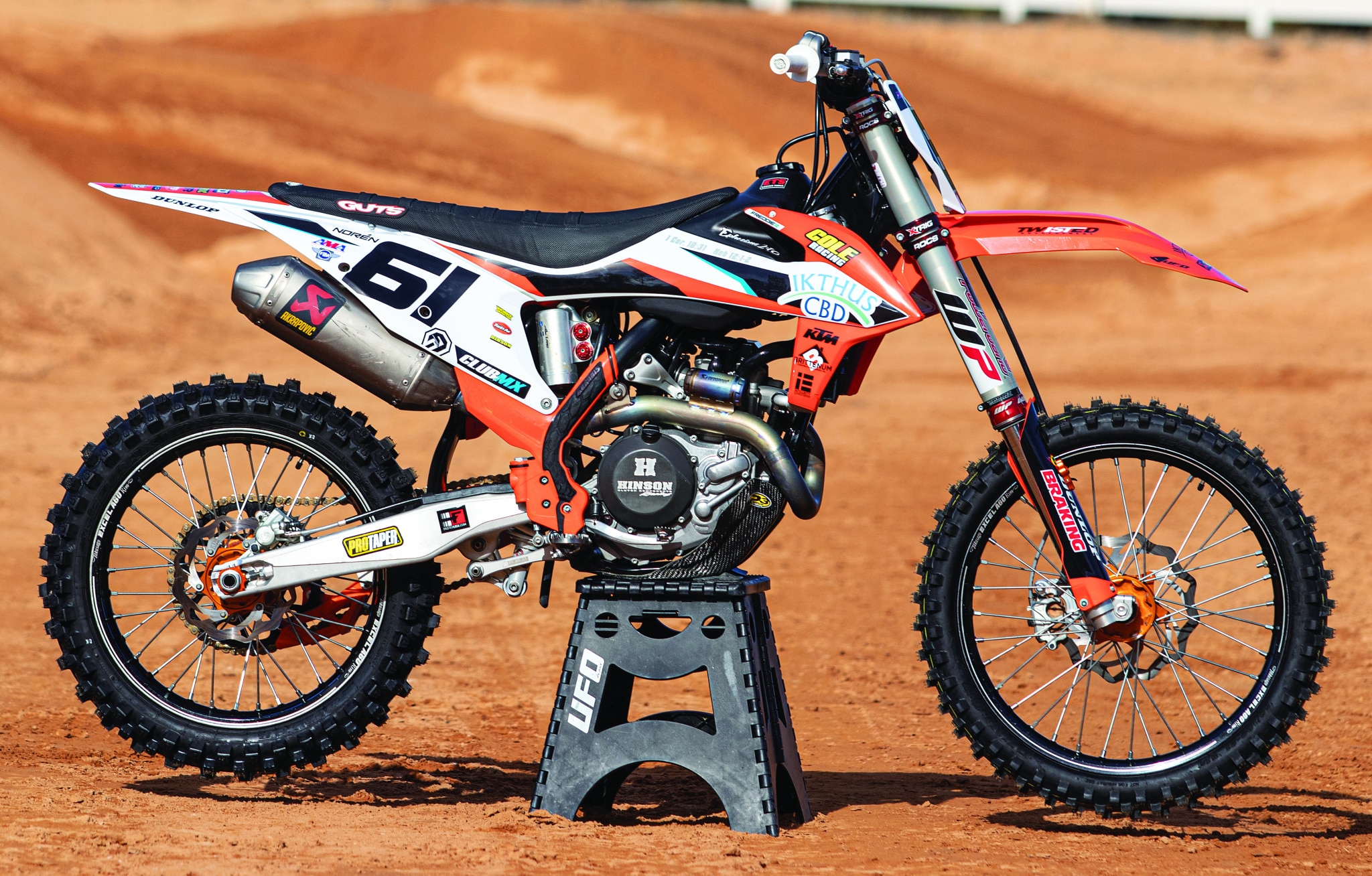 Freddie Noren practices at the ClubMX Training Facility in South Carolina and we tested his race bike out on the same orange dirt he tests on.
BY JOSH MOSIMAN
At 29 years old, Fredrik (aka "Freddie") Noren has lived a life completely dedicated to motocross. He traveled from his home country of Sweden to America to chase the dream of racing professionally in 2011, and he hasn't looked back. Freddie started as a privateer, and he gained traction when he earned a fill-in ride with factory Honda that eventually led to him becoming a factory Honda test rider, Showa test rider and fill-in rider again a few more times. Freddie has raced Pro for over a decade in the U.S. He's scored top-10 overall finishes in the 450 Nationals 22 times, and he's raced for Team Sweden at the Motocross Des Nations three times (finishing sixth, seventh and ninth in the Open class). When 2020 came around, Freddie got scooped up for his first official non-fill-in factory ride when the JGRMX Suzuki team signed him for a full season. Unfortunately, because of a lack of financial support from Suzuki, the team folded soon after the 2020 Nationals concluded, and Freddie had to return to the privateer life.
FREDDIE NOREN GAINED EXPERIENCE TESTING EVERYTHING UNDER THE SUN WHILE AT HONDA AND JGR SUZUKI,
WHICH MEANS HE'S PICKY ABOUT HIS BIKE.
Freddie's wife, Amy Noren, has been by his side since practically the beginning of his professional racing journey in the U.S., Freddie and Amy met at the track, and she quickly became Freddie's top supporter here in the States. As a young amateur racer who closely followed the Pro series, I personally felt a connection to "Fast Freddie," because I'm half Swedish myself and have traveled to Sweden to visit family many times. When it comes to speaking Swedish, jag förstår mycket, pratar lite ("I understand much, speak little").
THE GEAR: Jersey: FXR Racing Podium, Pants: FXR Racing Podium, Helmet: 6D ATR-2, Goggles: Viral Brand Works Series,Boots: Sidi Atojo. Freddie Noren's 450SXF race bike is very "tractor like," but that's not a bad thing.
When I saw that Amy Noren was holding the pit board out for her husband at the Nationals back in 2015, I admired their relationship. Fast-forward six years and my wife worked the pit board for me at the 2021 450 Hangtown National. And, to take it a step further, it was Amy who actually helped introduce me to my wife, Ashley.
It's true that this bike test is really a "family affair." The Noren and Mosiman families are now close friends, and the connections are endless. During the 2017 season when I was still racing the AMA 450 Nationals, Freddie and I competed against each other (he always beat me), and my mechanic and I helped him by taking his bike in our motorhome to many of the races. Fast-forward again, I'm working full-time at Motocross Action and we have hosted Freddie Noren's video series from the 2021 450 Nationals on our YouTube channel and website. Now I've been given the chance to test Freddie's 2022 Supercross race bike.
THIS BIKE TEST IS REALLY A "FAMILY AFFAIR." THE NOREN AND MOSIMAN FAMILIES ARE CLOSE FRIENDS. DURING THE 2017 SEASON WHEN I WAS STILL RACING THE AMA 450 NATIONALS, FREDDIE AND I COMPETED AGAINST EACH OTHER.
Twisted Development modified the engine to run similar to a stock power curve, only faster.
Before I became a full-time test rider, I didn't spend much time riding my friends' bikes, partially because dirt bikes are so expensive that I didn't want to put any wear or tear on their equipment. The main reason, however, was that I wasn't interested. I knew my bike was good, and I didn't feel the need to try anything else. I was, like many racers, closed minded. Now, I'll jump on anything, and I regret not testing more bikes when I was a full-time professional racer.
I had never ridden any of Freddie's bikes before, but everyone at the ClubMX facility was excited to hear what I thought of his KTM 450SXF, because they all know it well. Freddie lives just outside of Charlotte, North Carolina, now, and he practices at the massive ClubMX training facility. The riders and trainers at ClubMX all agree that Freddie's bike looks fast and smooth on the track. I was happy to ride "Fast Freddie's" bike, but it was their interest and opinions that sparked my interest even more.
Like the factory team, Freddie uses ETS fuel.
Next, I noticed the power. Everyone was right' Freddie's engine came on like a tractor! It was extremely gentle, smooth and quiet yet strong! Jamie Ellis of Twisted Development is the most popular engine builder in the Pro pits, and he built an engine to meet Noren's needs. Freddie wanted what every rider wants—the most performance with the most durability for the least amount of money. Interestingly enough, the internals of Freddie's engine are built practically the same as his mechanic's personal KTM 450SXF. If you've watched Freddie's videos, you'd recognize Chris Cole immediately as a character in the series. Chris has sponsored Freddie in different ways over the years, and for the 2021 and 2022 seasons, Chris is Freddie's mechanic.

Faster USA uses Yamaha spokes on the rear wheel.
As for the details of the engine, Jamie Ellis focused on making it fast and reliable. Using a Vortex ECU and his computer mapping skills, he tailored the power specifically for Freddie. The engine has Jamie's KTM 450SXF porting and a custom Twisted Development-spec piston with OEM piston rings. Jamie decked the head, timed the cams, added copper valve seats, balanced and polished the crank, and installed Twisted Development's aftermarket 450SXF exhaust flange. As for the mapping, Freddie likes a smooth, roll-on style of power, and he doesn't have any map settings for traction control or launch control. He prefers to use the Works Connection Pro Launch start device and his right and left hands to manage the power.
After practicing starts at the KTM test track against Marvin Musquin and at other Supercross tracks with LitPro data monitoring his starts off the metal grate, Freddie has found that he's able to get better starts more consistently without using launch control to help manage the power.

FREDDIE WANTED WHAT EVERY RIDER WANTS—THE MOST PERFORMANCE WITH THE MOST DURABILITY
FOR THE LEAST AMOUNT OF MONEY.
Brown's RV and Luxon triple clamps were late additions to Freddie's program for 2022.
Like the factory Red Bull KTM team, Freddie runs the MX21 blend of ETS Fuel and an Akrapovic exhaust system. I know from experience that MX21 from ETS is ultra-potent on the track and in your garage, but it has an extremely high boiling point and produces strong power. On the Akrapovic muffler, Fast Freddie keeps the insert installed. Many Pro riders remove the insert on their Akrapovic mufflers to change the power and make their bikes louder, but Freddie prefers the extra bottom and mid-range power the insert provides, and he doesn't mind how quiet it is.
For the clutch, Freddie uses a Hinson pressure plate and inner hub with Hinson plates and fibers. As expected, Freddie has had great success with its reliability. He's used both the Hinson and stock systems and, amazingly, gets between 30 and 40 hours out of his clutch plates before switching them out. Freddie and Chris explained that they have yet to have a clutch slip since switching to KTM. Freddie also switched the Hinson pressure spring from setting three to the less aggressive number two setting. He likes the aggressive clutch actuation of setting three on the track but decided to switch to setting two because it was more consistent off the start.
Freddie won't ride without his Works Connection Elite Axle blocks.
After testing with different suspension companies and triple-clamp brands, Freddie settled on Florida-based Powerband Suspension and, after we tested his bike in South Carolina, he switched from Xtrig to Luxon triple clamps and bar mounts. Another aspect that most riders wouldn't think would affect handling is the rear axle. On the stock KTM 450SXF, the right-side axle block is threaded directly onto the rear axle. The solidly linked axle/axle block combo doesn't allow the axle to move freely under torsional loads and can create some extra rigidity at the rear end. To fix it, Works Connection offers its Elite Axle Block kit for KTM/Husky/GasGas bikes. Most riders won't notice a difference, but Freddie Noren gained experience testing everything under the sun while at Honda and JGR Suzuki, which means he's picky about his bike. Freddie can't ride without the Works Connection Elite kit.
AEO link arm.
Moving on from the axle to the wheels, "Fast Freddie" has a unique factory-style setup built by FasterUSA. He uses Excel A60 rims laced up to FasterUSA hubs with Dunlop MX33 tires; however, the interesting part is that he uses Excel spokes on the front wheel and Yamaha spokes on the rear wheel, both with steel spoke nipples instead of the stock aluminum ones. He explained that the OEM Yamaha spokes are twice as expensive but worth it when you want your wheels to last through a long and brutal season of Supercross.
P3 Carbon looks cool and protects the engine.
The first thing I noticed on Freddie's bike was his ProTaper handlebars and stock levers; he likes them higher than I do, and his ProTaper grips were full diamond, absent of any waffle or raised rubber pieces. Secondly, as soon as I started down the first straightaway, I noticed how low the rear end felt. Freddie uses the WP Pro component Cone Valve forks and Trax shock, tuned by Powerband Suspension. He also uses an AEO link arm (with the OEM knuckle) that lowers the rear end. He sets his sag between 107mm and 108mm, which is lower than the standard 105mm setting I'm used to. It was weird for me but normal for Freddie, as he has always liked his rear end to sit lower than stock, even on the factory Honda, JGR Suzuki and the privateer Kawasaki KX450 he rode in Supercross last season.
To keep his bike looking good, UFO plastics and Armored Graphics are used, with Browns RV Superstore being his title sponsor for 2022, helping get Freddie and his family to the races. Freddie also uses Guts Racing's lightweight phantom seat foam and ribbed gripper seat cover to help him hold onto the bike underneath him.
Overall, Freddie's KTM 450SXF was very similar to what I would choose if I were to race the 2022 Supercross season as a privateer. It was smooth enough that I could ride it hard without being scared of 450 power coming up to bite me. The suspension was stiff enough for Supercross, but not so stiff that it wouldn't corner. The handlebars, levers and lower rear end were probably the only items I would change before racing this bike myself.
It was a lot of fun to ride my good friend's race bike. Even better, I got paid to do it! How cool is that? This bike test was truly a family affair. Oh, and did I mention that Chris Cole, Freddie's mechanic, is my father-in-law?