WE RIDE HOT CAMS' KAWASAKI KX450F: FIXIN' FLAWS
Motocross is a sport based on the simple joy of riding dirt bikes to their fullest. As with all sports, there are fan boys (the people who root for crashes and confrontations), but in general, motocross is ruled by those who twist the throttle. Though few in comparison to the stick-and-ball sports, motocross racers are a passionate group. We invest heavily in pursuing our racing dreams. How so? Anyone with $20 to cover the cost of a ball and an open field can play soccer. Motocross, on the other hand, requires a laundry list of necessary items—a motorcycle, protective gear and fuel are the bare essentials, plus you need a proper mode of transportation. There are also maintenance costs, gate fees and Band-Aids. Motocross may not be as expensive as Formula 1, but it is not a poor man's sport.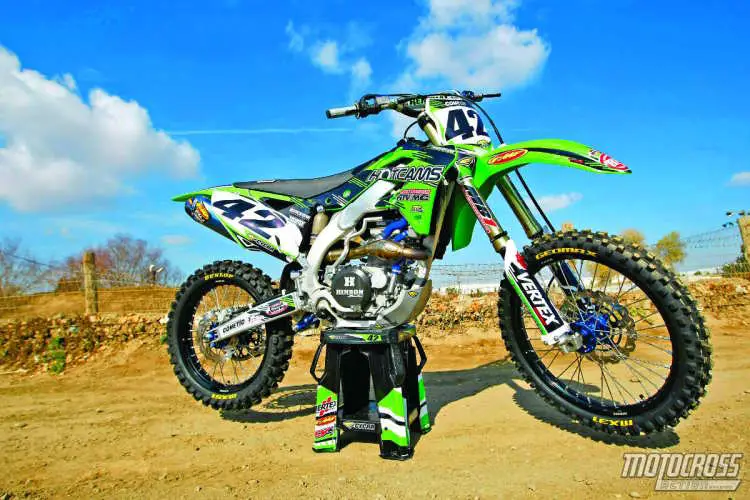 Still, the beauty of motocross is that talent is the most important factor in determining the outcome of a race. We've witnessed guys on claptrap relics blow the doors off riders jockeying $15,000 money pits. Money may be required for participation, but it's not the key to success.
MXA has tested every conceivable type of motocross bike—from Ricky Carmichael's $100,000 works Honda to a restored Kawasaki KX125 bought off of Craigslist for a few hundred dollars. We've ridden extravagant bikes and minimalist bikes. They all have their charms. In every case, we've learned that we go as fast as our brains let us. As for our own fleet of test bikes, we are steadfast in our approach, keeping them as stock as possible (aside from the occasional product test). We make changes as necessary for the sake of durability, safety or performance.
The 2014 Kawasaki KX450F won our 2014 450 shootout. That comes as little surprise, given that it boasts the best powerband in the class and is workmanlike in every other area. It is not, however, the best that it can be off the showroom floor. There are several flaws that need addressing. And, in an attempt to make the changes necessary for durability, safety and performance, we enlisted the services of Hot Cams, MB1 Suspension and several other key players in the aftermarket pool. As for money, we spent $3000 on our modifications, focusing most of our allowance on the engine and suspension.

What was the most unique part on our Hot Cams-modified Kawasaki KX450F? Without question it was the MB1 HSL holeshot device. It works in similar fashion to a fork holeshot device, except that it lowers the rear end for starting on dirt and concrete. Every MXA test rider liked the MB1 HSL.
For more information, please visit www.hotcamsinc.com and www.mb1suspension.com.