WE RIDE JACK PHINN'S HONDA CRF450 DIRT TRACKER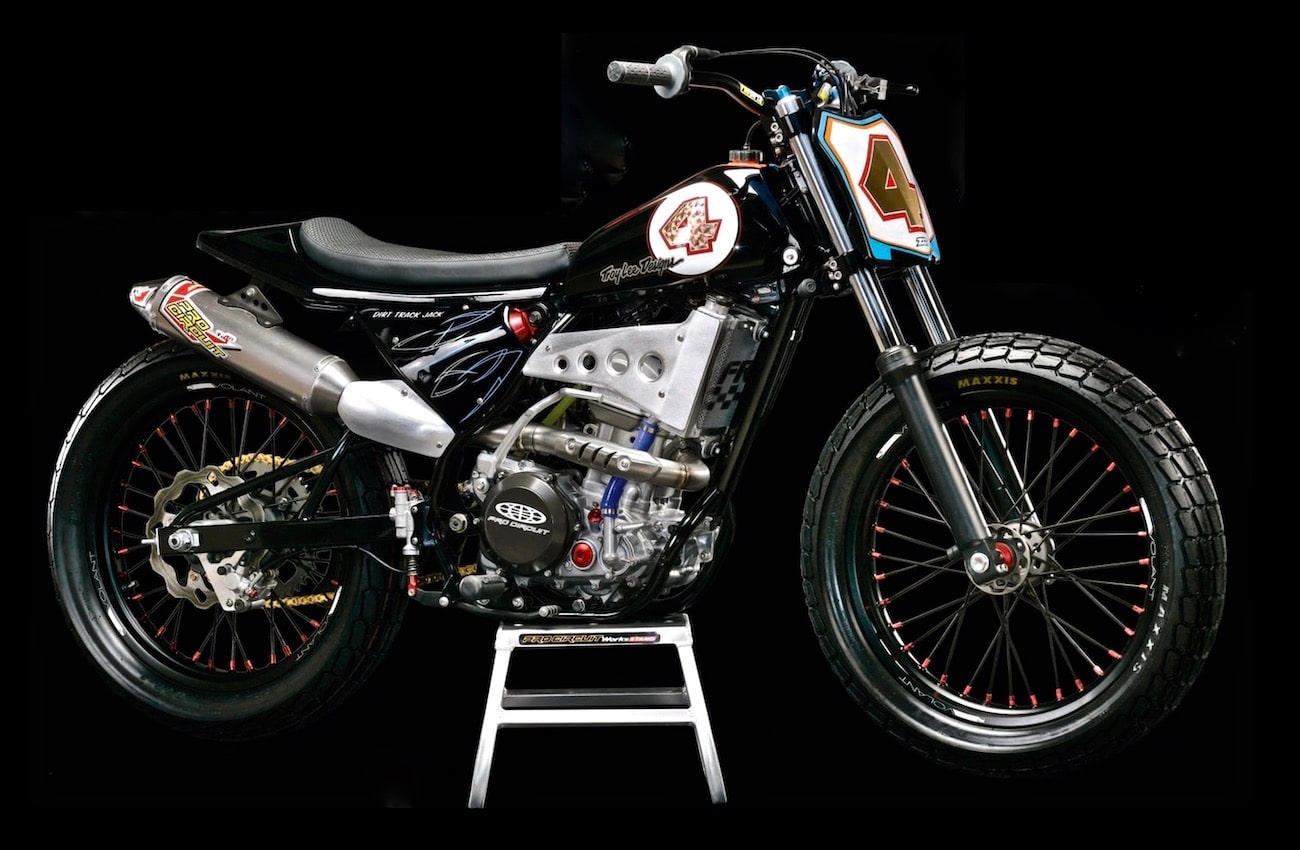 Once a Honda CRF450, now a C&J framed dirt tracker.
There are specialized motorcycles available for just about every motorcycle discipline, but the most versatile of all is the motocross bike. With some reasonable modifications, a CR, YZ, SX, RM or KX can be transformed into a desert racer, enduro bike, supermoto bike, dirt tracker, TT racer, sidecar racer or even a road racer. An old race bike or seldom-used play bike sitting in the garage has a ton of potential. It could be transformed into something from a different world?and it is definitely fun to explore the possibilities.
Jack Phinn is a longtime motocross racer who decided to try his hand at dirt track. He started with a CRF250, got the suspension lowered (which costs about as much as a revalve), raised the gearing, mounted dirt track wheels, put on rubber footpegs and bought a skid shoe.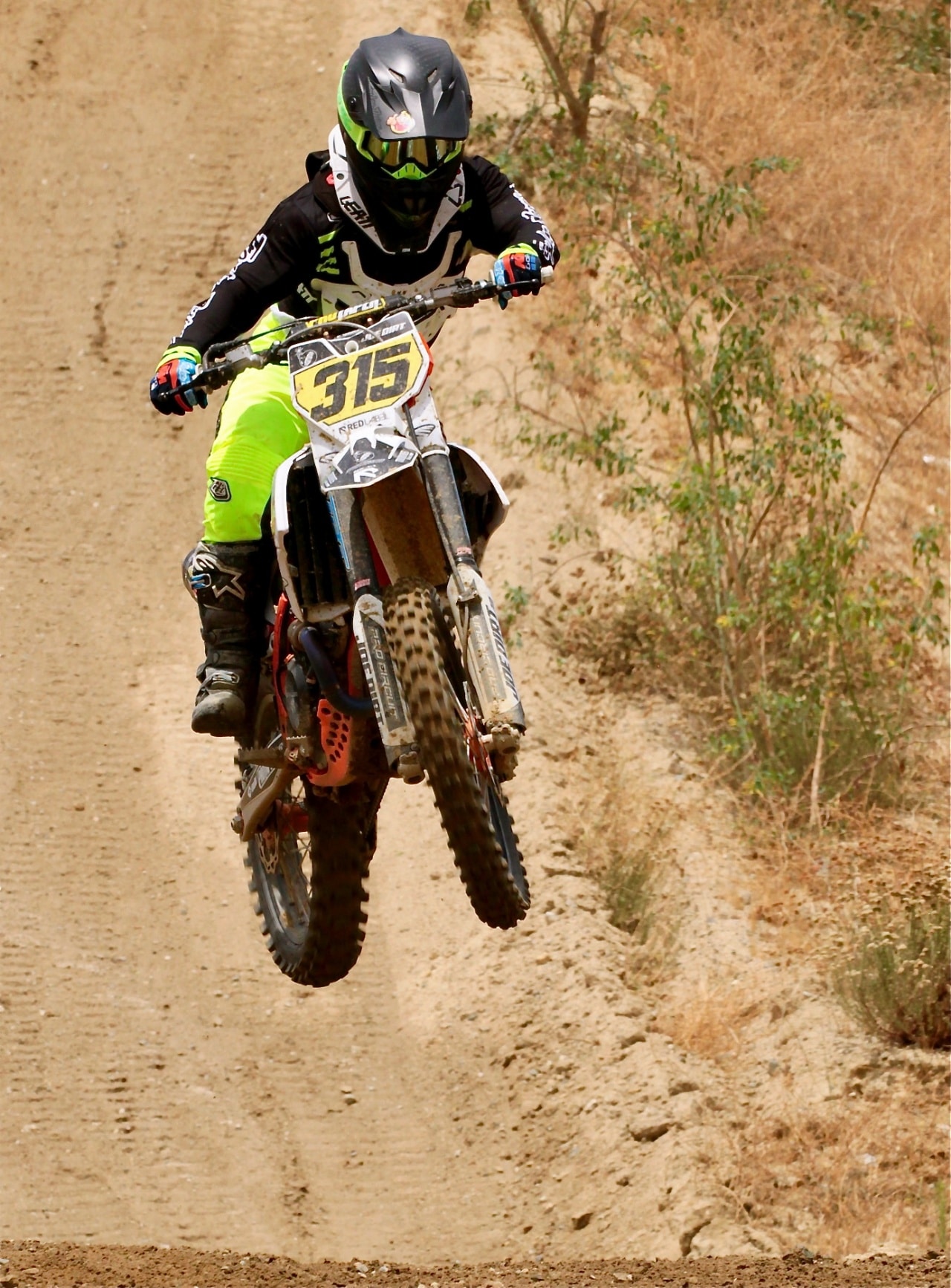 Jack Phinn on his KTM 350SXF motocross bike at Glen Helen.
It wasn't cheap, but there are ways to save money. While new wheels are expensive, the stock wheels can be reused by relacing a rear rim to the front hub. Then the cost is reduced to a 3.50 rim and spokes. That's all it takes to make a nice flat tracker out of a motocross bike. Most guys would be very happy with this bike for multiple seasons, but Jack Phinn isn't most guys.
His first day ever on a short track, Jack figured out how to pitch it sideways. He was immediately hooked. He began racing the very next weekend, starting out in the Amateur class (which is like starting in Intermediates), and led his first-ever race until the last lap. The following weekend Jack trucked up to Ventura, California, and won, but in the short span of two dirt track races, Jack realized horsepower was extremely important.
So, he built a 450 and immediately moved up to the Expert class. Soon after he got on the 450, Jack tried a few laps on a framer and had to have one. What is a framer? Unlike Jack's first CRF250 and CRF450 dirt trackers, which used the stock Honda motocross frame, a framer is a bike with a custom-built dirt track frame.
Jack wanted a framer, and when Jack wants something, he borders on obsessive. His meticulous nature was evident in the custom mini bikes he made at Big Minis (before the bottom fell out of the mini business).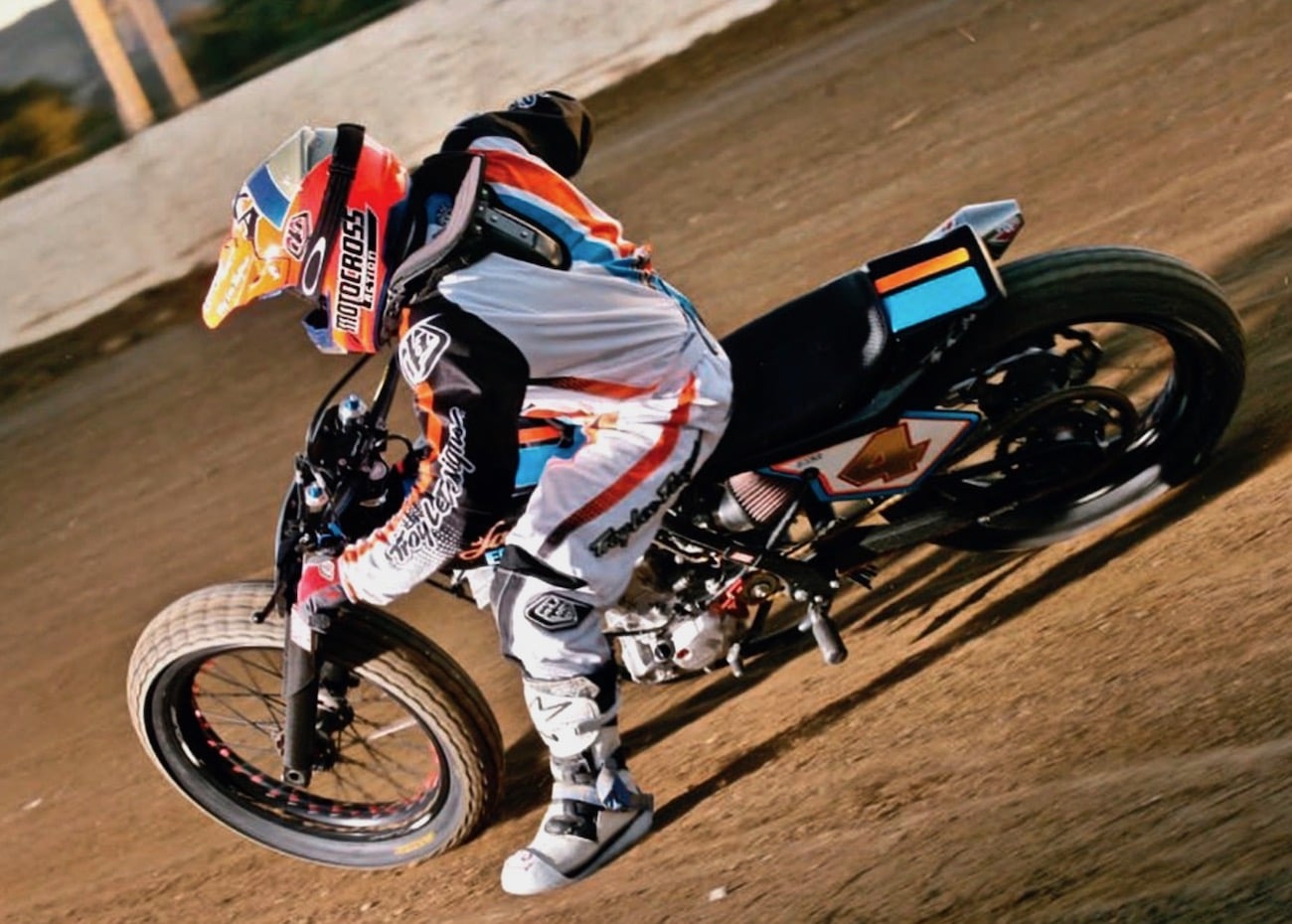 SHOP TALK: AN ODE TO OCD
In the world of dirt track, all framers are custom built. Each builder has to make decisions about how to put the mis-matched pieces together. Some framers are cobbled together with cables and hoses akimbo. There are some with uneven transitions between the seat and gas tank, and zip-ties and duct tape hold more than a few framers together. And while the majority are built with impressive workmanship, Jack Phinn took his CRF450-powered frame to the next level. It is a work of art. Every time we touched it, Jack would come along with a soft cloth and spray bottle to make sure we left no fingerprints.
It took Jack a year to build his framer. The first step was the frame. Jack had already decided on a C&J frame, but he demanded two changes. For one, he wanted a kick-starter (traditional dirt trackers use remote starters). And, he wanted to use the stock Honda rear brake caliper. Jack borrowed Jeff Ward's Supermoto engine and took it to C&J so that they could bend the tubes to clear the kick-starter and modify the swingarm to fit the rear caliper. Of course, Jack refused to use zip-ties, so he had steel tubes welded on to the frame tubes to route the cables.
The 43mm forks are off of a Yamaha  Yamaha R6 street bike with Shell adjustable offset triple clamps.
For the front suspension, Jack bought a set of brand-new 43mm Yamaha R6 street bike forks on eBay for $200 (and mounted them on Shell triple clamps). Shell clamps offer adjustable offset via different inserts. The triple clamps came with a solid steerer stem, but Jack drilled it so he could put his fuel tank vent hose down it.
In the rear, the bike was equipped with a remote reservoir Elka shock. Ever fastidious, Jack had the frame modified to make the shock adjusters easy to get to. Wanting to stick to the Honda roots, Jack got a beat-up aluminum gas tank from a 1974 Elsinore. He pulled out the dents, shortened the tank and attached new mounts. For the finish, Troy Lee gave the old Elsinore tank a Steve McQueen-themed paint job. The front number plate, which is from a CRF450, and the side plate, which Jack cut out from a trash can he bought at Lowes, have matching paint schemes.

Finally, for a unique look, Jack bead-blasted the side cases and cylinder head, soaked them in toilet bowl cleaner for 30 minutes and buffed them with a Scotch-Brite pad.
Traditional dirt trackers have "down pipes" that run along the bottom of the frame and underneath the bike. Jack doesn't like to use a lever stand method, which is necessary to avoid crushing the pipe. He was more concerned with ease of parking and ease of maintenance than about having the exhaust pipe as low as possible. The creative guys at Pro Circuit jumped at the chance to do a really trick, fully custom titanium pipe with a Windham spec muffler for the bike. Yes, it is above the center of gravity, but it doesn't weigh much. To lift the bike, Jack installed a metal grab rail under one side of the seat. Also, Jack figured he might as well make every bolt on the bike out of titanium.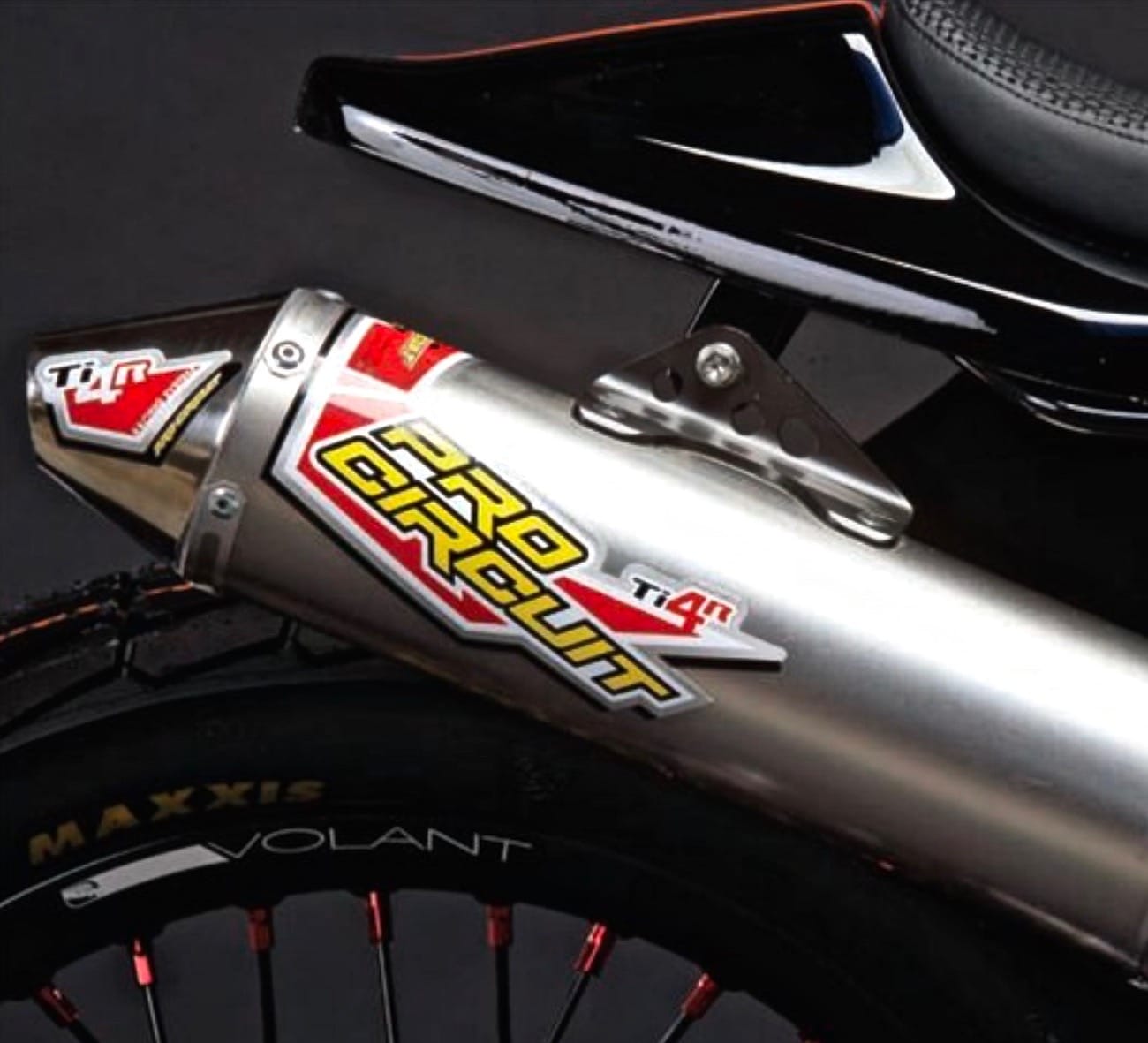 The project bike was equipped with Pro Taper bars, grips and sprockets, a chain and throttle tube, and MSR Volant wheels. Jack runs a Hammerhead shift lever and Hammerhead case savers, as well as an ARC clutch lever, Braking rear rotor, K&N Filter and DR.D hour meter.
Nothing is ever easy. Jack had to fabricate the wheel spacers, axles and knee plate (to separate his leg from the radiator). The throttle cable guide, shorter rear brake lever and steering stops were also custom made. Fontana Radiators does a lot of custom jobs for dirt trackers, and that's where Jack went. The radiator hoses were from PWR. The footpegs were moved to suit Jack. The rear brake master cylinder was modified so that the return spring was on the master cylinder itself. Even the tires were customized. Jack cut sipes in the Maxxis tires. Through testing and tips, he has figured out a secret sniping method that he swears by.

TEST RIDE: GET THE ITCH TO PITCH
First and foremost, the MXA wrecking crew had never ridden a flat tracker. So, when Jack pulled up to the Perris Flat Track (right next to Perris Raceway), we had our doubts. Jack is friends with track owner Freddy Edwards, who is eager to introduce new people to dirt track. Perris Flat Track holds practice and races regularly, but we got the well-prepped track to ourselves.
As motocrossers, we were surprised that the bike felt comfortable and confidence-inspiring the moment we threw a leg over it. Just rolling around the oval-shaped course lulled us into a sense of security, thanks to the low seat height, low center of gravity, smooth powerband and big grippy tires. Unfortunately, the feeling of security was quickly replaced by sheer terror when we tried to pitch the bike sideways. Perhaps the fact that we had zero experience played a part in that. After a bunch of laps, we started to find the correct lean angle. Short track is a delicate dance of working the handlebars, twisting the throttle and controlling your body weight. Once you get it pitched, which is the easy part, you have to find the perfect balance to keep it sliding. Oh yeah, you have to do all of this without a front brake. The lack of the front brake wasn't a big deal, because we never got out of second gear on the CRF450 (although it should be noted that the countershaft sprocket had two more teeth on it than stock).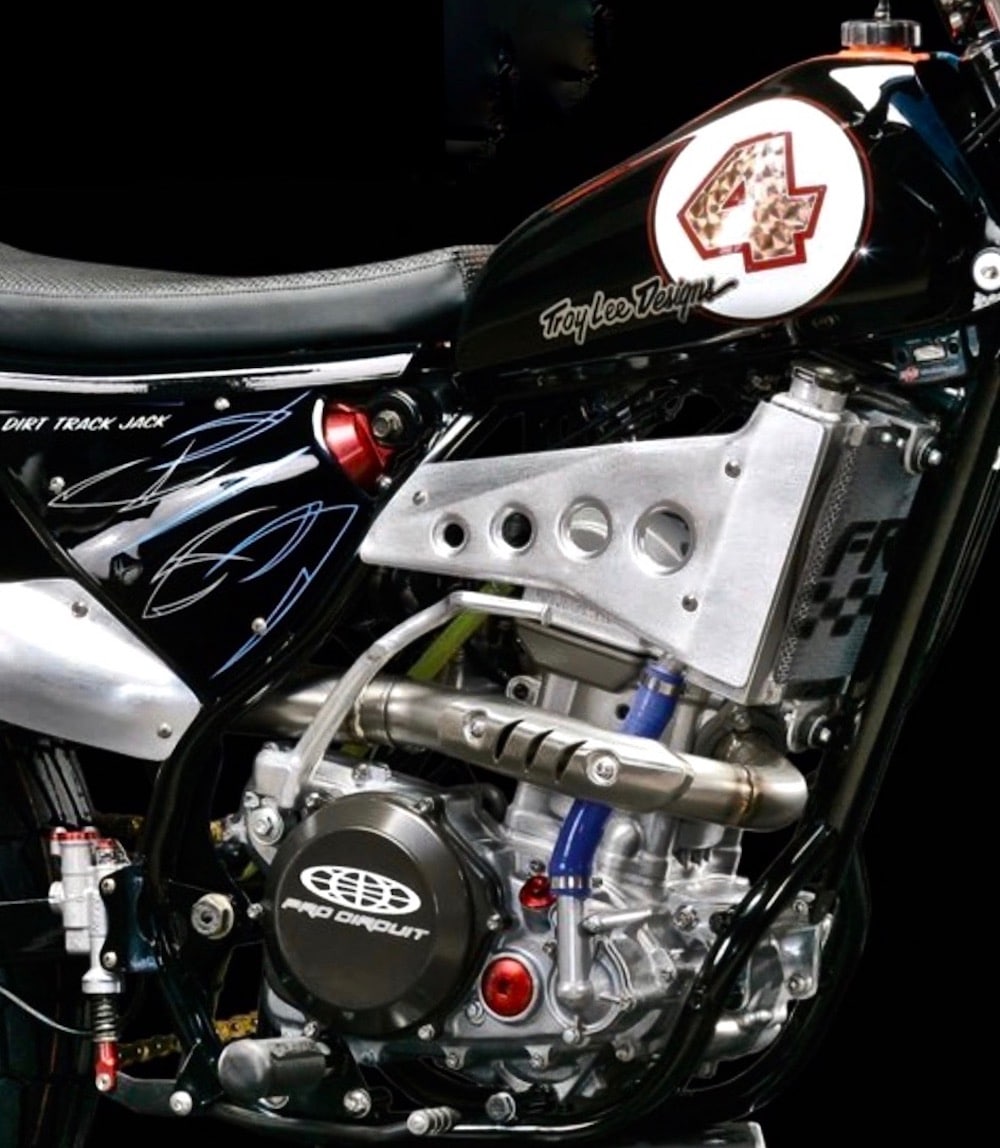 After we floundered around for a while, Jack Phinn brought out an additional bike for us to test. It was a CRF250 with modified suspension, dirt track wheels, a low pipe and some internal motor work. As flat track neophytes, we aren't really qualified to make too many judgments about the performance of these bikes, but we definitely felt some differences between the stock framed CRF250 and the CRF450 framer. Jack's CRF450 was faster and the rear tire was easier to break loose, but it was more difficult to put into a slide — although once in a slide, it was easier to keep there. We were very inconsistent in keeping a slide going all the way through the corners. The 250F was 3 inches shorter than stock CRF250, and Jack's 450 was about 2 inches shorter than the 250F. Conversely, the handling of Jack's CRF450 made it feel longer to us. In retrospect, this feeling was probably more angular mass, as the bike rotates out of a slide.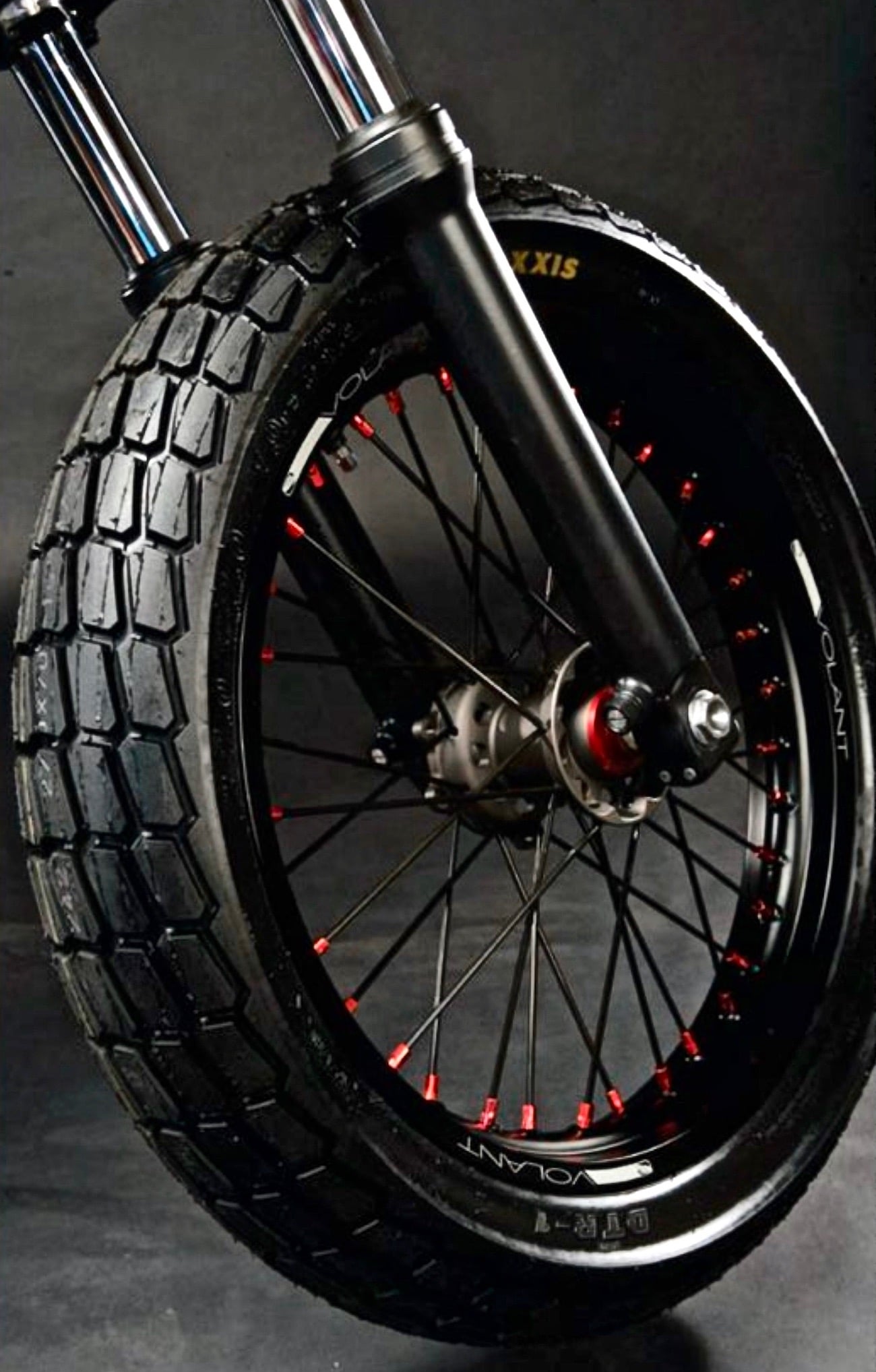 CONCLUSION: GETTING THE BUG
Jack Phinn's CRF450 dirt track bike is the product of a full year of toil. The bike began life as a 2006 CRF450 and was transformed into a flat tracker with an even nicer fit and finish than from the Honda factory. Luckily for Jack, he had a lot of bike customizing experience from owning Big Minis. Jack estimates the cost of his bike to be about 10 grand, but, in truth, it would have been twice as much without his industry connections.
We had so much fun pretending to be dirt trackers that we immediately started making plans to build our own. Luckily, a basic dirt tracker is a thousand times easier to build than Jack Phinn's framer bike.