WE RIDE JACOB HAYES' SRS MOTORSPORTS KAWASAKI KX250F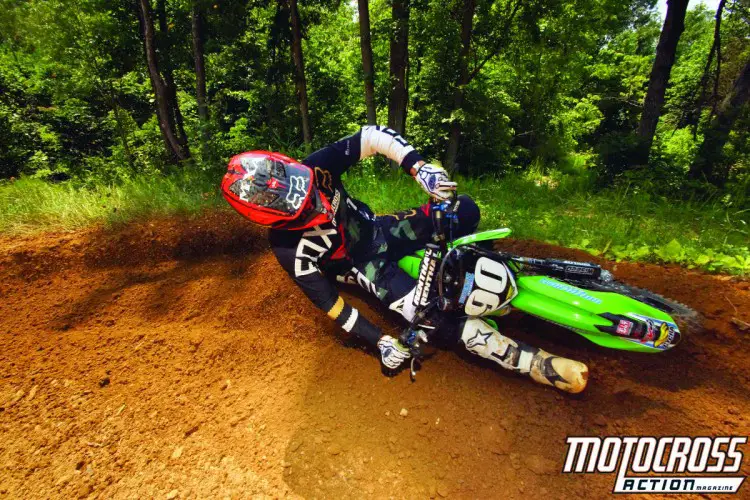 The years of dedication and hard work that a rider puts in trying to make a career in prof racing are almost always highlighted by a wild-goose chase in search of the "golden ticket." The odds of getting a full-boat ride are slim, but the passion for the sport and the thrill of the chase are often reward enough. Riders from all over the world come to the prestigious Loretta Lynn AMA National Amateur Championships to pursue their dreams. It is a long road to Loretta Lynn success. You have to ride qualifiers and regionals—and, most important, you have to put your family's bank account in jeopardy in order to line up behind the 40-man gate. One thing is for certain: make it or not, the path to the big time can very well be the best time of a young rider's life.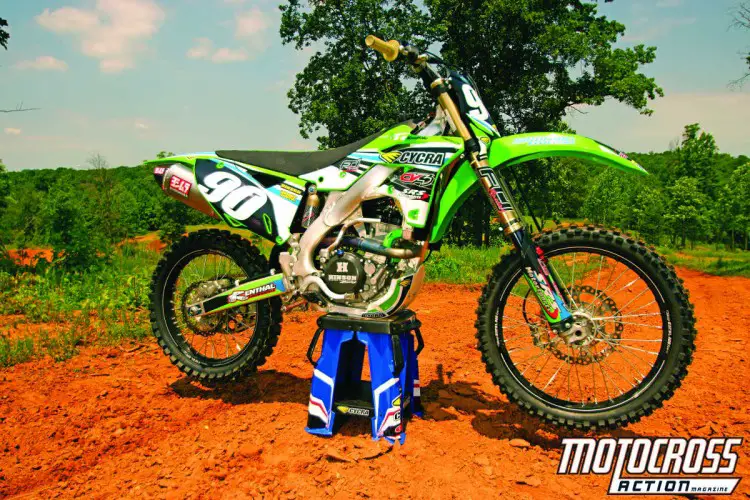 Jacob Hayes is one of those kids on the hunt for motocross stardom. As a multi-time Loretta Lynn champion and decorated Amateur National champion, you would think that he would be on the short list to get a sponsored ride into the Pro ranks. Not so! After the flurry of signing by the Pro scouts, Jacob and his family were on the outside looking in.
The local boy from Greensboro, North Carolina, is highly respected, not just for his riding skills, but for the genuinely nice person that he has grown to be. The local North Carolina motocross community believes in Jacob, and when they found out that he needed help to get to the next level, they jumped at the opportunity to help.
A bevy of North Carolina's most powerful motor-cycle companies came together to make things happen and bring Jacob's racing program to life. Those include SRS Motorsports, FTI Racing, CV4 Products and Cycra Plastics.
SRS Motorsports is the local shop that has supplied Jacob with his bikes for years. In the golden era of motocross, local shops were the lifeblood of racing. It's nice to see that SRS keeps the tradition alive. FTI Racing dialed in Jacob's KX250F suspension, along with piecing the bike together. CV4, Xceldyne and Cycra bought all the pieces. These four companies know that a struggling privateer in the AMA Nationals doesn't just need a fast bike but a reliable one as well. They were willing to dedicate the money, time and knowhow to build Jacob a competitive bike. Countless hours of testing and development went into making this bike a perfect fit for Jacob.

Jacob's story is heartwarming, and when you see all the people who have gathered in his corner, you can't help but say to yourself, "This better have a happy ending!" These companies don't have the budget of the factory teams, but they have passion. So, when the MXA wrecking crew got the chance to ride Jacob's bike, we were excited to see what this determined group came up with.
Jacob said his bike was perfect for him, but was it perfect for the MXA test riders? Surprisingly, it was pretty close! Jacob weighs about 20 pounds less than our test riders but is lightning fast, which leads to a stiff setup. This setting was spot-on for our heavier test riders. Jacob's FTI setup had a plush feel initially and got progressively stiffer through the mid-stroke. Plus, it had great bottoming resistance for the big jumps. FTI sells a replica of Jacob's B-kit setup for $795.
There were no hiccups in the engine department, either. We didn't have to abuse the clutch, as the power delivery and throttle response were quick and precise. The power quickly ramped up with an aggressive midrange hit. The high-revving engine allowed our test riders to wring out the KX250F and then shift to the next gear without slipping out of the meat of the powerband. Our test riders had ear-to-ear grins when they stepped off this beast of an engine after the first ride.
From head to toe, this CV4/Xceldyne/FTI Racing-built machine has the potential to run with the best in the business. It that when a group of sincere people come together with a passion for helping someone they believe in, dreams can come true. MXA hopes that this story has a fairy-tale ending for Jacob. At least he'll never look back and say that he didn't have anyone in his corner.
For more information, contact CV4 at www.cvproducts.com, Cycra at www.cycraracing.com, and FTI Racing at www.ftiracing.com.