WE RIDE JO SHIMODA'S FACTORY PRO CIRCUIT KAWASAKI KX250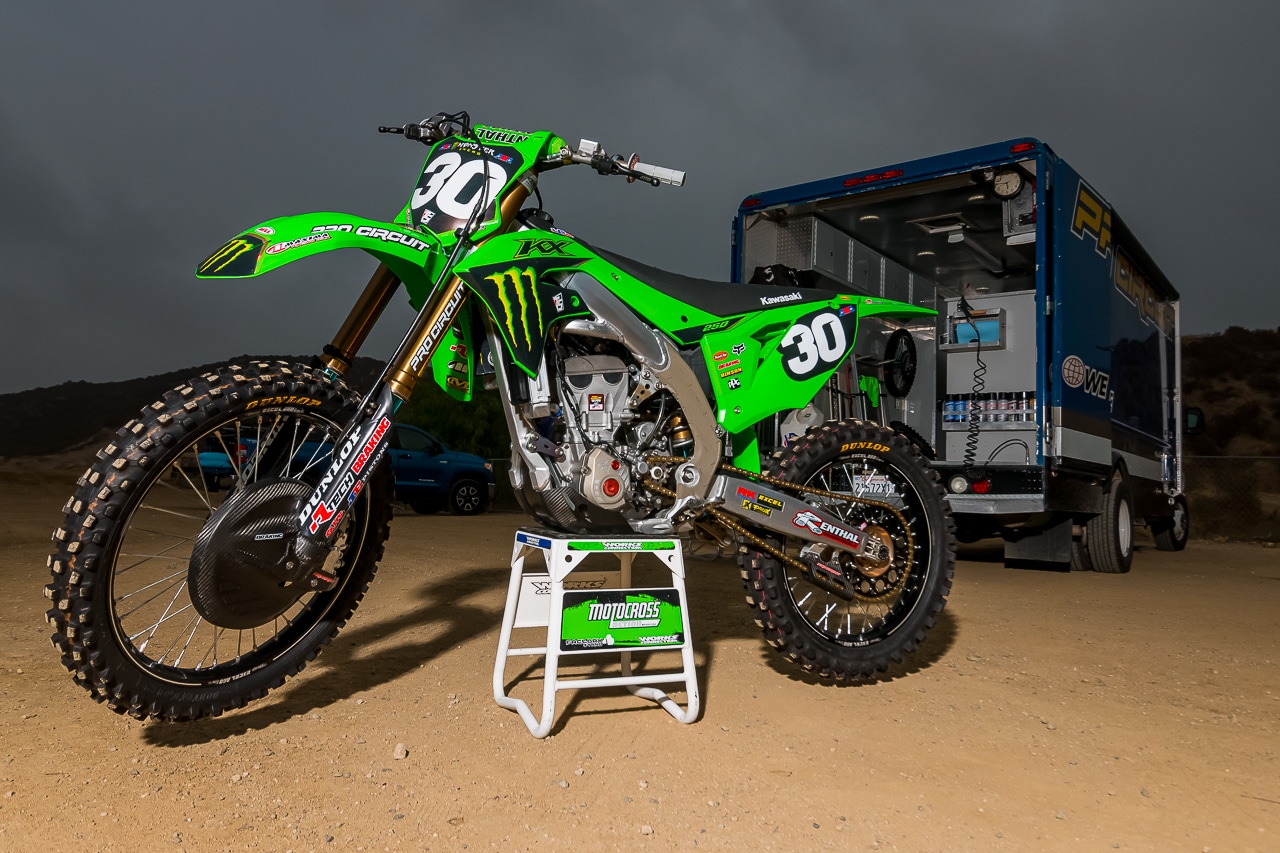 MXA got to take his Pro Circuit KX250 race bike for a day's worth of testing.
Mitch Payton had a solid four-rider lineup scheduled for the 2021 season, but when the Geico Honda team shut its doors after the last AMA National of the 2020 motocross season, multiple top 250 riders were looking for a new home. Honda quickly made space under the HRC tent for Jett and Hunter Lawrence, while Jeremy Martin settled his grudge with Star Racing and returned to Yamaha. This left Jo Shimoda and Carson Mumford searching for rides. Mitch made room for one more spot on the team and set up a try-out day to watch a group of Pro prospects show off their skills on the factory KX250. Shimoda earned the ride and quickly began praising the Pro Circuit KX250 for how fast it was. The stock 2021 CRF250 had a top-end-only engine, and it suffered big time on the bottom. Even the Geico Honda team didn't have it all dialed in. How do we know? Not only did Jo Shimoda rave about his new Kawasaki engine, the Lawrence brothers openly celebrated how much better HRC was able to make the same CRF250 engine run.
FAST-FORWARD ONE YEAR LATER, PRO CIRCUIT'S LAST-MINUTE HIRE BECAME THE TEAM'S TOP-SCORING RIDER,
THE FIRST JAPANESE RIDER TO WIN AN AMA 250 SUPERCROSS EVENT AND A FAN FAVORITE FOR HIS
SMOOTH RIDING STYLE AND HUMBLE ATTITUDE ON THE PODIUM.
Fast-forward one year later, Pro Circuit's last-minute hire became the team's top-scoring rider, the first Japanese rider to win an AMA 250 Supercross event and a fan favorite for his smooth riding style and humble attitude on the podium. Considering that Jo first started riding and racing in the U.S. at 10 years old and moved from Japan to California full-time at 14 years old, he and his family certainly dedicated their lives to this sport, and now it is starting to pay off.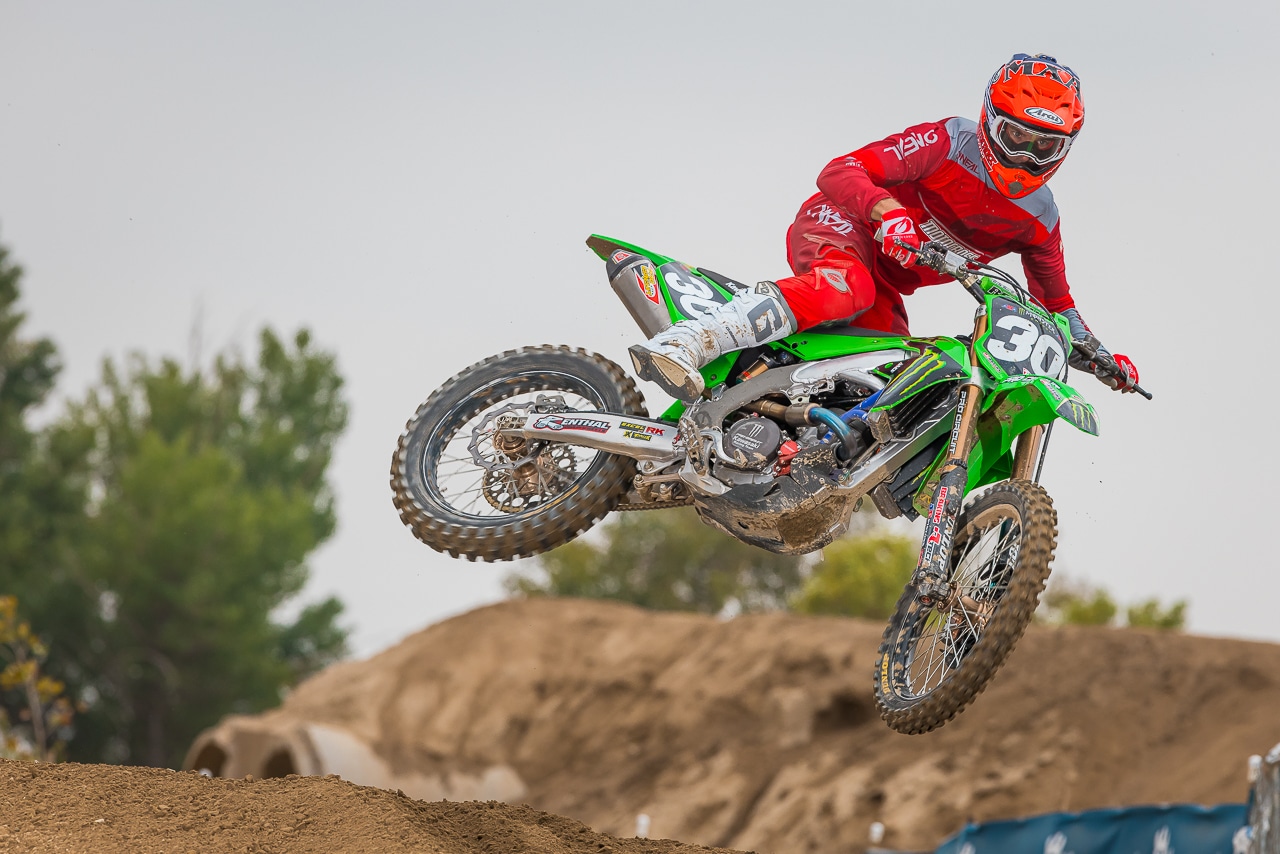 This isn't our first time testing a factory Pro Circuit KX250, but this was our first time with Pro Circuit's version of the new-generation KX250 engine and frame.
With multiple Pro Circuit riders injured during the AMA 250 Nationals, MXA had been nudging Mitch Payton to let us ride one of the team's unused race bikes. The answer from Mitch was always, "Yes," but scheduling was the difficult part. At one point Pro Circuit had lost multiple engines while shipping them between the race shop and Nationals, which didn't help our cause. Finally, when the season was over, we met the team at Glen Helen ready to experience heaven on earth in the form of a full-race Pro Circuit Kawasaki KX250.  
WHY WAS THIS FACTORY PRO CIRCUIT BIKE DIFFERENT FROM THE PREVIOUS PRO CIRCUIT KX250s
THAT MXA HAS TESTED? THE ANSWER IS FOUND IN KAWASAKI'S NEW 2021 KX250 ENGINE.
"The power is a lot less than I thought it would be," announced Daryl Ecklund as he hit the kill switch on the bike that finished second place at the Hangtown 250 National two weeks prior. "It doesn't feel much faster than the stock Husky FC250 I've been riding all morning." In years past, Mitch Payton's pride and joy had big power on the bottom, and this time Daryl didn't feel it. 
"Take it for another lap, but this time, don't shift," said Josh Mosiman, who had been riding the factory bike for most of the day. 
A minute and a half later, Daryl came back saying, "I found it!"  
The stock 2021–'22 KX250 makes its best power on top, and so does the Pro Circuit race bike.
Where was the factory power? On top, way on top. MXA test riders are by no means timid. They're very comfortable wringing out the power of other 250 four-strokes; however, the early laps on Jo Shimoda's race bike came with a sense of anticipation for each test rider—the anticipation of factory power. Daryl was more critical of the power because he's ridden multiple Pro Circuit KX250s in the past, and the Jo Shimoda 2021 version had its strongest surge of power on top with the bottom end being characterized as "smooth" rather than "bold" as it had been in the past. 
PRO CIRCUIT DEVELOPS ITS OWN ENGINES. MITCH DEVELOPS THE INTERNAL PARTS TO HIS OWN SPEC. HE EVEN GETS HIS CONNECTING RODS FROM PANKL IN AUSTRIA—THE SAME COMPANY THAT MAKES FORMULA ONE AND KTM TRANSMISSIONS.
Was Jo Shimoda's powerband weak? By no means. This bike took Jo to his first podium in Supercross (Indianapolis #1), his first win in Supercross (Salt Lake City Supercross #1), and a total of three podiums in the outdoor Nationals. The power was far from bad. In truth, all five MXA test riders fell in love with the factory Pro Circuit KX250 engine. When twisting the throttle, our test riders experienced the same sensations they get when riding a 350. The bottom end is much stronger than that of a 250F, but it's smooth and linear, not hard-hitting like you'd expect; however, the real factory power was found high in the rpm range, and that's where our testers really had fun.  
Why was this factory Pro Circuit bike different from the previous Pro Circuit KX250s that MXA has tested? The answer is found in Kawasaki's new 2021 KX250 engine. It received big updates in 2020 and a few more in 2021. Kawasaki's R&D department elected to chase after KTM's 14,000 rpm 250SXF with an engine that has practically an identical bore and stroke to the KTM 250SXF. The 2004 to 2019 Kawasaki KX250s had a 77.0 x 53.6mm bore and stroke, while the 2020 to 2021 KX250 model has a bigger bore and shorter stroke at 78.0 x 52.2mm (0.1 shorter stroke than KTM). 
In MXA's "2019 250 Shootout" we said, "The KX250 engine has the best bottom-end power in the class and hangs with the top dogs in the midrange; however, on top, the engine goes flat." We also have to mention that the 2019 KX250 had the lowest overall horsepower in the class that year. The previous-style KX250 engine matched Yamaha's and Suzuki's bore and stroke, and like those bikes, produced great bottom-end power. The new-style 2021 KX250 engine made room for bigger valves and a shorter stroke to turn it into a higher revving machine. In short, Kawasaki traded low-to-mid power for mid-to-top power. 

The factory team uses the same Pro Circuit linkage that was tested by MXA and is available to the public.

This new engine (and chassis) from Kawasaki in 2021 meant that Pro Circuit had some serious pre-season testing to do before it was ready to go racing. In a normal year, developing a new bike for Supercross is a daunting task that requires many long days on the dyno, at the track and in the machine shop. For the 2021 season, however, it was an even greater challenge than normal. When the 2020 season finished and Pro Circuit set its eyes on the 2021 Supercross series, it was unfortunately hindered, as many other teams were, by supply chain shortages that came as a result of the COVID-19 pandemic. Everyone in the motocross world knows the difficulty of acquiring parts, and this challenge hasn't only affected privateers and local racers; factory teams struggled too. The KX250 and CRF450 were both new models in 2021, which meant many of the 2020 parts wouldn't carry over. In fact, the Moto Concepts Honda team chose to race on the 2020 CRF450 instead of the all-new 2021 CRF450 that factory HRC Honda used because Moto Concepts couldn't get enough parts to test in time to be prepared for 17 rounds of Supercross. Even Pro Circuit raced with stock ignition covers for the beginning of Supercross until the billet Pro Circuit covers came in.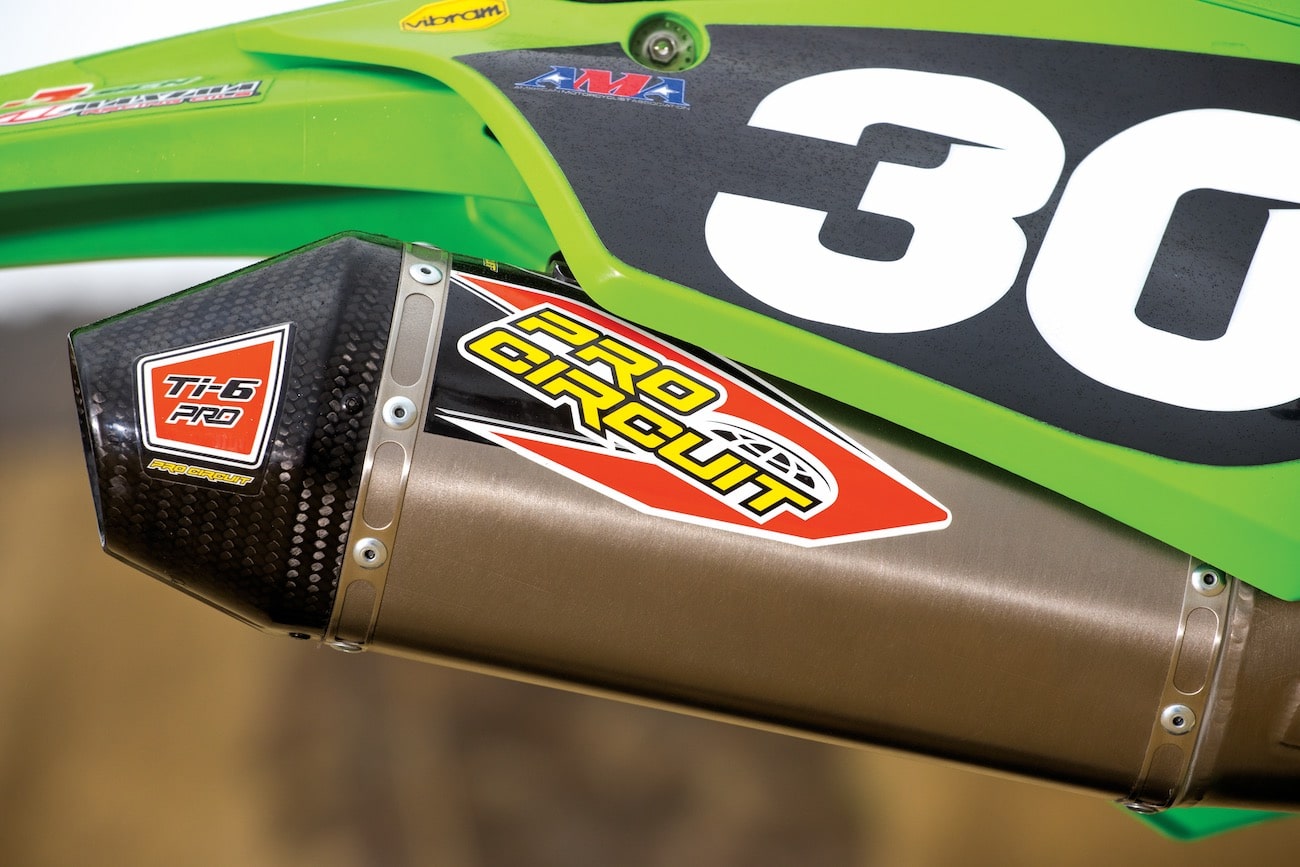 Another piece of the puzzle most don't think about is that factory satellite teams such as Pro Circuit develop their own engines; they don't have all the internal parts handed to them by Kawasaki. Mitch develops the internal parts to his own spec with the help of vendors. He even gets his connecting rods made by Pankl in Austria—the same company that makes Formula 1 and KTM transmissions. Mitch explained that many of the vendors they use were backed up when they were preparing for 2021, which meant that they continued to test and develop the engine well after the Supercross season started. By the end of the Outdoors, the Pro Circuit race bikes were very different from what they started with on day one; they were much better. Now, Mitch is more confident going into 2022 with a full season's worth of experience on the new KX250 and, like the lucky ducks we are, the MXA wrecking crew slid in to ride Shimoda's Pro Circuit race bike while it was in peak form.  
"I've never gone down the Mt. Saint Helen hill so fast," said MXA test rider Ezra Lewis. The A-kit Showa suspension on Jo Shimoda's Pro Circuit race bike inspired each of our testers with gobs of confidence. When compared to the stock 48mm Kayaba forks, the 49mm Showa A-kit components have larger outer tubes and cartridge rods, and they fit into custom-made billet fork lugs that Pro Circuit machined to increase strength and rigidity at the front end. The new lugs use a titanium front axle with the stock 22mm diameter, and the fork lugs extend into the inside to increase strength and create a positive and precise front-end feel.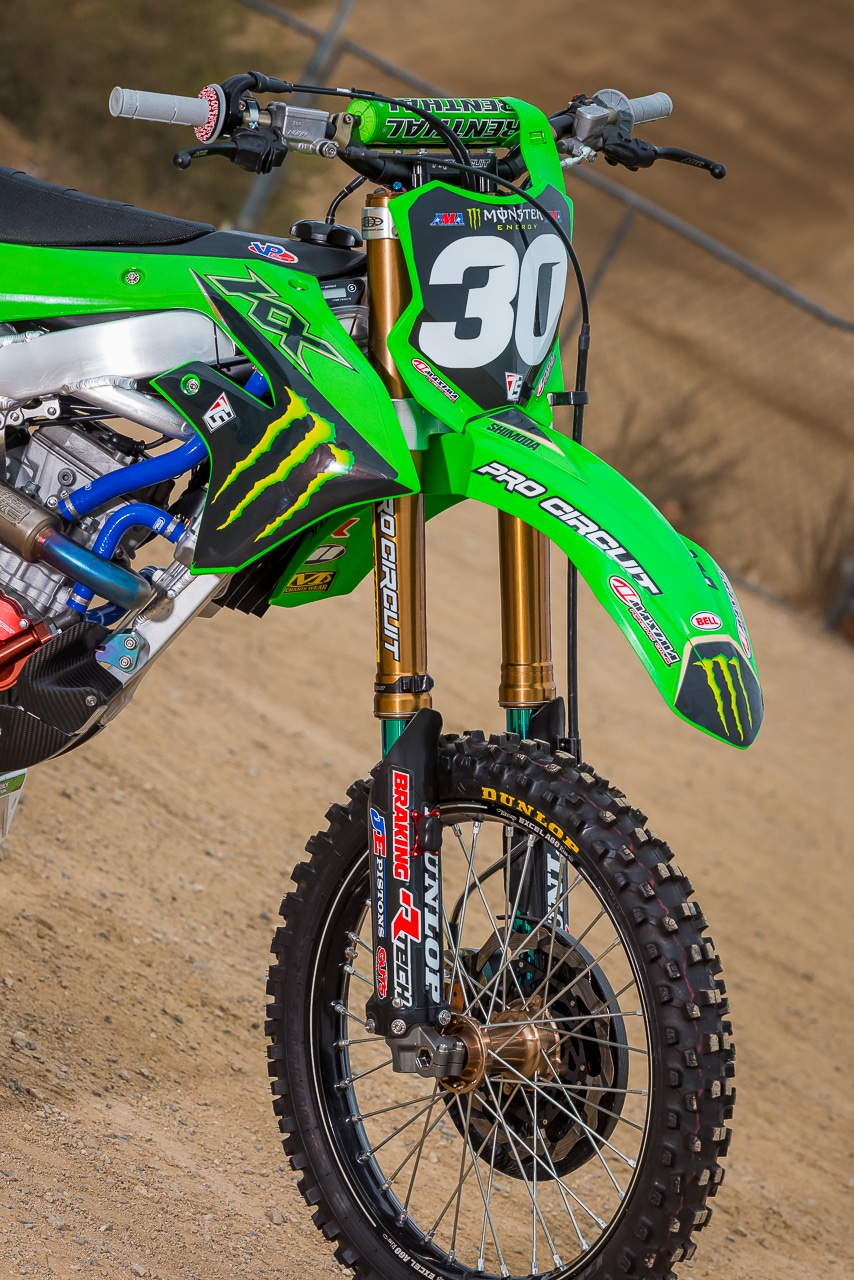 The stock Kawasaki KX250 comes with KYB suspension, but Pro Circuit uses Showa A-kit components.
The A-kit Showa shock has an 18mm shock shaft compared to the stock Kayaba shock's 16mm shaft. It has high- and low-speed rebound, whereas the stock Kayaba body only has rebound. It has a three-piece, Kashima-coated shock body with tighter tolerances than the one-piece cast shock body that comes stock. The shock shaft has a check valve, and there's a low- and high-speed compression adjuster. Plus, it has a low-speed valve stack in the compression adjuster that offers an additional tuning factor that a stock shock doesn't have. And, of course, the shock shaft is coated. In addition to the larger-diameter components, additional tuning options and tighter tolerances, the A-kit suspension also has high-tech internal parts that are dimpled to increase oil flow and are Kashima-coated to reduce friction internally. This suspension is next level. 
How do the upgrades translate on the track? The larger forks and shock increase strength and stiffness, while the friction-reducing coatings reduce stiction and allow the suspension to be plusher. This allows the Showa/Pro Circuit race team suspension guru, Adrian Bernal (who has guidance from the semi-retired legend-of-suspension Bones Bacon and from Bones' replacement, Luke Boyk) to use lighter spring rates and valve settings than he would traditionally need if they tried to copy the feel that Jo Shimoda's suspension has now and replicate it with stock components. Showa A-kit suspension is bigger, stronger, smoother and more precise. 
In motion, Jo Shimoda's suspension handled every bump and kicker at Glen Helen without blinking an eye. Our Pro-level testers were able to go much faster down the hills and into the corners because the bike never wavered, and, surprisingly, our intermediate-level riders didn't complain about it being too stiff. As for race sag, Jo Shimoda runs the stock subframe (not cut down by 10mm as we've seen before) with 100mm for sag. 
Pro Circuit is a race team, but it's also an engine, suspension and aftermarket accessory company that makes many of the parts on Jo's bike.
Jo's mechanic, Matt Goodbred, is also a transfer from Geico Honda for 2021. Although he worked for Carson Mumford before, he and Jo were happy to be matched up together at their new home. He mentioned how Jo is an ultra-smooth rider who is easy on clutch plates. He also explained that Jo is constantly leaving his bike in gear, because it's so hard to get the bike into neutral. How come? The neutral detent on the shift drum is shaved down to prevent it from popping into a false neutral on the track. We struggled to get it out of gear as well.
MXA'S JOSH MOSIMAN WAS ABLE TO LOG A LAP TIME 3.5 SECONDS FASTER THAN HE WAS ON A
STOCK 2021 KX250 AFTER GOING ALL OUT ON BOTH BIKES BACK TO BACK.
Going over the rest of Jo Shimoda's race bike, here's the list of the parts you can't buy at a dealership: Pro Circuit's special blend of VP fuel, spec Dunlop race tires, a Nissin front brake, and a custom start button that is taller so it doesn't get stuck down. Plus, it has a backup start switch on the subframe, and the radiators are custom with integrated oil coolers. It has titanium front and rear axles with anodized aluminum axle blocks, titanium footpeg holders and a titanium swingarm pivot bolt.
Which factory parts does Kawasaki supply? Here's the list: factory hubs, ECU, front brake caliper, rear brake pedal with folding tip, brake snake and a brake stop that is built into the swing arm pivot to ensure the brake pedal doesn't bend up. It also has a data acquisition sensor that connects to the ECU to link with the gear position sensor to monitor which rpm and gear the bike is in on each section of the track. Plus, it counts Jo's lap times.
Pro Circuit also uses many of its own parts on the bike that are available for you to buy. Here's the list: Ti-6 exhaust, shock linkage, Showa/Pro Circuit suspension, triple clamps, bar mounts, throttle tube, titanium footpegs, brake clevis, carbon chain guide, starting device (Pro Circuit branded made by Works Connection), timing plug caps, oil plugs, water pump, clutch cover, ignition cover, front brake line holder and shift lever. 
In addition to the Pro Circuit parts, Jo's bike uses lots of aftermarket parts you can buy. Here's the list: full Hinson clutch (with Pro Circuit clutch springs), JE piston, Works Chassis lab motor mounts and head stays, Braking front and rear brake rotors, Renthal handlebars, grips and sprockets. Plus, it has an RK chain, titanium rear sprocket bolts, Twin Air filter, R-tech plastic, Throttle Syndicate seat cover and graphics, Lightspeed carbon fiber skid plate, front and rear brake rotor guards and case saver. 
At the end of the day, the MXA wrecking crew was more than satisfied with the amount of time we were able to get on the factory Pro Circuit KX250. It didn't make us Jo Shimoda fast, but MXA's Josh Mosiman was able to log a lap time 3.5 seconds faster than he was on a stock 2021 KX250 after going all out on both bikes back to back.