UP CLOSE & PERSONAL WITH JODY'S KTM 350SXF
MXA could have easily asked KTM to let us test Tony Cairoli's KTM 350SXF, but given that the vast majority of 350SFs are sold to play riders, professional practice riders and Vet racers, it made more sense for us to look at what mods a high-profile Veteran racer would do, especially one with the wherewithal to do whatever he wanted to his bike. So while we were looking around at all the World Vet Championship riders, we realized that perhaps the KTM 350SXF of MXA test rider Jody Weisel would be the perfect choice. Not only does Jody go beyond KTM's profile of the typical KTM 350SXF buyer (college-educated, older and financially stable), but he has been testing motorcycles for a living for over 45 years. Jody knows what he wants, knows what he likes and has influenced the design departments of the major motorcycle manufacturers for decades.
In no way is Jody's current speed worthy of envy, but beyond his test rider credentials, he was CMC Number One in 1984 and REM Number One in 1994. So, he fits the market demographics for the KTM 350SXF to a T. We aren't saying that the KTM 350SXF only works for riders over the age of 30 (and beyond), but we are saying that the numbers prove that teenagers aren't looking for mid-size Open bikes as their chosen steeds. So, we'll let Jody take over the test from here.
LET'S HAND IT OVER TO JODY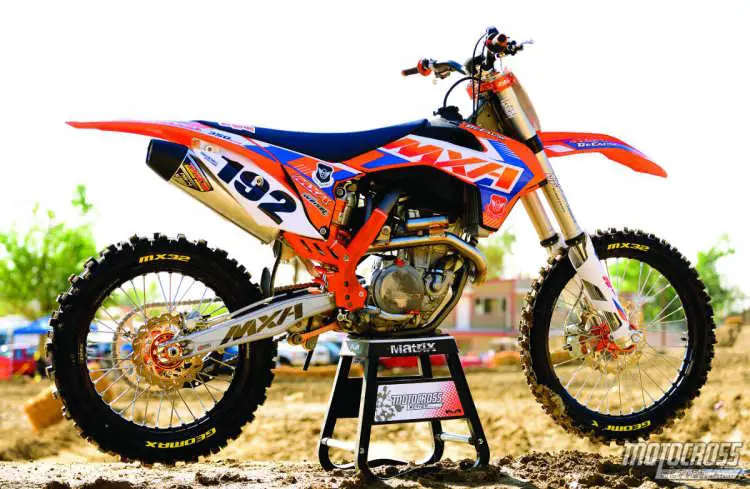 "I've never been a big fan of the KTM 350SXF. From the moment it was introduced in 2011, I was disappointed that it was more of an oversized 250 than a mid-sized 450, but I saw its value to a certain type of rider. Although there are Vet riders who big-bore their 250Fs in hopes of getting more thrust off the start, they always compromise the fluidity and top-end flow of their YZ250F, KX250F, CRF250 or RM-Z250 in hopes of getting grunt. For them, the 350 is a much better choice. It feels a lot like a 250, revs to 13,400 rpm and produces comparable peak power to a 450, albeit at 13,399 rpm.
"But—and this is a big but—I don't want to have to rev my engine to almost 14 grand to get it to make max power. So, my weapon of choice has always been a YZ250 two-stroke or 450cc four-stroke. Those are power-now machines. I can't chicken out on getting max power out of them because they make their power 6000 rpm sooner than the KTM 350SXF. Plus, a 450cc motocross bike makes 10 more horsepower than a 350cc at 9000 rpm. I will admit that the peak power of the KTM 350SXF is well over 50 horsepower and only gives up around 3 horsepower to its bigger brother, but the difference is that I'm not willing to hold a 54-horsepower bike open all the way to 13,400 rpm. I prefer to hit it and quit it before things get too scary. I've always said that a faster bike doesn't make me faster; it just makes me shut it off sooner. Fourteen grand is out of my wheelhouse, unless I'm stuck in second gear.
"As an MXA test rider, I don't get to choose the bikes I race. I race what's on the test schedule and I don't complain (much). People think that I always race a KTM, but that is just because KTM has seven different models that MXA tests, while Honda, Kawasaki and Suzuki only have two each. Just by simple math, I'm more likely to be riding a 125SX, 150SX, 250SX, 300XC, 250SXF, 450SXF or 450SXF-FE than a CRF450, YZ450F, RM-Z450 or KX450F.
"But, there is a time when the MXA wrecking crew is given the opportunity to race whatever they want—and that is when all the test-bike assignments have been completed for the season. So, once my assignments were finished for 2014, I started to race the bike of my choice—a KTM 450SXF.
"Did you think I was going to say a KTM 350SXF? I wasn't, because it wasn't my first choice. In truth, it wasn't my second or third choice. So, why did I switch to the mid-sized 350SXF? My doctor made me do it. At the 2013 World Vet Championship, I collided with another rider and seriously hurt my rotator cuff. My doctor said that I could avoid surgery if I went to rehab religiously and never let my arm get pulled all the way forward or pushed back behind my shoulder blades. Under those conditions, I could avoid the knife and keep racing. I agreed immediately.
"My first attempt to make my doctor happy was to switch to a Yamaha YZ250F. It didn't work for two reasons: (1) I'm only as fast as the people in my class if I get a start that puts me in front of them. That wasn't happening for me on a 250 four-stroke. (2) I had to ride harder, hit jumps harder and slam into square-edged bumps harder. I found my shoulder getting pushed back every time I jammed through the whoops. Pain made me reevaluate my 250 four-stroke decision.
"My second attempt to make the AMA (American Medical Association) and Lovely Louella happy was to switch to a Yamaha YZ250 two-stroke. I loved this idea because, given my druthers, this is the bike I would choose to race every weekend of my life, largely because two-strokes are what I raced from 1968 until four-strokes replaced two-strokes on MXA's test schedule. Sadly, I made it two laps at the 2014 World Two-Stroke Championships in April before sharp stinging pains told me that the brutal rush of turning a two-stroke wide open wasn't compatible with a rotator cuff that had no stops in it.
"It was a quandary. One bike pushed my shoulder rearward too far, and the other pulled it forward too far—both things that my physical therapist said that I couldn't let happen.  Out of desperation, I went back to my 450 and raced it in slow motion, which was hard to discern from my normal stop-action speed. Riding a fast bike slowly was no fun. I wanted to race against the men I had always raced with—not let them go out of fear of grabbing too much throttle.
"By now you know where I am headed. In my barn was a 2014 KTM 350SXF. I had spent a month on it when it was on my MXA test bike list. I knew how to make it better, and I knew that its linear powerband was going to be Baby Bear's porridge for my injured rotator cuff—not too hot and not too cold. It could be just what the doctor ordered. So, I raced it. Didn't like it. Worked on it. Raced it. Didn't like it. Worked on it. Raced it. And I started to get it where I wanted it.
"It should be noted that I chose to race the 350SXF because, at 7000 rpm, it made 10.61 horsepower less than my 450SXF; at 8000 rpm it made 10.86 horsepower less; at 9000 rpm it made 8.61 horsepower less; and at 10,000 rpm it made 5.83 horsepower less. However, don't think that the 350SXF is a dog, because at 11,000 rpm, the 350SXF made 1 horsepower more than the 450SXF. And, it makes more peak horsepower than any late model Honda CRF450. My shoulder, not my ego, was looking for a bike that produced a linear style of power—not just easy to ride, but easy on my shoulder; one that would allow me to twist the throttle like a moron without paying the penalty.
"Even if you aren't injured, you will benefit from following my 20 steps to KTM 350SXF nirvana. I'm not forcing you to make any changes, but these are the mods I made to my 350SXF."

JODY'S 20 STEPS TO KTM 350SXF BLISS
(1) Triga iBoost throttle body. Although the linear power delivery of the 350SXF is what drew me to it, I have always believed that KTM would have done riders a bigger service by moving the power down into the powerband so that the 350SXF would be torquier—more like a 1998 Yamaha YZ400 than a hyper, over-caffeinated 250SXF. Since I know that the factory KTM team uses the old-school 42mm throttle bodies on their race bikes, I installed a Triga throttle body tube. It slips inside the throttle body to downsize it from 44mm to 41.5mm (and comes with a new butterfly valve). Although the bike didn't gain any horsepower with Triga, it didn't lose any, either. The plus for me was that the power felt torquier in the midrange. In truth, it felt slower, but that was just an illusion caused by how much easier it was to ride.
(2) DR.D exhaust. Again, because I wanted broader power with more low to mid, I mounted a DR.D exhaust system. Not only is this complete system very affordable at $579.95, but I had Doug Dubach use the largest perf core he had (1-5/8-inch) to improve throttle response in the middle.

(3) Throttle cable. Thanks to Ryan Dungey's mechanic, Carlos Rivera, I learned that if you cut the rubber housing off the stock throttle cable you could lighten the feel of the throttle. The rubber housing can be removed with a razor blade, except for a 1-inch section that is bonded to the inner housing. You could leave the 1-inch section, or peel it off and use electrical tape to cover the bare spot. I used electrical tape.
(4) Mapping. With KTM's accessory map switch, you can choose between stock, mellow and aggressive ignition maps. The switch, which plugs in under the seat, sells for $50. I run the aggressive map, which is number 2.
(5) Gearing. I run a 52-tooth rear sprocket, not because I want the KTM 350SXF to hit harder, but because I want to get to third gear sooner and stay there longer. Gearing it down allows me to run a taller gear and take advantage of its longer pull.
(6) Battery. I have an aftermarket EarthX battery in my bike—not just because it is a little lighter, but because I carry a spare battery with me to every race; thus, I use the stock Yuasa lead-acid battery as a backup. You may never need it, but I have.
(7) Fuel filters. Any time the KTM 350SXF gets hard to start, I check the fuel filter in the gas line and either back-flush it or replace it. The 50-psi fuel system doesn't like an impedance in the fuel system.
(8) Fuel-pump relay. I zip-tie the KTM's fuel-pump relay to the frame. It has a habit of coming loose and rattling around enough to short it out. Zip-tying it is a fail-safe solution.
(9) Shift lever. KTM's shift lever is too low, but if you move it up one notch it is too high. To solve this problem I place the shift lever between two blocks on a bench press and bend the tip up 5mm. Amazingly, that little bit of room is enough leeway to get a boot under the shift lever.
(10) 7602 brake pedal tip. The 7075 aluminum brake pedal tip from 7602 Racing not only has more aggressive teeth and a brake snake hole, but it has three adjustable mounting positions. I much prefer to have a longer brake pedal where I can have a more tactile feel from my foot.
(11) Suspension. I have always believed that the best suspension guru is the one whom you have a relationship with. A guy who has done your bikes before, comes to the racetrack occasionally, and will redo your valving if you aren't happy is the best suspension guy for you. I have a 30-year relationship with Pro Circuit's Bones Bacon. I trust him to get me where I want to be, even if it takes three or four re-valves to make it happen. For my KTM 350SXF, I had him duplicate my 450SXF valving, but go with lighter springs. He had to make some adjustments after his first try, but he made me happy. I'm not saying you need to go with Pro Circuit; I'm saying go with someone who will help you until you are happy. I'm happy.
(12) NK SFS air triple clamps. I love these triple clamps, and mine came straight off Ryan Dungey's works bike. Equipped with two small air shocks that double as the handlebar mounts, the French-made triple clamps offer almost a 1/2-inch of suspension travel for the bars. I've raced with them since October of 2013, and they have been bulletproof and the design has been updated several times since I got mine off of Dungey's race bike. There is a learning curve to getting the correct air pressure, but once you find it, all you have to do is reset it before each race. I run 70 psi.
(13) Works Connection stem nut. When you remove a KTM gas cap, the vent hose gets twisted. Given how often I fill my bike or check the gas, the twisted vent hose is a major irritant. Works Connection makes an anodized KTM stem nut that has a hole in the center of it so that the vent hose can be inserted into it like on a blue, green, yellow or red bike. It just makes day-to-day life simpler because it spins with the gas cap.
(14) Think seat foam. I like KTM seat foam when the bike is new, but with every ride the foam gets softer and softer. I'm sure there are lots of other aftermarket seat foams that would solve this problem, but the vast majority of works bikes run Think seat foam. Not only does it feel good, but it has a longer life span. Oh yeah, it saves almost a pound over the stock seat foam, which is why Dungey, Roczen and Musquin use the same type of foam. My seat cover of choice was a used, 450SXF-FE Factory Edition, textured seat cover.
(15) Subframe. I have short legs to go along with my short, 5-foot-8 stature. KTMs are built for giants. For that reason, I cut the subframe down by 5mm, which lowers the rear of the bike by 1 inch. Actually, I don't cut my own subframe; I typically steal Mike Brown's cut-down subframe. I have done this ever since Mike signed with KTM, but now that he's at Husqvarna (and has a carbon fiber subframe), I've got to find a new victim.
(16) TM Designworks. Although KTM has the best chain guide in the sport, I switched to a TM Designworks GP chain guide because it is totally bulletproof, wears like iron and never fails..
(17) Works Connection oil filler cap. I have a confession. I melt KTM's stock rubber oil filler caps. They melt completely off the cases, thanks to my leftover two-stroke clutch style. Abusing the clutch generates heat—lots of it. After melting my third oil-filler cap, I switched to Work Connection's aluminum oil-filler cap. It can't melt no matter how much I abuse the clutch. Amazingly, I run the stock KTM clutch; my only concession to my abusive style is new plates, oil filters and oil at regular intervals.
(18) Wheels. Originally, I had Dubya lace up a very sweet set of Talon hubs with orange spokes and D.I.D. rims. I loved those wheels, but MXA's Dennis Stapleton needed a new set of wheels for the AMA Nationals, so I gave him my fancy wheels (and Dubya refurbished them for him). MXA had a set of year-old Tusk wheels that had proven to be amazingly durable for a set of wheels that only cost $495 (for a pair). They are perfect for my needs and allowed me to keep my stock KTM wheels equipped with hard-track tires. Prior to the arrival of the Dunlop Geomax MX52 and MX32, I ran a Dunlop MX31 front tire with an MX51 rear. Since those tires have been discontinued, I run a MX32 front all the time with a MX32 rear in soft terrain and a MX52 on hard terrain.
(19) Ride Engineering rear axle. Team KTM was secretly running Kawasaki rear axles in 2013 and have their own special design for 2014. Why? The stock KTM axle has the right-side chain adjuster block bonded to the axle. This design doesn't allow the axle to operate as an isolated unit. A heavy load on the stock axle block causes the suspension and swingram to stiffen under extreme conditions. Ride Engineering offers machined KTM axle blocks that accept a Honda CRF450 rear axle to mimic what Dungey and Roczen use on their bikes.
(20) DeCal Works. I knew what I wanted my KTM 350SXF to look like and I trusted DeCal Works to handle the job. I also mounted KTM Power Parts orange frame guards to disguise the gunmetal gray frame.
Accounting. On the ledger, I spent $3700 in parts for my KTM, but half of that came from the big-ticket items—NK SFS Air triple clamps ($750), DR.D exhaust ($579), Tusk wheels ($500), Triga iBoost throttle body ($350) and Pro Circuit suspension re-valve ($500). In truth, I could live without the fancy triple clamps, exhaust system, throttle body mod and spare wheels. Using that same logic, I could take up tiddlywinks and live without the KTM 350SXF. Instead, I'll just pay the piper and enjoy working on my bike.