WE RIDE JOHNNY APPLESEED'S KX134 TWO-STROKE
Click on images to enlarge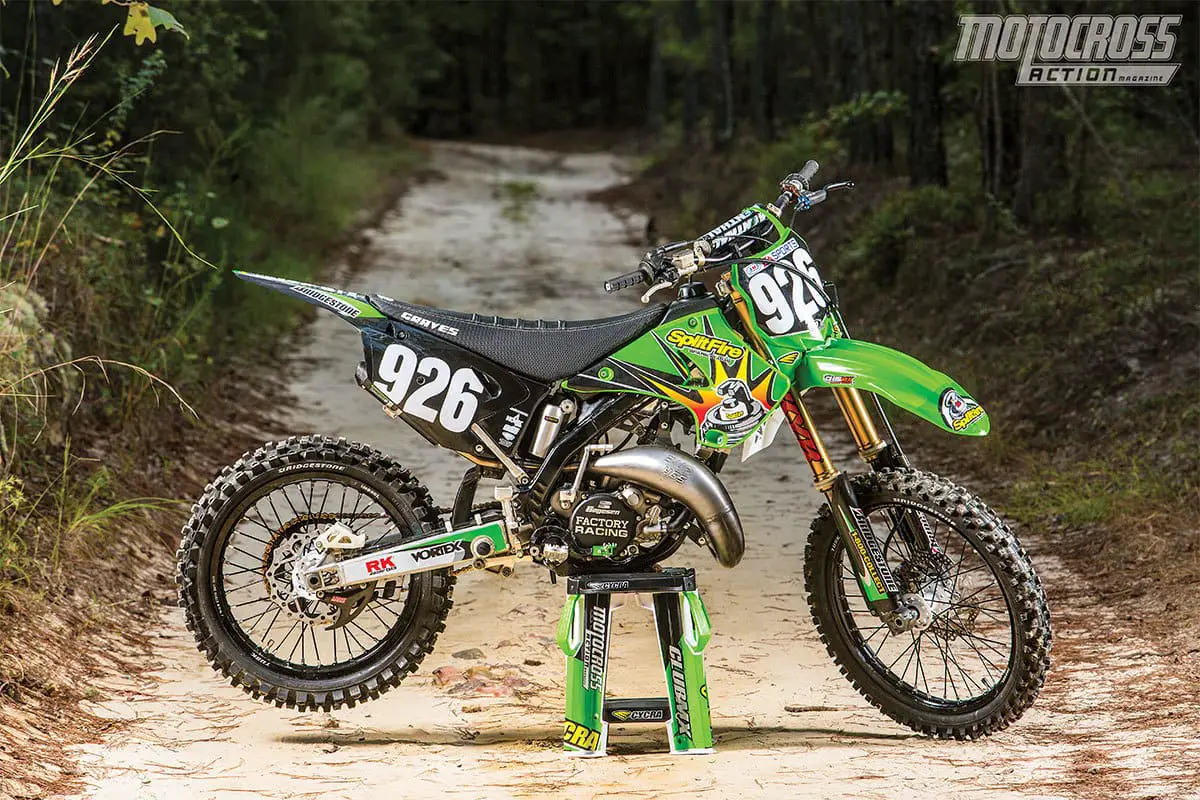 Never has the idiom "What's old is new again" rung truer than in motocross. Just like acid-wash jeans, Pokemon and haircuts from the 1930s, 125cc two-strokes are suddenly de rigueur again. The two-stroke revival stems from the need to draw more participants into a sport that has become too expensive for most people. The continual rise in the cost to purchase and maintain four-strokes has resulted in a groundswell of two-stroke popularity. A 125cc two-stroke renaissance is upon us, and while it might disappear as quickly as Chia Pets and swing dancing, savor the moment.
MXA test riders are the Johnny Appleseeds of 125 two-strokes. We travel the world spreading two-stroke bliss to the unaware and delusional. And so it goes with the 2005 Kawasaki KX134 seen here, which began life at a time when four-strokes were becoming increasingly popular. Even the bike's owner, Ben Graves of ClubMX Practice Facility in Chesterfield, South Carolina, was smitten by the newfangled four-stroke technology. Still, Graves raced the Kawasaki tiddler at a National in 2005 in a last-ditch effort at a Pro career. He had the engine punched out to 134cc in hopes of keeping up with the faster and easier-to-ride 250 four-strokes. It was a pipe dream. Then, as real life took hold, Ben sold the bike to his father to pay his bills. Growing up, as it turns out, isn't all that grand.
This is where the story gets interesting. Ten years later Ben Graves test-rode MXA's 2007 Suzuki RM125 that was featured in the August 2016 issue. He found that loving feeling once again while wringing out the RM125. In short order, he devised a plan to build his own 125 two-stroke time machine. By luck, his dad still had the old Kawasaki KX134 sitting in the shed. Ben bought back the bike and started tearing it down to the frame. He dreamed of replicating a Pro Circuit Kawasaki in 1996 regalia.

BEN'S BUDDY, PAUL MUNDT WAS ABLE TO SECURE THE KAYABA 48MM FACTORY FORKS OFF GRANT LANGSTON'S 2007 YAMAHA YZ450F. HE HANDED THEM TO BEN.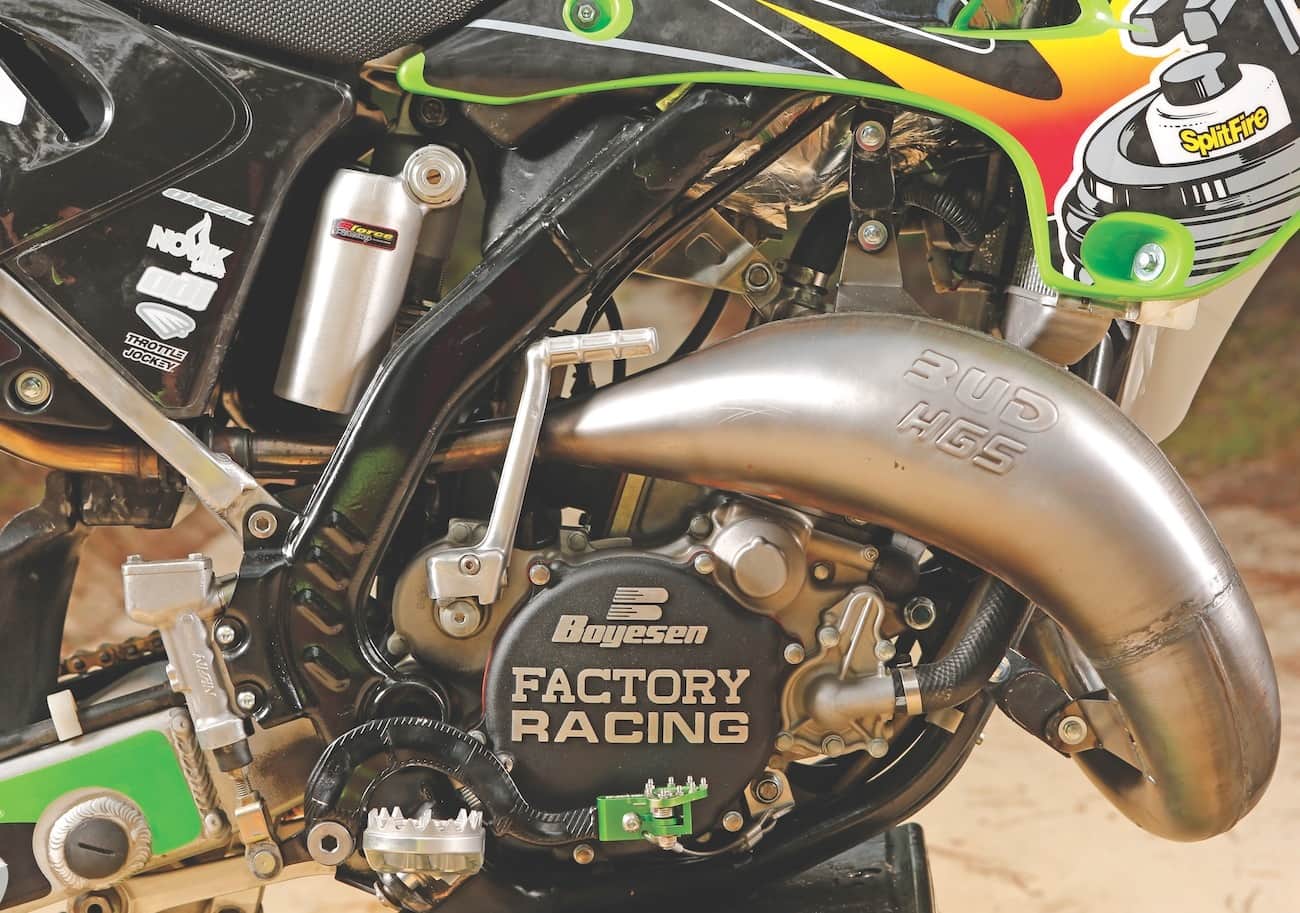 It's nice to have good friends in high places. Ben's buddy, Paul Mundt, is a long-time motocross enthusiast and racer. Paul frequents ClubMX Practice Facility, and there he learned that Graves was building a project bike. Thanks to Mundt's close ties in the industry, he was able to secure the Kayaba 48mm factory forks off Grant Langston's 2007 Yamaha YZ450F. He handed them to Ben in what was a ceremonious launch of Ben's KX134 dream. What are friends for? Rather unbelievably, the forks slid right in the stock Kawasaki clamps; however, that was only the beginning. Ben needed to track down a Yamaha front wheel and brake system, but, instead, he dug through his parts bin and unearthed a 2015 Honda CRF450 front wheel and brake. From there it was a matter of figuring out the wheel spacing, which was rather easy. Mission accomplished. As for the shock, Mundt offered up an A-Kit unit. Unfortunately, the bend in the shock body ran into the airbox, so Graves had to have GForce Suspension in Tennessee re-valve the stock shock.
Back in 2005 Sean Robertson from the RSR race team in Minnesota split the cases, matched them up in the cylinder, ported the cylinder and put everything back together. Later that year the cylinder was punched out to a 134, and a special flat-top piston was added. Ten years later Shawn Ulikowski—former factory Honda tuner and Travis Preston's old wrench—went through the engine and carburetor. The crank was sent to Mr. Crankshaft in Kentucky to get balanced. Shawn then put in a new top end, along with a fresh stock clutch. As for the carburetor, Ulikowski polished the interior and installed a Moto Tassinari VForce3 reed block with carbon fiber reed petals.

THAT'S WHEN THROTTLE JOCKEY CAME TO HIS AID, MAKING CUSTOM SPLITFIRE GRAPHICS FOR BEN—BUT ONLY AFTER GETTING THE OKAY FROM PRO CIRCUIT BOSS MITCH PAYTON TO REPLICATE THE GRAPHICS (WITH THE CAVEAT THAT THEY COULDN'T USE THE PRO CIRCUIT LOGO).
Ben Graves' 2005 Kawasaki KX134 was coming along nicely, but like any two-stroke builder, he was looking for that piece de resistance. It was obvious that Graves had already reached new heights with Langston's old Kayaba forks, but that wasn't enough for Ben. He rang up Bud Racing, who offered him a KX134-specific pipe—there were only two in the U.S.—with a unique taper and slightly longer head pipe compared to the standard KX125 pipe. Along with it came a carbon fiber silencer and beefy footpegs. Those additions moved the needle, yet Graves was still missing something. That's when Throttle Jockey came to his aid, making custom Splitfire graphics for Ben—but only after getting the okay from Pro Circuit boss Mitch Payton to replicate the graphics (with the caveat that they couldn't use the Pro Circuit logo). So while Ben Graves' KX134 doesn't look like an exact carbon copy of the bikes Mickael Pichon and Casey Johnson raced back in the day, the Splitfire graphics are still attention-grabbing. A new front number plate, front fender and cut side panels, courtesy of Cycra Racing, gave the bike a modern look.
After everything was buttoned up, Graves invited MXA down to the ClubMX Practice Facility track for the maiden voyage. We quickly learned that Ben's bike was built with one purpose in mind—going fast. It harks back to the glory days of 125cc professional racing. Bottom-end power was nonexistent; instead, the engine screamed through the midrange and into the top end. Flubbing corners yielded a bog so bad that the engine nearly quit. Ben went back to the drawing board and made some revisions. He ditched the 2.15 rear rim for a more svelte 1.85, along with a 100-width rear tire. He also added a tooth to the rear sprocket. Round two went much better. The lighter load on the engine allowed more room for error, all without detracting from the mid-to-top surge. This bike was the best of both worlds. It still revved like a 125 but was faster. Often when displacement is increased, rpm is reduced, but the KX134 didn't have a dead spot anywhere.
The Kayaba forks were far and away our favorite part of Ben's KX134. We could slam into 3-foot-tall braking bumps with nary a worry, as the front end soaked up impacts with ease. Equally impressive was how the forks managed small chop and settled into corners. Works forks are often a give-and-take. That wasn't the case in this situation. We now know part of the reason Grant Langston won the 2007 AMA 450 National Championship.
Like most veteran riders who can go fast, Ben Graves knows what he likes, so we can't object to his decision to use a Honda front brake. Its modulation and sheer stopping power outshone the gummy-rather-vague feel of the stock Kawasaki KX125 front brake. We also grew to appreciate the lowered subframe, which prevented the seat from slapping us in the rear like a bucking bronco. The Bridgestone Battlecross X30 tires were confidence-inspiring, and the Tusk wheelset held up to our abuse.

Not all that glitters is gold (and life isn't always that grand). A few hours after wringing out Ben Graves' 2005 Kawasaki KX134, the main bearing went out, breaking the shift shaft in half. Graves had to split the cases and go down a rabbit hole in order to figure out if anything else was lost. Therein lies the downfall of bolstering power in a 12-year-old warhorse. Two-strokes, just like their four-stroke counterparts, are not exempt from mechanical failures. Regardless, Ben Graves swore an oath that he would never turn his back on two-strokes again. That's good enough for the MXA wrecking crew. Welcome back to the club, Ben.