WE RIDE KEVIN WINDHAM'S GEICO HONDA CRF450
Is it strange to note that a wily veteran, entering the twilight of his illustrious career, has received the most support from the droves of Supercross fans this year?or that the soft-spoken man/child with a friendly Southern drawl still challenges riders nearly half his age? In stadiums fit for gladiatorial warfare, Kevin Windham is the people's champ.
Kevin Windham has earned a legion of steadfast fans because he is a perennial contender. And more important, he's a good guy. Championship opportunities have come his way but have always eluded him. Still, while two dynamos, Jeremy McGrath and Ricky Carmichael, kept Kevin from hoisting the championship trophy, they have both retired, and Windham remains.
Does Kevin race for money? Certainly not, because he has a healthy spread of land and a gorgeous home in Mississippi. Does he race for fame? No, he's already about as famous as a motocross racer can become. Does he race for love? Yes, resoundingly so. Is racing his life? Yes. At 33 years old, Kevin has raced at the highest level of the sport for nearly half of his life.
The MXA wrecking crew has followed Windham since the very first day that he turned Pro. In his 18 years on the circuit, Kevin has won races, lost championships by the skin of his teeth, suffered debilitating injuries, nearly quit the sport altogether and made some of the sport's greatest comebacks.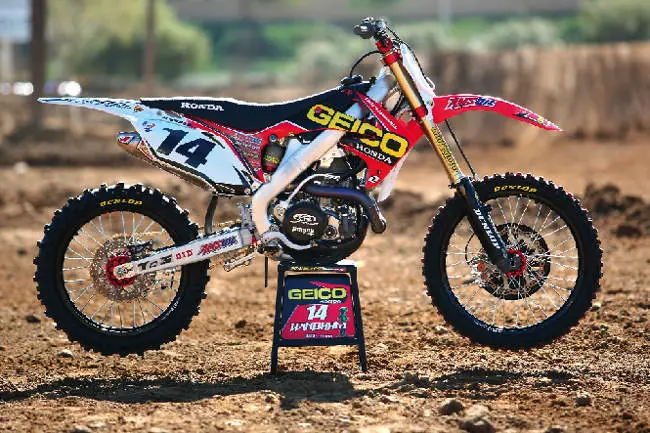 Kevin Windham has been racing professionally since 1994. He knows what he wants in his race bike. The Geico/Honda CRF450 is K-Dub's cup of tea.
Every step of the way, MXA has documented his ups and downs. As a result, Windham has loved MXA, hated MXA and (as far as we know) is on our side once again. It's not our business to hate any professional rider, only to tell the truth?which is often misconstrued as hate.
We like testing Windham's race bikes just as much as we like him. Why? Not only does Kevin have a real-world racing setup that doesn't take a Greek god to ride, but every year since 1995 he has been on factory equipment. His bikes are trick. And, as Kevin's career has aged like fine wine, his bike setup has become more sophisticated and refined as well. The MXA wrecking crew has tested every conceivable type of motocross bike. From ragtag jalopies to pristine iron, we've seen it all. Kevin Windham's Geico/Honda CRF450 might be defined by its rare and unobtainable works parts, but we see his steed in a different light from most. Kevin's bike is the byproduct of hard work and dedication?the result of a real-world racer coming to terms with a machine that, for all its peccadilloes, has the potential to be the ultimate Supercross weapon.
The Geico/Honda team is a very cool team. We enjoy chewing the fat with team manager Mike LaRocco and Geico/Honda's technical director, Kristian Kibby. Which is why, when asked to give us Kevin Windham's race bike, they readily acquiesced.
SHOP TALK: BREAKING IT DOWN
 
Pro Circuit handles most of the engine work. Notice the factory Honda shifter, which is made out of forged steel


A well-performing Supercross bike needs a powerful front brake.?Windham's oversize works Honda caliper does the trick.

The MXA wrecking crew isn't shy about expressing our disappointment in the 2011 Honda CRF450. In stock trim, the bike is unbalanced, the forks are soft, the handling is weird, and the power is decidedly mellow. For all our whining, though, the CRF450 does have a bright spot. With enough patience and money, the 2011 Honda CRF450 can be transformed into a serious racing machine.
The Geico/Honda team has the experience, time and money to boost the CRF450's performance enough to meet Windham's expectations. The team focused on the key problem areas. Many of these changes were mandatory, as Supercross is extremely demanding on equipment.
Transmission: The Honda factory supplies a works transmission for Windham. How does a works transmission differ from a stock tranny? For starters, the gear ratios are different. The gears are tightened up between ratios to avoid any unwanted gaps. The gears are polished for more accurate shifting, and the transmission is made of a higher grade of metal for greater durability. Kristian Kibby stated that the works transmission probably wouldn't be necessary if the bike didn't have to endure constant heavy loads while pounding through Supercross whoops. As for the drivetrain, K-Dub usually runs a 13/51 combination (stock is a 48-tooth rear sprocket).

Pro Circuit engine, Hinson six-spring clutch, Renegade fuel, works Honda hydraulic cluthc control, Vortex ignition and Injectioneering throttle biody are all on windham's CRF450.
Engine: Every aspect of Windham's Geico/Honda CRF450 engine is massaged in order to punch up the powerband. The Geico team relies heavily on Pro Circuit for their power equation. Need proof? Pro Circuit supplies the cylinder head, camshafts, valves, valve springs, valve seats, retainers, high-compression piston, radiator hoses and exhaust system. It's only natural that a Pro Circuit Ti-4R titanium exhaust is paired with the engine (the muffler has been shortened for improved bottom-end power).
Athena supplies the gaskets, while Renegade SX4+ high-grade, AMA-legal racing fuel powers Windham's bike (www.renegadepro1.com). A Hinson clutch basket, inner hub, pressure plate and clutch springs are used (Kevin runs a six-spring clutch to prevent slipping). Honda provides Kevin with an unobtainium hydraulic clutch system. And, while the Geico/Honda team is sponsored by Moto Tassinari, at the time of this test, Windham's bike didn't have the tunable Air4orce intake system. The team expects to use this system once more testing has been done.

The Geico/Honda CRF450 is stable at speed and handles better than the stocker. Windham's steed has usable bottom-end hit and a powerband that favors being ridden from the midrange to top end.
The ECU mapping has been tweaked to pump up the performance of the revitalized engine. Windham relies on a Vortex X10 programmable ECU that is custom mapped by Kristian Kibby. Surprisingly, Windham's bike does not have different maps for each gear. Although the team did test the concept of using different mapping for each gear, they didn't feel that it was necessary. It should be noted that even though Kevin's CRF450 has a five-speed gearbox, Windham typically uses only two gears in Supercross.
As for the EFI throttle body, it has been modified by Injectioneering for radically improved throttle response. Windham prefers the older-model 50mm throttle body over the 2011's 46mm Keihin venturi. Why? The smaller throttle body was designed to improve bottom-end power, but Windham doesn't use low revs very often during a race. As Kibby stated, "It's an overall package thing. You might have a bottom-end pipe and a throttle body that helps the top end. This overall package is happiest with a 50mm throttle body."
Forks: For two years now Kevin has opted to run production 48mm Showa forks from a CRF250 instead of Honda's works units. Most riders would spring for the high-status 50mm works forks, but they would do it for the wrong reasons. While Showa works forks are expensive, high tech and built to sustain high impacts, they aren't practical for 99.9 percent of riders?and Kevin Windham includes himself in the majority. K-Dub prefers the flex characteristics of the stock CRF250 Showa forks, because they are more forgiving. It should be noted that the 2011 Honda CRF450 comes stock with Kayaba forks.
Factory Connection works their magic on the suspension internals?obviously the valving is on the stiff side for the sake of Supercross rhythm sections and whoops. External coatings, such as titanium nitrate, have been used on the fork tubes and in other key areas to prevent stiction. It should be mentioned that Windham prefers the standard offset triple clamps with the standard races, and that Factory Connection revalved the steering damper.
Shock: Windham's riding style is as smooth as silk, but that doesn't mean that he's not hard on his shock. Last year, while testing Trey Canard's Geico/Honda CRF250, the MXA wrecking crew learned that Kevin had bent several shock shafts during preseason testing, so we weren't surprised to discover that Windham relies on a works Showa shock with a super-sized shock shaft. Nothing short of an elephant seat-bouncing a triple would make this shock shaft bend. A titanium shock spring is used to save weight. The shock's internals have been revalved by Factory Connection, and a secondary shock reservoir has been used for added nitrogen volume. The extra reservoir is routed inside the airbox for safe stowing. Unlike the works Showa shock, the Factory Connection secondary shock reservoir is available to the public.

Miscellaneous: Since Kevin is a tall guy, he runs the standard-height subframe. And while the complete linkage is stock, including the pullrod, Kevin's footpegs have been moved 5mm up and back on the frame. Kevin prefers this placement because it puts more weight on the rear wheel. For the Geico/Honda team, it's a no-brainer. It's much easier to move Kevin back on the bike than to move the engine back in the frame.

Hubs: Although Windham's CRF450 hubs look like exotic works hubs, they are actually TCR Racing hubs. Geico runs D.I.D. Dirt Star LT-X rims. Most teams use the stronger model Dirt Star rims (with the ST-X nomenclature), but the Geico/Honda team feels that they can get away with using lighter rims to lessen unsprung weight.
Brakes: It's important that a Supercross bike be capable of stopping quickly, which is why Windham uses a gigantic works front brake caliper with a 270mm rotor from CRF Stuff (the rear rotor is a 240). Geico uses stock Honda front and rear brake pads. A System Tech Racing (STR) rear brake clevis, made from billet aluminum (with a titanium pin), is also found on K-Dub's machine. Kevin relies on ARC folding levers, and his rear brake pedal has a brake snake that the team made to prevent the brake from bending or breaking off completely in a crash, or if a rock gets jammed between the clutch cover and pedal.

Windham's progressive suspension settings seem to be more logical and effective than the extremely stiff settings that James Stewart and Chad Reed run.
Tidbits: Other performance modifications include reinforced radiators for minor impacts. Kristian Kibby said, "We reinforce them just enough to make sure that the radiators can finish a race." And although Kevin doesn't use knee braces, which often tear up the side panels and frame, he squeezes so hard against the subframe that it causes the side panels to bow in. These areas have been reinforced to prevent the side panels from bending. In the unobtainable department is a works Honda shifter with a rubber tip that is made of forged steel?instead of forged aluminum. This material difference allows the shifter to bend instead of snap.
Windham's bike isn't significantly lighter than a stock CRF450, since several parts on the bike are heavier than stock in order to handle the demands of Supercross. Geico/Honda does use Mettec titanium fasteners throughout the bike, including the swingarm pivot and engine mounts. K-Dub's machine also contains aluminum fasteners that are made by a team-commissioned machinist. This machinist also makes Windham's holeshot device.
In an effort to protect Windham's bike, the team uses a one-piece LightSpeed carbon fiber guard that wraps around the underside of the engine. Also, a longer chain guide was designed by Factory Honda and built by Geico/Honda.
Kibby wanted to make it known that the team tries to make a lot of things themselves. Kibby says that even though the process is expensive, it is in the team's best interest. "There are a lot of things on the market that I don't think are designed properly. A lot of people make things that look cool or might be beneficial in one or two areas, but many of these designs are lacking in other areas. When we plan on replacing a stock component, we ask ourselves what we're trying to achieve and if making the switch will present other problems. The components that you see on Kevin's bike went through rigorous testing, and we loved every aspect of them."

| | |
| --- | --- |
| Don't let the anodized triple clamps fool you. Although they are works parts, the Honda clamps are stock offset. | Every part on Windham's bike has been strengthened, lightened, or built to perform better (exhaust pipe included). |
The list of aftermarket companies that provide products for Windham's bike is short but sweet. These parts include Cycra plastic (with Powerflow air intake shrouds); One Industries graphics; a D.I.D. chain and the aforementioned Dirt Star LT-X rims; Tag sprockets, grips and handlebars; a LightSpeed case guard and oversized titanium footpegs; suspension and engine coatings by Carbon Raptor; a Hinson clutch, as well as engine plugs; and, as is common with many top-tier race teams, a Twin Air air filter.
While we circled Windham's CRF450 like vultures, Kibby removed the seat to reveal the Twin Air filter and proudly display a titanium air filter bolt. When asked why a titanium air filter bolt was necessary, he smiled and replied, "Because it feels good on your fingers when you're tightening it, and you can feel superior to other people." After laughing for a minute, he continued,
"The riders get pumped on their bike when there's  unobtainable stuff on it. We're not doing it for that reason alone, but if it ends up being that way, then that's an advantage. We don't have a run-of-the-mill bike." No, Kevin Windham certainly does not.
TEST RIDE: DROPPING THE HAMMER
Having known the back story on Kevin Windham's Geico/Honda CRF450, we were excited to throw a leg over it. We knew that Kevin's settings were geared towards a real-world racer. The MXA wrecking crew has had its best moments testing the bikes of the stars, but we have also gone home from a test session with loose fillings from the bone-jarring suspension.
In stock form, the Honda CRF450 is as balanced as Charlie Sheen after a 36-hour bender at his Hollywood mansion. Not so with Kevin Windham's CRF450. Obviously the valving was significantly stiffer to prevent the suspension from bottoming out. In small to moderate G-out sections, such as straightaways and shallow ruts, the forks and shock worked in unison to keep the works Dunlop tires grounded.
It was this trait that led test riders to think that Windham preferred soft suspension. They were only half right. In the first part of the stroke, Kevin's suspension was rather plush, considering how many Supercross riders opt for all-stiff-all-the-time settings. But, when compressed past the midstroke, Windham's forks became extremely stiff. To MXA's way of thinking, Windham's progressive suspension settings seem to be more logical and effective than the extremely stiff settings that James Stewart and Chad Reed run.
Kristian Kibby provided a useful bit of information after our initial series of laps on Windham's CRF450. "The suspension is rather plush compared to his competitors. He's able to conquer the whoops without putting too heavy a focus on that section, so he doesn't need super-stiff suspension. Instead, we have focused on Kevin being able to navigate turns and have good grip through corners."
 


Like most 450 teams, Geico/Honda runs a shortened muffler for improved bottom-end power

.

As for engine performance, we expected a low-to-midrange powerband that belched hot fire when the throttle was snapped open. This wasn't the case. We should have figured as much, because Windham is a cerebral rider. He doesn't need the most horsepower at his fingertips, but instead a usable powerband that will excel in any situation. His engine was strong off the bottom, but not explosive. It climbed rapidly through the midrange and didn't give up the ghost until well into the top end. It was most potent slightly below the middle and well into the top end (an area that covers the rhythm sections, triples and whoops).
We didn't realize how big Kevin Windham's hands were until we pulled in his levers. The front brake lever was set farther out than the clutch lever. MXA test riders raved about the feel of the ARC levers?when we were able to reach them. Not surprisingly, the front brake was very sensitive but also progressive. After all, how do you think that Windham is able to pull those extraordinarily long stoppies during the Supercross opening ceremonies? We especially loved the feel of Honda's works hydraulic clutch. Throughout our test, the clutch worked well and didn't show any signs of slipping or fading.
Windham's CRF450 felt light and flickable in the air and reasonably planted in corners. Factory Connection revalved the steering damper, but most test riders barely noticed any drag from the damper. The front end tracked straight and was very stable for a Supercross bike?not to mention a CRF450. The placement of Kevin's seat hump piece was somewhat uncomfortable for taller test riders. Imagine being goosed every time you sit down. Needless to say, we were constantly reminded to move forward in the cockpit.
All in all, Kevin's bike was an everyman machine. It didn't breathe fire, wasn't stiff as a board, didn't have the handlebars aimed at weird angles and didn't require the reflexes of an acrobat to hang onto. It was just like Kevin himself: a well-centered machine that knew what the job was before it taking it on.


CONCLUSION: WHAT DO WE REALLY THINK?
The MXA wrecking crew is full of Kevin Windham fans. The day that Kevin decides to call it quits will be a sad day for the motocross industry. It may be true that
K-Dub hasn't accumulated the most titles, but great riders aren't measured by trophies on the mantle as much as the love of the fans. More than many men before him, or those who will come after him, Windham understands that his actions can have a lasting impact on the sport. He is a positive role model?not because everything in his life has been positive, but because everything he has been through in his life has made him into a real man. He doesn't have the haughty star persona of some of his compatriots, because he has been up, down and all around.
Long after the sun sets on Kevin Windham's career, the MXA wrecking crew will be proud to say that we witnessed his rise to stardom from day one, loved the time we spent with him and, as a bonus, got to test his race bikes along the way.