WE RIDE KTM FACTORY SERVICES' 350SXF: IT IS A FACTORY BUILT ENGINE FOR NON-FACTORY RACERS
Have you ever picked up the phone and called Team Honda to see if they would hop-up your CRF450? No? Well, don't. They won't touch your engine and they won't accept any future phone calls from you. The same holds true for Team Kawasaki, Team Suzuki and, most certainly, the nonexistent Team Yamaha.
But, amazingly, there is one factory team that will hop-up your engine to full-race, high-tech, factory specs. And while KTM isn't going to pull 2012 Mechanic of the Year Carlos Rivera off Ryan Dungey's bike to do the work for you, they do have six big-name mechanics just waiting to work on your KTM 250SXF, 350SXF or 450SXF. KTM is to be admired for their willingness to share the benefits of the race team's knowledge with National privateers and local racers. Headed by Ian Harrison, KTM Factory Services is manned by Andrew Langston, Leighton Rice, Mark Hardy, Dudley Cramond and Tony Hall. They currently build race engines for the BTO team of Andrew Short, Matt Goerke and Les Smith, plus several KTM Orange Brigade riders?and now you.
The MXA wrecking crew wanted a factory-prepped KTM 350SXF engine, so we contacted KTM Factory Services to get on the list. It isn't a one-step process, so we spent some time in KTM's Factory Services workshop, deep in the bowels of KTM's headquarters in Temecula, California, to find out what takes place behind closed doors.

It looks dazzling in the workshop, but with the exception of the engine work and FMF exhaust this is a stock 2013 KTM?350SXF.
Factory Services is not new, but it got off to a furtive start a few years ago, was downsized and has now come roaring back. It is the only source for works parts for aspiring KTM riders. It should be noted that while Factory Services has access to KTM's works transmissions, cranks, rods, pistons, cams, ignitions and radiators, they are not in the business of selling parts. You can't order KTM works parts from KTM (largely because they don't trust you to install them properly), but don't be disappointed; you can still get factory tricks. Factory Services is the conduit for works parts in the form of customer-ready race engines. These engines are built from the ground up, to the highest standards, with Factory KTM unobtainium. Factory Services engines are specifically designed for high-profile riders who want the best. And, since Factory Services engines come from a team of experienced mechanics, you have to pay for the honor. Here are the steps that MXA went through to get our own full-race Factory Services KTM 350SXF engine.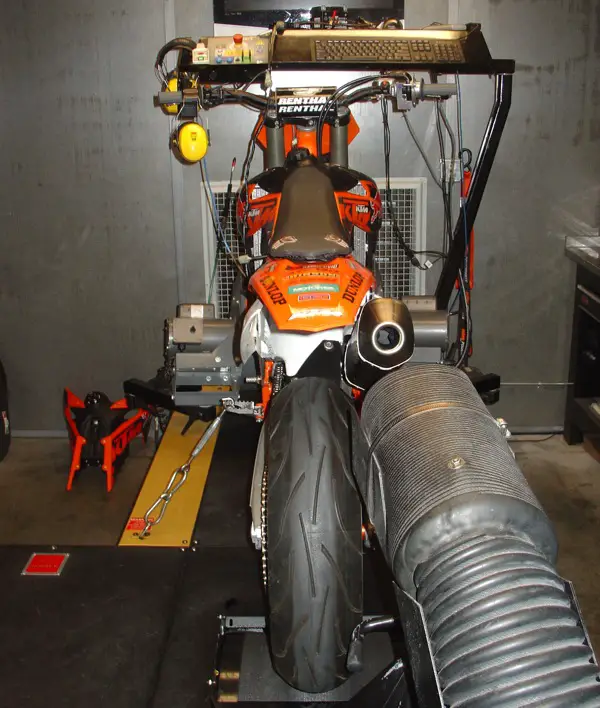 Every engine that comes into KTM's Factory Services department gets dyno tested and broken in.
YOU CAN'T STOP BY THE SHOP AND TALK TO THE MECHANICS (WE DID, BUT YOU CAN'T). YOU CAN'T CALL THEM ON THE PHONE (THEY ARE BUSY). YOU CAN'T BROWSE THE FACTORY SERVICES WEBSITE (BECAUSE THERE ISN'T ONE).
Step one: You can't stop by the shop and talk to the mechanics (we did, but you can't). You can't call them on the phone (they are busy). You can't go to the KTM website and browse the Factory Services page (because there isn't one). Nope! The only way is by sending an e-mail to [email protected]. Once they get your e-mail, they will respond with all you need to know.
Step two: Factory Services doesn't work on complete bikes. They only want your engine (and nothing else). In order for Factory Services to work on your engine, you have to send it to them. Plus, they will only accept 2013 KTM 250SXF, 350SXF or 450SXF engines. Did we mention that they prefer that your engine have low hours? They will accept engines with more than a few hours on them, but they will replace any parts they find suspect. MXA gave Factory Services a brand-new KTM 350SXF engine, which we got from KTM. This was a plus, because we didn't have to ship it to them, which was another plus, because shipping engines is a hassle.
Step three: Once Factory Services gets your engine, they tear it down?all the way down. They split the cases, pull the crank apart, inspect the oil pump and replace the stock parts with fancy works parts. Although the 350SXF gets the same attention as the 250SXF and 450SXF, it doesn't get the lightweight, polished Pankl rod; DLC crank pin; or special, close-ratio transmission from Aubert & Duvall. Nor does it have the center cases machined to allow the use of a center-case gasket like the 450SXF. Instead, the 350SXF gets blueprinting and a close inspection of each part. It is then reassembled with the crank balanced and trued.

Although the exotic works parts are expensive, most of what you pay for at Factory Services is the loving care they put in.
Step four: Next, Factory Services turns its attention to the cylinder and piston. Your stock piston is replaced with a special, 30-gram-lighter, anti-friction-coated Pankl piston. Once the cylinder and piston are in place, the deck height is set to perfection. There are three different thicknesses of base gaskets available to ensure the proper height (and if that fails, they will machine the cylinder). Before moving to the cylinder head, Factory Services laps the top of the cylinder to ensure a true and flat surface for the gasket.
EVERY ENGINE THAT COMES INTO FACTORY SERVICES GETS A KTM SXS CYLINDER HEAD THAT HAS BEEN PORTED AND POLISHED AT THE AUSTRIAN FACTORY. KTM WILL SEND YOUR OLD HEAD BACK TO YOU?THEY DON'T NEED IT.

Step five: Every engine that comes into Factory Services gets a KTM SXS cylinder head that has been ported and polished at the Austrian factory. KTM will send your old head back to you?they don't need it. They lap the bottom of the cylinder head and then mate it to the cylinder. At this point, they assemble the drivetrain using lightweight MWR titanium valves and stiffer valve springs. During assembly, Factory Services runs a leak-down test on the valves and laps them or cuts the valve seats to make sure there are no leaks.
Step six: With the head in place, the valve clearance and valve timing are set. Factory Services uses the stock camshafts on the 350SXF, but the 250SXF and 450SXF get the special "246" intake cam for more bottom and midrange. The 250 and 450 also get 42mm throttle bodies instead of the stock 44mm unit. The 250SXF gets a new black box with the rev limiter set at 15,000 rpm.

This is essentially the same engine that Ken Roczen raced at the 2013 Daytona Supercross?where he got the holeshot.
Step seven: Once the engine is back together and leak-down tested one final time, they don't just crate it up and send it back to the customer. Nope! Before a race engine is returned to you, it is put on the dyno and broken in. This way, the mechanics not only make sure that it works, but that it works up to the standards they have set.

Step eight: We never told you the price, did we? Well, our 2013 KTM 350SXF engine rebuild set us back $3200. Yes, Virginia, that does sound like a lot of money?and it is. But, you are getting the best that KTM has to offer and the combined knowhow of six factory mechanics. It is true that Ryan Dungey gets more titanium tidbits inside his engine, but his engine and a Factory Services engine are almost identical when it comes to major parts and technology.
The BTO team has a series-long contract to have all of their engines rotated in and out of Factory Services, for which they pay a flat fee for the year.
WHAT WAS THE FACTORY SERVICES BIKE LIKE TO RACE? IT WAS A JOY. IN BACK-TO-BACK COMPARISONS, IT BLEW OUR STOCK KTM 350SXF OUT OF THE WATER. SUDDENLY, WE WEREN'T HAVING TO GO FLAT OUT TO GET THE MOST OUT OF IT.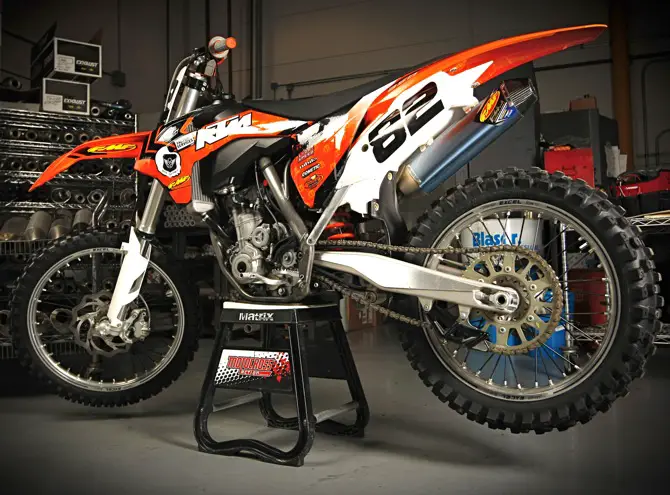 What was the Factory Services bike like to race? It was a joy. In back-to-back comparisons, it blew our stock KTM 350SXF out of the water. Suddenly, we weren't having to go flat out to get the most out of the powerband. Instead of revving it to the moon, we could short-shift, and the engine would not only pull us into the next gear, but pull hard and long.
On the dyno, the Factory Services 350SXF made two more horses at 5000 rpm, 1-1/2 more at 7000 rpm, three more horsepower from 8000 rpm to 11,000 rpm, and then kapow! it made seven more horses at 12,000 rpm and even more at 13,000 rpm. We have nothing to complain about (even the $3200 was forgotten in the heat of battle). It had the same basic power curve as a stock KTM 350SXF, but it was magnified by the extra horses. It was more exciting to ride, easier to race and peaked at 57.90 horsepower.

With six former factory mechanics on the payroll, Factory Services produces engines that rival the best workmanship available.
Read that again: It made 57.90 horsepower, which is one horse more than a stock KTM 450SXF (and the 450SXF is the most powerful production bike made). Yes, the peak power was at a rather-high 12,400 rpm, but we can live with that on a bike that cracks 50 horsepower at 8400 rpm. You can rev it, or you can short-shift it. Either way, this is a 350 that can run with 450s.
This is a serious engine for serious racers. Factory Services sees themselves as the support arm of the Red Bull KTM team of Dungey, Roczen and Musquin. We appreciate the effort they put into their work and the product they put out. We wish every manufacturer had a dedicated staff housed in its race department that would help struggling privateers find works-like horsepower.
E-mail [email protected] for more info about Factory Service engine kits.

The FMF Factory 4.1 exhaust adds to the costs, but isn't on the Factory Services bill.