WE RIDE KYLE CHISHOLM'S 51FIFTY YAMAHA YZ250F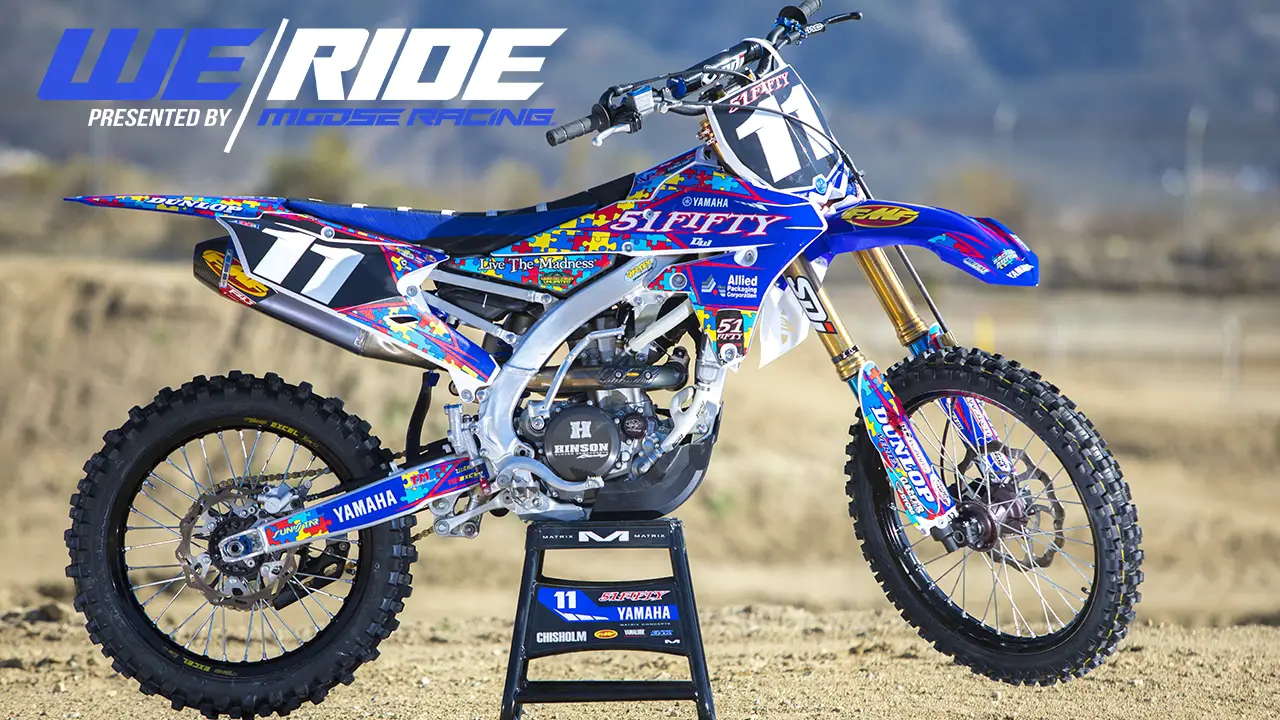 WITH EVERY 51FIFTY ENERGY DRINK SOLD, A PERCENTAGE GOES INTO HIS NON-PROFIT ORGANIZATION. SO FAR, HE'S RAISED OVER $800,000.
Every year for the last four years we have tested a 51Fifty Racing Yamaha YZ250F. The first year it was Austin Politelli's 2015 bike. It was a mediocre bike that exhibited nothing worth writing home about. The engine was not much faster than the stocker, and the suspension had a few hiccups in the stroke (due to ineffective rider feedback). The second year we tested Australian Hayden Mellross' race bike (Hayden is still with the team for 2018). This YZ250F was vastly superior to Austin's bike from the year prior. The 51Fifty team took what they learned during the 2015 season and improved upon it. Most important, they teamed up with Twisted Development to install a second injector within the borrowed YZ450F airboot. The SDI suspension was super stiff, as most Supercross setups are, but we loved how perfectly balanced the bike was from front to rear. Last year we tested Tyler Bowers' 2017 51Fifty YZ250F. The powerplant had better throttle response and revved out further than the year before. It felt competitive against factory bikes. We were impressed. Unfortunately, due to Tyler being over 6 feet tall and 200 pounds, the forks felt like they had concrete in them; they didn't move. That brings us to Kyle Chisholm's 2018 51Fifty Racing YZ250F.
KYLE CHISHOLM HAS BEEN RACING IN THE PRO RANKS SINCE 2004.
Kyle Chisholm has been racing in the Pro ranks since 2004. He has been on factory-backed teams with riders as talented as James Stewart, but he's also had years as a privateer funding his own program (2017). He has never been a podium regular, but he is known as a diehard rider. He gives it everything he has each and every year. Kyle has multiple top-10 finishes in Supercross and outdoor Nationals and has finished as high as fourth overall in the rankings. In 2006 he won the Canadian 250 Motocross East series. And in 2017 he finished seventh in the 250 West Coast Supercross series on a privateer bike. In 2017 he showed flashes of brilliance, which is what brought him to the attention of the 51Fifty Energy team.
We have always liked the small but mighty 51Fifty team. The owner of the 51Fifty Energy drink team, Carlos Vieira, is more than a racing enthusiast; he is a philanthropist seeking to improve the lives of families living with autism. With every 51Fifty Energy drink sold, a percentage goes into his non-profit organization. So far, he has raised over $800,000. Racing is just a fun way to help people.
THE CREW BEHIND THE SCENES AT 51FIFTY ARE WELL KNOWN IN RACING CIRCLE.
The crew behind the scenes at 51Fifty are well-known in racing circles. Former Yamaha and DR.D exec Terry Beal is in charge of overseeing the team profile. Team manager Craig Monty is hands-on with everything on the team. He has a wealth of knowledge about everything motocross. The team's suspension guru, Brett Leaf, worked for every big star over the last decade. Kyle's mechanic is Brent Myron. Brent wrenched for Mike Brown, Ivan Tedesco, Kevin Windham and David Vuillemin. He is one of the most enthusiastic and passionate guys you will every see at the track. This small group of guys puts together a big effort.
With the 51Fifty YZ250F being in its fourth year of development, the biggest change in 2018 would be Dasa Racing coming into the picture. Most of the engine work in the past was done in-house using GYTR parts with help from Twisted Development. Now, Dasa has taken over most of the in-house work. GYTR cams and a GYTR head are used with a Twisted Development second injector and ECU tuning magic. In-house suspension guru Bret Leaf fine-tunes the Kayaba components to the rider's likings, but it is SDI Suspension that makes the trick internals that bring the components as close to factory as you can get.

ANYONE CAN BUILD THIS BIKE, BUT IT WILL COST THEM $26,926.41 (BIKE INCLUDED) TO THE PENNY.
The great thing is, anyone can build this bike, but it will cost them $26,926.41 (bike included) to the penny. It takes serious money to be competitive.
Kyle's 51Fifty YZ250F is set up different from any Supercross bike we have ever ridden. The bike turned with precision. Usually, with Supercross forks, the front end rides high in the stroke and loses its cornering prowess. To make up for this, riders tend to reduce front-end trail with different triple-clamp offsets. Kyle prefers 20mm offset Xtrig clamps over the stock 22s.
Pushing up and down on Kyle's SDI forks, you would think they were set up for AMA outdoor Nationals. On the track, they felt the same way. When talking to 51Fifty's suspension tech Bret Leaf, he told us Kyle is a test-o-holic. 51Fifty went through numerous setups to get the suspension to where Kyle was happy. Kyle felt the majority of time was being made up in the corners on the Supercross tracks, and the only way to develop better feel in the corners was to soften up the forks. Bret came up with a secret sauce to make the forks super plush initially for the corners, then ramp up Supercross-stiff at the end of the stroke to prevent bottoming.

Kyle's front-end setup made the bike enjoyable for our test riders. Anyone could ride his bike and feel confident and comfortable. It was impressive to say the least.
KYLE'S 51FIFTY YZ250F IS SET UP DIFFERENT FROM ANY SUPERCROSS BIKE WE HAVE EVER RIDDEN.
This engine is the best to date out of four years' worth of 51Fifty YZ250F machines we have tested. It had factory-like power from mid-to-top-end. Its greatest strength was over-rev. If you didn't want to shift, no problem; the powerplant just kept pulling. We did feel a bit of hesitation down low before the Twisted Development's second injector kicked in, but we are guessing Kyle doesn't feel the hiccup as he carries more speed and rides in a higher-rpm range than our testers. What we liked most about the power is that it felt connected. This made the bike easy to ride. We didn't have to use the clutch, just as long as we were in the right gear and rpm range coming out of a corner. It didn't have the lag that most 250 four-strokes have out of corners, where you have to feather the clutch to get into the meat of the powerband. The power was just there without being overbearing. We applaud the 51Fifty crew for developing such an easy-to-ride yet incredibly fast machine. We know it is hard to combine power and finesse.
There is nothing strange about Kyle's setup, which made it easy for our testers to get used to. The suspension and powerplant were awesome. This a bike that mere mortals can enjoy—something we don't say often about a Supercross setup. Every year the 51Fifty crew makes leaps forward. Soon enough, this small but mighty team will be battling for podiums and wins—as long as things keep moving in the right direction.