WE RIDE KYLE CUNNINGHAM'S DNA SHRED STIX/STAR RACING/YAMAHA YZ250F
The last National moto of the year officially marks the end of the season and the beginning of a game of musical chairs. This past off-season will forever be remembered for Roger DeCoster going to the RedBull/KTM team and Chad Reed building his own race program. Having said that, it would be a grave oversight if the new team manager at DNA Shred Stix/Star Racing Yamaha, Allan Brown, weren't mentioned.
The MXA wrecking crew has a soft spot in our hearts for Allan Brown. Why? Let us count the ways.
(1) He has been involved in the industry for years, from working with KTM's amateur support program to wrenching for Kyle Lewis to running the Moto XXX privateer race team.
(2) He is an excellent mechanic, evidenced by the fact that he once swapped out Larry Ward's blown-up CRF450 engine in under 30 minutes. That's impressive!
(3) Most important, he's one heck of a nice guy. Maybe it's because he has been around motocross for years. Maybe it's because he loves racing. Or maybe it's because he's Canadian. Regardless, Allan Brown is truly one of the nicest men in motocross.
We were elated to discover that Brown made the transition to team manager at DNA Shred Stix/Star Racing/Yamaha. Once his Moto XXX team went belly up, Allan built engines for several race teams (Hart & Huntington, to name one) and then ran the TiLube team in 2010. Looking for something more concrete, Brown took the job at DNA Shred Stix/Star Racing/Yamaha for 2011 and beyond.
 
The featherweight LightSpeed front brake cover acts as Fort Knox by protecting the Braking oversized rotor.
 
The Brad Hoffman-built engine contains GYTR, Cosworth, Crankworks, Vortex and highly secret parts.



Brown inherited riders Ryan Sipes, Kyle Cunningham, Gannon Audette and Gareth Swanepoel, who were handpicked by team owner Bobby Regan. These riders are considered factory Yamaha 250 riders, as they receive works Yamaha treatment (more on that below). Of those riders, the MXA wrecking crew has had the most experience with Kyle Cunningham. We watched him as a top amateur, saw him cut his teeth in the 250 class as part of Yamaha of Troy, and saw him move up to the 450 class in 2010 with reasonable success. When offered a ride on Bobby Regan's DNA Shred Stix/Star Racing/Yamaha team during the off-season, Kyle Cunningham jumped at the opportunity. And, upon hearing that Allan Brown and Kyle Cunningham were uniting, we couldn't help but ask Allan for a test ride on Cunningham's steed. Two days later, we were kicking it to life under the watchful gaze of Allan and Cunningham's mechanic, Andy Vande Berg.
Best of all, at the 2011 Hangtown 250 Nationals, Kyle Cunningham got signed to ther DNA Sgred Stix team for 2012…that's a confidence boost.
SHOP TALK: DISSECTING THE RACE WEAPON
It's immediately obvious that Kyle Cunningham's YZ250F receives the factory treatment. Although under AMA rules the DNA Shred Stix/Star Racing/Yamaha team isn't allowed to use factory suspension, Cunningham still has a plethora of works trickery at his disposal. Oddly enough, Kyle bypassed a number of special parts, including a works transmission, in favor of stock parts. Don't get us wrong, Cunningham's stock tranny has been severely massaged, but the gear ratios are stock. So, what's radically different about Kyle Cunningham's steed?
Engine: The Star Racing YZ250F engine doesn't bear much resemblance to a stock YZ250F powerplant, except in its outward appearance. Brad Hoffman is the team's in-house engine builder, and while sworn to secrecy, the team did tell us several useful bits of information. GYTR supplies the cylinder head assembly, clutch components and engine accessories. They use a high-compression Cosworth piston and a Cosworth connecting rod. Crankworks takes care of the crankshaft weighting and balancing, and a 10-map Vortex programmable ignition helps manage the power delivery. Cunningham's bike uses a special cam chain tensioner, although Allan Brown wouldn't budge on the part's origination.

Cunningham's YZ250F is the result of years spent in R&D. It is a highly tuned, highly refined machine.

Brown did mention that Cunningham's race bike uses a minimal amount of engine oil. Why? Allan has learned through test sessions that the Star Racing YZ250F doesn't run very hot in Supercross. Quite the opposite, actually. In fact, the team tapes the lower third section of their radiators to promote higher engine temperatures. Using less oil reduces the bike's overall weight significantly, and also cuts down on the drag that occurs when the crank has to slog through excess oil. Enough oil is used, however, to keep the bike in peak operating condition. And while this is all very interesting, by no means should a normal rider use drastically less oil in his bike to save weight or improve snap. Keep in mind that a 250 Supercross bike runs for 15 minutes?in the middle of the night, in the dead of winter.     
Completing Kyle Cunningham's YZ250F racing package is an FMF Factory 4.1 RCT exhaust with a titanium PowerBomb header. The system contains a resonance chamber halfway down the head pipe to lower sound output to the AMA's mandated 94-decibel level.
Suspension: Cunningham doesn't use off-the-shelf suspension components, because the stock Kayaba setup would be stressed in the rigors of pro racing. He uses Kayaba kit suspension. The larger fork legs equate to increased rigidity through whoops and big rhythm sections, and the KYB 48mm forks do the trick. The front axle lugs are significantly wider than stock to help rigidity. The Kayaba kit suspension is modified by Enzo. A Ride Engineering linkage pull rod prevents the shock from wallowing under acceleration, lowers the rear of the bike and helps the rear tire track better through the whoops. An Enzo Technica preload ring is installed on the shock body to make it easier to make shock preload adjustments.
We were surprised to discover that the Kayaba kit shock didn't contain a bigger shaft, as every professional rider puts tremendous load on the shock while seat bouncing. Apparently, Kyle's light weight, as well as his riding style, negated the need for a larger shock shaft.


Frame: Cunningham's mechanic, Andy Vande Berg, didn't go too crazy buffing Kyle's aluminum frame to a mirror-like shine. Kudos to Andy, because the MXA wrecking crew prefers more of a machined look (not to mention that it's a huge waste of time to buff a frame that is only going to get scratched after a few laps). Like most pro riders, Cunningham requested that his subframe be cut down. Why? Imagine the rear of the bike spanking you in the butt every time the shock rebounded upward while blasting through a whoop section. Vande Berg cut 5mm off the subframe, which lowers the rear of the YZ250F seat by 15mm.
During preseason testing, Star Racing discovered that their riders would break the aluminum seat tabs under extreme loads. To prevent this, the team reinforced the subframe by welding a secondary cross brace underneath the last section of the seat. Problem solved.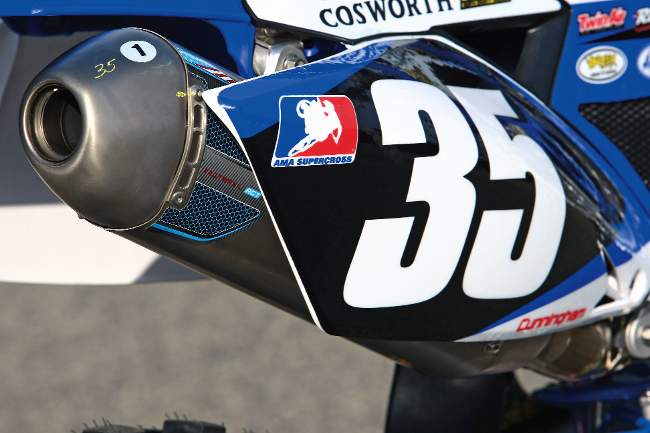 FMF has been a longtime supporter of the Star Racing team. Kyle uses a sweet titanium exhaust system that you can buy.
It's taboo for any professional racing team to admit the weight of its race bikes. We can't understand why it's such a hush-hush topic, because teams should be proud of the fact that they trimmed fat off their race bikes. Luckily, Allan Brown isn't afraid to break down barriers. He informed us that Cunningham's bike is right at the 212-pound mandated weight limit for a 250 four-stroke for the AMA Nationals. One quick lift off the stand reveals that Brown isn't lying. Kyle's bike is a featherweight. Star Racing put Kyle's bike on a diet by using titanium fasteners, running less engine oil, and sticking with the stock hubs, spokes and nipples. You heard that right?Kyle Cunningham uses stock components in the most high-risk areas. The stock YZ250F hubs, spokes and nipples are bulletproof and lightweight.
Miscellaneous: The DNA Shred Stix/Star Racing/Yamaha wouldn't be complete without a host of aftermarket companies willing to step up to the plate and help Kyle Cunningham's racing effort. Factory Effex provides the graphics and FP1 (Factory Pleat) seat cover. Star Racing uses Renegade Racing Fuel SX 4+, Sunstar sprockets (13/50 combination for most tracks), works Dunlop sneakers, Yamalube oils and chemicals, a Motion Pro Revolver throttle assembly, and a T3 clutch cable and hot-start cable. The folding levers are from ARC, while the brakes include a Braking Bat Fly 270mm front rotor and standard-sized rear wave rotor. AP Racing front and rear brake pads are the chosen grippers. Cunningham prefers Easton oversized EXP 1-3/8-inch handlebars attached to 25mm Ride Engineering triple clamps.
Cunningham uses a Tamer holeshot device; Eibach shock and fork springs; Ride linkage pull rod (145mm), rear brake clevis and chain adjuster blocks; RK gold chain; Twin Air filter; Evo gas tank foam; Excel A60 rims; ICW welding and radiator brace modifications; and LightSpeed glide plate, disc guard, chain guide and carbon fiber components. The most noticeable items on Cunningham's bike are the beefy 55mm Raptor titanium footpegs.
TEST RIDE: JUDGMENT DAY
The MXA wrecking crew had heard through the industry grapevine that the DNA Shred Stix/Star Racing/Yamaha YZ250F race bikes were horsepower mongers?even though they are never mentioned in the same breath as the legendary Mitch Payton-tuned Pro Circuit/Kawasakis or Geico/Hondas. We were itching to discover the truth and answer the question, "Is Kyle Cunningham's Star Racing YZ250F a top-tier Supercross weapon?" Our question was answered in quick order.
A single blip of the throttle was all it took for the MXA test riders to realize that Cunningham's bike was unlike any Yamaha YZ250F that we had ever tested. The throttle had a free-revving feel, with instantaneous and explosive power delivery. A stock Yamaha YZ250F dwells in the bottom end of the powerband and signs off early, whereas Cunningham's engine romped off idle with incredible torque and proceeded to pull through the midrange and into the top end with screaming?albeit linear?efficiency. It signed off well beyond the realm of a stock YZ250F. To say that we were enamored with the Star Racing powerplant would be like saying that Heidi Klum is fairly good looking. Cunningham's engine blew our expectations out of the water.
 
It would be easy to write off Cunningham's forks as simply being stiff, but they actually absorbed chop and settled well.


Ride Engineering makes specialized clamps for the larger diameter Kayaba fork legs. They have a mirror-like finish.


The most effective way to ride Kyle's bike is to keep the engine screaming in the midrange and shift just before the YZ250F bounces off its limiter. That's not to say that the engine can't muscle its way out of trouble. Numerous times test riders submerged the bike in thick loam in a gear higher than they should have been in, only to discover that the Star Racing bike rocketed out of the trenches with ease.
We were surprised to find that Kyle Cunningham uses a neutral setup in terms of handlebar and lever placement. Most professional riders have unusual tastes in these areas, but every MXA test rider that hopped on Kyle's bike felt right at home. Taller riders immediately noticed the cut subframe, but because Cunningham uses a stock footpeg height, they didn't feel overly cramped.
Another shocking revelation is that Cunningham runs suspension settings that are ballpark for most mortals. The KYB kit units were stiff, but they weren't so firm that they felt like the springs were replaced by rebar or that the shock was as solid as a brick. The forks pushed through the stroke and soaked up small chop well, but could still handle big hits when necessary.
As for the shock, it had a dead feeling thanks to very slow rebound. Cunningham doesn't like his shock to react quickly. He likes to maintain a planted sensation through the whoops and while seat bouncing. Test riders adjusted to Kyle's shock setting, but it did take some getting used to. Overall, the suspension was well balanced, even though the shock sat lower than the forks. This seesaw feeling in the pits wasn't an issue on the track.
Due to Cunningham's all-out approach to the cornerd, ample braking power is necessary. The Braking 270mm Bat Fly front rotor, coupled with AP brake pads and a larger Nissin caliper, equated to instant stopping power. Test riders could modulate the front brake and drag it through corners or, if needed, squeeze the blade quickly to make Cunningham's bike stop on a dime. That is rarely the case on a Supercross bike (most front brakes are designed to stop quickly). This was a favorite attribute of pro-level testers.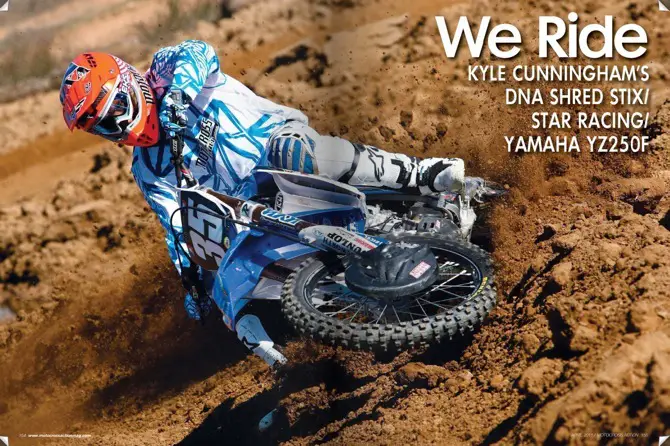 CONCLUSION: WHAT DO WE REALLY THINK?
Kyle Cunningham's Star Racing YZ250F is the product of years spent testing, developing, preparing and maintaining an old-school work ethic at the Star Racing stable. No area of the bike was overlooked. The mighty Pro Circuit/Kawasakis and Geico/Hondas have long been touted as the kings of the 250 class, but make room for the DNA Shred Stix/Star Racing/Yamahas.
Cunningham's bike trumps every other YZ250F race bike that we have tested to date. Yes, it's that good. We think that Allan Brown has something to do with that, thanks to his mechanical know-how. Star Racing should stand up and take a bow, because after years of industry oversights, the factory-backed Yamaha team is now getting its day in the sun. Hopefully, Kyle Cunningham can give the team more play by putting his bike on top of the box.