WE RIDE PRO CIRCUIT'S JOEY SAVATGY REPLICA KX250F
Click on images to enlarge
Wouldn't it be romantic to be an MXA test rider? You would spend your weekdays riding works bikes and building super-exotic and ridiculously expensive project bikes, and then on the weekends you'd race Marvin Musquin's KTM or Cole Seely's CRF450. Sounds wonderful. We wish it were true. Most MXA test riders—and we have seven full-time racers hammering laps at local races every weekend—are required to race stock motorcycles. They only get to see exotic parts when they are bolted on for a test and then replaced by the stock part immediately after the race is over. Why? To MXA, a perfectly stock motocross bike is the Holy Grail. It is our office, workplace, control group and instrument by which we measure how truly exotic the exotic parts are. We test the value of aftermarket parts by comparing them to the stock parts.
THE ONLY PEOPLE WHO SHOULD EVER GO TO THESE LENGTHS ARE TRUST FUND BABIES, CRAZY AMATEUR PARENTS WHO THINK JUNIOR IS THE SECOND COMING FO RYAN VILLOPOTO, SERIOUS AMA PROS WHO NEED EVERY OUNC EOF JUICE THEY CAN GTE AND OLD RICH GUYS WHO ARE RELIVING THE PAST THAT NEVER WAS.
Think how frustrating it is for a test rider to know that there are parts on the planet that can make a Honda CRF250 fast—but they are not be allowed to use them. That's the life of a test rider. Not as romantic as you thought. Oh, don't get us wrong; we do ride works bikes, build $20,000 project bikes and spend embarrassing amounts of money. That's our job. It's just not the day-to-day reality of what we do.
So, when Mitch Payton offered to build us a Joey Savatgy Replica Kawasaki KX250F, we jumped at the chance. This was not Joey's personal race bike; instead, it was as close as a customer could get to Pro Circuit's factory bike. If you want to get closer than this, you need to win an AMA National. In short, this is the bike that Pro Circuit builds for Loretta Lynn wannabes, aspiring AMA privateers and its Arenacross heroes. And they will build it for you — if you have the cash.
The price tag for this level of performance is very high. The only people who should ever go to these lengths are trust-fund babies, crazy Amateur parents who think Junior is the second coming of Ryan Villopoto, serious AMA Pros who need every ounce of juice they can get and old rich guys who are reliving the past that never was. If you aren't on that list, you can still hop-up your KX250F with a pipe, cam, high-compression piston and suspension re-valve, but you have no reason to spend $7780 on hop-up parts to use in the 250 Novice class at Chicken Licks Raceway.
A word of warning: These are Pro Circuit's customer-spec KX250F mods. They can take the 2017 Kawasaki from 40.05 horsepower to 46 horses, but this still isn't the ultimate engine package or the limit to the costs. As a rule of thumb, a good Loretta Lynn engine costs $5000 and an AMA Supercross or National engine can run $8000. If you need it, you can't afford not to do it. So, do you need it?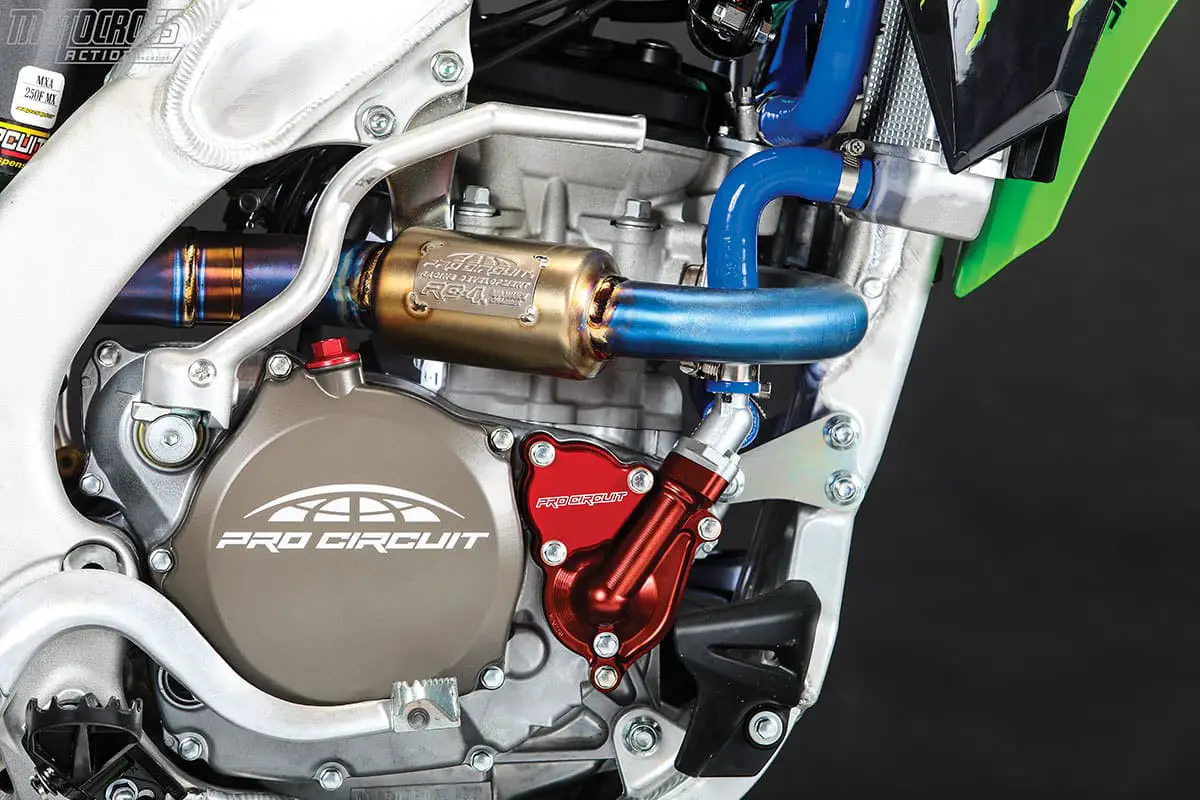 Here is what goes into building a 2017 Kawasaki KX250F that mimics Joey Savatgy's Monster Energy Pro Circuit Kawasaki KX250F. What goes into the KX250F engine is a combination of years of testing, close connections to Kawasaki's R&D department and well-crafted replacement parts. In stock trim, the 2017 KX250F has a very linear power delivery. It is smooth and progressive but not very exciting. It gets the job done with a long pull, decent peak horsepower and lots of rev on top. Pro Circuit's Mitch Payton's first goal was to get the horsepower up above KTM levels; he would worry about power placement later.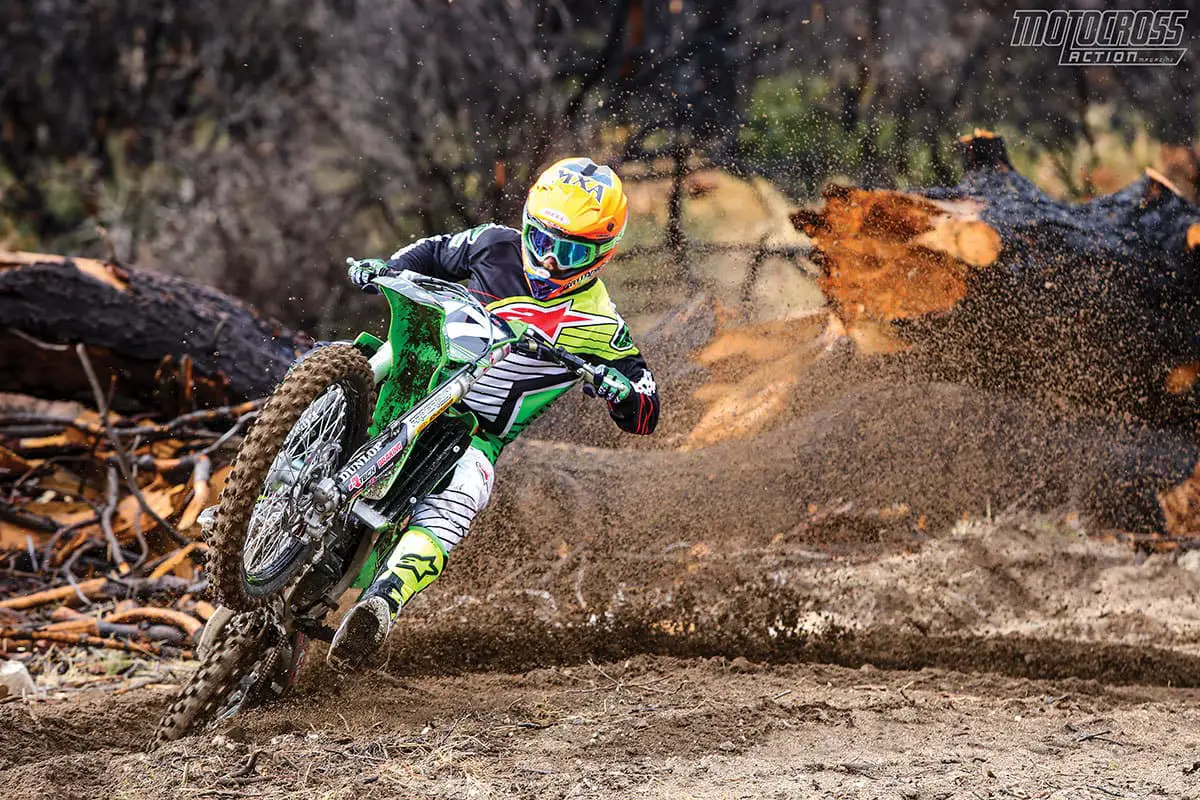 The key elements are the piston, camshafts, valves, valve springs, head porting and exhaust system. Compared to the KX125 two-stroke days when Mitch ported the cylinder, milled the head, added a piston and bolted on a pipe, the cost of performance has risen considerably. Back in the day a full-race, modded, 125cc, two-stroke engine would set you back $750. On a modern KX250F four-stroke, that $750 will only buy you a high-lift Pro Circuit camshaft. The titanium Del West valves are another $715, and that's without the required stiffer valve springs that allow the valves to keep up with the cam. The stiffer valve springs are $409.95. The final coup de grace to the cylinder head is to have Mitch personally port it for you. Mitch has years of porting experience and doesn't trust the job to anyone else at Pro Circuit. The price? $649.95. Your KX250F engine bill is currently at $2525, and you have only modded the cylinder head. Pro Circuit's piston kit, with rings and wrist pin, will set you back $379.95, and the Pro Circuit Ti-6 exhaust system that works with it will cost another $999.95. The total engine bill is $3905.
WHAT DO YOU GET FOR $4000? A MASSIVE INCREASE IN HORSEPOWER. POWER JUMPED FROM 40.05 HORSEPOWER ON THE STOCKER TO 46 HORSEPOWER FOR THE PRO CIRCUIT ENGINE.
What do you get for almost $4000? A massive increase in horsepower. Power jumped from 40.05 horsepower on the stocker to 46.30 horsepower on the Pro Circuit engine. In the big leagues, you need 46 horses just to hold your head up high—or to get to the first turn anywhere near the front. Pro Circuit didn't change the 2017 KX250F's style of power, delivery or feel. Pro Circuit just boosted the horsepower while maintaining the same smooth and linear powerband as the stocker.
Even at 46 horsepower the MXA test riders wanted to make changes. Mitch listened to our requests and then made all the changes we asked for, even though some were fairly extensive mods. Here is the list.

(1) Most MXA test riders wanted more low-to-mid hit and a faster rev. Mitch lighten the crank halves and stuffed them. We liked the changes. The picked up the rev rate and got us on the pipe sooner. This requires splitting the machines, machine the crank halves and filling inthe halves. This mod does not come on the customer -spec engine (and don't be surprised if Pro Circuit doesn't want to do it for you).
(2) We didn't feel that we needed the AMA Pro Racing-legal 114-decibel Ti-6 Pro exhaust pipe. We had no intention of racing and AMA National or Supercross—and thus we didn't need the special Pro muffler. We swapped to the Amateur-legal 94 decibel muffler and felt an immediate improvement in throttle response.
(3) We went back and forth between long and short air boots. AMA Pros preferred the custom-made $600 short air boot while the MXA test riders liked the torquier feel of the longer intake tract. The 2017 KX250F comes with the long intake boot; the short intake boot comes straight off the race bikes.
(4) Fast riders have the momentum to run different gearing than most Novice and Intermediate riders who want lower gearing to maximize punch. We changed gearing based on track and rider.

Was the engine worth the money? The average rider, who doesn't make money on the seat of his motorcycle, could only justify spending that much money if he had the talent to use it. Riders who live or die by their results can't afford to go to an Amateur National, Arenacross, AMA 250 East/West or 250 AMA National without spending the money. It's not just that you need a $4000 engine, it's that everyone else on the line has one.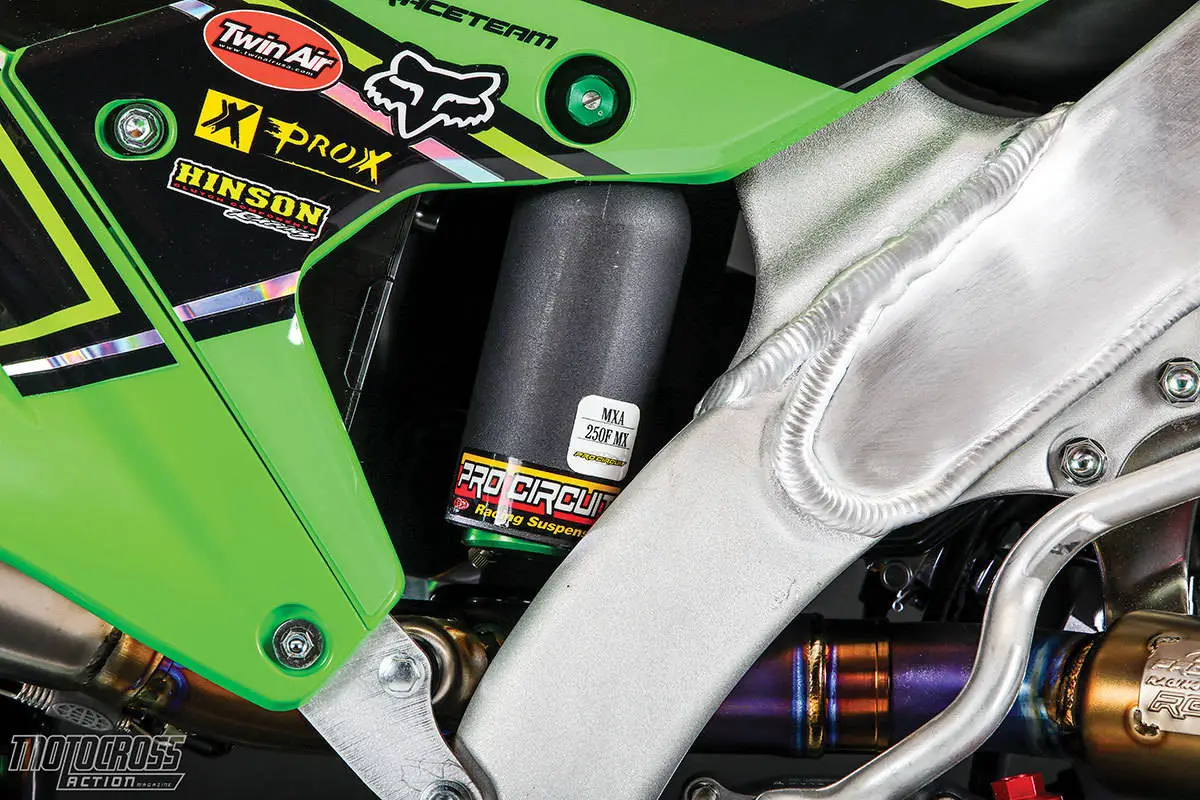 You could win on a slower bike if you had the perfect suspension and chassis setup—but what's perfect for Peter may be wrong for Paul. That's where suspension gurus come into play. The suspension on MXA's Joey Savatgy Replica KX250F only set us back $1080. In the world of suspension, where riders spend over $1000 on some fork re-valves, buy $8000 Showa A-kit forks and shop around from suspension shop to suspension shop in search of the perfect setup, $1080 is chump change for a serious racers for both fork and shock mods. MXA has always trusted Pro Circuit's Bones Bacon. Bones has more Showa experience than almost anyone of the planet and has done suspension for everyone from Jeremy McGrath to Ricky Carmichael to Grant Langston to Ryan Villopoto. If you give him an honest appraisal of your speed, weight and desires, he will get your suspension in the ballpark. Bones has a little black book that has someone just like you in it, but if you lie to him, you might get Ricky Carmichael's forks when you need Dean Wilson's.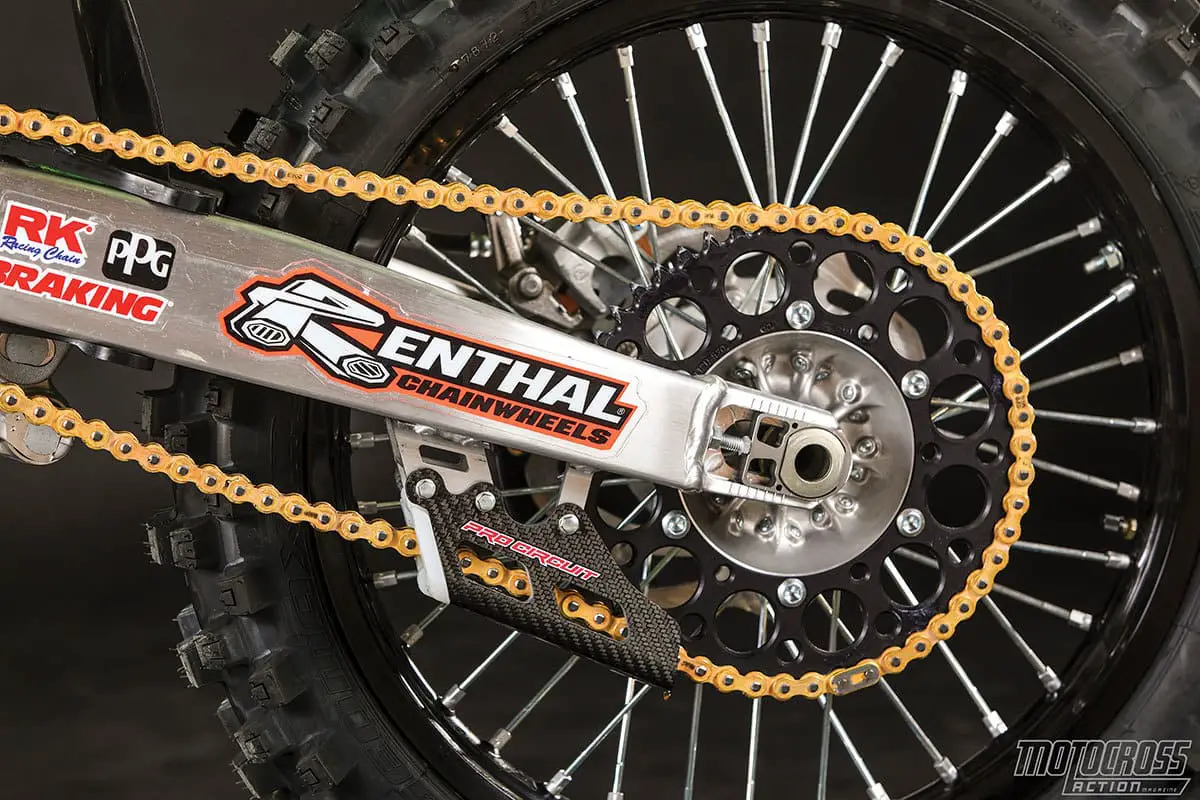 The 2017 Kawasaki KX250F comes with Showa SFF forks. Note that we didn't say Showa SFF-TAC forks. The KX250F's SFF forks are the single coil-spring fork that has been on the KX250F since 2011. These forks have always been works in progress, but progress has been slow. Bones completely redesigns the internals with a special $311.95 kit. These closer tolerance parts make the overall feel more supple and less cranky. Bones also performs a $164.96 re-valve on the forks to suit your weight, speed and goals. If you tell him that you plan to race the AMA 250 West, he will make the forks work for those conditions, but believe us when we say they won't work at Loretta Lynn's or Chicken Licks.
The 2017 KX250F shock gets a bladder kit ($58.95), internal re-valve kit ($123.95), shock re-valve ($164.95), and stiffer or softer shock spring if necessary ($129.95). The 2017 KX250F already comes with revised shock linkage arms that have been extended 1mm, and the bell crank has been lengthened on all three sides.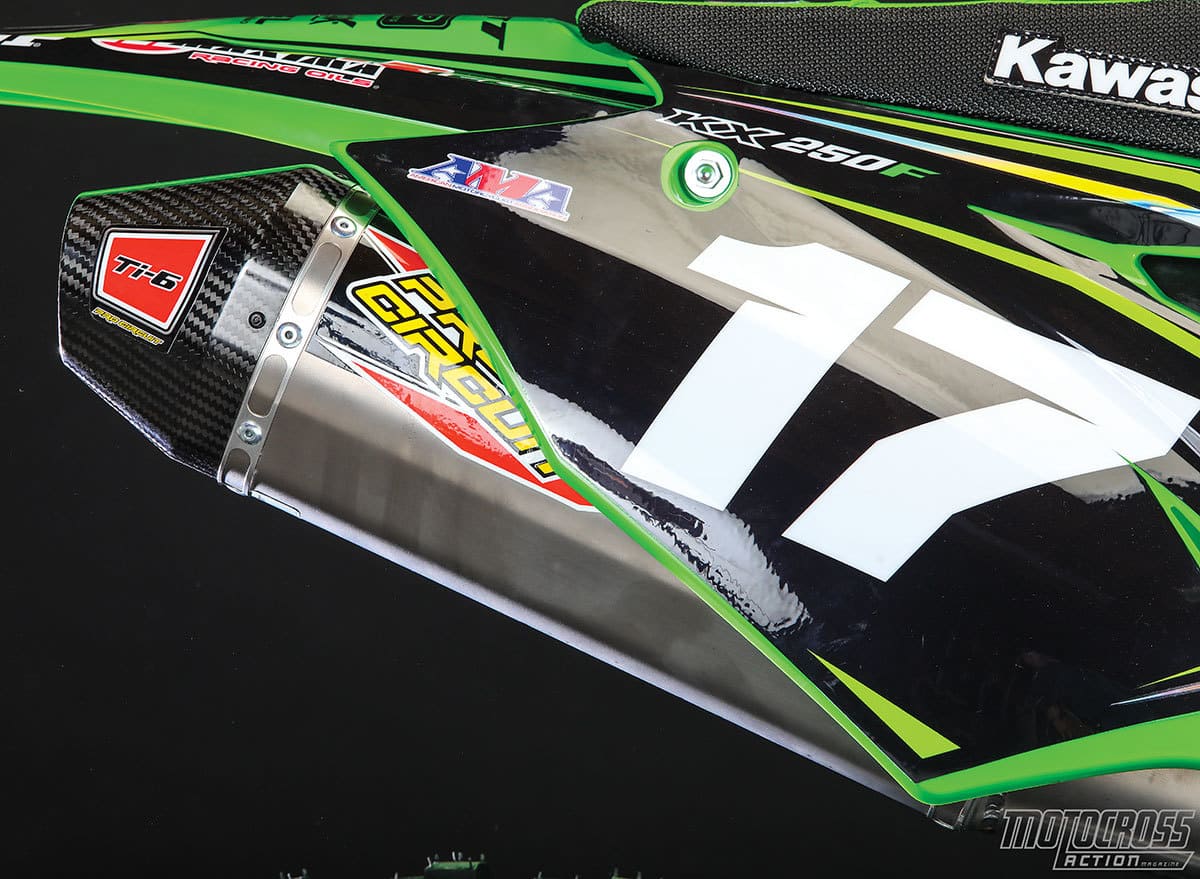 NO MODERN MOTOCROSSER CAN GO TO THE STARTING LINE WITHOUT THE REQUISITE AMOUNT OF BLING. SOME ANODIZED PARTS CAN MAKE YOU A BETTER RACER; SOME JUST LOOK GOOD.
On the track the forks worked well for fast riders or Supercross-style tracks. We turned the spring preload adjuster all the way out and then worked our way back in to get the forks to settle. Kawasaki has upped the spring from 0.97 N/m to 0.98 N/m for 2017, and this was in the ballpark for most riders. We had no shock issues with Bones' settings.
No modern motocrosser can go to the starting line without the requisite amount of bling. MXA test riders are no different. Some anodized parts can make you a better racer; some just look good. We installed Pro Circuit's billet-machined triple clamps ($699.95) on the SFF forks. They come with the bearing already pressed on, a one-piece top bar mount, 30mm of bar adjustment (with two mounting positions) and the ability to run 7/8- or 1-1/8-inch bars. A Pro Circuit water-pump kit ($204.95) flows more water and works well with Pro Circuit's blue radiator hose kit ($84.95). It's no secret that Kawasaki has a less-than-stellar rear chain guide, thus Pro Circuit offers the ultimate in carbon fiber chain guides ($299.95) to replace it. For looks alone, there are billet-machined Pro Circuit axle blocks, engine plugs and a shifter. And, it goes without saying that a Joey Savatgy Replica would need Monster Energy Pro Circuit Kawasaki graphics ($199.95).
For the MXA test riders who race stock bikes in order to have control bikes to test products on, there is nothing more thrilling than a full-race bike. When nothing is stock, the imagination runs wild with possibilities. Pro Circuit's customer-spec race mods aren't for everyone, even though there are things on the bike that will solve problems for riders of all speeds. We don't expect you to spend the $7000 that went into our test bike; instead, you can pick and choose what suits your fancy. But, if you are headed for the Big Time, this is one-stop shopping for future National Champions. For more information, go to www.procircuit.com.