WE RIDE PRO-CIRCUIT'S RC REPLICA RM-Z450
 THANKS TO THE AMA PRODUCTION RULE, AS FEEBLY ENFORCED AS IT IS, MOST FACTORY RACE BIKES ARE FINELY TUNED VERSIONS OF SHOWROOM STOCKERS.
What's the difference between a works bike and a stock bike? Cubic dollars. Big bucks. Massive infusions of loot. Moolah. Filthy lucre. Greenbacks.
What does all that cash buy? You probably think that it buys exotic one-off parts. Not true. Most of the trick parts on a modern works bike are obtainable on the open market. Thanks to the AMA production rule, as feebly enforced as it is, most factory race bikes are finely tuned versions of showroom stockers. True, there are a few unobtainium pieces, but the inability to duplicate them isn't normally a deal breaker.
So, where does all the money put into a works bike really go (if it doesn't buy super-secret widgets)? It buys tender loving care. Surprised? You shouldn't be. In most cases, the biggest difference between stock motorcycles and the steeds of the stars are the man-hours spent testing, dynoing and fine tuning the bike.
More of the same: The best attribute of the stock RM-Z450 engine is that it is easy to ride. The best attribute of Pro Circuit's RC Replica engine is that it is easy to ride fast. They added extra ponies without ruining the powerband.
The MXA wrecking crew believes that it would be possible for a privateer to build a works replica of Kevin Windham's, Mike LaRocco's, Tim Ferry's, James Stewart's or Chad Reed's factory machines. How so? The process is simple:
(1) With a little sleuthing, you can discover most of the mods that the factory made to their bikes.
(2) By using a few connections, you can track down a man who knows the insides of most of the works parts, and, best of all, sells his knowledge on the open market. Take suspension, for example: most of the best-known suspension tuners have worked on factory suspension components. They know what's inside a works fork and can duplicate it.
Even more amazing, works forks and shocks are available on the open market. Engine technology is no different. Most teams are willing to farm out their engine work to reputable tunersthus the secrets aren't so secret.
(3) Once you have marshaled all the forces, all you have to do is find the right engine tuner, suspension builder and aftermarket suppliers.
IT WAS ALWAYS ASSUMED THAT A MANUFACTURER WOULD UTILIZE ITS WORKS BIKE EXEMPTION TO TEST A PROTOTYPE BEFORE PRODUCTION. SUZUKI DIDN'T.
The MXA wrecking crew has ridden more works bikes than anyone on the planet (and we have built just as many replicas). But when we set out to build a Ricky Carmichael Replica Suzuki RM-Z450, we were stymied. Why? Because Ricky is racing a full-on works bike. How so? To encourage the development of new production four-strokes, the AMA enacted a rule in 1997 that allowed manufacturers to race one-off prototypes. Each factory was given a one-time exemption to race one works bike before putting a new four-stroke into production. Doug Henry used up Yamaha's exemption in 1997, Lance Smail piloted KTM's 520SX pre-pro in 1997, and Ryan Hughes rode the CRF450 prototype in 2001.
It was always assumed that a manufacturer would utilize its works bike exemption to test a prototype before the actual production bike hit the assembly lines. Suzuki didn't. They saved their AMA exemption, largely because Suzuki did its RM-Z450 pre-pro testing in Europe with Joel Smets, and decided to use it in the 2005 AMA Nationals with Ricky Carmichael.
Ricky's RM-Z450 is not a production bike by any stretch of the imagination. His frame is completely differentso different that Suzuki's first batch of 2006 press release photos showed a bike with RC's frame. Those photos were pulled when Suzuki management decided not to change the 2005 frame for 2006 (you can see a photo of the frame on page 69 of the August 2005 issue of MXA). Ricky's engine is also not production. It has sand-cast cases and benefits from Smets' 2004 GP efforts. Ditto for his handmade aluminum gas tank.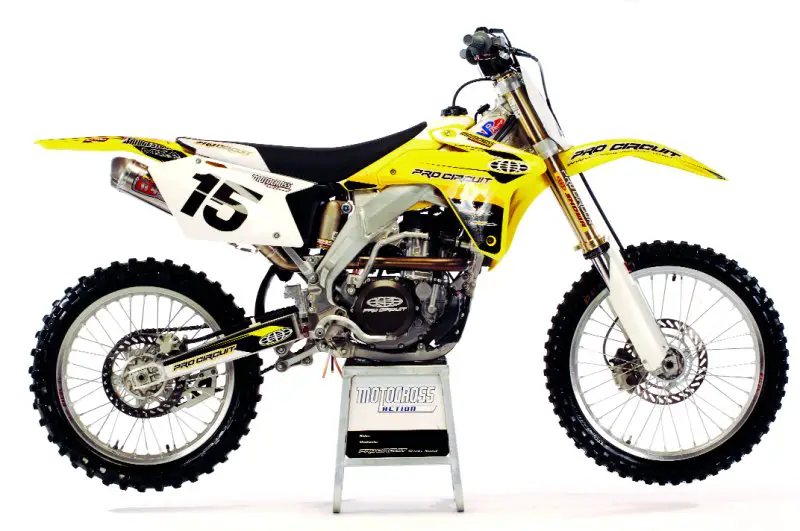 Fluff-free: It's amazing how sano a simple, clean and basic racing machine can look. With the exception of the Hinson clutch cover and Lightspeed guards, all the effort is internal.
THE DAY YOU ROLLED YOUR TRUSTY TWO-STROKE INTO THE BACK CORNER OF YOUR GARAGE AND BOUGHT. A FOUR-STROKE, YOU ENTERED A BRAVE NEW WORLD OF FINANCIAL RESPONSIBILITY.


Let's be honest. We can't build an RC replica. It isn't possible. It's a purebred works bike. But we didn't let that stop us. We decided to build an exact replica of what Ricky would be racing, if he were racing a production-based RM-Z450. And, best of all, we decided to do it on a strict budget. We limited ourselves to $2000 in engine work. Yes, Virginia, we know that $2000 isn't chicken feed, but we aren't living in a two-stroke world anymore. The day you rolled your trusty but rusty two-stroke into the back corner of your garage and bought a new four-stroke, you entered a brave new world of financial responsibility. As painful as it may be, two grand is the minimum price of entry for hotrod four-stroke mills (we could achieve the same thing for about half the price on a two-stroke).
We were tempted to put Showa works parts on our RC replica, but we resisted. It would have been easy. For five grand, we could have 49mm Showa works forks and a hard-anodized Showa works shock tuned to the nth degree. It wasn't fiscal responsibility that stopped us because MXA test riders don't know the value of a dollar; it was common sense. Works suspension components offer qualities that are only noticeable to the 99th percentile. What the $5000 buys, we think we can live withoutor more accurately, duplicate for about $800. With the $4200 savings, we can revalve, modify, tune and fiddle with our stock components until they are perfect (over and over again).
Once we had done our sleuthing and made the proper connections, we went to Pro Circuit to get the work done. Why Pro Circuit? Because that is Ricky's genealogy. RC has raced for Pro Circuit throughout his career. Pro Circuit did his engines and suspension for ten yearsand they followed him to Team Suzuki. The first thing you notice about Ricky's RM250 Supercross-winning bike or his RM-Z450 National-winning bike is the Pro Circuit exhaust. No one knows more about Ricky Carmichael's mechanical choices than Pro Circuit's Mitch Payton and Bones Bacon. We have to admit, however, that we had a second equally qualified alternativeYoshimura. Yosh does the majority of work on Team Suzuki's RM-Z250s and developed Sebastien Tortelli's RM-Z450 powerplant. Unfortunately, Tortelli was injured just before the 2005 Nationals started and Yosh's RM-Z450 handiwork never got the full-factory workout.
TO ENHANCE THE BOTTOM END, WE ADDED ONE TOOTH TO THE REAR SPROCKET SO THAT WE COULD USE ALL OF THAT MIDRANGE RUSH IN THIRD GEAR INSTEAD OF SECOND.
Consider this a primer on how best to spend two grand on a four-stroke engine. The cash was proportioned from largest expenditure to smallest in this order: Exhaust pipe (40 percent), cylinder head porting (30 percent), high-compression piston (14 percent), and valve springs (8 percent). For you math whizzes, that only adds up to 92 percent, but we spent the last eight percent on a Hinson billet clutch cover (identical to the one Ricky uses).
Here are the hows and whys of our engine management program:
Exhaust system: Our first step was to install a $799.95 Pro Circuit Ti GP exhaust system. The only difference between Ricky's pipe and our pipe was that we didn't opt for the longer conical end cap. The cone-shaped end cap guarantees that RC's RM-Z450 passes the AMA sound testbecause it adds two inches of length.
The pipe pulls hard and signs off late. It does its best work from the mid on up. To enhance the bottom end, we added one tooth to the rear sprocket so that we could use all of that midrange rush in third gear instead of second.
Cylinder porting: It may be hard to believe, but four-strokes are ported just like two-strokes. On the RM-Z450, Mitch reshapes the intake ports to increase fuel flow. The stock intake ports are round at the juncture where they split into two. Pro Circuit takes out the rounded corners at the top and bottom of the splitter to open the tract more. Surprisingly, the RM-Z450's stock exhaust ports are very good from the factory, but Pro Circuit takes the time to blend the exhaust port into the valve seats. To make sure that the transition is perfect, they re-cut the stock valve seats to perfection.
High-compression piston: The stock compression ratio is 12.2:1. Pro Circuit's piston boosts compression to 13.0:1. More compression from the piston and more fuel from the porting result in a nifty dose of ponies across the spread. Additionally, the $249.95 piston has a special cam shape at the skirts to help sealing and a more cylinder-friendly finish on the sides.
Valve springs: It is a given that when you increase mid and top power, you run the risk of floating the valves. When valves float, their hang-time ruins the combustion cycle and risks total devastation. Stiffer valve springs are needed to keep up with high rpm. Pro Circuit's $149.95 valve spring kit is 20 percent stiffer than stock.
Clutch cover: Oil is the blood of an engine. You have to keep it cool, keep it pumping and avoid lubrication dry spots. Hinson's RM-Z450 clutch cover is stronger than the stocker (which Team Suzuki sees as a plus in high-stakes racing, where a failure costs millions), it carries more oil (a fail-safe idea), and it has a special deflector to keep the clutch lubricated (an idea that Hinson developed on RC's CR250). You might be surprised that we didn't opt for a complete Hinson clutch. We could haveRicky doesbut we felt that we could baby our stocker until it needed replacement and then go for Hinson billet parts.
 The end result? 53 horsepower. That is close to three more horsepower than stock.
LET'S NOT GET TOO MISTY ABOUT WORKS FORKS. A FORK IS ONLY AS GOOD AS ITS VALVING. WORKS FORKS WITH BAD VALVING ARE JUST AS BAD AS STOCK FORKS WITH BAD VALVING.
Our next step was the stock suspension. Some MXA test riders desperately wanted Showa works forks, but let's not get too misty about works forks. Yes, Virginia, they are cool. They are hip. But a fork is only as good as its valving. Works forks with bad valving are just as bad as stock forks with bad valving. Our goal was to spend our money on good valving, even if it meant giving up the benefits of better metallurgy and fancy coatings.
We revalved the stock Showa forks (and just to insure that our valving had the works bike feel, we had Pro Circuit's suspension guru Bones Bacon go with us to our test sessions). Our goal was to get the Showas to ride higher in the stroke under acceleration and braking. The RM-Z450 is the best-turning four-stroke made, but that quickness can become schizoid if the forks dive too much on the entrance to turns. To fix the forks, we upped the spring rate from 0.47kg/mm to 0.48, then we changed the fork's piston and its pressure spring. These changes leveled out the forks, held them higher in the stroke and resisted both bottoming and diving.
The shock was equally easy to fix, largely because we were well aware of its two biggest limitations: (1) The stock shock is light on rebound damping. This quick feel puts an even bigger load on the front forks because the shock tends to kick on the entrance to turnswhich increases the fork's tendency to dive. Job one was to increase low-speed rebound damping. (2) Suzuki's high-speed compression adjuster has a very narrow range. If you turn it any less than two turns out, the shock will pack on high-speed bumps. Pro Circuit has a special $15 high-speed adjuster mod that increases the range a full four turns.
It's no secret that we love the 2005 Suzuki RM-Z450. If we had our druthers, we'd want better power and more limber suspension?and guess what? We do have our druthers. The MXA test crew set out to build as close a replica of RC's RM-Z as possible, while still living within the limits of common sense and financial accountability.
We have achieved it. There is always some danger in a makeover. Many production bikes have flaws (gearbox gaps, sluggish low-end, odd handling or reliability issues) that are magnified by hopping them up. As these bikes get faster, their flaws get bigger. Not so with the Suzuki RM-Z450. It likes to be massaged. o
RC REPLICA SUZUKI RM-Z450 SUPPLIERS WHO, WHAT, WHY AND WHERE?
Pro Circuit (951) 738-8050 www.procircuit.com
Hinson (909) 946-2942 www.hinsonracing.com
Lightspeed (714) 990-5767 www.lightspeedperf.com
For more We Ride Stories go to Top Ten Stories