WE RIDE THE ESR YZ325 TWO-STROKE THAT MADE MIKE ALESSI $30,000 RICHER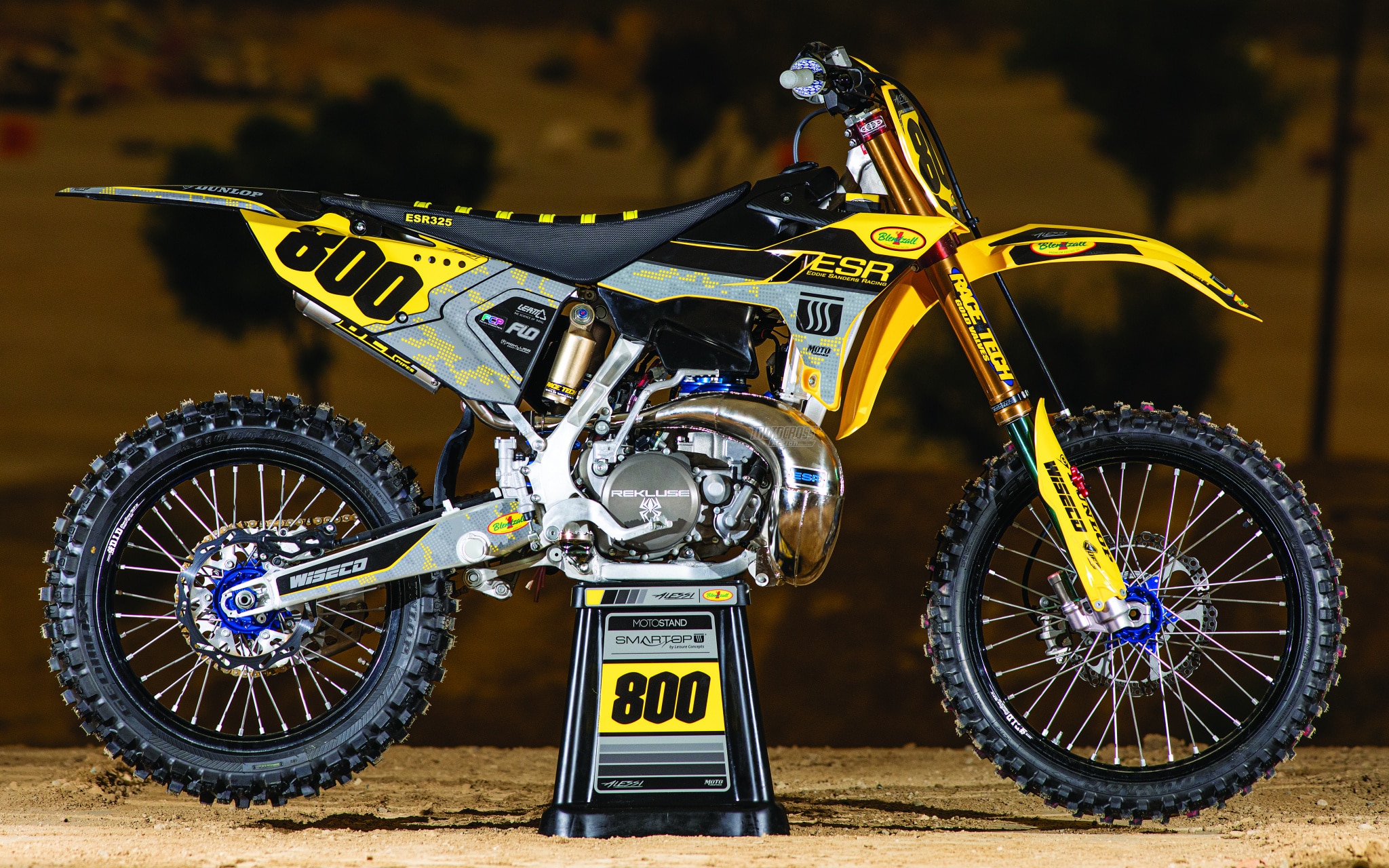 BY JOSH MOSIMAN
Once a racer, always a racer; it's in our blood. Even at 32 years old, Mike Alessi still enjoys building bikes and going racing with his dad Tony. But, Mike's racing schedule is different from the previous 27 years of his racing career. Instead of doing AMA Supercross and motocross full time, Mike has transitioned into being a part-time racer; he picks and chooses which events he wants to race. 
After spending some time racing the Canadian Nationals and filling in on the Smartop Bullfrog Honda team (that his Dad manages) in 2019, Mike came up with the crazy idea of racing a big-bore Yamaha YZ250 two-stroke against the factory four-strokes at the 2019 Monster Energy Cup Supercross. With the Eddie Sanders Racing (ESR)  big-bore YZ325 engine kit, Mike had enough power to holeshot Chad Reed and a few other top riders to transfer into the Monster Cup main event through the LCQ. Doing that, he became the first two-stroke rider to qualify for a Supercross-style 450 main event in the modern-day four-stroke era. After the Monster Cup, Alessi's ESR YZ325 was tucked away in the corner and sat there for almost a full year before Mike dusted it off, swapped out the Supercross suspension for outdoor settings and prepped it up nicely for the MXA wrecking crew to test.
ALTHOUGH MIKE WAS EXCITED TO GET OUR OPINION ON HIS BIKE, OUR TEST WASN'T HIS ONLY REASON FOR CLEANING UP HIS SMOKER.
Although Mike was excited to get our opinion on his bike, our test wasn't his only reason for cleaning up his smoker. Mike was preparing to take it to Glen Helen for the 2020 Wiseco World Two-Stroke Motocross Championship. Mike had raced this event a few times before, winning it in 2016. In 2019, he showed up on a built-up Honda CR250, but a broken rear wheel kept him from finishing the first moto. This time, Mike was riding on a two-stroke that had already been tried and tested against the best in Supercross. Oh, did we mention that ESR was offering a $20,000 bonus to anyone who won the World Two-Stroke Championship while using its big-bore kit?
We met Mike at Glen Helen the week before the big race, but before we jumped on his bike, Mike Alessi made sure that it was nice and warm for us. With the Eddie Sanders Racing big-bore kit using a steel liner in the cylinder, we were instructed to be extra patient while the two metals warmed up to each other before we hit the track. As we listened to the big-bore two-stroke warm up, every head in the pits turned to see where the nostalgic sound was coming from. The vibrato coming from the two-stroke was electrifying enough to grab everyone's attention, and the distinctive look of the large ESR pipe on the uniquely grey and yellow restyled YZ250 bodywork kept their eyes glued.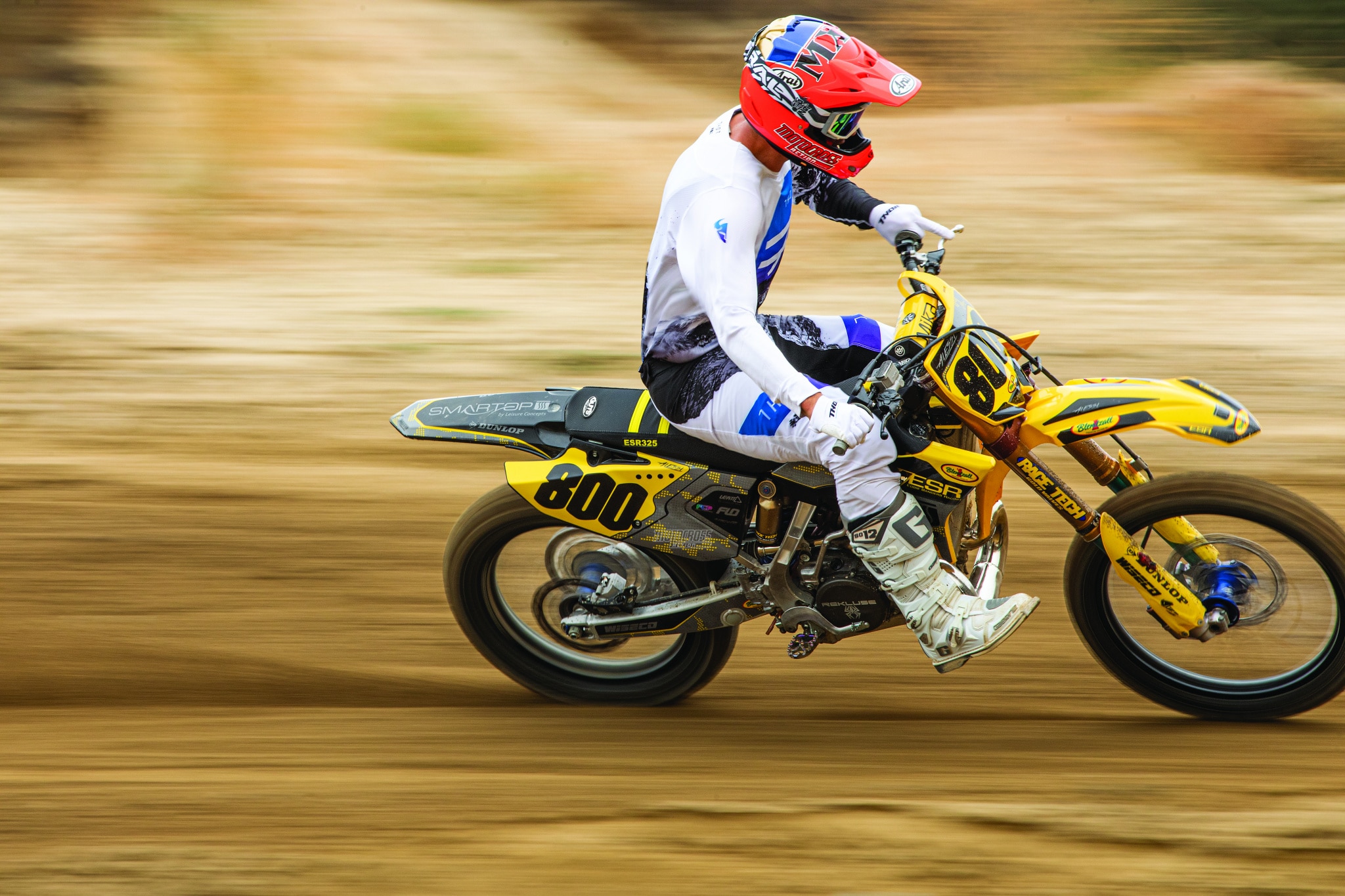 After everyone was done drooling and the engine was ready to romp, we got dirty. Within a lap or two, the MXA test riders noticed a handful of oddball traits on Mike's YZ325. His Mika Metals handlebars were cut down to be skinnier than stock. His levers were high (above-the-handlebar high), and his rear brake pedal was so far up that we thought there was something wrong with it. We were able to get used to the levers and handlebars fairly easily, but the rear brake was a tough one for us. 
When we asked about the wild rear brake position, Mike gave us a suspension tutorial and explained that the shock doesn't like to move when the rear brake is engaged, but it works great when the wheel is free to roll unhindered. "That's great, Mike, but why is your pedal so high?" we asked again. 
THE YZ325 WAS FAST AND RESPONSIVE, BUT THANKFULLY IT DIDN'T EXPLODE OUT OF THE CORNERS IN A WAY THAT PULLED OUR ARMS OUT OF THEIR SOCKETS. IT WAS SNAPPY ON THE BOTTOM AND SMOOTH THROUGHOUT THE RPM RANGE.
"To keep me from using it!" Mike replied. "I want to ride with as little rear brake as possible, and sometimes I actually latch my boot under the pedal to hold my foot in place. My rear brake is basically just there in case of emergency."
This tactic is understandable on a four-stroke where there's engine braking, but on a free-wheeling two-stroke, it seemed a little sketchy. Our test riders did their best to ride with less rear brake for the day. And, they already knew the technique would work well because they had tried it before, but when the time came to use the rear brake, it was a challenge to apply moderate pressure without brake sliding into corners.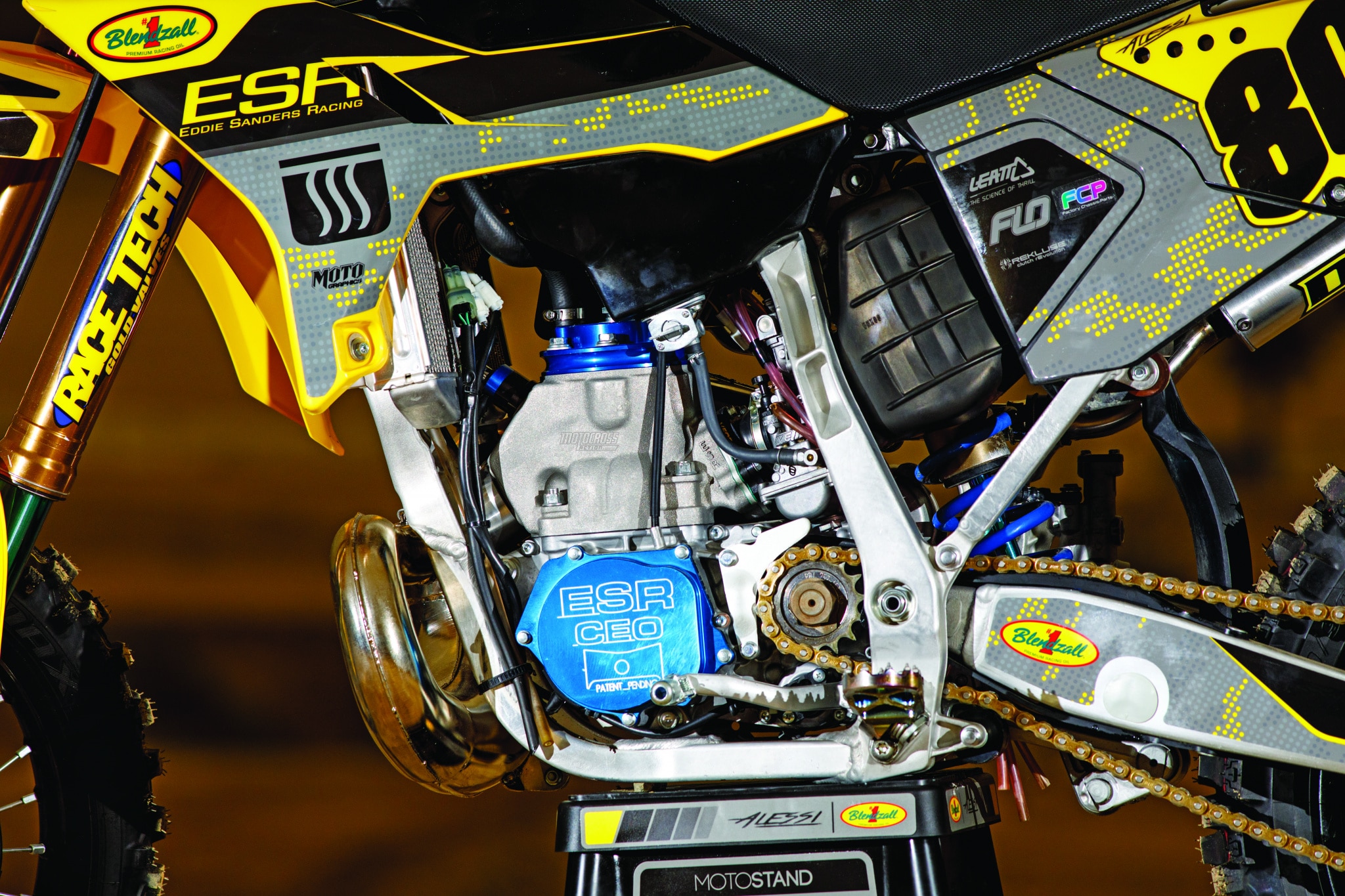 On the track, the Eddie Sanders Racing YZ325 engine vibrated our hands and feet like crazy, but the power was strong and smooth and never signed off. Chad Braun from XPR had worked with Mike Alessi previously, and he currently works with Mike's dad, Tony, developing the ECU map settings and building engines for the MotoConcepts Honda team. Mike asked XPR to give him a special map for the YZ325 two-stroke that would give the big-bore power a longer pull. With this map, the MXA test riders felt confident on the track. The YZ325 was fast and responsive, but thankfully it didn't explode out of the corners in a way that pulled our arms out of their sockets. It was snappy on the bottom and smooth through the rpm range. 
The ESR big-bore kit comes in two different versions; there's a standard $650 YZ325 big-bore kit, and then there's the $799 YZ325 "CEO" big-bore kit. Not only does the ESR setup cost less than a complete YZ250 top-end rebuild, it bolts on just as easily as doing a top-end rebuild, and it comes with everything needed, including the ESR cylinder (which is manufactured in-house), head, piston (with rings and clips), ESR's custom power valve, base gasket, reed gasket, head O-ring set, nuts and washers. Mike Alessi was even able to run the stock carburetor with stock YZ250 jetting on his 2018 Yamaha big-bore. The only difference between the $650 (standard) and the $799 CEO kit is that the CEO kit is more race-specific, using a dished piston to give the engine a wider powerband. 
The ESR YZ325 engine has a strong hit in its original form, and with ESR's pipe (sold separately for $369), you are able to fine-tune the power to get more bottom or more top-end power with different exhaust-port inserts that mount between the pipe and the exhaust port. Mike used the standard pipe insert, XPR mapping, DEP silencer, VForce3 reed valve, Rekluse torque drive clutch (with the stiffer red clutch springs), stock YZ250 flywheel, and an ultra-tall 15×50 gear ratio (the equivalent of 13/43) to tailor the power curve into something he felt confident enough to ride on for two 20-minute-plus-one-lap motos at Glen Helen. 

ESR was able to keep the price down on its YZ325 big-bore kit by designing its own custom power valve that's regulated by exhaust pressure instead of the traditional linkage and governor design. With this design, Eddie Sanders Racing is able to go bigger when boring out the cylinder and doesn't have to worry about manufacturing all of the standard Yamaha YPVS power-valve parts to compensate.
BIG-BORE ENGINES ARE GREAT FOR THE ULTRA-LONG START AND THE STEEP UPHILLS AT GLEN HELEN (AND THE WORLD TWO-STROKE PRO CLASS HAS NO RULES ON WHAT DISPLACEMENT A RIDER CAN RUN).
Big-bore engines are great for the ultra-long start and the steep uphills at Glen Helen, and the World Two-Stroke Pro class has no rules on what displacement a rider can run. A fast engine isn't worth much without suspension to ensure the rider can hold onto the bike as he heads back down Mt. Saint Helen and goes through a myriad of fast, sweeping sand corners. Mike Alessi has had a longstanding relationship with Race Tech, and for his Yamaha YZ325 Monster Cup/World Two-Stroke Championship bike, he handed Race Tech a stock YZ250 shock and some very rare Showa A-Kit forks for his Yamaha. Mike bought the forks from an unnamed individual and then handed the components over to Race Tech so they could put in his personalized setting. On the track, the suspension worked like a dream for the MXA test riders. We didn't have to adjust any clickers, and Mike Alessi's sag worked great for our Pro-level test riders. One word that came to mind while hitting bumps and landing from jumps was "predictable." The best bike is the one that works naturally and doesn't require a special technique to go fast on. In short, it does what it's supposed to do without any surprises. That's how we felt about Mike's ultra-rare Showa A-kit Yamaha forks and stock YZ250 shock tuned by Race Tech.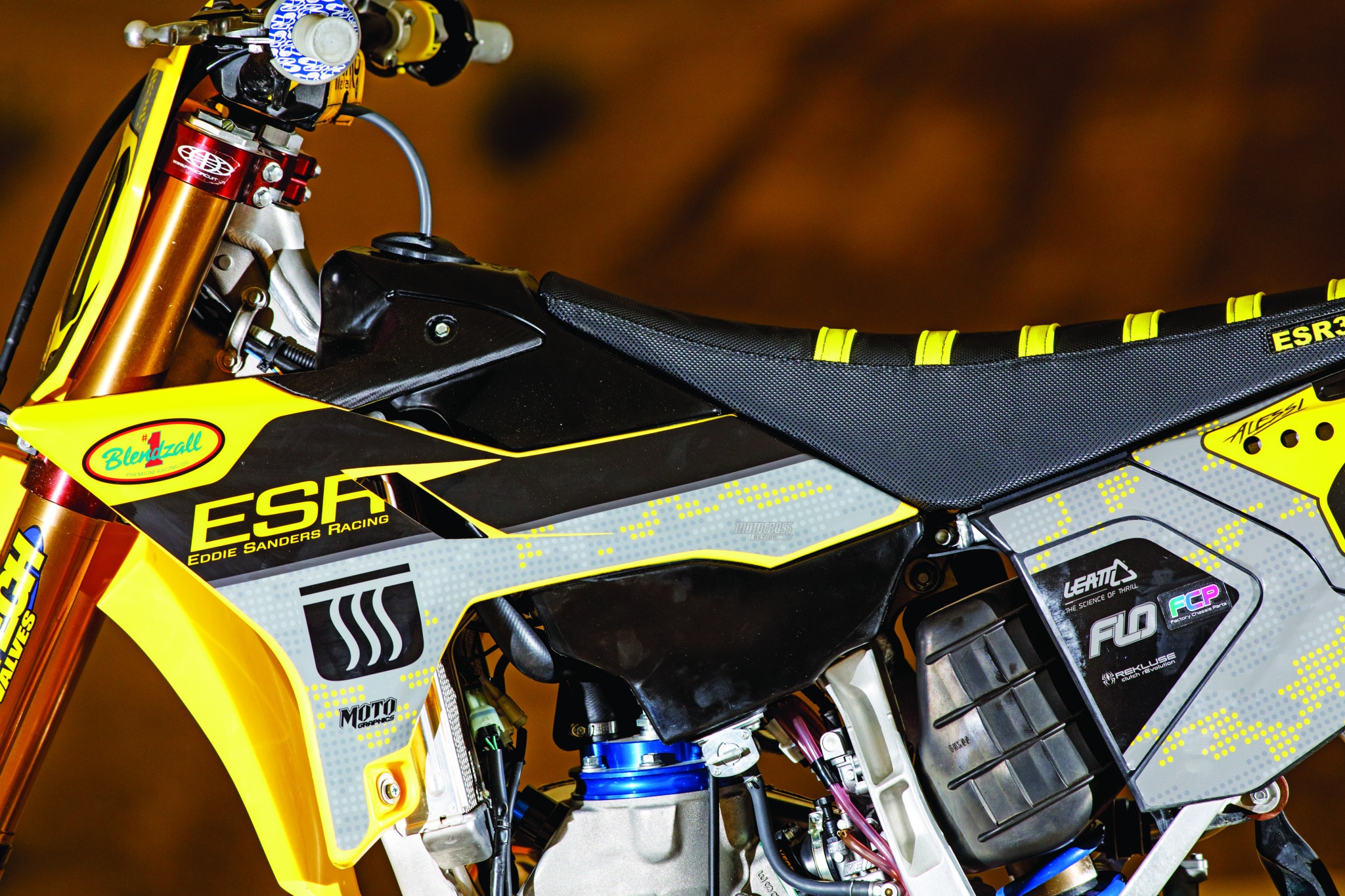 Beyond the suspension, we loved the precise feel of the oversized Honda CRF front brake. Did we just say "Honda front brake"? Yes, you read that right. Mike switched out Yamaha's Nissin master cylinder for the 2005 Honda CRF450 version. He upgraded the stock 270mm front brake rotor to a 280mm MotoStuff rotor and used an ARC lever. Mike was quiet, waiting to see if MXA would notice his little secret. We did.  
Mike used Pro Circuit triple clamps with a slightly steeper offset to help the YZ325 turn at the Las Vegas Monster Cup and, surprisingly enough, he kept them on once he switched over to outdoor suspension. Behind the Pro Circuit clamps was an oversized R-Tech fuel tank. The motos at the Two-Stroke World Championship aren't a full 30 minutes plus two laps like the AMA Nationals, but Mike still wanted slightly more fuel on the bike' just in case. Two-strokes drink faster than four-strokes, and Mike chose the aftermarket R-Tech oversized tank to give himself peace of mind. The R-Tech tank also looked trick with its sleek styling and sharp shrouds. To clean up the rest of the bike, UFO provided its YZ250 restyle plastic kit in black. It was covered with yellow and grey Blendzall stickers made by Moto Graphics, the sticker division of MotoConcepts. A Guts gripper seat cover and ultra-sharp Flow footpegs helped Mike maintain proper technique while on the bike, and the rubber that met the road for Alessi's YZ325 was a Dunlop MX33 front and MX53 rear combo. Mike likes the predictable feel of the MX33 on the front wheel,  and he felt that the intermediate-/hard-terrain MX53 tire would work best on the rear at Glen Helen. The tires were mounted onto D.I.D. STX rims with Kite hubs, and to finish the bike off, Mike ran FCP Racing titanium footpeg pins and a Works Connection holeshot device. 
Besides the high levels of vibration caused by the big-bore piston, Mike Alessi's 2020 World Two-Stroke Championship race bike was a blast to ride, and it proved its worth when the gate dropped at Glen Helen. Mike lined up next to 39 other Open Pro Class two-strokes, and he went on to win with a 2-1 overall moto score on a very long and very rough Glen Helen National track. The course design for the two-stroke event spanned all the way onto the upper REM track with a layout that resembled what the AMA Nationals used to look like before MX Sports started limiting the length of National tracks. With the $2700 first-place purse money, $1000 in holeshot money, and win bonuses from Blendzall and his other sponsors, Mike was able to add to his $20,000 ESR win bonus, and walk away from the World Two-Stroke Championship with a smile on his face and an extra $30,000 in his bank account. He plans to do it again next year.