WE RIDE THE SUNDAY MOTORS S147 FLAT-TRACK PIT BIKE
If you keep track of Travis Pastrana and the Nitro Circus, you know their crew loves to get massive numbers of riders together to race pit bikes. In 2020 Travis put on the "Pastranaland Pit Bike Championship'" where he and his crew raced stock Kawasaki KLX110s on a massive track. The event was successful in its television premier on the ESPN2 channel, causing ESPN to sign up the Nitro Circus to create another pit bike event for TV in 2021. The Nitro Circus "Bluegrass Brawl" pit bike extravaganza was hosted by Ryan Sipes at his ranch in Kentucky and featured multiple disciplines of pit bike racing, including Straight Rhythm, Supercross, off-road and flat track on the TV show. In the flat-track main event, Ryan Sipes, Tyler Bereman and six other guys lined up to race on Sunday Motors S147 flat-track pit bikes, and after seeing how much fun they had, we wanted to try it out.
THE MXA WRECKING CREW SPECIALIZES IN TESTING FULL-SIZED MOTOCROSS BIKES, BUT WE DABBLE IN CROSS-COUNTRY-SPECIFIC DIRT BIKES AND EVEN MINI-BIKES FROM TIME TO TIME.

 
Sunday Motors is an off-shoot of the French motorcycle manufacturer YCF. The acronym stands for "Yannick Coquard Factory." Yannick is a former Pro motocross racer whose passion for pit bikes developed when he was using them for cross-training during French winters. Yannick wanted to improve the quality and reliability of the pit bikes, and eventually he decided to build his own. Yannick teamed up with French technician Dimitri Bera in 2004 and founded YCF. Dimitri now lives in China overseeing all development of the YCF brand. Since 2009, YCF Motorcycles has had its own 100,000 square-foot manufacturing facility in China where they're able to control their production from beginning to end. 
The MXA wrecking crew specializes in testing full-sized motocross bikes, but we dabble in cross-country-specific dirt bikes and even mini-bikes from time to time. Besides the fact that we've seen lots of cool videos with Travis Pastrana and Ryan Sipes riding the Sunday Motors flat-trackers, the vintage American flat-track styling and affordable price point were additional aspects that grabbed our attention. YCF has previously given MXA the largest pit bike they currently make, the Bigy 190MX, and we tested it in our April 2020 issue. When we found out that Sunday Motors was an offshoot of Yannick's brand, we were excited to try it out. 

The Sunday Motors lineup has two standard flat-track bikes. The S147 shown here is the smaller of the two. It has a 150cc single-cylinder four-stroke engine, 14-inch wheels front and rear, and no front brake for a retail price of $2399. The bigger S187 flat-tracker has a single-cylinder, 190cc, Daytona four-stroke engine, the same 14-inch wheels front and rear, a front brake, and it retails for $3399. They also offer limited-edition versions of these flat-trackers with some significant upgrades. 
When we picked up the S147, we were cautioned by the Sunday Motors mechanic that it would take a while to warm up, and he wasn't kidding. A few of our test riders looked at us cockeyed in the first few minutes of getting it running, but once it was warm, it was good to go. Although we didn't have access to an actual flat-track oval for our test, we had a nearly perfect mini-track that hadn't been watered and was graded nice and smooth—the exact recipe needed for power-sliding. Luckily, our purpose-built Sunday Motors S147 was ready to slide. The rear brake caliper is mounted underneath the swingarm. The muffler mounts to the swingarm, and its head pipe runs underneath the engine, frame and brake pedal. Both the rear brake and low-riding muffler help bring the bike's center of gravity down. As mentioned, the front brake is non-existent, and both of the tires are ultra-wide 130/70-14 models. For context, the tires are 10mm wider than the standard 120 rear tire you'd use on a 450. 
Although it was designed for left-handed turns only, we tested it in both directions, and it turns right just fine. We did scrape the muffler across the ground a few times whenever we leaned it over too far in right-handers, but that was to be expected. The low head pipe also didn't allow for much ground clearance when riding over berms or big bumps, but it wasn't made for that. When we kept it on the track, turning left, it worked great. The S147 won't pull big power wheelies down the straights, but its mellow power was to be expected for a pit bike at a sub-$2500 price point. Our testers got the S147 sideways in the corners pretty quickly, but it took a few extra laps for them to figure out how to pitch it sideways through the whole turn.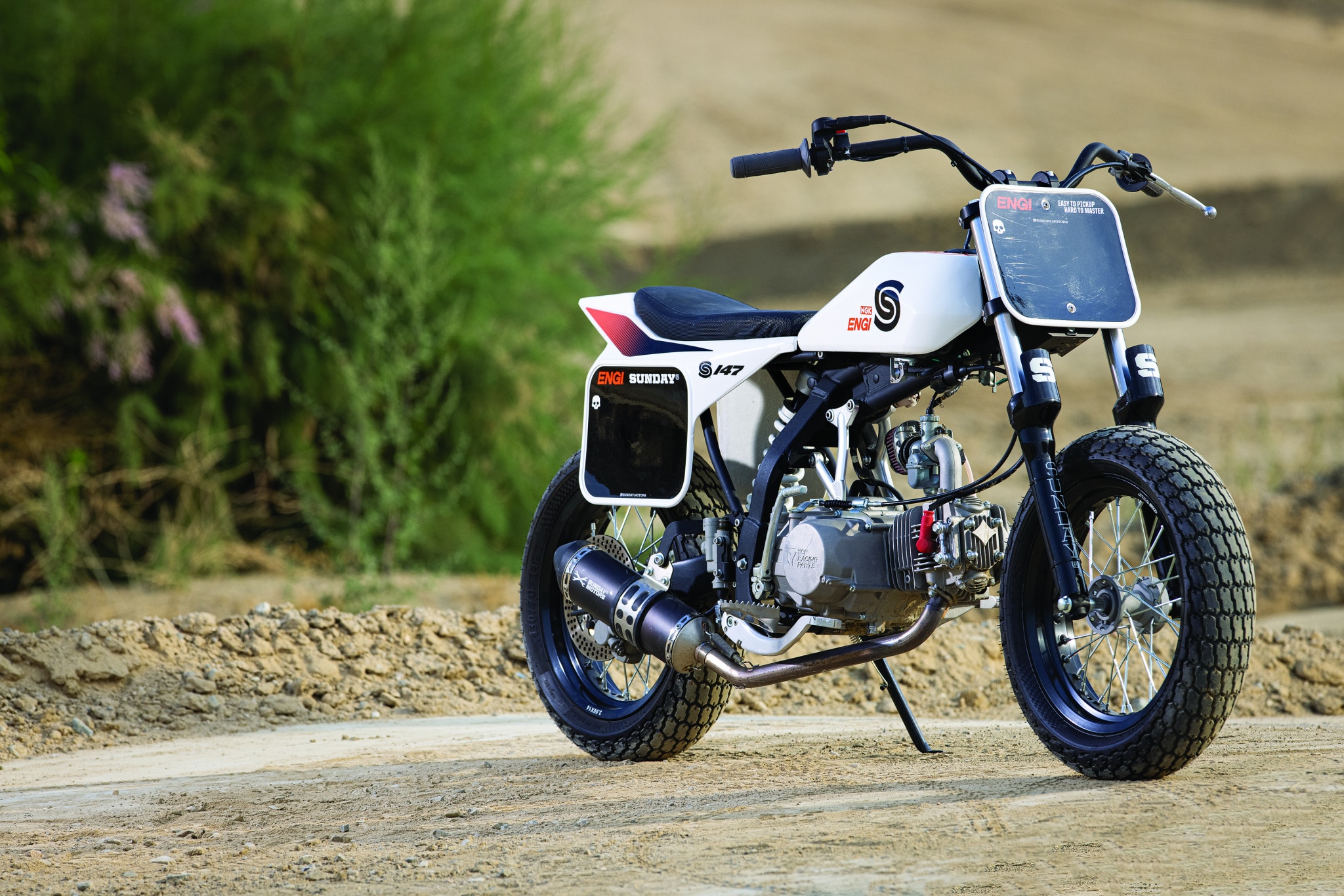 Overall, we had a blast on the Sunday Motors S147. The Flat Track pit bike is similar to a Kawasaki KLX110 in that it's good for a few different categories of riders. The KLX110 is good for beginners learning how to ride, experienced riders looking for a bike to play on and for easy transportation around the track or the ranch. The S147 is not a KLX110, but it is a great bike for new riders who are looking to learn the art of flat tracking, experienced flat-track riders who want to play, and, although it's not really a commuter, the person who wants to have a vintage-styled pit bike to grab everyone's attention while riding through the pits.
For more information, go to www.ycfusa.com.