WE RIDE TWISTED DEVELOPMENT'S RM-Z450 "WORKS BIKE ASSASSIN"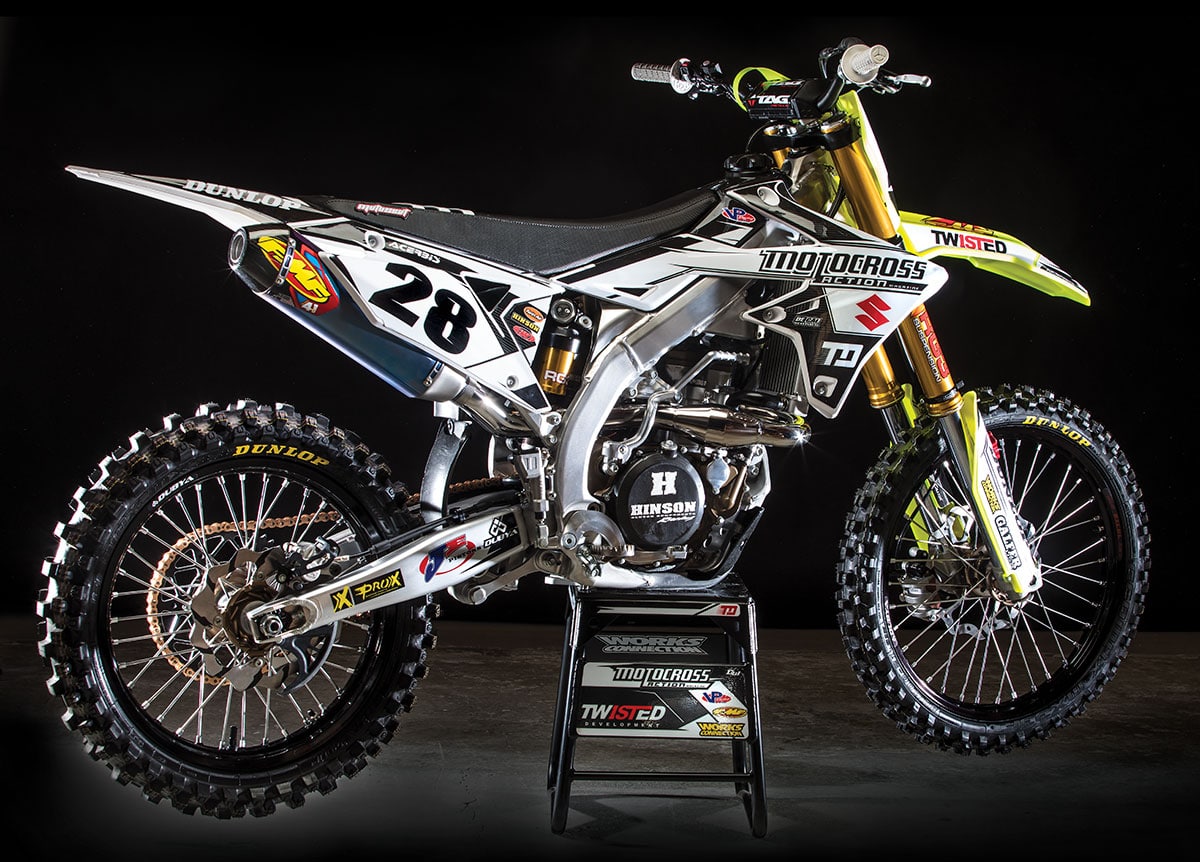 Us mere mortals think we want access to the factory bike unobtanium of the stars. Truth is, you're not going to like riding a factory bike as much as you like drooling over it. It's human nature to want what we can't have, but the suspension of a factory bike can support a grizzly bear back-siding a triple, and the potent engines can catapult a grizzly up Mt. Saint Helen without breaking a sweat. Factory bikes aren't made for comfort or reliability; they're made to gobble up hard impacts and last only long enough to churn out maximum power for approximately a two-hour lifespan. We are pretty sure that the maintenance schedule of a factory bike would break the bank of all but the richest of local racers. That doesn't mean there aren't aspects of factory bikes that local racers can enjoy.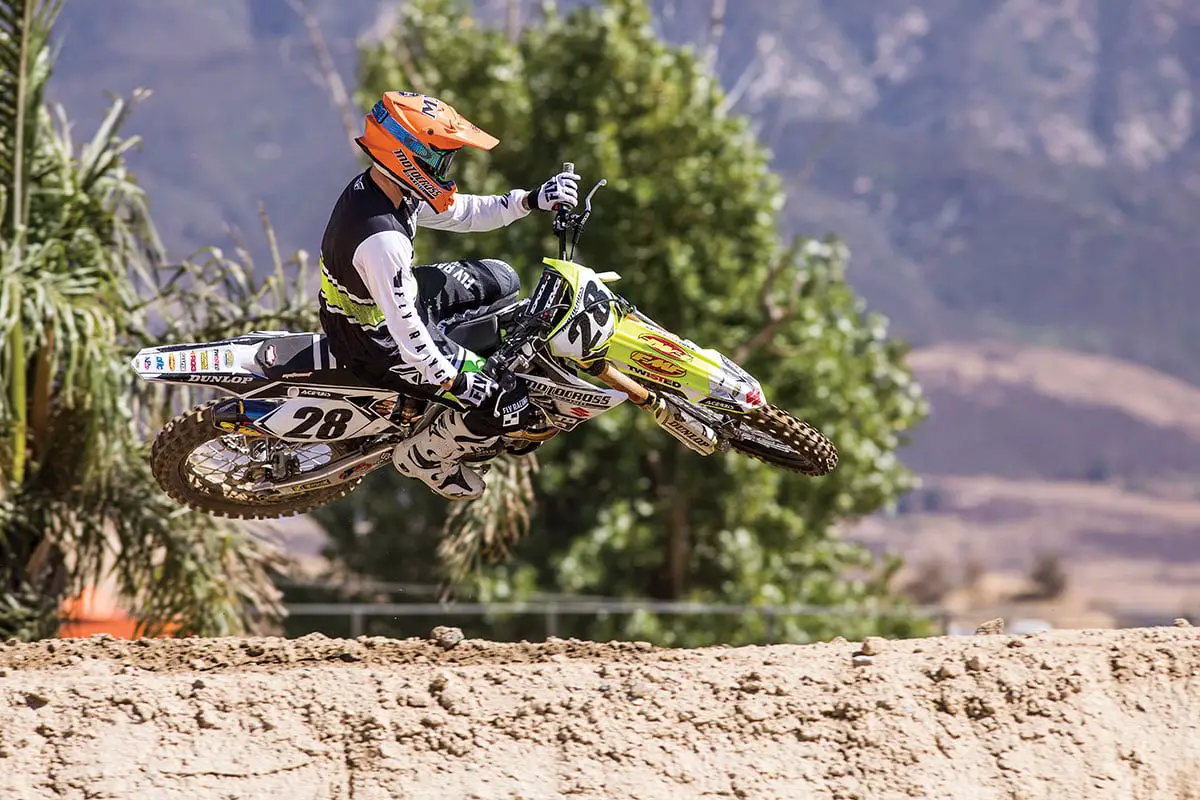 MXA wanted to create a bike the average Joe would appreciate on and off the track—but one that still had a factory touch. We started with a 2019 Suzuki RM-Z450 platform, the tuning expertise of Twisted Development, and RG3's vast Suzuki suspension experience. Why an RM-Z450? This bike gets a lot of flack, and rightfully so. In stock trim, it is the heaviest, least powerful, and most questionably suspended machine in the 450 lineup. It is also the only 2019 450 that you have to kick to start. On the other hand, it has been the go-to bike for many privateers and former factory riders who have lost high-paying rides. In fact, the Suzuki RM-Z450 was the last privateer bike to lead the 450 AMA Supercross series with Davi Millsaps in the saddle back in 2013. Davi finished second in the championship on a bike built by his crew chief Jamie Ellis.
The same Jamie Ellis who is now the owner of Twisted Development. You're right; 2013 was a long time ago. But, in 2016, when Josh Grant lost his factory Kawasaki ride, he enlisted Twisted Development to massage the engine and suspension on an RM-Z450 for his one-shot appearance at the Daytona Supercross. Josh finished a respectable seventh on his Twisted Development RM-Z450 and got his factory job back at Kawasaki. Jamie Ellis has become the go-to guy for privateers who want to stand a fighting chance against the might of the factory teams. He builds privateer bikes that can assassinate works bikes.
Josh Grant is back in the same boat again for 2019. He was let go from Team Kawasaki at the end of the 2018 season and sent back to the privateer fold once again. Since we were just finishing up our test of MXA's Twisted Development Suzuki RM-Z450, we invited Josh out to put on the orange MXA lid as a guest member of the MXA wrecking crew for a day. Josh was thrilled to jump on our RM-Z450 to feel it out. When asked why he would choose to race an RM-Z450 when there are five other brands that most racers think are superior machines Josh said, "It handles and turns great on Supercross tracks, and Jamie can make the powerplant on par with the factory bikes. As far as it being heavy, I don't seem to mind the weight." We agree with Josh about the RM-Z450 being a great turning motorcycle as well as Jamie being more than capable of matching factory power, but we definitely mind the weight. 
The Twisted Development powerplant on MXA's RM-Z450 was not a full-tilt engine. According to Jamie, it could have been built with 70-plus horsepower and a lot more torque, but Jamie told us that mere mortals would not enjoy the breakneck power. It would even be too much muscle for the majority of factory riders. Of course, if you want to throw down your plastic money for it, Jamie will give it to you. Warning! Power isn't cheap. 
ACCORDING TO JAMIE ELLIS, IT COULD HAVE BEEN BUILT WITH 70-PLUS
HORSEPOWER AND A LOT MORE TORQUE, BUT JAMIE TOLD US THAT
MERE MORTALS WOULD NOT ENJOY THE BREAKNECK POWER.

Our engine was built around running 91-octane pump gas. We prefer it that way, but if you wonder if the engine could have been faster if we had spec'ed race gas, the answer is yes. If the engine, compression and ECU work in harmony with each other, the power output can be raised significantly. But MXA's test RM-Z450 engine is fast enough to get a good start at an AMA National and stay close to the factory bikes up Mt. Saint Helen or Horsepower Hill on lowly, inexpensive and readily available pump gas. You could hear the deep grunt of the engine as it echoed across the track. Josh Grant admitted that MXA's engine wasn't as fast as his factory KX450F but said it was close. He also admitted he is the rare rider who wants all the power he can get. 
The MXA test riders, however, felt this was more power than they wanted to handle for a full moto of racing. Test riders wanted to lug it in third gear everywhere, because second was a beast to hold on to. With that info, Jamie changed the gearing by going one tooth taller on the rear and softened up the mapping so our testers could ride in second gear with more confidence. Jamie also said he could raise the compression and change the ECU so riders could also have enough oomph to ride third gear through tight corners. Jamie gave us endless options to customize the powerplant to our individual liking. To break it down, the Vortex ignition has 10 maps that can be changed with a flat-bladed screwdriver. Jamie customizes each map to your specific needs. There are six maps that tune the power: a map for altitude compensation, another to pass sound, a few test maps and a launch control map. If you aren't happy, or maybe you like a combination of a few different maps, Jamie will blend those maps together for you at no extra charge. Twisted Development is as close as a local racer can get to the factory rider experience. 
THE ACHILLES HEEL OF THE RM-Z450 IS ITS SUSPENSION. THE SHOWA
BFRC SHOCK IS A NIGHTMARE TO SET UP.IF SOMEONE COULD FIX THE SUZUKI SHOCK, OUR BET WAS THAT RG3 SUSPENSION HAD THE EXPERTISE TO MAKE IT WORK.
The Achilles heel of the RM-Z450 is its suspension. The Showa BFRC shock is a nightmare to set up. We had to run 108mm or more of sag to find balance on the 2019 bike, which shortened the travel and dug our heels into the ground on hard landings. It also made the chassis feel worse than it really was. We couldn't find anyone who could fix the stock BFRC shock issue without using a completely different shock body (and we switched to WP on our 2018 RM-Z450). If someone could fix the Suzuki shock, our bet was that RG3 Suspension had the expertise to make it work. RG3 put its special touch on both the Showa forks and shock on our Twisted Development RM-Z450. They also added a 1mm-longer pull rod to stiffen up the initial part of the stroke and lower the stinkbug rear end. 
This was the best-suspended RM-Z450 we have ridden since Suzuki unveiled the new chassis. After RG3 did its magic, the bike was balanced and handled well. MXA test riders ran 104mm of sag and moved the forks up and down in the clamps to fine tune the frame geometry for different tracks. Our test riders loved the plush feel of this RG3 setup. The front end wiggle was gone, but first we tightened up the triple clamps to turn them into a poor man's steering damper. The shock offered a consistent feel in transition bumps, which is something the BFRC doesn't offer in stock trim. 
Twisted Development and RG3 suspension proved to us that the RM-Z450 can be made into a really good bike—that is, if you don't count the excess weight and lack of an e-start. As the low man on the totem poll, Suzuki needs companies like Twisted Development and RG3 to bring to light the potential of the 2019 RM-Z450. With the suspension issues fixed and the powerplant tuned to a competitive degree, the Suzuki RM-Z450 became a bike that Josh Grant would be more than willing to race—and so would the MXA wrecking crew.