WE RIDE WORLD VET CHAMPION KYLE LEWIS' KAL-GUARD 2009 HONDA CRF450:
The name Kyle Lewis has been on the lips of American race fans since 1982 (when he was a major force in the National Minicycle Championships). In 1987, Kyle became the youngest rider, up to that point, to ever win a 125 Supercross (he would win three rounds of the AMA 125 West that year). In 1995 and 1996, Kyle won the MTEG Ultracross Championship for Team Noleen/Yamaha (a team that included Larry Brooks and Mike Craig). Kyle was the top privateer in the AMA Nationals in 1994, 1995, 2001 and 2002. Amazingly enough, Kyle Lewis is still racing, 22 years after his first AMA Pro race (and he won the 2008 World Vet Championship last season).
After his first AMA Pro win in 1987, Kyle spent almost ten years racing for a variety of teams in search of a factory ride. Finally, in 1997 the phone rang. It was Team Suzuki?Team Suzuki of Japan. The offer was for full works bikes, a big salary and all the support he could ever want, but he had to move to Japan. Following in the footsteps of Eddie Warren, Ron Tichenor and Jeff Matiasevich, Kyle left the convenience-store comfort of America for the sushi of Japan. Not a bad decision, as Kyle won the 1998 and 1999 All-Japan National Motocross Championships.
Kyle returned to the U.S. after his Japanese adventure and hooked up with the famous Moto XXX team. Kyle gave the rock ?n' roll team instant credibility and stayed with them for eight years (2000-07). Now, with Moto XXX a distant memory, Kyle has pared his race schedule back. For 2009, the 38-year-old, whose first bike was a Honda MR50 (Mister 50), plans to defend his World Vet title, race selected 450 Nationals, do a couple WORCS races and go to the Mammoth Mountain motocross.
Amazingly enough, the
MXA
wrecking crew has tested more of Kyle Lewis' race bikes than almost any other rider's bikes. We couldn't let a streak like that get broken, so to extend Kyle's lead,
MXA
called Kyle to see if we could get our hands on his 2009 Kal-Guard-sponsored Honda CRF450. Kyle, as always, was gracious enough to give it to us.
SHOP TALK: HOW IS IT PUT TOGETHER?

Kyle Lewis falls into the category of "wily vet." No longer a young buck trying to set the world on fire, Kyle isn't attracted to the flash of motocross. It shows in his bike setup.
His engine was as stock as a CRF450 can get. His only mod was to remove the stock exhaust and install an FMF Factory 4.1 exhaust system with a MegaBomb header. "The stock powerband didn't pull hard enough across the bottom and signed off too soon," said Kyle. "The FMF pipe added some low-to-mid power and allowed it to carry farther." Every
MXA
test rider mentioned how torquey Kyle's CRF450 felt. This is something we noted when we tested the Factory 4.1 exhaust (in the March 2009 issue). The FMF exhaust broadened the powerband, slowed down the rev, moved the peak up almost 1000 rpm and increased peak power by three horsepower. Even though Kyle has spent his life racing works Suzukis and full-on modified CRF450s, he feels that a broader and easier-to-ride powerband is the best way to maximize his considerable talents.    
KYLE UNDERSTANDS, PROBABLY BETTER THAN ANY OF US, THAT WHAT HE NEEDS AT THIS STAGE OF HIS RACING CAREER IS A BIKE THAT IS POWERFUL ENOUGH TO WIN?BUT NOT TOO POWERFUL. A BIKE THAT HANDLES THE TERRAIN BUT DOESN'T REQUIRE HIM TO MANHANDLE THE TERRAIN.
Kyle focused most of his attention on the suspension and, when we tested Kyle's Kal-Guard CRF450, Factory Connection's Rick "Ziggy" Zielfelder came along to oversee any CRF450 issues. Kyle not only runs Factory Connection forks and shock mods, but he also uses their billet shock linkage. The Factory Connection linkage is longer than stock, which lowers the rear of the CRF450 to bring the chassis into balance but also helps hold the rear suspension up in its stroke to get more out of the existing travel.
Kyle's major benefactor for this race season is Kal-Guard. Kyle believes strongly in their four-stroke oil and runs Kal-Guard Pro-Comp 4 10w/40 full-synthetic oil in both the transmission and top-end of his CRF450. Kyle feels that the full synthetic oil helps the notchy shifting on the CRF (we have to agree that Kyle's bike shifted smoothly).
For stopping power, Kyle automatically chose a QTM/Brembo oversize front brake rotor kit laced to RK Excel rims. Kyle Lewis has worked as a Dunlop test rider for years and outfitted his bike with the new Dunlop GeoMax MX51 tires.
In the accoutrement department, Kyle's personal touches were very subtle. Amazingly, Kyle's triple clamps not only had the stock offset, but they were off-the-showroom-floor stock clamps. The only triple-clamp mod on Kyle's CRF450 was SixSixOne handlebar mounts. He selected Tag handlebars and sprockets. The bars and gearing mimicked the stock setup (in bar height and number of teeth). An RK chain replaced the pitiful stock Honda unit, while ARC supplied the folding levers to mount on the Tag bars. There was a Filtron air filter (coated in Kal-Guard foam filter oil), Tag grips and Kal-Guard graphics.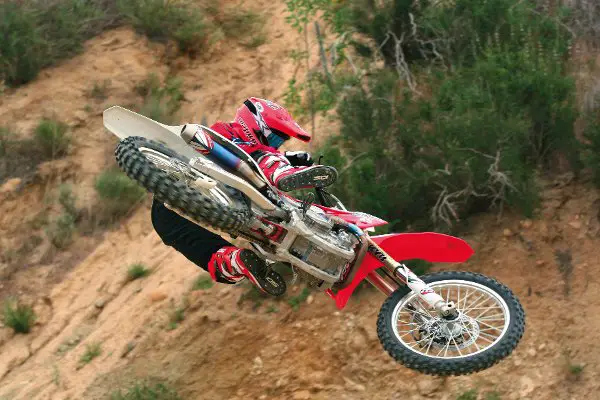 TEST RIDE: A BIKE FOR THE MASSES
Right off the bat, every MXA test rider liked Kyle's setup. No surprise, since we have tested a bevy of Kyle's race bikes over the years and always found his machines to be among the few pro bikes that actually work well in the hands of normal folks. But the best thing about riding Kyle's bikes has always been the suspension. From Ultracross through a portion of his Moto XXX days, Kyle ran Clark Jones' Noleen suspension?which is famous for its plushness. Obviously, Kyle carried his preference for a fluid feel over to his Factory Connection setup, because it was sweet. The revalved forks and shock tracked straight and held the nervous 2009 CRF450 chassis steady across rough ground. Very good stuff (and not just for pros). Every MXA test rider feels that the CRF450 needs to be flatter, more balanced and less stink buggy. Thanks to the longer Factory Connection shock linkage, Kyle's bike sat at the proper stance.
The power wasn't overly impressive, but its breadth was appreciated. Not only did the extra boost in ponies delivered by the FMF exhaust help the CRF450 be more rideable, but it made the stock gearing work more efficiently. Without the extra torque, the stock gearing is too tall.
You gotta admire Kyle Lewis. He could have easily demanded a fire-breathing CRF450 with every doodad in the world attached to it. Instead of revalved stock components, it would have been a simple task for Kyle to slip on Showa A-Kit parts (with their $7500 price tag). But, he didn't. Kyle understands, probably better than any of us, that what he needs at this stage of his racing career is a bike that is powerful enough to win?but not too powerful. A bike that handles the terrain but doesn't require him to manhandle the terrain. And, a bike that is reliable, simple and easy to work on. In that way, Kyle isn't like your typical AMA National Pro?he's like a normal human being.