MXA TESTS THE X2 BY XCELDYNE'S YAMAHA YZ450F
THE MXA WRECKING CREW DOESN'T HAVE THE SAME BELIEFS AS YOUTHSTREAM'S HEAD HONCHO GIUSEPPE LUONGO OR FORMER AMA PRO RACING OFFICIAL STEVE WHITELOCK. IN FACT, THE ONLY THING WE AGREE ON IS THAT MOTORCYCLES HAVE TWO WHEELS.
This is a test that MXA began nearly two years ago. Perhaps you remember the October 2014 issue, which featured a Cycra Racing Yamaha YZ450F on the cover that was clad in a retro white-and-red motif. Joe Gibbs Racing painstakingly handled most of the details, which covered everything from the engine to handling and suspension. The crew at JGRMX was able to squeeze 63 horsepower out of the YZ450F engine, thanks in part to serious internal modifications and an FMF Factory 4.1 exhaust.
The MXA wrecking crew doesn't have the same beliefs as Youthstream head honcho Giuseppe Luongo or former AMA Pro Racing official Steve Whitelock. In fact, the only thing we can all agree on is that motorcycles have two wheels and an engine. Luongo and Whitelock believed that 450s were too powerful and should be banned from professional racing. Their idea was thankfully quashed by the tide of popular opinion. The only reminder of that idea lives on in the KTM 350SXF, which is an enjoyable, consumer-friendly bike. Should we point out that it's also not raced by anyone in the top 20?
We don't believe that a motocross bike can have too much power. But, some powerbands can be too unhinged and uncontrollable. Power placement is more important than melting a dyno's computer processor. For that reason we commissioned X2 By Xceldyne Technologies—owned by CV Products out of Thomasville, North Carolina, and sister company to Cycra Racing—to build MXA a newer version of the 63-horse Yamaha YZ450F. Xceldyne Technologies, along with JGRMX, set to work on the unenviable task of trying to tame the beast without neutering the power too much. Although we didn't mind the massive horsepower number, we wanted a more manageable powerband.
JGRMX INSTALLED A COMPLETE X2 VALVE TRAIN, WHICH MADE SEVERAL MORE HORSEPOWER THAN THE STOCKER ON THE DYNO. ALTHOUGH IT WAS NO LONGER PUSHING 63 PONIES, IT WOULD BE MORE THAN POTENT IN THE RIGHT HANDS.
Xceldyne Technologies specializes in making titanium valves and valve train components. X2 is an offshoot of Xceldyne, and they offer steel valves as well as forged titanium. This cost-savings alternative brand, even with the long, drawn-out name of X2 By Xceldyne, makes sense, given that most weekend warriors will sacrifice overall performance for longevity. X2 was a natural fit for the Yamaha YZ450F project, because we already had all the horsepower we wanted; now we were aiming for durability and usability. After all, we weren't taking the X2 YZ450F to the nearest AMA 450 National and signing up.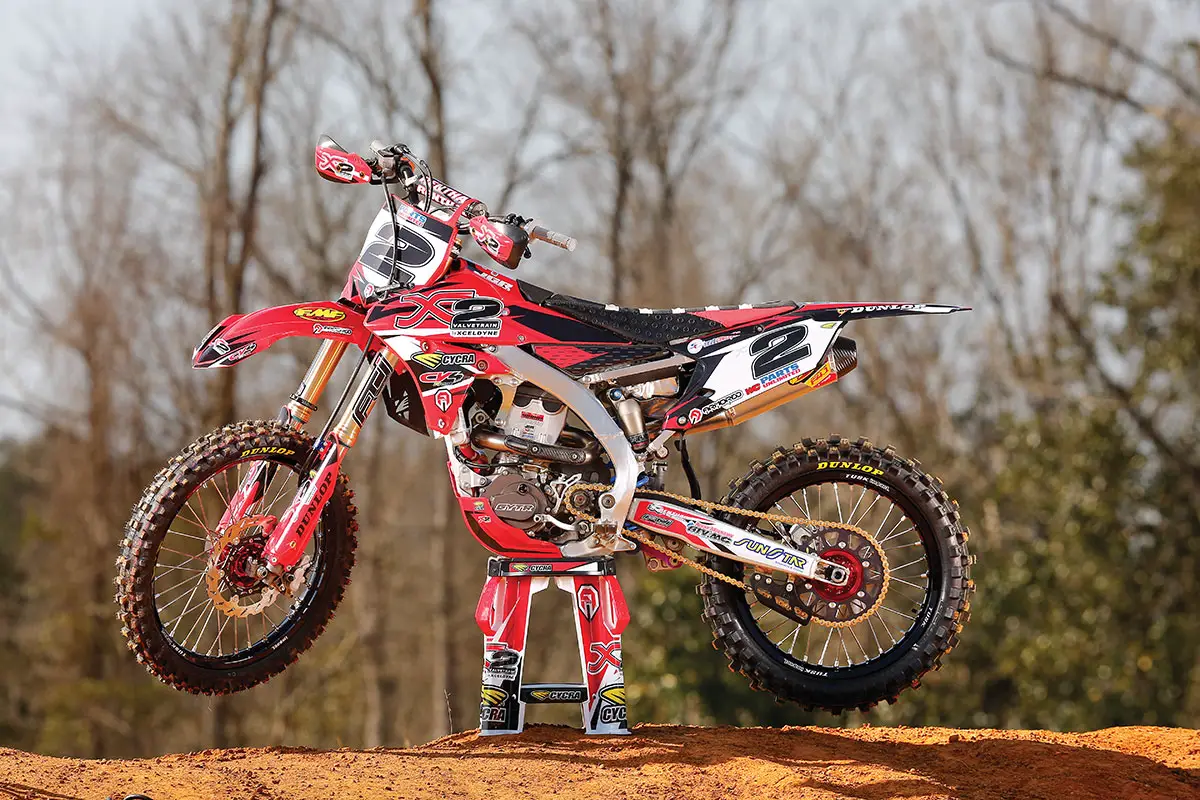 JGRMX installed a complete X2 valve train, which made several more horsepower than the stocker on the dyno. Although the YZ450F was no longer pushing 63 ponies, it would be more than potent enough in the right hands. We added a GET traction control device to allow our test riders to tailor the powerband to their liking. Simply turn the knob one way for more power, or choose a higher number for less wheelspin. An FMF Factory 4.1 stainless steel exhaust kept the costs lower than splurging on titanium while still bolstering performance. A Hinson clutch basket ensured proper clutch engagement and kept overall wear to an absolute minimum. The Sunstar sprockets and chain put power to the ground via Dunlop MX3S tires that were mounted to Tusk wheels. We also liked the Tusk brake rotors, as we've had good luck with Rocky Mountain's house-brand brakes before. Other products included Works Connection levers, a clutch perch, engine plugs and axle blocks; CV4 hoses, a high-pressure radiator cap and hour meter; a Seat Concepts seat cover and an Armored Graphics complete graphics kit.
FTI (Full Travel Innovations) Suspension is on the same business campus as Cycra Racing, CV Products and Xceldyne. Owner Cal Northrop is an experienced suspension tuner. More than that, he's a pleasure to work with—and MXA has done several projects with Cal in the past. That carries weight, given the importance of needing the tuner to solve suspension woes. FTI massaged the YZ450F internals and dialed in the valving for our chemical makeup.

It's no secret that the geometry of the latest YZ450F generation is slightly askew. Improvements can be made by changing the triple clamp offset, installing a longer pull rod, adjusting sag and lowering the subframe. Fortunately, we had the expertise of JGR, FTI and Ride Engineering at our fingertips. We chose 20mm-offset rubber-mounted Ride Engineering triple clamps. Then we had JGR install its adjustable pull rod, which can be adjusted from 142mm to 146mm. We opted for 144mm. Bouncing back and forth between lowering the subframe 10mm and adjusting race sag, we found superior balance between the forks and shock.
Cycra Racing takes special care in developing plastics that improve performance rather than just copying the stock plastics. Case in point: their Powerflow YZ450F body kit incorporates a one-piece shroud design that narrows the bike for better ergonomics. The shrouds have air scoops that promote airflow to the intake system, and the one-piece design doesn't use as many bolts as the stock plastics. Cycra Racing just introduced a limited-edition vibrant red set of plastics for the YZ450F, which we used on this build. Complementing the package were Cycra's Rebound hand guards. The $79.95 guards work just as well on the racetrack as they do in the woods.
"ONCE BLOOD WAS RESTORED TO OUR FACES, WE TURNED THE DIAL TO 9. IT ESSENTIALLY PUNCHED THE ENGINE IN THE BREADBASKET, LEAVING THE YZ450F WHEEZING."
You would be remiss in thinking that X2's YZ450F was going to be a slug compared to the fully modified JGRMX Yamaha from MXA's past test. Not so. With the GET traction control device on 1—a setting designed for deep loam—our arms were nearly ripped out of their sockets. Keeping the front end down was a chore. Once blood was restored to our faces, we turned the dial to 9. It essentially punched the engine in the breadbasket, leaving the YZ450F wheezing. From there we chose the number 5 setting. Eureka! A perfect blend of power and control. We could crack the throttle without wondering if the rear fender was going to rip off from looping out. Some testers felt the differences in map settings on the GET system were too extreme. Once they found the magic number, they were leery of deviating from the setting. The GET traction control device is a smart buy for those who ride on a variety of different track surfaces—hard pack, loam, sand and even concrete. We were able to nail third-gear starts on hard pack with the GET system, which is a huge advantage over the competition.

Initially, we had trouble dialing in the FTI-tuned YZ450F suspension. The forks were harsh and felt rigid in the initial part of the stroke. In situations where the suspension was consistently loaded, the forks were very good, but we wanted optimal performance in all areas of the track. We raised the race sag to 100mm (it was previously 110mm) and went out on the shock's high-speed compression. After putting more load on the front end we softened up the fork's compression and slowed down the rebound. Those changes improved the suspension action and, in turn, increased our confidence in corners. Slightly modifying the shim stack would have done the trick by smoothing out the forks.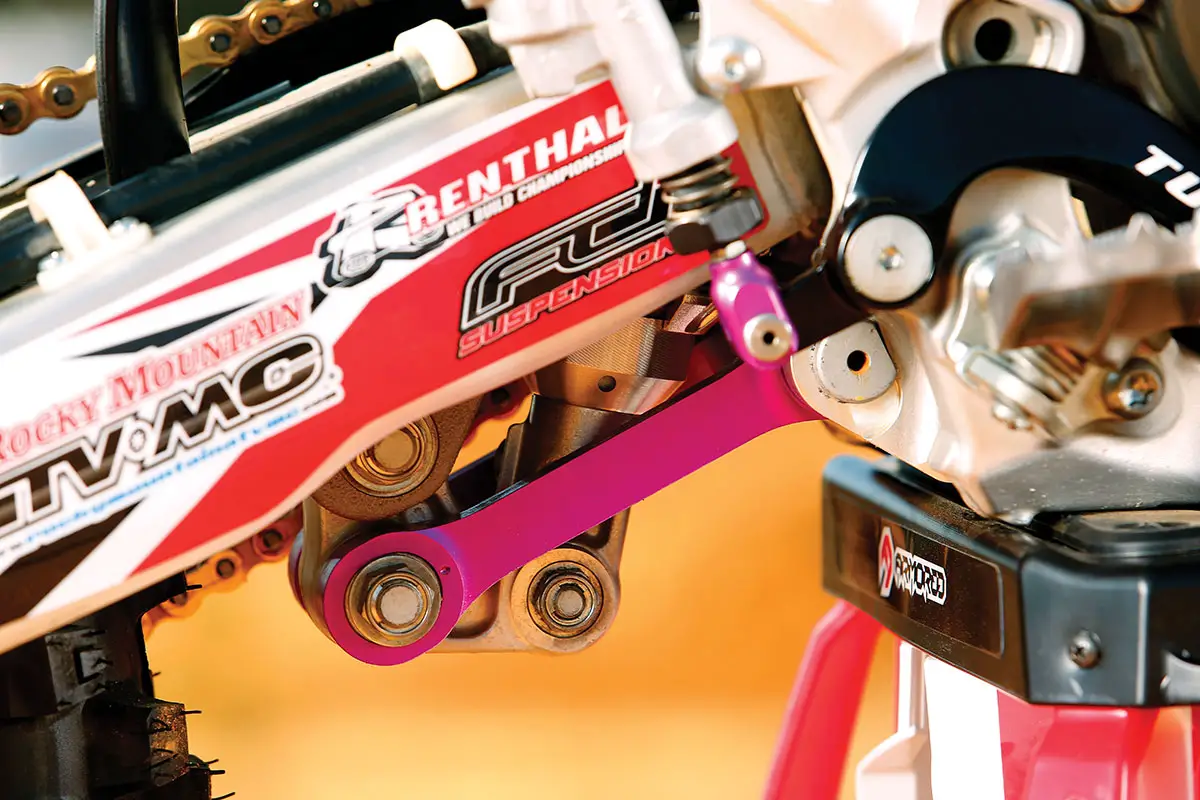 The X2 by Xceldyne Yamaha was noticeably narrow  for a YZ450F. We liked the one-piece Cycra shrouds, because our knees felt connected to the bike rather than splayed out at an awkward angle like with the stock   radiator shrouds.
It is possible, especially with a 450 four-stroke, to make better power when you have more power to work with. Is your stock YZ450F too powerful? No problem. Borrow a GYTR Power Tuner and richen it up and retard the ignition. You'll get mellower power without going overboard or bankrupt. The X2 by Xceldyne Yamaha YZ450F proved that we could take a fire-breathing beast and turn it into a pussycat. One caveat: first you need to start with a fire-breathing beast. For more information on X2, visit www.xceldyne.com or call (336) 475-0201. For fork and shock help go to www.ftiracing.com or call (336) 475-2104. JGRMX can be reached at (877) 905-4769 or on the web at www.jgrmx.com.
You could have read this story several months ago, if you subscribed to MXA. Click below for details.