WE RIDE YOSHIMURA'S FULL-RACE 2013 HONDA CRF450 TWIN-PIPER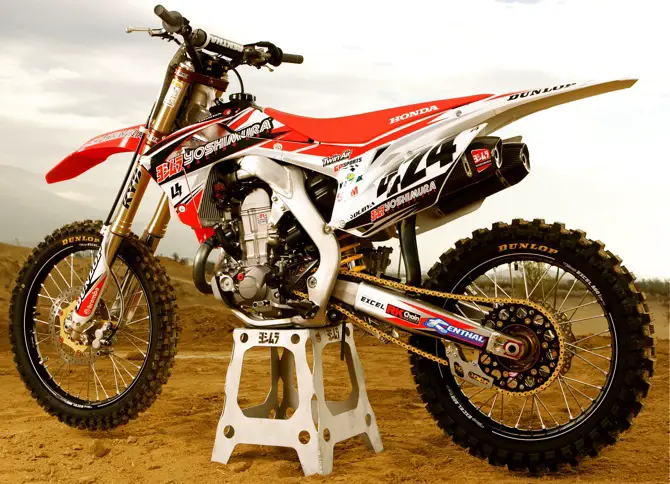 Yoshimura's 2013 Honda CRF450 bike test is significant for several reasons. Let us count the ways.
(1) The 450 four-stroke with the most updates for 2013, the Honda CRF450 has received considerable attention from consumers and, in turn, aftermarket companies. A redesigned chassis, revised combustion chamber, Kayaba PSF air forks, six-spring clutch, twin mufflers and new bodywork have made ripples in the motocross industry. It's no surprise that Yoshimura would focus on research and development for the 2013 CRF450, because it's a cash cow.
(2) Honda has long been at, or near, the top in motocross bike sales. Priding themselves on high-quality, performance-driven machinery and backed by big-name riders?Jeremy McGrath, Chad Reed, Trey Canard, Kevin Windham and Justin Barcia, to name a few?Honda generates serious buzz when they release a new model. The MXA wrecking crew can attest to this fact, because we've been flooded with questions about the 2013 CRF450.
Don't be shocked when you see more and morel MXA Honda CRF450 bike builds in the coming months. Why? Aside from all the reasons mentioned above, the MXA wrecking crew is interested in discovering the best products for the CRF450. Just like you, we thirst for information. Testing Yoshimura's project bike was an excellent starting point. Yoshimura works closely with Team Honda on exhaust development. Truth be told, Yosh had a 2013 CRF450 in their possession long before anyone else in the U.S. was given the opportunity to test ride the bike. Yoshimura's jump-start in research and development allowed them to develop a bevy of components to release as soon as the CRF450 was unveiled. It was a brilliant strategy. Consumers yearning for an aftermarket exhaust system turned to Yoshimura, because their twin design was the only one available. It's the very definition of supply and demand.

Yoshimura was first to the gate to build MXA a 2013 Honda CRF450, and they had a surprising number of modifications.
CONSUMERS YEARNING FOR AN AFTERMARKET EXHAUST SYSTEM TURNED TO YOSHIMURA INITIALLY, BECAUSE THEIR TWIN DESIGN WAS THE ONLY ONE AVAILABLE AT THE TIME. IT'S THE VERY DEFINITION OF SUPPLY AND DEMAND.
Although they got a jump on the competition, Yoshimura is still constantly developing the 2013 Honda CRF450. There is much to be learned about the new bike. Yosh spent several months testing various camshaft, pipe and piston designs, and they also intend to release a single-sided exhaust in the not-too-distant future. Yoshimura gave us their 2013 CRF450 to test. Attention was given to the engine, exhaust, clutch, suspension and mapping. Of course, quite a few high-quality add-ons were thrown in for good measure.
(1) Engine. Our CRF450 test bike had a Yoshimura Stage 2 kit, which came with a camshaft ($549), cylinder head porting ($683.96) and piston ($249.95). The consumer must ship his engine parts to Yoshimura. The beauty of the camshaft is that it drops right into the engine, meaning that no special shims or springs are needed. The cam lobes have higher lift and more duration. Yoshimura's goal was to improve low-to-midrange power without disrupting gains made with their piston, which was developed with CP Pistons and has high compression (13.5:1 as opposed to the stock 12:1 ratio). Yoshimura's Sean Gutierrez said, "We wanted to build an engine package that any local guy?fast or slow?could successfully race with." The Yosh engine wasn't tuned to a standstill and, best of all, ran on 91-octane pump gas.

(2) Exhaust. Complementing the engine package was Yoshimura's RS-9 titanium/carbon fiber exhaust system. It is a work of art. The titanium header has a three-stage tapered design for better power, throttle response and power delivery. A bung for the air/fuel sensor was installed into the head pipe. The vertical divider at the mid-pipe splits the exhaust gases more evenly for smoother flow and better mid-to-top power and throttle response. The twin carbon fiber mufflers look great and have increased volume for better performance and noise reduction. As for the sticker price, you might want to sit down. Yoshimura's RS-9 titanium/carbon system retails for $1495.00. No, that's not a typo. If you're looking for something less expensive, might we suggest the titanium/titanium ($1395.00) or more economical stainless/aluminum ($895.00) system?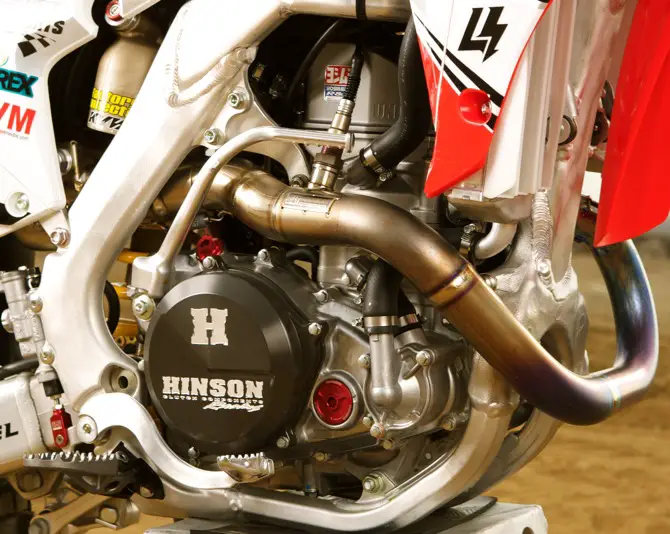 Yoshimura got an early jump on 2013 CRF450 engine development because of their connections to Team Honda. We tested their Stage 2 kit.
(3) Factory Connection. Yoshimura and Factory Connection have a close relationship thanks to their partnership with the Geico Honda 250 team. Since the 2013 CRF450 has new suspension, thanks to Kayaba's Pneumatic Spring Fork (PSF), Factory Connection (FC) worked at a fevered pitch to get settings dialed in for the MXA wrecking crew. Factory Connection enlisted the services of Geico Honda team manager Mike LaRocco to help in developing the baseline settings. It was a joy for the MXA wrecking crew to get to spend some time with Mike LaRocco during our suspension setup and testing days. Mike knows Honda suspension inside and out.

(4) Forks. Factory Connection found that the Kayaba PSF forks have a lot of rebound control, which tends to make the forks hang down in their stroke and pack under a load. The result is a stiffer-feeling fork and considerable deflection. Factory Connection decreased the high-speed rebound for better performance. Most Honda riders complain that the PSF forks blow through their travel when the air pressure is set where they like it. To combat this, Factory Connection firmed up the mid-valve and softened the compression adjuster. The oil level and air pressure were adjusted based on individual test riders, but those ranging from 165 to 180 pounds felt that 34 psi was the magic number.

(5) Shock. Factory Connection added low- and high-speed compression damping to the main shaft valving. The compression adjuster had a lighter valve setting to help the shock track while remaining plush and progressive. As for rebound, Factory Connection used less low-speed rebound to allow the shock to be responsive in smaller bumps and choppy terrain. More high-speed rebound was added to give the shock better control, especially deeper in its stroke. We ran 108mm of sag with a stiffer 5.7 kg/mm shock spring. We even tried a 5.9, but it was too stiff.

The XTrig triple clamps are a thing of beauty. We love the rubber-mounted bar clamps and color anodizing.
(6) PIM2. An acronym for Peripheral Interface Module, PIM2 allows for electronic fuel-injection management capabilities. In other words, you can reprogram the ECU maps. Originally released in late 2008, the Yoshimura software has been improving with each passing year. The PIM2 program has over 400 adjustment points, a full range of mapping (at 500 rpm intervals) and uses plug-and-play technology to make mapping adjustments quick and easy.   
(7) Data Box. The Data Box ($429) uses information from the air/fuel sensor in the head pipe. It reads the air/fuel ratio, working in conjunction with the PIM2 to self-map the bike by calculating the required fuel adjustment at each rpm and throttle position to reach the user-selectable target air/fuel ratio. It is the motocross version of artificial intelligence.

(8) Hard parts. The Yoshimura CRF450 project bike wouldn't be complete without the support of other aftermarket companies. Xtrig supplied the adjustable offset triple clamps (we opted for the stock 20mm offset instead of turning the stem around and using the 22mm offset). The Xtrig shock preload adjuster made it simple to make sag changes. Renthal provided TwinWall 997-bend handlebars, medium-compound half-waffle grips, and sprockets. An RK chain was added, as well as a Works Connection clutch perch, Motion Pro rim locks, Twin Air filter and cage, an oversize Brembo front rotor, Motorex engine oil, and Lime Nine custom graphics. Dunlop tires (MX51FA front and MX51 rear), a complete Hinson six-spring clutch kit, Excel A60 rims with Talon hubs and heavy-duty stainless steel spokes were included. Last but not least, Yoshimura added their red-anodized engine plug kit with the oil-filler and timing-inspection plugs, as well as the rear brake clevis and steering-stem nut.
The 2013 Honda CRF450 finished fourth in "MXA's 2013 450 Four-Stroke Shootout." Here's why. In stock trim, the CRF450 is a sharp-handling bike with decent suspension (the forks are nice, but the shock is undersprung), fair braking power and an engine that is softer than the Pillsbury Doughboy.
Yoshimura targeted the problem areas?chinks in the armor that are obvious to anyone not named Scarecrow?and made improvements using top-shelf components. The effort yielded a machine more than capable of leapfrogging over the competition (depending on individual riders' tastes).
YOSHIMURA WAS VERY WISE TO TARGET PROBLEMATIC AREAS?CHINKS IN THE ARMOR OBVIOUS TO ANYONE NOT NAMED SCARECROW?AND MAKE IMPROVEMENTS USING TOP-SHELF COMPONENTS.

Another victim of poor brakes, the CRF450 desperately needs an oversize front brake rotor. Brembo came to our rescue.
It's amazing what a different camshaft, high-compression piston, ported cylinder head and exhaust can do to the CRF450. Yoshimura claimed a five-horsepower increase with the engine mods, and we're not about to argue with them. It bested the stock powerplant in every category. From bottom-end hit and throttle response to midrange pull and top-end zest, the Yoshimura CRF450 was a kick in the pants. It wasn't so monstrous as to erase the stock powerband's characteristics, but it was built on the premise that a usable engine with broader power is best.
There are certainly ways to summon more demons out of the CRF450 engine, but Yoshimura wisely went about their powerplant upgrades without taking the birdshot approach. The engine didn't try to pull our shoulders out of their sockets, but instead gained ground quickly and effectively. We admit that the Yoshimura modifications won't trump a stock 2013 Kawasaki KX450F or KTM 450SXF engine. Keep in mind that the stock CRF450 produced the least horsepower on our dyno, at 51.55 ponies. Having said that, the Yosh upgrades bolstered the CRF450 considerably.
ALTHOUGH WE WEREN'T TRYING TO BREAK ROBBIE MADDISON'S LONG-DISTANCE RECORD, THE STRENGTHENED WHEELS WERE PEACE OF MIND WHEN CASING JUMPS, WHICH WE DID OFTEN.
During the test, we tried a Yoshimura-programmed mapping change. The engineers at Yosh discovered that the stock CRF450 mapping was lean from 0 rpm to 4500 rpm, richened up from 4500 to 7500 rpm, and then leaned back out until it reached the redline at around 10,000 rpm. Yoshimura richened the fuel by 10 percent right off idle, which aided in throttle response. The fuel ratio was also changed in the midrange and top end. It was immediately noticeable and was liked by every MXA tester.   

The carbon fiber twin-pipes are a work of art. At $1500, they are also expensive. Yosh does sell a less expensive system.
Factory Connection went to great lengths to dial in the CRF450 suspension for us. We didn't exactly help their cause when we asked them to set up the CRF450 for a 200-pound rider before we ever got to the track. Then, for the test, we sent a fleet of 165- to 185-pound riders. It threw a wrench in the system. Factory Connection lowered the shock-spring rate and pulled oil and air out of the forks. It was incredible how quickly we came to love Factory Connection's settings. The CRF450 felt relatively balanced, front to rear, right off the bat. Our biggest challenge was getting the shock to settle. The Factory Connection techs solved the problem by adjusting the high-speed compression and changing the sag. We were pleased that Factory Connection opted for a 5.7 kg/mm spring, as the stock 5.5 kg/mm was too soft for our tastes. It's with joy that we say bravo to Factory Connection on their 2013 CRF450 setup specs.
It's hard to go wrong with a complete Hinson clutch and Works Connection clutch lever on the Honda. The gummy sensation of the stock clutch pull was gone, replaced with the freedom to feather and abuse the clutch without fear. The Dubya wheelset was a nice touch. Although we weren't trying to break Robbie Maddison's long-distance record, the strengthened wheels were peace of mind when casing jumps, which we did often. The Xtrig triple clamps, with their rubber-mounted bar inserts, are the gold standard. They're a nuisance to install, but since Yoshimura built us the bike, we didn't have to do the grunt work. Of course, you can't go wrong with Renthal's bombproof TwinWall handlebars, and their medium-compound grips felt like a second layer of skin.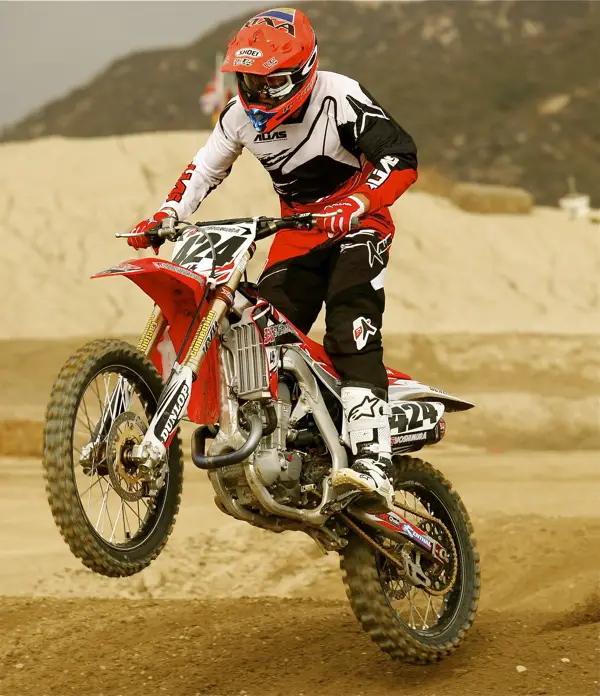 The Stage 2 kit added much needed top-end power for most riders, but Pro's were looking for even bigger gains.
Believe us when we say that the Yoshimura 2013 Honda CRF450 is the first in a long line of CRF450s that MXA will be testing in the coming months, but it might very well set the standard by which all other bike builds will be judged. They did an outstanding job of improving the sub-par areas on the CRF450 without changing the bike's personality. Frankenstein's monster it is not; it is a real-world racing machine for the masses.
For more information about MXA's 2013 Honda CRF450, please visit www.yoshimura-rd.com and www.factoryconnection.com .