MXA'S WEEKEND NEWS ROUND-UP: DEAN FERRIS OUT OF MXDN
DEAN FERRIS BREAKS LEG, WILL MISS MXDN

Dean Ferris broke his femur in a small crash in the second moto of the Brazilian Grand Prix. Ferris was running third when he went down (you can see the crash below). This was an especially bad break for Ferris because he had a fill-in ride with the Husky team and was hoping to put in a good enough performance to get a ride on the GP circuit in 2015. Ferris was selected for the Australian Motocross des Nations team, but will not be able to ride. Brett Metcalfe would be the next logical choice.
DEAN FERRIS' CRASH
WHO ARE THEY KIDDING? NOBODY IS EVER GOING TO PAY THAT MUCH FOR A DIRT BIKE

NEVER PICK YOU HUSKY UP BY THE REAR FENDER…PLEASE USE THE HAND HOLDS

WHAT? NO VALET PARKING?

WORDS TO LIVE BY

HEY! DID YOU GUYS SEE THAT FIRST TURN CRASH?

TO AVOID BURN-OUT ITS IMPORTANT TO TAKE SOME TIME OFF FROM RACING

ENJOY THEM WHILE YOU CAN…BECAUSE THEY WILL GO MIA PRETTY QUICKLY


DARYL ECKLUND'S YZ250F AND JOHN BASHER'S CANON GET UP CLOSE AND PERSONAL

WOULDN'T YOU LOVE TO SEE SUZUKI MAKE THIS BIKE? RANDY SKINNER BUILT HIS OWN

SOME WORKSHOPS ARE JUST INHERENTLY BETTER THAN OTHERS

WAS THAT A NICKEL ON THE GROUND?
YOU MEET THE NICEST PEOPLE ON A RT-1…INCLUDING BOB


BLAKE BAGGETT TO YOSHIMURA SUZUKI
Blake Baggett looks to the future.
Who rides for whom at this stage of the season is like knowing what's under the Christmas tree in September — it doesn't mean much until the package is actually opened. But, Mitch Payton told us that Blake Baggett will leave the Pro Circuit team to take a 450 ride at Yoshimura Suzuki. Baggett was in a good negotiating position because he was free to look for a new ride, while knowing that if he failed to get the gig he wanted that Mitch would take him back. What Baggett's move to the previous one-rider Suzuki team (and all the bad press that they have engendered this season) is left to be sorted out in the near future.
A CLASSIC LOOK FOR A KTM 450EXC
New Hampshire bike builder Walt Siegl, most famous for his exotic Ducati Leggero customs, turned his attentions for a dirt bike with an eye towards capturing the visuals of past times, while still having the high-tech performance of a modern KTM.  To see more of Walt's work, go to www.waltsiegl.com.
CANADIAN ARENACROSS CHAMPIONSHIP… WELL, MORE LIKE THE BRITISH COLUMBIA VERSION

HUSQVARNA TO BUILD SUPERMOTO-READY FS450
News from Europe is that Husqvarna will return to Supermoto racing next year with the new FS450. Based on the FC450 motocross bike, the FS will feature an Adler slipper clutch, five-speed gearbox, injection molded subframe, 280mm travel forks, Brembo radial brakes and Metzeler tires.
The 2015 Husqvarna FS450 will be available in Europe in October, but no word on whether it will be imported in the USA (and given the dormant state of U.S. Supermoto racing, very few would be imported).
EVERYTHING YOU NEED TO KNOW ABOUT THE 2014 WORLD VET CHAMPIONSHIPS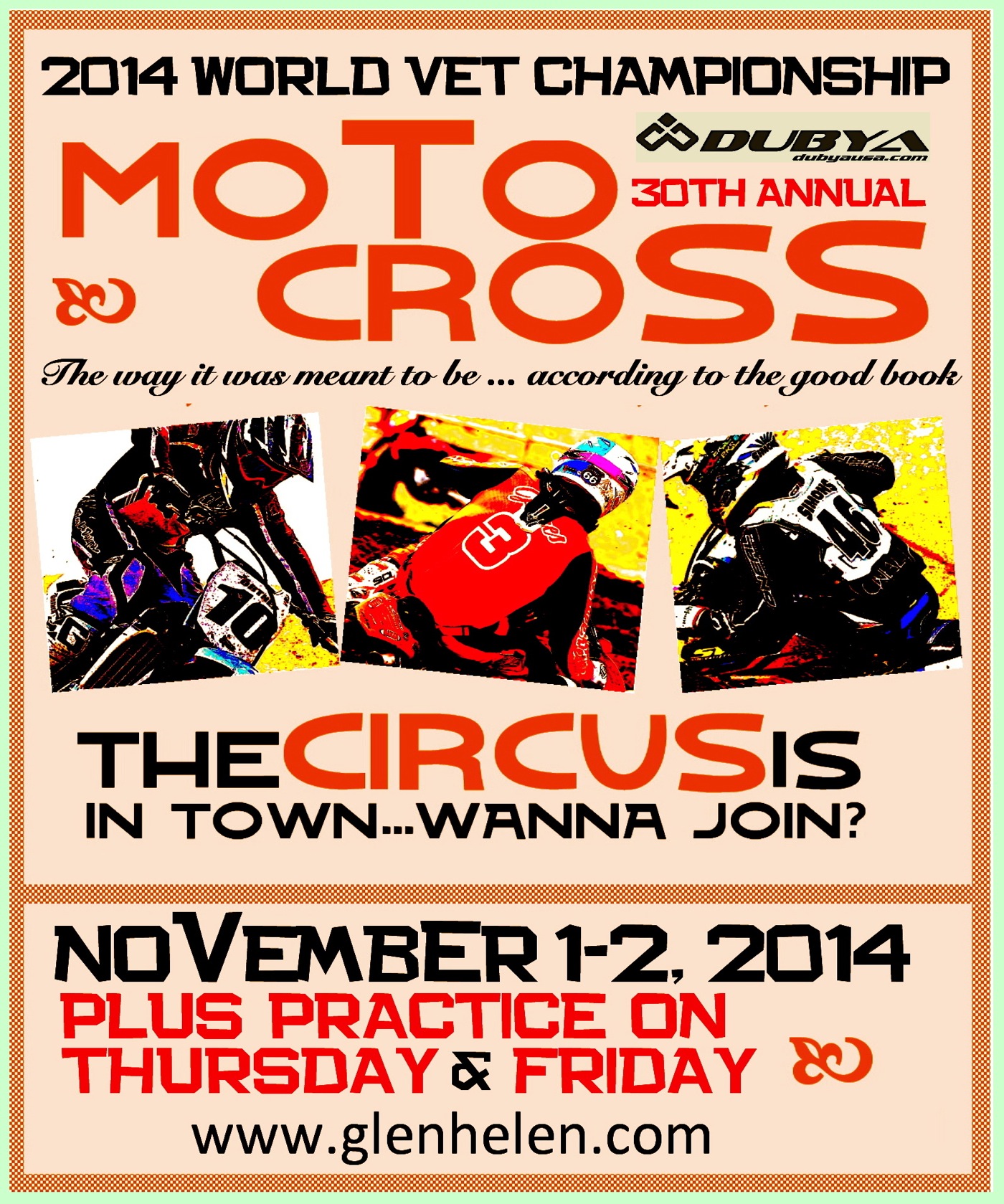 It's hard to believe that the "World Vet Championship" is old enough to be in the Vet class. It celebrates its 30th year at Glen Helen Raceway on November 1-2, 2014, with a new Title Sponsor, who is really its old sponsor and founding father. Dubya Wheels will be the new title sponsor (with help from MTA), but they aren't really a new sponsor. Tom White not only sponsored the first World Vet in 1994, but actually founded the event and sponsored it for 26 years. He is back as the sponsor again—by having his daughter's company, Dubya Wheels, become the Title Sponsor in 2014.
Here is the schedule of events for the most important Vet race in the world—start making plans now
Thursday, October 30 will feature an open practice from 8:00 a.m. to 2:00 p.m. The Dubya World Vet Motocross Championships (Presented by MTA) will boast a National-caliber track using all of the famous Glen Helen landmarks such as Talledega, Mount St. Helen, Yamaha Hill and the Velodrome. Thursday is a chance for out-of-state and out-of- country riders to get adapted to the track—while riding with AMA Nationals Pros and 16 year old kids. It's a wild day — and it might be better to sit this one out and wait for Friday's practice.
Friday, October 31 offers a special practice, limited to riders who have pre-entered into the 2014 Dubya World Vet Championship. This practice runs from 8:00 a.m. to 12:00 p.m. On this day the vendors will be setting up shop and the Glen Helen/Troy Lee Museum will be opened in the afternoon for a historic motocross bike show from Tom White's "Early Years of Motocross Museum."
Saturday, November 1 brings racing to the World Vet Motocross event. The highlight of  Saturday is the Over-40 Pro Championship. There will be support classes for Novice, Intermediate and Expert racers in age groups 25, 30, 35, 40, 45, 50, 55, 60 and Over-70. Over-30 Women will also have a class. It should be noted that the only Official World Championship class on Saturday is for the Over-40 Pros —for everyone else it is a chance to work out the kinks before the big day on Sunday
Sunday, November 2 is the official World Veteran Motocross Championships day. All the same classes that ran on Saturday will race on Sunday—only this time it is for all the marbles. The exception is that the Over-40 Pro class (who named their Champion on Saturday) will be replaced by the Over-30 Pro Championship and a $4000 purse! Last year Travis Preston won the crown and has already confirmed that he intends to defend it vigorously in 2014.
Sunday at noon the Edison Dye Motocross Lifetime Achievement Award will be presented for the 17th time. Initiated to honor individuals who have made a positive contribution to our sport, the award has been received by Edison Dye, Roger DeCoster, Jeff Ward, Joel Robert, Torsten Hallman, Bob Hannah, Bruce Brown and John DeSoto (among others). This year the 2014 Edison Dye Motocross Lifetime Achievement Award will be presented to AMA Hall of Famer, Catalina Grand Prix winner and the man who has raced the more motocross races than anyone on the planet — 83-year-old BSA factory rider Chuck "Feets" Minert.
Nuts and Bolts of the World Vet: Pre-entries are open until October 30. The cost is $40 for the first class and $30 for a second class. Post-entries will begin on Friday, November 1, and are $50. The Over-30 and Over-40 Pro Class entry fee is $50 (pre or post). Practices on both race days (Saturday and Sunday) will begin at 7:30 a.m. Riders can ride in their age appropriate class and are then eligible to move down one skill level for every ten years (for example, an Over-50 Expert can race the Over-40 Intermediate class). Scoring will be by transponder and you must bring your driver's license to sign-up to prove that you are the right age before transponders will be handed out. No driver's license—no race. This goes for both pre-entered riders, who must check in, or post entries. For more info or to pre-enter go to www.glenhelen.com
 

THIS WEEK'S BIRTHDAY BOYS: HERLINGS TURNS 20

Sept. 6…Doug Henry 1969
Sept. 9…Tim Gajser 1996
Sept. 9…Anthony Paggio

Sept. 10…Chuck Sun 1956
Sept. 12…Robbie Horton
Sept. 12…Ryan Huffman 1974
Sept. 12…Dean Baker

Sept. 12…Jeffrey Herlings 1994
USED IT, ABUSED IT, TESTED IT: WORKS CONNECTION FACTORY 4 SUPER-WIDE STAND

Works Connection has come out with a wider, lower and stronger aluminum bike stand that is a 1/2 inch lower (16.5 inches) and two inches wider (12-inches) across the top than a normal bike stand. It is stronger than a normal stand and a little lower, but the big plus is that the top deck is large enough that you don't miss it when tossing your bike on it.
VERDICT: You wouldn't think that a one-half inch lower bike stand would be noticeable, but several test riders said that they could get the bike up on the Factory 4 stand with less effort. The other plus is that the super-wide top piece decreases the chances of overshooting the stand (during that last-ditch pitch). With a 12-inch top instead of a 10-inch top, the bike sits more securely. On the durability scale, the wider top spreads the curved tubing legs out for a better stance, which made the stand much more durable. $99.95 (stand), $19.95 Stand Wedge), $19.95 (replacement mat) – www.worksconnection.com or (530) 642-9488.
DO YOU PLAN AHEAD? IF SO, HERE IS THE 2015 AMA SUPERCROSS SCHEDULE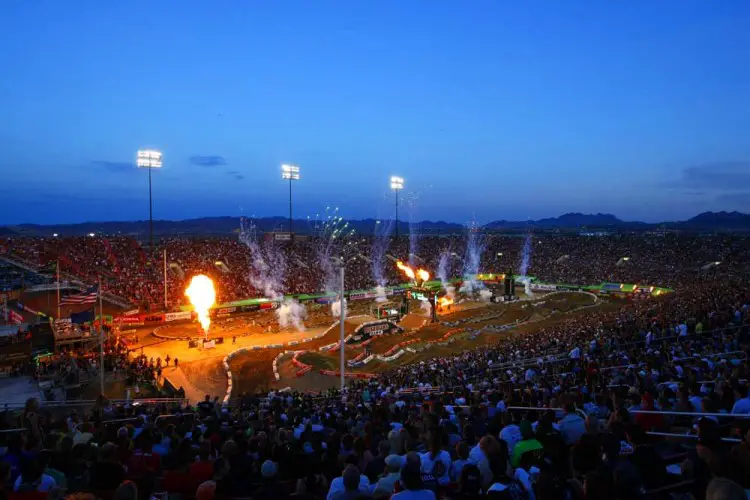 Jan. 3………………….Anaheim, CA
Jan. 10…………………Phoenix, AZ
Jan. 17…………………Anaheim, CA
Jan. 24…………………Oakland, CA
Jan. 31…………………Anaheim, CA
Feb. 7………………….San Diego, CA
Feb 14…………………Arlington, TX
Feb 21…………………Atlanta, GA
Feb 28…………………Atlanta, GA
March 7………………..Daytona, FL
March 14……………..Indianapolis, IN
March 21……………..Detroit, MI
March 28……………..St. Louis, MO
April 11………………..Houston, TX
April 18………………..Santa Clara, CA
April 25………………..East Rutherford, NJ
May 2…………………..Las Vegas, NV
ASK THE MXPERTS: 2010-2013 YAMAHA YZ450F MAP ADVICE
Dear MXA,
I own a 2012 Yamaha YZ450F and I've struggled with the power delivery. Please tell me the numbers for the "MXA Map" that everyone talks about.
First, you will need a GYTR Power Tuner. You don't need to buy one, just borrow one from a racer who already owns one – because you'll only need it for about 30 seconds. Please note that the GYTR Power Tuner does not come with maps in it. As it comes out of the box, all the fields in the GYTR Power Tuner are set at 0, 0, 0, 0, 0; which are the stock ignition and fuel map settings. You have to make your own maps, which is easy to do. Each number in the fuel map is a three percent change. So, entering a "+4" makes the bike 12 percent richer than the stock "0" setting in that performance area (and "-4" makes it 12 percent leaner). The ignition map either retards (-) or advances (+) the ignition by one degree per whole number (for example, entering a -3 retards the ignition three degrees).
Most MXA test riders preferred to race with our "Less Hit" map (which you can see below). It richens the fuel and retards the ignition at partial throttle settings below 4000 rpm. It stopped the barky low-end hit that causes the front wheel to lift on the exit of turns. It mellows out the powerband, but actually makes it easier to go fast on. This map does not work on the 2014-2015 Yamaha YZ450F (only 2010 to 2013 YZFs).
ASK THE MXPERTS: MAP FOR A 2014 YZ450F WITH AN AFTERMARKET EXHAUST SYSTEM
Dear MXA,
I have run MXA's YZ450F map with great success ever since I got the bike, but I understand that MXA has a different map for 2014 YZ450F's that have aftermarket exhaust pipes. I just put a DR.D system on my bike and while it runs okay, everybody says that your map is better. Can you help?
THE GP'S GO SOUTH OF THE BORDER, BUT WHO'S BORDER?
2014 250/450 WORLD MOTOCROSS CHAMPIONSHIP
September 14…Mexico
2014 FIM SIDECAR MOTOCROSS WORLD CHAMPIONSHIP
September 14…France
September 21…Germany
2014 WORLD OFFROAD CHAMPIONSHIP (WORCS) SERIES
September 12-13… Glen Helen
October 17-19…Primm
2013 ALL-JAPAN MOTOCROSS CHAMPIONSHIP
September 14………Meihan
October 5…………..Hiroshima
October 26…………Sugo
2014 MAXXIS BRITISH CHAMPIONSHIP
September 21….Foxhill
2014 MOTOCROSS DES NATIONS
September 28….Latvia
2014 RED BULL STRAIGHT RHYTHM
October 4….Pomona
2014 GEICO ENDUROCROSS  CHAMPIONSHIP
October 4…Denver
October 11…Salt Lake City
October 18…Everett
November 15…Boise
November 22…Ontario
2014 MONSTER CUP
October 18….Las Vegas
2014 AUSTRALIAN SUPERCROSS CHAMPIONSHIP
October 10……….Bathhurst
October 11………..Bathhurst
October 18………..Phillip Island
October 19………..Phillip Island
November 8………Brisbane
2014 CANADIAN ARENACROSS CHAMPIONSHIP
October. 24-25…………Armstrong, BC
November 7-8…………..Cloverdale, BC
November. 28-29………Chilliwack, BC
December. 5-6…………..Chilliwack, BC
2014 REM OCTOBERCROSS (FORMERLY COMMOTION BY THE OCEAN)
October 25……………..Glen Helen, CA
2014 WORLD VETERAN MOTOCROSS CHAMPIONSHIP
November 1-2…………….Glen Helen
WELCOME JEREMY MARTIN: THIS IS THE CLUB YOU HAVE JOINED
2014 AMA 250 National Champion Jeremy Martin.
125/250F NATIONAL CHAMPIONS (1974-2014)
1974 …Marty Smith (Hon)

1976 …Bob Hannah (Yam)
1977 …Broc Glover (Yam)
1978 …Broc Glover (Yam)

1979 …Broc Glover (Yam)
1980 …Mark Barnett (Suz)

1981 …Mark Barnett (Suz)
1982 …Mark Barnett (Suz)

1983 …Johnny O'Mara (Hon)
1984 …Jeff Ward (Kaw)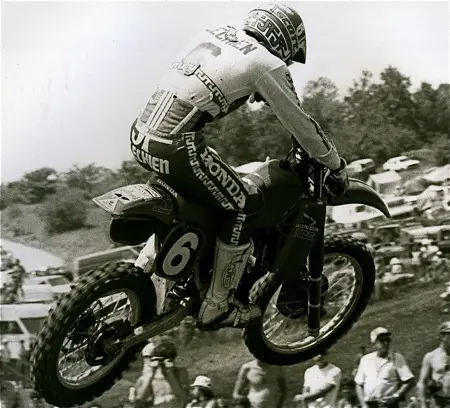 1985 …Ron Lechien (Hon)
1986 …Micky Dymond (Hon)
1987 …Micky Dymond (Hon)
1988 …George Holland (Hon)
1989 …Mike Kiedrowski (Hon)

1990 …Guy Cooper (Suz)
1991 …Mike Kiedrowski (Kaw)
1992 …Jeff Emig (Yam)
1993 …Doug Henry (Hon)
1994 …Doug Henry (Hon)
1995 …Steve Lamson (Hon)
1996 …Steve Lamson (Hon)
1997 …Ricky Carmichael (Kaw)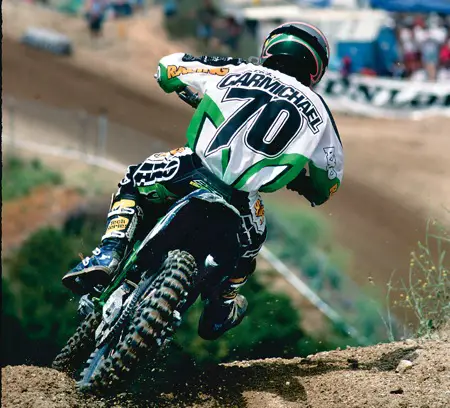 1998 …Ricky Carmichael (Kaw)
1999 …Ricky Carmichael (Kaw)
2000 …Travis Pastrana (Suz)
2001 …Mike Brown (Kaw)

2002 …James Stewart (Kaw)
2003 …Grant Langston (KTM)
2004 …James Stewart (Kaw)
2005 …Ivan Tedesco (Kaw)
2006 …Ryan Villopoto (Kaw)

2007 …Ryan Villopoto (Kaw)
2008 …Ryan Villopoto (Kaw)
2009 …Ryan Dungey (Suz)
2010 …Trey Canard (Hon)
2011 …Dean Wilson (Kaw)
2012 …Blake Baggett (Kaw)
2013 …Eli Tomac (Hon)
2014 …Jeremy Martin (Yam)
Photos: Debbi Tamietti, KTM, M. Campbell, H. Mitterbauer, Pro Circuit, John Basher, Ray Archer, Chris Alamangos, Jody Weisel, MXGP, MXA Archive