WHAT IT'S LIKE TO RACE THE 2015 KTM 450SXF
Click on images to enlarge.
MXA test riders are no different that other motorcycle racers—perhaps handsomer, but still imbued with the "Hope Gene." What is the hope gene? It is the belief that things will get better, that tomorrow will be a better day, that good things come to those who wait and that this year's new model is better than last year's new model. And so it goes with motocross bikes. Even when we have positive proof that a bike hasn't gotten better, we still run out and buy that bike…because it must be better…it just must be.
As test riders, MXA lives and breathes new motorcycles and quite often we get our hopes smashed. It's part of the job. The other part of the job is to tell every one of our readers the unvarnished truth about what's good and what's bad about some very expensive play toys. It does us no good. It does you no good. It does the engineering departments of the major manufacturers no good. It does no one any good for MXA to write flowery prose about a stink weed. We'll leave that to others.
Which leads the MXA wrecking crew to the 2015 KTM 450SXF. This isn't an official bike test—an official, full-blown, bike test takes place over a long period of time. How long? Until we are satisfied that we know all there is to know. Thus, this is just an impression based on six days of testing—plus racing the 2015 KTM 450SXF in a couple different classes. We've ridden it at Piru, Competitive Edge, Milestone and Elsinore and raced it at Glen Helen. We thought that this would be a good time for every diehard KTM fans, especially those waiting to hear anything about the bike they might pull the trigger on next month, to learn a little about what we learned in the past week.
There is always a caveat with a riding impression based on a short time on a bike — MXA's learning curve is rapid. In one day we learn a little. The second day we add to that base. The third day we undo the things we did wrong on days one and two and by the time we decided to write the full-blown test for Motocross Action, we have strung together 40 days or more. Thus, you are meeting us on day six…we will learn a lot in the near future. So, forgive us our errors, for we know not what we do this early in the program.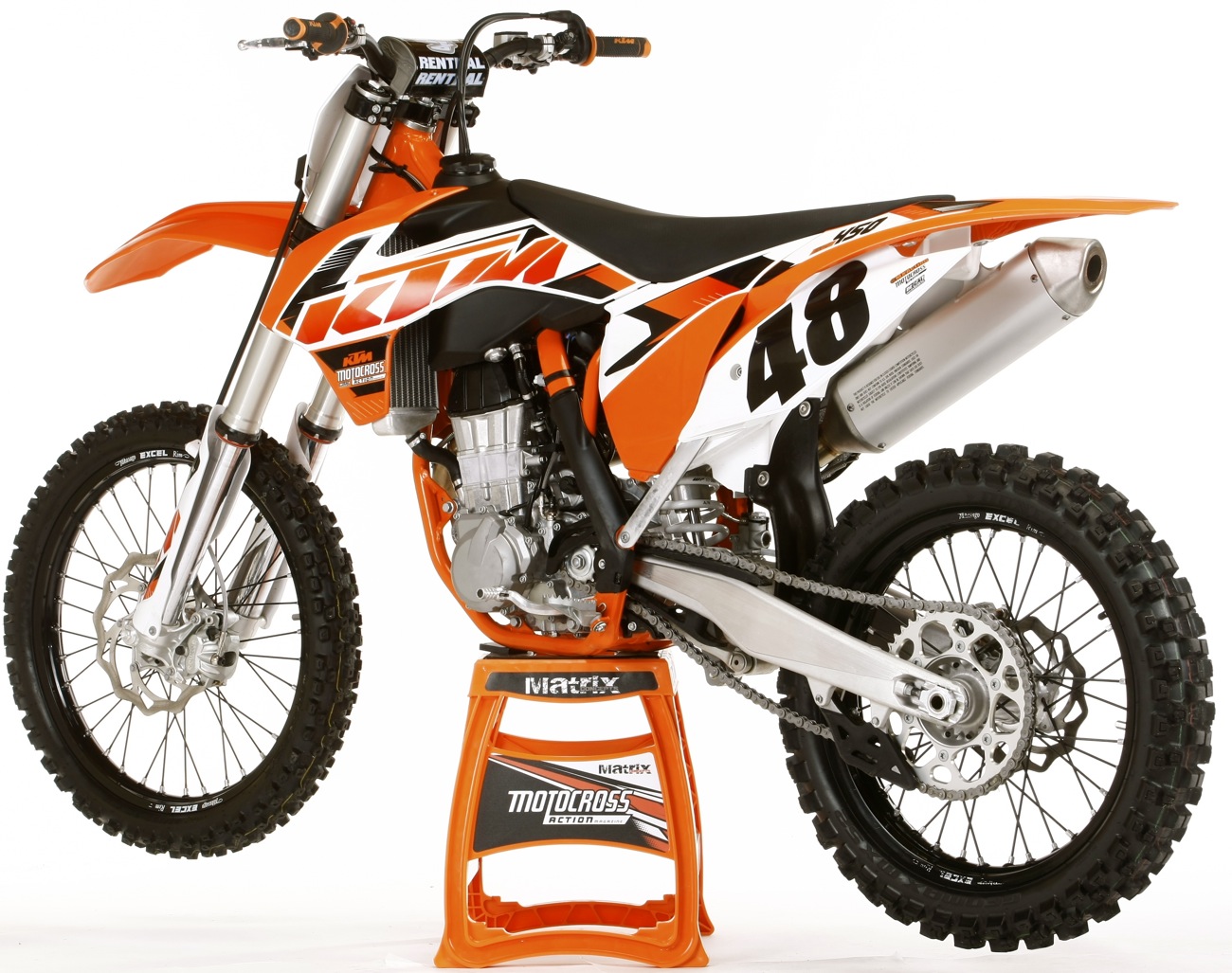 MXA prefers to test from the "top down." We start with our Pro test riders for the first couple days and then work our way down to the next fastest group and eventually the slowest group. We start every group off with whatever the Pro settings were. "Top down" refers to the fact that we start with the settings, sag, fork height, clickers, gearing (yes, our Pro test riders did gear it down one tooth) and balance chosen by the fastest guys and then see how far down into the speed categories we can get before drastic measures are needed to make the bike right.
We can say that the difference in settings between the fastest and slowest test riders was the smallest window we've ever seen on a KTM. We were within two or three clicks across the board.
As part of this first week of work, we also shoot the studio photos, run dyno tests, do the action photos, work on the suspension setup (with KTM and without them) and, in general, try to find out all that is possible to discover about the 2015 450SXF.
WHAT'S IT LIKE TO RIDE?
We won't bore you with technical tidbits about what's new on the 2015 KTM 450SXF. Instead, let's go straight to our first impression of what the 2015 KTM 450SXF is like to ride and race.
POWERBAND:
What can we tell you? The 2015 engine is the 2014 engine. It has the same clutch, gearbox, piston, compression ratio, cam and fuel injector. The take-away from this is that it runs exactly like the 2014 KTM 450SXF — not one iota faster and not one iota slower. And we loved it. KTM has a unique way of delivering its power. It starts off fairly mellow. It doesn't scare you, it lulls you with a nice steady roll-on. Then, as the rpm climbs, things begin to happen quicker, but not so quick as to throw you off your stride. Much like riding a horse, you start to lean into it as it begins to go from canter to gallop. Then, suddenly, it is churning and burning at Kentucky Derby home stretch speed — but you aren't hanging on for dear life because it all happened in a very metered way. It is very fast—but not scary. As for "scary fast," that is a right wrist equation not a mechanical one.
This is a very good powerband. Not only does it produce 57 horsepower, but it send it out with a vibe that wants you to use it all. Good stuff.
HANDLING:
If you know anything about modern motocross bikes, as in knowing something about every one of them, you know that they aren't without handling flaws — even the ones with superlative traits have negative sides. As far as each succeeding year goes, some times they are improved and some times they aren't, but it's important to note that "new" and "improved" aren't the same as "very good" or "great." Improved simply means that the bike is an improvement over what came before. And what came before might have needed a boatload of improvements to make it better. All of the 2015 bike are raceable. All of these bikes are worthy. All of these bikes have good traits and there is someone for whom each of these bikes is perfect.
Which gets us to the 2015 KTM 450SXF. This is the best handling motocross bike made. Brave words. That doesn't mean that it turns sharper than a Suzuki, is stabler than a Yamaha, lighter than a Honda or as planted as a Kawasaki — that just means that this bike does the most things good and the least things bad—which elevates it in our eyes.


The trick to getting the most out of the KTM 450SXF is to give it its head and let it do its own thing. Once you get the chassis balanced the KTM 450SXF doesn't need a lot of input to carve up a motocross track. It does not turn on intuition alone, but it will turn with little more than a flick of the rider's hips. No oversteer. No understeer — just steering by thought control. No matter what your past impression of KTM handling is — this bike is the cat's meow. It isn't necessarily improved, but it is very good and almost great.
KTM did change the frame geometry, by pulling the front axle back 2mm, which mimics a 2mm offset change at the 22mm triple clamps. Let's not get too misty about this. MXA has been through KTM offset changes from 14mm to 18mm to 20mm to 22mm. The difference between the 2014 and the 2015 isn't night and day.
4CS FORKS:
Nothing we have told you about the 2015 KTM 450SXF is news so far. KTM's have always had the best brakes, best clutches, best components, best starting and best all-around handling. What they haven't had is suspension that was worth a dang. Tired of being whipped up one side and down the other for their suspension shortcomings, KTM North American decided to do something about it. They had a new fork design, called 4CS, that had been lingering with very little development on Husaberg and select KTM offroad bikes. It wasn't a highly touted fork and didn't get many kudos, but KTM's USA division felt that it had been underdeveloped. It is a highly creative design and they felt that it just might be the magic elixir that KTM needed to shake their reputation for poor suspension. Lord knows they needed some kind of shake-up.
The first motocross version of the 4CS fork appeared on the 2014 KTM 450SXF Factory Edition III. Yes, it was better than the WP bladder forks that KTM had been using for years. Yes, it did pique the interest of consumers, but no it wasn't perfect. It was an improvement over previous WP efforts. But, remember, improvement does not translate into "very good" or "great" — it just means better than what came before. While the Factory Edition III's 4CS forks were a step in the right direction, they were overly firm, actually down right stiff, especially for slower riders. Heck, they were harsh for fast riders. But, they had potential.
It turns out that WP Austria didn't want to work on the 4CS forks — they wanted to stick with the tried and true (we really meant to say hated) WP bladder fork for 2015. All praise and credit goes to KTM's American product testing department because they decided to work out the kinks in the 4CS fork by themselves — and make it the fork of choice for all 2015 KTM's in America. The rest of the world gets the old bladder fork.
This was a gamble that could have ended with an "I told you so" from the Austrian brass or the plaudits of American KTM owners.
So which is it? It's plaudits. These are very good forks. Not great, but forks that we can live with, race with and enjoy—instead of cringing every time we see a bump on the horizon. KTM softened the harshness of the Factory Edition III forks and the feel is much more fluid through the stroke. And, they will only get better once the hop-up gurus of North America get a chance to learn what's inside the 4CS valving. As for now, the typical hop-up shop doesn't have a clue what to do to make the forks better. They will need human guinea pigs to experiment with—but, in time, they will find lots of ways to improve the new 4CS fork. The 2015 4CS fork is an improved version of the Factory Edition III fork, which was a big improvement over the old bladder fork. And by our account that is a lot of improvements in less than six months.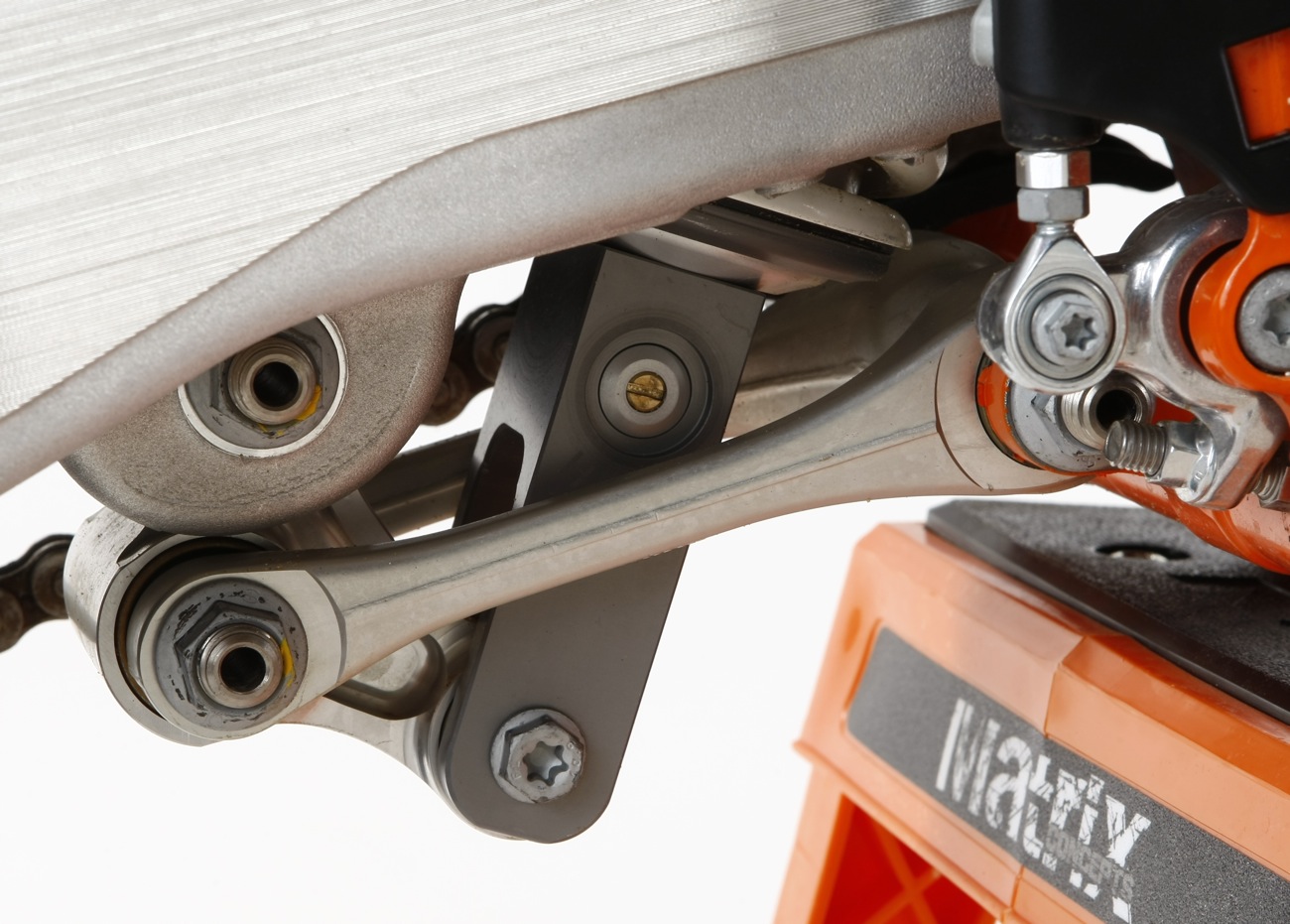 WP SHOCK:
To MXA's way of thinking the forks were Job One on the R&D department's priority list — and we are willing to say that they brought the front suspension up to contemporary standards. Over the past few years the rear suspension was never a big issue — largely because the focus was on the poor performing front forks. Now the focus has shifted to the rear.
KTM designed a completely new rising rate system for 2015. It has a slightly higher starting rate (like 2014 KTM owners might have gotten with a longer shock linkage) and a flatter and less progressive rate change throughout the curve. By redesigning the bell crank and adding a 2.5mm longer link arm, KTM was required to lengthen the shock by 4mm and change the valving.
Overall, it is a no-fuss rear suspension system. We did play with different high-speed compression settings, ride heights and rebound clicks, but when all was said and done we kind of ended up right where we were in 2014. It worked well in most situations, but where we had issues in 2014, we still had issues in 2015. The rear of the KTM 450SXF (and by nepotism the 250SXF and 350SXF) has one irritating trait. It will G-out if you find yourself sitting down on the backside of a jump landing, at the bottom of a downhill or on the exit of a rutted turn. This has been common to KTM's for years. We had hoped that the higher starting point of the rising rate curve would have held the shock higher in the stroke long enough to slow down the downward creep (and we also hoped that we were smart enough to stand up more). Conversely, in retrospect, perhaps more progression at the end of the curve would have been the hot set-up.
In the end, we went with more high-speed compression to fight this feel.
THE BOTTOM LINE
Is this a better bike than the model that came before? That depends on what you think is the model that came before. If you are talking about the standard 2014 KTM 450SXF, then the answer is yes—this is an improvement of some significance (thanks to the new forks, linkage, weight savings, orange frame, better rims and stiffer lower frame cradle). If, however, you are asking if the 2015 KTM 450SXF is an improvement over the 2014 450SXF Factory Edition III, then the answer is a muted yes (because it is it is an improvement based on the time and effort KTM's R&D department put into revalving the 4CS forks). Other than that, the 2014 Factory Edition III has all the same upgrades that the 2015 has.
This is all MXA can say after six days of testing. We have a long way to go and a lot to learn during this process, but you'll have to wait for the actual test in MXA, where we will go in-depth on all the settings, details, mods, gripes, setups, fixes and kudos that come from living with a bike over a long test period. We hope this impression helps broaden your vast reservoir of motocross knowledge.