WHAT JUST HAPPENED?! // DETROIT SUPERCROSS THE AFTERMATH

WHAT JUST HAPPENED?! // DETROIT SUPERCROSS THE AFTERMATH
Wow, if you haven't witnessed the mega yard sale in the last three minutes of the 450 Main Event, then you missed out on the carnage-fest that took out four of the best riders in the 450 class. All day long we saw athletes in both classes get scraped off the track by the Alpinestars medical crew and unfortunately for the fans, and their fantasy picks, the 450 class would feel the wrath in its final moments. From Jett Lawrence smoking the rest of the field to Chase Sexton and Cooper Webb doing their best double-decker bus impersonation, we deep dive into the concussion case study that was the 2022 Detroit Supercross. Scroll down below to find out what happened after the riders qualified for the night show in MXA's The Aftermath.
Photos by Brian Converse
Words by Trevor Nelson
Fun Facts by Ben Bridges
---
450 SX CLASS REVIEW // HASTA LUEGO MUCHACHOS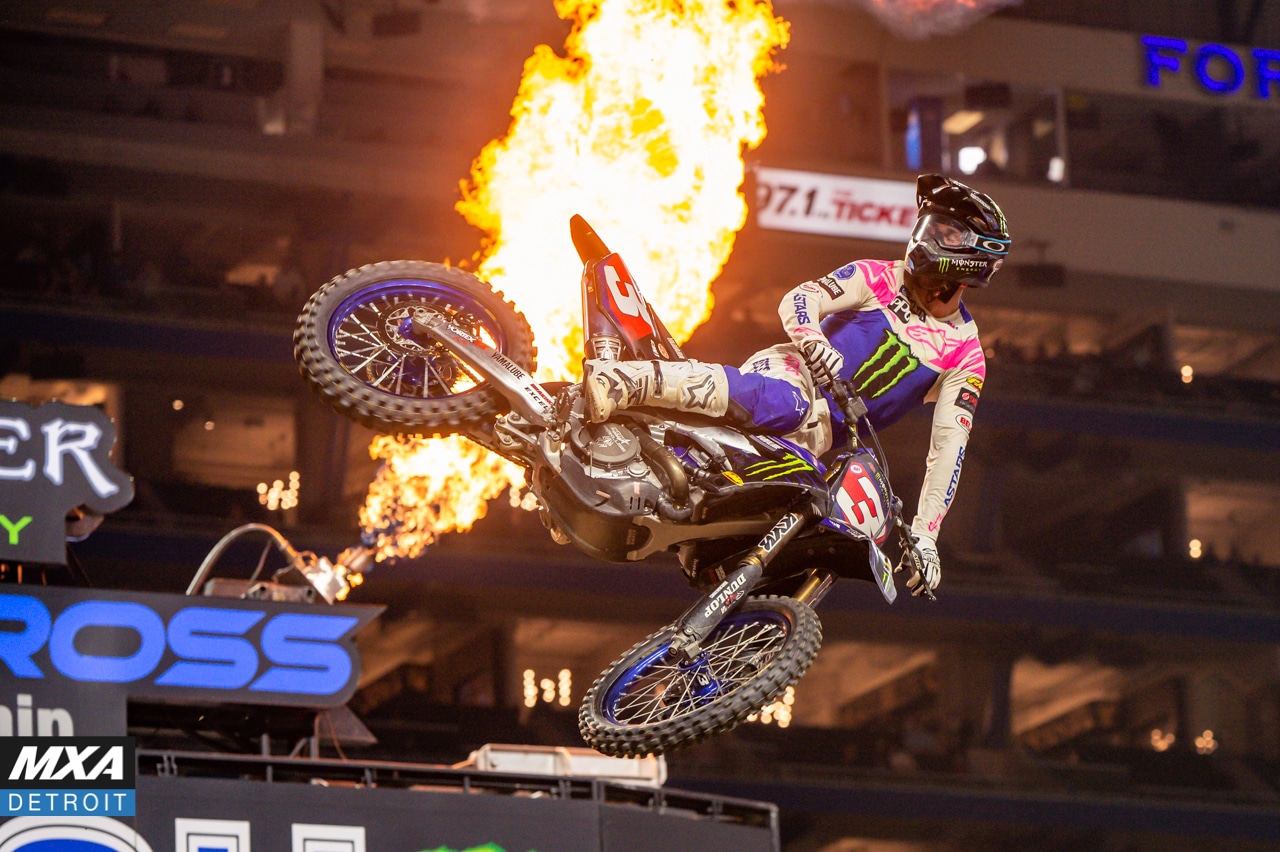 Translation: See you later boys. 
And just like that, Eli is still in the points lead but now has a staggering 42 point gap on the tie between Malcolm Stewart and Justin Barcia. Eli wasn't the fastest qualifier in the day nor did he get the best start in the Main, but after an awesome battle with Jason Anderson, Eli stole the lead and checked out, easily putting down the fastest laps in the race. What makes it more impressive is how much Eli sends it in the race while staying on two wheels. Jumping farther, sliding around the track, all while maintaining a 90% effort. Unfortunately for some riders, the hammered Detroit track got the best of them.
Tomac is now fifth on the all-time 450SX Class wins list with his 42nd win. This win moves him above RV, with Chad Reed only two wins above him.
Tomac passed Dungey on all-time AMA wins list for fourth with 81 wins (450MX, 450SX, 250MX).
Tomac now has 80 podiums, one shy of Mike LaRocco for fifth place.
Yamaha now has 175 SX wins and five on the season. 2009 was last time they had five wins (scored 12 that season). Tomac has 76 consecutive starts, average finish of 3.56
Can ET become the ninth rider to switch teams and win a Supercross title in first season on new team?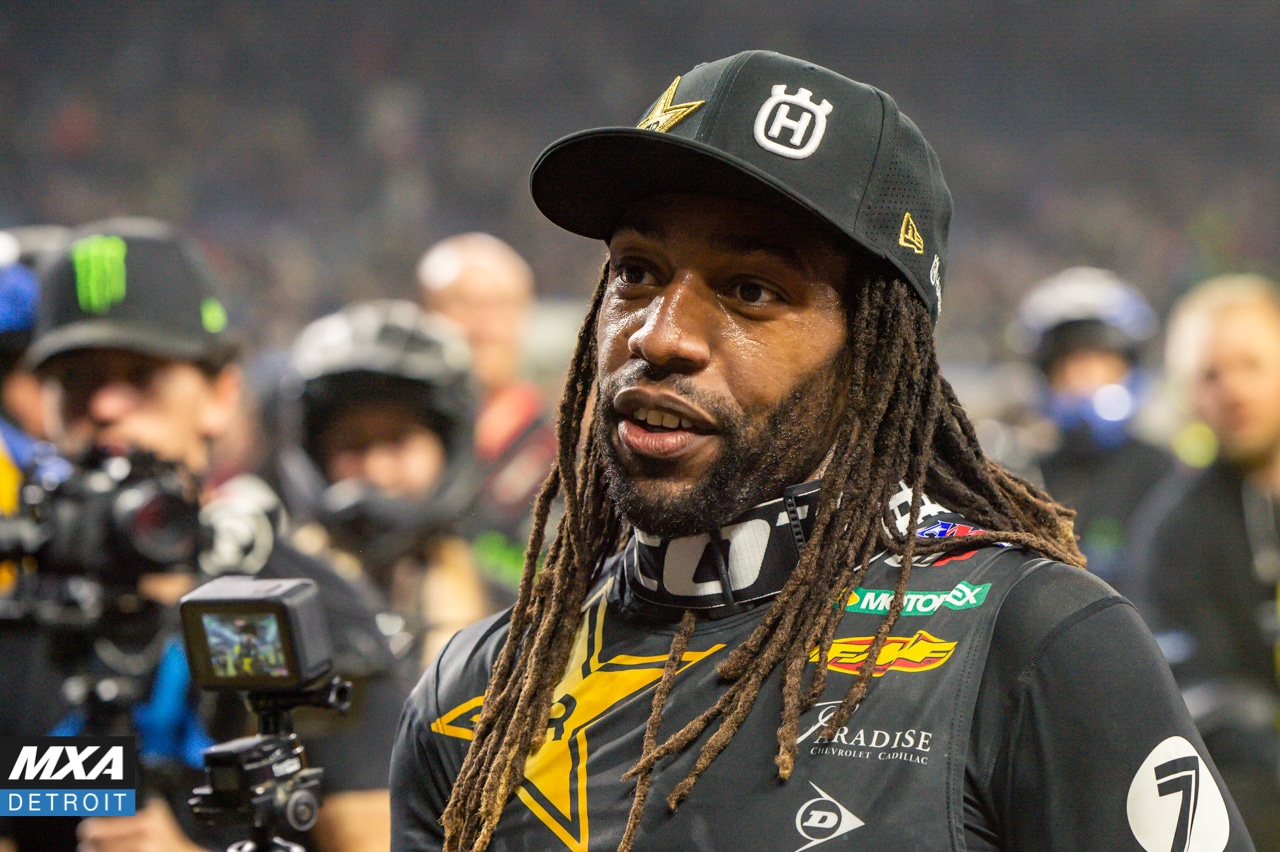 Malcolm Stewart was the fastest qualifier in the 450s and when it was go time in the Main Event, he would battle Justin Barcia for a chance in the top five. However, his opponents would bless him with the chance to earn a podium when they all slammed in the final laps of the Main. At the end of the night, Malcolm grabbed second place, his second one of the season.
Malcolm Stewart earned his second 2nd place of the season and his eighth top five. He is 42 points back, tied for second overall with Jason Anderson in the point standings.
Now that the chase for first in the points is less interesting, at least the battle for second will be. Just like Malcolm's scenario, Justin Barcia made it onto the podium at the end of the wreckfest 450 Main. But did we mention he also had a completely destroyed middle finger being held together by 7 stitches? Ouchy!
Barcia podiumed for his fourth podium and sixth top-five finish of the season. He has 57 career top fives and is 32nd all-time with 24 podiums.
R.I.P TO OUR (AND YOUR) FANTASY PICKS
"It's raining men! Hallelujah!
It's raining men! Amen!"
https://www.instagram.com/p/CbByNtcM6PE/
And R.I.P to Chase Sexton's jersey. There is no doubt that the battle between Cooper Webb and Chase Sexton was at an all-time high, but the conclusion that had come was at an all-time low. No, not that Punk Rock band. While feeling the pressure of Chase on his tail, Cooper elected to triple out of the corner to gain some space on his opponent. Unfortunately, this risky maneuver that was being done for the first time mid-race would not pay off for the KTM rider. Coming up short with a target-rich environment on his back, Cooper became the landing pad for Chase Sexton's CRF450. After clobbering Webb, Chase slammed into the face of the transition head first. His Honda rotated back around, grabbing his jersey and back, tearing the two to shreds.

Chase's night was done for but Cooper limped back onto the bike and proceeded to roll around the track in hopes of salvaging some points. There is rumor that Cooper was pulled off the track by one of AMA officials, most likely because they saw it as being dangerous having an injured rider continuing to put laps in. Say what you will about Coop, but seeing him roll around Ford Field with a possibly broken hand or shoulder was respectable.
HITTING YOUR HEAD: MORE DECEIVING THAN IT LOOKS
https://www.instagram.com/p/CbBy3mDPtGO/
While Jason Anderson didn't have the most glamourous crash of the night, a quick transference of energy between the brain bucket and the Detroit soil probably didn't feel good. After sliding out on the slick ground after the finish line, Jason hit his head hard on the ground, pausing before making any movement to get back to his bike. When he got going again, he strolled through the following rhythm section but would fall over into one of the tuff blocks. Looking like he just spent 12 rounds in the ring with Mike Tyson, Jason was able to cross the track with one of the flaggers, ending his night. While it isn't official yet, we wouldn't be surprised if he was feeling concussed. Hopefully, we see the 21 at Indy.
FERRANDIS OUT FOR THE NIGHT
While it wasn't clear where or what happened for Ferrandis, we do know Dylan came up short in one of the rhythms hurting his wrist in the process.
YOU THINK HAVING A HANGING TEAR-OFF IS ANNOYING? TRY A VISOR
Oh boy, we know Marvin's blood must have been boiling. Marvin went down earlier in the race breaking one of the mounts on his Airoh helmet and it would only get more frustrating with a lap to go in the race. Slipping out in one of the corners, Marvin attempted to tear off his visor only to keep on racing with the thing dangling in his face.
DEANO DIGGING DEEP
https://www.instagram.com/p/CbDGvqeuxDr/
---
250 SX CLASS REVIEW // JETT LAWRENCE WINS, AGAIN
Long story short, Jett was the fastest in qualifying, fastest in his Heat race, and fastest in the Main. Fast like a jet…..Jettson. JETtson. Now Jett has as many wins as Chase did in the 250 class.
https://www.instagram.com/p/CbBueBuApaf/
Detroit was a solid round for Cameron McAdoo. He rode great all day, but would have his podium position tested by Pierce Brown and R.J. Hampshire.
McAdoo finished second and they are only two riders with podiums in all four rounds.
The TLD RedBull GasGas boys had a successful night both landing on the podium. Pierce Brown landed in third place. Isn't this a funny picture?
Pierce Brown earns second career podium and first with GasGas
---
450 SUPERCROSS POINT STANDINGS (AFTER ROUND 10 OF 17) – RACE RESULTS
Is this the best Tomac we have ever seen? Possibly, but that one time he wheelied through the whoops at Daytona was also pretty cool. 
| | | | |
| --- | --- | --- | --- |
| POS. | # | NAME | Total Points |
| 1 | 3 | Eli Tomac | 229 |
| 2 | 21 | Jason Anderson | 187 |
| 3 | 27 | Malcolm Stewart | 187 |
| 4 | 51 | Justin Barcia | 184 |
| 5 | 1 | Cooper Webb | 173 |
| 6 | 23 | Chase Sexton | 164 |
| 7 | 25 | Marvin Musquin | 164 |
| 8 | 14 | Dylan Ferrandis | 141 |
| 9 | 94 | Ken Roczen | 133 |
| 10 | 15 | Dean Wilson | 119 |
---
250 SUPERCROSS POINT STANDINGS (AFTER ROUND 4 OF 9) – RACE RESULTS
Look, it's awesome to see a young rider riding this well, but we're crossing our fingers that these guys on either side of Jett and more give the young gun a run for his money. Who doesn't love some good battles?
| | | | |
| --- | --- | --- | --- |
| POS. | # | NAME | Total Points |
| 1 | 18 | Jett Lawrence | 99 |
| 2 | 48 | Cameron McAdoo | 91 |
| 3 | 44 | Pierce Brown | 68 |
| 4 | 50 | Stilez Robertson | 67 |
| 5 | 80 | Enzo Lopes | 64 |
| 6 | 90 | Jordon Smith | 63 |
| 7 | 24 | Rj Hampshire | 60 |
| 8 | 715 | Phillip Nicoletti | 58 |
| 9 | 54 | Mitchell Oldenburg | 50 |
| 10 | 6 | Jeremy Martin | 42 |
---
DETROIT CAPTURED
Here are some of our favorite moments from the day in Detroit. Supercross may be fun from the TV but it's a thousand times better in person. Captured by Brian Converse.
Photos like this are so funny. Coop is 100% aware that his photo is getting taken but he still looks over out of the corner of his eye. Happens every time.
---
QUESTIONS ANSWERED
Their words, not ours.