WHAT RYAN DUNGEY HAD TO SAY ABOUT THE GEICO HONDA MOVE—MXA ASKS HIM WHY?
Ryan Dungey without his Red Bull hat and KTM shirt. It will take some getting used to.
WHAT RYAN DUNGEY HAD TO SAY ABOUT THE GEICO HONDA MOVE
By Josh Mosiman
WHAT WAS THE MOTIVATION FOR MOVING INTO AN OWNERSHIP ROLE APART OF THE FACTORY CONNECTION GEICO HONDA RACING TEAM? Post-racing I wasn't really sure where I was going to fit in. That's not to say that I wasn't welcome anywhere, but after racing and taking a break I was trying to process everything. I was asking myself the tough questions like, "What motivates me?" "What are my interests?" "What do I enjoy?" "What's best for my family?" There's a lot of questions that come into play, but ultimately I think it was important to apply myself to new challenges. It was really important for me to make sure I wasn't being complacent and that I was trying different things.
HOW WAS YOUR EXPERIENCE MAKING THE TRANSITION FROM RACER TO TEAM OWNER? If I'm honest, there weren't a lot of things that really clicked and I was kind of waiting for the right opportunity to come about. This deal with Factory Connection Racing wasn't the first opportunity that came by, but when it came up I thought that it could be really good to have ownership and to be able to apply the things I've learned to the next generation. I'm also excited to learn myself. I think that growth and progressing as a human is good for you. Just like anybody, you want to be challenged and be involved with things that you're interested in. That helps you that express who you are.
Johnny O'Mara (left), Jett Lawrence (center) and Ryan Dungey (right) discuss the chances of buying Team Yamaha next week.
RACING OR BUSINESS? Of course I'm interested in racing, but I've also been very interested in business, so I'm glad this opportunity brings in the business aspect as well. I'm excited to learn and grow in that area and I have some really good people to help guide me through that. Tthere were a lot of good things that helped me check the boxes. The more time went on, the more this sat on my mind. I'm really careful when making decisions, I don't like to just jump right on it. Fast forward to now, I'm happy to be able to have the opportunity with Factory Connection Racing, it's a team that has been super successful on and off the track—winning races and championships. Just to be able to be a part of that is really exciting. Hopefully we can keep adding to that success. I hope to contribute to that if I can.
ARE YOU A PART-OWNER IN FACTORY CONNECTION SUSPENSION, OR ARE YOU ONLY A PART OF THE RACE TEAM? I'm a part of Factory Connection Racing, just the race team.
Mentor and student. It will be hard for Roger DeCoster and Ryan Dungey to be on different sides of the fence.
WILL YOU BE TESTING BIKES FOR THE TEAM NOW? No, being a test rider isn't something I'm looking to do. I really do believe that there are a lot of good riders on our team, especially on the 450 side, that have a good feel for the bike. Christian Craig has done a lot of the testing for the team and he has weeded out a lot of things that the riders have really benefited from. It is good that the riders have a good feel. I definitely want to ride both the CRF250 and CRF450 to get a feel and check them out. It's been a while since I've ridden a different brand, so that'll be interesting. But of course, if there is something we run into and it comes to that, I'll give a little feedback if I can. But I have to make sure I'm in somewhat of good riding shape for that.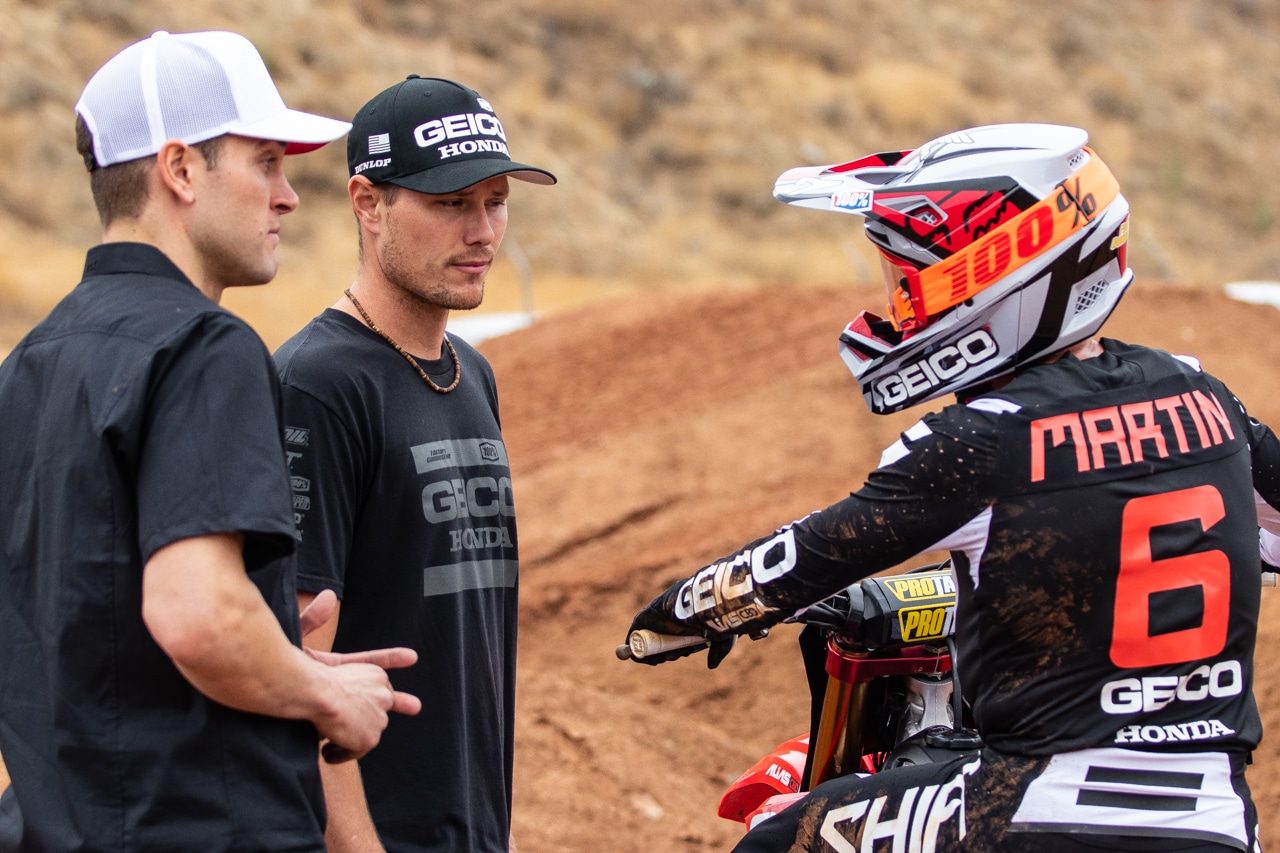 Ryan Dungey chatting with his fellow Minnesotan, Jeremy Martin.  
DO YOU KNOW THE RIDERS ON THE GEICO TEAM? Some of the riders I know and have a good relationship with. Jeremy Martin and I obviously go way back to the amateur days. We grew up riding together in Minnesota. Some of the other riders I've gotten to know and also the mechanics and the staff, a couple of them I knew from before.
Ryan Dungey at the height of his powers.
WHAT DO YOU FEEL IS IMPORTANT WHEN MAKING THIS TRANSITION? Right now it's going to be about getting to know everyone and spending time with them. It's not going to be everyday interactions. I'll be at a good amount of the races and obviously the phone is always there and I'm available to talk. It's going to be a lot more travel on my end being Minnesota. I feel like our team has a really good structure, there's a lot of good feedback and there are a lot of conversations. Just being able to have that good communication is going to be important. It's also really important that we have a strong staff structure and people in place to make sure that we are holding up on our end to give the riders the best chances to perform at their fullest potential.