WHAT'S INSIDE THE OCTOBER 2020 ISSUE OF MXA? STUFFED WITH COOL STUFF
WHAT'S INSIDE THE OCTOBER 2020 ISSUE OF MXA?
The October 2020 issue of MXA features close-up looks and tech specs for the 2021 Hondas, Yamahas and Kawasakis. Plus, the best barn find ever, know-how from Twisted Development's Jamie Ellis and an interview with the long forgotten Mike Hartwig.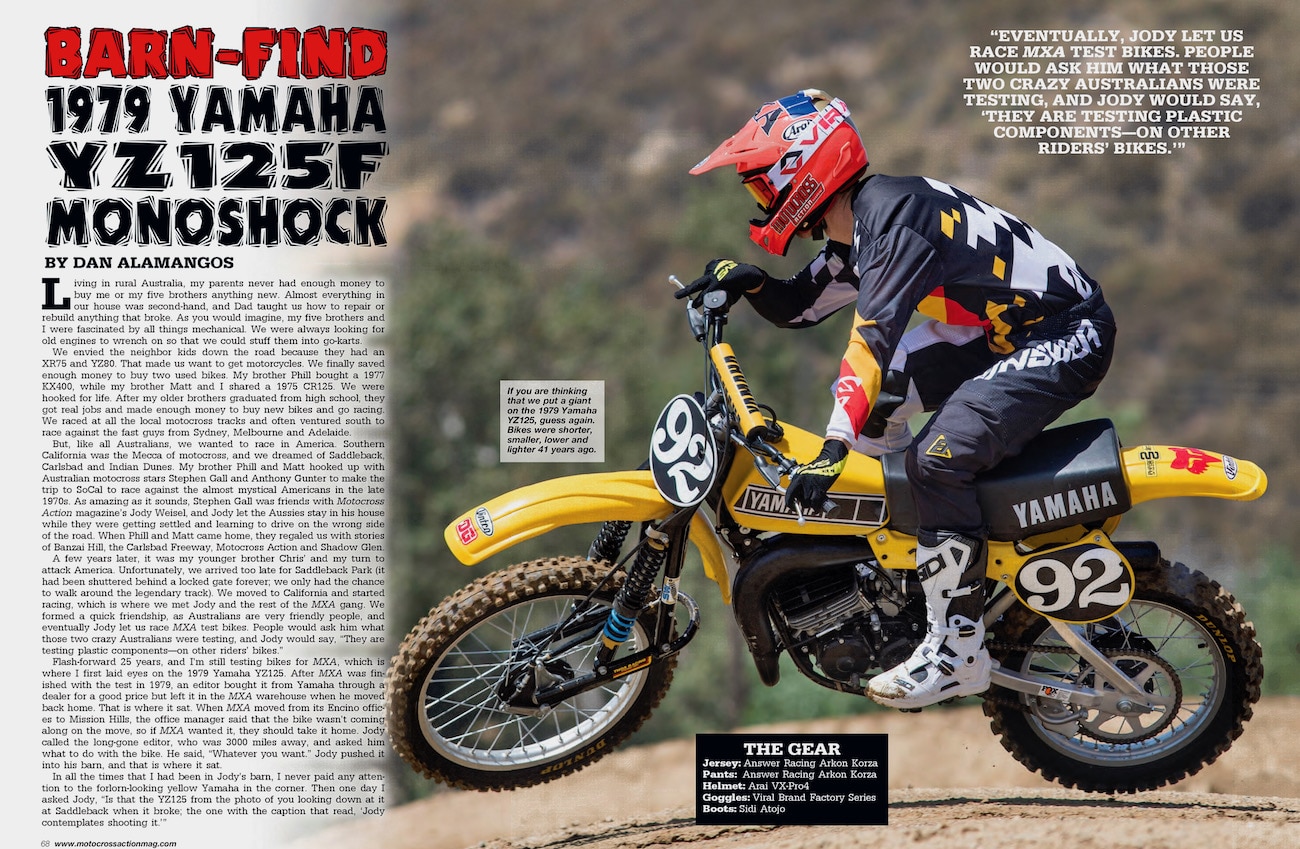 What would you do if you found a 1979 Yamaha YZ125 sitting in the back corner of a barn. Dan Alamangos ask himself that same question. His answer was to restore it to exactly how it was raced 41 years ago.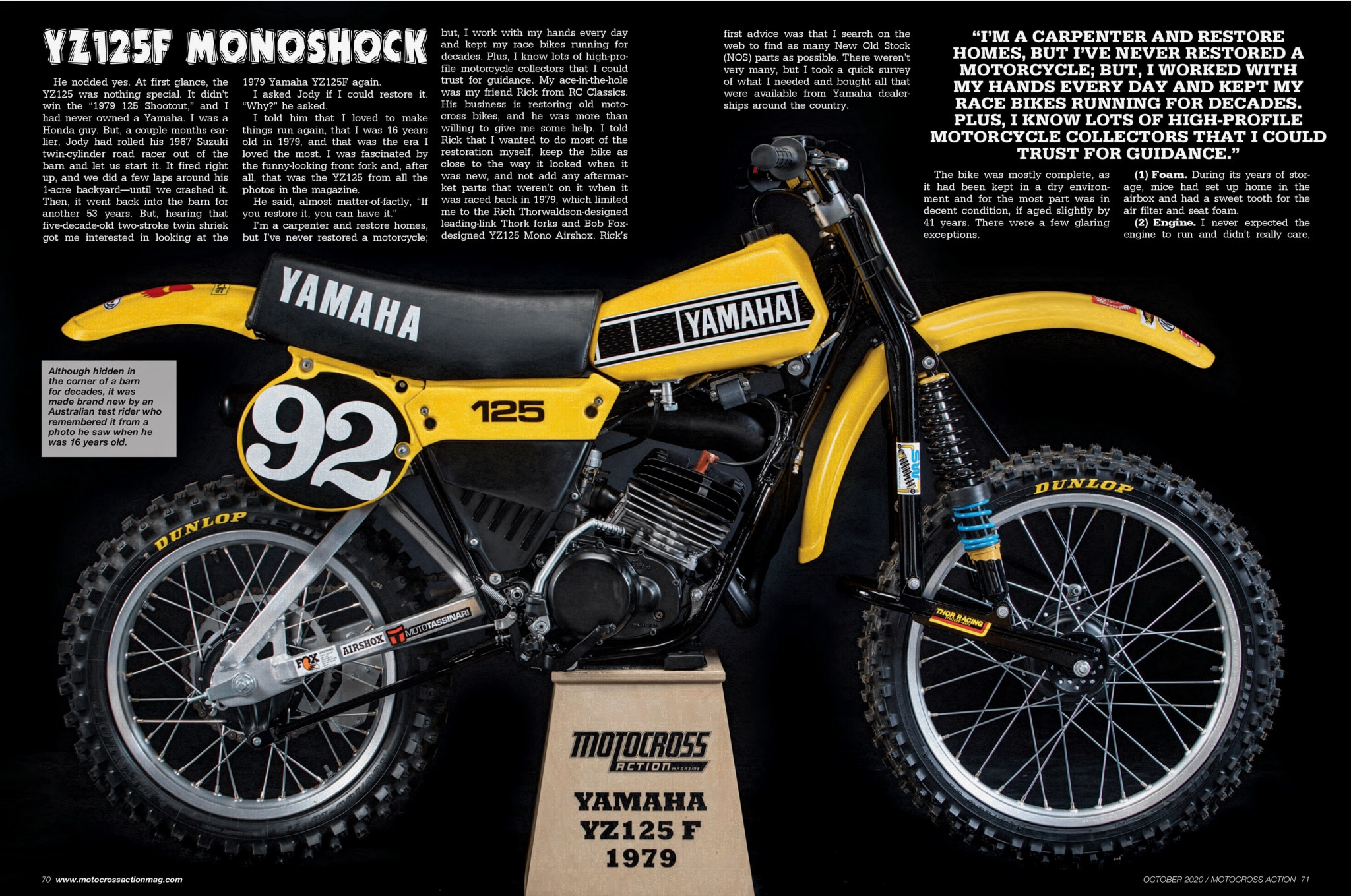 This wasn't just any 1979 Yamaha YZ125. When the dust was wiped off it was found to be equipped with exotic Thork leading link forks and a rare Fox Mono Airshox. Oh yeah, it also had the relatives of Mickey and Minnie living in the airbox.

It's hard to imagine that a Czechoslovakian motorcycle was once the winningest Grand Prix bike of all-time. Unfortunately, that was a long time ago, but we will always have the joy of racing a 1972 CZ yellow tanker as kids.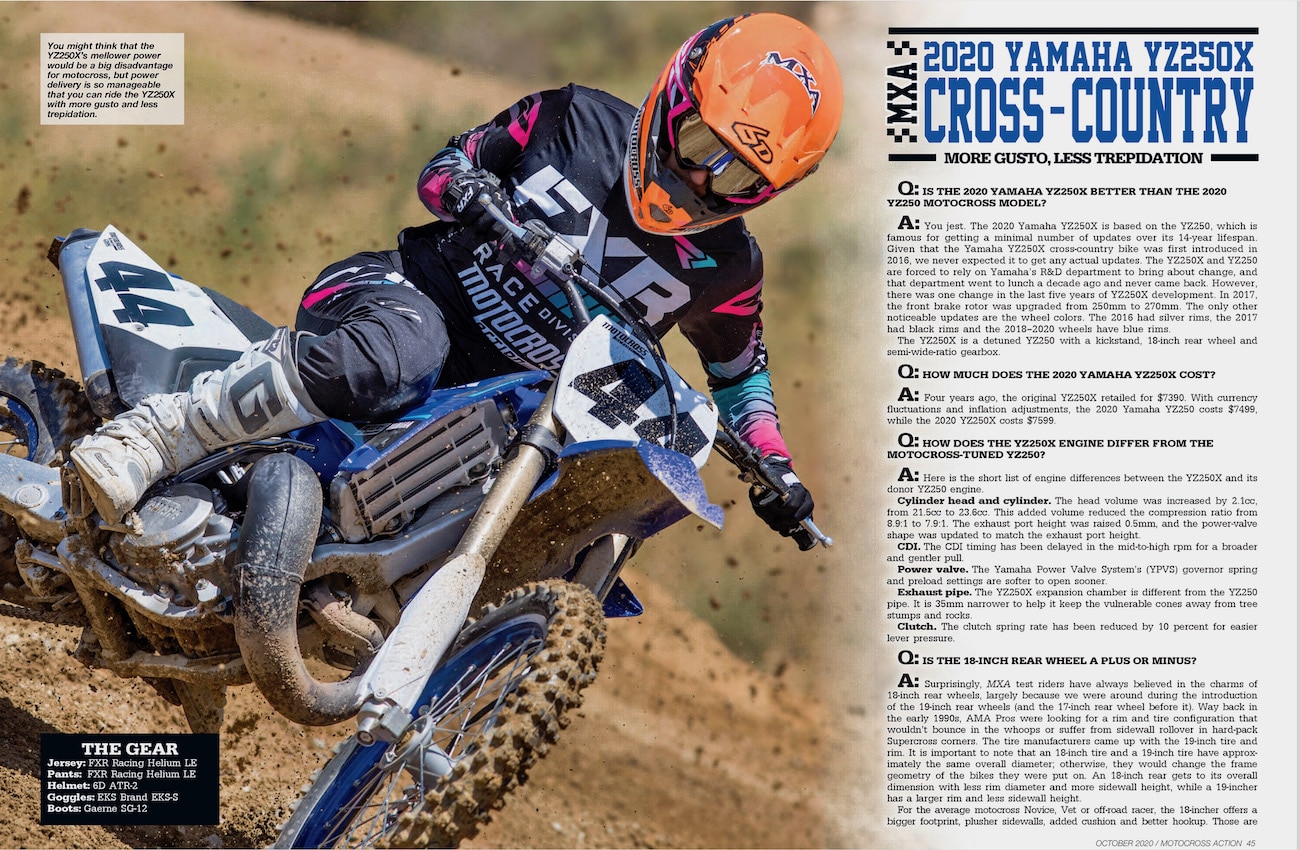 We are proud that Yamaha still makes two-strokes when their partners in the "Big Four" gave up. We are even prouder that Yamaha has taken those motocross smokers and turned them into a line cross-country racers to give KTM a run for their money in the off-road world.

Ask a question on the internet and you will get 20 different answers, but only one anwer is correct and you don't know which one it is.  Ask the MXperts and you'll get the real inside scoop. Ever wonder if you could turn your KTM 250SXF into a KTM 350SXF with just a top-end change? Think again.

Once we saw the 2021 KX450F, we knew that we could take our trusty, but rusty, 2020 Kawasaki KX450 and make it better than the 2021 KX. Read all about it here.

Mike Hartwig was a true Cinderfella story. He came out of no where, well Michigan to be honest, and shocked the factory riders with his speed. Mike Hartwig won AMA Nationals, made the MXDN team and a year later was gone. Read the story of Mike Hartwig's brief but spectacular career.

We sent MXA's Josh Mosiman to a Supercross track to test Mitchell Falk's BWR Engines Honda CRF250. The BWR team is one of the most successful privateer Supercross effort in the sport. Learn how they do it and what other privateer teams could do to be as good.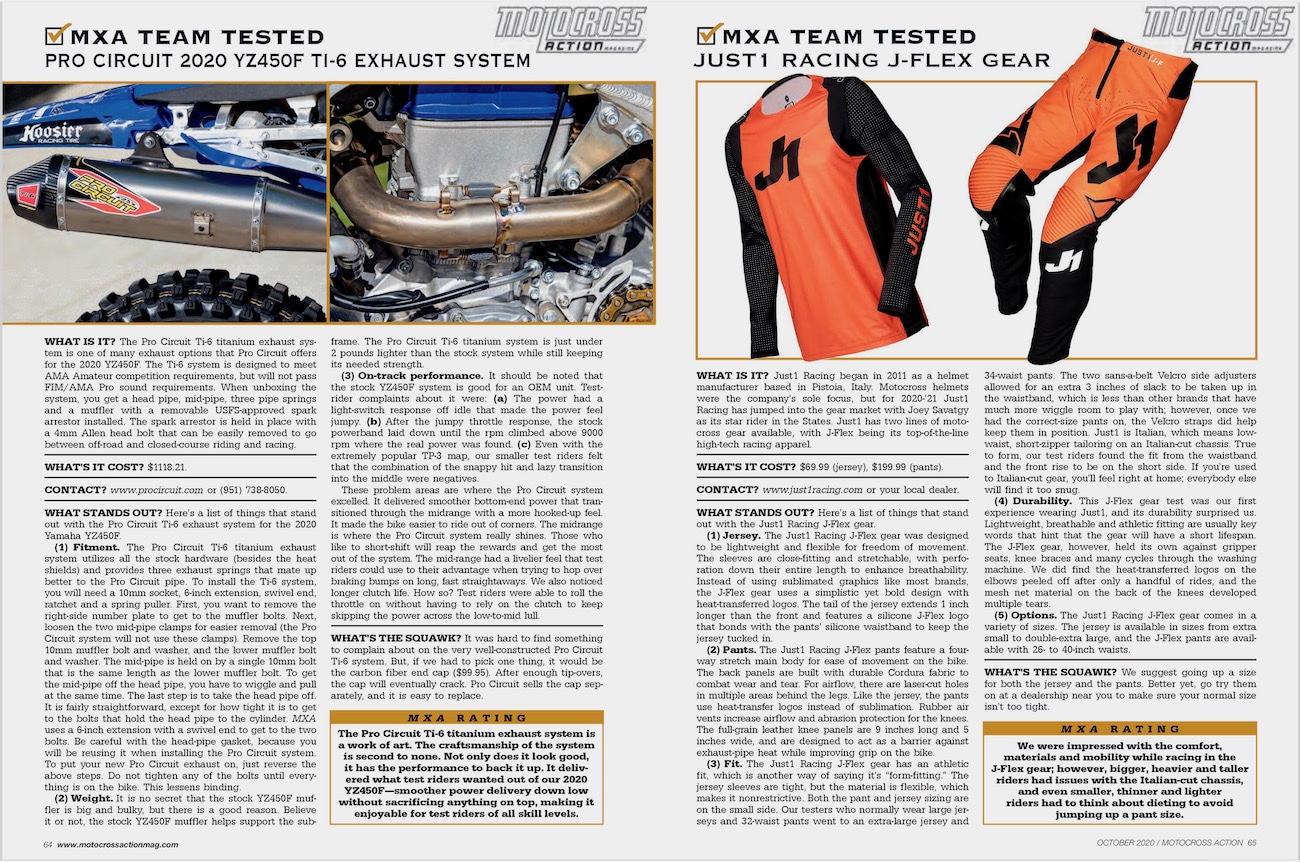 We test Pro Circuit's 2020 YZ450F titanium exhaust system—and yes it fits on the 2021 model. Plus, we try out Just1 Racing's J-Flex gear.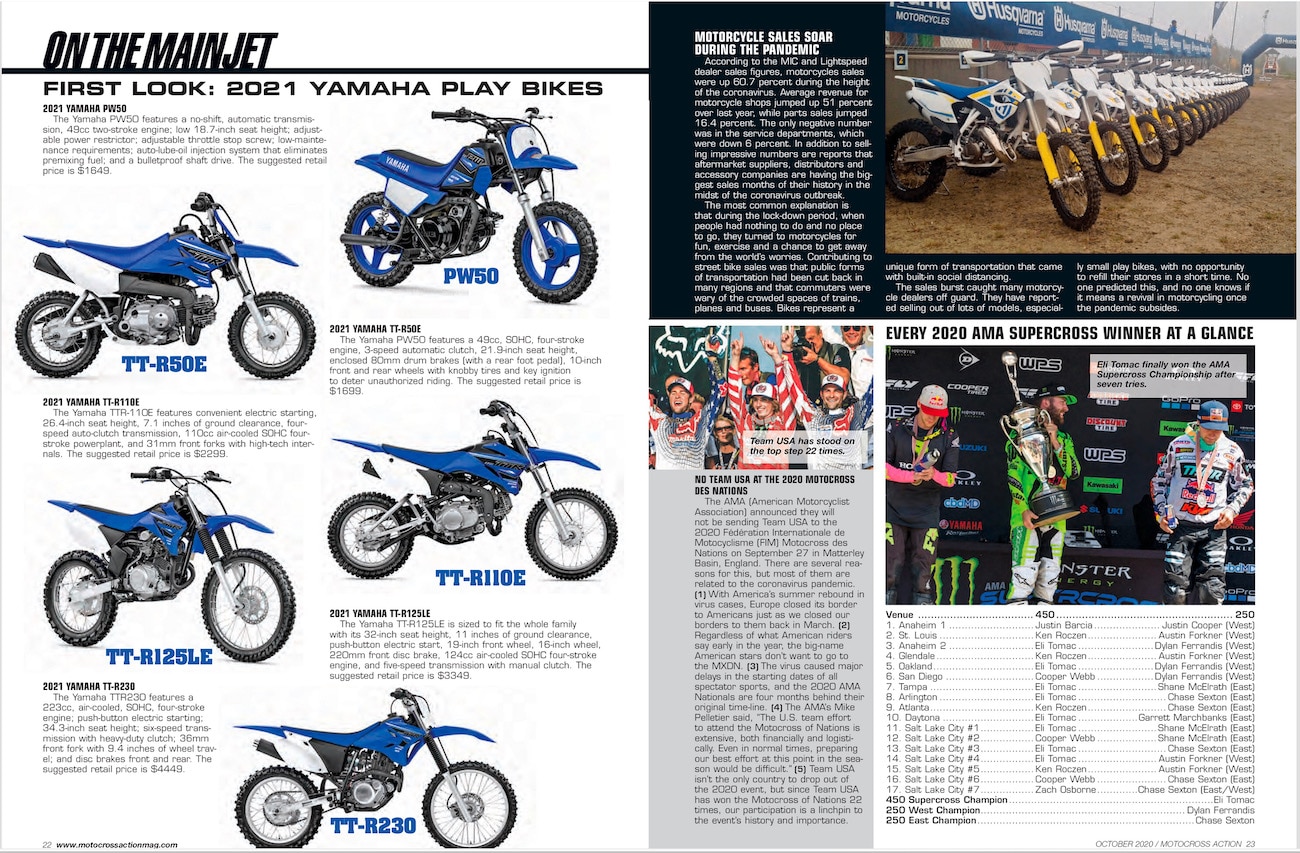 New young riders have to come from somewhere, which is why we spend so such time focusing on entry-level machines. Here are Yamaha's 2021 play bikes. There are five different ways to join the fun.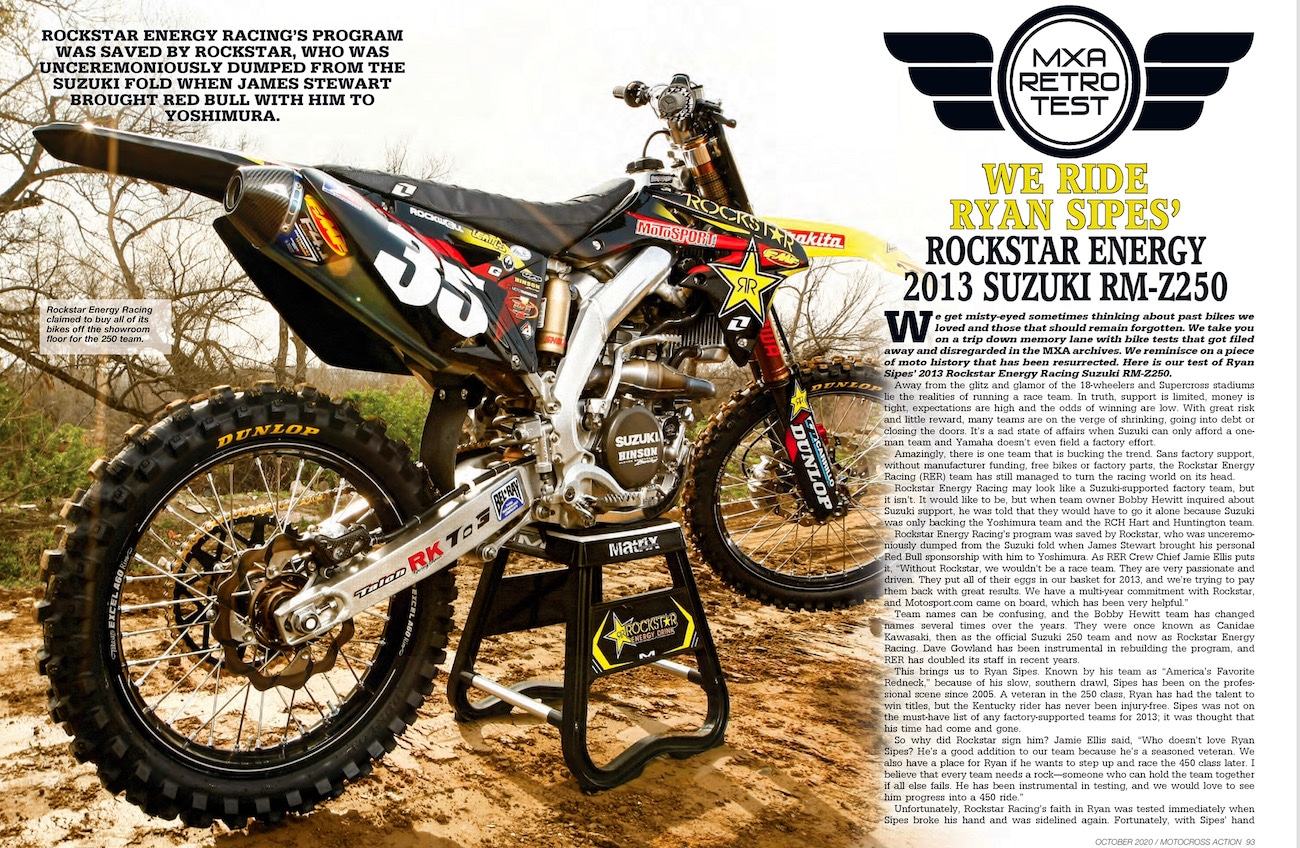 Remember when Ryan Sipes raced for the Rockstar Energy Suzuki team? Of course you do, but we thought it would nice to revisit his 2013 Suzuki RM-Z250.
Not only do we show yourthe latest gear, like Fly's Evolution DST outfit, but we also tell you what goes into making motocross gear.

Even the greats have to reconsider the decisions they make. This is Ryan Villopoto at the 2013 Monster Energy Cup rethinking the last jump.

HOW TO SUBSCRIBE TO MXA SO THAT YOU NEVER MISS ANOTHER ISSUE, PLUS GET A $25 ROCKY MOUNTAIN GIFT CARD TO COVER YOUR COSTS
If you subscribe to MXA you can get the mag on your iPhone, iPad, Kindle or Android by going to the Apple Store, Amazon or Google Play or in a digital version. Even better you can subscribe to Motocross Action and get the awesome print edition delivered to your house by a uniformed employee of the U.S. Government. Did we mention the $25 gift card for any part you want from Rocky Mountain ATV/MX? You can call (800) 767-0345 or Click Here (or on the box at the bottom of this page) to subscribe.