WHO'S WHO IN THE SUPERCROSS ZOO? KNOW THE POINTS STANDING BEFORE TONIGHT'S RACE
Ken Roczen is now a family man and has something to race for. He currently leads the 2021 AMA 450 Supercross Championship by 2 slim points heading into a tripleheader in Dallas (Arlington) on Saturday, Tuesday and Saturday.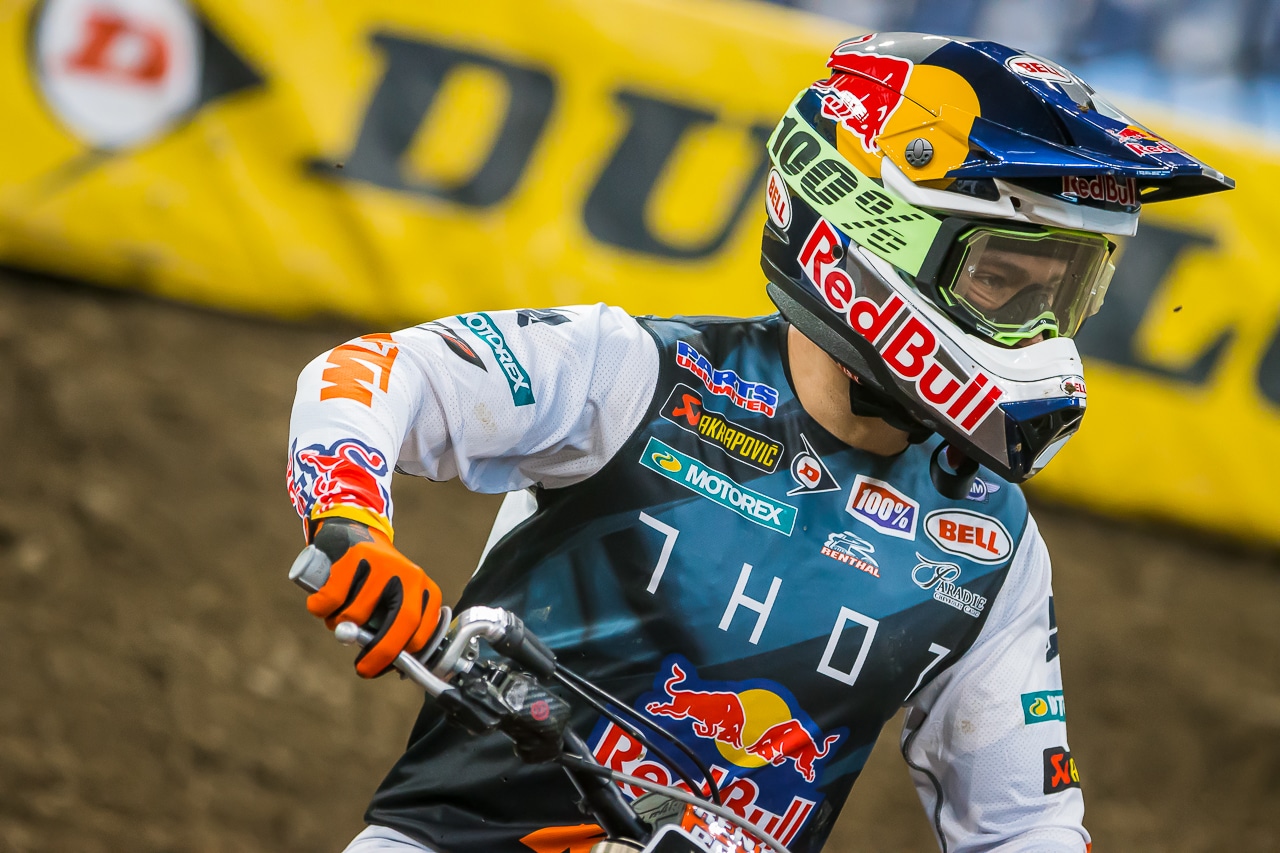 KTM's Cooper Webb may only be second in points, but at this stage of the Supercross series, he is in the driver's seat. His actions in the first turn at Daytona may not have made Ken Roczen very happy, but it insured that Webb was in front of Ken and would gain points on him in the title chase.

Eli Tomac won the Daytona Supercross for the fifth time in his career, but is still 24 points behind Ken Roczen in the 450 title chase. We haven't see many smiling photos of Eli in 2021.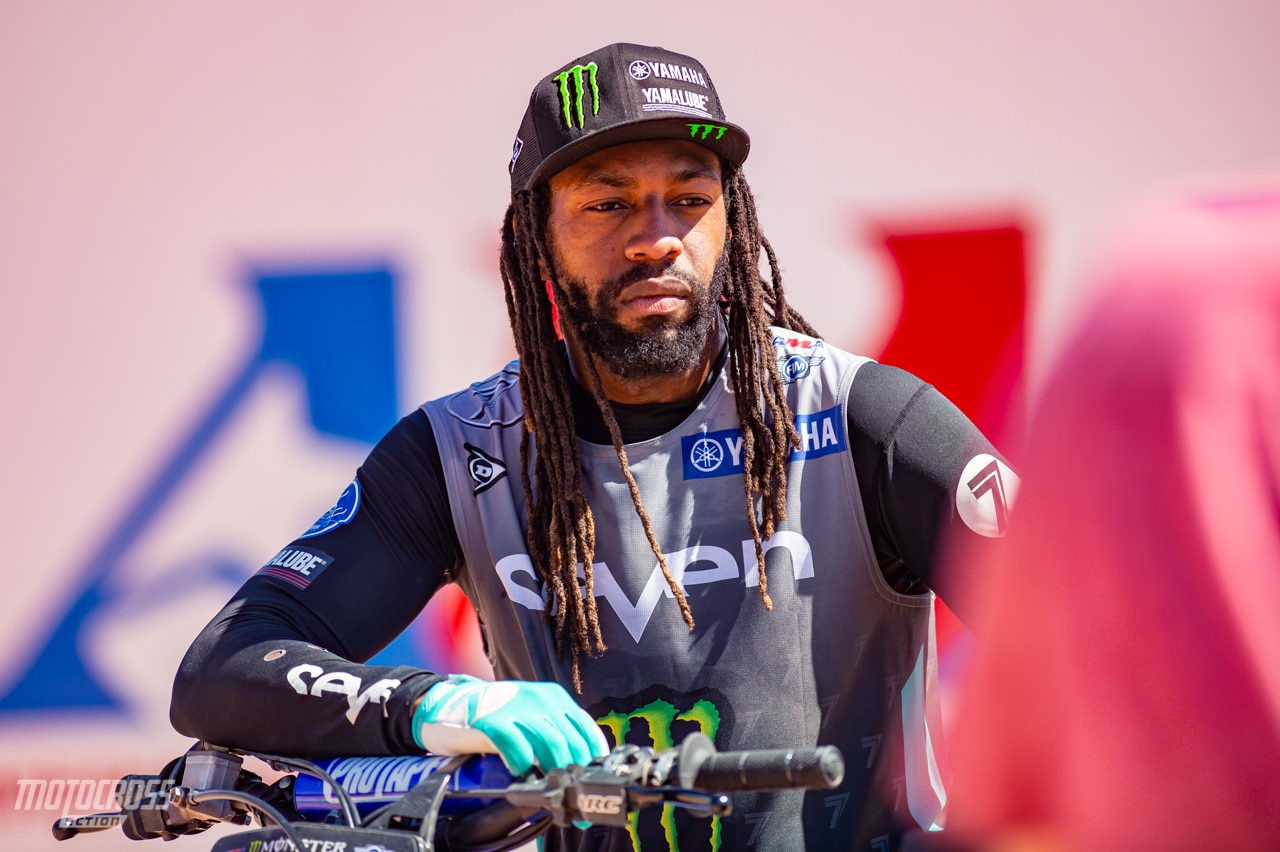 Malcolm Stewart is having a solid year on the Star Yamaha YZ450F and is fifth in 450 Supercross points. Unfortunately, Malcolm is 56 points behind Ken Roczen's points tally—which means he is two full races behind in points.

Aaron Plessinger was a hot commodity after winning the 2018 AMA 250 East Supercross Championship and the 250 National Motocross Championship. He signed with Team Yamaha for the 450 class, but never really got up to speed because of injuries in 2019 and 2020. Luckily, he had a year to go on his Yamaha contract when the factory team was handed to Star Yamaha for 2021. At Daytona, Aaron showed delivered on the promise he showed back in 2018. Can his newfound speed carry over to Dallas?

2021 AMA 450 SUPERCROSS POINTS STANDINGS
(After 9 of 17 races)
1. Ken Roczen (Hon)…199
2. Cooper Webb (KTM)…197
3. Eli Tomac (Kaw)…175
4. Justin Barcia (Gas)…153
5. Malcolm Stewart (Yam)…143
6. Marvin Musquin (KTM)…135
7. Aaron Plessinger (Yam)…134
8. Zach Osborne (Hus)…123
9. Dylan Ferrandis (Yam)…121
10. Adam Cianciarulo (Kaw)…120
Pro Circuit's Cameron McAdoo has always had speed, but he has been unlucky. Now, at Pro Circuit Kawasaki, he is making his own luck and his Daytona 250 West victory gave him the red plate for this Saturday's Arlington Supercross.
Tire choice for the Daytona 250 West main event cost Justin Cooper his red plate and a spot on the podium. Star Yamaha took the sand tire that he used in his heat race (above) off for an intermediate tire for the main—in hopes of getting a better start on the firmer start straight. Instead, he got a bad start and even spun off the track at one point in the main when his intermediate didn't bite into the sand coming out of the tunnel.
Pierce Brown earned his first-ever podium at Daytona by holding off Justin Cooper in the late laps at Daytona. He is only tenth in points, but Pierce could move up five places with another podium in Arlington.

2021 AMA 250 WEST SUPERCROSS POINTS STANDINGS
(After 2 of 9 races)
1. Cameron McAdoo (Kaw)…49
2. Justin Cooper (Yam)…45
3. Garrett Marchbanks (Yam)…39
4. Hunter Lawrence (Hon)…35
5. Jalek Swoll (Hus)…34
6. Seth Hammaker (Kaw)…29
7. Stilez Robertson (Hus)…28
8. Coty Schock (Hon)…25
9. Chris Blose (Gas)…23
10. Pierce Brown (Gas)……21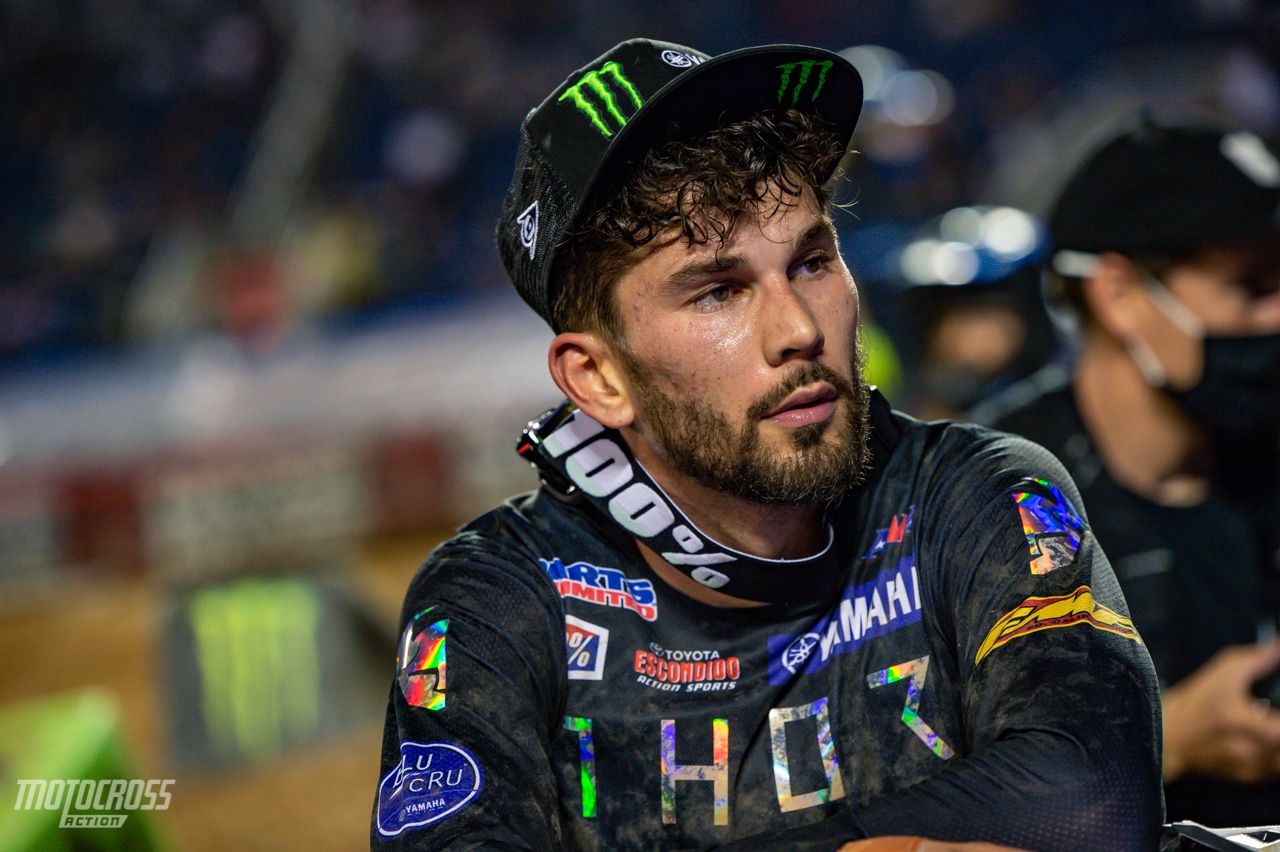 The 250 East riders aren't sitting at home waiting for their coast to race again on April 24, they are doing outdoor testing. Colt Nichols leads the 250 East by 8 points over teammate Christian Craig.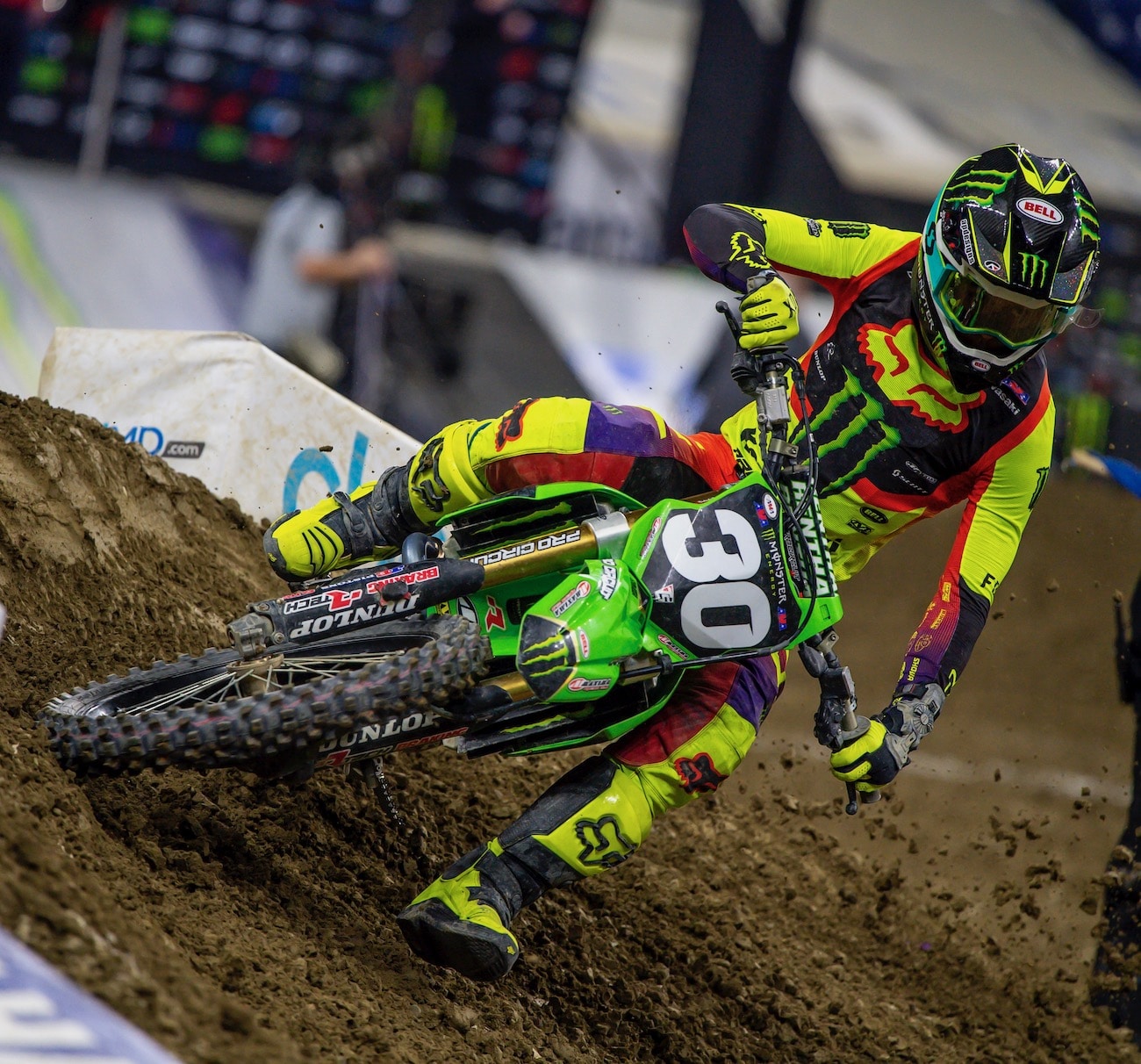 Japanese rider Jo Shimoda has quietly raced himself into third in the 250 East points.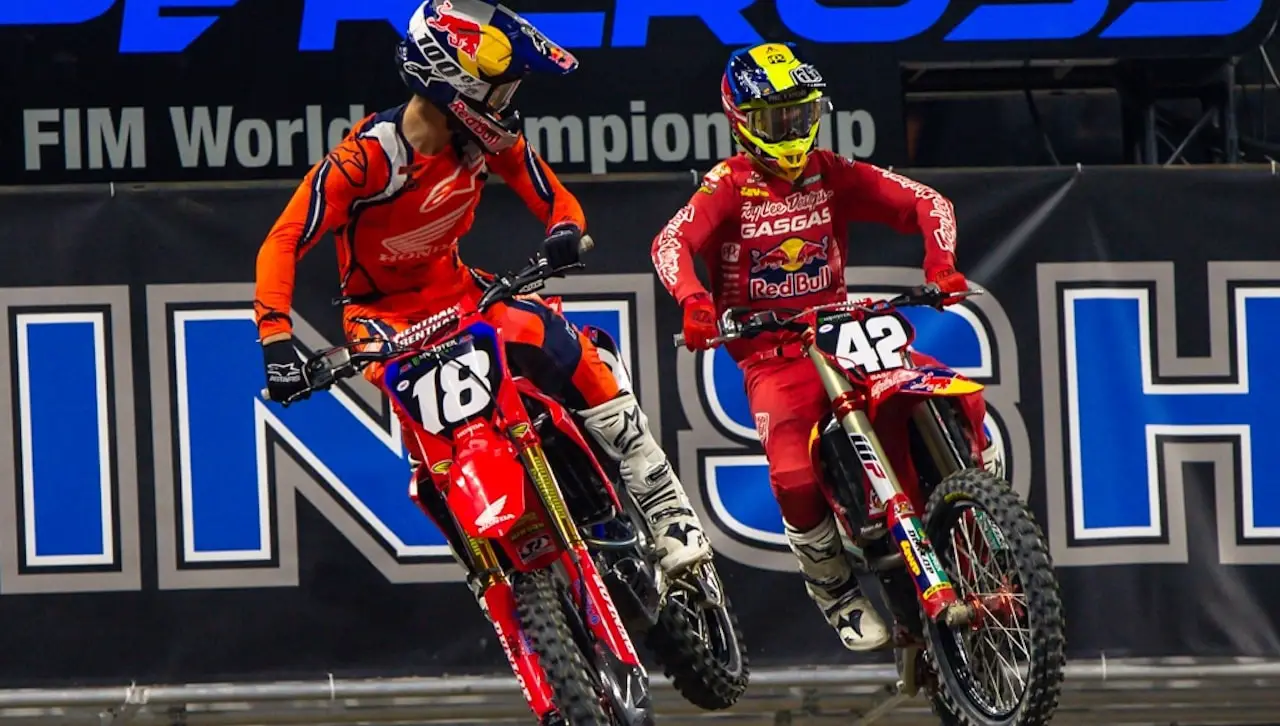 Injuries defined the 250 East Championship as front runners like Michael Mosiman, Austin Forkner, R.J. Hampshire and Max Vohland all dropped out with injuries. Mosiman (42) provided the highlight of the 250 East series when after being knocked own on purpose by Jett Lawrence (18), came back the next week to clean Lawrence out on the first lap of their heat race.

2021 AMA 250 EAST SUPERCROSS POINTS STANDINGS
(After 7 of 9 races)
1. Colt Nichols (Yam)…166
2. Christian Craig (Yam)…158
3. Jo Shimoda (Kaw)…138
4. Jett Lawrence (Hon)…128
5. Josh Osby (Hon)…103
6. Michael Mosiman (Gas)…97
7. Mitchell Oldenburg (Hon)…91
8. Josh Varize (KTM)…81
9. Thomas Do (KTM)…74
10. Grant Harlan (Hon)…71
• 2021 AMA SUPERCROSS WINNERS AT A GLANCE
Justin Barcia only has one win to his credit, but he's still fourth in 450 Supercross. Roczen and Webb have three wins each and Tomac two wins.

Venue                                                                       450                                    250
Jan. 16 (Sat)…Houston, TX…………….Justin Barcia…………….Christian Craig
Jan. 19 (Tues)….Houston, TX………….Eli Tomac…………………Jett Lawrence
Jan. 23 (Sat)…Houston, TX…………….Cooper Webb……………Colt Nichols
Jan. 30 (Sat)…Indianapolis, IN……….Ken Roczen………………Colt Nichols
Feb. 2 (Tues)….Indianapolis, IN……..Ken Roczen………………Colt Nichols
Feb. 6 (Sat)…Indianapolis, IN…………Ken Roczen………………Christian Craig
Feb. 13 (Sat)…Orlando, FL……………..Cooper Webb……………Jett Lawrence
Feb. 20 (Sat)…Orlando, FL……………..Cooper Webb…………..Justin Cooper
Mar. 6 (Sat)…Daytona Beach, FL……..Eli Tomac………………..Cameron McAdoo
Mar. 13 (Sat)…Arlington, TX
Mar. 16 (Tues)… Arlington, TX
Mar. 20 (Sat)…Arlington, TX
Apr. 10 (Sat)…Atlanta, GA
Apr. 13 (Tues)…Atlanta, GA
Apr. 17 (Sat)…Atlanta, GA
Apr. 24 (Sat)…Salt Lake City, UT
May 1 (Sat)…Salt Lake City, UT
450 points leader…………Ken Roczen
250 East points leader….Colt Nichols
250 West points leader…Cameron McAdoo