SEATTLE SUPERCROSS CANCELED NOW INDY SX MAY HAVE NO FANS
CONFIRMED: NO FANS ALLOWED AT 2020 INDIANAPOLIS SUPERCROSS: WILL THEY STILL RACE?
Factory Husqvarna rider, Dean Wilson reported on his Instagram page today that the Indy Supercross is canceled this weekend.
[UPDATED MARCH 12TH 3:20 PM]
Dean Wilson reported on his Instragam today that the Indy Supercross this weekend has been canceled. This is a very big possibility as Indiana Governor already put in place a maximum of 250 people in one place.  Read below.
[UPDATED MARCH 12TH, 2020 2:30 PM]
We now have confirmation that the 2020 Indianapolis Supercross will not allow fans to enter into the stadium and watch the race. We still don't have an official statement from FELD Entertainment on if they will still allow the race to go on without fans, but it is confirmed now that round eleven of the 2020 Monster Energy Supercross season will not have any spectators in the stands, beyond the essential crew members needed. This tweet below from the governor of Indiana confirmed it and it's possible that Supercross will have to cancel since the amount of people needed to operate the race isn't small and would be close to 250 people when you include riders, mechanics, team managers, TV reporters, TV cameramen, media, AMA officials, flaggers, track workers and so on. Stay tuned for more updates and to see the current LIVE TV schedule and online streaming via NBC Sports Gold app, click here.
[UPDATED MARCH 12, 2020 11:00 AM]
The coronavirus is causing people to panic across the world and now it's having a major effect on the 2020 Monster Energy Supercross season. Round eleven, the 2020 Indianapolis Supercross is now in question as we are hearing rumors that there won't be any spectators allowed inside of the stadium, only essential personnel will be allowed in and we are guessing that the people and athletes will be screened heavily to make sure that nobody has the virus. We will update as soon as we have concrete information about the Indy SX. Click the link below for our coverage on the COVID-19/Coronavirus pandemic.
The Coronavirus pandemic has made a major impact on life as we know it. The NBA (National Basketball League) announced on Wednesday that they are suspending their season until further notice after one of their players, Rudy Gobert tested positive for the virus in a pre-game screening. What will happen to Supercross? Will the season be cut short? This weekend's race in Indianapolis, Indiana, could very well be the final round of the season. The pressure will be on between Eli Tomac and Ken Roczen as they have three points separating each other and no guarantee that they will race again in Supercross this season.
According to the Indiana State health department, there have been 12 reported cases of the Coronavirus in Indiana. The state is preparing for an outbreak and has canceled many events to keep the spread of the virus to a minimum. Hospitals in Indy are getting ready for the worst trying to find more beds in case of an outbreak. Even Ball State University has suspended all in-person classes until the end of the spring semester. As far as sports go in Indy, things like the NCAA Basketball tournaments will go on, but no fans are allowed. With people traveling from all over for the Indy Supercross this weekend, the stakes will be raised for spreading the virus. We are waiting to find out very soon for an official announcement from FELD.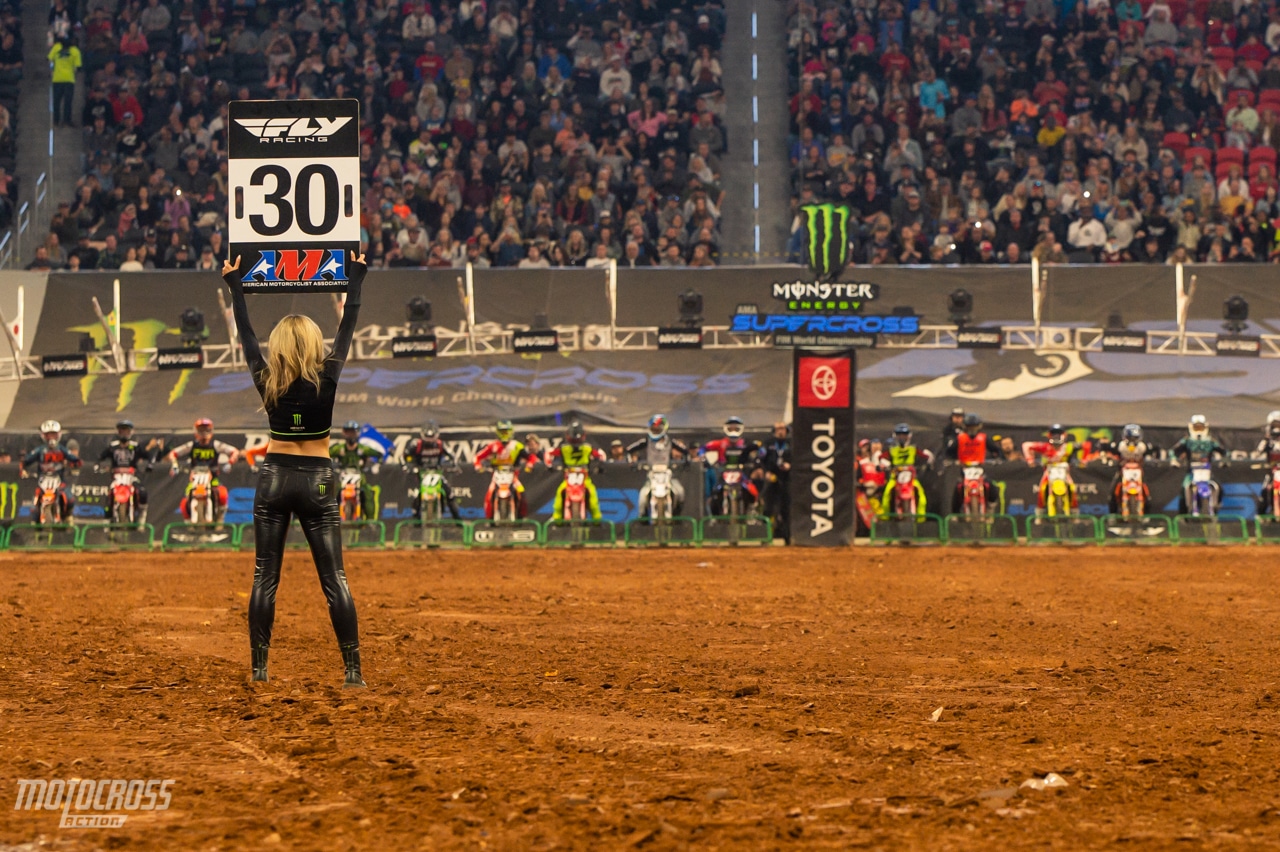 After Washington governor Jay Inslee announced this morning that he is prohibiting events of more than 250 people to go on in three Washington counties, FELD Entertainment was forced to cancel the Seattle Supercross. One of the three counties which this prohibition is affecting is King county which covers the city of Seattle where the thirteenth round of Supercross was schedule to be held. FELD Entertainment has announced that round thirteen of the 2020 Monster Energy Supercross season has been canceled in a brief press release. You can read the statement from FELD and learn more about the situation and Gov. Inlsee's press conference below:
FELD Entertainment stated:"In accordance with the governor's restrictions on group gatherings in King County amid coronavirus concerns, the upcoming Monster Energy Supercross event scheduled on March 28, 2020 at CenturyLink Field in Seattle has been cancelled."
"Refund information for fans is located at http://www.centurylinkfield.com/event/monster-energy-supercross-20/."

"The 13th race in the 2020 Monster Energy Supercross series will be rescheduled. For more information please continue to get real time updates at SupercrossLive.com."
THREATS CONTINUE TO RISE AND NOW THE NBA HAS CANCELED THE REST OF THEIR SEASON
The NBA (National Basketball League) just announced that they are suspending the rest of their 2020 season in an effort to prevent the spread of the coronavirus.
First, Golden State Warriors NBA franchise announced that they would be holding their games on TV without any spectators and now the NBA has announced that they are suspending the rest of their season until further notice after one of their players, Rudy Gobert of the Utah Jazz team has tested positive for the coronavirus. Rudy was tested in a pre-game screening and the game was canceled about 30 minutes later. Fans were told that the game was postponed due to unforeseen circumstances. Now, both the Jazz and Thunder players are quarantined at Chesapeake Energy Arena.
Via ESPN.com: "The NBA is suspending game play following the conclusion of tonight's schedule of games until further notice," the league said in a statement issued shortly after 9:30 p.m. ET. "The NBA will use this hiatus to determine next steps for moving forward in regard to the coronavirus pandemic."
WASHINGTON GOVERNOR JAY INSLEE PROHIBITS PUBLIC EVENTS OF OVER 250 PEOPLE IN THREE WASHINGTON COUNTIES
With the outbreak of the Coronavirus aka COVID-19, people around the world are stressing out as we are all hearing different reports about the virus. Some people brush it off without hesitation while others are taking all measures possible to protect themselves. But, no matter if you think it's a serious threat or not, it has become a threat for Supercross and other sporting events across the country. As of Wednesday March 11th when the governor of Washington, Jay Inslee began his press conference, there were reported 31 deaths of the Coronavirus in the United States and 24 of the deaths have come from Washington state. This morning, Wednesday March 11th, the governor of Washington State, Jay Inslee announced that certain events with over 250 participants in the King, Snohomish and Pierce Counties are now prohibited through March by order of the governor. The Seattle Supercross was scheduled to take place on March 28th in downtown Seattle, Washington, inside of the CenturyLink Field, and now the race has been canceled and FELD Entertainment is looking to reschedule round 13 of the Monster Energy Supercross series. Scroll below for the most important quotes from the press conference, for the official press conference video and more.
"All events of more than 250 people are prohibited and in addition, events with fewer than 250 unless organizers can take steps to minimize the risks taken to participants."
Washington State governor Jay Inslee said: "It is clear that our state needs a more vigorous and more comprehensive and more progressive position if we are going to slow the spread of this epidemic. So today I am announcing steps to help communities contain COVID-19. When I do so, I have an understanding listening to the scientific community that this is not just your ordinary flu. This is a virus that the experts tell us are at least ten times more potentially fatal than the flu and this demands a response consistent with the nature of the threat. We have already lots 24 of our citizens and we mourn their loss. As of yesterday we had 268 presumptive cases of this virus with hundreds if not thousands of more who we know are on our streets who may not even know that they have the virus. So starting today, I am ordering, pursuant to my emergency powers, that certain events in King County, Snohomish County and Pierce county with more than 250 people will are prohibited by order of the governor.  These events that are prohibited are gatherings for social, recreational, spiritual and other matters. Including but not limited to community, civic, public, leisure, faith based or sporting events, parades, concerts, festivals, conventions and similar activities of that dimension are prohibited going forward. The three counties affected have been chosen because they are experiencing significant community transmission, significant outbreaks and they are large population centers. This prohibition could be expanded in the coming days depending on the expansion of the virus. These counties could be removed at a future order as well."
CORONAVIRUS OUTBREAK: WASHINGTON GOVERNOR'S PRESS CONFERENCE VIDEO
Governor Jay Inslee also mentioned: "I spoke with the Vice President about these strategies this morning and we have been in constant communication with the federal government on multiple levels and they are going to issue in some guidance shortly that is very much consistent with our thinking here in Washington. These are not easy decisions. The decisions we are making today and the decisions we probably will be making in the upcoming days are going to be profoundly disturbing for a lot of the ways we live our lives today. But I believe they are the right ones. They are there necessary ones. They are ones based on how we feel about loved ones in our lives. They are based on science. And they're based on the fact that we are all going to work together to limit the consequences on businesses and families."
"We have starting with this prohibition through March with these three counties. It is very, highly likely that it will be extended beyond March. That can be decided at that time."
"This order is not intended for grocery or retail establishments or other family events."
KEN ROCZEN IS HAPPY ABOUT THE CANCELATION BUT HE RAISES QUESTIONS ABOUT RESCHEDULING
TEAM HONDA TO OPT OUT OF AUTOGRAPH SESSIONS
For of the Honda Supercross teams will no longer be attending autograph signings and they won't be allowing any autograph signings at the races either. 
"American Honda regrets to announce that due to the growing threat of coronavirus (COVID-19), Honda-supported supercross teams (Team Honda HRC, GEICO Honda, MotoConcepts Honda and Penrite Honda) will not participate in dealer appearances or AMA Supercross autograph signings, effective immediately and until further notice."
"Everyone at Honda recognizes the value of our customers and dealers, and appreciates their enthusiastic support; these functions are great opportunities for our riders and teams to interact with fans, and we regret having to make this difficult decision. That said, taking prudent measures to protect the health of all involved stakeholders is paramount. In the future, we'll explore opportunities for alternative measures that we can take to repay our fans and customers for their support. In the meantime, thank you for your patience."
TEAM YAMAHA TO OPT OUT OF AUTOGRAPH SESSIONS
Factory Yamaha announces that both their factory Monster Energy Yamaha 450 team and Star Racing Yamaha 250 teams will no longer be participating in autograph sessions in an attempt to protect their riders from the coronavirus.
Yamaha stated:"Due to the current Coronavirus situation, Yamaha regrets to inform its fans that we will be cancelling all Monster Energy Yamaha Factory Racing Team and Monster Energy Star Racing Yamaha Team autograph sessions at both dealership signings and on site at Supercross events until further notice."
"While we are truly sorry that our teams won't have the opportunity to interact with our loyal fans, the safety and wellness of our racers, crew members and fans are of the utmost importance to us. We appreciate your understanding during this time, and we'll continue to monitor the situation and provide you with any updates.⁠"
GRAND PRIX OF ARGENTINA CANCELED: WHAT'S NEXT TO FALL TO THE CORONAVIRUS
Click here for the announcement from MXGP with their updated schedule. 
KEN ROCZEN OPTING OUT OF DEALER SIGNINGS & AUTOGRAPH SIGNING
Read Ken Roczen's statement about the coronavirus and his prevention method.
Executive Bruce Dammeier of Pierce County, WA, said: "I recognize that the mass majority of people have an immune system that will be able to fight off the virus. I am particularly thankful that our youth seem to have a system that can combat this effectively. But I am increasingly concerned about the seniors in our community, young women who are pregnant and about folks with compromised immune systems. We need to be taking significant actions to protect them because we also know that they are very vulnerable to this disease. So that's why I'm supporting these actions today in Pierce county."
LECTRON FUEL SYSTEMS FOUND A SOLUTION TO PREVENTING THE SPREAD OF THE CORONAVIRUS (funny joke)