KYOSHI'S CORNER: LIFE IN THE MXA TRENCHES
Click on images to enlarge
KYOSHI'S CORNER
Dennis Stapleton brought MXA's project 2016 Husqvarna FC250 up to the fabled MXA parking lot so the whole gang could have a tail gate party in the middle of deadline. From left to right; Tom Hinz, Dennis Stapleton, Jody Weisel, Rob Healy, Daryl Ecklund and John Whelchel.

By Kyoshi Becker
Production week descended upon us once again—it seems like it comes around every month. The MXA crew stayed indoors and spent the week finishing articles and reviewing proofs. Magazine editing is hard work, but like a good steak, minor refinement will get the perfect formula. Being MXA's "web guy" I'm on a weekly deadline (instead of monthly). Nonetheless, I sometimes get pulled in to help out with the print magazine. If I'm not reading or writing, I'm in the studio shooting bikes and products. My only opportunity to escape production and shoot a race this week was this last Sunday at the Loretta Lynn qualifier in California City. The drive to California City was long and boring, but the two flat tires I acquired from a pothole made the drive back even longer. Maybe my driving is just bad or perhaps I just have bad luck. Whatever the circumstance, I wasn't able to get my moto fix for the week.
The bike in the above photo is another one of Dennis Stapleton's projects. It's WP 4CS forks were converted into KYB PSF2 air forks (using the WP tubes). Other features included an HGS/Bud Racing exhaust system, Red Label graphics, Dubya wheels, TM Designworks chain guides, Hinson clutch, Golden Tyres and a Knobby Shop seat cover. You will be able to read about this trick bike in the August issue of MXA.
Who knew that MXA had its own dungeon? It doesn't always have this much floor space. The ad guys deserve credit for making it look so tidy and clutter free.
I teased Jody about this REM T-shirt until I saw it…then, I wanted it. Jody said if  it got shot in the studio that he'd give it to me. And he did.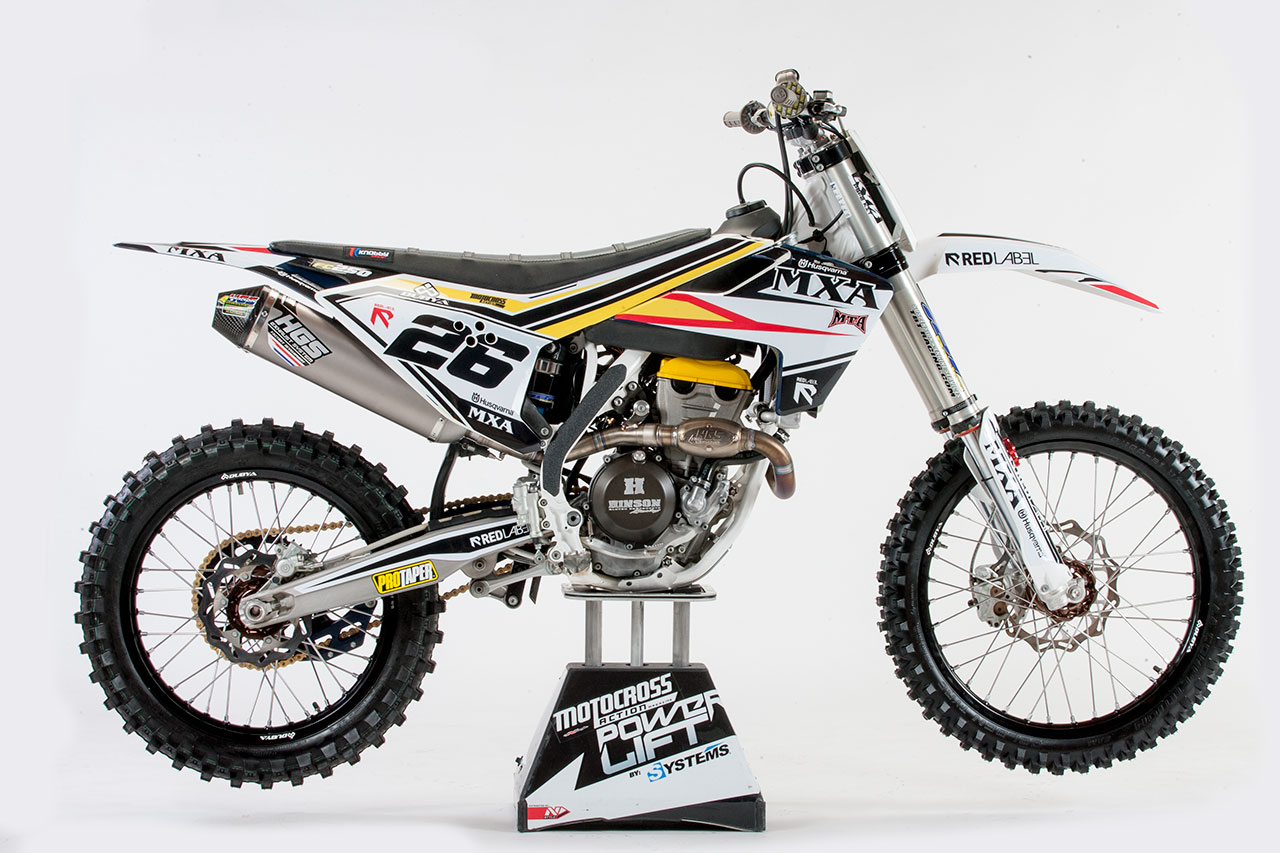 A proper studio shot of  our Husky FC250 project bike.
THAT OTHER HOBBY
Me at MB2. Photo: Luke Duncan/D-Squared Images.
When I am not shooting, riding dirt bikes, or at the beach, you'll find me at the local go-kart track attempting to improve my lap times. Currently I run between 1-2 seconds behind the fastest racers. Last Friday, I was able to get a lap time of 21.139 seconds. My racing partner, Luke Duncan, smoked me at a 20.326 but he wasn't able to break that 20-second mark. According to the leaderboard, somebody nabbed a 19.63 second lap.
The biggest difference between racing on cement from dirt, is line choice. The track stays pretty much the same, allowing the riders to build on every lap they put down. With dirt, the lines can change drastically and sometimes the best lines get so rutted out, you are forced to take bad ones. Operators of go-kart racetracks aren't slouches either. It seems that every three weeks there is a new track layout to keep us on our toes.
SKIPPY'S CAREER STATS
Chad Enters the Santa Clara opening ceremonies

Chad Reed wants to end his career like Peyton Manning. Winning the Supercross Championship in glory and retiring at the top. Having Ryan Dungey break his records must be somewhat surreal. Reed is still setting records nonetheless as he just ran his 200th start. The only other riders to have had over 200 starts in the 450 class are Mike LaRocco and Kevin Windham. Unfortunately,  for the two-time Supercross champion, the younger field is only getting faster. While his future for 2017 is unknown, he says he plans to keep racing next season.
CHAD REED STATS
450 Total Starts: 200
450 Total Career Podiums: 128
450 Total Career Wins: 43
450 Win Percentage: 21.6%
450 Podium Percentage: 64.3%
Consecutive Podiums: 22
Total AMA Points Earned: 3847
2016 Season Podium Precentage: 21.4%
THIS PAST WEEKEND'S WINNERS
Ryan Dungey took his third win in a row in St. Louis (and his 8th of the year).
St. Louis 450 Supercross: Ryan Dungey.
St. Louis 250 East Supercross: Jeremy Martin.
450 Mexican Grand Prix: Tim Gajser.
250 Mexican Grand Prix: Jeffery Herlings.
Tacoma Arenacross: Gavin Faith.
Tacoma Arenacross Lites: Carlen Gardner.
Australian National 450:  Dean Ferris.
Australian National 250: Caleb Ward.
MXA PRODUCT SPOTLIGHT
Above is the Sioeye Iris4G cam. It is designed to wirelessly stream video and shoot in 1080p and 4K.

CLASSIC AD | HONDA-GOING STRONG

Honda was the bike to race back in the day. This is from 1978
AMATEUR SHOT OF THE WEEK
Hunter Yoder hunts for a first.

If the 10-11 class had "elite riders," Hunter Yoder would be on that list. Racing against rider like Ryder Difrancesco, Matthew Leblanc and Jett Reynolds,  Hunter has many wins under his belt. Out of the current crop of kids, Hunter has a good chance to climb to the top of the sport. 
HOW IT WAS DONE IN THE GOOD OL' DAYS

R. J Wageman photographed at REM.

Slide film is the least forgiving for exposure mistakes. A photograph will pop and have a magical element to it when all the settings align. When they don't, expect flat muddy images. The beauty of digital photography is the margin of error in your exposures. A photograph on color film (C-41) can be recovered for up to a few stops of exposure while modern digital's often are good for 10 or more stops, allowing for some insane exposure recovery. The above photo was shot on a brand-new roll of Fuji Provia film and was underexposed over a stop.
I have been describing "stops," but what are they? A stop is the representative of a mathematical half or double of an exposure and is associated with the aperture. Aperture describes the width of the opening in the lens. The bigger the opening, the more light comes in contact with the film. To simplify the control of the lens aperture, most lenses have a stop or mark of this equation called out. For instance, if your aperture is f/5.6 and you "stop it down" to F/8, you are reducing the light exponentionally to half the amount f/5.6 is. Like bikes, the technical side of photography is buried in a labryinth of a rabbit hole.
Photographer: Kyoshi Becker
Camera: Nikon N80
Lens: 70-200mm f/2.8