HARD FACTS: 2016 MILLVILLE NATIONAL STATS
At Southwick last weekend Justin Bogle showed some leg swag on his way to his fourth 450 holeshot in a row.
By Kyoshi Becker
Photos by Brian Converse
PRE-SPRING CREEK NATIONAL ROUND-UP
Ah, Millville. Many riders will be hunting for blood, especially with the season past the halfway point. Last weekend at Southwick, Ken Roczen lost to Eli Tomac. Tomac was able to get his first 1-1 finish of the season. While Tomac hasn't lived up to the precedent he set in the 2015 season, he still has a few races left to challenge for the title. Team JGR Yamaha left Southwick in better spirits. Justin Barcia made his first podium of the season while Weston Peick placed fifth. Barcia trailed Musquin for only a few corners until Bam Bam got overly aggressive and cleaned out his front wheel. Also of interest is Justin Bogle's holeshot streak with four in a row. His lead didn't last long in the second moto as Christophe Pourcel pulled the exact same move on Bogle that Barcia did on Musquin within the first few corners of the start.
For the third week in a row, Cooper Webb has won the overall. Although it was no walk in the park. Teammates Jeremy Martin, Aaron Plessinger and Alex Martin, along with Kawasaki rider Austin Forkner and TLD KTM rider Shane McElrath all challenged the 250 West Supercross champion for the win. In the first moto, J-Mart narrowly won over Webb. However, in the second moto, a crash after being over-roosted put J-Mart on the ground and he was unable to catch Webb. While many riders went down at Southwick no-one crashed as violently as Shane McElrath. McElrath was challenging Alex Martin for second position near the end of the second moto when he hit a square-edge hole and flipped hard into the face of the next whoop—shoulder first. The result was a concussion and broken ribs. If any rider was seemingly absent from the proceedings, it was Joey Savatgy. He left Southwick with a season worst of 10-11 for a ninth place overall.
Word is that the Stewart offspring has finally arrived. Now, James Stewart can return to the nationals, but you have to wonder how happy Suzuki is about their big investment at this point in 2016.

Here is the layout for the 2016 Spring Creek track.
BASIC STATS

The season is 66.6% over. Superstitions aside… The end is near!
The city of Millville has a population of about 200. Saturday, that population will grow by at least fifty times when thousands of die-hard motocross fans pour into the town.
Spring Creek MX Park has hosted a National since 1983. It boasts several of the most iconic obstacles in the sport, including the sand whoops and the "Holy Schmit" jump named for late local legend, Donny Schmit. The track also has the longest start straight on the schedule.
"Mount Martin" is Spring Creek's newest obstacle, measuring at 350 feet of total elevation.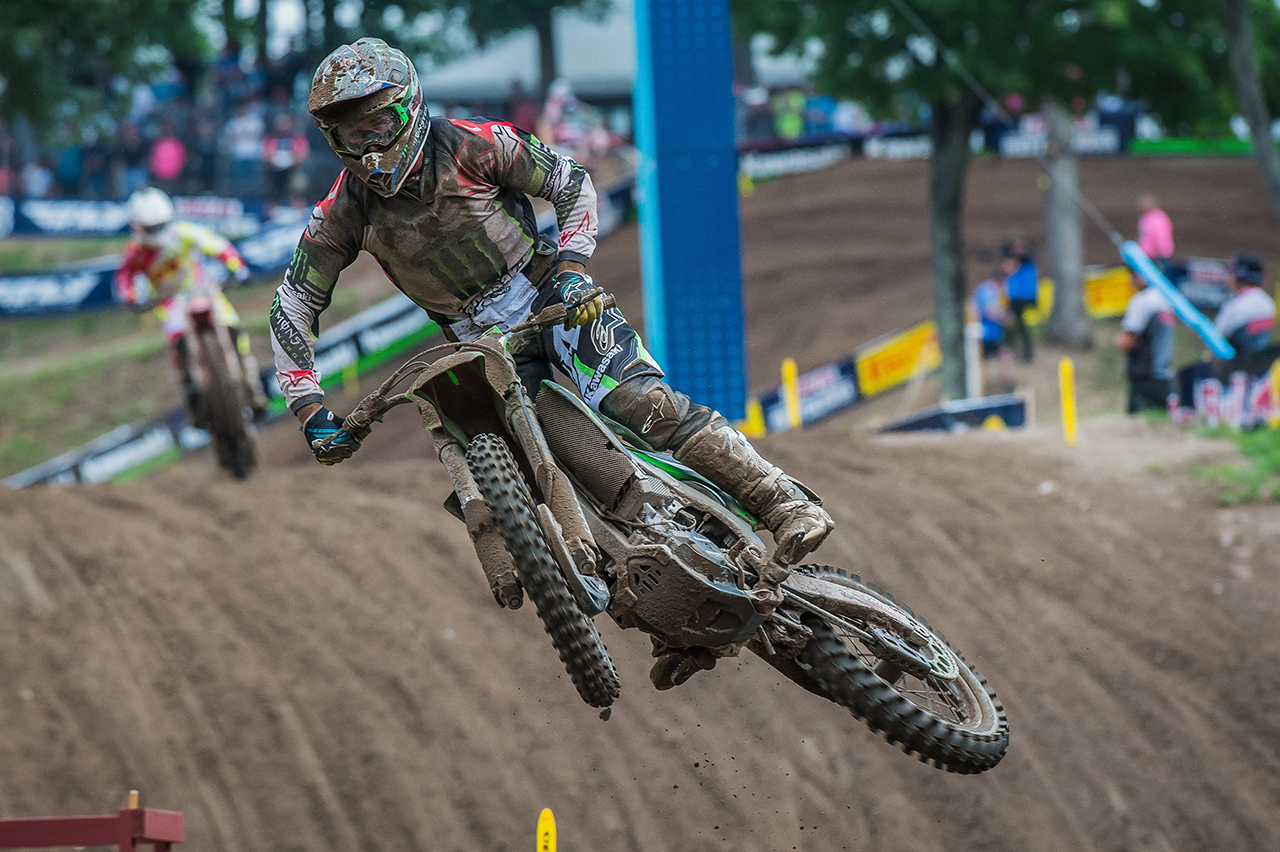 Eli Tomac broke through his slump to go 1-1 over Ken Roczen at Southwick.

450 CLASS NOTES
Minnesota native, Ryan Dungey, hasn't missed a race at Millville since 2007. He has finished on the podium every year since 2009. Unfortunately, he will miss this year due to his injury.
The first race held at Spring Creek was August 28, 1983. Bob Hannah won on a Honda.
A total of four riders have posted their final career victories at Spring Creek. However, no rider has ever won his first career 450 national at the facility.
Yamaha hasn't won an overall at Spring Creek since 1994 with John Dowd.
Suzuki has won seven of the last nine races at Spring Creek. James Stewart captured the brand's eighth total victory in 2013, surpassing Kawasaki for the most all-time at the track.
Ricky Carmichael boasted an undefeated record at Millville, winning every race (eight) and every moto (sixteen) from 2000 to 2007.
FASTEST 450 MAIN EVENT LAP TIMES
Hangtown Moto 1 – Ryan Dungey – 2:00.475

Hangtown Moto 2 – Ken Roczen – 2:02.776

Glen Helen Moto 1 – Ken Roczen – 2:26.867

Glen Helen Moto 2 – Ken Roczen – 2:29.60

Thunder Valley Moto 1 – Ken Roczen – 2:10.649

Thunder Valley Moto 2 – Eli Tomac – 2:11.230

High Point Moto 1 – Eli Tomac – 2:01.932

High Point Moto 2 – Justin Barcia – 2:00.304

Muddy Creek Moto 1 – Eli Tomac – 1:53.115

Muddy Creek Moto 2 – Ken Roczen – 1:52.555

Red Bud Moto 1 – Ken Roczen – 1:56.678

Red Bud Moto 2 – Ken Roczen – 1:56.555

Southwick Moto 1 – Eli Tomac – 2:05.750

Southwick Moto 2 – Eli Tomac – 2:07.221
TOP FIVE 450 POINTS
Ken Roczen…337 Points
Eli Tomac…290 Points
Marvin Musquin…201 Points
Justin Barcia…181 Points
Broc Tickle…171 Points
Cooper Webb has the red plate and wants to keep it.

250 CLASS NOTES
Millville is the home track to brothers Alex and Jeremy Martin. More specifically, their parents John and Greta Martin own it. While in contention for the championship, neither have had the points lead since Glen Helen this year.
Cooper Webb set the fastest lap in the 250 class at Southwick with a 2:11.515 in the first moto. Shane McElrath was behind by a mere 0.094 of a second at 2:11.609. Aaron Plessinger also wasn't far behind Webb with a 0.377 second gap at a total lap of 2:11.892.
The first 250 class race was held at Millville on August 28, 1983. Ron Lechien won on a Yamaha.
Late local legend Donny Schmit gave Suzuki its first win at Millville in 1987, and went back-to-back with another win in 1988. Current local star Ryan Dungey achieved the same feat in 2008 and 2009 before moving on to the 450 class where he duplicated those efforts, prior to switching to KTM in 2012.
Yamaha has not won at Spring Creek in the 250 class since Jeff Emig's 1993 victory.
FASTEST 250 MAIN EVENT LAP TIMES

Hangtown Moto 1 – Cooper Webb – 2:01.669

Hangtown Moto 2 – Zach Osborne – 2:02.473

Glen Helen Moto 1 – Cooper Webb – 2:30.635

Glen Helen Moto 2 – Austin Forkner – 2:32.143

Thunder Valley Moto 1 – Joey Savatgy – 2:12.506

Thunder Valley Moto 2 – Joey Savatgy – 2:12.099

High Point Moto 1 -Zach Osborne – 2:03.830

High Point Moto 2 – Aaron Plessinger – 2:03.182

Muddy Creek Moto 1 – Cooper Webb – 1:55.155

Muddy Creek  Moto 2 – Jordan Smith – 1:56.088

Red Bud Moto 1 – Cooper Webb – 2:00.882

Red Bud Moto 2 – Cooper Webb – 2:01.676

Southwick Moto 1 – Cooper Webb – 2:11.515

Southwick Moto 2 – Austin Forkner – 2:13.997
TOP FIVE 250 POINTS
Cooper Webb…290 Points
Joey Savatgy…253 Points
Jeremy Martin…252 Points
Alex Martin…232 Points
Zach Osborne…217 Points
Shane McElrath suffered a bad crash a mere few turns from the finish of moto two at Southwick. He will miss Millville.

INJURIES
450 Class
Ryan Dungey – Dungey's crash at Thunder Valley looked like no big deal. He got up and finished the moto. After the fact, doctors discovered a crack in the C6 vertebrae.
Cole Seely – Out with a broken finger which was plated back together last week.
Jason Anderson – Out with a broken collarbone.
Trey Canard – Trey suffered a bulged disc in his back. Currently he is unable to ride because the bulge is causing his clutch hand to go numb. He may return at Millville.
Josh Grant  – Ankle surgery cut his season short.
Dean Wilson – Dean Wilson has been out since he torn his ACL during the Supercross season. He said that he will make his return at Millville.
Blake Baggett – Reinjured his shoulder. He is out for the rest of the season.
Matt Bisceglia – The Suzuki fill-in rider suffered a collapsed lung and broken ribs.
Justin Bogle – Injury is unknown but it is a result of crashing at Southwick. Bogle will miss Millville.
250 Class
Jessy Nelson – Injured his knee at Thunder Valley. He may return to Millville or Washougal.
Shane McElrath – Injured in a violent crash at Southwick. Will most likely not return this season.
Alex Frye – Troy Lee Designs Alex Frye sustained a torn ACL and additional torn ligaments in his knee. He will be out for the rest of the 2016 national season.
Justin Hill – Hill, another Troy Lee Designs KTM rider, hurt his back. He wants to return by Millville or Washougal.
Tristan Charboneau – Tristan broke his collarbone at Glen Helen. He is back on the bike and is focusing on Loretta Lynns for now. He will race the last three Nationals.
Chris Alldredge – Still recovering from a pelvis injury he suffered in Las Vegas.
Christian Craig – Craig collided with teammate Jordon Smith at Glen Helen. In the crash, Craig broke his tib/fib. He is out for the season.