HARD FACTS LAS VEGAS: THE SUPERCROSS SEASON CLOSURE

Ken Roczen gets the holeshot and win in East Rutherford. Photo: Scott Mallonee

By Kyoshi Becker

PRE-LAS VEGAS ROUNDUP
The 450 season is over this weekend. Ryan Dungey clinched the championship last weekend in East Rutherford and Ken Roczen locked out second overall, while third place is still up for grabs. It would take a 19th place finish from Jason Anderson to hand that spot over to Eli Tomac. What will be more tightly contested is the 10th overall finish. Weston Peick (125 points) will need to have a strong finish to fend off racers Justin Bogle (120 Points), Mike Alessi (120 points) and Jacob Weimer (119 Points). As 2017 is a contract renewal year for Peick, he may benefit the most from a top ten finish. Rookie Justin Bogle has had a rollercoaster season, although his finishes have become stronger as the season progressed.
Up for grabs is both the 250 East and West championship. While Cooper Webb has seemingly already won the West with his confidence and dominat riding style, Joey Savagty and Christian Craig aren't locked out. Adding to the pressure is Zach Osborne and Colt Nichols. While they don't have enough points to win the overall championship, they have enough to contest for second overall. A battle between either of them, Joey Savagty or Christian Craig could be the difference between the two winning the championship or losing to Cooper Webb.
As dynamic and unpredictable the 250 East has been, surprisingly, only three riders can contest for the championship. Malcolm Stewart's win in East Rutherford locked out Martin Davalos by a mere five points. This leaves Star Racing Yamaha's racers Jeremy Martin and Aaron Plessinger to contest, but both will need a double digit point lead on Malcolm Stewart to win. Unlike Cooper Webb, Stewart raced Las Vegas last year, won the West heat and took second in the East/West shootout. If everyone is able to race at their best, we may be looking at a Star Racing versus Geico Honda battle for the shootout. If Jeremy Martin or Malcolm Stewart win the title, they will be ineligible to defend their title next year. Cooper Webb has no choice and will move up to the 450 class regardless.
BASIC STATS

The 2016 Supercross season is over come Saturday (unless you consider the orphan Monster Energy Cup in the fall).
The first Supercross held in Las Vegas was in 1990. It has been on the schedule every year since excluding 1996.
Las Vegas permanently became the location for the Supercross season finale in 1997, although, 1992 was the first year the season had ended at Sam Boyd Stadium.
Sam Boyd Stadium is the only football stadium on the current Supercross circuit that does not host NFL games. Because of this it is noticeably smaller.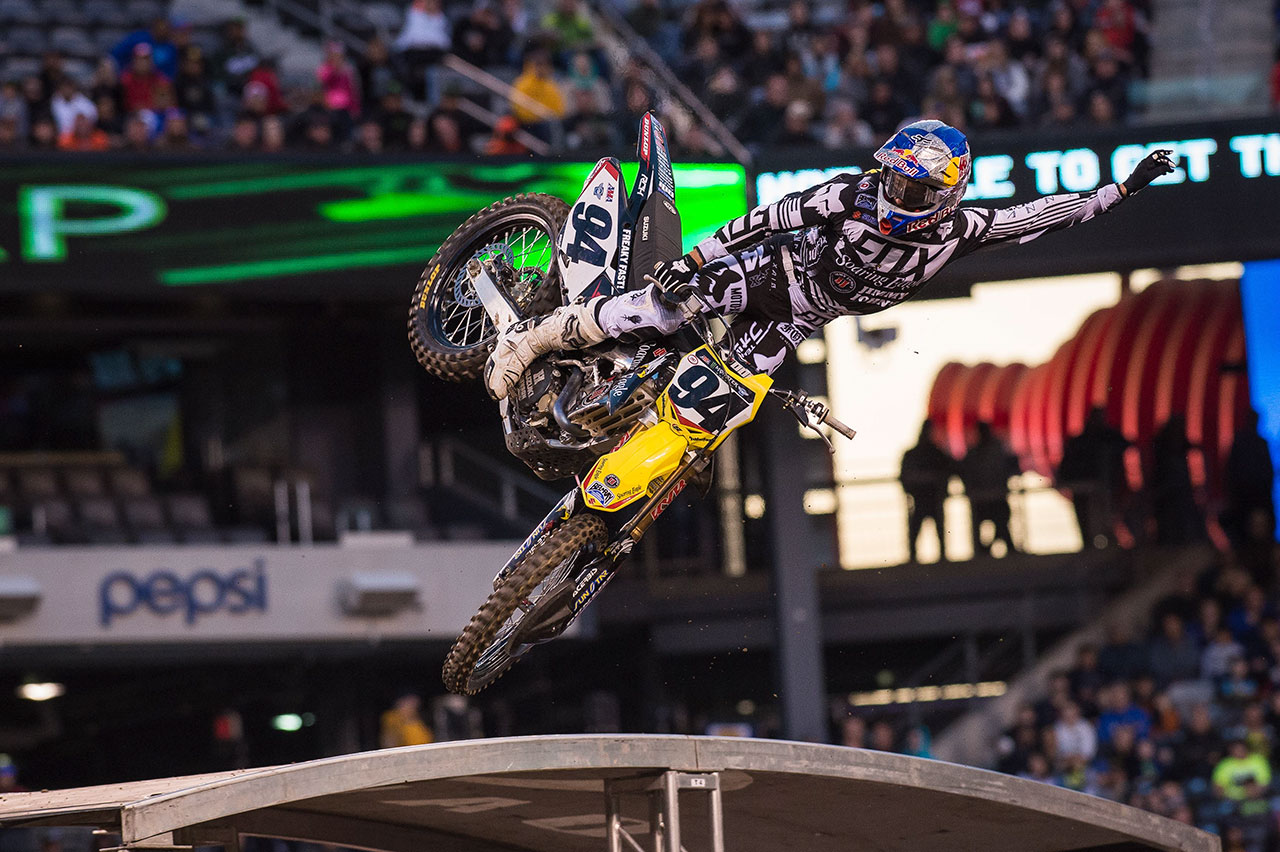 Ken Roczen may be out of the championship but he still can get a three win podium streak. Photo: Brian Converse

 450 CLASS NOTES
Jeff Matiasevich got his first 450 career win in Las Vegas during the 1990 season. Two other riders with this distinction are Mike LaRocco (1991) and Jeff Emig (1995).
2006 may have been the most closely contested end to a season in Supercross. A mere two points separated champion Ricky Carmichael from both Chad Reed and James Stewart when the race was over.
Chad Reed only has 20 more points at this time in the season than he did in 2015. Yet he is fifth overall whereas last year he was fourth overall.
1995 in Las Vegas is the only race Jeremy McGrath missed in his entire 450 Supercross career (1993-2002).
Ryan Dungey has finished Las Vegas second place or better every year since 2010. He has never had back to back wins though.
History was made when Doug Henry won Las Vegas in 1997 aboard his Yamaha YZ400F. This would be the first time a four-stroke had won a Supercross main event.
FASTEST 450 MAIN EVENT LAP TIMES
Anaheim 1 – Tomac 1:01.954.
San Diego 1 – Dungey 48.794.
Anaheim 2 – Tomac 57.202.
Oakland – Dungey 53.229.
Phoenix -Tomac 1:02.602.
San Diego 2 – Dungey 57.995.
Dallas – Dungey 50.754.
Atlanta – Dungey 45.943.
Daytona – Dungey 1:04.851.
Toronto – Dungey 54.604.
Detroit – Dungey 46.808.
Santa Clara – Roczen 43.144.
Indianapolis – Roczen 43.548.
St. Louis – Roczen 53.484.
Foxborough – Roczen 57.088.
East Rutherford – Roczen 45.604.

Based on last year Malcolm Stewart has the best chance of winning the 250 shootout. Photo: Brian Converse

250 CLASS NOTES
Jeremy McGraths first Supercross career win in the 250 class was in Las Vegas during the 1990 season.
Unlike last year, KTM does not have a rider that could win either the East or West championships. Yamaha has the greatest chance with three riders, Honda has two riders and Kawasaki has one.
Aaron Plessinger is the only rider in the top four of the 250 East to not have two wins.
Ivan Tedesco is the last rider to have back to back wins in the 250 West (2004-2005). The 250 East has a much more recent back to back winner with Justin Barcia in 2011 and 2012.
FASTEST 250 MAIN EVENT LAP TIMES
Anaheim 1 – Webb 1:01.392.
San Diego 1 – Webb 49.360.
Anaheim 2 – Webb 57.597.
Oakland – Alldredge 45.003.
Phoenix – Webb 1:03.650.
San Diego 2 – Savatgy 59.234.
Arlington – Craig 51.705.
Atlanta – Davalos 47.027.
Daytona – Hill 1:07.740.
Toronto – McElrath 56.279.
Detroit – Stewart 48.190.
Santa Clara – Webb 44.535
Indianapolis –  Plessinger 46.274.
St. Louis –  Martin 54.946.
Foxborough – Martin 58.830.
East Rutherford – Stewart 46.620

After coming back from a fractured C-3 vertebrae, Christophe Pourcel sustained internal bruising in Indianapolis and will miss the rest of the Supercross season. Photo: Scott Mallonee

450 INJURY LIST
Davi Millsaps – Broken ribs and a collapsed lung. Will most likely race Las Vegas.
James Stewart – Hairline ankle fracture and back injury.
Christophe Pourcel – Healing from internal bruising.
Tommy Hahn – Broken thumb.
Wil Hahn – Broken collarbone, torn labrum and a broken scapula.
Andrew Short – Concussion from the three-way crash between him Wil Hahn and Phil Nicoletti. Retiring after this season.
Kyle Chisholm – Recovering from a broken humerus, dislocated shoulder and concussion.
Dusty Pipes – Like Chisholm, he is recovering from both a broken humerus and dislocated shoulder.
Tyler Enticknap – Broke his thumb at the first San Diego round.
Tevin Tapia – Broken wrist from preseason still healing.
Dean Wilson – Out for the 2016 season with a torn ACL and meniscus. He may miss some of the AMA Outdoor National season too.
Adam Enticknap – Out for the season due to a broken femur.    

250 INJURY LIST
Kyle Cunningham – Broken wrist.
Justin Hill – Concussion. Like teammate Jessy Nelson he will not complete Supercross and focus on healing for outdoors. 
Arnaud Tonus – Dislocated shoulder.
Nick Gaines – Out of the 2016 Supercross season with a broken femur.
Adam Cianciarulo – Still recovering from a broken wrist, although he is getting ready for outdoors.
Jordan Smith – Injured shoulder.
Zach Bell – Still healing from a broken collarbone, but may not finish the 250 West series if his infection isn't taken care of.
Jessy Nelson – A back injury and concussion kept him out of Supercross. He is preparing for outdoors currently.
Luke Clout – Out of with a broken femur.
Mark Worth – He dislocated a hip and broke his elbow on the first lap of practice at Anaheim 1.
Daniel Baker – Done for the 2016 Supercross season after tearing his ankle.
Josh Osby – Broke some ribs and punctured a lung.