KYOSHI'S CORNER: A NEW SPOT
Johnny Jelderda rips on MXA's 2017 Suzuki RM-Z250 at Milestone. 
By Kyoshi Becker
If you follow my corner, you know we spend every Thursday at Milestone. Or do we? Well, last Thursday we did. For those who know the answer to the first sentence, all I have for you is an invisible high five. Milestone is quite the change from "The Glen" and the MXA crew made the most of it (we normally go to Milestone on Wednesdays and Glen Helen on Thursdays and Saturdays). For those unfamiliar with the SoCal tracks, Milestone is like a lazy Supercross track. Natural obstacles are far and few between. Bumps even more remote. Think Daytona. Years ago I remember Milestone having more clay than it did last week. It was quite sandy in some spots. The semi rigs tugging hopper trailers we saw, may be importing more clumpy dirt. This Thursday, however, we wouldn't see the change.
So what did we do there? First, we got to take the 2017 Suzuki RM-Z250 for a spin. More specifically, MXA test rider Johnny Jelderda was tasked with photo duties. Daryl Ecklund needed a test rider, and just by luck Johnny was working a job not far from Milestone. He agreed to come out and help Daryl and Dennis Stapleton with testing. Jeldera is an excellent rider and a joy to work with. Travis Fant also had to shoot come Husqvarnas videos along with the Suzuki. Once the videos were completed, Daryl and Stapleton attempted to fix the jetting on the Husqvarna Tx300. It was a good workday in a good spot.
Jody had to go to Glen Helen to take care of some USGP track stuff, but did double duty by swinging by Milestone to meet with KTM's David O' Connor on some technical matter that only Jody and David seemed to understand.
Did I mention it is sandy?
Daryl can do voice overs with his eyes closed. How that translates to video? You decide. That's Travis Fant in the foreground in his traditional summer attire, although he's missing the beanie.
Scrubbing in the back.
Daryl standing with his brother, Mopy Ecklund. Just kidding. Often MXA test rider change gear if it's better suited to the job at hand.
After confirming that the USGP track wasn't being destroyed, Jody drove over to Milestone to work out some issues with KTM's David O'Connor. 
That fine dust is a lens killer.
Dennis Stapleton (center) tries to convince Irishman David O'Connor that the Double Double Animal-Style is the best hamburger on the west coast. 
I really dig these pics. Jelderda can roost.
Daryl Ecklund digs into the tiny parts of the TX300 Mikuni.
This berm was so soft. The sand was very fine and powdery in parts.
Jelderda gets some serious air on the step-up in the back.
A change in gear and a change in bike. No big deal for the MXA gang—we have lots of orange helmets and new gear on standby.

Milestone put this little hump in near the end of the loop.
And one more photo.

ONE MORE REM RACE BEFORE THE USGP

A five-way battle breaks out behind Hunter Turner (710). Brock Bowers (X), Kyle Crawford (2), Nicolas Ziegler (122) and Jeff Fitzgerald (875) slot into side place.
I still wasn't able to make it a week without going to Glen Helen. REM is simply fun to be at, with good people and good racing. The 20-minute motoo frmat lends itself to more action than a five-lap amateur race. As always, the racing was close, but the weather was better. I also demonstrated my poor riding skills to everyone there. There was much relief that REM wasn't running on the GP track as previously scheduled. The REM track was changed once again however. Few tracks change as much as the REM track.
Dan Alamangos wasn't in his usual Thor gear.
Chris Alamangos races in style.
Dennis Stapleton (39) raced MXA's RM-Z450. Here Dennis is chased by Broc Armbruster (34) and Jovan Pulagr (110).

Terry Miller has a big get-off near the top of the hill. If you fall here, you don't hit the ground for about 30 feet.

Brian Medeiros is from Kaui—where pineapples are abundant.
Jon Ortner had a good battle with Shawn Wynne. They weren't alctually racing each other, as Ortner was in the Over-50 Elite class, while Wynne was an Over-40 Oro. Ortner decided that is was a good idea to fend off someone from a younger class. 
The battle between the two riders continued to the last lap—with the old guy (10) getting the upper hand over the youngster (9).
You can't see Jody's flat front tire in this photo, but after getting third in the first moto, Jody (24) gutted out a long second moto with a bike that wouldn't turn. It paid off with a fourth.
A flat on MXA's 350SXF is better than is better than four broken spokes on our 450SXF. Strangely, every other spoke broke, which enable the rider to survive intact.
REM ace mechanic Randel Fout was enlisted to fix Jody's blow out—why did he fix a flat after the race was over? Why wait.

Steve Williams (815) doesn't get to enjoy the view from the top of the hill. He should have stopped to take a look. It is spectacular.
Dan Alamangos takes the 250SXF , Marc Crosby, Ernie Becker and Chris Alamangos were guinea pigs for whatever technical change that Jody worked out with David O'Connor at Milestone on Thursday. Whatever it was—they liked it.

Dennis Stapleton is going to the Soaring Eagle Casino race next weekend on Ken Roczen's 450 National, so he raced MXA's 2017 Suzuki RM-Z450 just to get accustomed to the feel.
This corner was ground up brownies. That could be what they did with all of those Entenmann's brownies that were recalled earlier this week. Phil Dowell demonstrates.

If you were going to pass, this was a popular spot. Here, Tom White makes a move on Rich Stuelke.

Dennis Smith climbs to the summit with the USGP downhill in the background.
Mike Marion (35) fends off Joe Pena (911).
The nifty Rinse Kit. I know a few riders who swear by this nifty bucket. If I can only remember where the one I was supposed to deliver to Stapleton went…
Ralf Schmidt (73) is on the hunt against Pasha Afshar.
Josh Fout raced the MXA's  2017 KX450F.
I brought my trusty TTR125. It is quite a feat stuffing it into my Camry. I also rode it embarrassingly bad through the 900 acre back roads of "The Glen." 
RED BULL | COOPER WEBB'S FIRST BIKE
WESTON PEICK 2016 NATIONAL SEASON STATS
Weston Peick at Unadilla. Photo by Scott Mallonee.
Weston Peick is a rider capable of podiums. Last year he made National podiums and some Supercross podiums. This year, however, has been one of misses and crashes for the rider. The tone for the 2016 season was set at Anaheim where Peick got into a physical altercation with Vince Friese (not a first for the two). Since then he has shown the speed to make the top five but not the consistency. Frequent crashes and mishaps hampered much of his season. Peick would end the year without a single podium. Hopefully he will have more success next year.
WESTON PEICK 2016 STATS
Total Starts: 22
Total Overall Podiums: 0
Total Overall Wins: 0
Best Finish: Fourth place at Washougal.
Total AMA Points Earned: 197
MXA'S WEEKEND WINNERS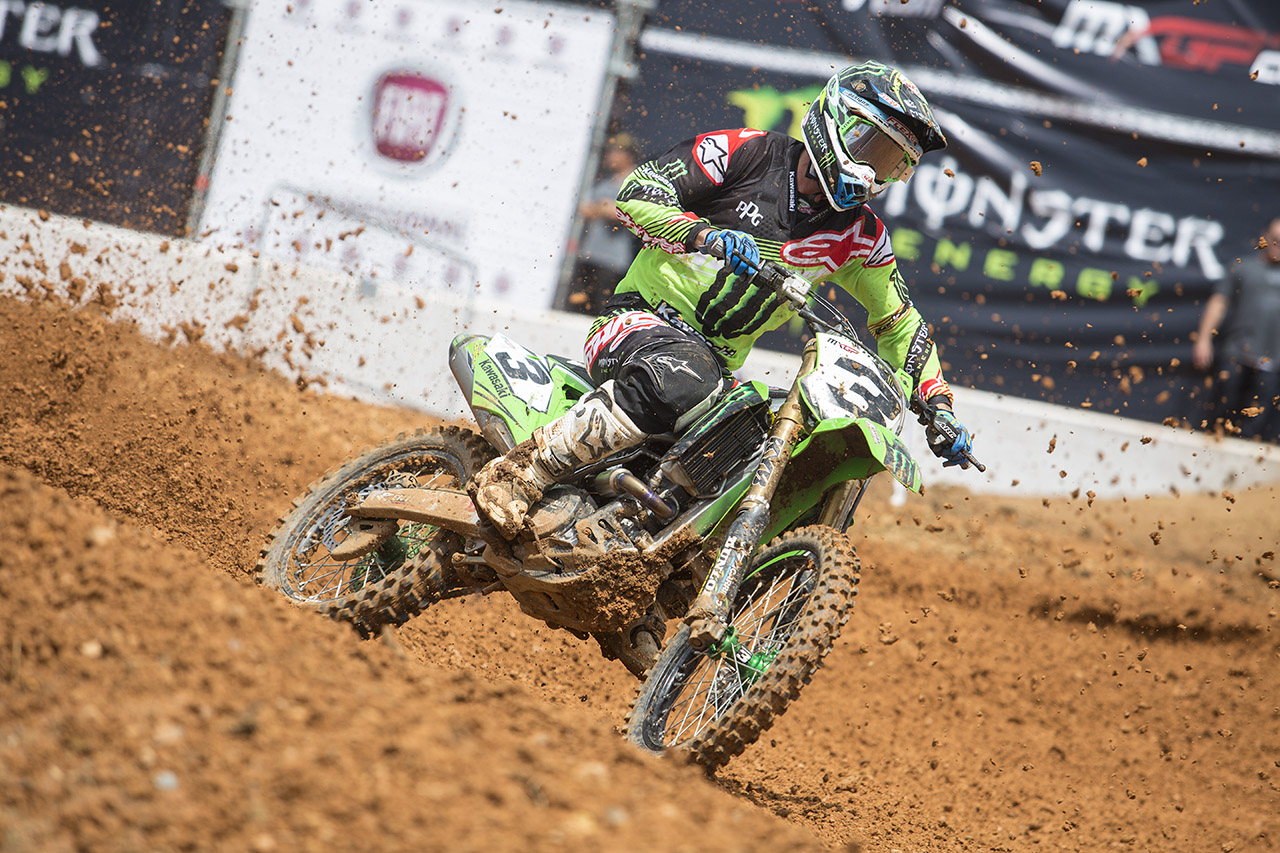 Eli Tomac won the 450 MXGP at Charlotte in dominating fashion.
FIM 450 (MXGP) Grand Prix: Eli Tomac.
FIM 250 (MX2) Grand Prix: Cooper Webb.
FIM 450 (MXGP) Grand Prix Champion: Tim Gajser.
FIM 250 (MX2) Grand Prix Champion: Jeffrey Herlings.
Vet MXdN: Team Belgium.
MXA CLASSIC AD: AUGUST 1976
Back when Can-AM wasn't making the Spyder.

AMATEUR SHOT OF THE WEEK
Does this kid even qualify as an amateur? Ryder DiFrancesco is one of the most famous pee-wee motocross racers and a title monster. As part of Kawasaki's Team Green program, DiFrancesco races near the top of his class. While he only got second overall in the classes he raced at the Loretta Lynn's this year, he scored moto wins and has won more races this year than he has lost.
PHOTOGRAPHIC RAMBLINGS
Johnny Jelderda whipping at Milestone.
I was going to write about a panorama. But alas, the stitching software kept messing it up. Typically we try to put some color in the background of our photos. As rare as it is, foliage is a good way to pop some color into the photo. However, in the picture above, it is almost as much of a distraction as it is a feature. The harsh lighting makes it a busy background.