KYOSHI'S CORNER: LIFE IN THE MXA TRENCHES
KYOSHI'S CORNER
When Supercross was over. The power washers came out.

By Kyoshi Becker
The MXA life isn't all about having fun and hanging out with the top dogs. Production week comes once a month and it was here again this past week, which means office time and lots of desk sitting. On a non-production week, the MXA staff spends much of their time outdoors, riding or working in the field. Even though a lot of typing and testing goes on in any given week., always working in the office doesn't make sense, because it isn't close to any of our tracks. Production week isn't all that mundane. Jody always has good stories to tell about the good old days while we wait for corrections and layout changes. On Monday we wrapped up the August edition of MXA. 
The next few months will be big, as the AMA Nationals will be in full swing and manufacturers are releasing their 2017 models. Husqvarnas and KTM have already released their 2017 photos and the rest will follow in the coming weeks. And MXA gets our first of our 2017 test bikes next week—that may seem early, but we always get our test bikes ahead of the showroom dates. The most interesting bikes in KTM's and Husqvarna's fleet of new iron has to be the  250 two-strokes, which has been completely redesigned. Of course, neither KTM nor Husky forgot about their four-strokes, adding traction control, air forks, new graphics and updated suspenion settings (read, softer shock springs). Both brands have lost over 3 pounds on their already light bikes.
This is a accurate representation of MXA's office(from my desk). We like to keep things tidy at the palatial MXA towers.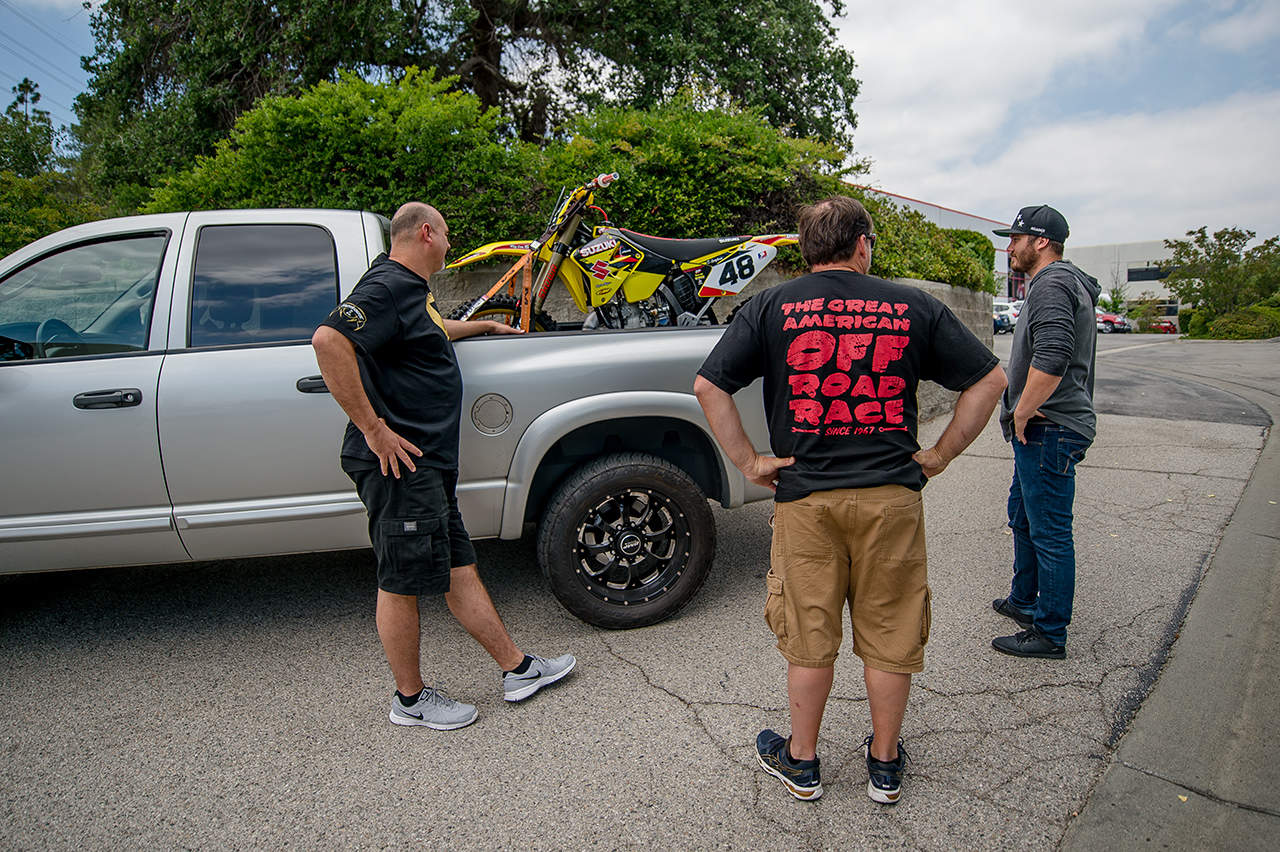 Shaun Langham wandered over to MXA to show off his cool RM250 to Chris Stangl (left) and Daryl Ecklund (perfectly manicured beard).
MILESTONE & GLEN HELEN VISITS

JGR Autotrader Yamaha brought out their whole rig for practice.
The AMA Nationals are upon us and everyone is out practicing at the local racetracks. While we spent much of the week in the office proofreading, photo hunting and spilling coffee on our laptops, a breather came Wednesday. Jody went out to Glen Helen to yell at his National track crew, while I went to Milestone to catch up with the Pros. To provide useful feedback for Jody, Glen Helen's prodigal son, Josh Grant, came out to test Glen Helen's resurrected Triple Step-Up jump. Three other Kawasaki riders–Adam Cianciarulo, Austin Forkner and Arnaud Tonus–were also out to test Jody's creation. It should be known that Jody and Josh can get a bit ambitious. Jody has heavy equipment maestro Carl Scanlon build the perfect 130-foot jump and then Josh thinks it should be bigger. Since Josh has been Glen Helen's go-to National track test rider for many years, they normally listen to him, but this time Jody and Carl think that have maxed out the 250 riders (not on the Triple Step-Up, but on the skyshot back down into the track). There will be more tests before the race on May 28.
Josh Grant doing the pre-race fly-over. Glen Helen likes to test its jump combinations several times before the National riders show up.
While they were shooting to the Moon while jumping the Triple Step-Up creation, I was snooping around Milestone looking for interviews and catching up with friends. JGR Autotrader Yamaha decided to bring their racing rig out, and most of the team to go along with it. Justin Barcia is starting to look comfortable, and Phil Nicoletti has been back on the bike a while after an injury in the Supercross season. Weston Peick also came out on his left-over yellow Yamaha practice bike. Peick is one dedicated rider; almost every practice day I've gone to, I've seen Weston burning gallons of petrol. Who else came out? The Oklahoma duo of Justin Bogle and Colt Nichols were putting in lap times, as were Bogle's teammates in the 250 class, Christian Craig and R.J. Hampshire.
Chase Sexton.


Davi Millsaps is heading to Canada this summer.


Christian Craig with Mike LaRocco.
Weston Peick says hello to Ronnie Stewart.
JAMES STEWART'S SUPERCROSS STATS


James Stewart.

If you knew nothing about Supercross and you watched James Stewart this season, you would probably wonder why all the fuss about Bubba. They would think that Stewart couldn't finish a race without an injury or bike problem. And they  would be correct. James Stewart struggled through the 2016 Supercross season after suffering a concussion at Anaheim 1, and it affected his whole season. That being said, James Stewart got the raw end of the 2016 Supercross series. Let's not forget that he has one of the most staggeringly good records in the history of Supercross. While we have yet to see if he can bounce back in the AMA Nationals, he was looking pretty good a few weeks ago in testing. The numbers below confirm why James Stewart is a legend and one of the greatest.
JAMES STEWART CAREER SUPERCROSS STATS
450 Total Starts: 123
450 Total Career Podiums: 77
450 Total Career Wins: 50
450 Win Percentage: 40.6%
450 Podium Percentage: 62.6%
Consecutive Podiums: 7
Total AMA Points Earned: 2237

WEEKEND WINNERS

Antonio Cairoli has gone back-to-back in the 450 Grand Prix series. He is close enough to overtake Tim Gajser in a few rounds if he keeps his podium streak up and Gajser keeps taking soil samples.

AMA Nationals: No race. Season to start at May 22nd at Hangtown, Ca.
450 Grand Prix: Antonio Cairoli.
250 Grand Prix: Jeffrey Herlings.
Australian National 450: No race. Season to pick up May 22nd at Murray Bridge, Australia.
Australian National 250: No race. Season to pick up May 22nd at Murray Bridge, Australia.
Maxxis British 450 National: No race. Season to pick up May 22nd at Hawkstone Park, Shropshire.
Maxxis British 250 National: No race. Season to pick up May 22nd at Hawkstone Park, Shropshire
MXA CLASSIC AD | December 1974
Don't be a fuddy-duddy. Get a nice pair of shiny neon Wheels of Man moto pants. This was long before the days where moto pants had dozens of cool features (literally and figuratively).

AMATEUR SHOT OF THE WEEK
Willy Simons, Jr. borrows his father's bike, because his bikes are up in Oregon for the Loretta Lynn's qualifier.
Willy Simons Jr is a talented local rider. Both a regular to AMA Amateur races and at REM, Willy consistently places in the top three. He is sponsored by Fasthouse and got a one-shot ride with the TM-factory team during the MTA Two-Stroke World Championship. Keep an eye on Willy.
PHOTOGRAPHIC RAMBLINGS
Don't try this at home kids. Roost for days.

It seems like everyone at MXA drank the Canon camera Kool-Aid years ago. Almost everybody here shoots Canon, with the exception of our photo artist, Pat Carrigan, who shoots with Nikon. The reality is that there is little difference between the two, but the what differences there are can be very noticeable. I've had better luck with Nikon's durability and ability to put up with roost (see above). At the time I invested in Nikon, they had the upper hand on tech. Just like with motorcycles, camera gear seems to work in four-year cycles. Right now Nikon is ahead, but that could change soon.