KYOSHI'S CORNER: LIFE IN THE MXA TRENCHES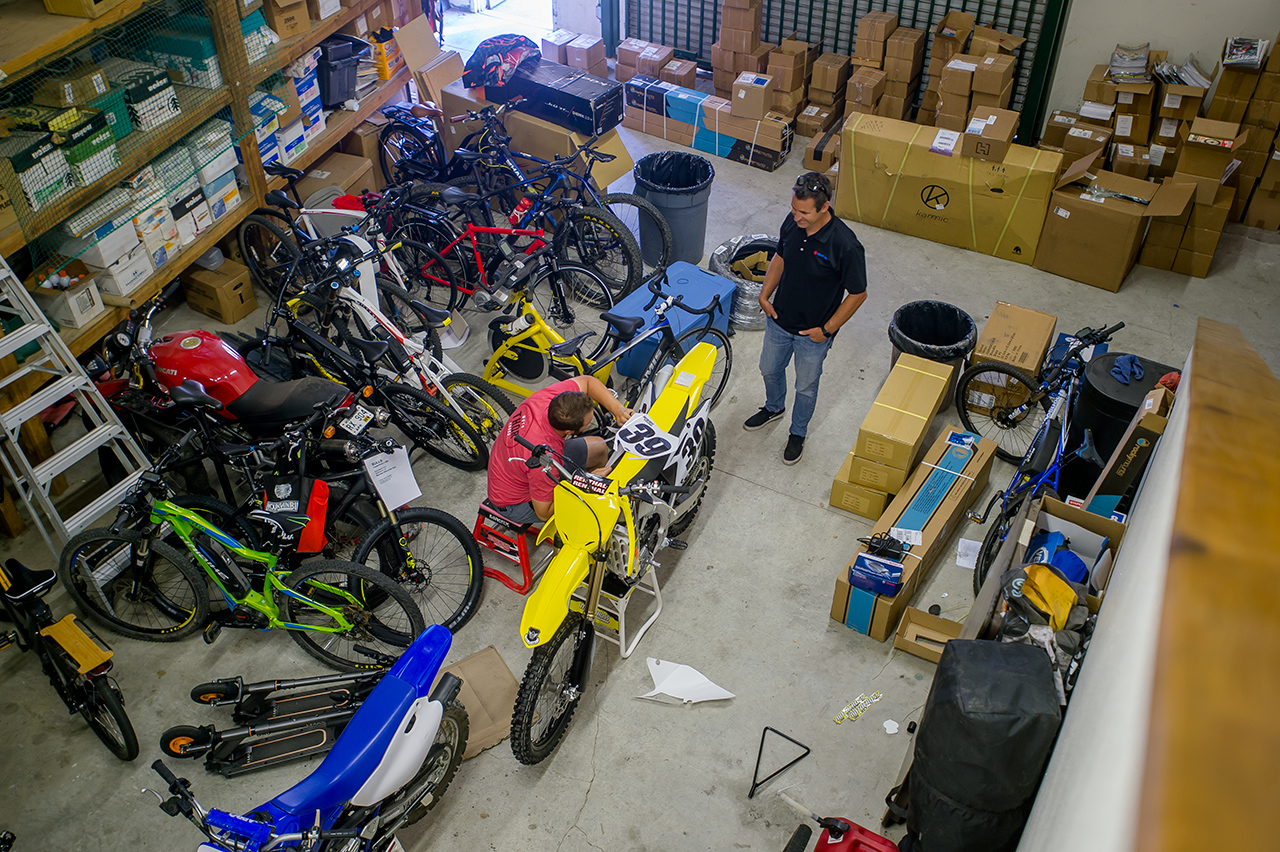 MXA's warehouse is a fun place to visit. Daryl Ecklund applies decals to the 2017 RM-Z450, while Suzuki rep Tim Olson looks on.
By Kyoshi Becker
Production week wasn't over for the MXA crew last week. We still had final corrections and a cover to do. What are final corrections? We have five people read the entire magazine that we completed in an effort to catch spelling and layout mistakes before we send it to the printer. It takes hours to complete, but it must be done. Then we print it out again and Jody, Daryl and John Basher read it all over again. The job isn't all fun and games.
Once we finished that task we were already looking ahead to the November 2016 issue. There's not a whole lot of time before the next editorial deadline. Jody, Daryl and John were feverishly typing stories for the November issue the second the October issue was put to bed. Since, we had a surplus of 2017 bikes on tap,  we had our work cut out for us. This week also had was a passel of new product releases coming down the pike. Fox, Fly and Suzuki were unveiling 2017 product in the Northwest. I was unable to make the trek up to Washington state but John Basher and Daryl Ecklund represented us in the Northwest. Troy Lee also released some new gear sets (albeit with virtually no fanfare on their part). Thor and Shift also joined the other brands to release their new gear. Plus, the Seven Deuce Deuce (Adam Enticknap) had different kind of release — a rap album. While he didn't score any AMA points at Washougal, the privateer did make the iTunes top ten in sales. Congrats!
John Basher and Daryl Ecklund went to Washougal, not only for the 250/450 National, but because Washougal was the place where lots of the new gear would make its debuts. Fox Racing had Ken Roczen, Joey Savatgy, Austin Forkner, Ivan Tedesco and Adam Cianciarulo sport their 2017 line, while Fly had Weston Peick, Andrew Short, Benny Bloss, Justin Brayton, Zach Osborne and Martin Davalos among their rider/models.  Washougal wasn't all catwalk. The racing was gritty, dirty and a blast to watch. Eli Tomac broke through to win the second moto and the overall. The 250 class was pure mayhem. At least for Austin Forkner and Alex Martin they could go home happy.
Adam Cianciarulo and Austin Forkner sported some of the new Fox gear at Washougal. What does Forkner's butt patch mean? It is a reference to the video below. Photo: Daryl Ecklund
THE GLEN HELEN ANTICS CONTINUE
Movie director Daryl Ecklund (behind the 2017 Yamaha YZ250F) had the whole crew to his disposal.
MXA's routine is to test at Glen Helen (almost) every Thursday; however, this Thursday was anything but routine. MXA's videographer Travis Fant was back from his Florida vacation (the MXA wrecking crew are still jealous that he rode the ever-so-awesome Monster Mountain track in Alabama) and he couldn't avoid the growing stack of bikes that needed to be filmed. While we had already shot the action stills on the Yamahas and some of the KTM's, Fantman was away when we did those photo shoots.
Jeremy Lasater doesn't just sample this dirt, he tests how comfy it is.
We all met up before Glen Helen was open (Jody has his own personal electronic gate opener so he can ride whenever he wants). We got there early to beat the 106-degree heat and the throngs of AMA National riders who normally show up on Thursday. At 7:00 a.m. the lighting was prime. It hit the riders at a right angle and made the colors pop. Travis Fant started off with the 2017 KTM 150SX. Test rider Jeremy Lasater was a trooper, riding it through sand corners over and over again. From there our focus moved to the other bikes on the shooting list, including the 2017 KTM 250SXF, 2017 350SXF, 2017 YZ250F, 2017 YZ450F and a 2017 KTM 450SXF. Once all the filming was done, we spun laps to try to solve some jetting issues with KTM's new Mikuni TMX carb on the 150SX. It was a busy day of testing.
KTM's Tom Moen took his 450SXF out for a spin to test a new set-up for MXA to try. Look at that huge smile on his face. 
Dennis Stapleton (on bike) explains the finer things about his travels abroad to Daryl Ecklund. 
Jeremy Lasater took the KTM 150SX for a spin.
Jody and KTM's Tom Moen argue about who's office is better—and, for them, "office" means the back of a truck.
Sometimes photo riders need to be pointed in the right direction. 
Dennis Stapleton found the only loamy corner at Glen Helen and proceeded to blow it out with our 2017 KTM 250SXF. Nice work, Stapo.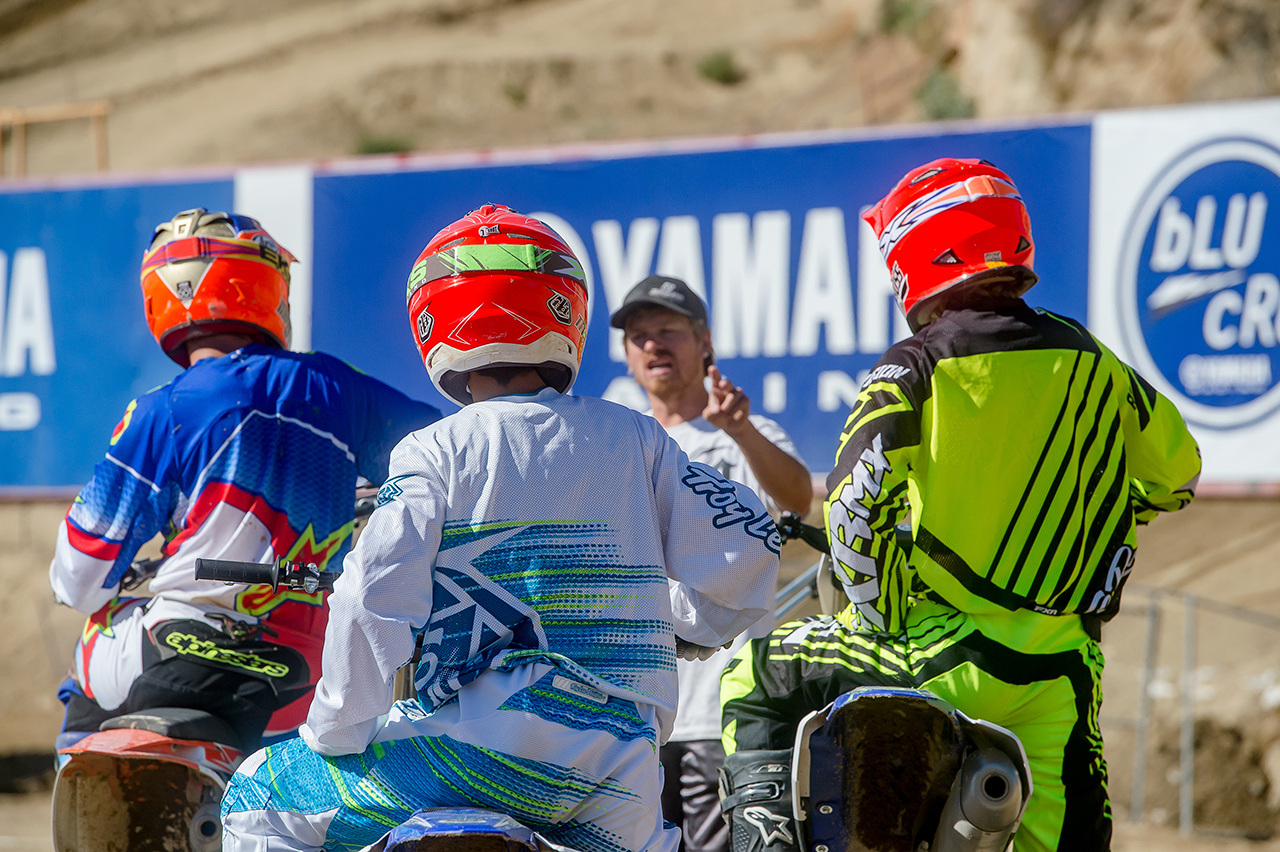 Travis wrangled the riders for the next round of video shooting.
THE PROS ARE OUT

There were only a handful of AMA Pros at Glen Helen last Thursday—which makes it easier to shoot test bike photos, videos and do laps without having the stars jump over your head. Zach Osborne will need a replacement when he moves up to the 450 class in 2017. Michael Mosiman may be that man. He just needs a Loretta Lynn's championship. Easier said than done.
Gannon Audette is a dedicated regular to Glen Helen. He had a podium in Supercross.
Geico Honda's Tristan Charboneau is back on the bike. He finished 18th overall on Saturday at Washougal.
Zach Osborne's Saturday at Washougal was an up and down affair, but Zach will be back looking for his first National win after the break.
Cole Martinez has been the fill-in rider for Tommy Hahn ever since High Point. He has 56 points in the 2016 National season.
Davi Millsaps is rocking the red plate in the Canadian 450 Nationals. He extended his points lead this weekend by going 1-1 in Pleasant Valley, Nova Scotia.
Chris Alldredge is back on the bike. This season has been full of disappointments for the Pro Circuit Kawasaki rider. There is always next year.
Dean Wilson is getting to be a Glen Helen specialist on Thursdays, with the occasional Saturday REM race thrown in. In the two 450 Nationals rounds he has raced since recovering from knee surgery, Dean has amassed 44 points.
I ESCAPED PEA SOUP SMOG FOR A PEA SOUP
As luck would have it, there is a Pea Soup Andersen's in Buellton, California.
I am not old enough to have raced or ever been to any of SoCal's classic race tracks. Tracks like Indian Dunes, Carlsbad and Saddleback are all on my "time machine bucket-list," but they are all gone now. The amount of development that has happened in the last 30 years in Southern California is staggering. I am not fond of the ever-expanding developments that make our riding spots disappear. The new residents complain of the noise and the dust. Some areas bear no markings of the great tracks that were once there.
One such area is Carlsbad. To most people Carlsbad is another hip new neighborhood in San Diego County with no room for a motocross track—no matter how historic. The target demographic is the 30-to-40 year old, married professionals with two kids, a Mercedes Benz and a golden retriever. There is little to identify where Carlsbad Raceway once was. On Tuesday I asked Jody for an approximate location and where to get off the freeway if I wanted to find Carlsbad Racewaay. He said it was on Palomar Airport Road and you knew you were at the right exit because there was a Pea Soup Andersen's restaurant and hotel on the east side of the freeway. Except Jody said that Pea Soup Andersen's wasn't there any more.
I was intrigued, not just by how to get to the old Carlsbad USGP track, but about a restaurant with such an odd name. After a 30-second Google search, I learned a lot about Pea Soup Andersen's. The one in Carlsbad had closed decades ago and had been a TGI Friday's for awhile and then a catering company. Google didn't know what it was now, but they did say that the Andersen's windmill still sat on the location.
The week wore on. On Friday an insane wild fire hit the Santa Clarita area and covered most of the county in haze. Eager to get out of the mess, I headed north towards Zaca Station. I had never been to Zaca either. It is one of the more unique tracks in California. Just as I got near the exit I spotted a large sign. It said, "Pea Soup Andersen's." I had to stop and have a cup of split pea soup. It was quite good—as was the odd coincidence of motocross trivia.
JOEY SAVATGY'S 2015 NATIONAL SEASON STATS
Joey Savatgy at Southwick Photo: Brian Converse
Joey Savatgy was not someone to focus on in 2015. As a Southern Californian turned Georgian, Savatgy grew up training under Coleen Millsaps. He later switched to training under Jeannie Carmichael. His Amateur career was good but not great, and he did not win any races at the Loretta Lynn's the year before his Pro debut. After going Pro in 2013, Savatgy was picked up by Bobby Hewitt to ride on the Rockstar KTM team. With his contract running out at the end of the year, he put in a strong race at the Indiana National–the second to last race of the season. A second place was his first podium and it caught the eye of Mitch Payton of Pro Circuit Kawasaki. After a top five overall in the 2015 East Supercross series, Joey started to catch fire. While he would be overshadowed by Marvin Musquin, Jeremy Martin, and later Cooper Webb, Savatgy proved he could keep the pace and make the podium frequently. He even won the overall at Unadilla. 2016 has been a breakthrough year for him. Savatgy has put on a hard charge in the Nationals that hasn't gone unnoticed. While he has had some minor inconsistencies, the foundation was set at Thunder Valley. Savatgy was able to steal the red plate back and dominate the field.
JOEY SAVATGY 2015 STATS
Starts: 24
Moto wins: 0
Moto Podiums: 7
Overall Wins: 1
Overall Win Percentage: 8.8%
Overall Podium Percentage: 33.3%
Overall Points Earned: 348
MXA'S WEEKEND WINNERS
Eli Tomac topped the podium at Washougal. Photo: Daryl Ecklund
AMA Nationals 450 Class: Eli Tomac.
AMA Nationals 250 Class: Alex Martin.
MXGP 450 Grand Prix: Max Nagl.
MX2 250 Grand Prix: Dylan Ferrandis.
Australian National 450: No race. Next race July 31st at Shepparton.
Australian National 250: No race. Next race July 31st at Shepparton.
Canadian 450 National: Davi Millsaps.
Canadian 250 National: Cole Thompson.
Maxxis British 450 National: No race. Next race August 21st at Preston Docks.
Maxxis British 250 National: No race. Next race August 21st at Preston Docks.
WASHOUGAL RACE DAY CONDENSED NEWS
Alex Martin won his second overall of the series. Photo: Brian Converse
WINS AND FAILS
Alex Martin evaded mistakes and won the 250 overall. Martin also got his first moto win of the 2016 season (he won a moto last year at Budd's Creek).
Austin Forkner earned his first career moto win less than a full season into his rookie season.
Cooper Webb and Joey Savatgy have battled a lot this year. At Washougal it got dirty and they both lost points challenging for the lead because of it.
Weston Peick earned a season-best fourth overall.
Troy Lee Designs KTM riders Jessy Nelson and Justin Hill were flying in the second moto. Neither had been on the bike that long after coming back from injury.
Eli Tomac got his second 450 overall win of the season.
Ken Roczen is now in defend mode. He wants to win races but not at the expense of risking injury. His points lead is good enough that he just needs podiums and not wins to become the champion.
Christophe Pourcel had a big tumble in the first moto after trying to retake second place from Eli Tomac.
MXA CLASSIC AD: AUGUST 1996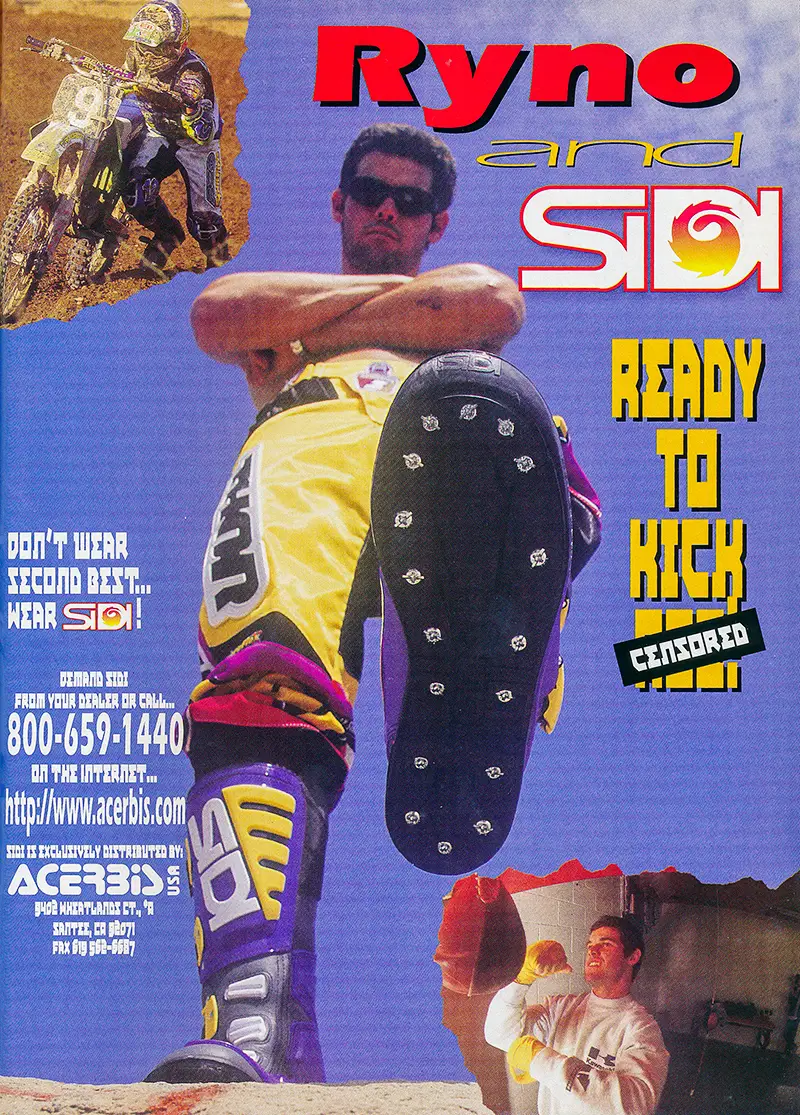 Ryan Hughes likes his Sidi's full of metal.

AMATEUR SHOT OF THE WEEK
Brayton Walker at Race Around The Lake.
Some riders make the Pros, some try to get noticed and some continue the sport because they love it. Just because you race and do not have a contract doesn't mean you don't want to go Pro. Brayton Walker is a rider who hasn't made it clear about the direction he is going in, but he has hinted about wanting to go Pro. He is 19 years old, that is plenty of time to build up good fitness and get more amateur races under his belt.
PHOTOGRAPHIC RAMBLINGS
When a National or GP comes to town, the track is transformed–not just the physical layout but the scenery. While this photo tells you what track the rider is on (if you know your tracks), but it doesn't tell you that Jessy Nelson would take third place in this moto.