KYOSHI'S CORNER: LIFE IN THE MXA TRENCHES
KYOSHI'S CORNER
Jeremy Lasater checks out a trick 2003 Honda CR250 that he is about to ride.

By Kyoshi Becker
Don't you just love the smell of premix in the morning? Two-strokes start the day off right. This month, we have to two-stroke on the MXA chopping block to test, photograph and film. Last Thursday rain was predicted at Glen Helen so the MXA crew sneaked out to our top-secret sand track for a sunset shoot. The day brought to a close with a factory-level 2003 Honda CR250. The KYB A-kit suspension is based on 2012 CRF450 forks and a 2015 CRF450 rear shock. The engine was built from the ground up with Terry Varner putting his special touches on it. All the bolts are titanium and the gas tank is full carbon. The transmission is minus 1st and 5th gear to shed weight. That means neutral is where first gear was. We were a bit nervous at first to say the least.
We also brought out an updated 1995 Honda CR125.  The frame looked factory fresh among it's many features. From the look of it you would have thought this bike came straight off the showroom floor. The forks were updated to 2008 CRF450 components as well as the brake calipers. The sand track is pretty tough but the bike was a blast to ride.
Look for a full test of these two bikes in a future issue of MXA.
The sun is going down but the shoot goes on.
Roost. Daryl Ecklund channels his inner Ansel Adams while directing the shoot.
Jeremy on the 2003 CR250.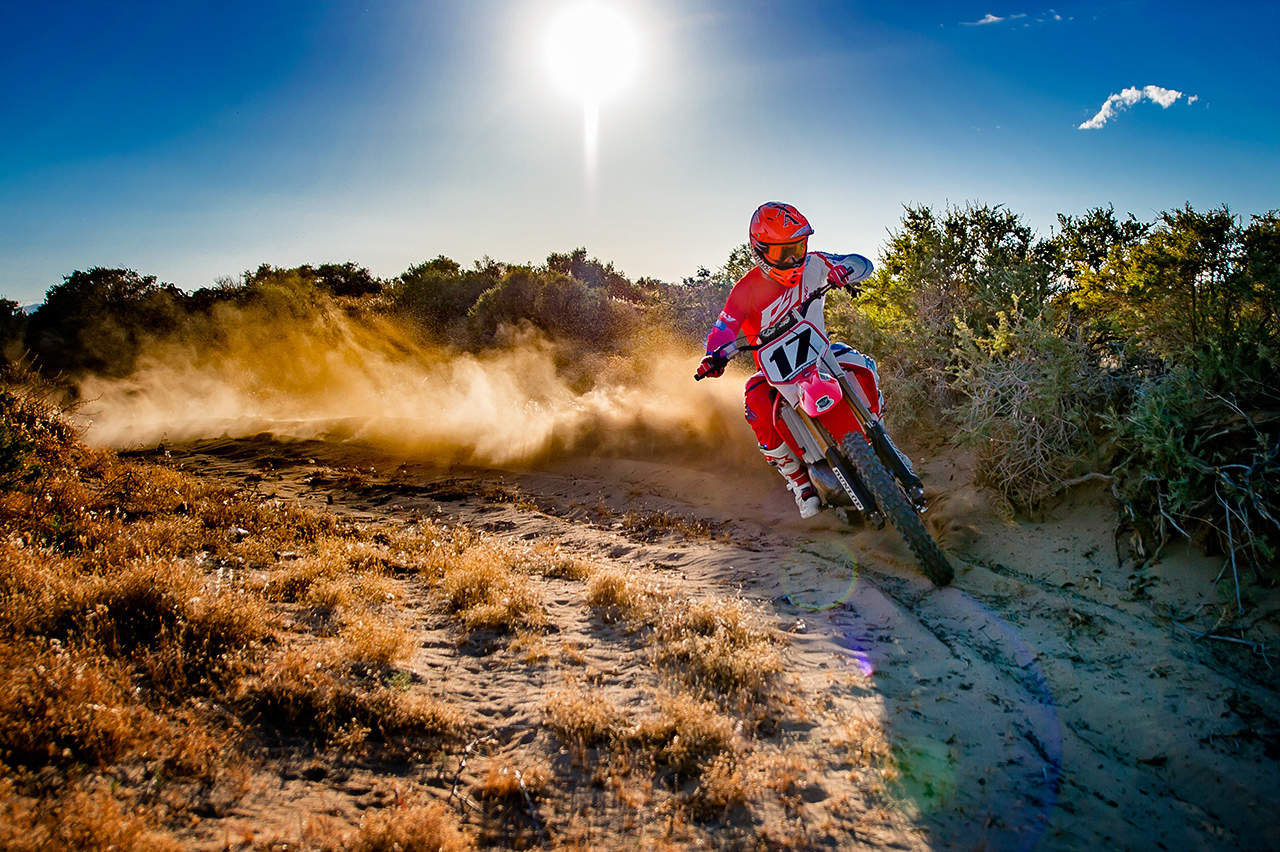 As the sun goes down.
Jeremy on the 1995 Honda CR125.
Jeremy wringing out at MXA's desert sand track.


Can you try that again, but with more roost?
Two-stroke sand storms.
TROY LEE DESIGNS SE4 RIDE DAY
Jon, Brett and Jody have a meeting of the minds at Pala.
Last Tuesday MXA went to Pala Raceway for the Troy Lee Designs SE4 helmet ride day. Scheduled to be released on May 14th, the SE4 is the new flagship helmet offered by TLD. Tuesday's ride day gave us the opportunity to not just wear the lids, but to spin unlimited laps and see how it fits, vents and works. With Dennis Stapleton overseas impressing the Danish, Daryl Ecklund awaiting the arrival of new offspring and John Basher out at ClubMoto, Jon Ortner came out with Jody to scope out the new helmet. Jon and Troy had been on the same team for the Baja 1000 and have history. Troy even made Jon a helmet with his name painted on it. It wasn't orange, but Jon was a good sport and rode with it anyway. Photos below.
One of the new SE4 styles.
Red Bull SE4 helmet.
Justin Hill in an Se4 disguised with an SE3 paint scheme so that Troy could test without attracting attention during the Supercross season.
Jessy Nelson.

Troy Lee wanted to spin laps at Pala in his new baby.


John Ortner's helmet matches his color-coordinated gear.
WHO ELSE CAME OUT TO PALA?
A sea of pit boards.
Did I mention that Troy Lee Designs brought TLD riders Jessy Nelson, Justin Hill and Sean Cantrell out to ride during the helmet intro—and the Star Yamaha team, Weston Peick, Broc Tickle and a few others were there to prep for outdoors Nationals.
Jeremy Martin.
A future pro?
Broc Tickle.
Mitch Harrison.


Aaron Plessinger.
REM GOES TO THE BIG TRACK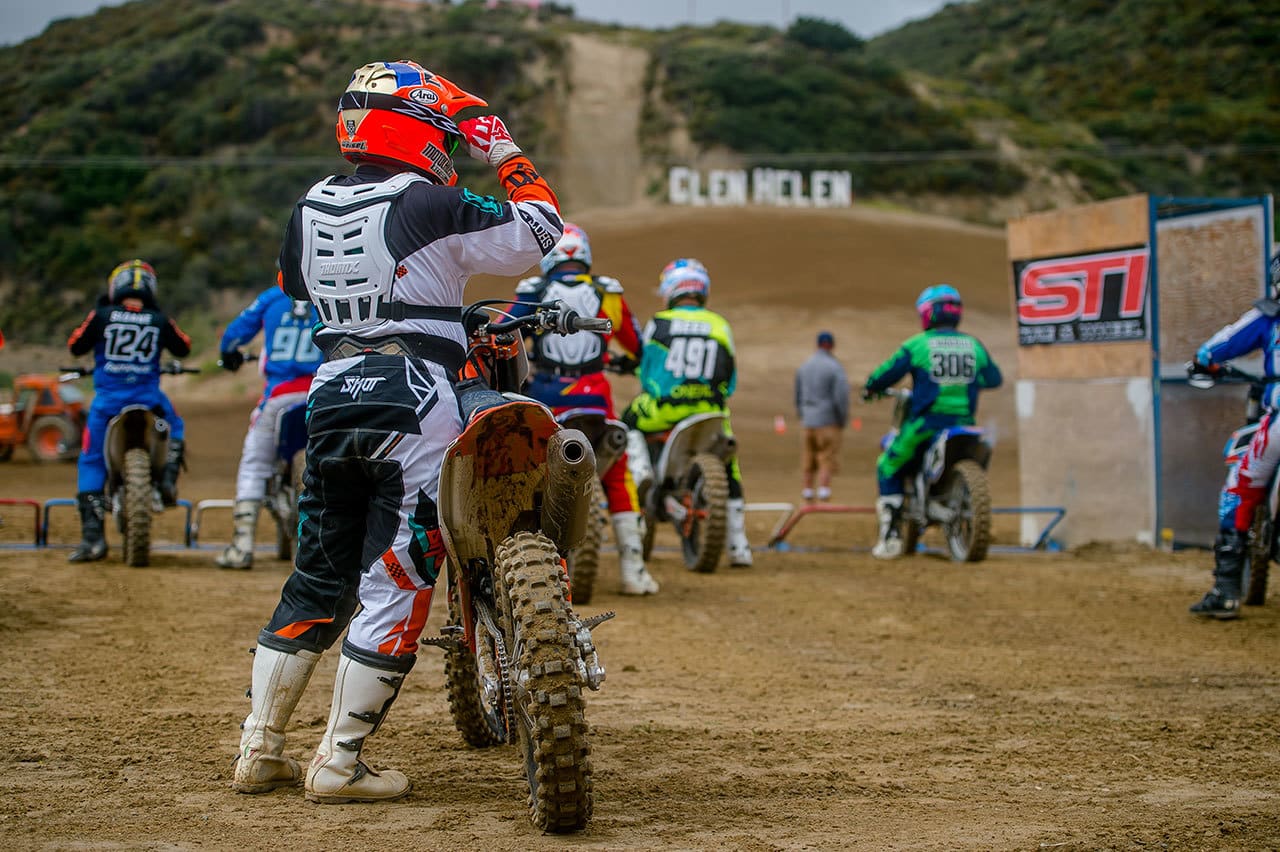 Jody Weisel doesn't rush to get on the gate for his race, knowing that virtually any spot on Glen Helen 40-man gate is good when the first turn is banked at 450-degrees.
I heard REM was running on the AMA National track on Saturday so I got the bug to sneak out and see what was going on. Much of the National track for the upcoming AMA National had been built at this point, but most of the obstacles are still in the planning stage. The northwest corner finally had come into fruition even though the northeast corner has yet to be built. The on and off drizzles kept the track prime for racing. Below are a few photographs.


Jody's rear brakes locked up in his first and had to take his brakes apart at the top of Mt. Saint Helen to get back to the pits, where Dan Alamangos worked on them. . What was the problem? "I made a last second pedal height adjustment without tesing it…and I was to blame," said Jody.
Blake Gardner was second in the 85 Expert class.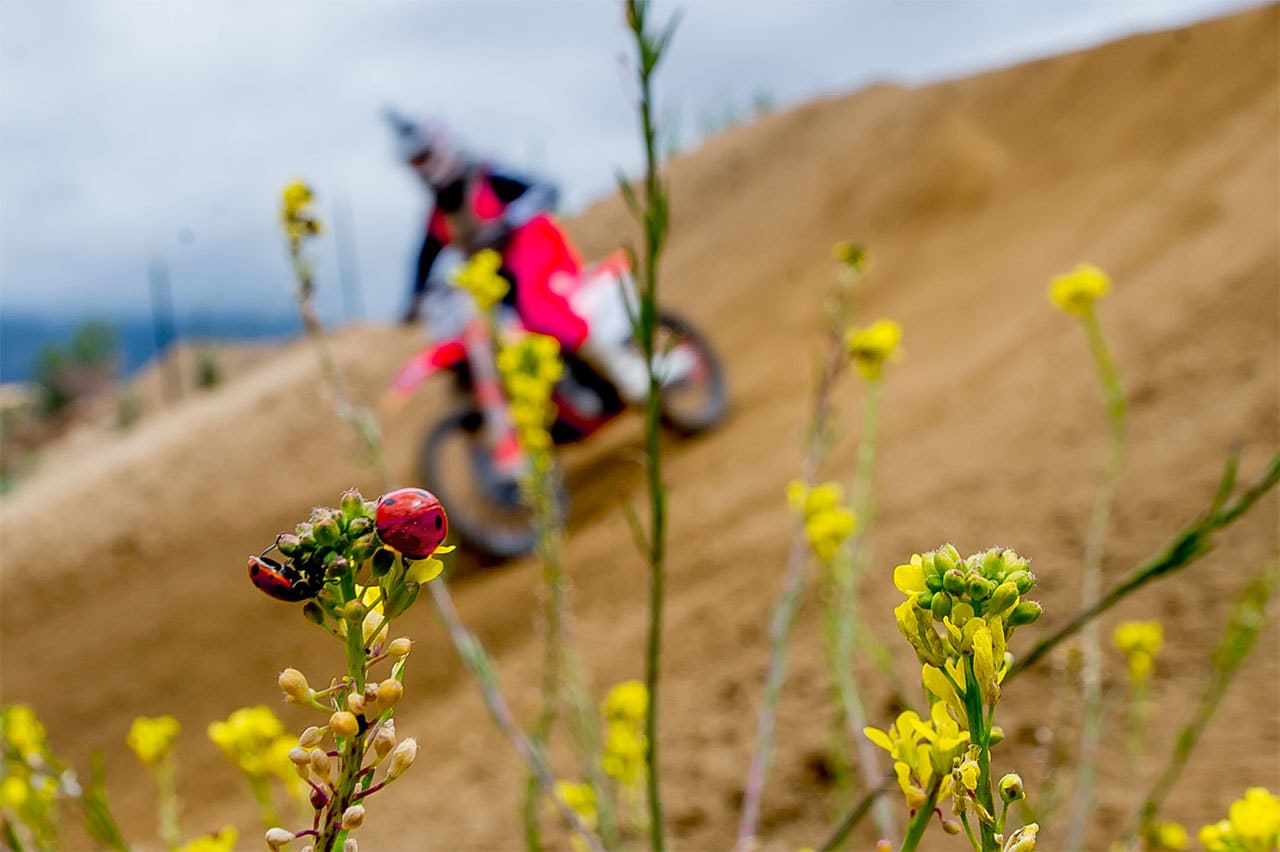 Who were the ladybugs rooting for?


Careful you don't toss the flaggers after the race is over. Rain made the track perfect, but brought out low-cost rain gear during practice. 
RYAN DUNGEY'S SUPERCROSS SEASON STATS

Ryan Dungey.

Ryan Dungey is technical perfection and his 2016 championship only solidifies his rep. When Ryan Villopoto retired, many were wondering who his successor could be. Ryan Dungey was always in the top five, but for some reasons he was discounted by the pundits—who are now back pedalling like crazy. Everyone thought that Ryan's starts were mediocre and that he didn't exhibit the brash rough riding of his fast class peers. In the 2015 season, Suzuki's Ken Roczen looked to fill the hole that Ryan Villopoto left, but his flame burned out in Oakland. Dungey took over through there and won from being consistent. Aggressive didn't describe him well as he thrived on patience. Dungey would pressure his competition to make a mistake,but rarely force the issue. He was patient. Many had feared his patience and lack of aggression it would be a weakness. But, as the last two Supercross seasons have proven it is a great strategy for him.
Fast forward a year. Ryan Dungey is dominant. He has shown few errors and never buckled under pressure. His lackluster starts vanished with the season opener in 2016. Both his starts and lap times have been consistently better than every other rider and his fitness is well above many big-name riders. This season Ryan Dungey guaranteed that his name shows up prominently in the history books (with a record podium streak and equaling champions Bob Hannah and Jeff Stanton at 3 Supercross Championships). Only three racers have more Supercross Championships than Ryan Dungey. They are Ryan Villopoto, Ricky Carmichael and Jeremy McGrath. Given his consistency, he will be the rider to challenge for the 2017 championship.
RYAN DUNGEY STATS
450 Total Starts: 116
450 Total Career Podiums: 87
450 Total Career Wins: 30
450 Win Percentage: 25.8%
450 Podium Percentage: 75%
Consecutive Podiums: 31 (Current Record)
Total AMA Points Earned: 2452
WEEKEND WINNERS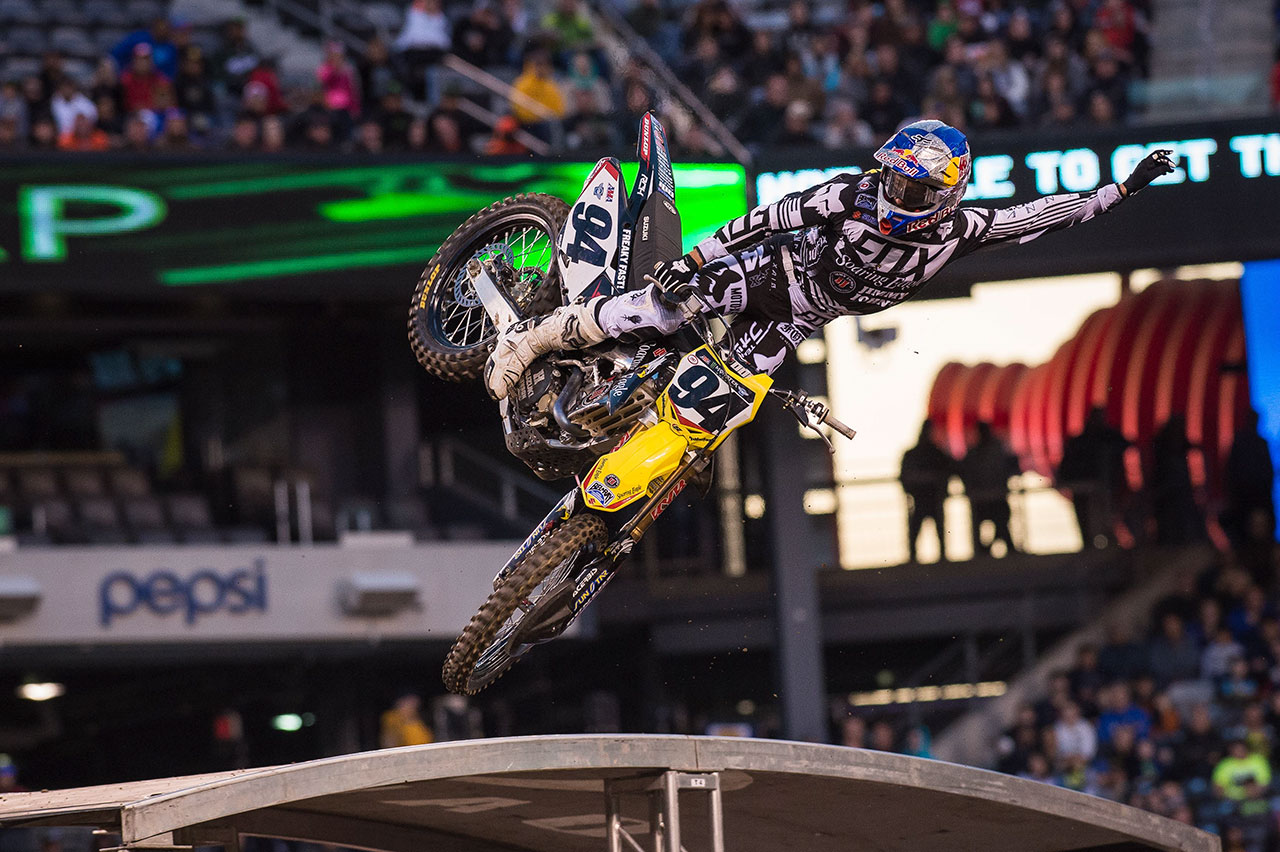 Ken Roczen finally got past Ryan Dungey for his fourth win of the season. Photo by Scott Mallonee.
Supercross 450 Championship: Ryan Dungey.
Supercross 450: Ken Roczen.
Supercross 250: Malcolm Stewart.
450 Grand Prix: Tim Gajser.
250 Grand Prix: Jeffrey Herlings.
Arenacross: No Race. Series to pick up May 6th in Las Vegas.
Arenacross Lites: No Race. Series to pick up May 6th in Las Vegas.
Australian National 450: Kirk Gibbs.
Australian National 250: Jed Beaton.
Maxxis British 450 National: No race. Season to pick up May 22nd at Hawkstone Park, Shropshire.
Maxxis British 250 National: No race. Season to pick up May 22nd at Hawkstone Park, Shropshire.
MXA CLASSIC AD | DECEMBER 1974

Back when the US Grand Prix was the big thing in motocross, boots were mostly leather and not plastic/polycarbonate blends.

AMATEUR SHOT OF THE WEEK
Carter Dubach crosses the finish at REM Glen Helen.
Motocross can be a brutal sport for anyone who pursues it professionally. Many racers are iffy on whether their children should follow in the footsteps, but some embrace it. The sons of famous 1970s racers are have made waves in the past—most notably David Bailey. And now, Carter Dubach is working his way up the minicycle ranks. Carter is the son of former AMA Supercross winner and 25 -time World Vet Champion Doug Dubach. At 12 years old Carter is a regular at local SoCal races. But Doug hasn't pressurized Carter to get into the minicycle gristmill of travel and stress, instead Doug wants Carter to enjoy the sport as opposed to pushing to an inetivable burnout.
PHOTOGRAPHIC RAMBLINGS
My Nikon D90 and 80-200mm f/2.8.

Motocross is a messy sport. Photographing it can be dirty, exciting and downright grueling on your gear. Whether it is getting roosted from a poor spot choice or spending a whole day out in the rain, your gear will eventually get dirty. Some photographers opt to put protective covers or skins on their bodies and lenses, but I have found that dirt and water get through most of those. Luckily for us, manufacturers like Canon, Nikon, Pentax and a few others put good dust and weather sealing in their cameras to better help you preserve your gear. When photographing motocross, my goal is to get the shot, not maintain a museum condition camera. There are a few precautions I still do take when out shooting. When possible, avoid changing lenses on the field (take two bodies pre-mounted instead). I wipe down my gear with a damp cloth after a shoot to keeps dirt from getting in my camera bag or hardening on the camera.