KYOSHI'S CORNER: THE SEASON HAS ENDED
Daryl Ecklund in the studio with Ken Roczen's bike.
By Kyoshi Becker
With most of the new model releases done and out of the way, MXA has come to the fun part of the testing season—race bikes, custom bikes and shootouts. While we are still in the final phases of the new model release crunch, we had the opportunity to get our greasy digits on Ken Roczen's Suzuki RM-Z45o—which RCH is going to let us race at the Soaring Eagle race on September 11. Suzuki's Tim Olson brought the machine to MXA's plush offices, along with a 2017 RM-Z250 for us to shoot in the studio. Since Ken was racing in Indiana this week, what we shot in the studio was his spare bike. It doesn't take a rocket scientist to know that Roczen's main race bike was resting comfortably in the RCH Suzuki rig on its way to the Soaring Eagle race—where Ken won't race it, but we will. When you're a star like Ken Roczen, you have more bikes than an oil tycoon has Ferraris.
While Suzuki has been hesitant to release a brand "new" RM-Z450, it can be said that they still have a good bike. Ken Roczen won the 2016 AMA 450 National Championship on it in dominating fashion. The big question is who will be on the brand next year? Roczen is going red and most of the other top riders up for contract renewal have already been signed. Suzuki does have a winning heritage, so they'll probably find a way to forge ahead without Ken Roczen…but it might be some time before they achieve the success they enjoyed this summer.
REM IS BACK WITH A BANG

Jody has an affinity for orange helmets, but in this photo it looks like he's collecting orange KTMs also. Why so many KTMs? Because they make more models than all the other brands combined. We test more KTMs than any other brand because they offer more bikes to test. Thus, Jody can choose between a KTM 125SX, KTM 150SX, KTM 250SX, KTM 250SXF, KTM 350SXF or KTM 450SXF. It sure is nice to be MXA's main man! 
Randel Fout found a bike he won't get injured on. Burn!
KTM's David O'Connor took one of MXA's 2017 KTM 250SXFs out for a ride and went 2-2 in the Vet Novices.
One shooter up high (Dan Alamangos), while the other takes the treacherous low route (Jon Ortner). Both argued about who had the best spot.
Aussie Chris Alamangos (87) leads the pack. That spells danger for everyone else (and the poor Husqvarna that he's riding). That is Tyler Nichols and Mark Taylor behind him.
Spy photo. This is the 2018 KTM 2.5SXF. Okay, not really. 
Jon Ortner (left) painted this beauty for racer Chris Cole.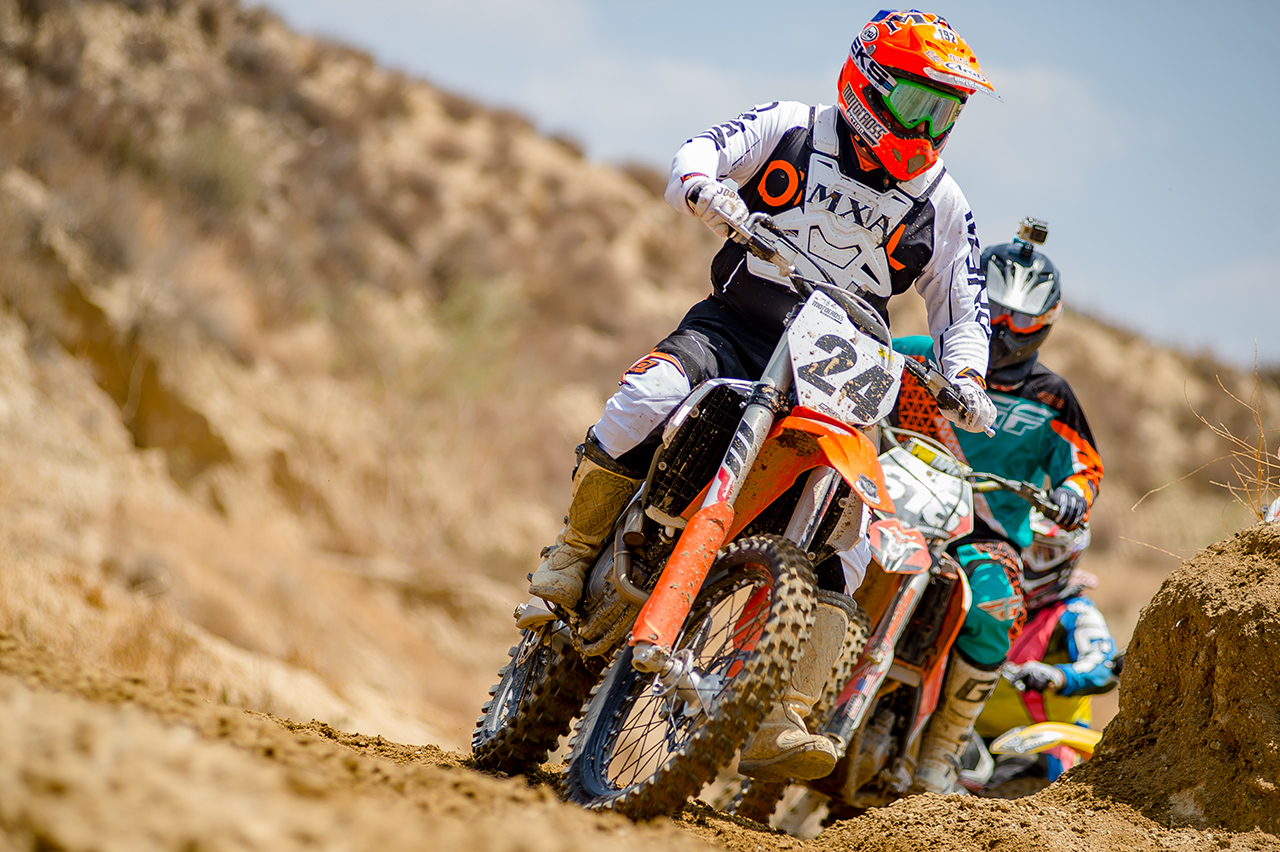 Jody Weisel (24) won the first moto of the Over-60 Intermediates and would have been 6th in the Over-60 Experts and 4th in the Over-65 Experts (all in one combined moto). Not bad for a guy who can race the Over-70 Expert class next year.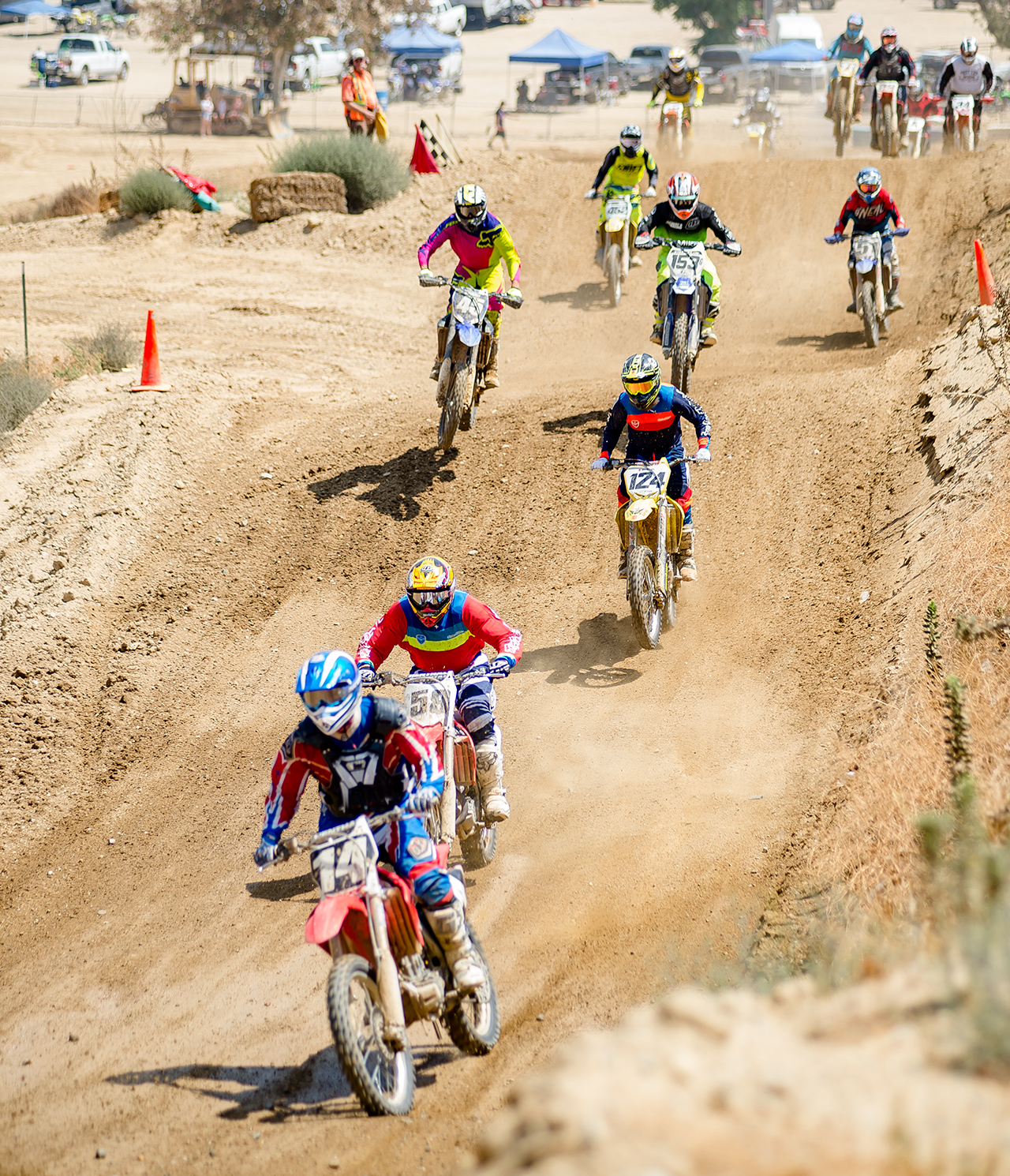 REM promoter Frank Thomason is always changing the track and figuring out the best way to run the start. That is Gary Denton (14) in the lead with Don Pastell (58), Lance Sloane (124), Giovanni Spinali (45) and Robert Pocius (153) in pursuit.

AMA Hall of Famer Tom White (right) regales (from left) Mark Moore, Kent Reed and Jody Weisel with a story about how he used to date Claudette Colbert — whoever that is. Mark Moore doesn't look impressed.
Jon Ortner puts the two-stroke hammer down against Phil Dowell's 450 power.
Fred Nichols is heading toward the canyon in the back.
KTM's Kenny Maddux won the Over-50 Intermediate class with a 2-1.
Kent Reed (491) pulls the holeshot over a slew of KTM-mounted riders. Even the white bikes in this class are KTM's. That green bike on the outside in Patrick Flynn's lone Kawasaki KX450F.

RED BULL ON THE MARTIN BROTHERS
AUSTIN FORKNER 2016 NATIONAL SEASON STATS
Austin Forkner has proven a lot this season. Photo by Scott Mallonee.
While there were quite a few 450 rookies this year, there were only a few in the 250 class. Austin Forkner proved himself in Arenacross, but he opted out of racing Supercross. Instead he focused on the 2016 AMA Lucas Oil Nationals. His breakout season has been outstanding. The competition in the 250 class is steep. Between his teammates and the Star racing Yamaha powerhouse team, many thought Forkner would be happy to keep up with the top ten. The second race of the season, Forkner made a moto podium. He wasn't a one-hit wonder. Forkner frequently finished inside the top five and earned more podiums along the way. In Washougal, he landed his first moto win. Ironman was the last race of the season and Forkner wasn't going to end it on a low note. He won the overall.
AUSTIN FORKNER 2016 STATS
Total Starts: 24
Total Overall Podiums: 5
Total Overall Wins: 1
Win Percentage: 8.3%
Podium Percentage: 41.6%
Consecutive Podiums: 4
Total AMA Points Earned: 376
MXA'S WEEKEND WINNERS
Austin Forkner earned his first overall win of his professional career.
Ironman 450 National: Ken Roczen.
Ironman Creek 250 National: Austin Forkner.
Australian National 450: Todd Waters.
Australian National 250: Jed Beaton.
Australian National Champion 450: Dean Ferris.
Australian National Champion 250: Jed Beaton.
FIM 450 Grand Prix: Clement Desalle.
FIM 250 Grand Prix: Jeffrey Herlings.
BUDDS CREEK RACE DAY CONDENSED NEWS
Joey Savatgy rides off.
WINS AND FAILS
For the third week in a row, Joey Savatgy didn't finish the second moto.
Justin Barcia earned his second second overall in the season.
Andrew Short pulled the holeshot in his last race as a professional then his WP air shock went flat. 
Who qualified second fastest Saturday? Phil Nicoletti! For being out of the top three, "Filthy Phil" has been everywhere this season.
Another surprise qualifying best, Mitch Oldenburg qualified fourth in the 250 class.
Cooper Webb qualified fastest but only finished third overall.
MXA CLASSIC AD: MAY 1976
Cold hard ground? Apparently IRC's marketing wizards had never been to sunny SoCal in the summer.

AMATEUR SHOT OF THE WEEK
Matthew Wood.
REM always attracts a variety of riders. Matthew Woods showed good technique in the 85 Beginner class this week.
PHOTOGRAPHIC RAMBLINGS
Monster trucks.
Every year I head out to Lancaster to shoot the Antelope Valley Fair, which is an hour north of Los Angeles. Of the many events, concerts and crowds I cover, one of my favorites is the monster trucks. The amount of horsepower these machines have is insane. Photographing these beasts makes me appreciate how close and personal I can get to dirt bikes when I am behind the camera. When shooting something as large as a monster truck, you have to maintain a large distance in case the driver makes a mistake.