MXA MINI-VIEW: KEN ROCZEN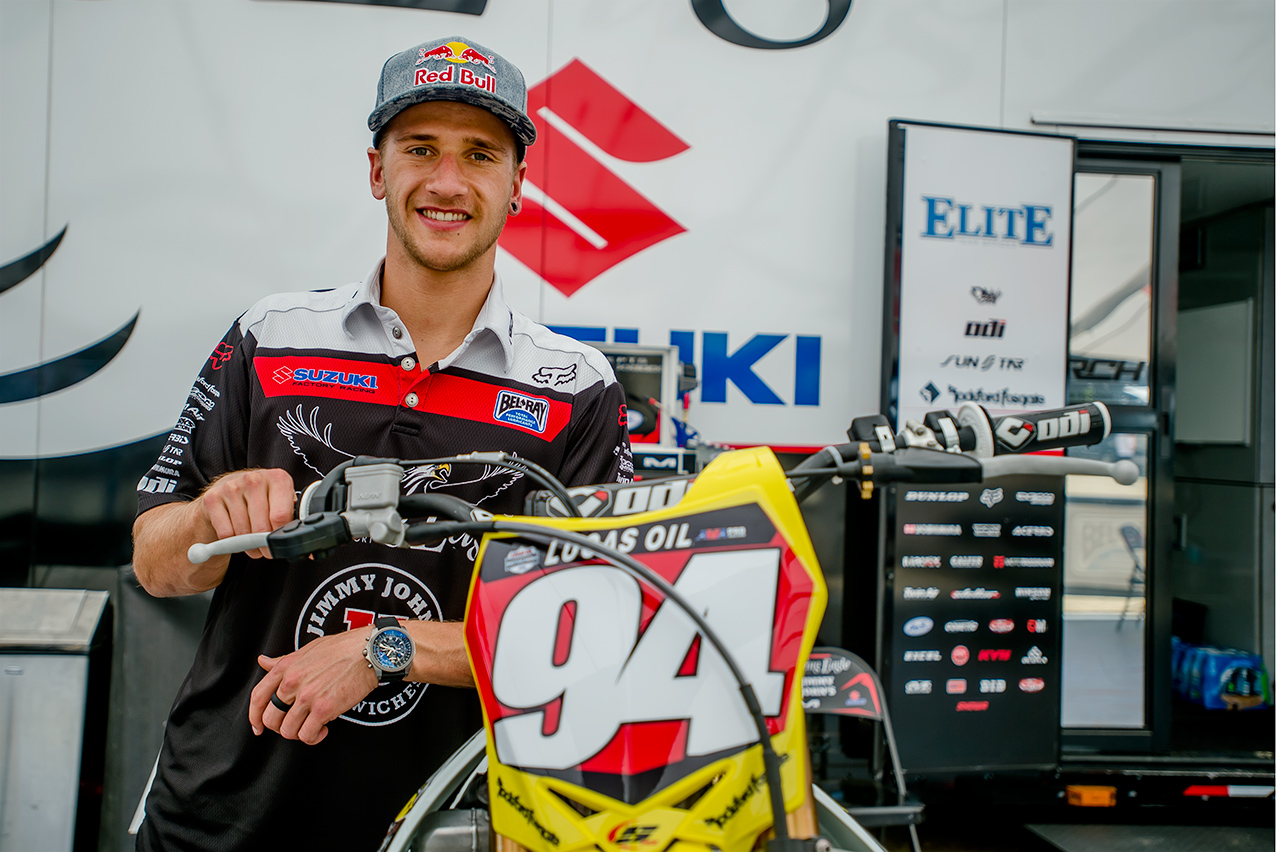 Ken Roczen is the red plate holder.
Ken Roczen is dominating in the AMA Lucas Oil Pro Motocross Nationals this season. He currently has 143 points and hasn't placed worse than second overall this year. The only moto he didn't win was at Glen Helen due to a leak in his air fork cap. Ken Roczen is not new to being in this position, as he won the 2014 AMA 450 Championship. His 2015 season was hampered by a Supercross ankle injury and setup issues in the AMA Nationals. However, it looks like Roczen has been able to find a bike setup that works. Kenny came into this year's National series riding a wave of confidence, and it shows. Winner in five of six motos–and with his chief rival, Ryan Dungey, out with injury–can anyone stop the Roczen freight train?.
By Kyoshi Becker
Photos by Kyoshi Becker and Brian Converse

Will your strategy change once you go East? There will be absolutely no strategy change. We plan on working race by race and do our best to rack up as many wins as we can. I'm focusing on being as consistent as possible. Still, the bike sure looks good with red lipstick.
What were your thoughts on Glen Helen? For practice it usually isn't prepped that well, but on race day they rip it deep and it turns out to be a great racetrack. Usually every year we come here they change up the track layout for the National. That is kind of cool. I've had some good success at Glen Helen. We have to keep on just building from here. It is a good feeling to have the red plate, but it is a long season. I want to keep it.


Roczen scored a double moto sweep in Hangtown.

At Hangtown in the first moto you got a bad start, but you were able to get through the mess quickly. I was making moves, focused to get up to the front quickly. I want to ride my race and I don't like being behind people.
Do you like to win more, or hate to lose more? That is a tough question. I think anybody that loves to win hates to lose, but I enjoy winning. The answers are very similar, but very different. It is a super tough question. After you have lost a few times, the feeling of winning is too hard to describe, unless you do it. Once you rack up one or two in a row it is very motivating.

Racing at Glen Helen.
Do you make many bike setup changes throughout a series? We've been testing a few things here and there. It is good for me as it is right now, so I'm going to leave it the way it is and see how it works out. I am the kind of rider that keeps the bike the same the whole year.
How many boots do use during race day? It depends. The boots last pretty good and I usually wear the same pair all day. I'm currently running the Fox LE gear and I'll dry the boots in between motos.  The most common thing I'll do is swap to another pair while the first pair is drying, and just swap them back once the first pair is dry. The maximum number of boots I use is two, but at a mud race maybe three if they continue to stay wet.

Ken Roczen debuted his new Fox Flexair limited edition gear at Glen Helen. 
Do you break them in beforehand, or does someone else do it? I'll break them in myself beforehand.
What are your thoughts on Thunder Valley? The day went great. Obviously I'm not that good of a practicer, so went second to the gate. I'm not worried about that. The first moto I grabbed an impossible start. Shifting gears, my bike pulled right up and I was able to get the holeshot. Thirty minutes with no mistakes and we collected a win. I entered the second moto with a strong mentality. I wanted to get another good start and win, but I ended up getting a bad start. I kind of tangled a little with Bogle (Justin). His elbow clutched my bike. It was pretty crazy! I focused on making quick moves, but I didn't rush it, as I knew we had some time. Roost definitely hurts and I definitely looked like I played paintball, but overall I can't complain. Going 1-1 is a great thing.
Your practice times are very different than your race lap times. I don't really care about practice. Practice for me is learning the track, getting a feel for the dirt and putting in one lap to get a decent position. Some of the tracks, like here at Thunder Valley, it doesn't matter if you are first or fifth or eighth in qualifying. All of the gates are fairly good. I'm a racer and I've done my work. It is about mental strength.

Roczen celebrates after the second moto win at Glen Helen. 
Was it a hard pill to swallow having your air forks give out while leading the first moto at Glen Helen? It's always tough. Overall, though, I had a good day. It got pretty sketchy out there and was a tough track. There is nothing I could do about a mechanical. I had to ride three laps without air in my forks and had to settle for a fourth. In my heart I won that one because I was pushing hard. I want to get as many wins as possible, but I had to be smart about it. In the second moto I grabbed a good start and found myself in the lead and just rode a smart race. I took that one home.
Are you switching back to spring forks? I don't think they'll let me.
What are you looking forward to now that the AMA Nationals are heading east? I've actually done really well at High Point, and I am looking forward to it. The east coast rounds really suit me. However, Southwick has sand. The west coast loves the sand, but I don't. I am excited to have a change. When I was in Europe, the track designs really changed every single year. I wish that they would do that here in the U.S. At least at Glen Helen they do that every year, where they switch out a section, if not the whole track. It is kind of cool to have that change. I've only been here (in the U.S.) around five years, and when I go to most of the tracks I can just show up and put in a pretty good lap time without even doing a parade lap. It would be cool if they could change a few spots every once in a while.


Ken Roczen during the 2014 season when he was riding for KTM.
Much of your competition is dedicated to training whenever they aren't racing. You've shied away from that style of training. For some of the riders that is just the way they are. That kind of training is a lifestyle. Don't get me wrong. I am still doing my work and I stay healthy, but I'm not afraid to have a coffee and a donut in the afternoon. Believe me, I still do put in my work and my mental strength comes from there. Usually I am also eating good. It is not like I am eating donuts every day, but a pastry every once in a while isn't going to hurt you. I am doing what I know works for me and my mental strength comes from that. Also, my bike is dialed pretty well. I can probably eat a pizza before riding and still feel good on the bike. It isn't going to effect my mentality going into the races.
Do you feel it is important to show racers that there isn't one route to becoming a successful rider? I think so. Everybody always goes after the salad nonfat-only lifestyle, but then there are riders like me that do not just eat nonfat salads only. You can live a little every once in a while. Honestly, it is just our sport. I know a lot of pro athletes, especially in other sports, that just do their thing and their nutrition is very different than what everybody thinks it is.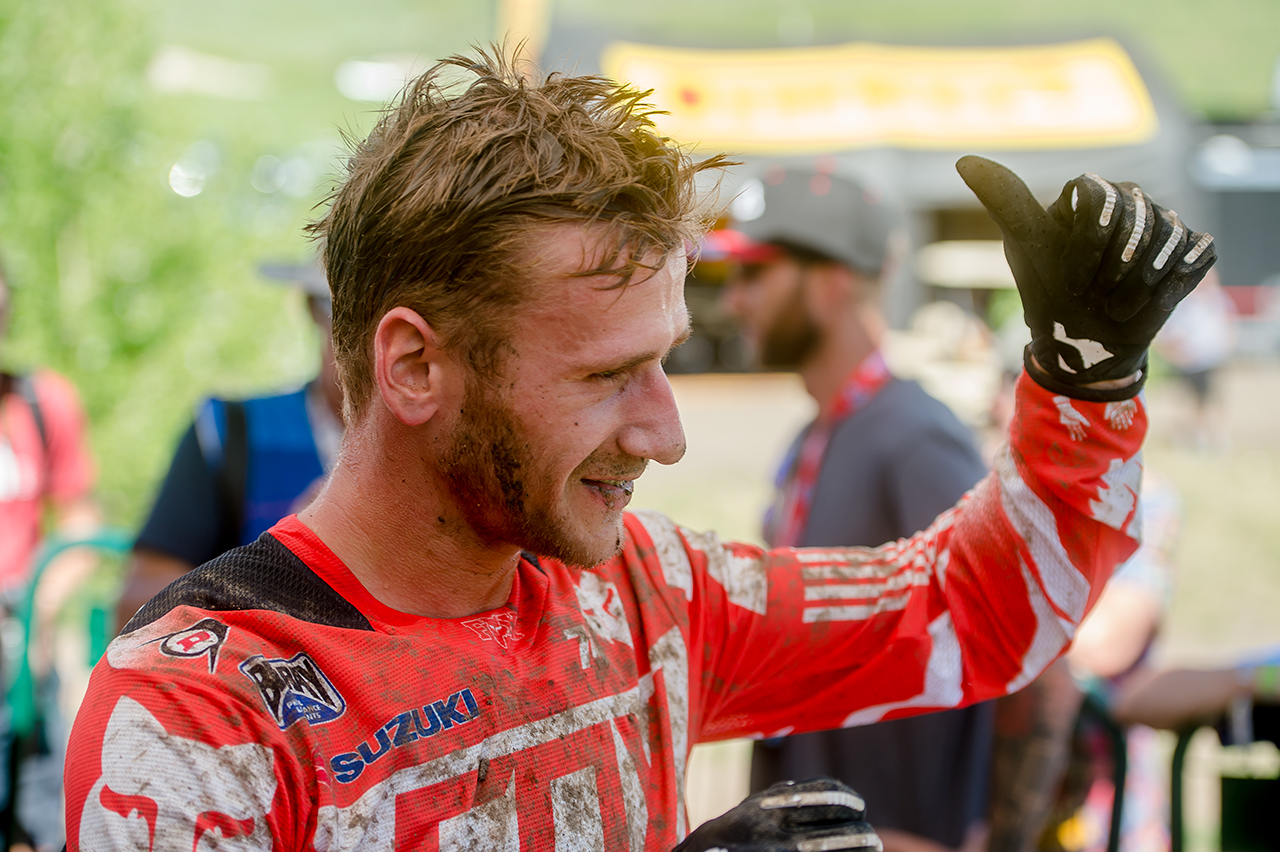 Ken Roczen was a happy man after winning at Thunder Valley.