WORLD TWO-STROKE CHAMP FINISHES SECOND AT ITALIAN GP; HERLINGS WINS 250 CLASS; CHRISTOPHE POURCEL WINS 450 GP, BUT MICHAEL LEIB SCORES SHOCKING RESULTS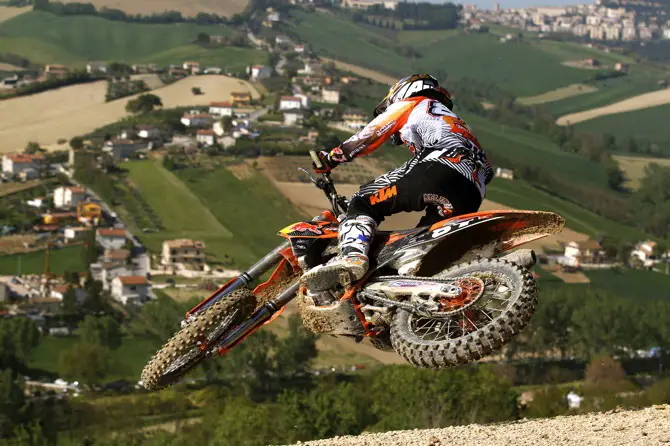 Jeffrey Herlings' championship hopes benefited from a Tommy Searle DNF in moto one. Photo: Ray Archer
250 ITALIAN GRAND PRIX
In moto one Jeffrey Herlings led all twenty laps from start to finish, winning comfortably from his teammate Jeremy Van Horebeek. The star of the show though was Michael Leib on the Monster Energy Yamaha, who worked his way from 15th on lap one to third by the flag.
Points contenders Tommy Searle and Joel Roelants, both riding fore the Monster Energy Pro Circuit Kawasaki team, scored no points in moto one?Roelants crashed out and Searles bike was damage din a collision.
 
In the second moto Searle and Herlings crashed in the first turn and Michael leib got to lead the Italian Grand Prix for 13 of the 16 laps before being caught by both Herlings and Searle.Herlings won the Grand Prix with two race wins, Michael Leib was an emotional second, and Jeremy Van Horebeek was third overall.

Joel Roelants had issues in Italy. He has to hope his competition has issues in some other country.  Photo: Youthstream

OVERALL RESULTS: 250 CLASS
1. Herlings, Jeffrey…1-1
2. Leib, Michael…3-3
3. van Horebeek, Jeremy…3-4
4. Tixier, Jordi…7-5
5. Butron, Jose…9-7
6. Charlier, Christophe…8-9
7. Ferrandis, Dylan…5-12
8. Anstie, Max…11-8
9. Searle, Tommy…31-2
10. Lupino, Alessandro…14-6
Other notables: 11. Harri Kullas; 12. Petar Petrov;  13. Jake Nicholls;  16. Mel Pocock; 38. Joel Roelants.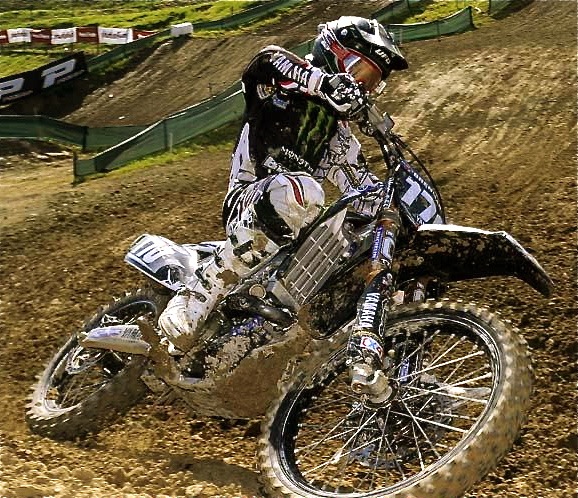 Michael Leib made the podium at Fermo, Italy, led most of the second moto and moved into the top ten in 250 points. Photo: Youthstream
250 WORLD CHAMPIONSHIP POINTS STANDINGS
(After 3 of 16 events)
1. Herlings, Jeffrey…144
2. van Horebeek, Jeremy…114
3. Searle, Tommy…109
4. Joel Roelants…85
5. Anstie, Max…11-8
6. Tixier, Jordi…78
7. Ferrandis, Dylan…69
8. Jake Nicholls…69
9. Harri Kullas…65
10. Leib, Michael…61

Ken DeDycker keeps plugging along on his borrowed KTM ride…he only has two races left on his fill-in deal. Will he get re-upped?. Photo: Ray Archer
450 ITALIAN GRAND PRIX
Kawasaki riders Christophe Pourcel and Gautier Paulin provided the excitement in the first 450 moto race. With two laps to go in the first moto, Pourcel stalled while leading allowing Paulin to pass him. Then Paulin missed a corner on the last lap and Pourcel went back by for the moto win. Hometown hero Antonio Cairoli was
third.
In moto two, Cairoli got the holeshot over Pourcel and Gautier Paulin crashed in the first turn (getting back up to sixth by the end). Clement Desalle was third for the whole moto, but never challenged the lead two. At the checkers it was Cairoli (3-1), Pourcel (1-2) and Desalle (4-3)…the overall went to the French rider.

Christophe Pourcel at Fermo. Photo: Youthstream
OVERALL RESULTS: 450 CLASS
1. Pourcel, Christophe…1-2
2. Cairoli, Antonio…3-1
3. Desalle, Clement…4-3
4. Paulin, Gautier…2-6
5. de Dycker, Ken…7-4
6. Bobryshev, Evgeny…6-5
7. Strijbos, Kevin…10-7
8. Philippaerts, David…9-8
9. Boog, Xavier…5-14
10. Leok, Tanel…11-11
Other notables: 11. Dean Ferris..17-10; 14. Rui Goncalves…20-9; 15. Shaun Simpson…8-27; 19. Jonathan Barragan…14;  27. Sebastien Pourcel…26-23
250 WORLD CHAMPIONSHIP POINTS STANDINGS
(After 3 of 16 events)
1. Cairoli, Antonio…133
2. Paulin, Gautier…116
3. Pourcel, Christophe…106
4. Desalle, Clement…105
5. de Dycker, Ken…95
6. Strijbos, Kevin…76
7. Boog, Xavier…72
8. Bobryshev, Evgeny…69
9. Philippaerts, David…69
10. Tanel Leok…62