WORLD TWO-STROKE MOTOCROSS CHAMPIONSHIP: 800 SMOKERS IN ONE PLACE AT ONE TIME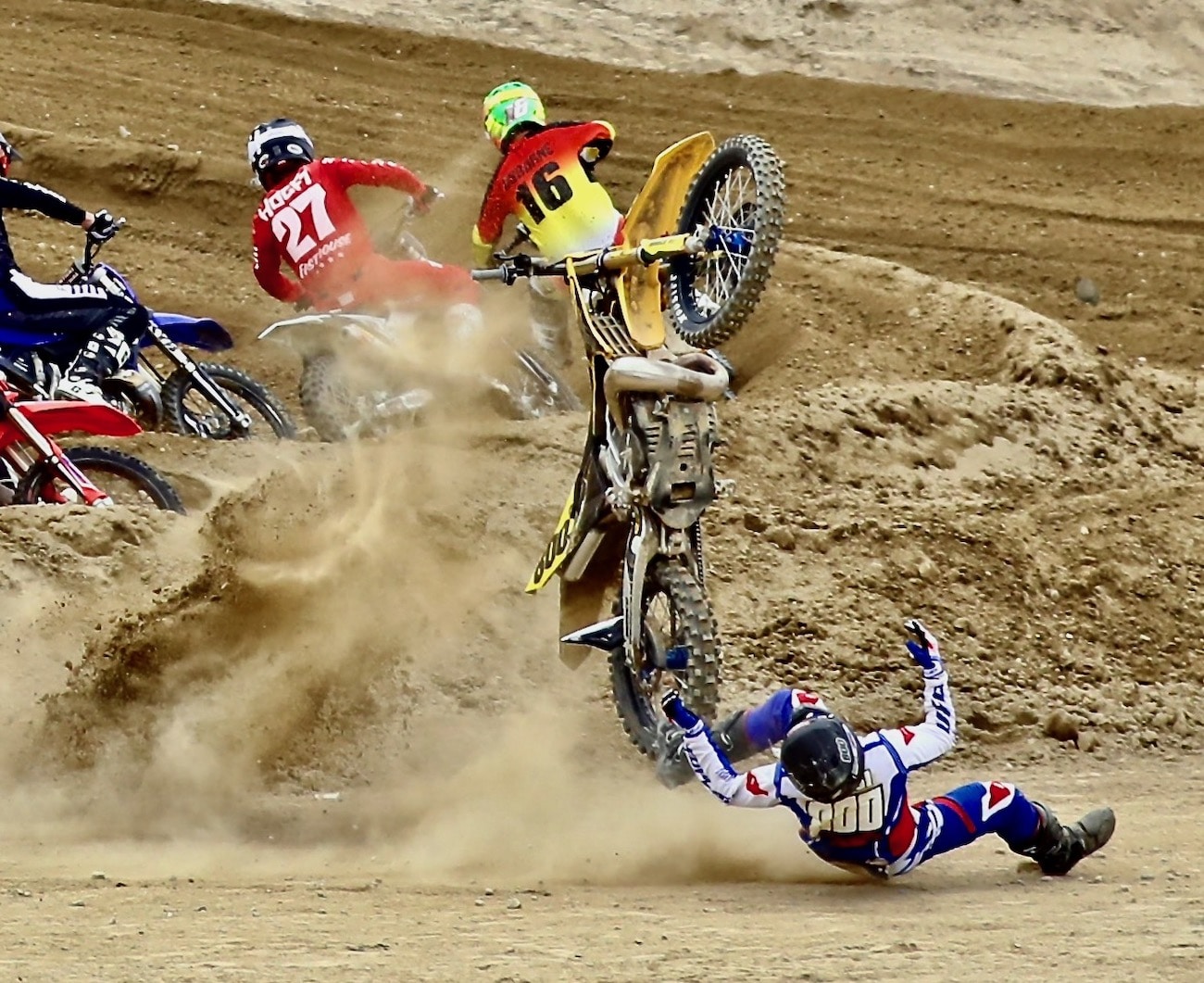 In the second turn of the second Open Pro moto, Mike Alessi, who had finished third in the first moto, ended up flying over the berm before the entrance to Shoei Hill.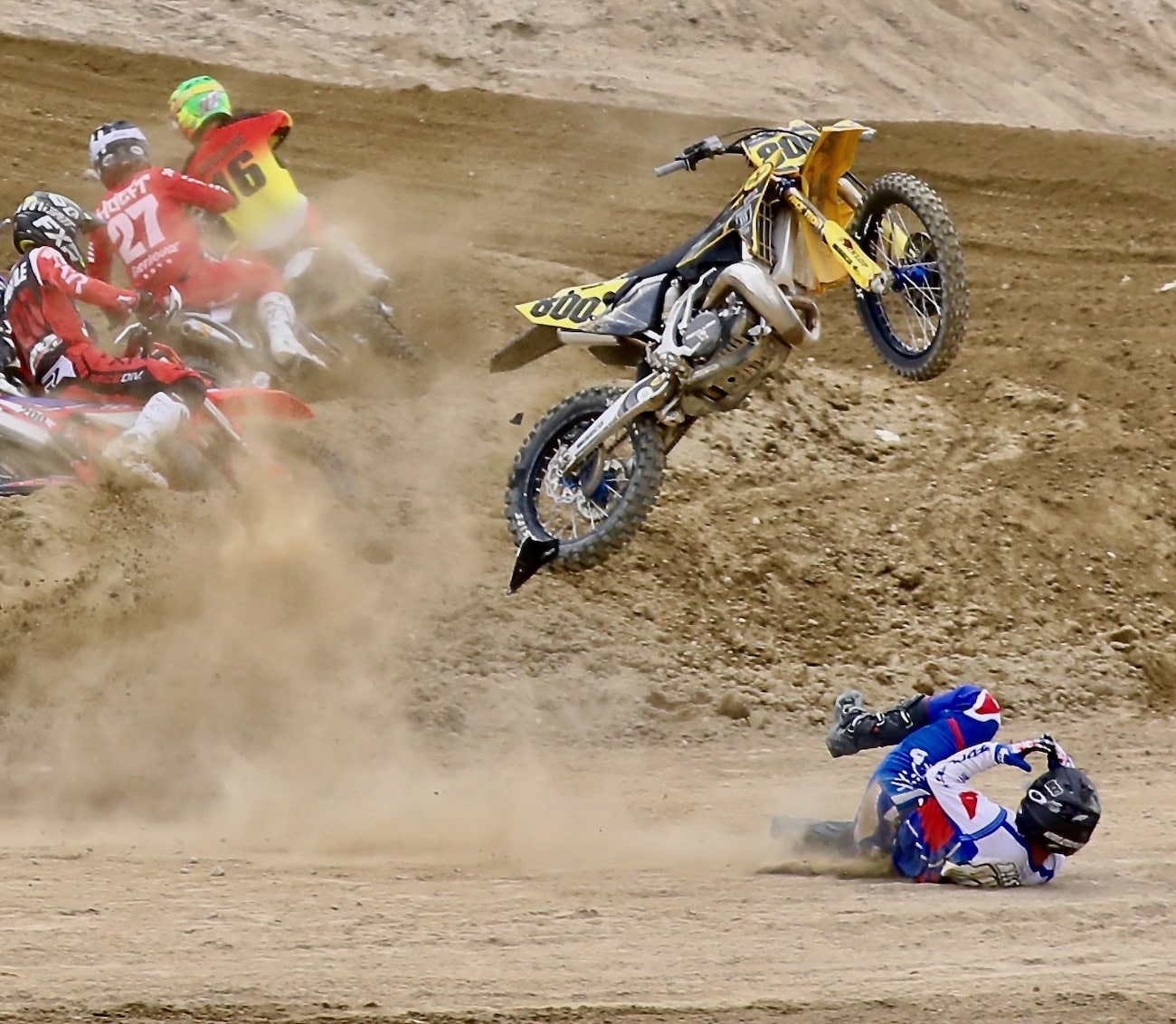 As Mike was tumbling, all he had to do was look up to see his Yamaha YZ300 bounce off of its rear wheel and fly straight up into the air.
But, Mike's bike didn't keep going straight up, instead it rotated into a downward position as Mike continued to slide on his back underneath it. Mike's visor can be see to the left.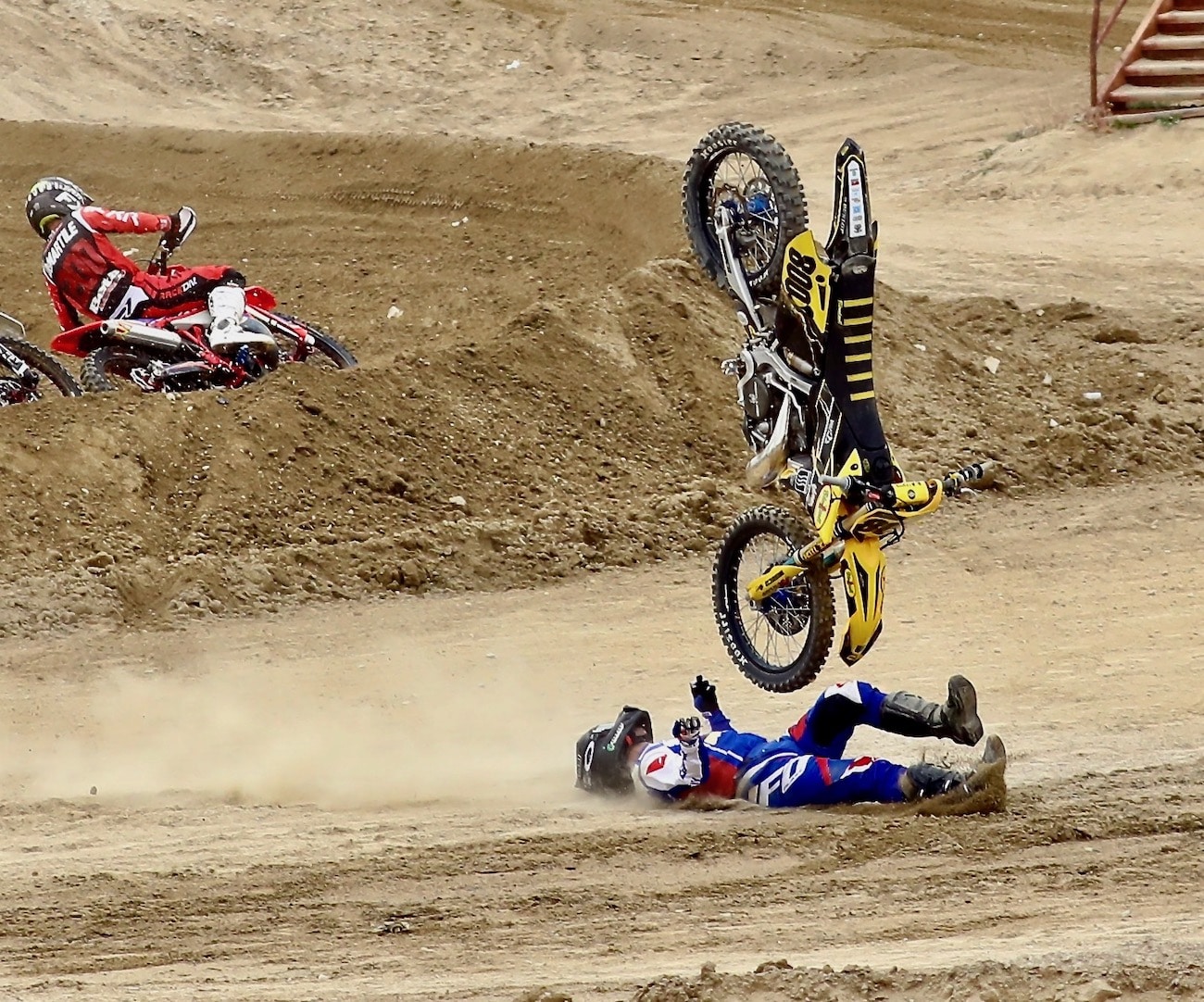 Unfortunately, Mike stopped sliding and ended up in the most vulnerable position possible—with 230 pounds of aluminum, plastic and rubber headed straight for him.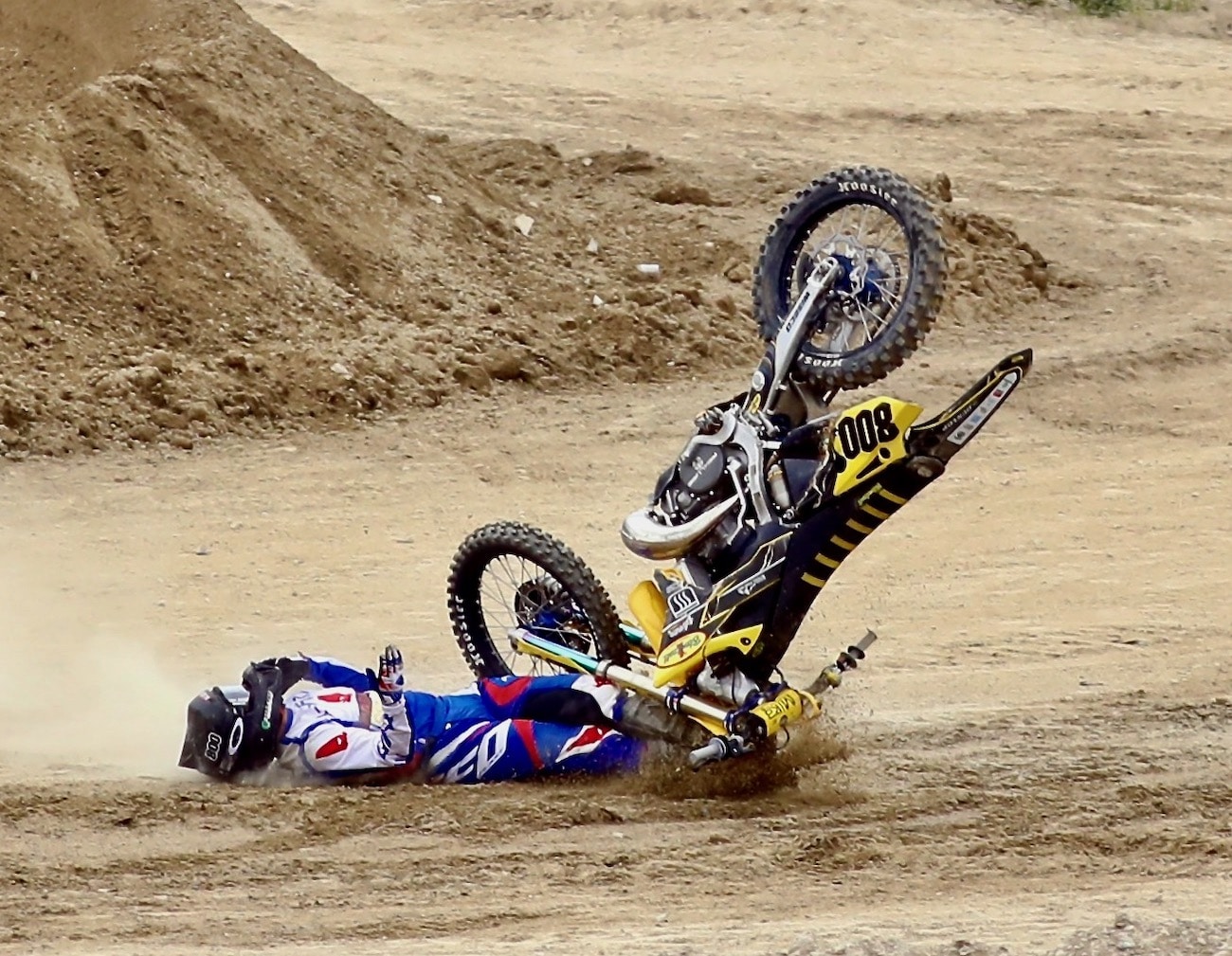 In what has to be a miracle, the front wheel missed his body, while the forks and front number plate landed on his boots.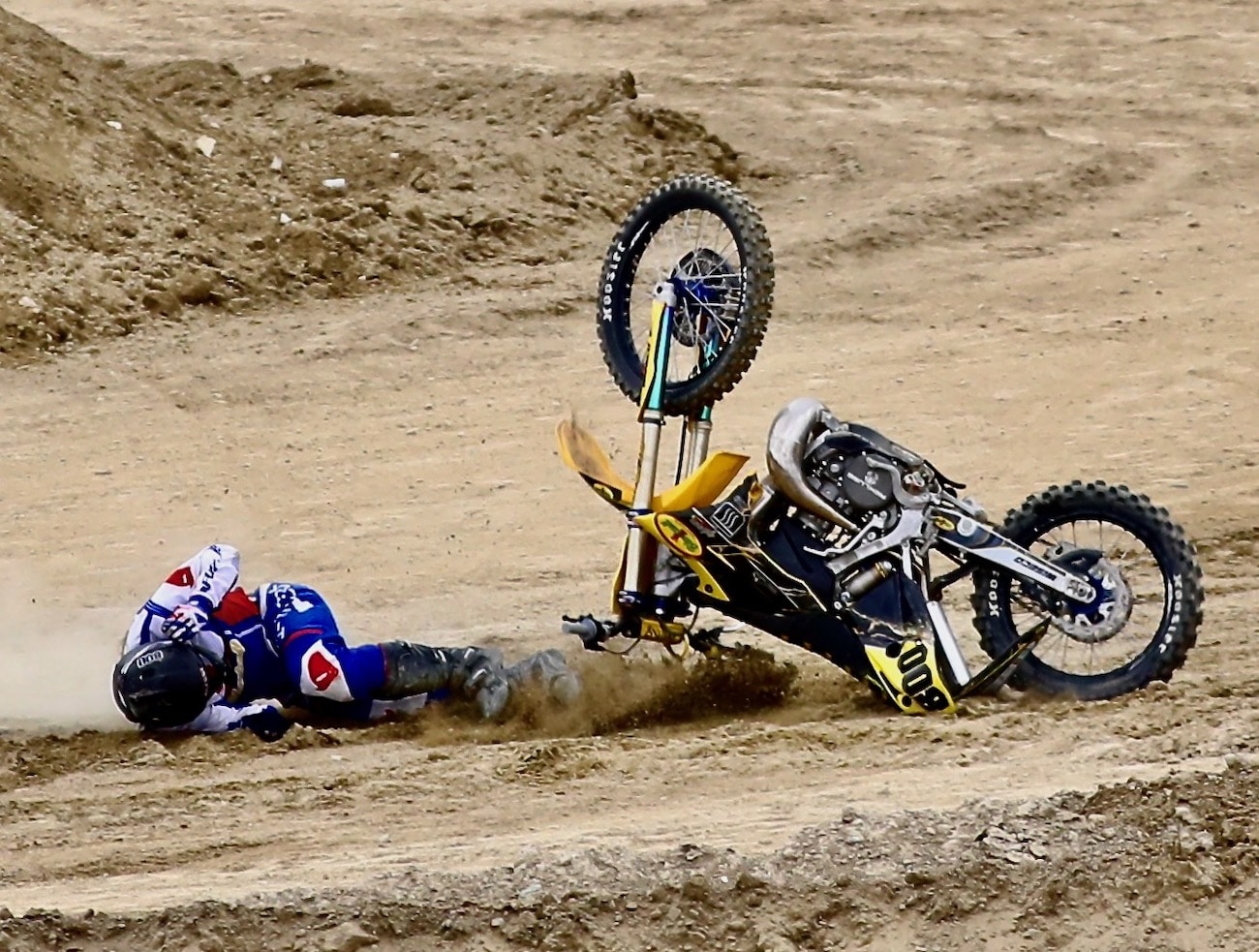 The YZ300 cartwheels away from Mike, crumpling the rear fender, as it gets ready to depart from Mike's vicinity.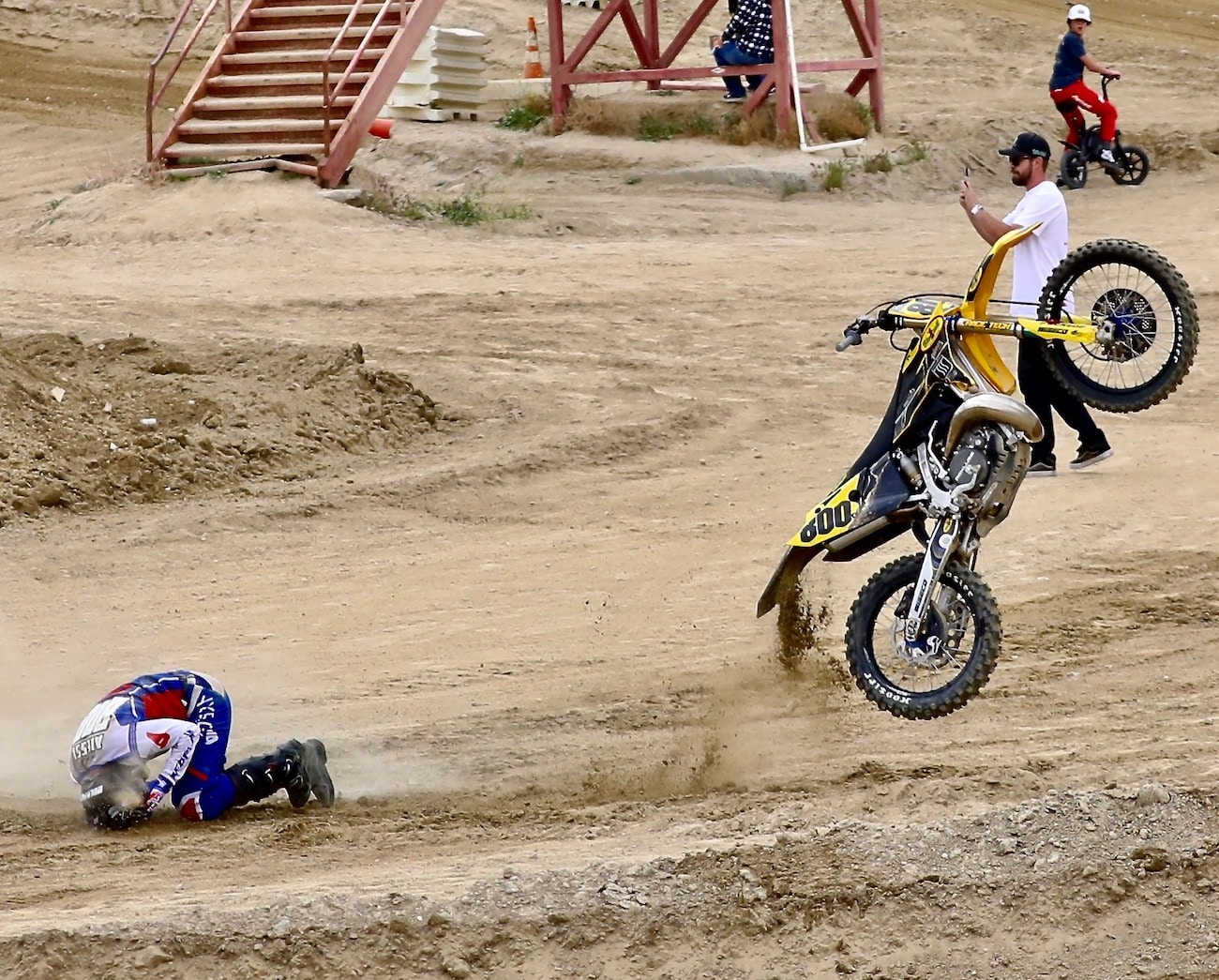 But, the bike had one more orbit in mind. Mike curls up in the fetal position just in case it decides to circle back.
With Mike now safe, the YZ300 goes looking for another target. Amazingly, Mike got up, dusted himself off and rode back to the pits. Three motos later he came out and won the Pasha 125 Over-30 Pro class. Photos; Debbi Tamietti
PHOTOS BY DEBBIE TAMIETTI, DAN ALAMANGOS, ERNIE BECKER & JON ORTNER
If you had told a motocross racer in 1965 that the four-stroke was doomed in motocross, he would have laughed at you. Four-strokes had always dominated the sport and had so for almost 30 years. The prevailing thought was that nothing was ever going to replace them. Surprise! One year later 7 of the top 10 FIM 500 Grand Prix racers were on newfangled CZ two-strokes.
The Glen Helen starting line is separated from the jam-packed pits by a giant billboard. Photo: Dan Alamangos

If you had told a motocross racer in 1994 that the two-stroke was doomed in motocross, he would have thought you were crazy. Two-strokes had dominated the 500 World Championships since Jeff Smith took his four-stroke BSA thumper to the World title in 1965. Nothing was ever going to replace the two-stroke—after all they had won every 500 World Championship since Jeff Smith was dethroned in 1966. Surprise! In 1994 Joel Smets took his Husaberg 501 four-stroke to his first of four 500 World Championships. And two-strokes were relegated to the junkyard.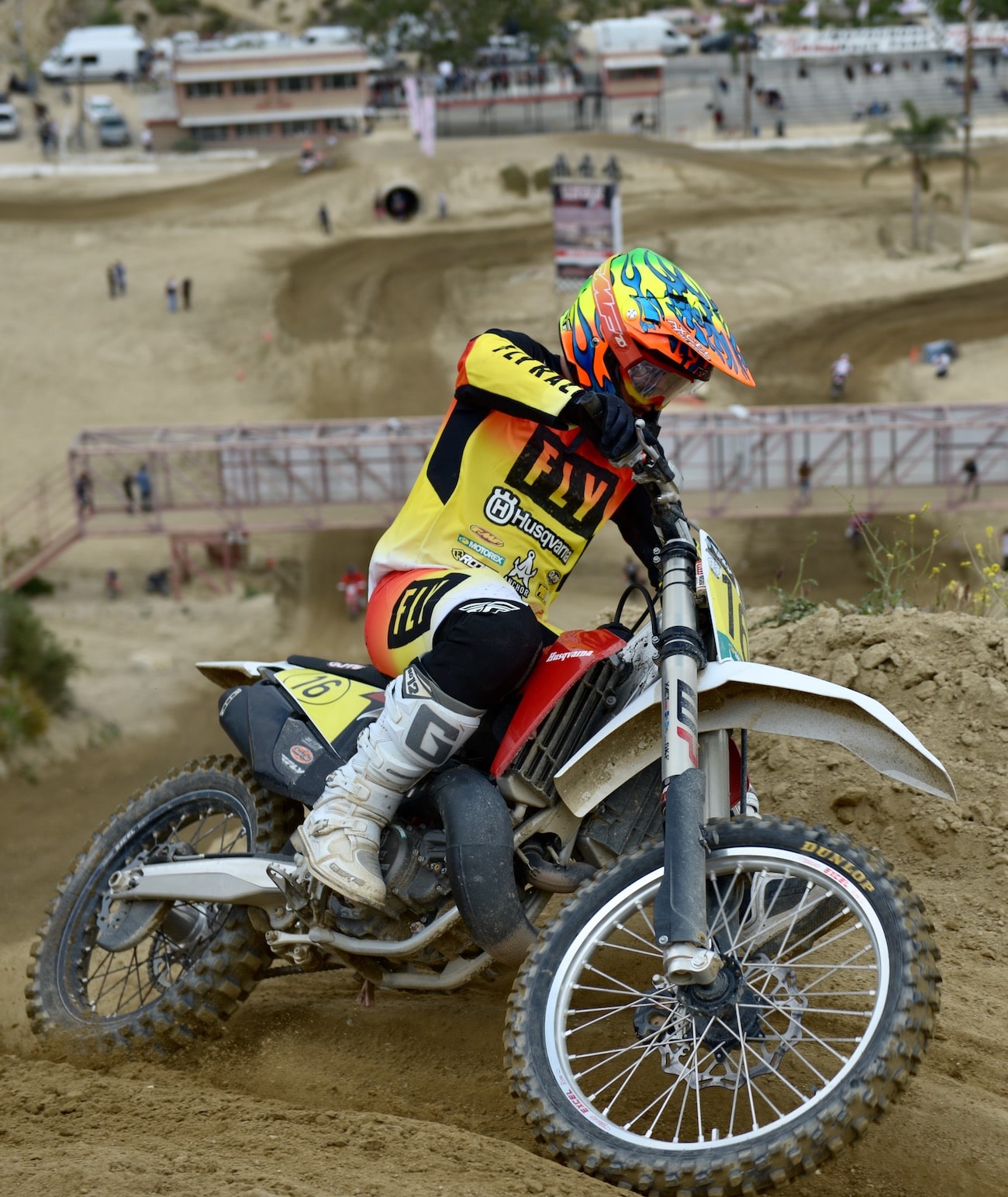 Zach Osborne's Husqvarna TC300 was outfitted in an Old School color palette, even a red gas tank had chrome panels for Zach's knees. Photo: Dan Alamangos

If you had told the vast majority of American motocrossers in 2000 that within the next three years the starting lines would become 90 percent four-strokes and that the resale value of a two-stroke would sink to a pittance of what they were worth just five years earlier, they would have thought you were crazy. But, it was true, from the moment the AMA green lighted a massive displacement advantage for four-stroke, the death of two-stroke racing, as we had known it since 1966, was eminent.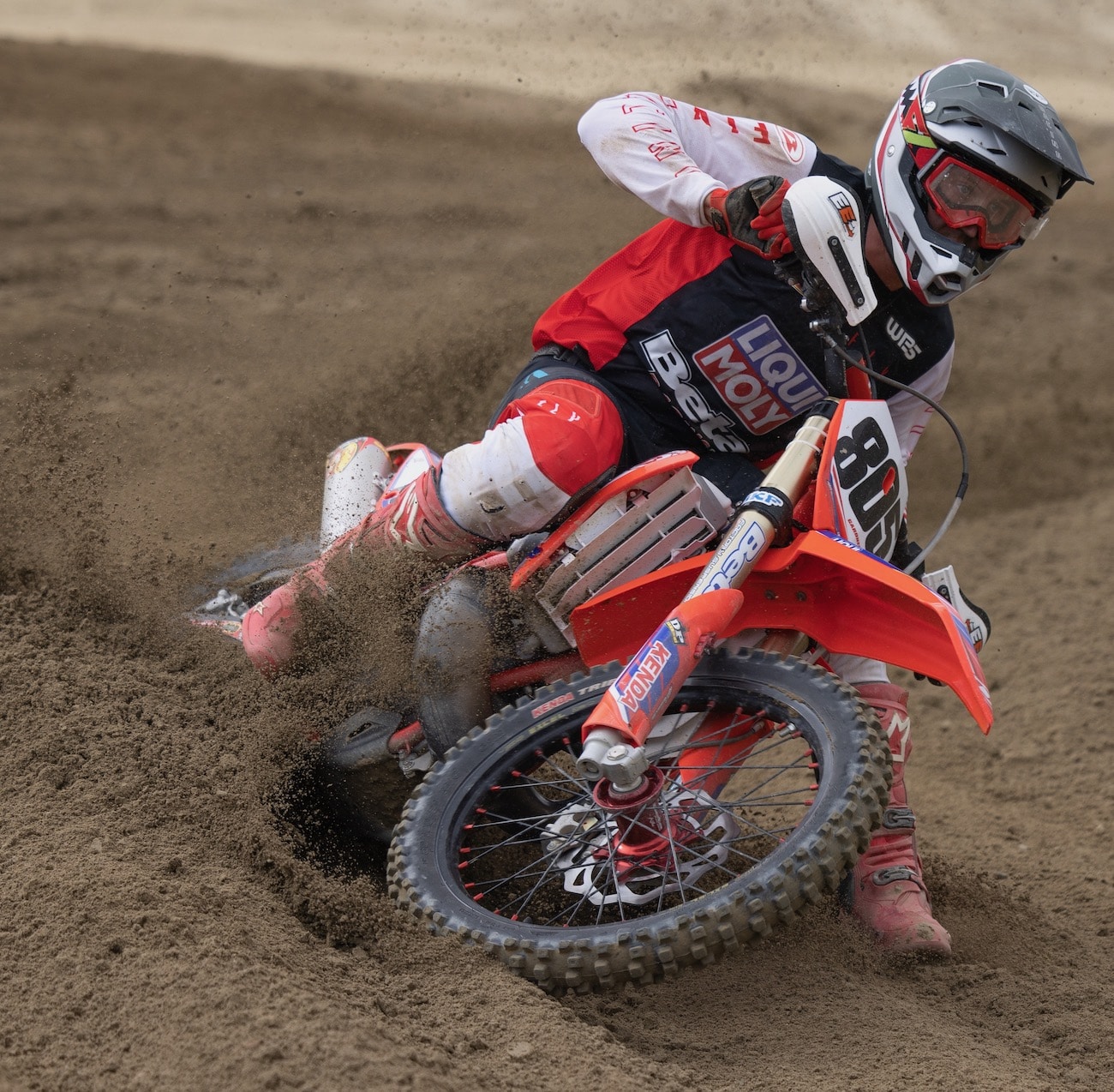 Carlen Gardner is the Beta team manager. It doesn't hurt that he is also an AMA Pro. Carlen went 7-7 for sixth in the Open Pro class. Photo: Mark Riker
If you had told a motocross racer in 2012 that two-strokes were coming back, they would point to the AMA and FIM series and note that there were no two-strokes in any of those Championships—and he'd be right. But bubbling below the surface of modern motocross was a revolt over unfair AMA rules, the high cost of four-stroke machines, the complexity of working on a four-stroke engines and the exorbitant price tag of four-stroke parts (not to mention the sheer number of them that need to be replace). In truth, without the Draconian AMA rules that allow four-strokes to have twice as much displacement, the two-stroke would still ruling the motocross world. It's that good.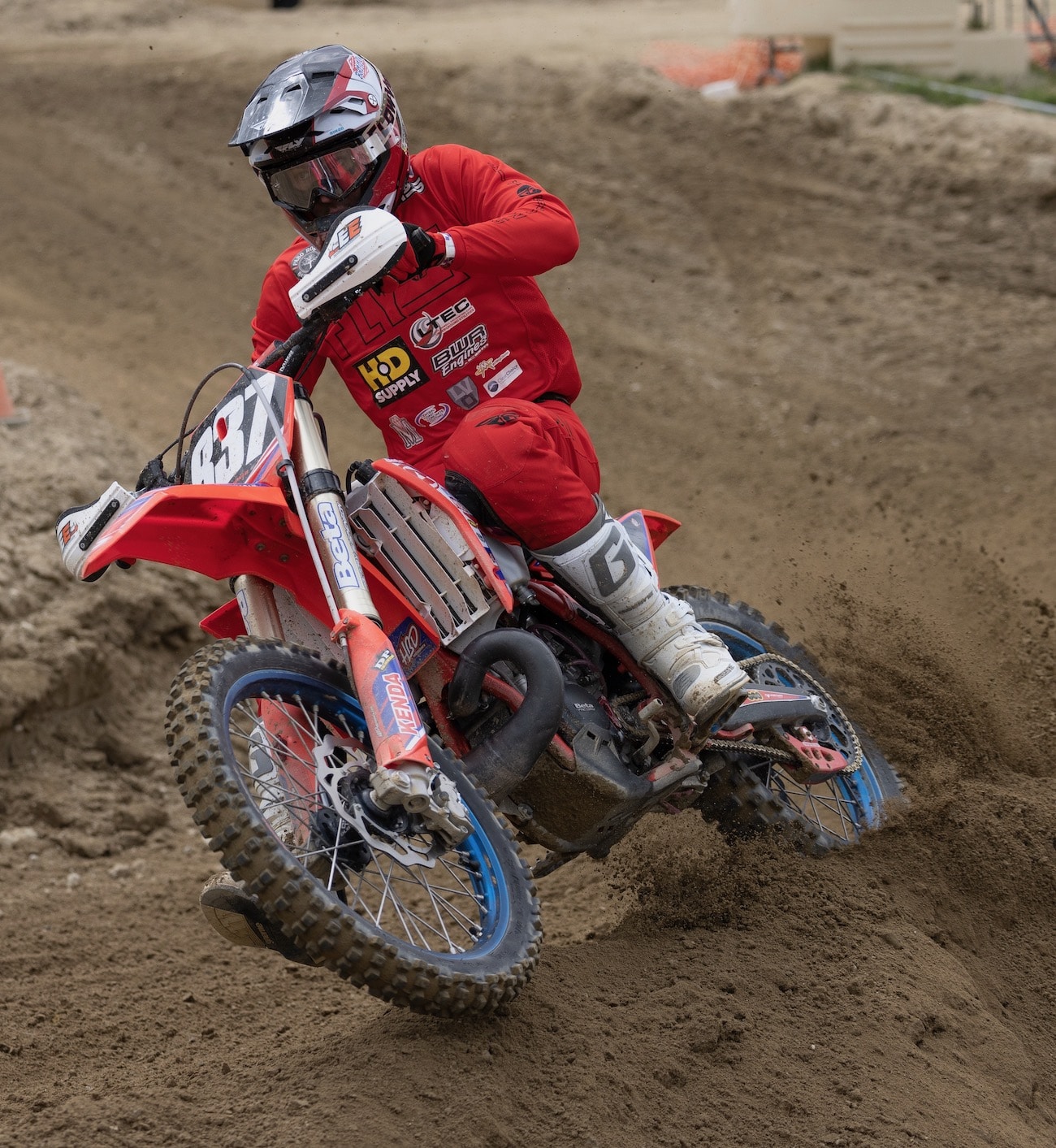 Bryson Gardner finished right behind his brother Carlen on another Beta. Bryson's 10-6 was good enough for seventh in the Open Pro class. Photo: Mark Riker


If you had told the marketing men in 2018 that the best selling bike of that season wasn't going to be the latest whiz-bang new four-stroke, but instead thousands of well-used Yamaha YZ250s they would have choked on their third martini. These old school two-strokes were being plucked out of the dank corners of garages, traded like crypto-currency, lavished with upgraded plastic kits, living second and third lives, passed down like a family heirlooms and making motocross affordable again—and the thrills are no different on a $2000 two-stroke beater than on a $12,400 Honda CRF450WE.
Beta's Dare Demartile (200) has come close to winning the World Two-Stroke Championship in the past. This year he finished 5-4 for fourth. Photo: Debbi Tamietti

During the reign of the two-stokes, nostalgia for four-strokes bloomed. And the World Four-Stroke Championship was started as a way for dedicated thumper pilots of enjoy their forgotten and ignored cam-and-valve bikes. Started in 1976, the four-stroke-only race had a unique place in moto culture as an opportunity to see, at least for one day a year, what the world had looked like before 1966. But when the 1998 Yamaha YZ450 reinvented the four-stroke, and every Japanese brand had committed all of their R&D dollars to building four-strokes, the idea of a World Four-Stroke Championship became silly—after all every race in America had become a four-stroke championship of some kind.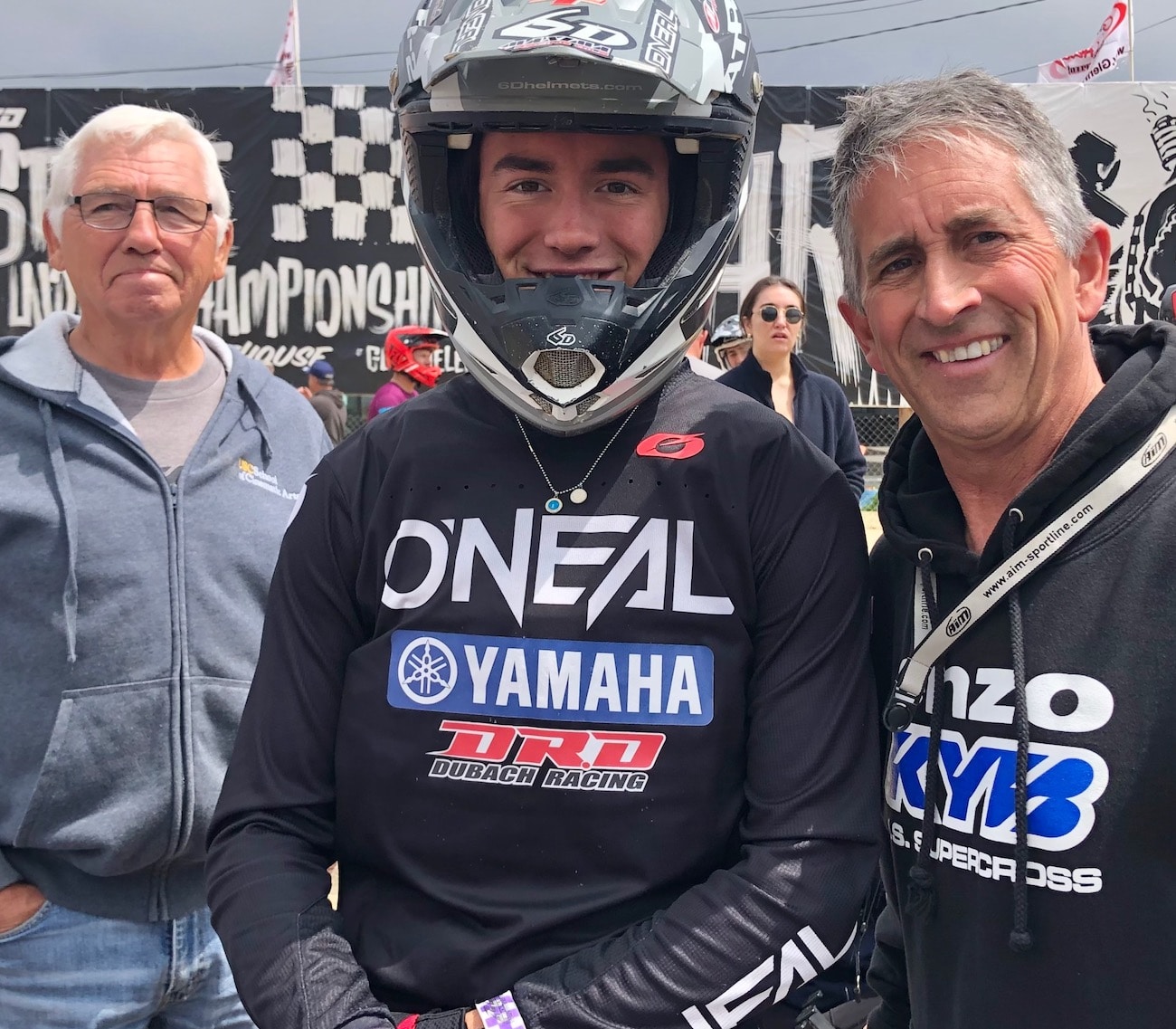 Carter Dubach (center) raced his first big Pro race and acquitted himself very well with a 5-6 for sixth overall in the Pasha 125 Pro class. He is flanked by his AMA Pro father Doug (right) and Doug's former Yamaha mechanic Alan Olson (left). Photo: Ernie Becker
Thus, it was decided to replace the now meaningless World Four-Stoke Championship in 2010 with the World Two-Stroke Championship. The four-stroke faithful mocked the idea, but in 2010 the race came to life and it has grown every year since. It harks back to an earlier time; when bikes didn't cost as much an arm and a leg; when you could rebuild an engine for a couple dollars (not a couple thousand); and when racing was tighter, closer and more exciting.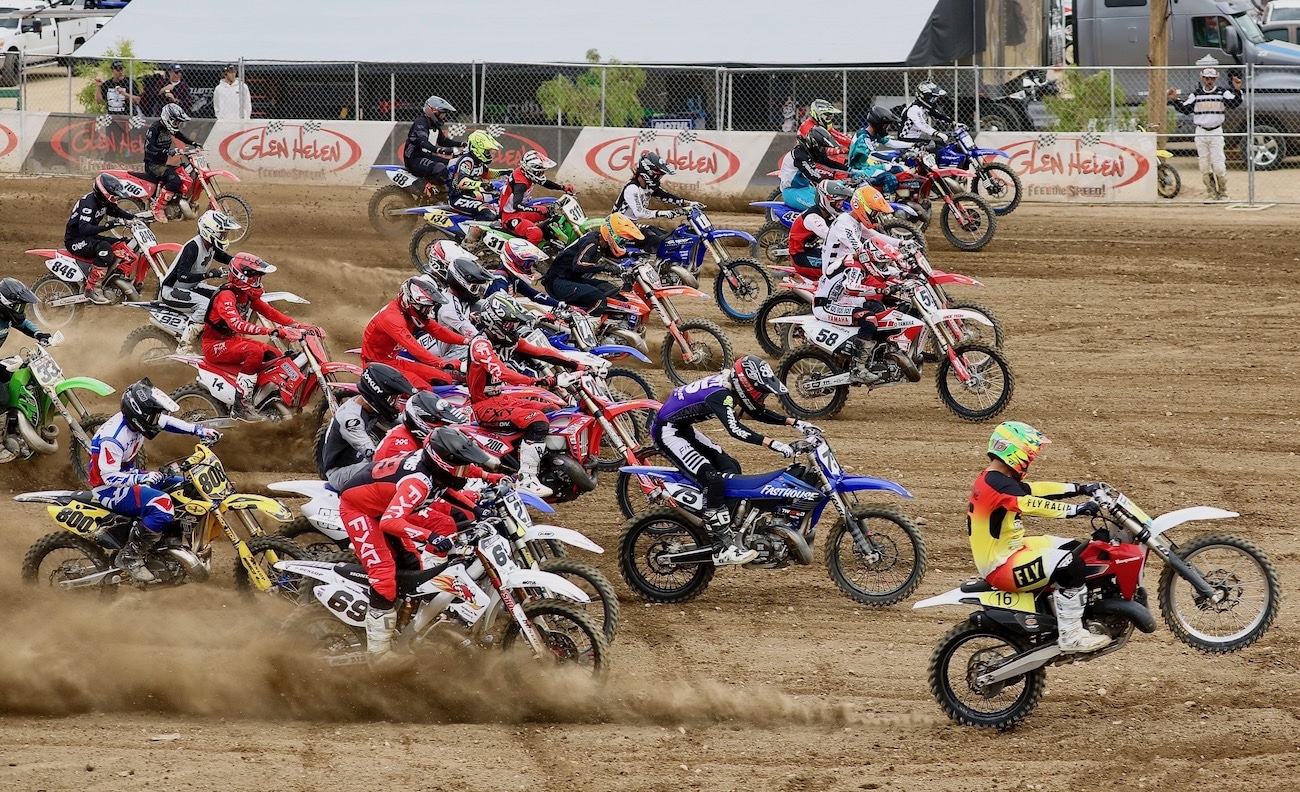 Zach Osborne (16) got a big jump on the rest of the Open Pro field as he wheelied his way into the lead. Zach rode great for the first half of each moto, but eventually settled into a more sedate pace and finished 9-9 for ninth overall. Photo: Debbi Tamietti
Tracking the growth and interest in two-strokes is easy—just chart the rise of the World Two-Stroke Championships. From it's modest start 12 years ago, the World Two-Stroke Championship has grown every year. This year there were over 800 riders racing at Glen Helen. What follows are the riders and players of this years Wiseco World Two-Stroke Championship, presented by Fast house. Enjoy the photos and just use you imagination to hear the sounds and smell the bean oil.
Another son of a famous motocrosser, Aryton Ward made the top ten in the 125 Pro class with an 11-9. His Dad Jeff was out having fun with the big crowd. Photo: Debbi Tamietti
Glen Helen is big. It has two full-size motocross tracks, an amateur Stadiumcross track, a Stacyc course, an off-road truck short course, miles of Grand Prix trails and hosts two Supercross tracks for the Pro Circuit Kawasaki team. Photo: Debbi Tamietti (click on image to enlarge)
Trevor Stewart takes time to do a little yard work in the Canyon section of Glen Helen Raceway. Note the rocks and old fire hose hidden in the weeds on the side of the track, which is why riders should stay on the prepped part of the track. Photo: Debbi Tamietti
Four-time 250 National Champion Gary Jones came out to race the two-stroke vintage class. Photo: Debbi Tamietti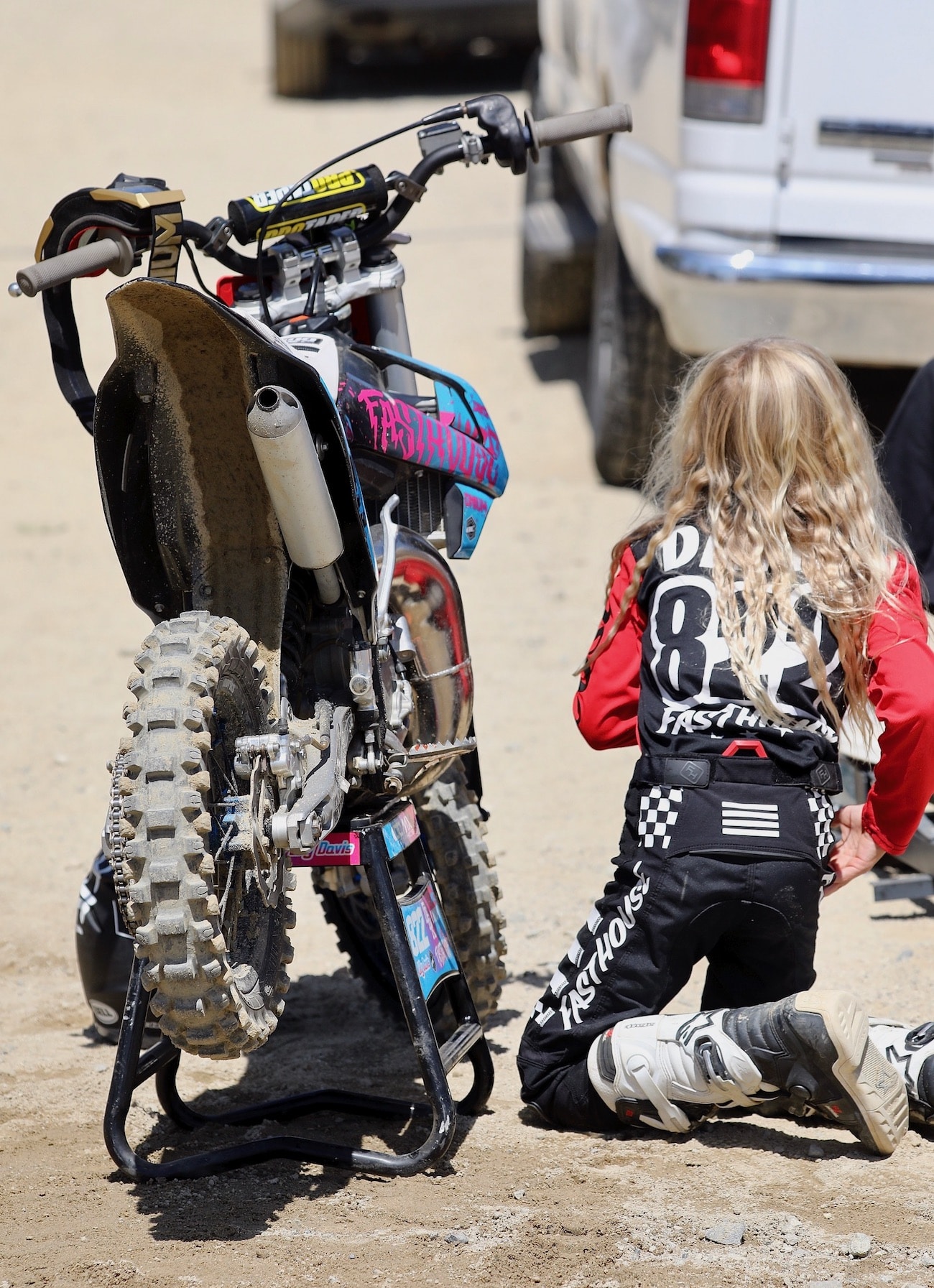 Lilly Davis does all the work on her 65cc two-stroke race bike by herself. Photo: Debbi Tamietti

Twenty stories of sheer joy and two stories of  "What have I gotten myself into." Photo: Debbi Tamietti

Casey Casper wanted a Honda, so he built one out of parts—nothing but KTM parts. He took his Konda to fourth overall in the Over-30 125 Pro class. Photo: Debbi Tamietti

Darian Sanayei (157) and Justin Hoeft (1) flat-track it around the Velodrome. Sanayei went 4-4 for fourth and Hoeft went 2-1 for first. Photo: Debbi Tamietti
Sean Collier (207) is a two-time World Two-Stroke Champion (2013-2014). He was eighth this year. Photo: Debbi Tamietti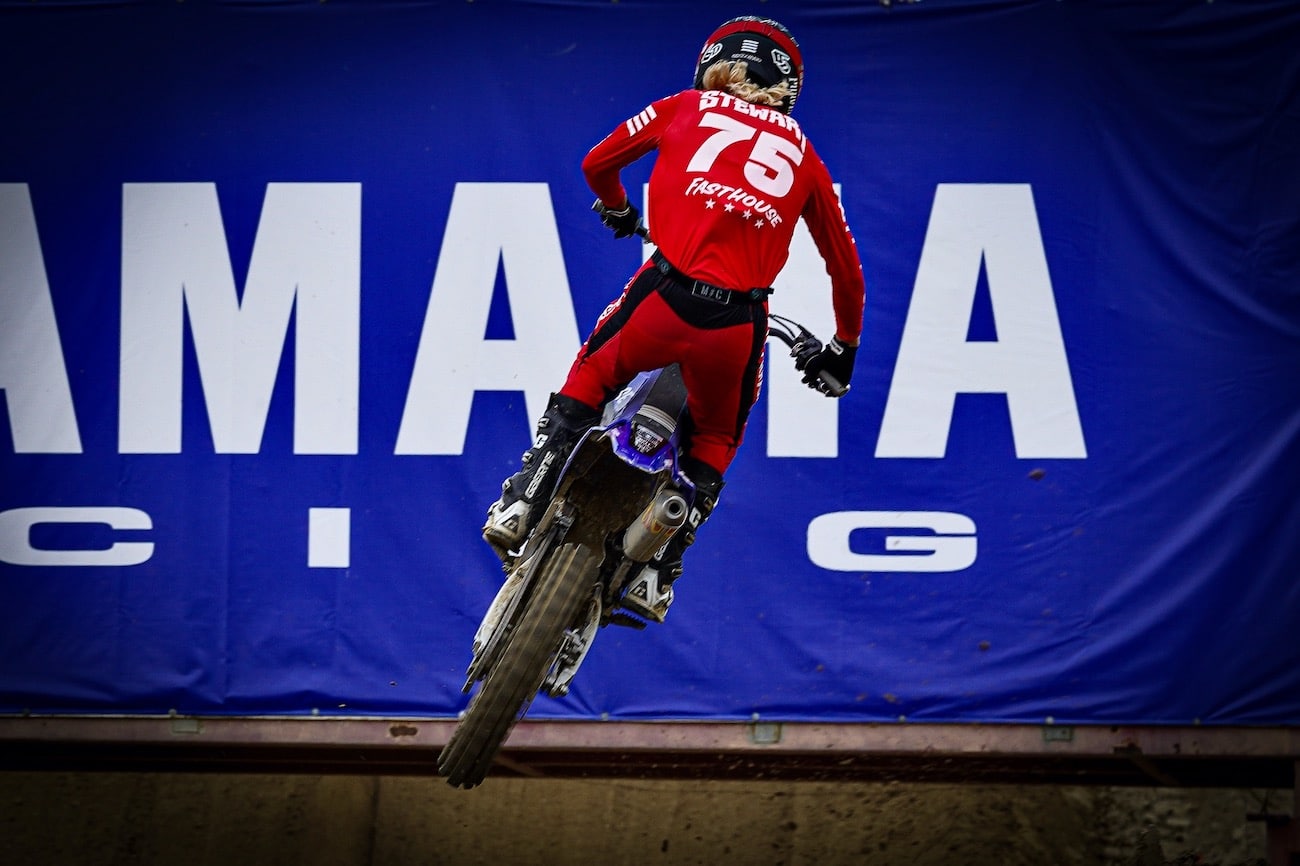 If it looks like Trevor Stewart is going to hit the Yamaha sign on the bridge, he isn't. He will land before the bridge, go under it and up the big hill. Photo: Jon Ortner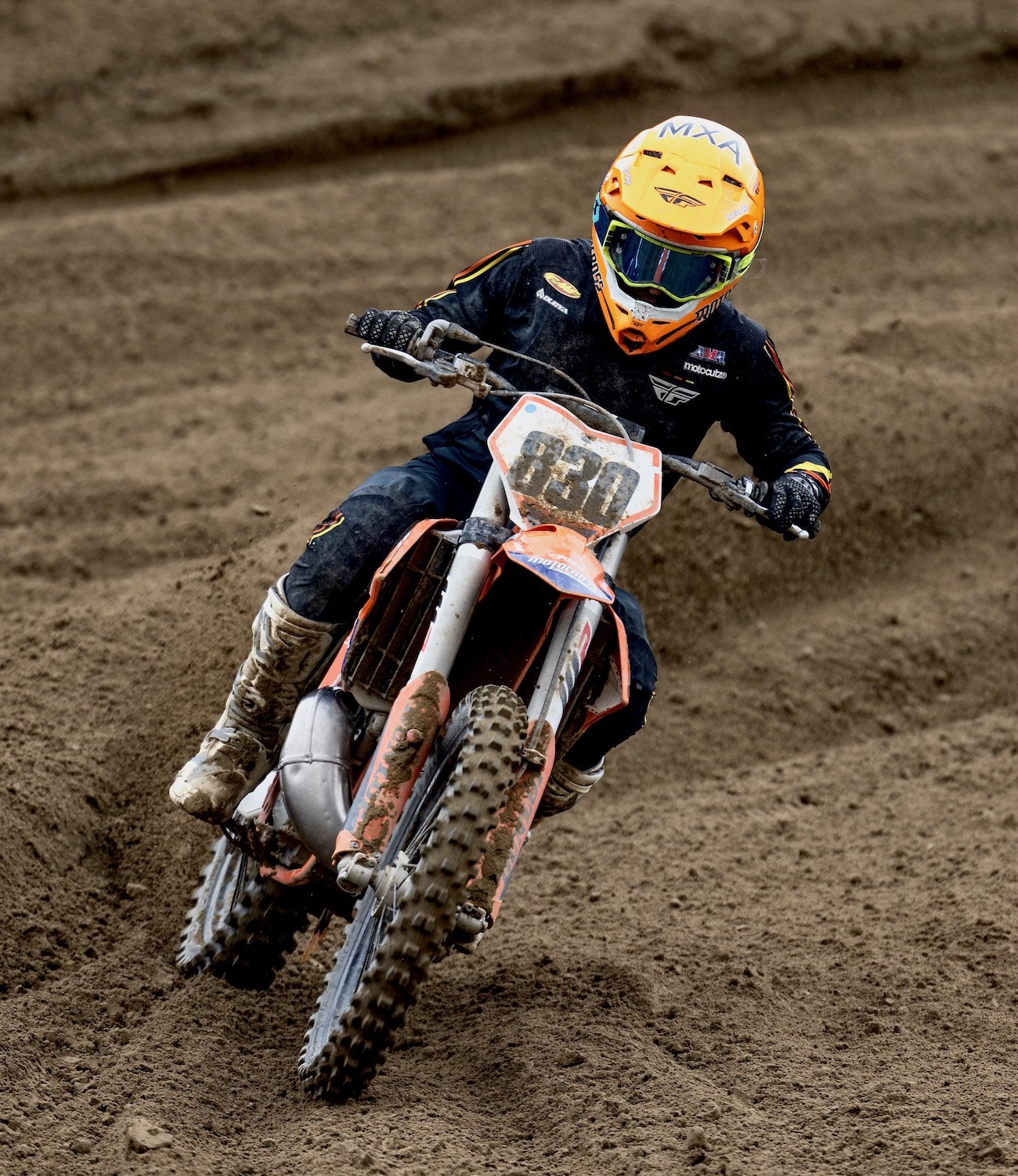 Ezra Lewis was bummed when he finished out of the top ten in the first moto of the Open Pro class, so he gave it all he had in moto two and made up enough spots to finish tenth overall and earn $400 in purse money. Photo: Mark Riker
This photo of the Talladega first turn doesn't include the front of the pack or the back, but it easily has room for 40 riders as much as four-riders wide. Photo: Debbi Tamietti

Australian Cody Mackie went 2-2 in the Over-30 125 Pro class. Photo: Dan Alamangos
The Fasthouse pit area. Photo: Debbi Tamietti
The MXA pit area during their pre-race meeting. Photo: Debbi Tamietti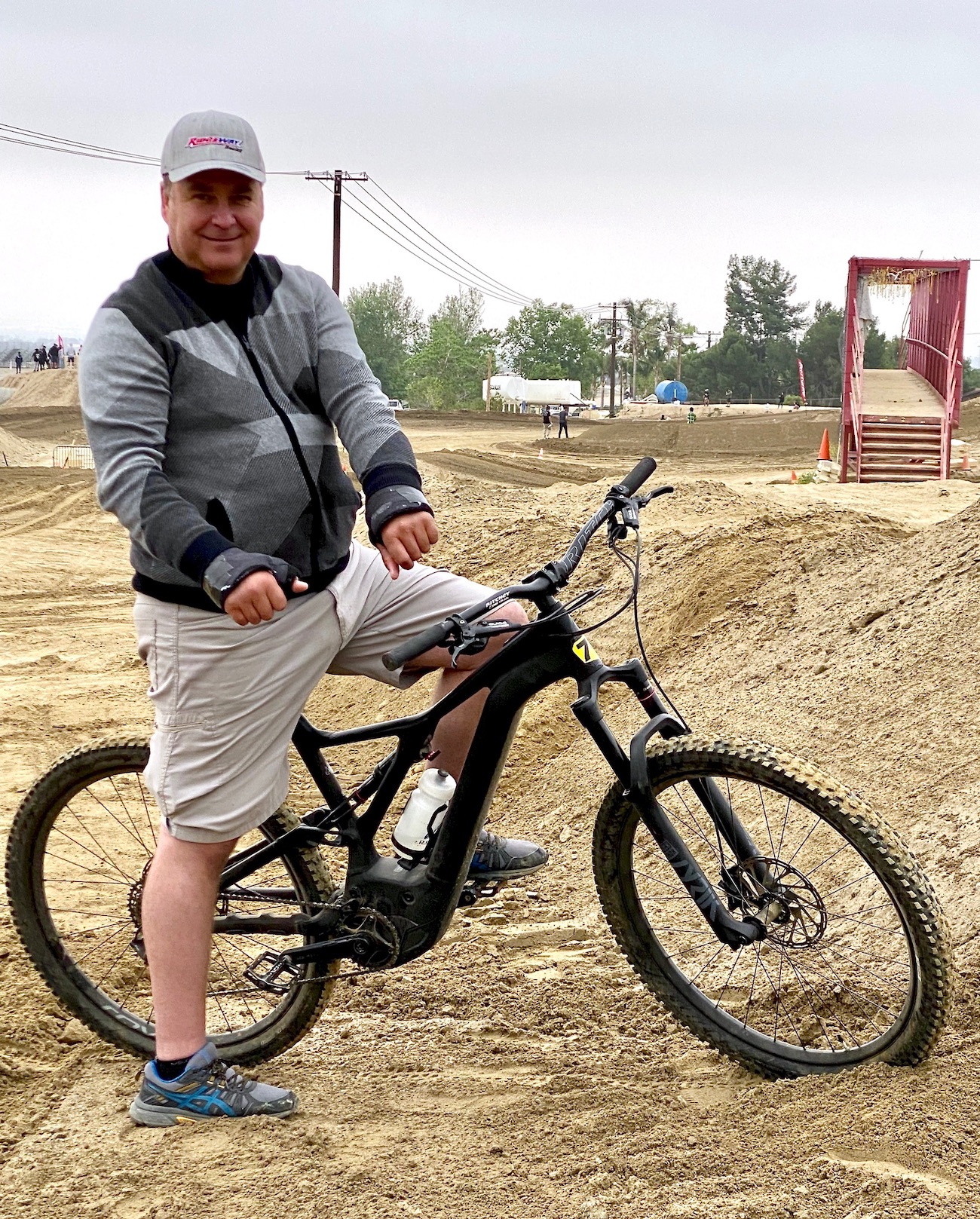 South African Alan Jullien had casts on both arm from crashing his YZ125 in preparation for the 2022 Wiseco World Two-Stroke Championship. Alan was third in the Over-50 125 Pro class last year behind Kurt Nicoll and Doug Dubach. Photo: Debbi Tamietti
Dennis Stapleton (184) went 4-7 for sixth in the Over-30 125 Pro class. There was a $5000 purse for this class, put up by Pasha Afshar for the Over-30 125 Pro class. Photo: Dan Alamangos
Hollywood actor Pasha Afshar has done everything one man can do to make 125 two-strokes more popular. He contributed $15,000 to the kitty for the 125 Pros, Over-30 125 Pro and Over-50 125 Pros. And, he didn't take a penny from the race proceeds. Photo: Debbi Tamietti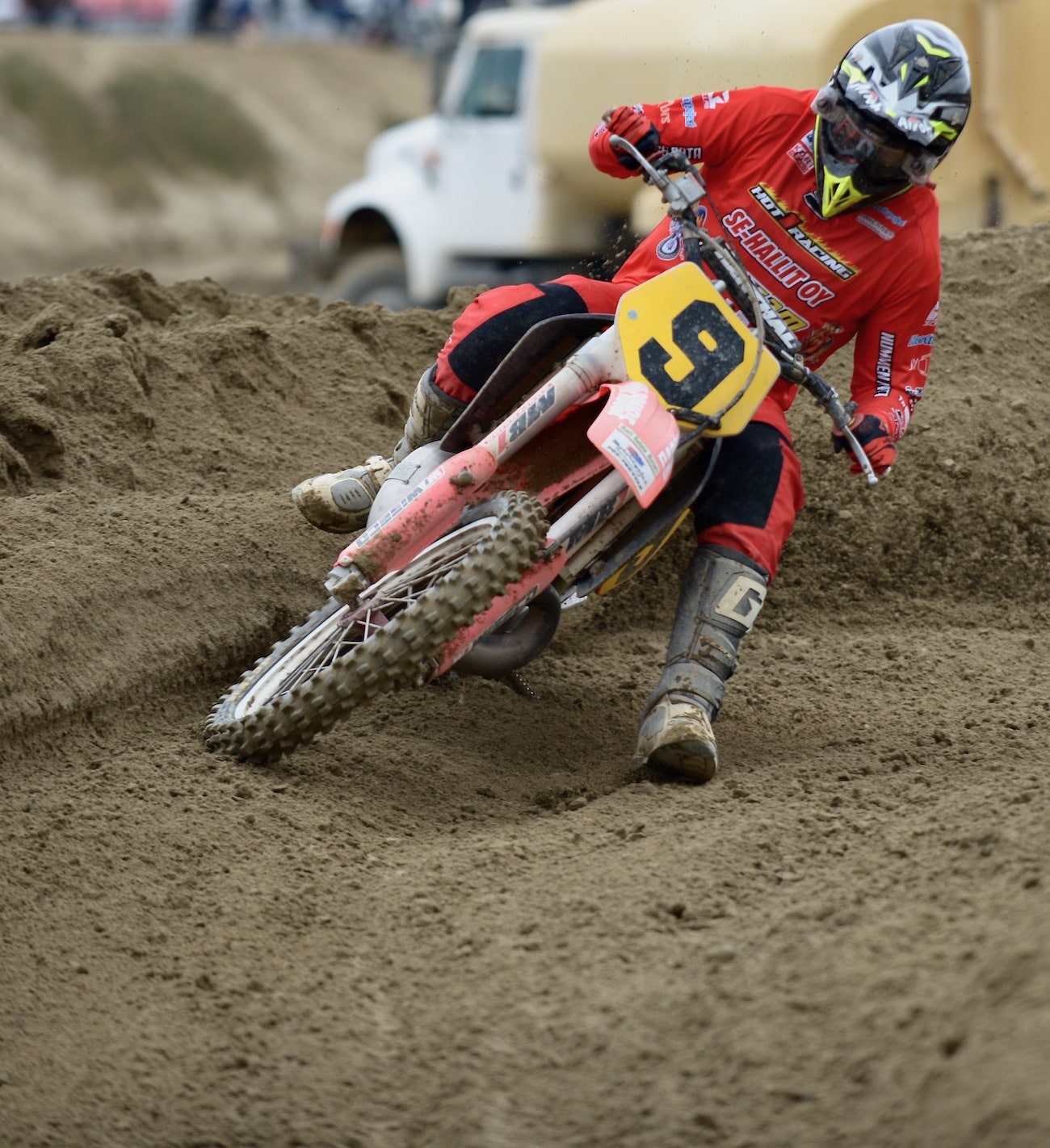 Finnish racer Rene Rannikko (9) raced a Honda CR500 in the Open Pro class. A CR500 is a great choice for Glen Helen's 70 mph start straight, but once the infamous Glen Helen bumps start to form, it is a handful. Rannikko went 13-10 to just miss the top ten. Photo: Dan Alamangos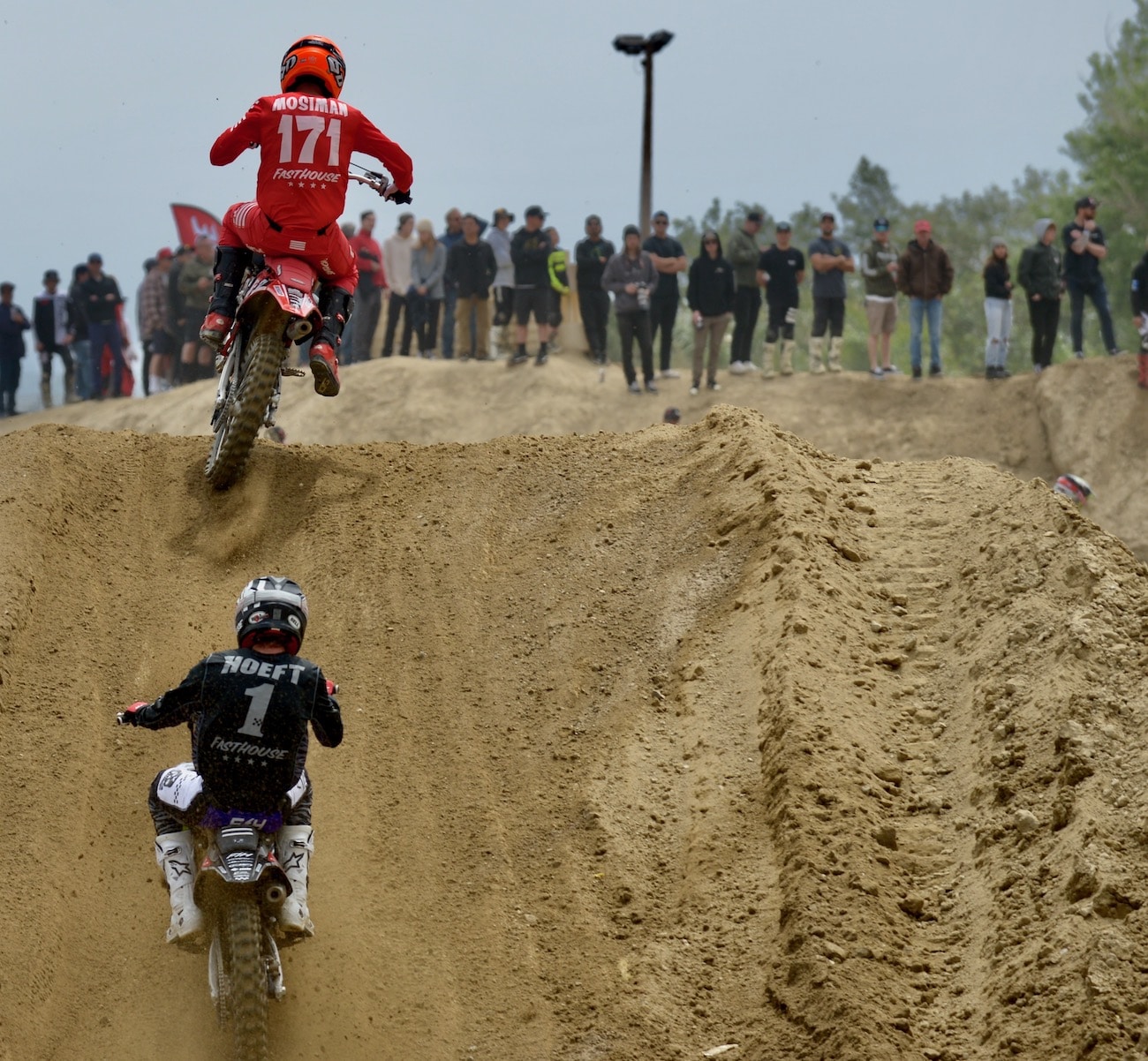 Josh Mosiman (171) holeshot the first moto on his Pro Circuit GasGas MC150 and took the win over 2021 125 Open Two-Stroke Champ Justin Hoeft, but in the second moto, Hoeft (1) turned the tables to win his second consecutive 125 title with a 2-1. Both riders had double pay days when they also finished in the top five of the Open Pro class. Photo: Dan Alamangos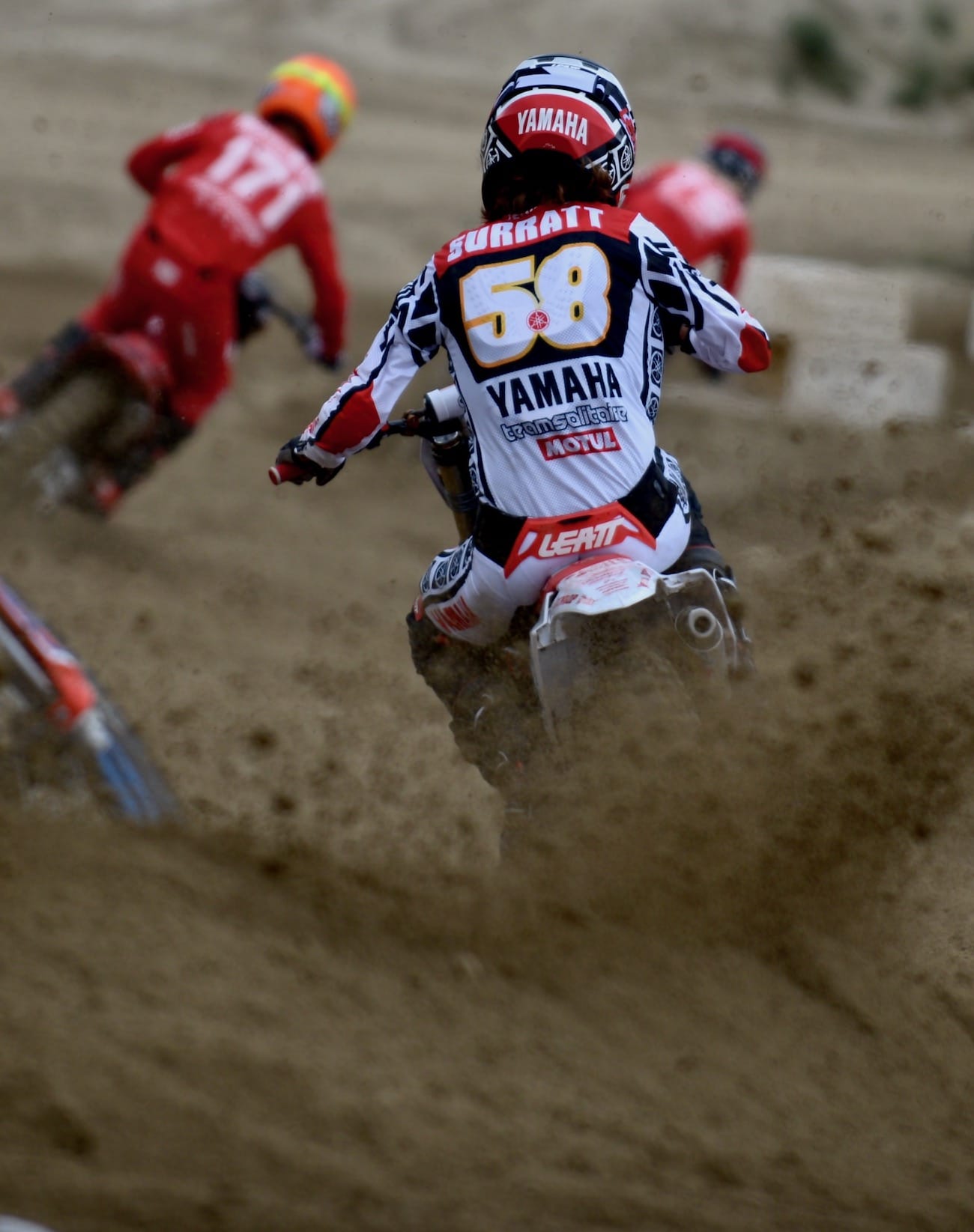 Ryan Surratt was the third rider to earn purse money in both the 125 and Open Pro classes. Ryan was third in the 125 and Open Pro races. Photo: Dan Alamangos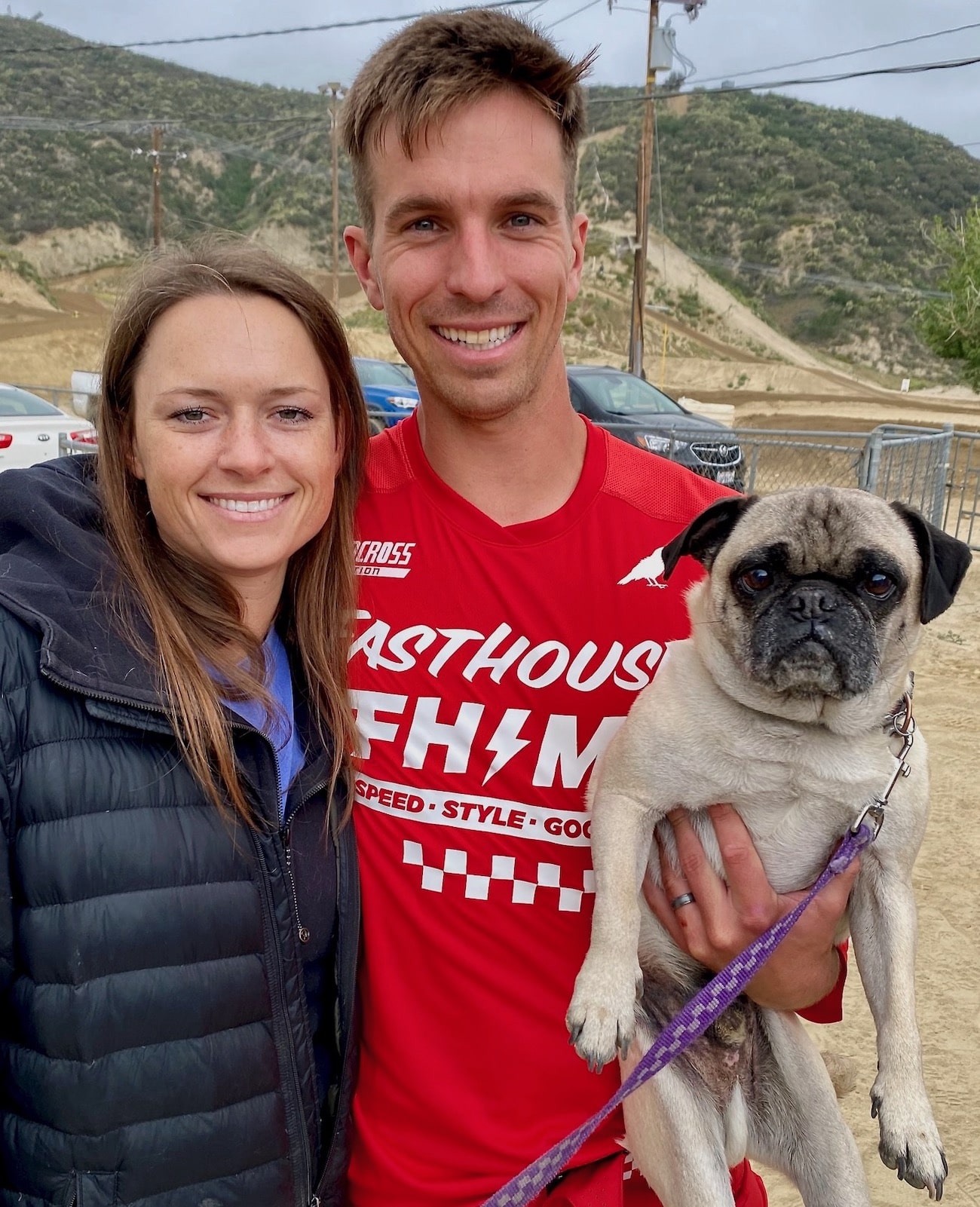 Ashley, Josh and Benny made it a family day at the World Two-Stroke race. Benny is the one on the right. Photo: Debbi Tamietti

MXA's Josh Mosiman at speed on his GasGas MC 250. Photo: Mark Riker
Of all the Pro class winners, Kurt Nicoll was the most dominant rider of the day. He had a giant lead in the first Over-50 125 Pro race and, in the second moto, he casually took his time before taking the lead. Photo: Mark Riker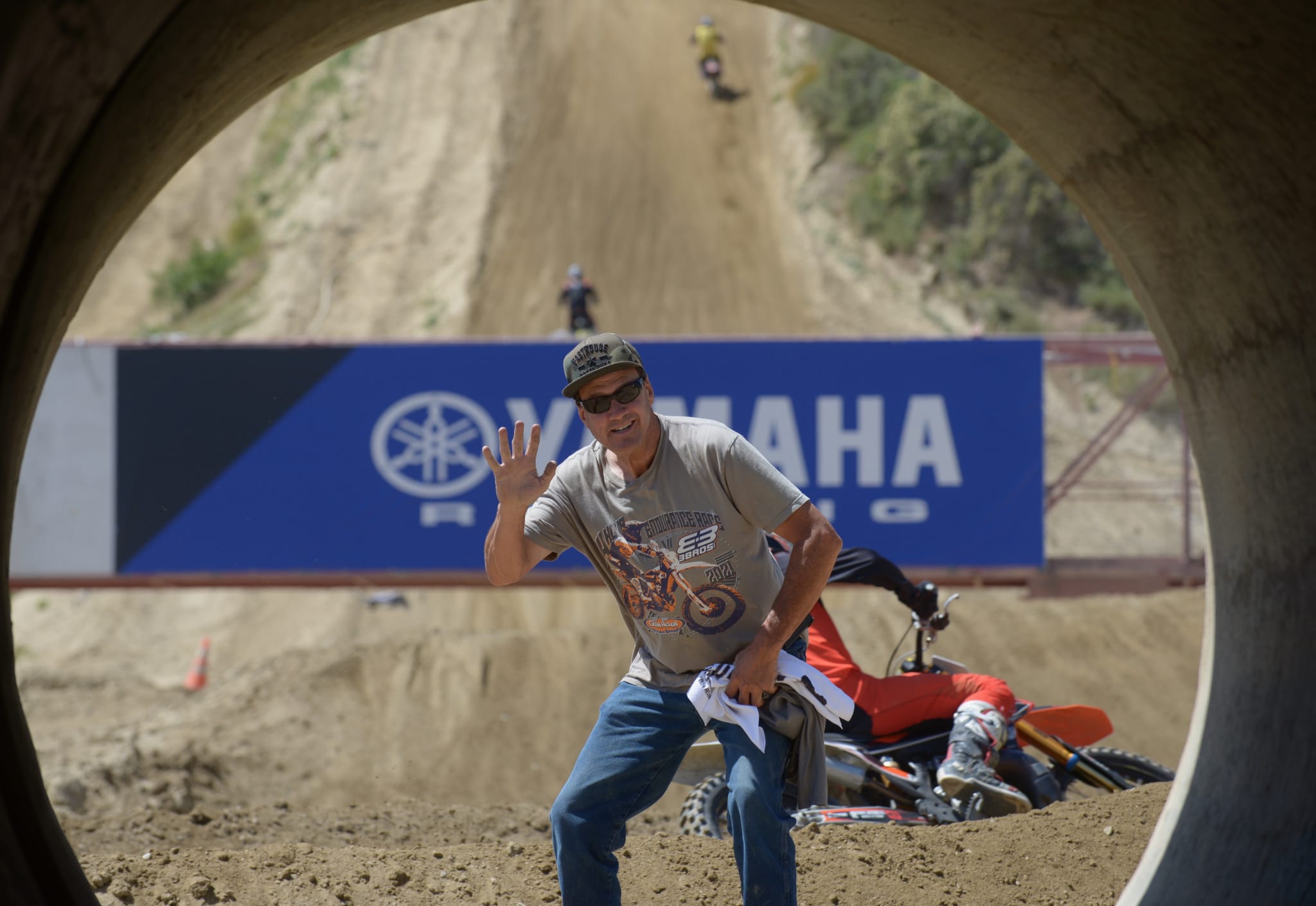 The forgotten heroes of motocross need to get a little love. This is Glen Helen's John Allen. He operated the Cat and prepped the track on Wednesday night, Thursday night, Friday night and between breaks in Saturday's motos. Phoo; Dan Alamangos
At the end of the day, the trophies were handed out, as well as checks for the four Pro classes. Here, Josh Mosiman (left), Justin Hoeft (center) and Ryan Surratt (right) get their Pasha 125 Pro class podium shot. And yes, the Pasha 125 races are called "125 Open" classes because they allow up to 150cc.  Photo: Debbie Tamietti
There was a $25,500 purse, broken down between the Open Pro class and the three Pasha 125 classes, with Justin Hoeft getting the largest share of the purse for his two class performance. Here are the top ten earners for the day. They took home $16,500 of the total purse.
TOP ELEVEN MONEY EARNERS
1. Justin Hoeft…$4000
2. Trevor Stewart…$3000
3. Josh Mosiman…$2550
4. Ryan Surratt…$2300
5. Mike Alessi…$2000
6. Kurt Nicoll…$2000
7. Dare Demartile…$1200
8. Cody Mackie…$1000
9. Pete Murray…$1000
10. Dominic Desimone…$800
11. Ed Foedish…$800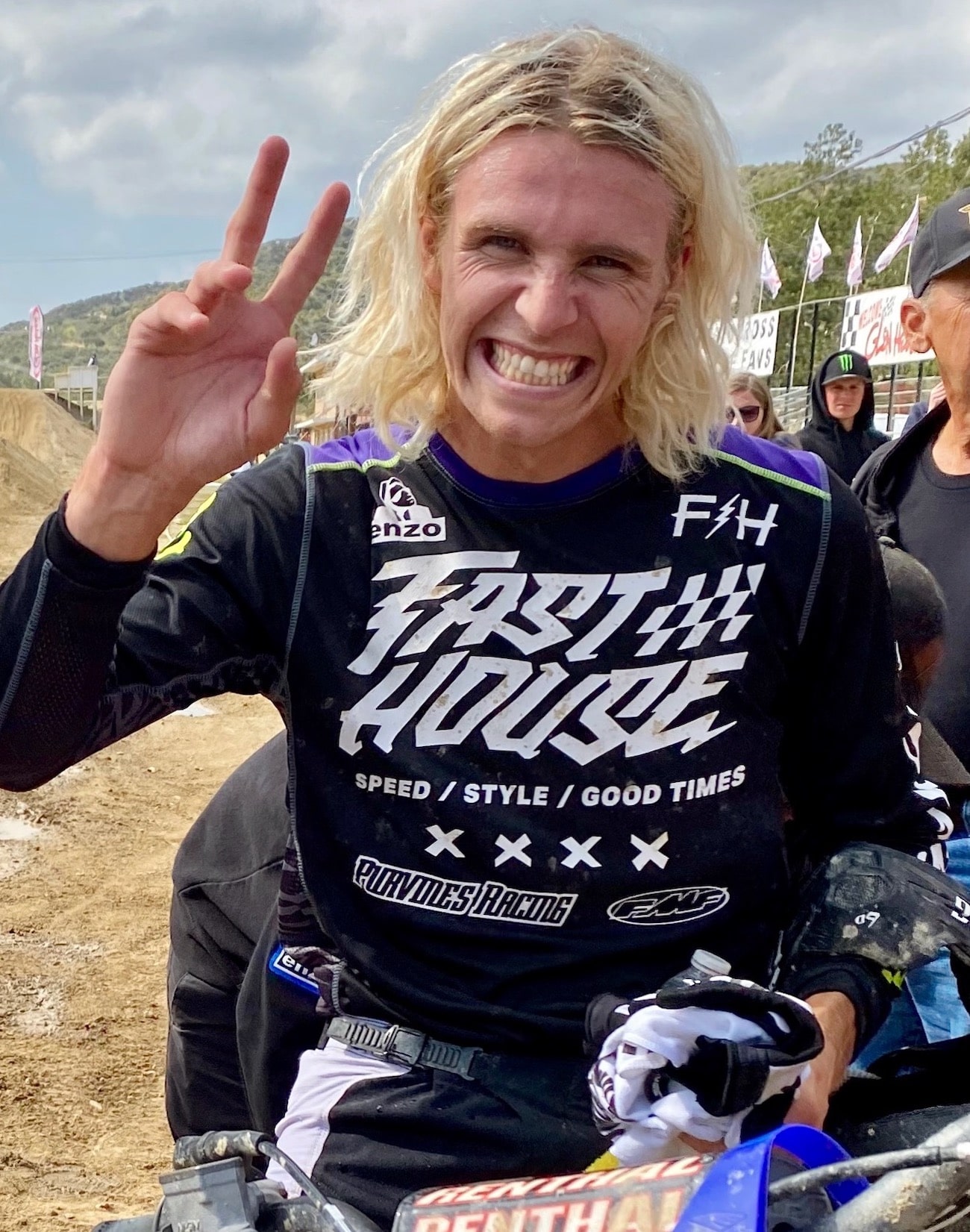 Trevor Stewart won the 2022 Open Pro class. It paid $3000. Photo: Debbi Tamietti

OPEN PRO RESULTS
1. Trevor Stewart (Yam)…2-1
2. Justin Hoeft (Hus)…1-2
3. Ryan Surratt (Hon)…4-3
4. Dare Demartile (Bet)…5-4
5. Josh Mosiman (Gas)…6-5
6. Carlen Gardner (Bet)…7-7
7. Bryson Gardner (Bet)…10-6
9. Sean Collier (Yam)…8-8
9. Zach Osborne (Hus)…9-8
10. Ezra Lewis (KTM)…11-10
Justin Hoeft won the 125 Pro class. It paid $2500, plus Justin got $1500 for his second in the Open Pro class. Photo: Debbi Tamietti

PASHA 125 PRO RESULTS
1. Justin Hoeft (KTM)…2-1
2. Josh Mosiman (Gas)…1-3
3. Ryan Surratt (Hon)…3-2
4. Darian Sanayei (KTM)…4-4
5. Dylan Summerlin (Yam)…6-5
6. Carter Dubach (Yam)…5-6
7. Bryce Huffman (KTM)…7-7
8. Seth Nemec (Hus)…9-8
9. Aryton Ward (Yam)…11-9
10. Jason Lutton (Hon)…10-11
Mike Alessi came back from the edge of disaster to win the Over-30 125 Pro class. It paid $2000.  Photo: Mark Riker
PASHA 125 PRO OVER-30 RESULTS
1. Mike Alessi (Yam)…1-1
2. Cody Mackie (Yam)…2-2
3. Dominic Desimone (KTM)…3-3
4. Casey Casper (Hon)…6-4
5. Dustin Pulliam (KTM)…8-6
6. Dennis Stapleton (KTM)…4-7
7. Jason Lutton (Hon)…7-9
8. Kenny Hernandez (Yam)…8-10
9. Bryce Huffman (KTM)……10-9
10. Michael Brown (Hon)…11-8
Kurt Nicoll won the Over-50 125 Pro class. It paid $2000. Photo: Dan Alamangos

PASHA 125 PRO OVER-50 RESULTS
1. Kurt Nicoll (KTM)…1-1
2. Pete Murray (Yam)…2-2
3. Ed Foesdish (KTM)…3-4
4. Nick Mairose (KTM)…5-3
5. Kevin Barda (Yam)…4-5
6. Chad Scholz (Gas)…6-6
7. Mike Marshall (Suz)…7-7
8. Roderick Tapia (KTM)…11-8
9. Gary Riekki (Suz)…14-9
10. Brian Raleigh (KTM)…20-10
Bobby Garrison won the first World Two-Stroke Champion on a Husqvarna. Photo: Jody Weisel

EVERY WORLD TWO-STROKE CHAMPION (2010-2020)
2010 …Bobby Garrison (Hus)
2011 …Austin Howell (Yam)
2012 …Michael Leib (Hon)
2013 …Sean Collier (Yam)
2014 …Sean Collier (Yam)
2015 …Mike Sleeter (KTM)
2016 …Mike Alessi (Suz)
2017 …Ryan Surratt (Hon)
2018 …Zach Bell (Hus)
2019…Robbie Wageman (Yam)
2020…Mike Alessi (Yam)
2021… Robbie Wageman (Yam)
2022…Trevor Stewart (Yam)