WORLD VET BARN STORMERS! HUGHES, PRESTON & TEDESCO THROW CAUTION TO THE WIND

Although Ivan Tedesco was a factor for the first half of the first Vet Pro moto, the real racing boiled down to a battle royale between Ryan Hughes (9) and Travis Preston (11). It looked like a grudge match at times.


OVER-30 WORLD VET CHAMPIONSHIP RESULTS
1. Ryan Hughes (Suz)………..3-1
2. Ivan Tedesco (Kaw)………..2-2
3. Travis Preston (Yam)………1-5
4. Mike Sleeeter (KTM)……….5-3
5. Doug Dubach (Yam)………..4-5
6. Kris Keefer (Yam)……………6-6
7. Dennis Stapleton (Kaw)……7-7
8. Mark Tilley (Kaw)…………….9-8
9. Beau Baron (Hon)……………11-12

This sequence was shot by Dan Alamangos just a split second after Travis Preston (11) gave Ryan Hughes a love tap in the sand section in moto two. At the time Hughes was leading with Preston second. Hughes is starting to go down, but Preston has overcooked it.



Travis Preston has locked his front brake and tucked the front wheel. He is just about to be ejected.



Preston high-sides over Hughes as both riders hit the ground. Since Hughes had a third in the first moto, Travis Presto, who won the first moto, didn't need to make this pass attempt on Hughes to take the overall…but, in the end, it would cost Travis the win.



As Travis tumbles, Ryan Hughes grabs his bike.



The World Vet Championship came down to who could pick their bike up first and get going.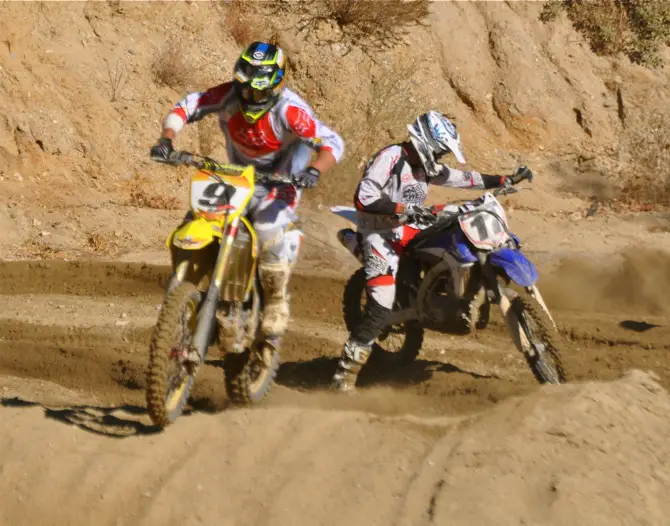 Not only did Ryan Hughes win the race to get his bike moving, but Travis Preston had trouble starting his bike and dropped back to fifth place behind Hughes, Tedesco, Sleeter and Dubach.



Ivan Tedesco made the decision to race the World Vet on Friday. For a guy who has been on the injured list for a long time he had good speed and was smart enough to conserve his energy for when he needed it.

Doug Dubach (15) gets the jump halfway to the first turn.

The Talladega first turn has room for as many riders as you want to put on it. It is banked 45-degrees and is a 180-degree bend.

OVER-40 WORLD VET CHAMPIONSHIP RESULTS
1. Doug Dubach (Yam)………….1-1
2. Julian Cerny (Kaw)……………3-2
3. Billy Joe Mercier (Kaw)……..2-3
4. Kurt Nicoll (KTM)……………..4-4
5. Terry Fowler (Yam)…………..6-5
6. Justyn McCabe (Hon)………7-7
7. Todd Mitchell (Kaw)…………5-10
8. Shawn Wynne (Kaw)……….8-9
9. Robby Clauss (Yam)………12-6
10. Willy Musgrave (Yam)…..11-8

MXA's Dennis Stapleton comes over a Glen Helen rise with a view of the San Bernardino Valley and Mike Sleeter (111) behind him.

OVER-50 WORLD VET CHAMPIONSHIP RESULTS
1. Pete Murray (Yam)…………1-1
2. Pete DeGraaf (Hon)………..2-2
3. Jon Ortner (Yam)……………3-4
4. Isao Ida (Hon)………………..5-3
5. Steve Lawler (Suz)…………6-5
6. Chuck Sun (KTM)……………4-8
7. Kirk Lewis (Hon)…………….7-6
8. Doug Goodman (Hon)…….8-9
9. Ed Guajardo (Hon)…………12-7
10. Bill Stork (Kaw)……………11-10

Mike Sleeter ended the day in fourth place with a 5-3 day.

OVER-60 WORLD VET CHAMPIONSHIP RESULTS
1. Gary Jones (Hon)…………..1-1
2. Lyle Sweeter (Hon)…………2-2
3. George Kohler (Suz)……….3-3
4. Alan Kent (Hon)………………5-4
5. Mic Rodgers (Suz)…………..4-7
6. Don Toussaint (Yam)………7-5
7. Dwight Catalano (Yam)……6-6
8. David Bibby (Hon)……………8-8
9. Jack McCormick (Hon)…….9-9
10. Jody Weisel (KTM)………..10-10

On Saturday Doug Dubach won the Over-40 Pro class and notched his 20th World Vet title (between the Over-30 and Over-40 classes). The 49-year-old came back on Sunday to finish fifth in the Vet Pro class.
OVER-70 WORLD VET CHAMPIONSHIP RESULTS
1. Lars Larsson (KTM)………..2-1
2. Gary Chase (Hon)………….1-2
3. Paul Budai (KTM)…………..4-3
4. Gary Anderson (Hon)…….3-4
5. Curtis Johnson (Yam)……5-5
JOHN BASHER'S VIEW OF THE HUGHES/PRESTON CRASH (FROM A DIFFERENT ANGLE)

MARK CHILSON'S VIEW OF THE HUGHES/PRESTON CRASH (FROM ANOTHER ANGLE)

Photos by Dan Alamangos, Mark Chilson and John Basher