WORLD VET CHAMPIONSHIP, AUSTIN FORKNER'S KX250, HUSKY TEAM INTRO | MXA'S MID-WEEK REPORT
TWO-STROKE SPOTLIGHT: 2001 HONDA CR500
EDITORS NOTE: Please keep those submissions coming. If you would like your bike to be featured in the "Two-Stroke Spotlight," please email me at [email protected]. All I ask is that you give a breakdown of your bike and a detailed description of the build. Please also send a few photos of your steed. By submitting your bike for the "Two-Stroke Spotlight," you agree to release all ownership rights to the images and copy to MXA. Please don't email me spam or try selling me Taylor Swift concert tickets or email me spam. I already celebrate T-Swizzle's entire collective, and there will be "bad blood" if you send me junk mail. See what I did there? Happy submitting your smoker.

#WHIPITWEDNESDAY
Rider: Josh Mosiman
Location: Milestone MX
Focal length: 300
Exposure: 1/1600sec
F-stop: f/5.6
ISO: 400
Photographer: Daryl Ecklund
MXA | MOTO | TRIVIA
Who is this rider.
WHAT THE MXA WRECKING CREW IS UP TO
We got a day with Austin Forkner's Pro Circuit KX250. 
Our new Assistant Editor, Josh Mosiman navigates a soft berm on the factory bike. 
The MXA wrecking crew got to put some time on the 2019 TM 300MX two-stroke. 
Our chief test rider Dennis Stapleton shakes down the all-new TM smoker. 
Powerlift Suzuki RM-Z450. 
Josh laying it sideways at Milestone Raceway. This thing was fast. 
Josh railing a corner. But did he pull it off?
Maybe?
Nope.
HUSKY FACTORY TEAM MANAGER BOBBY HEWITT TALKS ABOUT 2019 FC450 FACTORY EDITION 
JORDAN BAILEY INTERVIEW 
JASON ANDERSON INTERVIEW
ZACH OSBORNE INTERVIEW
THOMAS COVINGTON INTERVIEW

ROUND 2 OF THE AME AMATEUR MX
The second round of AME Amatuer MX started to see things heat up in a few classes.
The stars of the big bike classes clashed with a heated battle between KTM support rider, Josh Varize and Fly Racing's Degan Palmer with a very intense fight in both 250 Open Non Pro and Amateur All Stars classes. In the end it was a split decision with Palmer fighting his way to the win in the 250 Non Pro and Varize taking it wire to wire in the All Stars. Nor Cal's Tyler Ducray gets an honorable mention for mixing it up with leaders in the All Star main event under guidance from Eric Ducray.
Lawson Dye's starts were on point today with 5 out of 6 holeshots in the 85cc 7-11 , 85 Novice and 85 Open classes. In the end, Lawson won the 85 Novice main and came to within half a lap of winning his second class the 85cc 7-11 class, but an aggressive pass by Alvin Hillan dropped him to second place in front of hard charging ASV rider, Dane Morales.
Next came the battles in the 65cc ranks as top ranked mini pilot from Bali Kelana Humphrey took on Nor Cal mini star, Alvin Hillan.
Kelana scored the 10-11 years old main win after a slide out by Hillan late in the main event. Hillan returned in the 65cc Open showdown where each of the two future stars ran it in on each other in one heck of an exciting main event. In the end, Hillan proved stronger and took the gold in front of Humphrey and Jaxson Butte.
Wyatt Thurman owned the 51cc division with wins in both 6-8 year old and 51cc Open classes with out a hitch, but found Jesse Shedden to be a little too tough in the 65cc 7-9 year old class where the high desert kid laid the hammer down for an undisputed victory.
In all it was a very exciting Round 2 with some epic rivalry's starting to take form. Round 3 is next Saturday at Glen Helen where all racers will face a brand new Amatuer SX track.

LOST BUT NOT FORGOTTEN | 1985 HONDA CR250
EVS SPORTS ACCEPTING RESUMES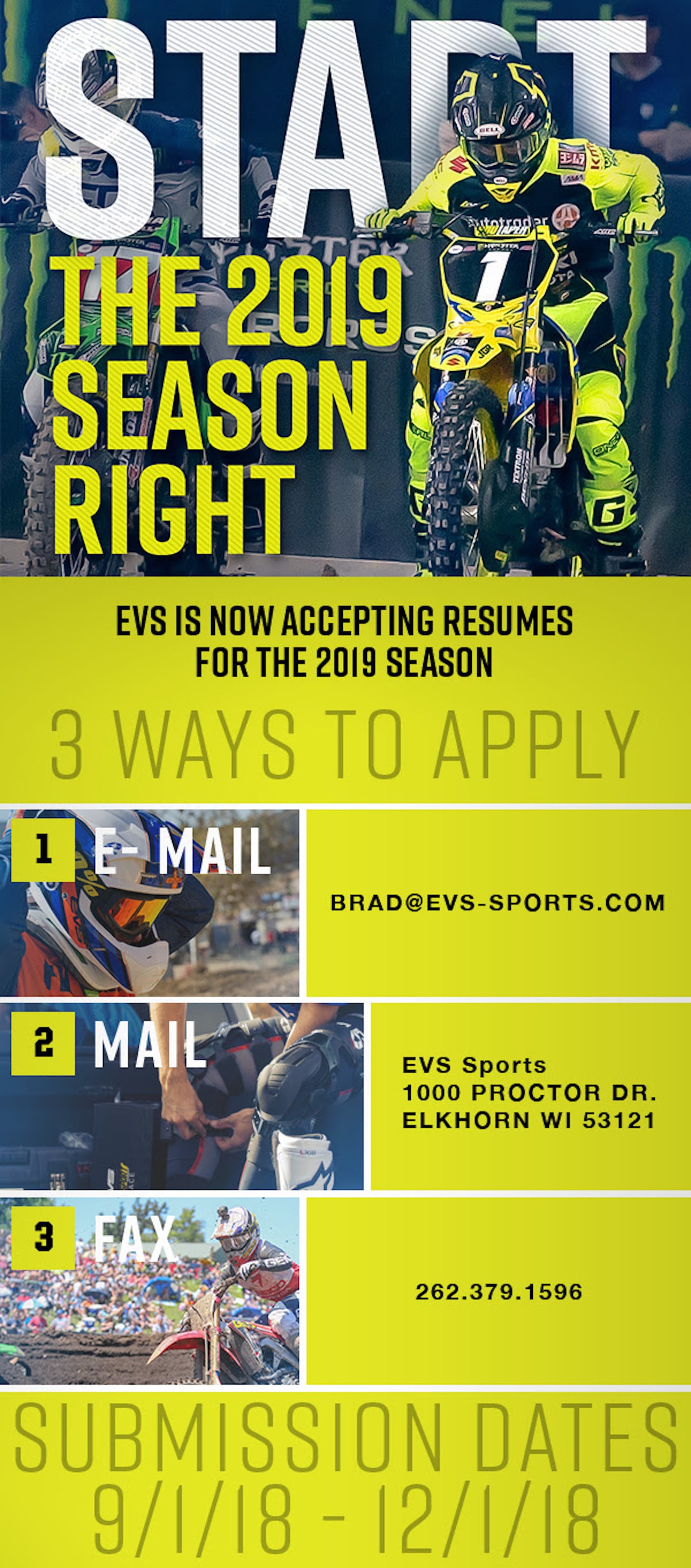 WORLD VET CHAMPIONSHIP PHOTO BLAST | by Josh Mosiman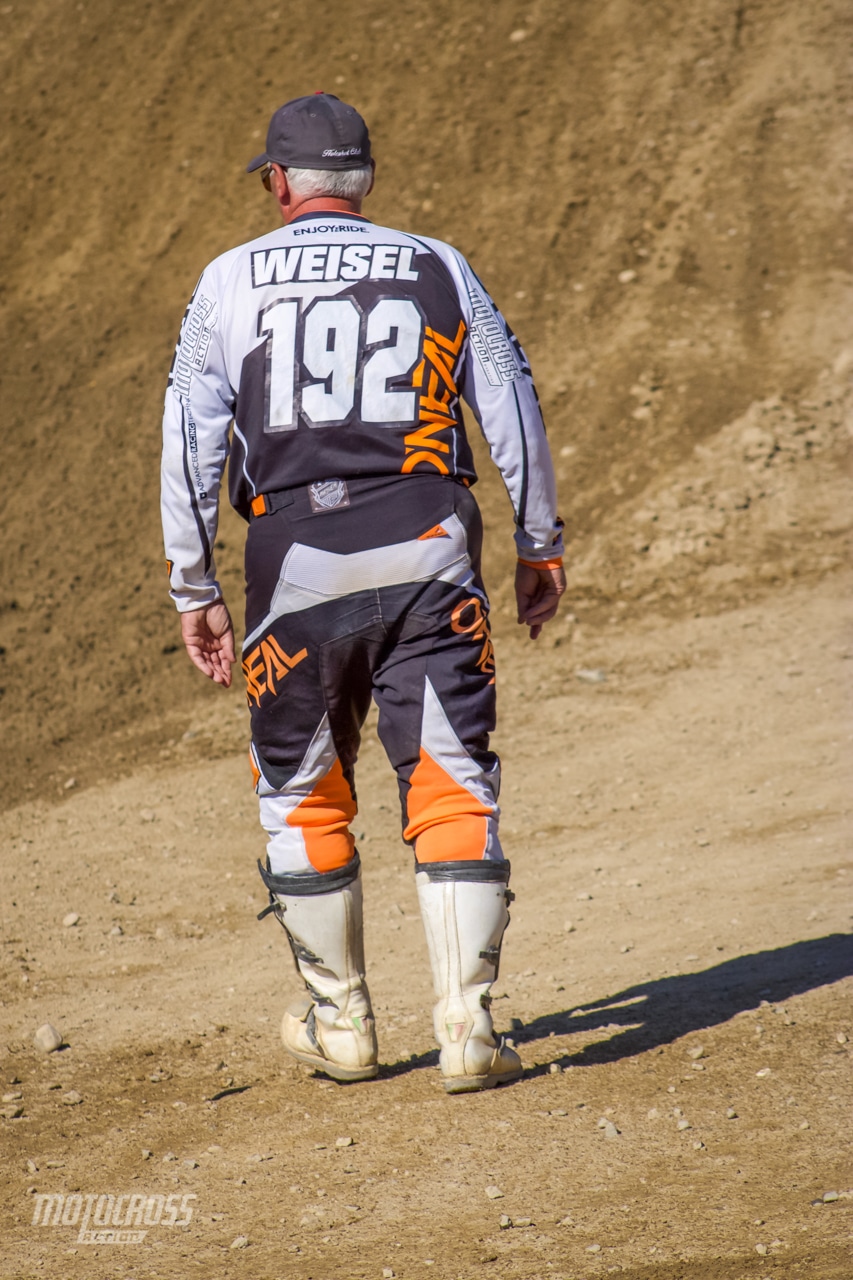 This years Edison Dye Lifetime Achievement award went to our very own Jody Weisel.  
6D's Bob Weber.


Todd Gravitt family affair.
 
Off the start at Glen Helen before the riders reach 70 plus mph. 
 
Dennis Stapleton. 
 
Dennis raced and was the water boy as well. 
   
Jim O'Neal is a former Over-70 World Champion, bt finished second this year. 
 
Kurt Nicoll missed his archrival Doug Dubach, who was in Japan. With Dr.D Kurt easily won the Over-50 World crown (for the second time).
 
Twisted Development's Jamie Ellis cheering on a rider. 
 
Riders coming down Mount Saint Helen.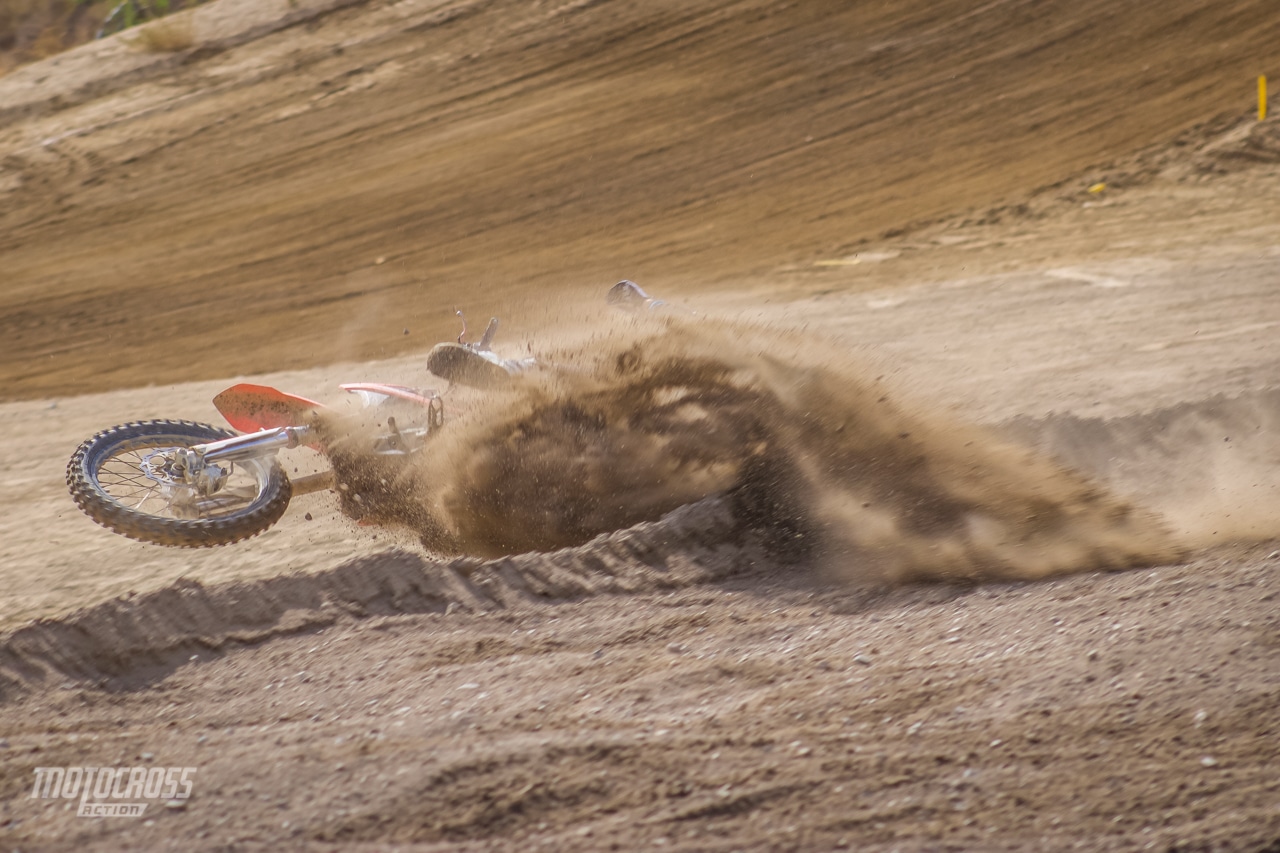 Rider hitting the dirt. 
Now that is a holeshot. Chris Cole opens up a gap to remember.

JODY WEISEL | 2018 LIFETIME MOTOCROSS ACHIEVEMENT AWARD
CLASSIC PHOTO
Jimmy Button going warp speed back in 2000 aboard his factory Yamaha YZ450F.
GET A FREE 10 YEAR ANNIVERSARY T-SHIRT WITH PURCHASE OF FASTER USA WHEEL SET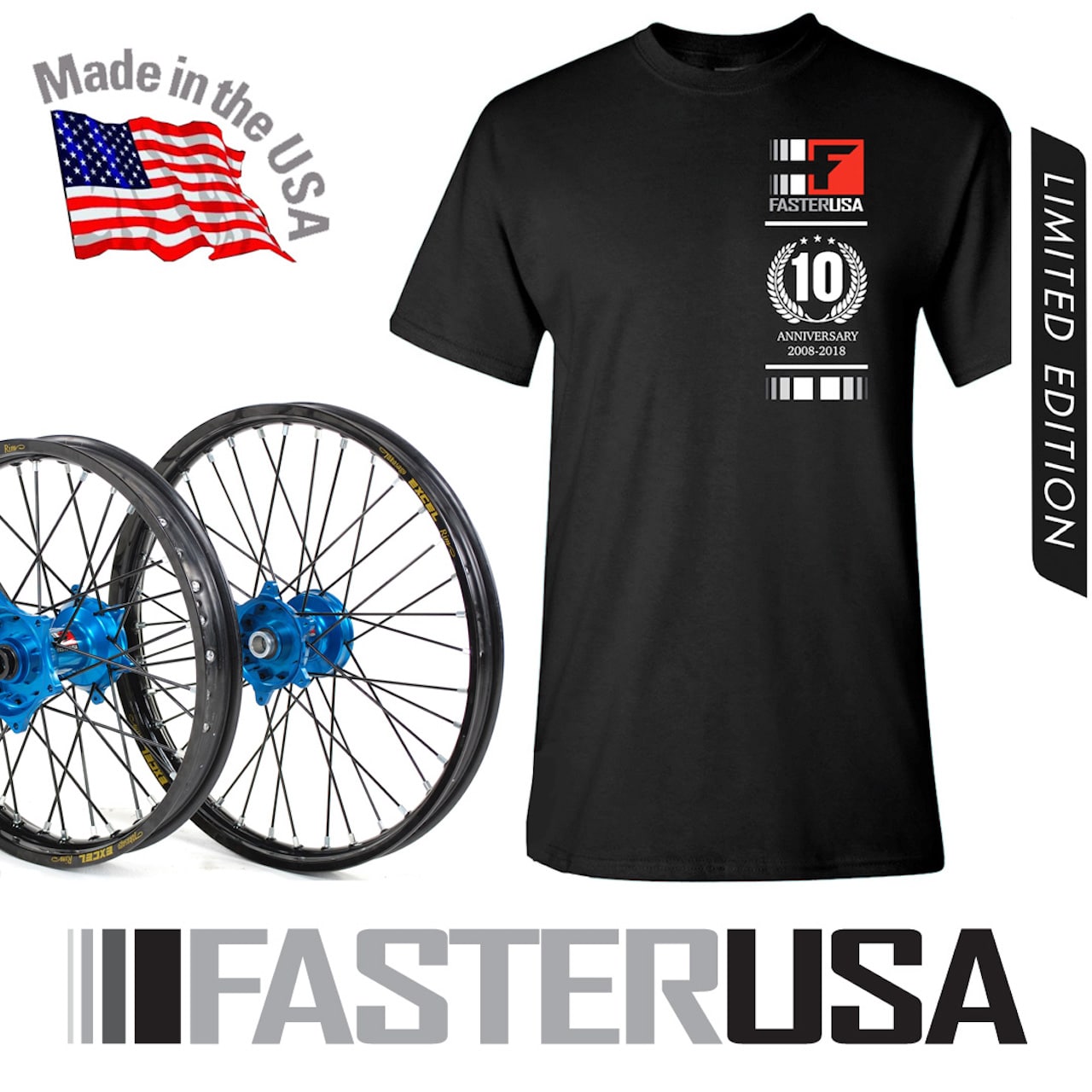 FMF'S THE DROP | SUBSCRIBE AND CONQUER
Press Release: FMF Introduces THE DROP- A first of its kind subscription service. An Exclusive Tee Shirt. Every. Single. Month. As part of the ultra – exclusive FMF DROP SUBSCRIPTION you will receive FMF Tee's that WILL NEVER be released to the general public, that's right, NEVER! Get stoked each month when FMF DROP's a special delivery at your doorstep and inside each month will be an additional surprise in every box. Limited Edition stickers, autographed memorabilia, or accessories.
How It Works
– Visit www.fmfracing.com and go to the apparel section and select FMF DROP TEE
– Choose your size or your custom made to order FMF Tee
– $29.99 (plus tax if applicable)
– Rock the exclusive shirts that are built just for you
– Early Roost special in the month of Oct will receive FREE SHIPPING for the life of your membership!
– It's super easy to cancel or skip a shipment with just a click of a button in your account page.
Please Note- We currently DO NOT accept any returns on The DROP subscription as each item is custom made to order.
FIRST RIDE VIDEO | 2019 KAWASAKI KX250
TALK MOTO WITH MOTO MINDED PEOPLE. JOIN MXA'S FACEBOOK GROUP CHAT

We love everything moto and want to bring all moto junkies together into one place to share their two cents, ideas, photos, bike fixes, bike problems and much more. To check it out first you must need to or already have a Facebook account. If you don't, it isn't much work and you could even have an alias so nobody knows it is you. To join click HERE. After you request to join we will accept your request shortly after.
JOIN MXA'S SNAP CHAT FEED
If you are a Snap Chat user then add us to your stories. Get sneak peaks of everything moto. Our Snap Chat name is motocrossaction. Or just take a Snap of the picture above and it will add MXA automatically to your feed.
MXA QUESTION OF THE WEEK ANSWER
What year and displacement is this RM? This is a 1982 Suzuki RM250. The winner of the FXR swag is Ken Dickson.

---
Moto Trivia answer: Andy Jefferson.