WORLD VET MOTOCROSS CHAMPIONSHIP: RYAN HUGHES, DOUG DUBACH, PETE DeGRAAF, GARY CHASE & LARS LARSSON WIN WORLD VET CROWNS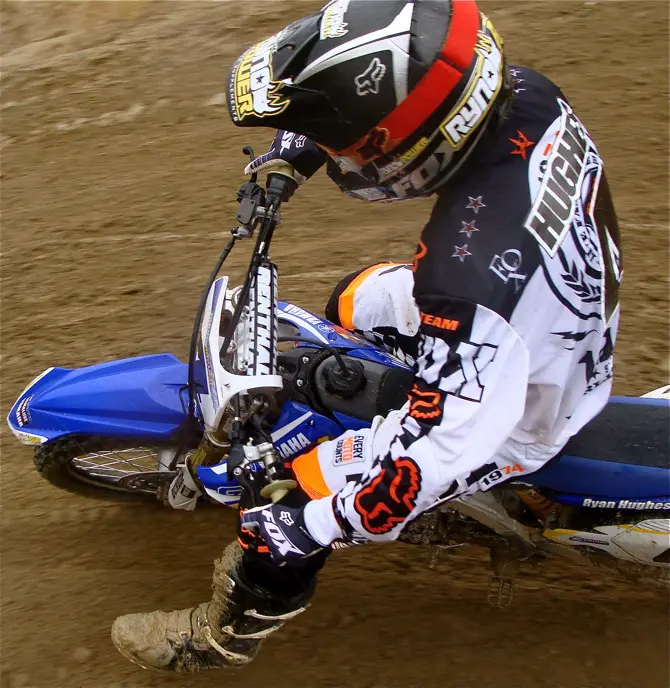 Ryan Hughes.
There are races that seem to transcend the normal atmosphere of the typical motocross event. The MTA World Vet Motocross Championship is one of those events. It is, by its very nature a family affair?not just of blood relatives, but of racers who have raced together for so many years that they feel like brothers-in-arms. Whether they are from Germany, Tahiti, Canada, Spain, Italy, Mexico, Australia or Japan, they think of the World Vet Championship as a homecoming. Throughout the week you see riders greeting one another with hugs and handshakes (something that you never see Chad Reed and Ryan Villopoto do). In most cases they haven't seen each other in a year, so they spend a few minutes asking about the family, old friends and reliving stories from previous World Vet races. It is unique among races because as fierce as the competition is on the track? is almost surreal in the pits.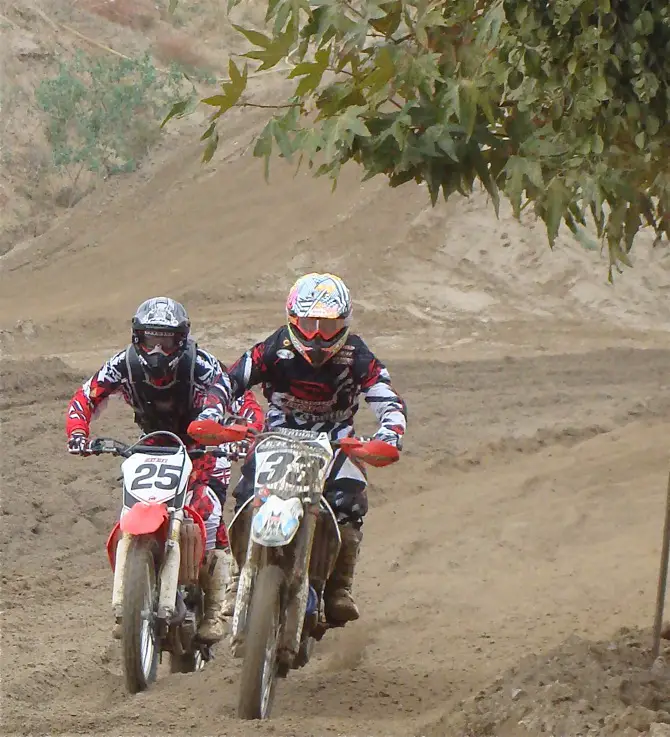 Tim Weigand (33) and Mark Tilley (25) jockey for position in the Over-30 Pro class. Tilley would end up sixth overall with Weigand second.
It is hard to imagine a race where everybody likes everybody else?and where any rider, from any country, can become a close friend…and stay a friend for decades. It is also hard to imagine that you can walk through the pits and see AMA National Champions Broc Glover, Gary Jones, David Bailey, Chuck Sun, Ron Lechien, Danny LaPorte and others talking casually to fans who idolized them when both were in their teens. Yes, it is a race and it does have its battles, duels and incidents?but mostly it is a once-a-year get together of old friends (old friends who have raced motorcycles their whole lives).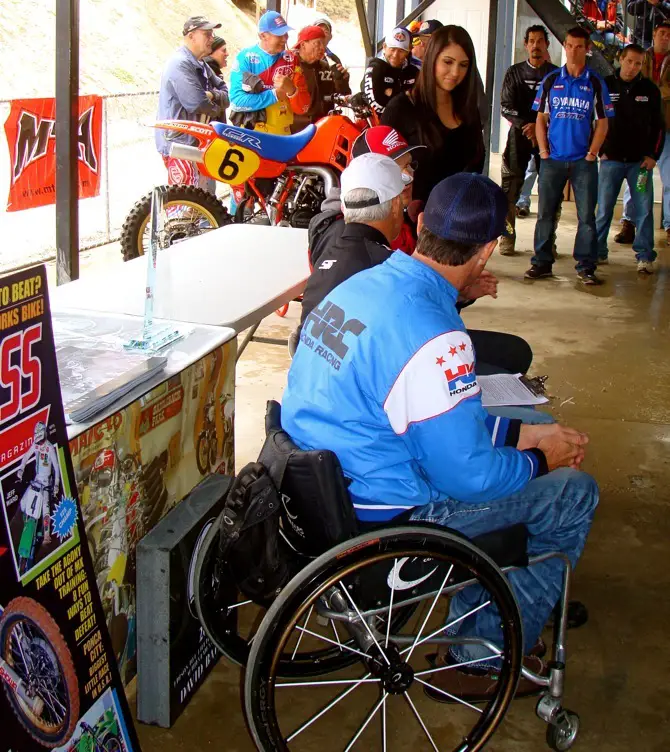 David Bailey (foreground) was at the World Vet Motocross Championship to receive his "Edison Dye Lifetime Achievement Award." Here, David watches as Tom White interviews former Honda team manager Dave Arnold (red hat). In the background, if you know your old MX stars, you can see Lars Larsson (left), Gary Jones (Troy Lee gear), Danny LaPorte (white hat), Ryan Hughes (Yamaha shirt) and Willy Musgrave (right).
Started back in 1986, the MTA World Vet Championship has no peer when it comes to veteran motocross racing. It was years ahead of its time and has been copied by many organizations over the years, but it is still the original. There were, as amazing as it may seem, riders at this year's event who have raced every year since day one?and they were over 30-years-old back in 1986. Originally founded by the White Brothers' Tom White as a way of saying thanks to the men who helped make the sport popular in the 1970s, Tom White put his money into the event to make it a success at a time when no one else recognized the contributions of veteran riders in the sport. Tom, a former AMA dirt tracker, also won the Over-40 World Championship back in 1990. When Tom sold the White Brothers he handed the reins of the event over to MTA, a motorcycle parts distributor. MTA is run by motocross racers and almost their whole staff was racing in various classes over the weekend. MTA's Larry Popp and Willy Musgrave threw the weight of their company behind the World Vet Motocross Championship and increased the purse ($4000 for both the Over-30 and Over-40 Pro class), added more age divisions and hired Tom White to be the track announcer. This year MTA added classes for Over-55 Novices, Intermediates and Experts because the Over-50 classes have become the largest classes of the weekend.


Over-30 Pro Steve Thinger (951) on his way up one of Glen Helen's big climbs. Thinger went 14-12 for 13th overall.
This year's race was the first in the long history of the World Vet Motocross Championship to face rain on race day. It led to a more challenging course and a few "Laugh-In" style moments for the spectators.

OVER-30 PRO CLASS

Ryan Hughes picked up right where he left off last year with a dominating performance in the Over-30 Pro class. Hughes was untouchable in very challenging conditions. Although the first moto was held in a light drizzle, by the time the second moto rolled around the track was slippery and slick. The combination of big downhills, long ruts, lots of bumps and steady rain made it a challenge. To help the Over-30 Pro's out, Glen Helen moved the second Pro moto up in the schedule, just in case a big thunderstorm came roaring off the Pacific. It never did, but even with an earlier event than the rank-and-file, the Pro's still struggled with the conditions.

MXA's Dennis Stapleton was fifth. He is now off to Dubai, Kuwait, Hong Kong, Manila and Amsterdam for the next five weeks of racing.
Behind Hughes, Timmy Weigand, Ryan Dudek, MXA's Dennis Stapleton and Doug Dubach fought fiercely for their positions. In fact, Weigand didn't secure the pass he needed to take second overall until the second-to-last lap (when he passed Ryan Dudek to get the one place he needed to bump Doug Dubach from the second step of the podium to the third).
With $4000 up for grabs, there was no doubt that Hughes would get the lion's share, but the big money winner for the weekend was Doug Dubach who won the Over-40 Pro class and got third in the Over-30 Pro class. Dubach made close to $2000 for the weekend.
RESULTS: Over-30 Pro class
1. Ryan Hughes…1-1
2. Timmy Weigand…2-3
3. Doug Dubach…4-2
4. Ryan Dudek…3-4
5. Dennis Stapletopn…6-5
6. Mark Tilley…5-6
7. Willy Musgrave…8-7
8. Justyn McCabe…7-9
9. Beau Judge…9-8
10. Ed Foedish…12-10
Other notables: 11. Britt Woodring…11-11; 12. Paul Temmerman…10-13; 15. Tim Sharp…13-14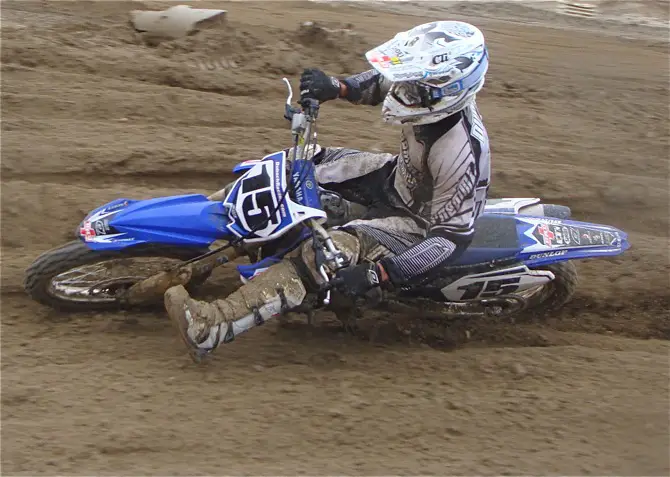 Doug Dubach not only got his 19th World Vet crown (split between the Over-30 and Over-40 Pro classes), but he took home the most money.
OVER-40 PRO CLASS
It is hard to imagine that the "Doug Dubach Express" can ever be stopped. The former factory Yamaha rider, AMA Supercross winner, Yamaha test rider and 19-time World Vet Champion added another notch on his gun belt when "Doctor D" went 1-1 to add his seventh title in the Over-40 class. Doug also has 12 Over-30 World Vet Championships.
Even though the World Vet Over-40 field included Dubach, multi-time 500 GP runner-up Kurt Nicoll, Former AMA National Champion Ron Lechien, Gordon Ward, Aussie Mick Cook, Honda test rider Drey Dircks, and TM factory rider Shawn Wynne, the 30-man field could not touch Dubach. Doug's only miscue on the day was a mediocre start (for him) in the second moto, but within a lap he had pushed his way to the front and pulled away.
Gordon Ward, always flashy, was a solid second, but Billy Joe Mercier, Kurt Nicoll, Mick Cook, Willy Musgrave, Ron Lechien, Pete DeGraaf snd Drey Dircks tussled over fourth through ninth.

Not every rain strategy was successful.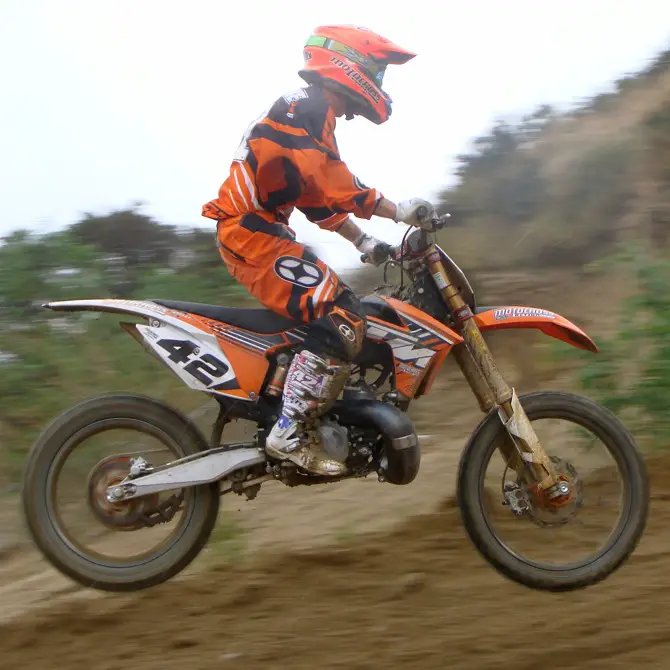 Willy Musgrave wasn't just another racer at the World Vet, his MTA distributing company sponsored the race and paid the $8000 purse. So, you can't blame Willy for trying to win some of that money back. He did, by finishing in the top ten in both the Over-30 and Over-40 Pro classes
Perhaps the best battle of the day was between Ron Lechien and Willy Musgrave for sixth overall. Musgrave, true to his two-stroke roots, raced MXA's 2012 KTM 250SX (albeit with works Showa suspension, TCR/MTA wheels, Pro Circuit pipe and an Intelajet carb). In the second moto, Ronnie caught Willy (who had gotten a third place start on his smoker) with about four laps to go in the second moto and the war began. As they parried back and forth, Lechien looked to have the upper hand. He forced his way by Musgrave leading into a muddy corner on what looked like the only good line. Musgrave retaliated by ignoring the mud and blasting a new path up the next straight, passing Lechien back. In the banked sweeper leading to the step-up jump in the Canyon, Musgrave protected the inside (lower line) on the banked 180 and lost his drive to the jump. Willy cased the step-up, while Lechien cleared it behind him. Unfortunately, Lechien's faster arc over the step-up didn't account for the right-hand downhill turn after the landing and Ron's Kawasaki collided into Musgrave's KTM. Lechien went down and Musgrave went on to finished sixth overall with a 7-6, while Ron got seventh with a 6-8.
RESULTS: Over-40 Pro class
1. Doug Dubach…1-1
2. Gordon Ward…2-2
3. Kurt Nicoll…5-3
4. Billy Joe Mercier…4-4
5. Mick Cook…3-5
6. Willy Musgrave…7-6
7. Ron Lechien…6-8
8. Pete De Graaf…9-7
9. Drey Dircks…8-10
10. Tim Tynan…10-9
Other notables: 11. Shawn Wynne…12-11; 12. Ed Foedish…11-12; 20. Xavi Costa…22-19; 21. Joaquim Sunol…21-21.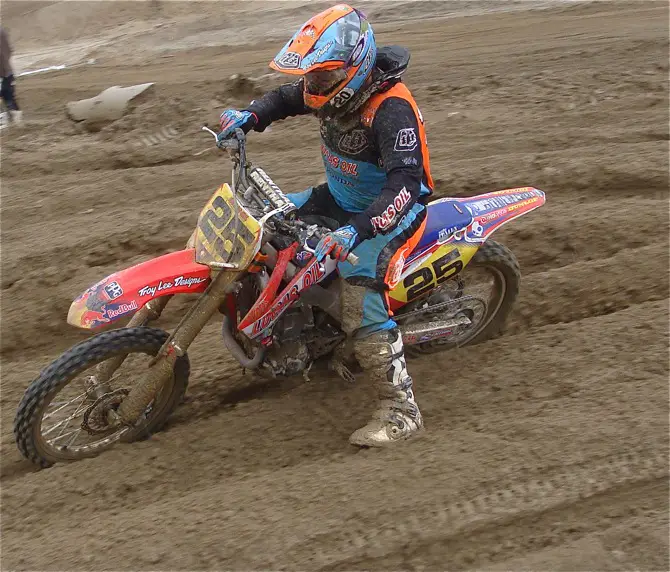 Troy Lee.
OVER-50 EXPERTS
If there ever was a foregone conclusion at a race, it was that Pete DeGraaf would win the 2011 Over-50 World Championship. Once Pete signed up and raced the Over-40 Pro class on Saturday and finished eighth overall behind Ron Lechien, it was obvious that he had the speed to take his fourth Over-50 crown. But DeGraaf, although dominant, wasn't as far ahead as in the past. Both former Over-40 Champion Pete Murray and Japanese rider Isao Ida kept him honest…and in the second moto, Murray was on DeGraaf most of the way to the finish line. Jon Ortner was fourth with 1980 AMA 500 National Champion Chuck Sun fifth.
DeGraaf would also come back to win the newly minted Over-55 Expert class with a 1-1. Isao Ida (2-2) was second, Gary Jones (3-3) third, Willie Amaradio (4-5) fourth and David Brown (5-6) fifth. In other odd-year title chases, Charles Castloo won the Over-25 Experts, Canadian Justyn McCabe the Over-35 Experts and Mexican Nicolas Serrano the Over-45 Experts.
RESULTS: Over-50 Expert class
1. Pete DeGraaf…1-1
2. Pete Murray…3-2
3. Isao Ida…2-3
4. Jon Ortner…4-4
5. Chuck Sun…8-6
6. Kirk Lewis…8-6
7. Troy Lee…7-7
8. Doug Goodman…6-8
9. Craig Christian…12=9
10. Clark Jones…11-13
Other notables: 13. Ed Guajardo…9-18; 15. Bryan Daniel…16-12; 17. Mike Monaghan…20-16; 18. Shaun Hybarger…23-15.

The ruts were deep.
OVER-60 EXPERTS
At an age when most men are content to play golf, the World Vet has an competitive field of Over-60 riders?most of whom were born in the 1940s. As much as Pete DeGraaf has dominated the Over-50 class for years, Bill Maxim has owned the Over-60 World Championship. Maxim won three of the last four years, losing only to Thorleif Hanssen in 2008. But, this was not Bill Maxim's year. Out front and cruising with a big lead, Maxim crashed hard on the downhill. That was the end of his fourth title hopes, as Gary Chase would go on to sweep both motos in front of local REM heroes Lyle Sweeter, T.V. Holmes, Alan Kent and Jody Weisel (who also had a long slide down the downhill with his bike playing Slip-N-Slide with him). The weather conditions in the second Over-60 Expert moto were especially difficult and just finishing was a victory?as half the field crashed out.
RESULTS: Over-60 Expert class
1. Gary Chase…1-1
2. Lyle Sweeter…3-2
3. TV Holmes…2-4
4. Alan Kent…4-3
5. Jody Weisel…6-5
6. David Bibby…5-10
7. Vic Curti…7-11
8. Rob Deeds…10-8
9. Ray Pisarski…9-9
10. Bill Maxim…8-12

Spanish World Vet Cup riders Joaquim Sunol (left) and Xavier Costa (right) raced two classes on both days and were happy to be back racing in the USA?both raced the USGP in May. There were riders from 18 different countries at the World Vet.
OVER-70 EXPERTS
The Over-70 class is often hit-and-miss (largely because of the unpredictable nature of motocross racers who are over the age of 70-years-old). Some years there are strong fields and some years there are weak fields, but with the death of Zoli Berenyi, Eyvind Boyesen and George Spearing, the neck injury to 2009 Champion Jimmy Redwine and Feets Minert turning 80-years-old, the real stars of the class are no longer contenders. But, this year, there were three rightful heirs to the crown. Lars Larsson, Ron Dugan and Gary Anderson were the only three riders in the class. But they are good riders! Larsson was the first European rider to move to America to show young teenagers what the sport was all about back in 1967. The former Swedish GP star was hired by Edison Dye to demonstrate how great the new-fangled Husqvarnas were. Larsson would go on to win both Trans-AMA  and Inter-Am support class Championship and would be a founder of Torsten Hallman Off Road (now known as Thor). Lars was also the 2001 Over-60 World Champion (exactly ten years ago). Ron Dugan's credentials are equally impressive. Dugan won the Over-50 World Championship back in 1991 (when he was 50). Now, 20 years later, he is still racing and wanted to try to win the Over-70 title. Texan Gary Anderson came a long way for a chance to race against two former World Champions. In the end, Lars Larsson went 1-1 with Gary Anderson second and Ron Dugan third.
RESULTS: Over-70 Expert class
1. Lars Larsson…1-1
2. Gary Anderson…3-2
3. Ron Dugan…2-5

Four-time 250 National Champion Gary Jones also won World Vet titles in the Over-30, Over-40 and Over-50 classes. He turns 60 next year.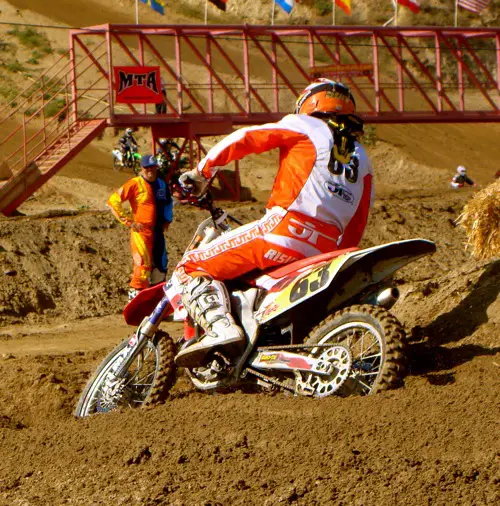 Chuck Sun with the Glen Helen bridge in the background during a rare sunny moment.
WORLD VETERAN CHAMPIONS (1986-2011)
1986
   30 …Randy Rodriques (ATK)
   40 …Alan Olson
1987
   30 …Gary Jones (Hon)
   40 …Alan Olson
1988
   30 …Rex Staten (Hon)
   40 …Alan Olson
   50 …Ron Way
1989
   30 …Warren Reid (Kaw)
   40 …Alan Olson
   50 …Ron Way
1990
   30 …Rex Staten (Hon)
   40 …Tom White
   50 …Zoli Berenyi, Sr.
1991
   30 …Rex Staten (Hon)
   40 …Alan Olson
   50 …Ron Dugan
1992
   30 …Rex Staten (Kaw)
   40 …Gary Jones
   50 …Zoli Berenyi, Sr.
1993
   30 …Doug Dubach (Yam)
   40 …Gary Jones
   50 …Zoli Berenyi, Sr.
1994
   30 …Doug Dubach (Yam)
   40 …Kent Howerton
   50 …Alan Olson
   60 …Fred Sessions
1995
   30 …Doug Dubach (Yam)
   40 …Kent Howerton
   50 …Alan Olson
   60 …Zoli Berenyi, Sr.
1996
   30 …Erik Kehoe (Hon)
   40 …Mike Webb
   50 …Gary Dogget
   60 …Zoli Berenyi, Sr.
1997
   30 …Doug Dubach (Yam)
   40 …Ron Turner
   50 …Alan Olson
   60 …Zoli Berenyi, Sr.
1998
   30 …Doug Dubach (Yam)
   40 …Ron Turner
   50 …Rich Thorwaldson
   60 …Zoli Berenyi, Sr.
1999
   30 …Doug Dubach (Yam)
   40 …Ron Turner
   50 …Hideaki Suzuki
   60 …John Berkezewski
2000
   30 …Doug Dubach (Yam)
   40 …Pete Murray
   50 …Hideaki Suzuki
   60 …George Spearing
2001
   30 …Doug Dubach (Yam)
   40 …Jeff Ward
   50 …Ike DeJager
   60 …Lars Larsson
   70 …Feets Minert
2002
   30 …Doug Dubach (Yam)
   40 …Andy Jefferson
   50 …Gary Jones
   60 …Eyvind Boyesen
   70 …Zoli Berenyi, Sr.
2003
   30 …Spud Walters (Hon)
   40 …Doug Dubach
   50 …Gary Jones
   60 …J.N. Roberts
   70 …Zoli Berenyi, Sr.
2004
   30 …Ryan Hughes (Hon)
   40 …Doug Dubach
   50 …Gary Jones
   60 …Hans Hansson
   70 …Zoli Berenyi, Sr.
2005
   30 …Ryan Hughes (Hon)
   40 …Doug Dubach
   50 …Brent Wallingsford
   60 …Alan Olson
   70 …Zoli Berenyi, Sr.
2006
   30 …Casey Johnson (Yam)
   40 …Doug Dubach
   50 …Kim Houde
   60 …Terry Sage
   70 …Zoli Berenyi, Sr.
2007
   30 …Doug Dubach (Yam)
   40 …Doug Dubach
   50 …Pete DeGraaf
   60 …Bill Maxim
   70 …Mike Dobbins
2008
   30 …Kyle Lewis (Hon)
   40 …Eric Sandstrom
   50 …Toon Karsmakers
   60 …Thorlief Hanssen
   70 …Jerry Harpole
2009
   30 …Doug Dubach (Yam)
   40 …Doug Dubach
   50 …Pete DeGraaf
   60 …Bill Maxim
   70 …Jimmy Redwine
2010
   30 …Ryan Hughes (Hon)
   40 …Doug Dubach
   50 …Pete DeGraaf
   60 …Bill Maxim
   70 …Feets Minert
2011
   30 …Ryan Hughes (Yam)
   40 …Doug Dubach
   50 …Pete DeGraaf
   60 …Gary Chase
   70 …Lars Larsson

Photos by Ernie Becker & Dan Alamangos